This easy Bagna Cauda Dip is a delicious way to warm up your guests this holiday season! Serve with raw or roasted veggies and a large crusty baguette for a healthy vegetarian appetizer or snack option.
This post was sponsored by Zucchi. All opinions are my own.
The holidays are almost here! Because holidays will be a bit smaller this year, I think a hot party dip is the perfect thing to serve that the entire family will love!
Did you know that Bagna cauda is traditionally served around Christmas time in Italy? Plus, the fact that it is ideal for smaller groups, makes this perfect for celebrating with family!
Looking for another fancy appetizer? Try this easy Pate!
What Is Bagna Cauda?
Bagna cauda was originated in Piedmont, Italy and is a hot appetizer made using three staple ingredients:
anchovies
garlic
olive oil
The name means "hot bath" or "hot sauce" since the dip is traditionally served hot over a flame.
Serving bagna cauda is similar to how fondue is served, with a flame underneath to keep it warm. Bagna cauda is typically served with crusty bread like a baguette and fresh or raw vegetables to dip into. The bread is often used underneath as a "napkin" to sop of any oil and catch the drippings.
This appetizer is popular during the holidays or when the months are colder.
Use The BEST Olive Oil You Have
For this recipe, I used Zucchi's Heritage Sustainable Extra Virgin Olive Oil because it is an all-purpose, versatile extra virgin olive oil that still allows the garlic and anchovies to shine. Because bagna cauda is comprised of just a few ingredients, using a quality olive oil is essential.
If you want to infuse even more flavor into your dip, you can use a flavored olive oil as well. Zucchi has a few different flavored oils like garlic, chili, truffle and pesto-flavored oil.
If you would like to purchase Zucchi EVOO, you can do so online at Yummy Bazaar, Italian Food Online Store and Magnifico Food. Their oils are exceptional and also economically sustainable which I love.
Anchovies
Anchovies get a bad rap. I will admit...I used to cringe at the thought of them. But now that I have learned how to incorporate them into savory dishes, I love the unique umami flavor they offer foods.
They are very fishy and salty so if you use too much, you could overpower other ingredients. The trick is to use just the right amount. Read more about learning to love anchovies!
Without anchovies, a bagna cauda just isn't a bagna cauda so I don't recommend leaving them out. If you do, this dip would simply be a garlic oil dip which is still tasty but does not pack the same punch that a bagna cauda offers flavor-wise.
If you are still hesitant about using anchovies, don't be! I promise, it won't be super fishy tasting. And if you feel like it will be, you can always dial down the amount of anchovies you use. If you are an anchovy lover, try my Roasted Garlic Bread Spread (with anchovies). Start by adding a few and taste as you go.
Did you know? Anchovies are also in Caesar dressing!
Vegetable Dippers
Although there are no rules to dipping, I suggest serving your dip with a variety of "dippers" to keep it fun and flavorful. The most commonly used vegetables are those that are harvested in the fall. Here are some veggies you can serve alongside your dip:
cardoon (a traditional bagna cauda dipper: it is a thistle that tastes like a bitter version of a giant artichoke)
onions- try roasting a few pearl onions or even grilling them
artichokes- roasted
bitter leafy veggies- radicchio or endive leaves are ideal
carrots
bell peppers- raw or grilled cut into strips
cauliflower/broccoli
turnips
fennel
asparagus- roasted
zucchini- grilled
mushrooms
brussels sprouts- roasted
eggplant- grilled
Other non-vegetable dippers:
roasted potatoes
seafood
grilled meat- (steak is popular)
Serving Tips
Serving bagna cauda is all about dipping multiple things into it. This is what makes fondue so much fun!
But because the oil doesn't cling as well to veggies as bread does, it is recommended to serve with plenty of freshly sliced bread. The bread is meant to capture the drippings by using it like a plate while you dip the vegetables. So one hand can hold the veggie and the other can hold a slice of bread beneath it.
Having an array of both raw and cooked veggies will allow guests to choose what they like and have fun with the different flavors. Keep veggies cold by serving them over top of some ice.
No Fondue Pot?
That's okay! You CAN serve bagna cauda on a deep plate or in a shallow bowl instead. Just make sure there is enough depth for dipping. Although it is traditional to serve bagna cauda warm, it does not need to be served warm.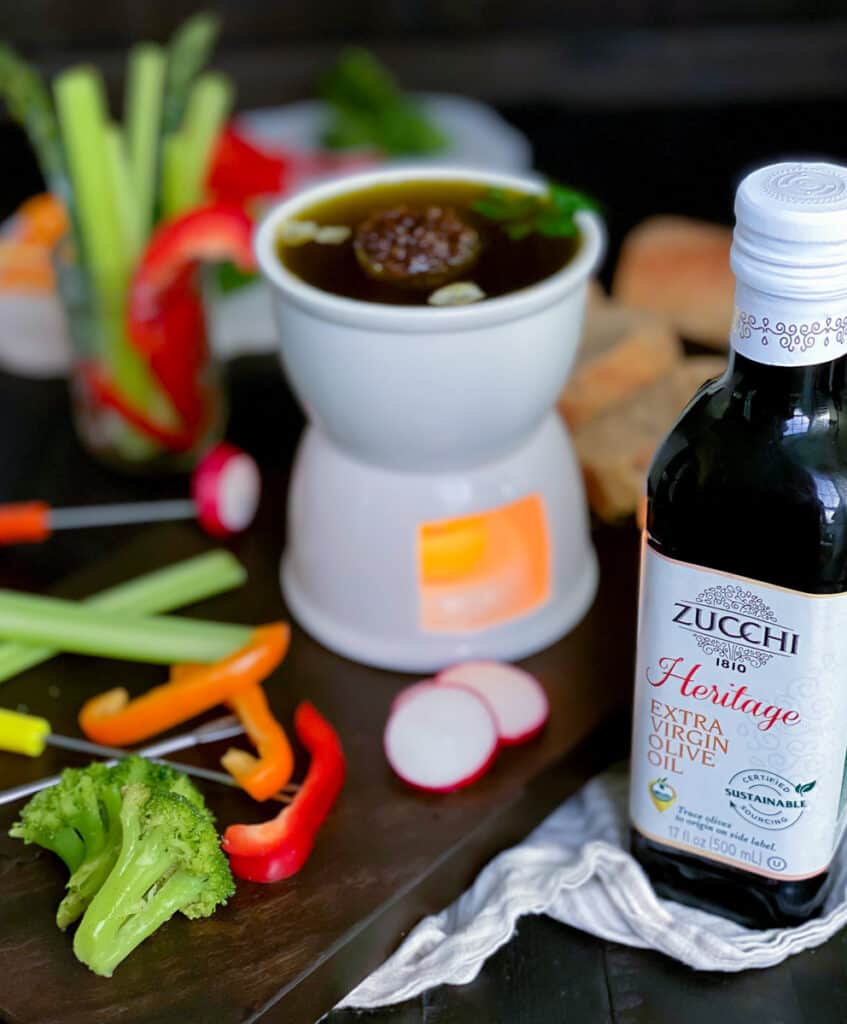 Other Variations Using Cream
Some non-traditional recipes will add some milk or cream to the dip. These add a rich and sometimes creamy flavor and texture. If you use heavy cream, you can add it after you simmer the anchovies and garlic. Wait for it to thicken a bit and then serve warm.
Another way some people use milk is by letting anchovies and/or garlic sit in milk for a bit. This might help mellow the flavors.
FAQ's
"Can I use a food processor to blend the dip?"
Yes! This will create a different texture. It will also cause your dip to be more cloudy. If you want your garlic more coarse and clear, do not blend it but mince everything instead.
What kind of wine can I serve with bagna cauda?
This dip pairs well with tannic red wines.
What does bagna cauda taste like?
Bagna cauda is slightly salty, tangy and pungent at the same time. It is super flavorful and tastes a bit fishy but this can be controlled with the amount of anchovies used.

How long does bagna cauda stay fresh?
This dip should stay fresh for 3-4 days in the fridge.
How do you eat bagna cauda?
Use long veggies (see list above) to dip directly into the dip or long-pronged fork to help dip smaller veggies. Bread and be dunked directly into the flavored oil.
Can this be served cold?
Yes! Bagna cauda does not need to be served hot. Serving it hot allows the flavors to infuse quicker.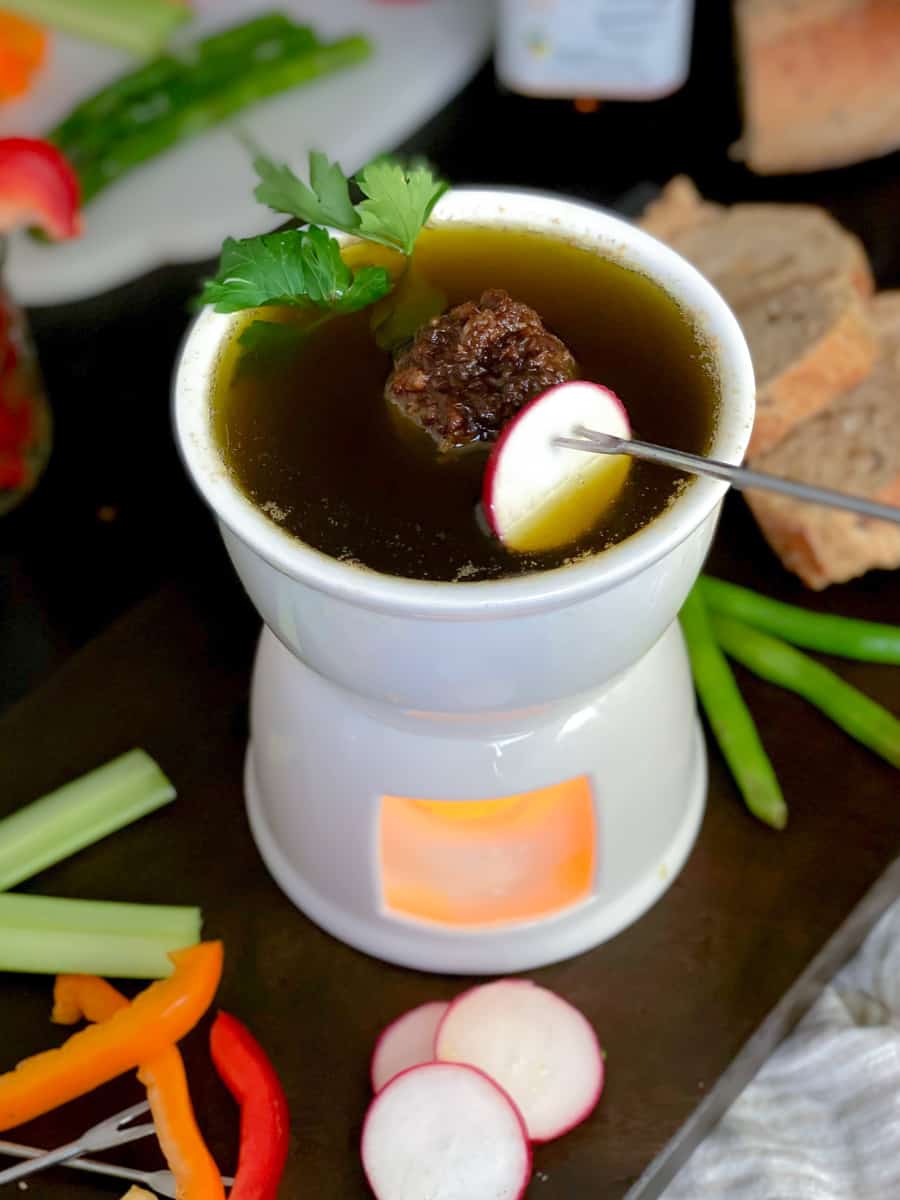 Not Just For Dipping!
Bagna cauda is often thought of as a condiment because of how versatile it is. Rather than dunking raw vegetables in it, you can use it as a marinade for meats or seafoods, a dressing over your salad or even a sauce for pasta!
Other healthy oil based dips you might like:
The BEST Olive Oil Dip For Bread (with FRESH herbs)
Melitzanosalata (Greek Roasted Eggplant Dip)
Greek Potato and Garlic Dip (Skordalia)
White Cannellini Bean Dip (w/ Sauteed Garlic)
📖 Recipe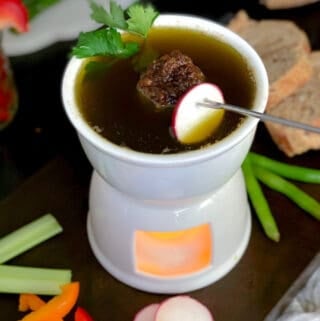 Easy Bagna Cauda (Garlic and Anchovy Dip)
This Bagna Cauda Dip is a delicious way to warm up your guests this holiday season! Serve with raw or roasted veggies and a large crusty baguette for a healthy appetizer or snack option.
Print
Pin
Rate
Ingredients
¾

cup

Zucchi Heritage Extra Virgin Olive Oil

4

tbsp

unsalted butter

18

anchovies

4

large

garlic cloves, minced

parsley for garnish
Instructions
Simmer the anchovies and garlic in 4 tablespoon of butter for 15 minutes over low heat stirring occasionally.

The anchovies should begin to dissolve in the oil after 5-10 minutes.

Turn off the heat and add mix in your extra virgin olive oil.

Garnish with freshly chopped parsley.

It it traditionally served warm in a fondue type pot. If you do not have this, you can serve it in a shallow bowl or mini crock.
Recipe Notes
If you like heat, you can add crushed red pepper flakes to the saucepan while simmering or use Zucchi's Chili Pepper EVOO.
Milk or cream is sometimes added to create a richer flavor. This is optional.
You can use a food processor at the end if you would like to puree everything together. The result will be a cloudier oil. Make sure your ingredients are not very hot when doing this.
Nutrition
Calories:
243
kcal
|
Carbohydrates:
1
g
|
Protein:
2
g
|
Fat:
26
g
|
Saturated Fat:
7
g
|
Polyunsaturated Fat:
2
g
|
Monounsaturated Fat:
16
g
|
Trans Fat:
0.2
g
|
Cholesterol:
20
mg
|
Sodium:
11
mg
|
Potassium:
42
mg
|
Fiber:
0.03
g
|
Sugar:
0.02
g
|
Vitamin A:
180
IU
|
Vitamin C:
0.5
mg
|
Calcium:
18
mg
|
Iron:
0.4
mg