These Baked Mushroom Spinach Quesadillas are a crowd favorite that will satisfy both meat and veggie lovers! Plus, they can be made ahead of time and reheated in the oven as guests arrive!
Try my Mushroom Bruschetta or my Olive Garden's Clam Stuffed Mushrooms appetizer too!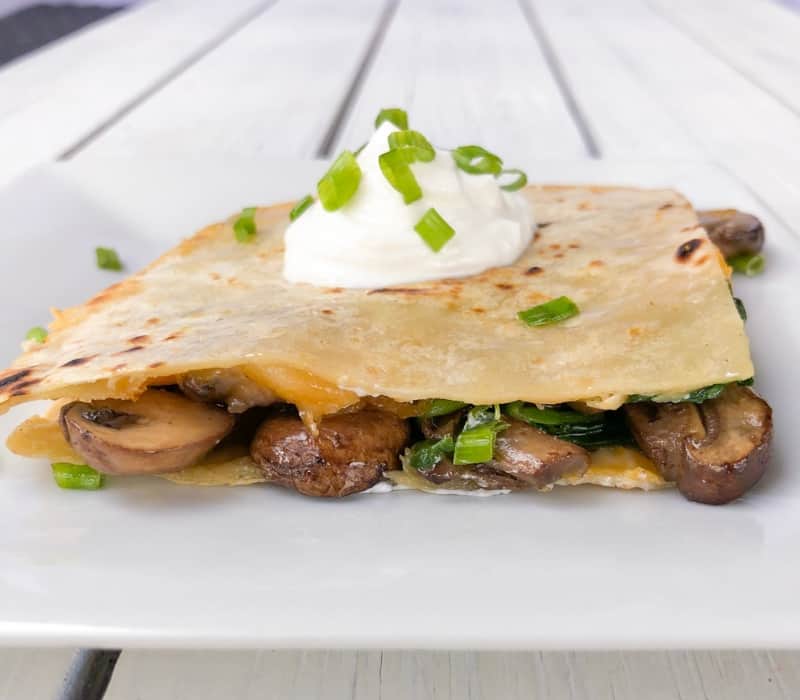 I just LOVE quesadillas! Having a party food blog, I knew I had to throw this classic appetizer up here. Mostly because of how EASY they are to make and reheat!!
I baked these quesadillas because they are much quicker than pan frying them! Same idea with my Baked Grilled Cheese Sticks (with tomato soup) The idea is to fit quite a few in the oven so we can serve them hot to our guests! OR simply reheat them quickly as they arrive!
This recipe is one you that everyone will love!
What is the best way to cook a quesadilla?
Quesadillas are SO versatile it is hard to tell anyone the 'BEST' way. BUT I can provide tips!
CHAR EACH TORTILLA ahead of time by quickly tossing on the stove top! It gives them a smoky flavor that just adds a little somthin' somthin'. Definitely worth the extra time!
Use a variety of cheeses for added flavor! A smoky cheese would be a great addition!
Make sure you use cheeses that melt well like monterey jack and fontina. Sharp cheeses are not ideal.
Add cheese to BOTH top and bottom of your quesadillas so it can be the 'glue' holding everything inside!
Add fresh herbs like parsley, thyme, chives or scallions for some freshness!
Serve with lots of yummy sides so everyone can have fun making their own specialized quesadilla. Pico de gallo, guacamole and sour cream are the most popular sides. Or try adding some sauces for dipping like, BBQ sauce, hot sauce, ranch, spicy mayo, etc.
Mushroom Choices
I love mushrooms and would love any type inside my quesadilla. Choose whichever you like best! From cremini, to chanterelle to portobella, they all are delicious. I recommend a mixture if you have for the most flavorful quesadilla!
Can quesadillas be made ahead of time?
Yes!!
I highly recommend using your oven since all you really need to do is melt the cheese! If you are expecting a large crowd or throwing a party, it will make things much easier. Most people have three racks in one oven, allowing you to fit two quesadillas per baking sheet. If you cut each quesadilla into 6 slices, you will be able to serve 24 hot and cheesy quesadillas!
"What else can I add to my quesadilla?"
The possibilities are endless!!!!
Here are some other add-ins:
Tomatoes
Olives
Ground meat
Blackened chicken
Shrimp
Corn
Onions
Tofu
Kale
Feta cheese
Jalapenos
Beans
Chickpeas
Peppers
Here are some other appetizers you may like!
Avocado Cream Cheese Stuffed Wontons
Mini Cheeseburger Skewers (w/ Burger Sauce)
---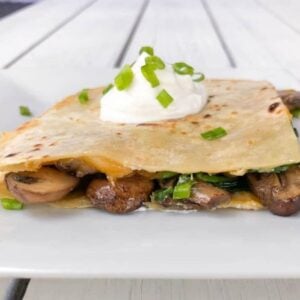 Baked Mushroom Spinach Quesadillas
These Baked Mushroom Spinach Quesadillas are extra cheesy and will satisfy both meat and veggie lovers! Best of all, they can be made ahead of time and reheated in the oven as guests arrive!
Print
Pin
Rate
Ingredients
8

6-8"

Flour Tortillas

3-4

tablespoon

Olive Oil

3-4

Sprigs

Fresh Thyme

24

oz.

Mixed Mushrooms (cremini, shiitake, oyster)

¼

Cup

Sherry Wine

10

oz.

Fresh Spinach Leaves

24

oz.

Grated Cheese (Mexican Blend)

((w/ Monterey Jack))

1

Cup

Sour Cream

1-2

Tbsp.

Freshly Chopped Chives

Salt and Pepper (to taste)
Instructions
Saute your mushrooms and thyme in olive oil over high heat.

After 5 minutes, add your sherry wine to the pan and saute another minute until the alcohol cooks off.

Add in all your spinach and saute another minute or two until the spinach is slightly wilted. (Don't worry, it will cook down) Season with salt and pepper (to taste) and remove from heat.

Char both sides of your tortillas by placing them DIRECTLY over an open fire. You can use a grill or your stove top. (Set heat to medium). Keep a close eye so you do not burn them!

Add cheese to one side of charred tortilla. Then add ¼ of your spinach/mushroom mixture on top of the cheese. Lastly, sprinkle more cheese and close up your quesadilla. **Each quesadilla should have about ¾ cup of cheese split between top and bottom.

Assemble all 4 quesadillas and place onto two sheet pans (two on each). B

ake at 350F for at least 5 minutes or until cheese is fully melted.

Allow to cool slightly before cutting. (I cut mine into 6 slices.) Top with sour cream and chives for garnish!
Recipe Notes
*Reheat your quesadillas in the oven for 2-4 minutes (after they have been cut) so you can serve to guests immediately while still hot.
*Serve sour cream, guacamole, pico de gallo, etc. on the side so your guests can add what they want.
Nutrition
Calories:
560
kcal
|
Carbohydrates:
29.4
g
|
Fat:
36.8
g
|
Saturated Fat:
19.7
g
|
Cholesterol:
89
mg
|
Sodium:
961
mg
|
Potassium:
560
mg
|
Fiber:
2.7
g
|
Sugar:
3.1
g
|
Calcium:
560
mg
|
Iron:
5.4
mg