This simple Brown Sugar Syrup needs just 3 ingredients and comes together in 5 minutes. Use it in everything from cocktails to dessert to add rich caramely undertones. It's vegan, dairy free, gluten free, and extremely easy to make.
This easy Brown Sugar Syrup will be your new go-to secret ingredient! It's simple, ready in 5 minutes, and adds rich notes of vanilla and caramel to anything it's added to.
Similar to Starbucks, this syrup can be used in coffees, lattes, and other cafe drinks for an instant boost of flavor. It can also be added to cocktails, pancakes, oatmeal, ice cream- you name it!
Below you'll find all the tips and tricks you need to make this easy homemade syrup, because I guarantee this will become a new MUST-HAVE ingredient in your fridge and when company is visiting!
Why You'll Love This Syrup
You only need 3 ingredients
Made in just 5 minutes
It's vegan, dairy free, and gluten free
You can choose to make it thick or thin
Adds a warm, caramely flavor to any recipe you use it in
Extremely versatile, can be used in everythin from cocktails to dessert
🛒Ingredient Tips
Brown sugar: This is the base for our syrup. You can use either dark or light brown sugar, but the dark contains more molasses and will give it a richer flavor that I recommend!
Vanilla pod: I highly recommend using a real vanilla pod over vanilla extract because it has so much more flavor. You can find it in the spice aisle!
Water: Although I usually never consider this an ingredient, it's vital for any homemade syrup. Any water works. 😉
📝How To Make Brown Sugar Syrup At Home
Add brown sugar, water, seeds from the vanilla pod, and the pod itself to a small saucepan.
Bring to a boil and then immediately lower the heat to a soft simmer for 5 to 15 minutes. (The longer you simmer, the more concentrated/thicker it will be.)
Stir occasionally until the syrup thickens and sugar is fully dissolved.
Strain the vanilla pod and let the syrup cool completely.
How To Extract Vanilla Seeds
In order to obtain the most flavor from your vanilla pod it's important to extract the seeds or they may not "escape" in time.
This may sound a bit complicated, but it really couldn't be easier.
Al you need to do is:
Place your vanilla pod on a small cutting board.
With a paring knife, run the blade down the middle of the pod like you are splitting it in half but without cutting all the way through.
Hold the blade of your knife perpendicular to the pod and run it down the length scraping out as many seeds as possible. Scoop the seeds into the pot.
Storing Tips
The good thing about sugar water is that it LASTS!!
You can store any leftovers in a glass jar in the fridge for up to three weeks.
If you wish to freeze it, I recommend doing so in ice cube trays measured out into ½ ounce and 1 ounce portions (perfect for drinks).
🍸Ways To Use Brown Sugar Syrup
Cocktails: While this syrup will work in most cocktails, it works especially well in those with a whiskey, brandy, or bourbon base (like my pumpkin margarita) because it enhances the warm undertones of the alcohol.
Mocktails: This is such a great way to make a mocktail taste like the real thing!
Coffee: Shake up your morning coffee and ditch your regular syrups. Replace it with this brown sugar syrup for warm, caramely notes that work especially well in lattes and cappuccinos.
Desserts: Drizzle it over ice cream, brownies, or cinnamon rolls and you've got a mouth watering treat.
Breakfast: If used in moderation, you will LOVE this thick, glossy syrup served over pancakes, waffles, or on French toast! You could also stir it into your morning oatmeal for a sweet, cozy breakfast.
Flavor Variations
While this rich, glossy syrup is delicious as is, you could try one of these options to customize it and add more flavor:
Cinnamon- steep a cinnamon stick in addition to the vanilla pod to add a hint of warm, spicy flavor
Pumpkin pie spice- put a Fall twist on your brown sugar syrup with ½ teaspoon of pumpkin pie spice
Nutmeg and clove- depending on your taste preference, ⅛-¼ teaspoon of each is enough to add delicious Fall flavor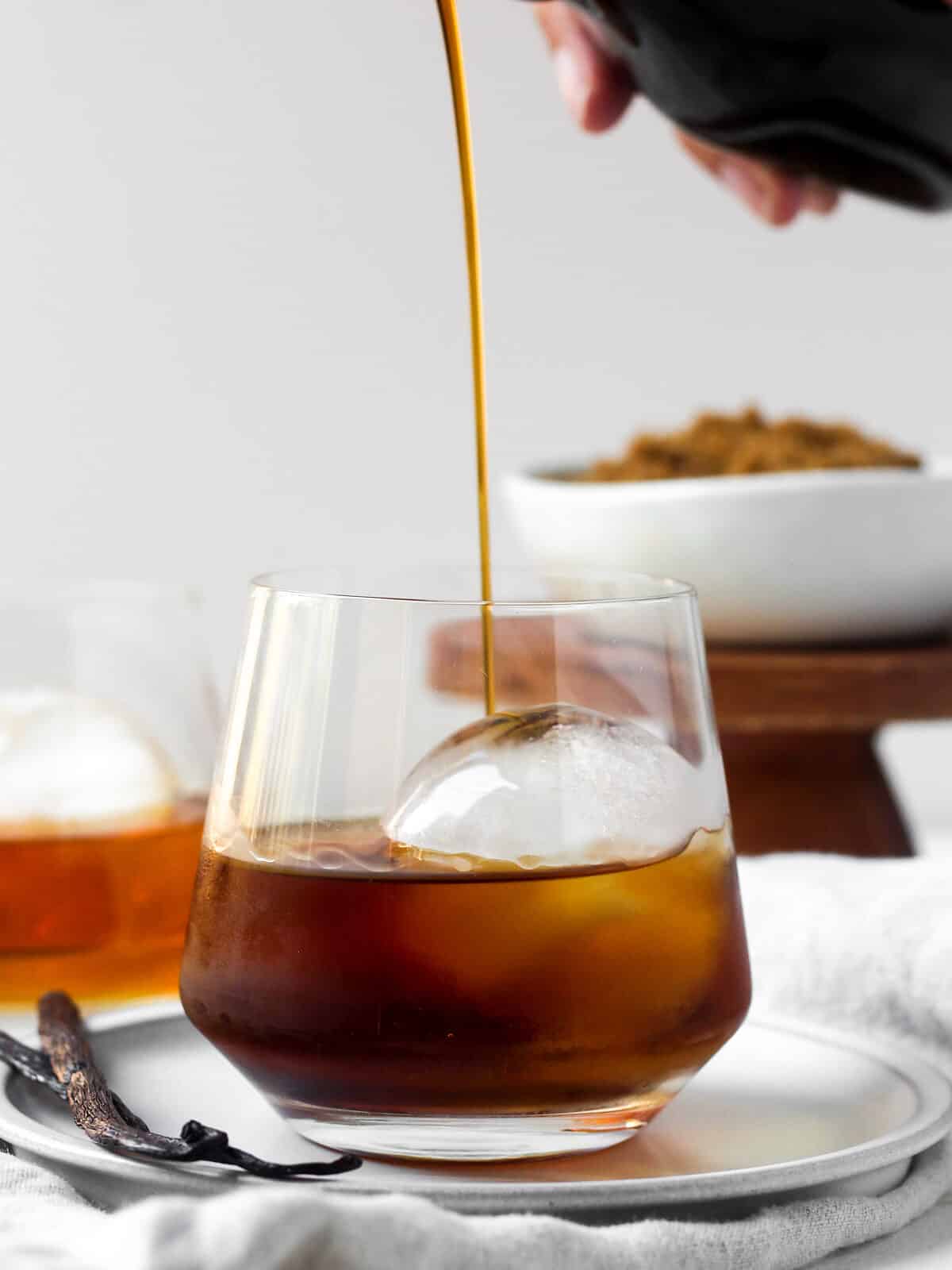 ✔️Expert Tips
Use dark brown sugar for a richer flavor
Simmer the vanilla pod along with the seeds to extract the most flavor (just be sure to strain it!)
Aim for a gentle simmer, by boiling the water will evaporate too quickly causing a sticky mess
Watch the syrup carefully in order to prevent it from cooking too long
Frequently Asked Questions
What is brown sugar syrup made of?
Just 3 simple ingredients! Brown sugar, vanilla, and water!
Does Starbucks sell their brown sugar syrup?
You can buy the syrup at some stores, but it's really expensive. You can make it for much cheaper at home and it's super easy!
Cocktails To Make With Your Syrup
Recipe FAQs
What's the difference between brown sugar syrup and simple syrup?
The difference between the two comes down to consistency. This brown sugar syrup is much thicker, stickier, and has that classic "syrup" consistency. A simple syrup is much runnier in nature and usually made with granulated sugar.
Is this recipe similar to Starbucks' brown sugar syrup?
Yes, it is very similar! In order to get it as close to Starbucks' as possible, make the thin variation because it mixes into drinks much easier.
How do I fix a syrup that's gotten too thick?
If your syrup has gotten too thick, turn off the heat and simply add 1 tablespoon of water at a time until you reach the correct consistency.
More Syrup Ideas For You To Make:
📖 Recipe
Brown Sugar Syrup
This simple Brown Sugar Syrup needs just 3 ingredients and comes together in 5 minutes. Use it in everything from cocktails to dessert to add rich caramely undertones. It's vegan, dairy free, gluten free, and extremely easy to make.
Print
Pin
Rate
Ingredients
1

cup

dark brown sugar

1

cup

water

1

vanilla pod

(seeds extracted)
Instructions
Add brown sugar, water seeds from the vanilla pod and the pod itself to a small saucepan.

Bring to a boil and then immediately lower heat to a simmer for 5 minutes or up to 20 minutes for a THICKER more concentrated syrup. I recommend longer.

Stir occasionally until sugar dissolves.

Strain vanilla pod and let syrup cool.

Store in glass jar in the fridge for up to 3 weeks.
Recipe Notes
The longer you simmer the syrup, the more concentrated, thicker and sweeter the flaor becomes. I find that 15-20 minutes is a good time to aim for.
Add cinnamon, pumpkin pie spice, nutmeg or all spice to make this syrup suited for fall desserts and drinks!
Nutrition
Calories:
848
kcal
|
Carbohydrates:
217
g
|
Protein:
0.3
g
|
Fat:
1
g
|
Sodium:
73
mg
|
Potassium:
293
mg
|
Sugar:
213
g
|
Calcium:
190
mg
|
Iron:
2
mg