These Easy Strawberries Phyllo Cups are a quick NO BAKE phyllo cup dessert that tastes just like strawberry cheesecake! Made with whipped cream cheese and strawberry jam, they couldn't be easier to whip up!
Using store-bought phyllo dough sheets are super easy and should NOT intimidate you. They are very forgiving and can turn any dessert into a super fancy one like these!
In reality, there are hundreds of ways to use phyllo dough! There is no right or wrong way. The more creative you are, the more fun it becomes! 🙂
The way I used them here is simple and super easy.
The Strawberry Cream Cheese Filling
The pre-blended strawberry cream cheese just does not taste the same!
Tip* Do not use the store-bought pre-mixed strawberry cream cheese as a "substitute"!
To make this delicious filling, simply mix whatever strawberry jelly or "jam" you have in the fridge with some WHIPPED cream cheese! You can also add in my strawberry syrup!
Buying whipped cream cheese is important! The regular block of cream cheese will make the filling too dense. Philadelphia whipped cream cheese is my favorite.
Then all you do is add a lil' vanilla, a lil' powdered sugar and boom! A no-bake cheesecake dessert in a fancy phyllo cup that will satisfy any husband's (or guest's) sweet tooth in no time AND with only 5 ingredients! Whisk drop.
BTW, have you tried my other super quick dessert, Raw Cookie Dough Bites!?
Homemade Phyllo Cups
Okay so you have TWO phyllo cup options here...
Pre-baked
15 cups for $3.50
They have pre-baked phyllo cups or "shells" you could literally just thaw a fill which would turn this dessert into a 5 minute one! The only thing is the package comes with 15 cups for $3.50. Keep in mind they are small! If you are expecting a small group and want to save 5 minutes, perfect. Just make sure you make half the amount of filling!!
If this doesn't appeal to you, look at option #2.
Cut and Bake Yourself
36+ cups for $3.50
Make your own phyllo cups! Yes it takes a tad more effort but I think they look better and come out much more crispier!! You also will save money and have more bang for your hard earned buck!
Math teacher time...
So the Athens brand of phyllo is the most common I'd say. They sell phyllo in 1 lb. packs. Either in one 12 x 17" roll or two 9 x 14" rolls. Both packages contain 1 pound of dough. Either way, you should be able to get at least 36 cups (4 rows of 5 for the large one and 3 rows of 4 for the smaller) if you cut your cups using a 3" ring give or take!
A 1 lb. phyllo package is also about $3.50 and should give you at least 36 cups!
**Note** It has been 3 months since this post and I wanted to add a note. I just pulled out a few of these empty frozen phyllo cups from when I made these before just to see how they would taste and they were STILL delicious and so crunchy!! I just added the filling and they're done 5 minutes later!!
---
Steps:
Step 1: Use a round cutter to cut out 3-3 ½" rounds. Or use something round like a cup and a sharp knife to cut out your circles. Press them into greased mini muffin tin and bake!
Step 2: Press your phyllo dough into your mini muffin tins and bake them off until they are golden brown.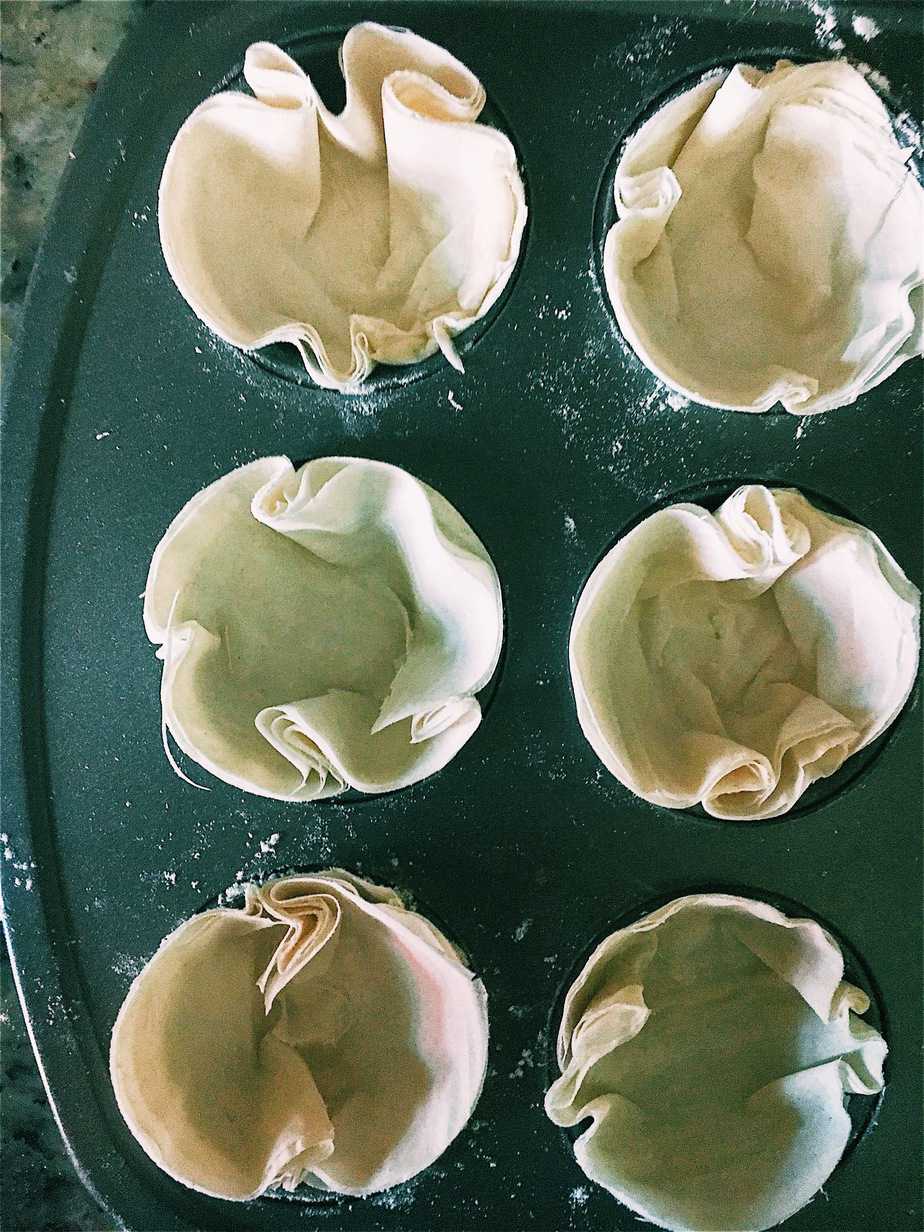 Step 3: Scoop or pipe your filling into the cooled cups and serve!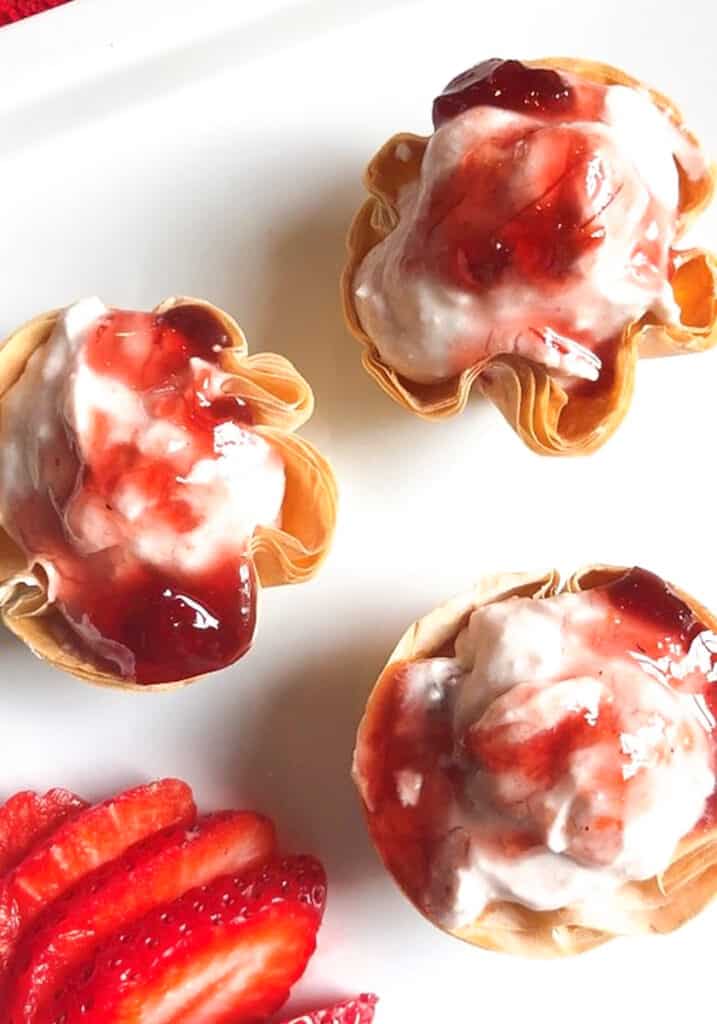 These would be even better topped with my bourbon whipped cream!
---
Here are some other mini dessert recipes you may like:
Easy Gingerbread Cannoli Phyllo Dough Cups
Easy Pecan Tassie Cookies (Nut Cups)
Crescent Roll Blueberry Cream Cheese Danish

📖 Recipe
Strawberry Phyllo Cups w/ Cream Cheese
Super easy and done in less than 10 minutes, these phyllo cups are a fast way to get your cheesecake fix in no time!
Print
Pin
Rate
Ingredients
1

1 lb. (16 oz.)

Package Phyllo Dough

(*OR 3 packages premade phyllo cups)

1

Cup (8 oz.)

Whipped Cream Cheese

(*Whipped is key)

⅓

Cup

Strawberry Jam or Preserves

((extra to dollop on top))

2

Tsp.

Vanilla Extract

3

Tbsp.

Powdered Sugar

((extra for sifting))

½

Small

Lemon Zested

(Optional*)
Instructions
If using premade phyllo cups, skip to step 6!

Defrost phyllo dough in fridge first!

Preheat oven to 375° F and lay defrosted dough onto a floured surface covering dough with a damp towel as you work.

Layer 6 sheets of dough on top of one another onto a separate floured surface.

Cut twelve (or as many as you can) 3"-3 ½" rings out of the layered dough. See photo if needed. Continue with 6 more sheets until all of the dough is used.

Press phyllo rounds into lightly greased mini muffin tin and bake for 5 minutes or until golden brown around edges.

While cooling, mix together the rest of the ingredients in a small bowl and add to piping bag or ziploc bag. *If filling is too thick to squeeze, just add a touch of milk. Consistency should be "pudding-like".

When cups are room temperature, pipe/squeeze filling into each and top with a dollop of jam! Sprinkle with powdered sugar if desired!
Recipe Notes
*Making your own phyllo cups will come out tastier, crispier and a little larger!
*Do not use pre-mixed strawberry cream cheese as a substitute!!
*If you plan on making AND filling these hours ahead, you can! They will still stay nice and crispy up to 4 hours!
*Whipped cream cheese is a must for a light, easy to scoop filling.
*If using

one

pre-made package of 15 shells (cups), cut the filling ingredients in half since this recipe is meant for approx. 30 cups.
These freeze well so make ahead if you'd like!!
You can add whipped cream to the top if you have or/and a fresh strawberry to make it look even better!
Nutrition
Calories:
56
kcal
|
Carbohydrates:
10.7
g
|
Protein:
2
g
|
Fat:
0.3
g
|
Saturated Fat:
0.1
g
|
Polyunsaturated Fat:
0
g
|
Monounsaturated Fat:
0
g
|
Trans Fat:
0
g
|
Cholesterol:
0
mg
|
Sodium:
75
mg
|
Potassium:
11
mg
|
Fiber:
0.2
g
|
Sugar:
1
g
|
Vitamin A:
0
IU
|
Vitamin C:
0
mg
|
Calcium:
0
mg
|
Iron:
0
mg
---