5 Steps to Finding a Winning Keyword
Are you frustrated, doing all the right things but still not seeing an increase in organic traffic? By choosing the right keyword, you can create winning recipes that bring sustainable traffic for years to come.
Watch this video and find a winning keyword for your blog!
Sign-up for the Newsletter
Get the "5 Steps to Finding a Winning Keyword" in your inbox.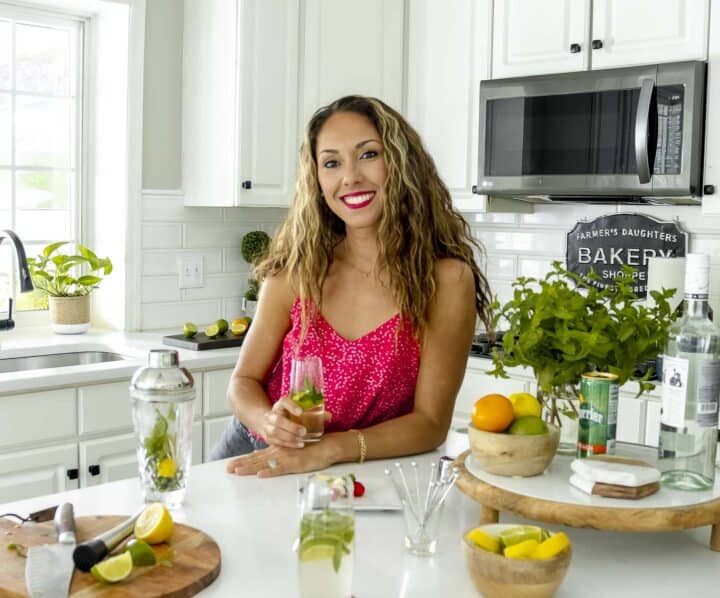 About Me
I am the founder of the food blog Aleka's Get-Together (formally Bite Sized Kitchen). I also have a Master's Degree in Teaching, Learning and Curriculum from Drexel University and was a teacher for ten years.
After keyword researching ineffectively for over two years, I was finally able to triple my organic search traffic in under four months by changing a few simple research strategies.
Having published only 120 recipes, I was able to rank for over 50k different keywords receiving 75% of my traffic from Google.
In this course, I will teach you how to find the right keywords so you can create winning recipes that will bring you sustainable traffic for years to come!
What They're Saying About The Course
"Cooking With Keywords transformed my blog traffic. It was a huge catalyst for taking my blog from a hobby to a full time income. The comprehensive course was detailed, well laid out, easily approachable, and so helpful. Since starting the course, organic traffic has become my number one source of traffic. I am blown away by the changes I have seen since starting this course. The investment was completely worth it!"

-Addison LaBonte from Organically Addison
"If you want to really see your posts take off then you must take advantage of this course! Learn how to do keyword research and find the keywords you're missing. Aleka's teaching style is clear and straight forward and you not only will get great tips but you will also get in depth instructions. Multiple internet tools are explained for finding your keywords. Whether you are starting from scratch or revamping old posts these lessons are invaluable. Seriously, there is so much more. Don't miss this course as it's the only one you'll ever need."
-Ginny McMeans from Vegan In The Freezer
"I've had a food blog for 13 years and thought I knew quite a bit about conducting keyword research. After taking Aleka's course, I've realized how much I didn't know! Her strategy tips will change the way you think about blog content and will help take your rankings to the next level. Whether you're writing new content or updating and optimizing old blog posts, Cooking with Keywords is a necessity for new bloggers and seasoned bloggers alike!"
-Sues from We Are Not Martha
"What an eye-opener! "You don't know what you don't know." Thanks to Aleka's Cooking With Keywords course, I can spend my time doing the right things in the right order so I can continue moving my business forward. You'll be surprised at the results you'll make in just a few months, but you have to do the work!"
-Jas Brechtl from All That's Jas
"I found the module where you are basically looking over Aleka's shoulder on how she analyzes her keywords extremely helpful. I need to update a bunch of my old posts but have hesitated because I really had no idea what to do. However, after taking this course, I am completely confident that I know what to do now. I will be signing up for Ahrefs so I use my time wisely and also have more accurate details. In Keysearch, it says I have 4294 keywords, but in Ahrefs it says I have 20.6K. This is MIND-BLOWING! I had no idea! I also really enjoyed Aleka's teaching style. She is so down to earth and breaks everything down into easy to follow steps. I really enjoyed this course and highly recommend it!"
-Jeri from windingcreekranch.org
"With all the "things" that bloggers have to do now it can get a little overwhelming. I understand that keyword research is important, but then what? Keyword Tracking and Analysis is crucial to keep your momentum going and to avoid falling through the SEO cracks. It's great as a compliment to Cook with Keywords or a stand alone course on what to do after you update or create a new post. Thanks to Aleka I have the tools and knowledge to stay on top of my rankings to help grow my business."
-Randa from randanutrition.com
Frequently Asked Questions
When does each course start and finish?
The course starts right when you enroll and never ends! It is a completely self-paced online course so you can decide when you can start and when you finish.
When will I start seeing a difference in my traffic?
This all depends on how long you've been blogging, how old posts are and how much time you put into your research. I have seen posts land on the first page within a few days and others take months.
What level of blogger is this course meant for?
This course is for the beginner to semi-advanced food blogger. I do not recommend this course for those who do not know the basics of SEO and food blogging or for those who are advanced at keyword research.
How often is the course updated?
The course will be updated at least once a year. I will make changes based upon updated SEO requirements or algorithm changes. This may require me to re-record modules or parts of a module. Updates will be notified via FB group.
Can I get a refund if I'm unhappy with my purchase?
Due to the immediate access to the course and all of it's materials, I do not offer refunds for Cooking With Keywords. Understand that this isn't a "get traffic quick" course. It's a "build sustainable traffic over a period of time" course. I put an extraordinary amount of time and effort into this course, and I expect you to do the same. Cooking With Keywords is for serious students only.
Learn how to choose the right keyword and create winning recipes that bring sustainable traffic for years to come.