These Pumpkin Pie Truffles are healthier but do NOT sacrifice flavor! You will not be able to tell they do not have processed sugar! Made with pumpkin pie spices, almond flour, pumpkin puree, and maple syrup, they are super creamy inside and tastes just like the center of a pumpkin pie!
There's no better way to celebrate the season than with these bite-sized treats that capture all the warmth and nostalgia of a classic pumpkin pie.
Whether you're a pumpkin pie enthusiast or simply looking for a delightful autumn-inspired dessert, these truffles are the perfect fusion of creamy pumpkin goodness and rich chocolate decadence.
After I made these, my 6 year old ate FOUR of them in 2 minutes. I guess he couldn't tell they are healthier!! 🙂
What Makes These Truffles Healthier?
I sweeten my truffles with pure maple syrup instead of processsed sugar.
I use almond flour instead of graham crackers which contain wheat.
I do not use cream cheese or any dairy.
I use dark chocolate which contains less sugar.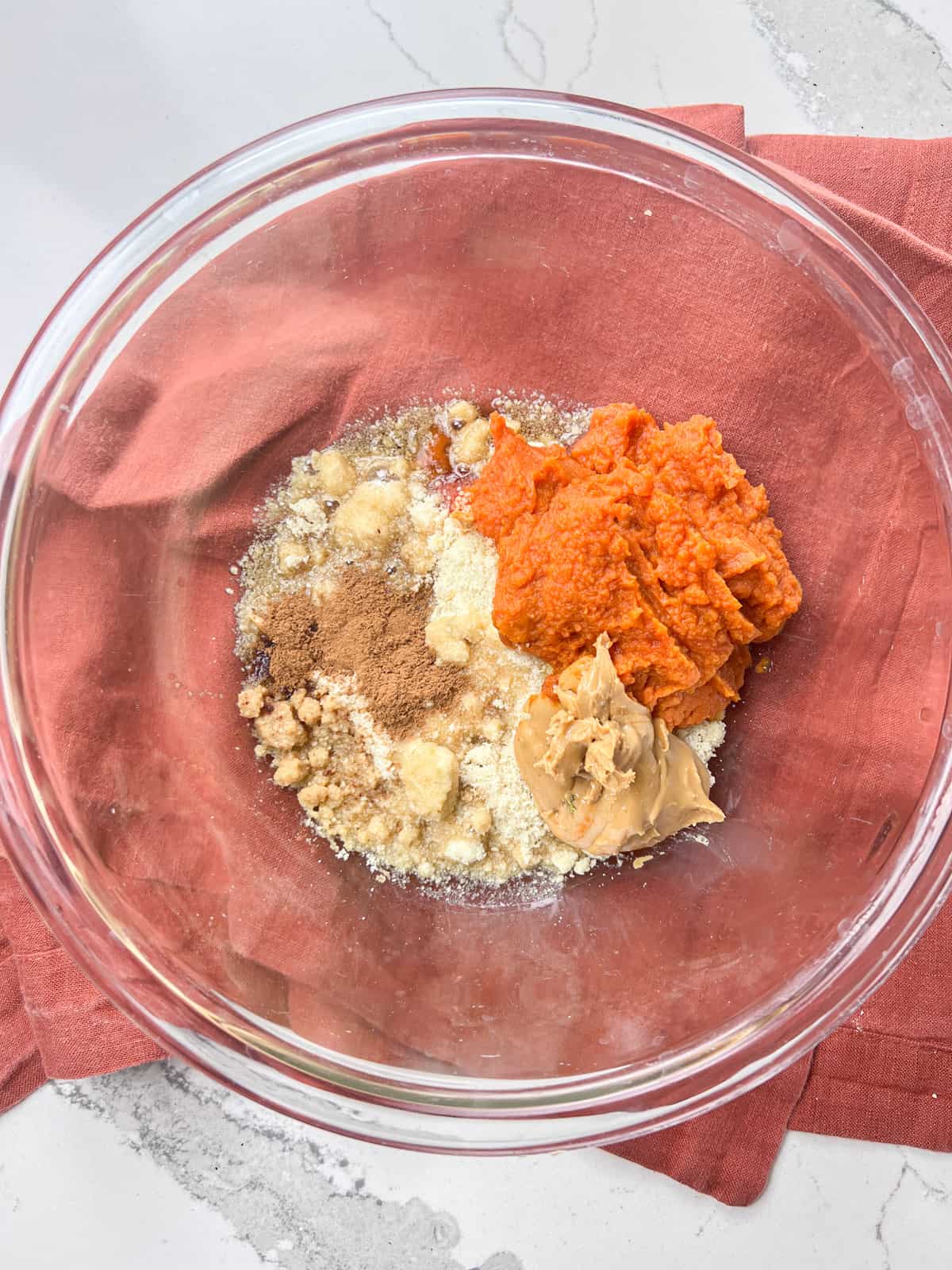 Pumpkin Puree Tip
Make sure you use pumpkin puree NOT pumpkin pie filling. The store has both and they are VERY different. The pie filling has sugar and spices already in it.
Also note that not ALL pumpkin purees are the same. Some are more watery than others so keep this in mind when mixing your truffles.
The Chocolate Shell
Remember that not all chocolate is the same. To get super melty chocolate that is easy to drizzle and dip, you should use melting chocolate. It's made specifically for this purpose and will make your life (and truffles) a whole lot easier!
I coat these these truffles in chocolate for TWO reasons:
It adds flavor.
It holds the truffles together.
You can add your chocolate one of two ways.
Drizzle melted chocolate over top.
Dunk the entire truffle in the chocolate. This is my favorite way to eat them!
How To Store Truffles
Refrigeration: Pumpkin pie truffles should be stored in an airtight container in the refrigerator. Place them in a single layer or separate layers with parchment paper to prevent sticking. Truffles can absorb odors from the fridge, so sealing them in an airtight container helps maintain their flavor.

Temperature: Keep the truffles at a consistent temperature in the refrigerator, ideally around 35 to 40°F. Avoid drastic temperature fluctuations, as this can cause condensation, which can affect the texture of the truffles.

Avoid Moisture: Moisture can cause the truffles to become soggy and lose their creamy texture. Ensure your container is airtight and try to keep them away from any foods that release moisture in the fridge.

Separation: If you need to stack the truffles in layers, place parchment paper between each layer to prevent sticking and maintain their shape.

Freezing (Optional): If you want to extend their shelf life, you can freeze pumpkin pie truffles. Place them on a baking sheet lined with parchment paper and freeze until firm. Then transfer them to an airtight container or freezer-safe bag, separating layers with parchment paper. Frozen truffles can last for several months. When you're ready to enjoy them, allow them to thaw in the refrigerator before serving.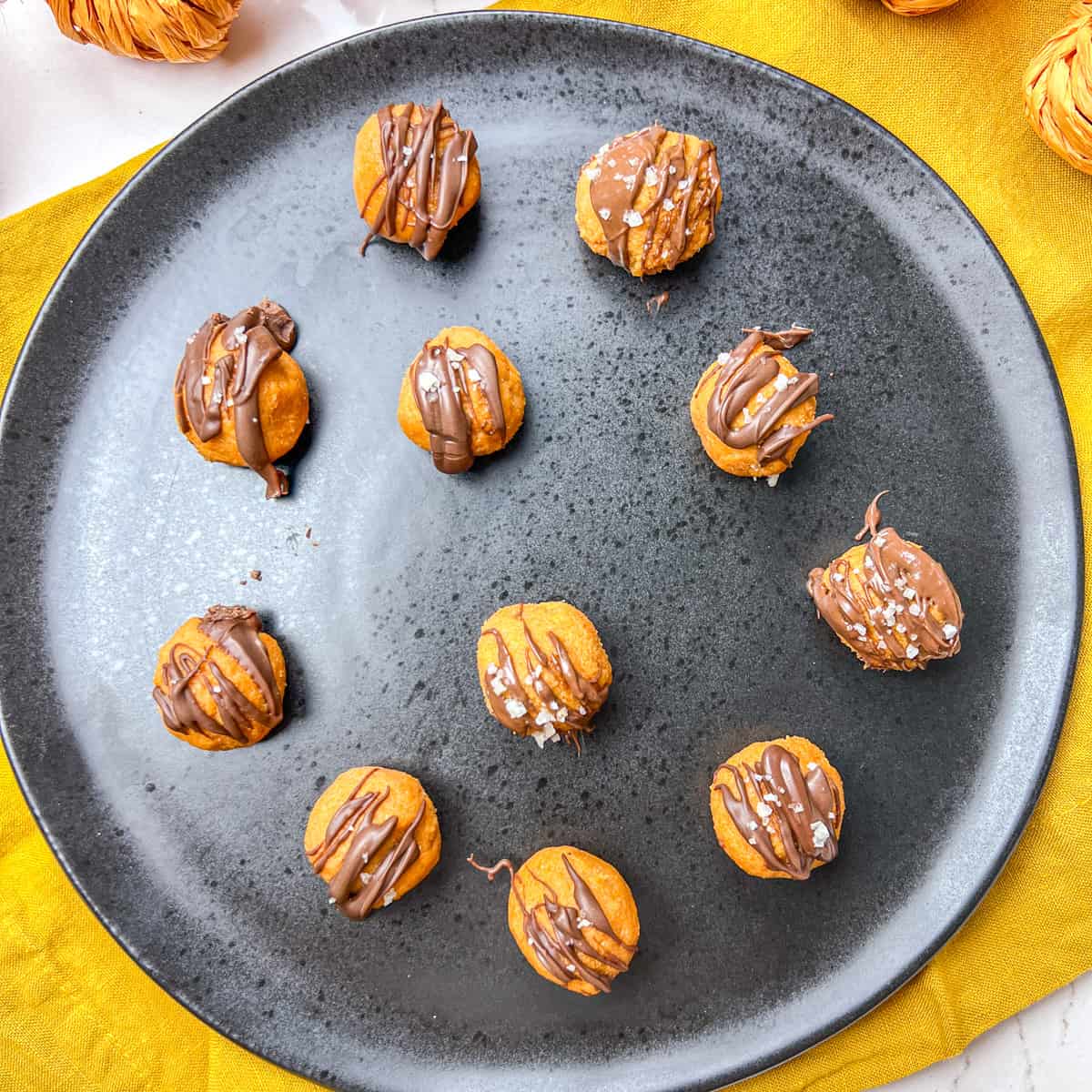 Topping Ideas
These truffles are coated in chocolate which gives them a crunchy shell-like exterior. It's my favorite part.
The flaked sea salt is 100% necessary as it helps to balance the sweetness.
You can add crushed walnuts or pecans for an added cruch if you prefer!
Popular pumpkin recipes:
📖 Recipe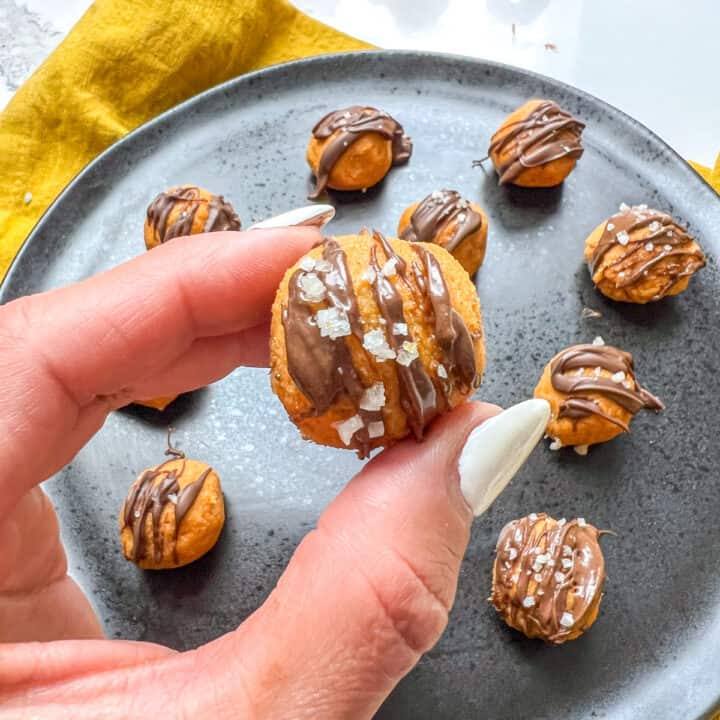 Pumpkin Truffles
These pumpkin pie truffles are a bite of heaven! They are the perfect combination of sweetness, spice and a touch of salt. They take less than 15 minutes to make too!
Print
Pin
Rate
Ingredients
2 ½

cups

almond flour

½

cup

pumpkin puree

¼

cup

maple syrup

2

tablespoon

almond butter

½

teaspoon

vanilla extract

¾

teaspoon

pumpkin pie spice
Chocolate Topping/Coating
Instructions
In a large mixing bowl, add all of your pumpkin truffle ingredients and mix well. *See note.

Use a mini ice cream scooper or tablespoon and scoop out about an ounce of mixture into your hands. Roll into smooth balls and set on wax or parchment paper. *Wetting your hands will prevent the dough from sticking to your palms.

Once all your dough is rolled out, place dough in freezer for 45 minutes to 1 hour or until they set. You want them hard enough to dip into chocolate but not frozen.

Melt chocolate in a mini bowl ot mug in the microwave in 30 second intervals making sure to stir well in between. After about a minute or so, the chocolate should be smooth.

Using a small fork or toothpick, dip the truffles into the chocolate and fully coat. Let excess chocolate drip off before placing back on the parchment paper to cool. *An alternative (easier) method is to drizzle the chocolate over top.

Immediately add flaked sea salt while the chocolate is still wet.

Let truffles set and enjoy! Store in the fridge in a sealed container for 4-5 days.
Recipe Notes
Yield:
About 20 truffles
*Note: S

ome almond flours and pumpkin purees are different so keep this in mind when mixing. You may need to add MORE almond flour if the consistency is not thick enough to roll.
*Note: It's important not to use regular ole kosher salt. Flaked or coarse sea salt is the best.
You can add crushed walnuts or pecans on top as well for a nutty bite!
Using melting wafers or melting chocolate will make your truffles MUCH easier to drizzle/dip! You can find melting chocolate in the bakery aisle OR purchase THESE off Amazon. (I always have a stash on hand for these recipes.)
Nutrition
Calories:
2557
kcal
|
Carbohydrates:
170
g
|
Protein:
74
g
|
Fat:
193
g
|
Saturated Fat:
32
g
|
Polyunsaturated Fat:
5
g
|
Monounsaturated Fat:
21
g
|
Trans Fat:
0.03
g
|
Cholesterol:
3
mg
|
Sodium:
34
mg
|
Potassium:
1294
mg
|
Fiber:
46
g
|
Sugar:
84
g
|
Vitamin A:
19102
IU
|
Vitamin C:
5
mg
|
Calcium:
891
mg
|
Iron:
24
mg