These Easy Monkey Bread Muffins with Banana Pudding are perfectly sized for individual fingers and only require 5 ingredients! Made with cinnamon, Pillsbury Grands biscuit dough and banana pudding mix, they are a tasty and fun party dessert to make without needing a Bundt pan!
What Is Monkey Bread?
Monkey bread is a very popular dessert or sweet treat here in America. I first had it about 10 years ago, in bundt pan form, and fell in love ever since!
A thick coating of brown sugar, cinnamon and butter all baked into little balls of dough that you eat with your fingers!? Sign me up!!
Monkey bread or as some call it "pull apart" bread, is called Monkey bread because of HOW we eat the bread.
With our fingers!
The typical monkey bread is made by throwing bite sized pieces of dough together with cinnamon, sugar and butter into a large bundt pan baked and served for all to PICK at with their fingers.
The key word is PICK! Because that's what monkeys do! They're "pickers". They are known for picking bugs and other critters off of each other. So the name is rather fitting!
Here is an article that explains a little more about what monkey bread is.
How To Make Mini Monkey Bread Muffins
Normal monkey bread recipes are baked in a bundt pan.
However, these mini monkey bread "muffins" are made without a bundt pan. Instead, all you need a MUFFIN TIN, aka, a cupcake tin!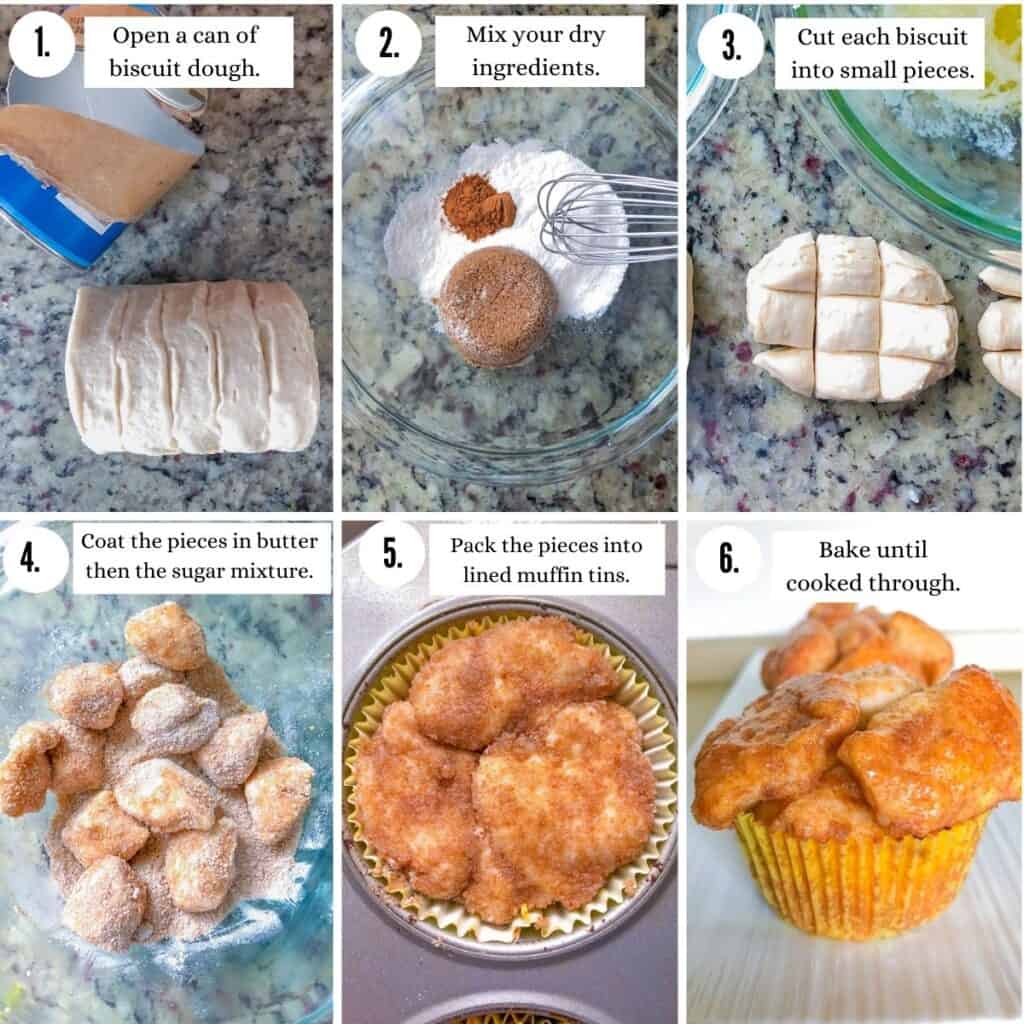 I suggest using a regular sized muffin tin as opposed to a mini muffin tin. The mini size tin will be too small.
You will also need some muffin tin liners so that you can easily grab and take these with you at a party!
Once you have your tin and liners, you are ready to add you dough and bake your mini monkey breads!
The Biscuit Dough
I use store-bought Pillsbury Grands canned biscuit dough for this monkey bread recipe. It is tasty and easy to find in the store. Plus, I love that it comes in different sizes.
What you need to do is simply open your canned biscuit dough and chop, or snip with scissors, each biscuit into bite sized pieces. Then toss those pieces in the cinnamon, sugar and banana pudding mixture and bake!
Tips For Serving Your Monkey Bread Muffins
If you are serving these for a group of people, I would recommend filling your muffins liners before guests arrive and store them in the fridge. Then just pop them in the oven when dessert time is near

so your guests will have WARM muffins.
Your muffins should sit about 5 minutes before serving, but don't let them sit TOO long. Warm and gooey is the best way to eat them!
You should know that these monkey breads can be pulled apart very easily so using muffin liners is key to holding them together.
Brush the tops with butter when they come out! This will help make your monkey bread nice and shiny while adding some moisture the top of each monkey bread.
Banana Pudding?!
Yes!
I used BANANA PUDDING in this recipe because monkey bread and bananas go hand in hand! 😉 The taste is amazing!
I have been on an instant pudding kick lately. I always stock up on a few boxes when I am in the food store. They make such a quick dessert and lead to so many possibilities!
You've got to check out these pudding desserts too!
Vanilla Pudding Puppy Chow Recipe (without peanut butter)
The BEST Mocha Vanilla Pudding Cookies (no chilling).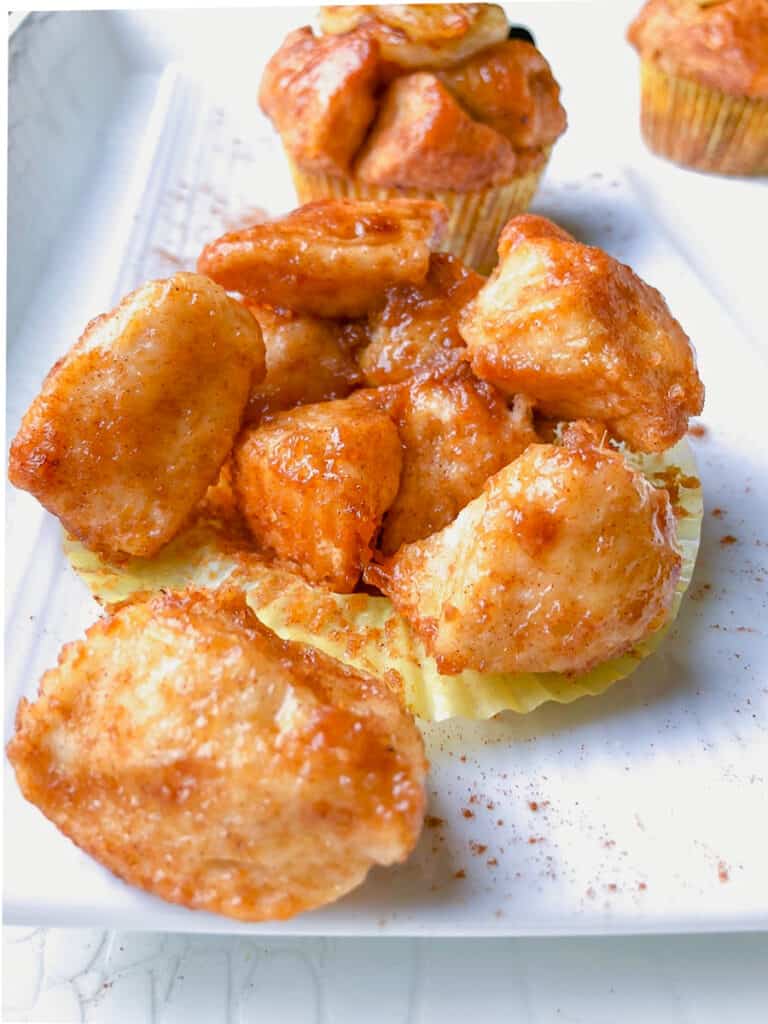 So when I began testing this monkey bread recipe out, I wondered how I could incorporate bananas into my monkey bread. I thought about using real bananas cut up or mashed up but that would prevent the dough from sticking together so banana pudding seemed like the best option.
Adding banana pudding makes the money bread SUPER moist with just enough banana flavoring.
You could really use ANY flavor pudding in this! I just think the banana goes so well but vanilla would be awesome too!
Try adding some banana slices to the top of your monkey bread muffins to show your guests that they have bananas in them. (or at least are banana flavored!)
What would REALLY take these over the top would be to flambé the bananas in some RUM then pour the bananas over top...just sayin'...;)
Here are some other bite sized desserts you may also like:
Salted Dark Chocolate Snack Bark
The BEST Mini Cheesecakes (with Cookie Crust)
Blueberry Cheese Crescent Dough Rounds
Chocolate Covered Banana Walnut Bites
Mini Banana Pudding Monkey Bread Muffins
These easy Banana Pudding Monkey Bread Muffins are perfectly sized for one person and only require 5 ingredients! Mini pieces of biscuit dough doused in butter and then coated in banana pudding, brown sugar and cinnamon! It is the ultimate kids dessert!
Print
Pin
Rate
Ingredients
2

10.2 oz. Can

Biscuit Dough (10 biscuits)

½

Cup

Brown Sugar

2

Tsp.

Cinnamon

½

Cup

Instant Banana Pudding

8

Tbsp.

Melted Butter (unsalted)

¼

Tsp.

Salt

(*If using unsalted butter)
Instructions
Open your can of biscuits and pull them apart. Cut each biscuit into 9 bite sized pieces and set aside.

Mix cinnamon, sugar, pudding and salt in a medium bowl.

Melt your butter in another bowl using the microwave.

Coat mini biscuit pieces in butter then dredge them in the cinnamon sugar pudding mixture. It is easier to do it all at once.

Add 9 pieces to a lined muffin tin and press down firmly. You should be able to fill 10 tins.

Bake at 350° F for about 15 minutes or until lightly browned. Let rest for 5-10 minutes before serving. Serve warm.

Optional** Brush the tops of your banana breads with remaining butter and place banana slices on top. Use a torch to flambee the bananas if desired.
Recipe Notes
Yield: 10 muffins
Tips*
These can be frozen in the muffin liners and baked at another time.
Bake 75% and finish off the baking before serving to make sure your breads are nice and warm!
The muffin liners help to keep the bread together so make sure you use them!
Nutrition
Serving:
0
g
|
Carbohydrates:
0
g
|
Protein:
0
g
|
Fat:
0
g
|
Saturated Fat:
0
g
|
Polyunsaturated Fat:
0
g
|
Monounsaturated Fat:
0
g
|
Trans Fat:
0
g
|
Cholesterol:
0
mg
|
Sodium:
0
mg
|
Potassium:
0
mg
|
Fiber:
0
g
|
Sugar:
0
g
|
Vitamin A:
0
IU
|
Vitamin C:
0
mg
|
Calcium:
0
mg
|
Iron:
0
mg