These 'Oven Baked Chicken Kabobs' are an easy appetizer for any party! Drizzled with a fresh homemade chimichurri sauce, they are healthy, easy and, because I use an oven, super convenient!
If you have never made chicken 'shish kabobs' using your oven, you have to try it! It is easier and more convenient than firing up the grill especially when the weather isn't cooperating!
Another huge benefit to using an oven is that your chicken will cook EVENLY as opposed to having some burnt pieces and some under cooked like when using a grill.
Oven baked appetizers are always better! It minimizes stress because of how much food you can heat (or warm) at once, plus it wont leave you smelling like a smokey grill!
I also love how these oven baked chicken kabobs can be heated in large batches! So if you're planning on having more than 10 people, I would use TWO sheet pans and double or triple the recipe. This means plenty of appetizers in minimal time with minimal cleanup! A win for all!
How Long To Cook Chicken Kabobs In The Oven
Depending how big you cut your chicken, the time could vary. If you stick to my recipe and cut them like I did, your chicken will turn out juicy and not dry!
Another important tip that will affect cooking time is how many chicken cubes you skewer. If you squeeze too many onto one skewer, they may not cook evenly. So make sure you don't skewer them tightly! Add them one at a time so that each chicken cube are JUST touching each other.
*Aim for cubes of chicken that are about 1 ½" on all sides.
How To Cut Chicken Into Perfect Cubes
This is important!!*
You need to purchase the RIGHT chicken before we talk about cutting your chicken. So the first question is:
"What kind of chicken should I buy?"
You want THICK chicken breasts! The thicker the better! This way it is easy to cut them up into cubes. Stay away from the 'thinly sliced' breasts or "cutlets" that are sold.
Once you have your chicken cut into 1" to 1.5" slices. Then cut each slice again into the same size resulting in perfect 1" to 1.5" cubes.
*Don't be afraid to trim off any excess you find that is keeping your chicken from being nice and 'square'. (You can save any excess chicken for a salad or soup.)
Keep in mind, you want to cut yours into cubes.
Helpful Cooking Tips!
Bake on the TOP rack!

Since these mini chicken kabobs are cut smaller in size, they will cook fast! And in order to get any color on them, you will need to place them higher in the oven so the heat browns the top of each kabob nicely.

Choose your skewers wisely!

If using wooden skewers, soak them in water for at least an hour to prevent burning. The longer you soak, the better. Personally, I prefer the metal skewers because they don't burn and they look fancier! Also, you can reuse them!

Lock in the moisture!

If you want to make these ahead of time and keep them warm until guests arrive, you can do so easily in the oven. Just make sure you keep your oven on the 'WARM' setting which is about 200-250 degrees F. Then just keep the kabobs on your baking sheet OR on a heatproof serving dish covered in tinfoil. This will help to keep the moisture in!!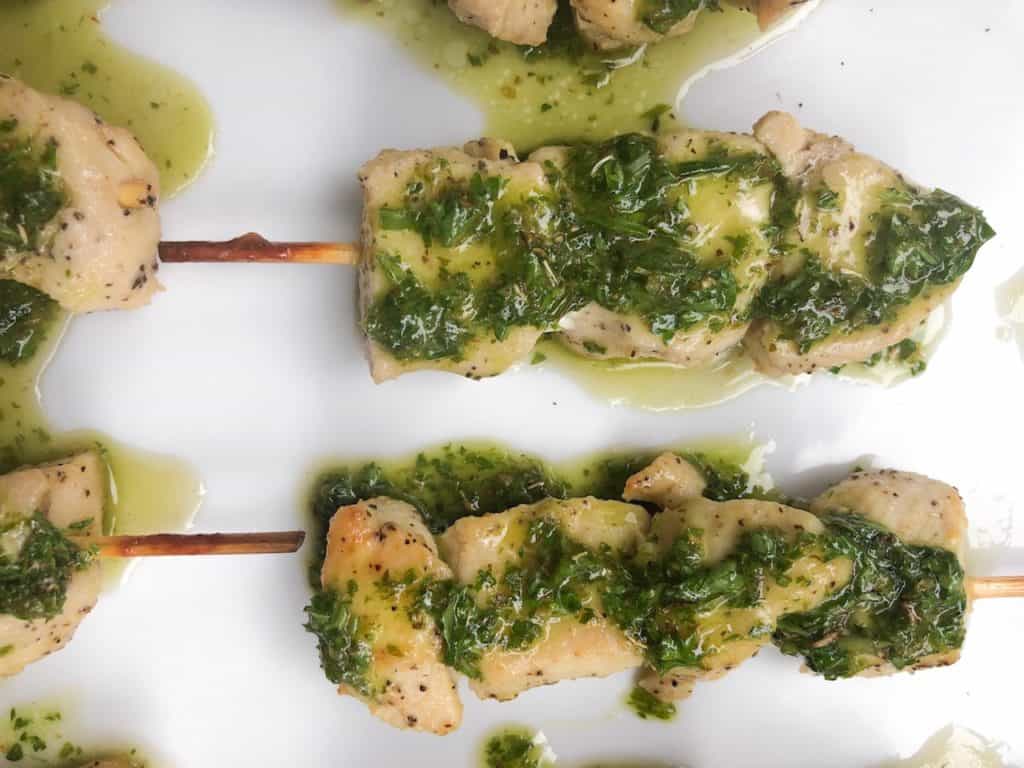 The Chimichurri Sauce
A chimichurri sauce is an Argentinian sauce made of fresh herbs, garlic, oil, and vinegar that is pureed and typically drizzled on top of grilled meats. Even though these kabobs are not grilled, it works wonderfully drizzled over top of your skewers after baking.
There are many different variations of the sauce so feel free to change it up as you please. I love that the sauce does not require cooking. All you need is a food processor to blend the ingredients up! It takes less than 5 MINUTES to make and can be made a few days ahead of time! Plus the color of it is gorgeous on chicken!
What To Serve WITH Your Kabobs
Here are some foods to serve alongside or WITH these skewers!
Potato Wedges
Potato Salads
Pasta Salads
Pita Bread (my favorite)
French Fries
Mashed Potatoes
Seasoned Rice
Other Dipping Sauces:
Hummus
BBQ
Aiolis
Honey Musard
Since I am Greek, I am a souvlaki LOVER! That means I have a love for anything dipped in tzatziki especially chicken kabobs! Tzatziki is so refreshing and adds some tang to any meat dish. Here is my easy homemade tzatziki recipe if you're interested instead of using the chimichurri sauce.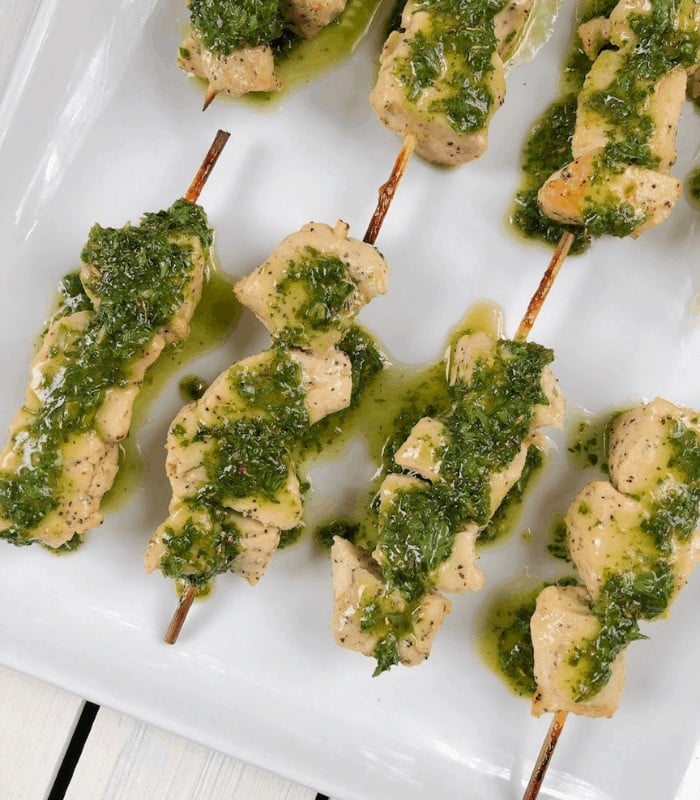 Check out these 18 kebob recipes by HuffPost if your looking for something other than chicken!
Other skewered recipes you may like!
Antipasto Skewers
Pasta Salad Skewers
Mini Cheeseburger Bites (with sauce)
Chicken Satay Skewers
---
Baked Chicken Kabobs with Chimichurri Sauce
Baked chicken kabob skewers made in the oven with a homemade chimichurri sauce! An easy make ahead appetizer that everyone will love!
Print
Pin
Rate
Ingredients
1.5

lbs.

Chicken Breast (thick)

((cut into 1" cubes))
Chicken Marinade
3

tablespoon

Extra Virgin Olive Oil

¾

tsp.

Oregano

2

Tsp.

Dijon Mustard

2

Tbsp

Honey

¾

Tsp.

Onion Powder

½

Tsp.

Garlic Powder

1

Tsp.

Salt

½

Tsp.

Pepper
Chimichurri Sauce
¾

Cup

Roughly Chopped Parsley

½

Cup

Chives

¾

Tsp.

Dried Oregano

2

Tbsp.

Red Wine Vinegar

¼

Tsp.

Salt

¼

Cup

Olive Oil
Instructions
Add all marinade ingredients to a large bowl and mix.

Cut chicken into 1 ½" cubes and place in same bowl making sure chicken is thoroughly coated in the marinade. Set in fridge for 1-2 hours to marinate.

If using wooden skewers, cut skewers in half to give you mini skewers like I did. Then soak skewers in water while your chicken marinates.

In the meantime, make your chimichurri sauce by adding all chimichurri ingredients to a food processor. Blend until sauce comes together. This should only take 1 minutes or so. Add to small bowl and chill until the chicken is ready.

When your're ready to assemble your chicken kabobs, have a baking sheet and your skewers ready to go. Add 3-4 chicken cubes to each mini skewer and set onto a non-stick baking sheet or a regular baking sheet lined with parchment paper. Pour remaining marinade (if any) over kabobs.

Bake on top rack at 425°F for 8-10 minutes or until chicken is cooked through. Do not overcook or your chicken will be dry.

Place skewers onto a large plate and spoon chimichurri sauce over top of your kabobs. Serve hot.
Recipe Notes
The sauce can be used to marinate the chicken as well as topping. Marinate for 15-30 minutes for best results.
Nutrition
Serving:
2
kabobs
|
Calories:
264
kcal
|
Carbohydrates:
5
g
|
Protein:
29.5
g
|
Fat:
13.7
g
|
Saturated Fat:
1.5
g
|
Sodium:
552
mg
|
Potassium:
587
mg
|
Fiber:
0.7
g
|
Sugar:
3.8
g
|
Calcium:
20
mg
|
Iron:
1.4
mg
`