Ready in just 15 minutes, all you need is a blender to make these Mini Pumpkin Chocolate Chip Muffins. They are made with pumpkin puree and oats so they're packed with protein, super moist and are also GLUTEN FREE!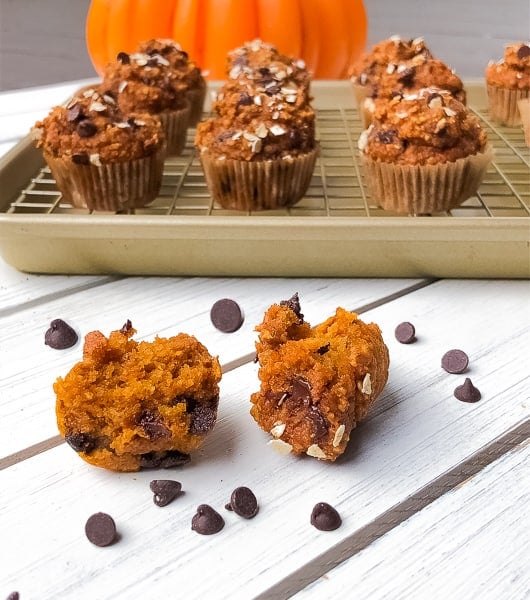 Oatmeal is one of my favorite things to eat in the morning for breakfast! It's incredibly good for you and it's packed with protein so it fills you up!
And since fall is here, why not throw some pumpkin puree into my oatmeal 'mix!?
This recipe ALSO has mini chocolate chips mixed into the batter which goes so well with the pumpkin flavor.
Blender muffins
Blender muffins are simply muffins you can make using a blender or food processor. They make life so much easier and work with this recipe since there is no flour so over-mixing isn't a concern.
To start, you'll need a blender (or food processor) and a mini muffin tin.
The blender is key because it will chop up the oats allowing them to hold the muffins together without using flour.
Choosing Your Oats
Have you ever noticed how many different types of OATS there are out there?
I mean you've got quick oats, rolled oats, Irish oats, old-fashioned oats, instant oats, stone ground oats...seriously?
Fortunately, they aren't much different at all! The main difference is how they are cut or "processed". The steel cut oats are thicker and just take longer to cook! The instant or quick oats are thinner/smaller in size so don't take long at all which is the kind I used in this recipe.
So who would want to buy the longer cooking, steel cut oats?
Well besides being just a smidge healthier, they are great for a recipe like 'overnight oats' that need a stronger oat that can hold up to the heat.
But for this recipe, you want to make sure the oats you buy are the quick oats or minute oats!
Choosing Your Chocolate Chips
You can use milk chocolate, semi-sweet or dark chocolate. All would be delicious! You just need to make sure you remember that milk chocolate is sweeter and is not vegan. Dark chocolate would be the best, healthiest option for you.
The SIZE also is important. I like using the MINI chocolate chips in my batter. The mini chips get distributed more evenly.
Pumpkin Puree vs. Pumpkin PIE Mix
Using pumpkin puree in your muffins is a great trick to maintaining the moisture in your muffins! It's like adding bananas or applesauce. That's why I love pumpkin muffins!
Just make sure you get canned pumpkin PUREE and not canned pumpkin pie filling or 'mix'! The filling is sweeter and already spiced so if you use this, your muffins will be overly flavored and too sweet.
Freezing
I will make a BIG batch of these muffins and freeze them. Muffins freeze very well!
I'll just take a few out in the morning (from my large freezer bag) while I make my coffee and prepare lunch. Then I grab a few as I head out the door! Easy and delicious!
If you want to make these larger, you can. You will just need to bake them for a little longer and at a lower temperature.
---
Other fall dessert recipes you may like:
Pumpkin Spice Dip With Pumpkin Puree
Pumpkin Spice Fall Chex Mix (Sweet n' Salty)
Sweet Moist Maple Cornbread Muffins (Mini)
Easy Mini Halloween Cakes (Petit Fours)
---
Mini Pumpkin Muffins with Chocolate Chips
These Chocolate Chip Pumpkin Mini Muffins are made with chocolate chips and are flourless! They are incredibly moist and perfect for mixing up in the blender!
Print
Pin
Rate
Ingredients
1

Can

Pumpkin Puree (15 oz.)

((not pumpkin pie filling))

1 ½

Cups

1-Min Oats (or Quick Oats)

1 ¼

Cup

Brown Sugar

1 ½

Tsp.

Pumpkin Pie Spice

1 ½

Tsp.

Baking Powder

1

Egg

¼

Tsp.

Salt

¼

Cup

Mini Semi-Sweet Chocolate Chips

((large chips will be too big))
Instructions
Puree all ingredients in a food processor or blender for about 20 seconds or until fully blended.

Using a mini ice cream scoop or small spoon, scoop batter into mini muffin tins all the way to the top!

Sprinkle with some oats and a few more chocolate chips and bake on middle rack at 375° for 12-14 minutes.

Cool on wire racks and get your coffee ready! Or you can freeze them for tomorrow morning! 🙂
Recipe Notes
If you are hosting a brunch party, these are perfect! They don't need to be kept warm and go delicious with warm or iced coffee.
Make a double batch and freeze these in Tupperware or large freezer bags!