The perfect tasty game day appetizer! These Crispy Philly Cheesesteak Wonton Cups use wonton wrappers to get their crispy shell. Best of all they are baked so you can make these ahead of time in BULK for any party or tailgate!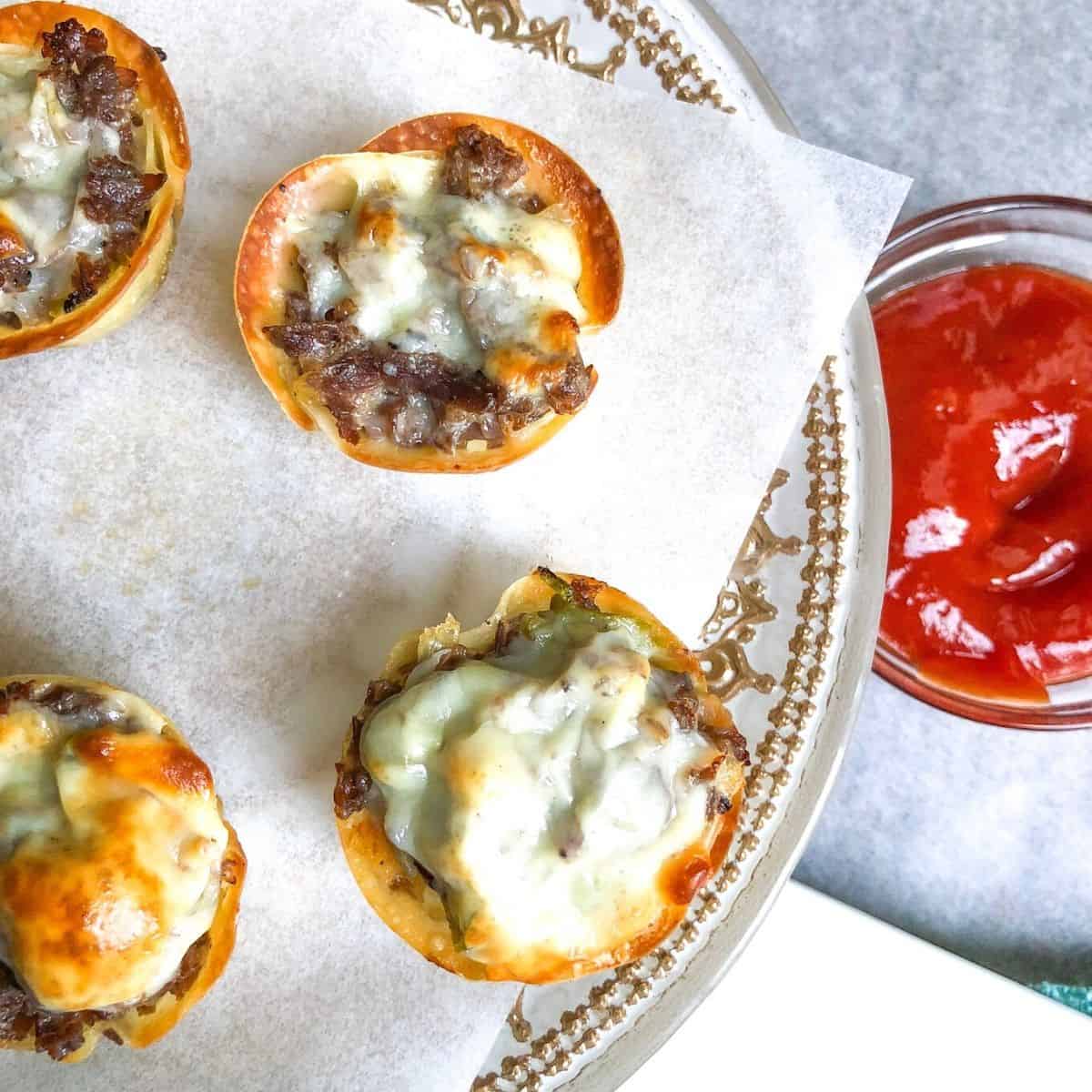 Growing up just outside of Philly, I had to share an appetizer that mimics our beloved Philly cheesesteaks! These are an easy but tasty appetizer that has all the right flavors you want out of a cheesesteak made bite-sized!
The crunchy wonton wrapper mixed with the gooey savory steak makes for the perfect bite!
If you love Philly-style cheesesteaks, you HAVE to try my Pull-Apart Cheesesteak Sliders! They are amazing!
Ingredients
Shaved Steak/Beef - I used deli roast beef since I could not find shaved beef. It is already cooked so doesn't need to be cooked prior. If you use raw steak, you will need to sear it off first before adding to your wonton cups.
Egg Roll Wrappers - You can find these in the store in the refrigerated section. They come in small squares.
Cheese- The cheese you use is your choice however I believe American, provolone and cheese whiz will be best for these cheesesteak cups.
Onions- I just used a yellow onion here. Fried onions add so much flavor to cheesesteaks but feel free to leave out OR add green peppers into the mix too!
Instructions
Step 1: Sauté your onions in a skillet until caramelized. Chop up your meat so it resembles shaved beef and mix it with your onions.
Step 2: Take your store-bought wonton sheets and cut out circles big enough to fit in your muffin or cupcake pan.
Step 3: Press them into you grease muffin tins and bake until wonton cups are lightly browned.
Step 4: Remove and add your cheesesteak and onion filling. Add a slice of cheese to the top of cheese and bake until melted.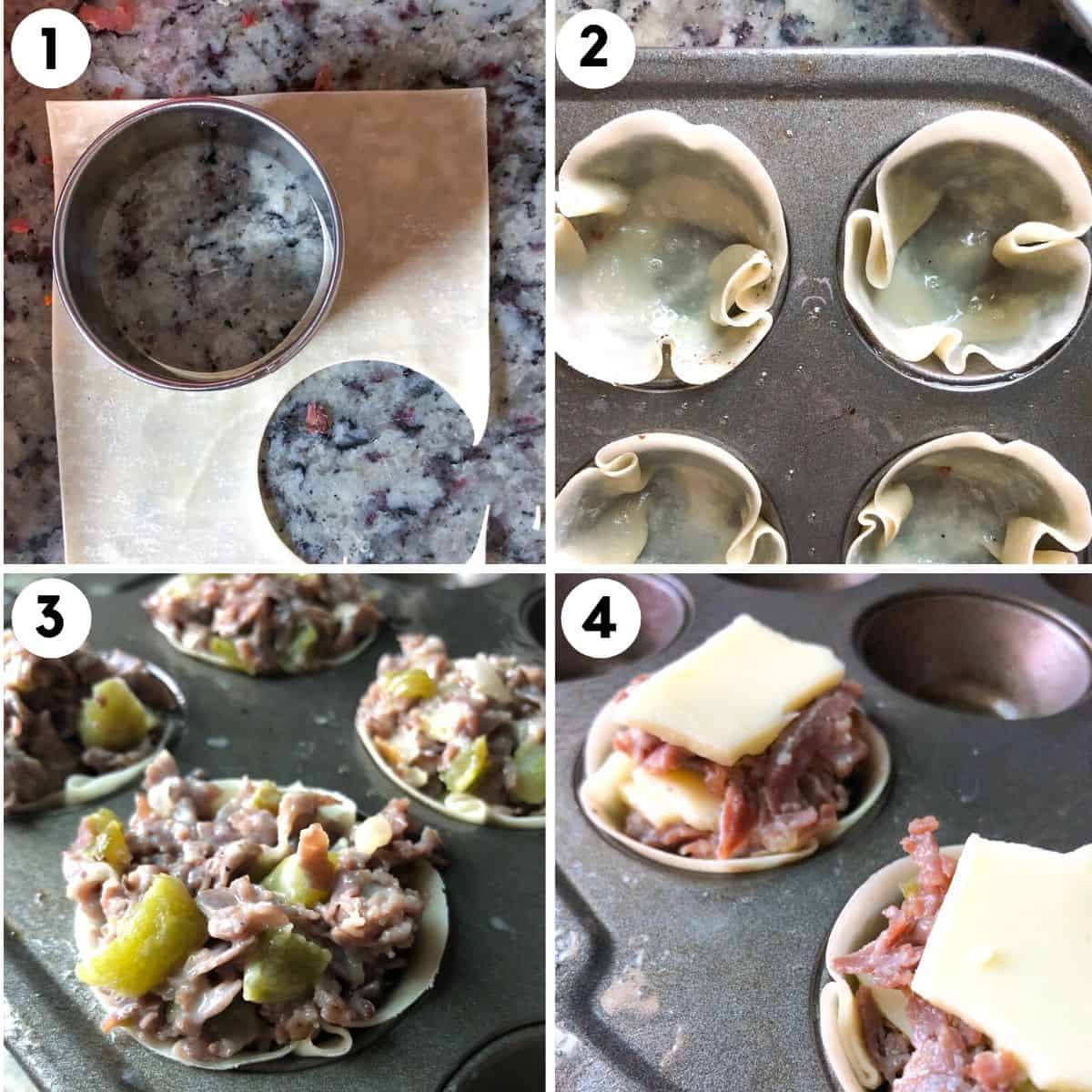 Cutting Your Wontons
Because the wonton squares are too large to fit into one mini muffin cup, you will need to either trim the corners off or use a round cookie cutter to cut small rounds out of each square. The diameter will depend on the size of your muffin tin but make them a bit LARGER than your muffin cups so there is a bit of a lip when you press them into the tin.
Pro Tip* Spraying your wonton wrappers with cooking spray will help them crisp up better!
How To Make These Ahead of Time
These can be assembled ahead of time or even the night before!
To do so, just cut your wonton cups and prep your steak filling. Bake off your wonton cups without the filling and then set them aside or in the fridge. Once you're ready to serve, add your filling and cheese into your baked cups and bake until just warmed through and melty.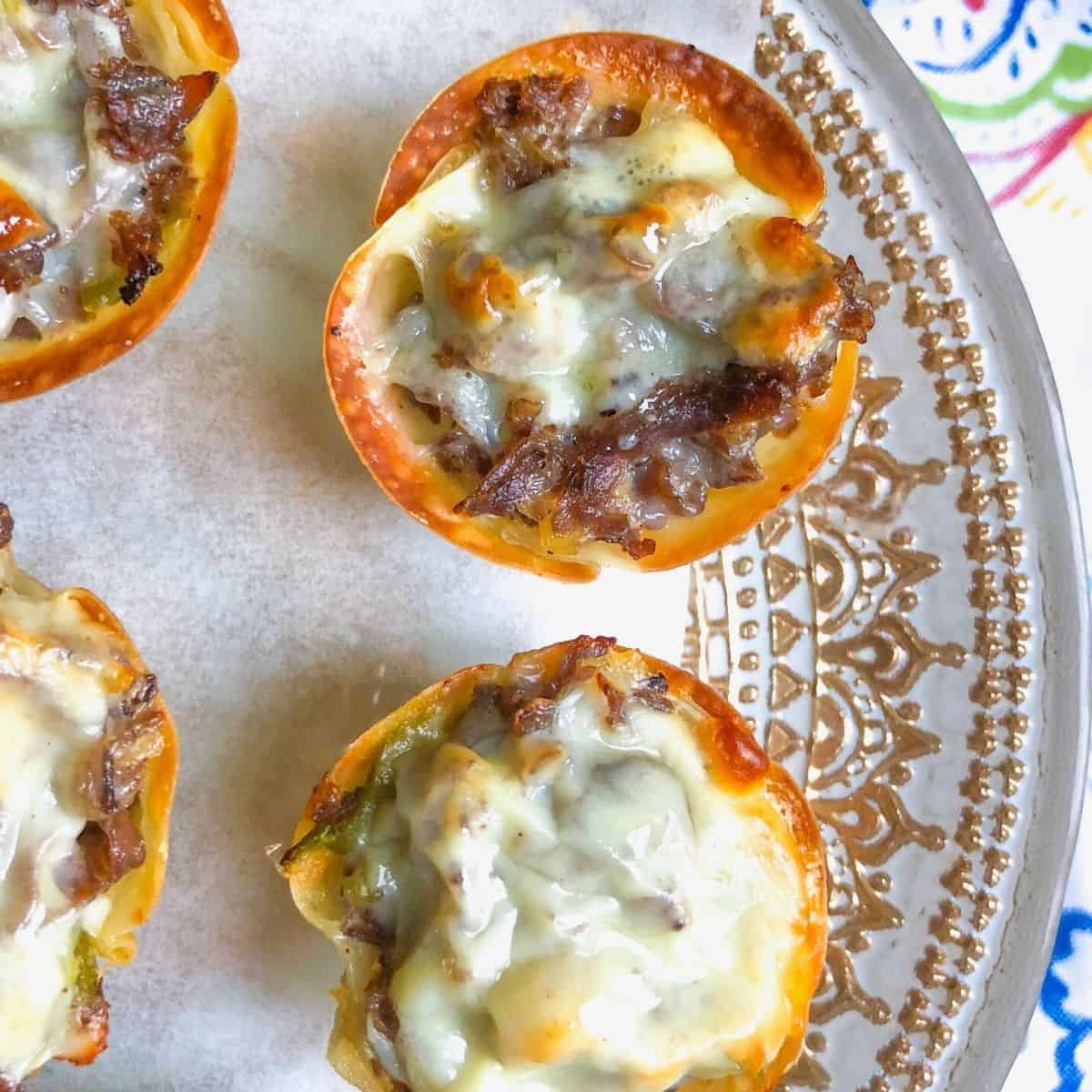 If you're looking for a kid-friendly snack for the big game, try these Crescent Dough Football Pizzas!!
Steak Options
The best steak to use for a Philly cheesesteak is ribeye. If you can get this THINLY shaved, then definitely use that! If not, the next best option is to look in your food store for the pre-packaged shaved steak. They are more common now than ever. If you can't find that, ask the butcher to slice some for you.
The last options is to use Steak-umms (in the freezer aisle) OR deli style roast beef. The advantage to using roast beef is that you DO NOT need to cook the it and it's super easy to find. Plus, it is very tender so you won't need to worry about tough steak.
FAQ's
Should I chop my steak?
Yes! Making sure your steak is chopped up well will make your cups easier to eat. You can do this on a cutting board with a knife.
Can I freeze these?
I have not tried to freeze them but if you try it, please comment below to let me know how they turn out.
What is the best cheese to use?
Provolone, cheese whiz or American are the most popular cheeses used in cheesesteaks. Whatever you choose, make sure it melts well!
Other Football Appetizers You Will Love!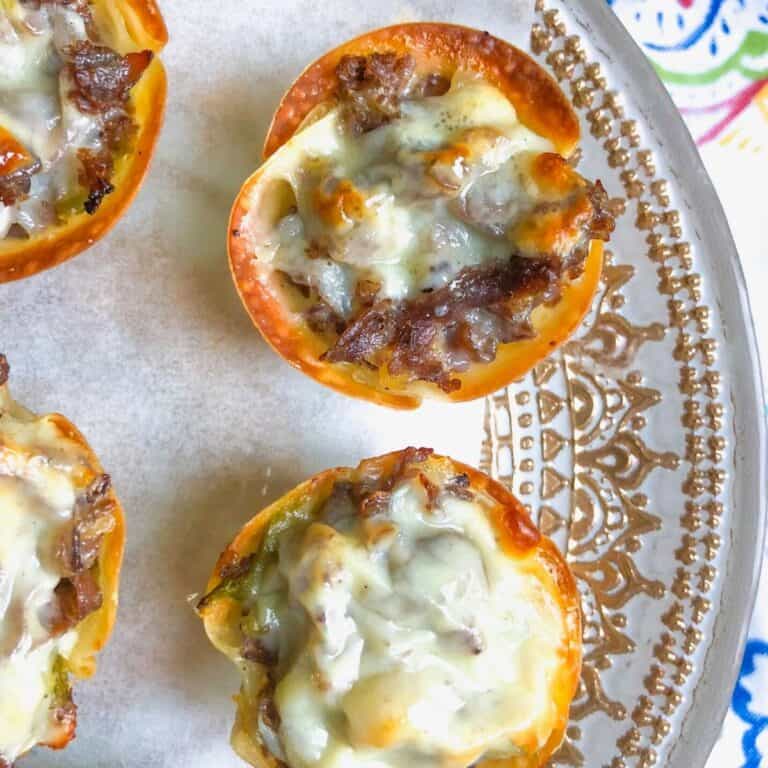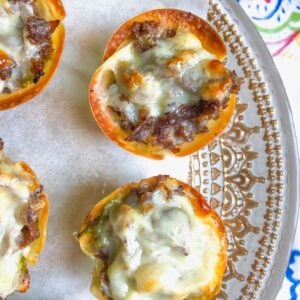 Philly Cheesesteak Wonton Cup Appetizer
Philly Cheesesteak Wonton Cup AppetizerThe perfect tasty game day appetizer! These Crispy Philly Cheesesteak Wonton Cups use wonton wrappers to get their crispy shell. Best of all they are baked so you can make these ahead of time in BULK for any party or tailgate!
Print
Pin
Rate
Ingredients
1

lb.

Deli Roast Beef or Rib Eye

((sliced very thin/thinly shaved!))

¾

Cup

White Onion

((Diced Small))

6

Egg Roll Wraps

8-10

Slices

American Cheese or Provolone

((Or ¾ Cup of Cheez Whiz))

½

Tsp.

Black Pepper

½

Tsp.

Salt

2

Tbsp.

Oil
Instructions
Add oil to a skillet followed by your onions. Saute for 10-15 minutes over medium heat until they begin to caramelize. Set aside in medium bowl.

-If using deli style roast beef, you do not need to cook it. Just season with salt and pepper and slice it thinly. Add it to your onions.

-If using raw rib-eye, you will need to season your steak then slice it very thinly before searing your steak over high heat. Cook your meat however you prefer and then add it to your onions.

Take your wonton wrappers and use a round cookie cutter, or cup and a knife, to cut out wonton circles.

Make sure you brush or spray BOTH sides of the wontons rounds with cooking oil! Be generous! This will allow them to crisp up nicely. Then press them into your muffin tins using your fingers. Bake on the bottom rack for 6-8 minutes or until lightly browned.

Take out wonton shells and fill each cup halfway with meat mixture. Add a small slice of cheese then fill the rest of the tin (ALL THE WAY to the top of the wonton) with more meat mixture. Finally add another square of cheese to the top.

Put back in the oven on the bottom rack until cheese is melted.

Serve with ketchup or more cheese sauce on the side!
Recipe Notes
Make these in advance and freeze them! Reheat in the oven until warmed through.
Nutrition
Calories:
464
kcal
|
Carbohydrates:
26.2
g
|
Protein:
37.9
g
|
Fat:
22.3
g
|
Saturated Fat:
8.5
g
|
Cholesterol:
129
mg
|
Sodium:
947
mg
|
Fiber:
2
g
|
Sugar:
5
g