These Homemade Chicken Flautas are crunchy, cheesy, flavorful tubes of heaven. Shredded chicken is mixed with taco seasoning, and TWO types of cheeses before being stuffed, rolled and fried (or baked) into a crispy flour tortilla! It's the best snacks or appetizers to serve both kids and adults at your next Mexican themed fiesta!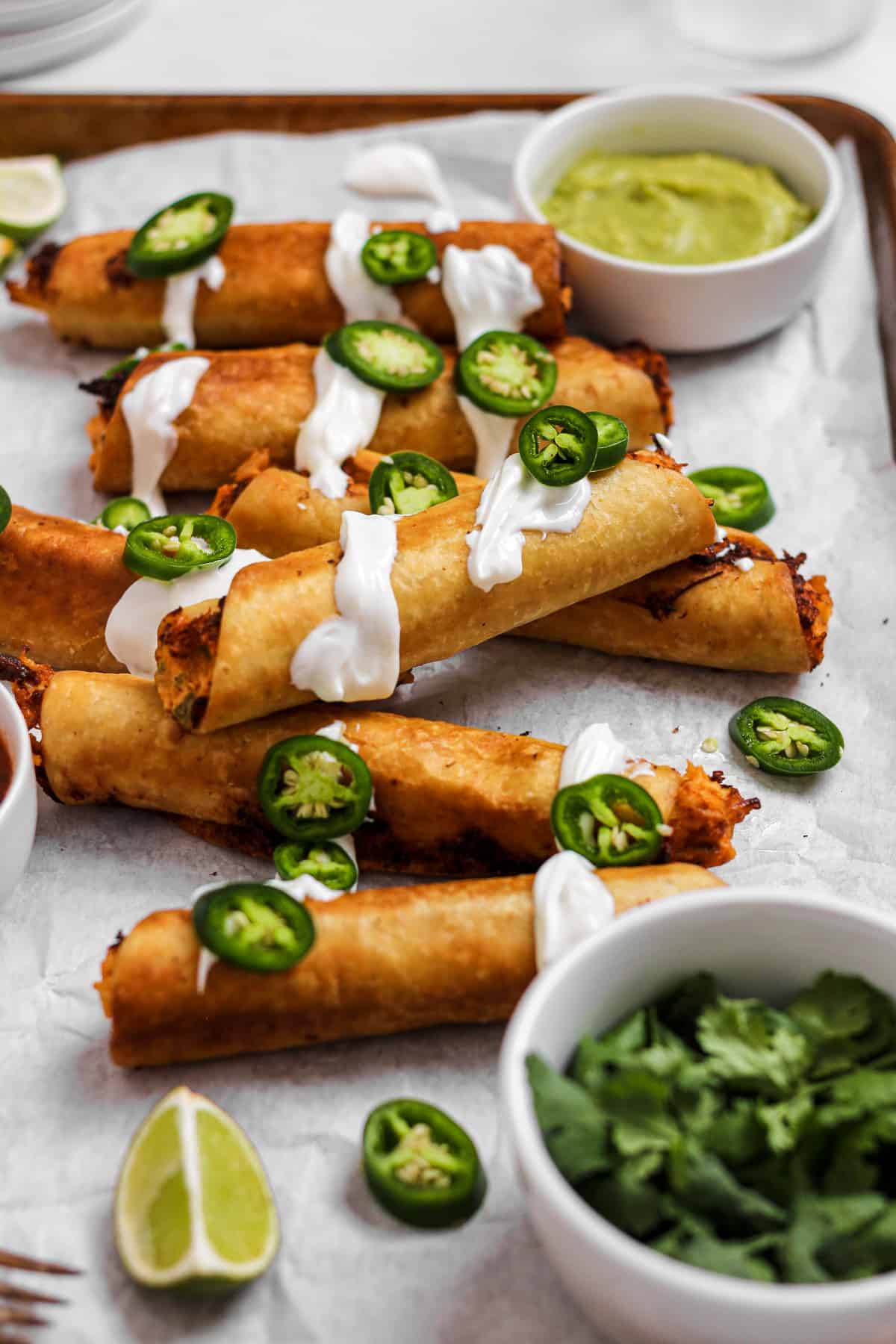 I am happy to share that I partnered with Dairy Council of Florida to bring you this delicious recipe!
These flautas have turned into a new family favorite recipe!
They're incredibly easy to make and so fun to eat!
I enjoy serving them as either a filling and nutritious after-school snack OR as an appetizer when I'm expecting both kids and adults at the house.
Their tube-like shape make dipping fun for any age so I like to get crazy and set out allllll the condiments!
PLUS, the fact that they're packed with protein and calcium makes it a win-win for me AND my kids.
What Are Flautas?
Flautas means "flutes" in Spanish which is really the perfect term to describe them. A flauta in the culinary world, is simply a rolled fried (or baked) taco which results in a crunchy exterior. How can that be bad??
It is typically stuffed with chicken, cheese and spices and rolled up to resemble a flute. Their shape makes them PERFECT for dipping into salsa, guacamole, sour cream or pico de gallo!
🛒Ingredients
cream cheese - This will give your flautas a creamy rich interior.
salsa - Use any store-bought brand from mild to spicy. This will add a tasty Mexican-inspired flavor.
sour cream - This will add a tangy bite and keep your flautas moist!
Monterey jack cheese - I prefer this cheese over cheddar but use what you like best. You can also use a taco cheese blend.
taco seasoning - They sell this in packets in the international aisle in any food store or you can make your own seasoning.
scallion - Also known as scallions, this adds a freshness!
shredded chicken - Shred your own chicken at home or purchase a rotisserie chicken and shred it quickly!
📃 NOTE: You can print the FULL recipe with all ingredients & detailed instructions below!
🧑‍🍳Rolling Your Flautas
It is super easy rolling your flautas. I recommend having your kids help you out! The trick is not to stuff them too much or they will be more like a clarinet than a flute. (A corny flautas joke...)
You want just a spoonful of filling inside each tortilla.
spread to the edges and roll tightly! The filling will help the tortilla stick to itself so toothpicks are not needed.
🍳Frying Your Flautas
I recommend frying flautas because the crunch factor is off the charts.
You have TWO options.
Shallow fry
Deep fry
Shallow frying is always my go-to method especially when frying something that is not too thick and is already cooked internally.
To do this, add 1-2" of oil to a skillet and fry away. You will need to flip your flautas halfway through to ensure both sides are golden brown.
Deep frying often is a quicker cooking method and in this case, will brown your flautas on all sides better than shallow frying. You will need at least 3" of oil in a sauce pan to do this.
Because the flautas are small and already cooked inside, I do not like to waste oil so shallow frying it is.
If you are looking to save on calories, air frying to baking them is your next best option!
Baking Your Taquitos
If you'd like to save calories or make a larger batch of flautas for a party, baking them is your best bet!
The process is the same as filling and rolling but in this case, cooking spray will be your best friend. Spray your baking sheet and the tortillas themselves liberally to maintain their crunchy exterior.
Bake for 10-15 minutes at 400-425 degrees F until golden brown.
Corn Tortillas vs. Flour Tortillas
As for flavor, flour tortillas have a more neutral, slightly sweet flavor while corn tortillas offer more of a robust toasted corn flavor.
The texture is also noticeably different. Flour tortillas are softer and much more pliable than corn tortillas.
If you're serving gluten free guests, opting for corn tortillas is the way to go.
I find most people prefer flour, as do I, which is why I used them for my flautas recipe.
Variations/Substitutions
There are many different ways to make flautas. I prefer chicken since it's cheap and easier to shred but you can use any protein, cheese or even add veggies! Here are some ideas:
Swap the cheese for pepper jack, mozzarella, gruyere, colby, cheddar or swiss.
Use ground beef, shrimp or shredded pork.
Add chili powder or cayenne pepper for a spicy kick!
Incorporate spinach or any lettuce, peppers, or tomatoes if you like.
Caramelized onions are always a good idea.
What's The Difference Between Flautas and Taquitos?
Traditionally, flautas use quesadilla sized (larger) flour tortillas, while taquitos use taco sized (smaller) corn tortillas.
With that said, this depends on the region you're from and I'm sure many people will offer their opinions on this! Regardless, it will not affect the taste too much.
Pair your flautas with one of these:
EASY Taco Dip Without Cream Cheese
Avocado Margarita w/ Jalapeno & Cilantro
Large Batch Margarita Pitchers
📖 Recipe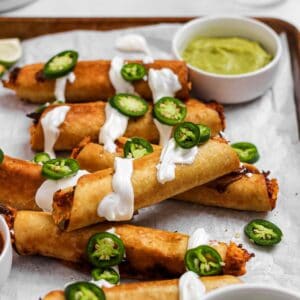 Flautas aka Chicken Taquitos
These Homemade Chicken Flautas are crunchy, cheesy, flavorful tubes of heaven. Shredded chicken is mixed with taco seasoning, and TWO types of cheeses before being stuffed, rolled and fried (or baked) into a crispy flour tortilla! It is the best snack or appetizer to serve kids and adults!
Print
Pin
Rate
Ingredients
8-10

small flour tortillas*

(4-6")
Filling
1

cup

cooked shredded chicken

(I used a store bought rotisserie)

3

oz

cream cheese

(softened)

3

tablespoon

store bought salsa

2

tablespoon

sour cream

½

cup

shredded Monterey jack cheese

¾

teaspoon

taco seasoning

1 scallion

(finely chopped)

garnish with freshly chopped cilantro and fresh lime wedges
Dipping
guacamole, sour cream, pico de gallo
Instructions
If Baking: Pre-heat oven to 425°F. Line a large baking sheet with nonstick spray or parchment paper. Set aside.

In a large bowl, cream together all ingredients except for the chicken. A hand mixer will make this much easier!

Gently mix in the shredded chicken last.

Add a spoonful of the mixture onto the center of each tortilla and spread a THIN layer all the way to the edges. Adding too much will make your taquitos too thick.

Tightly roll each tortilla and set aside. Taquitos should not be thick like a taco. Aim for a diameter the size of a nickel/quarter. (Secure tortillas in place using toothpicks if needed.)

If baking, transfer taquitos seam-side down onto your baking sheet and spray each with cooking spray or brush lightly with oil. (This will help them brown and crisp up nicely.)

Bake for 15-20 minutes or until they are golden brown.

If frying, heat ½ inch of oil in a large cast iron skillet or heavy-bottom pot over medium heat until the oil reaches 375°F.

Fry 3-4 taquitos at a time, turning occasionally, until golden brown, about 1 to 2 minutes. Let drain on paper towels or wire racks. Repeat with remaining taquitos. Adding too many to the pan will drop the oil temperature and result in greasy taquitos.

Taquitos can be kept warm in the oven set to 200°F.

Serve hot with sour cream, guacamole, lime wedges and/or pico de gallo!
Recipe Notes
I prefer using flour tortillas but you can use corn instead. They are just more prone to tearing when rolling. Heat in the microwave to make them more pliable.
Flautas can be frozen for up to 4 weeks in a sealed plastic bag. Thaw overnight and fry or bake as instructed above.
Nutrition
Calories:
374
kcal
|
Carbohydrates:
32
g
|
Protein:
18
g
|
Fat:
19
g
|
Saturated Fat:
9
g
|
Polyunsaturated Fat:
2
g
|
Monounsaturated Fat:
5
g
|
Cholesterol:
62
mg
|
Sodium:
704
mg
|
Potassium:
232
mg
|
Fiber:
2
g
|
Sugar:
4
g
|
Vitamin A:
491
IU
|
Vitamin C:
0.3
mg
|
Calcium:
193
mg
|
Iron:
3
mg