Put down that margarita mix! This Large Batch pitcher of Margaritas is SO much better and the perfect cocktail to serve a crowd at your next Mexican themed party or Cinco De Mayo festivities!
My recipe is as simple as it gets and is just 4 ingredients: orange liquor, freshly squeezed lime juice, agave syrup and your best tequila!
*This recipe is best served in a 64 ounce pitcher which yields about 14 people.
Making a large batch of homemade margaritas is SO easy. Frankly, I'm mad at myself for not learning sooner.
Once you have the ratio down, you will be whipping up batches of this popular summer cocktail ALL the time!
Plus, your guests will appreciate that they can serve themselves.
This margarita recipe serves 14 and is tangy, sour, tart, slighty sweet and VERY refreshing!
Paired with these Grilled Steak Mulitas, my 7 Layer Taco Dip, some flautas and a large bowl of guacamole and you're ready for some Cinco de Mayo festivities! Or just a casual Thirsty Thursday... 🙂
Have you tried my Avocado Margarita or my Peach Frose yet?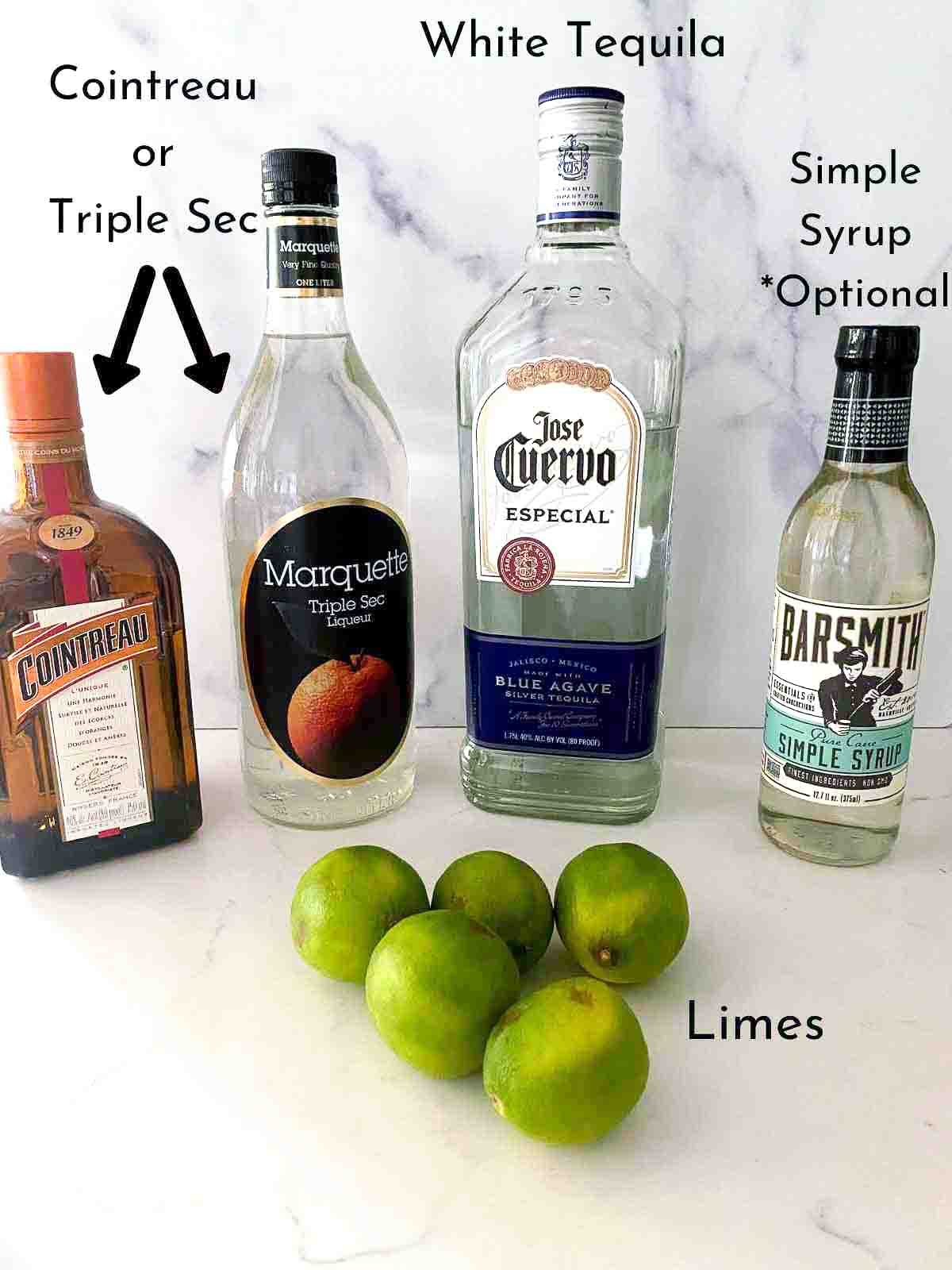 Large Batch Margarita Ingredients
Tequila blanco: I prefer Jose Cuervo because it's good quality but doesn't kill your budget.
Freshly squeezed limes: Don't you dare buy the store-bought stuff!
Orange liquor of choice - Triple Sec, Cointreau, and Grand Marnier (not pictured below).
Agave syrup/simple syrup- *Optional* aka agave nectar. It is a sweetener that comes from the agave plant native to Mexico. You can substitute honey or just simple syrup if you prefer.
Instructions
To make a large batch margarita pitcher, mix together all of the ingredient above. This can be done in any jug, jar or the serving pitcher itself.
You want to wait until as close to serving time as possible, to add your ice!
Ice will water down your margarita ruining a perfect cocktail.
If you love summer cocktails, you have to try my Passion Fruit Vodka Martini!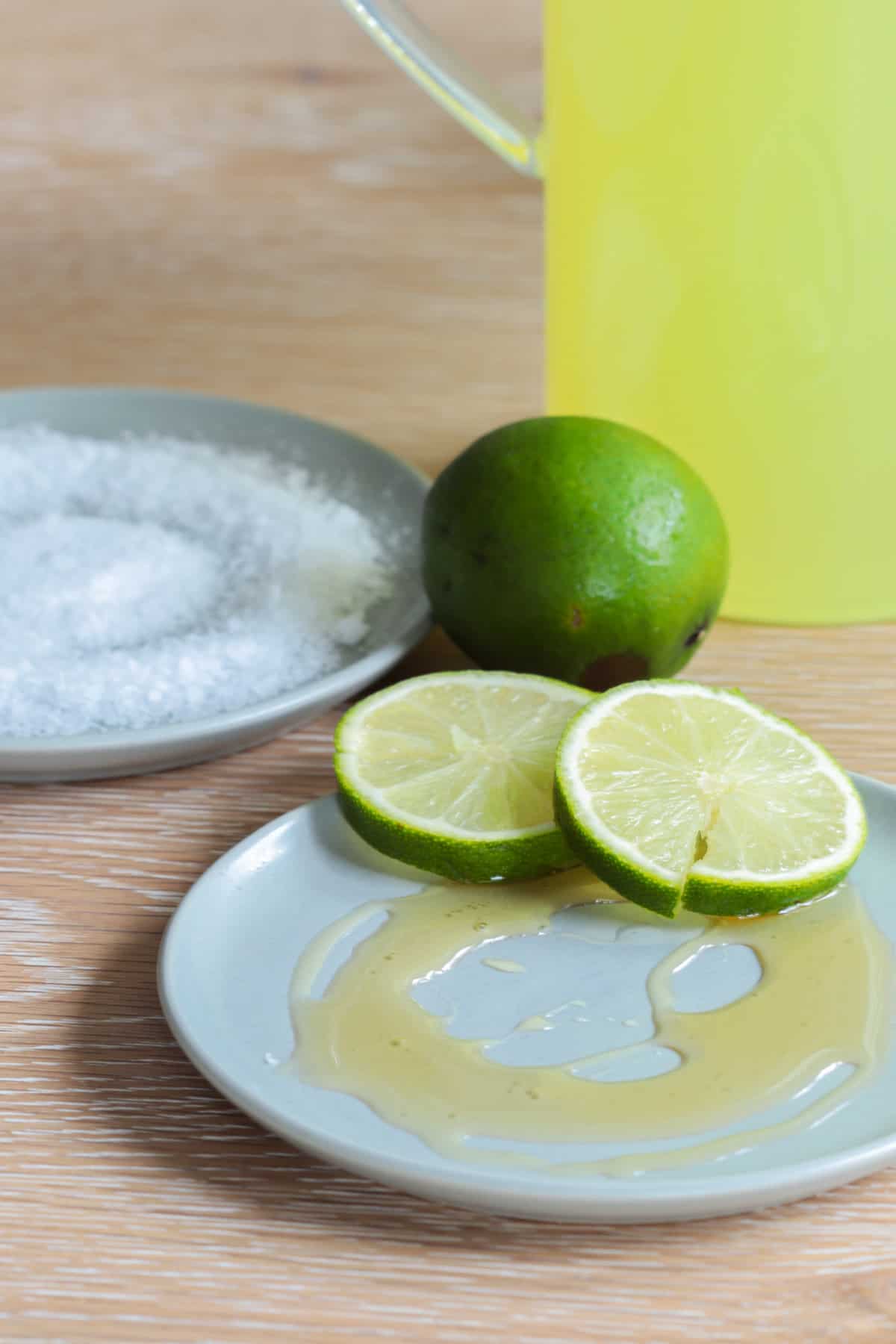 🧂 Margarita Rimming Options
This margarita salt is the one I use for margs!
Use coarse sea salt only! And I recommend using honey to get it to stick.
Stay away from using regular 'ol kosher salt around the rim of your margarita glass.
It doesn't look at good and just is not good practice. If you despise a salted rim but like a fancy presentation, dip the rim in coarse SUGAR instead!
Tajin Or Chili Powder
If you like a spicy kick, add a bit of tajin seasoning or chili powder to the rim of your marg.
🍹Love fruity cocktails? Check out this awesome drink list!
⏰Making Your Pitcher in Advance
You can make your pitcher a day ahead of time if you're a rockin' host which I KNOW you are since you're serving margarita pitchers!
All you need to do is to make your margarita mix. This is everything without the tequila and ice. Leaving the tequila out makes guests who are not drinking feel included. Then you can either add the tequila later or add it individually.
If you know everyone is drinking, then add the tequila along with the mix.
Then when ready, add LOTS of ice and wait 5-10 minutes before serving. This will allow the ice to dilute mix a bit so it's not too strong.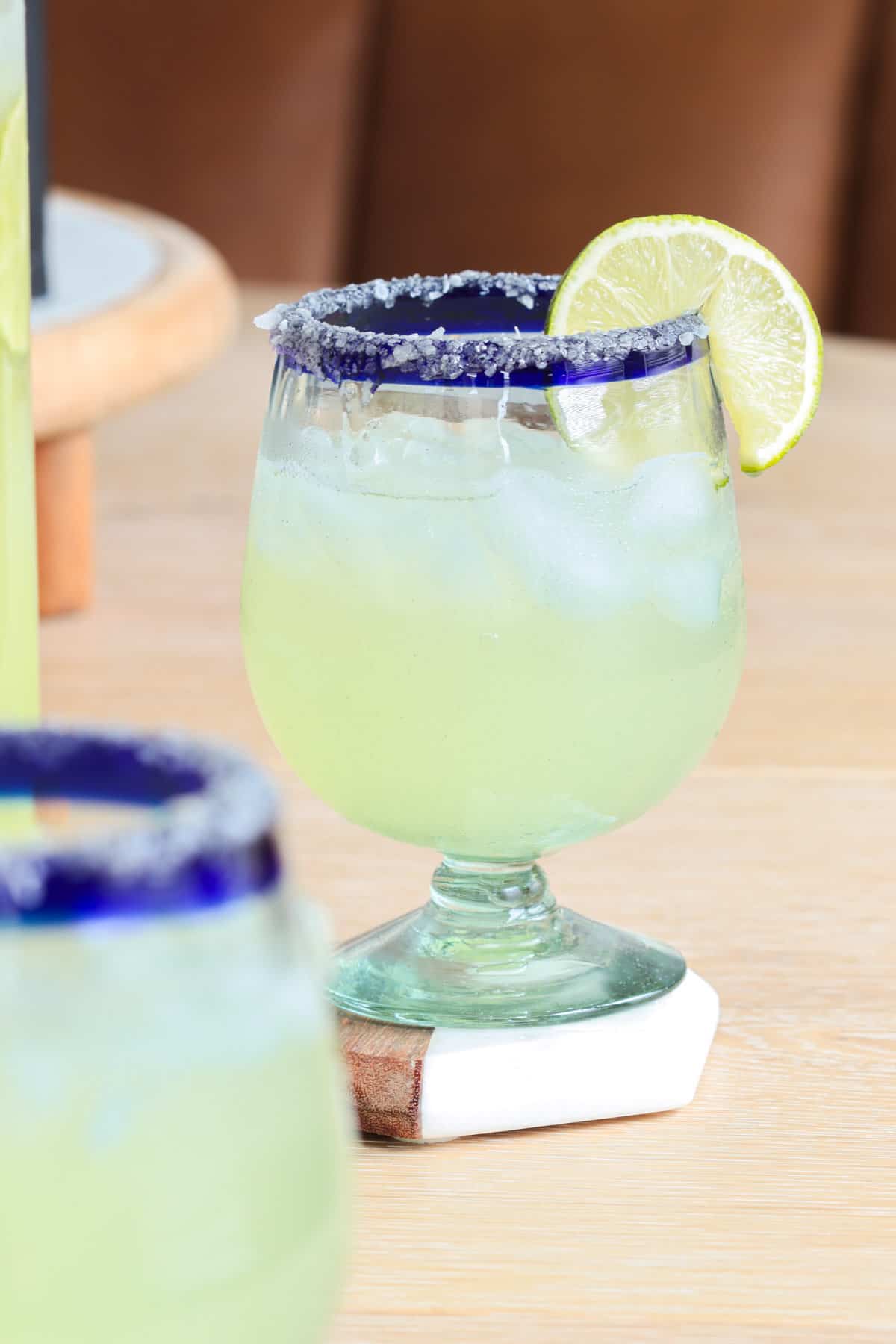 🍸Margarita Making Equipment
Check out more drink recipes here!
✔️Aleka's Margarita Pitcher Tips
There are not many ingredients in a margarita so using the best ingredients you have is key. That means freshly squeezed lime juice!! I can't stress this enough. That bottled stuff just doesn't taste the same.
When making a single serving of margaritas, I recommend shaking them in a cocktail shaker. But to make pitchers, it's not necessary. Just add and stir!
Add fresh lime slices to your pitcher as well as larger ice cubes. The limes look beautiful and larger ice cubes melt slower.
Summer time is hot! Serve margaritas over crushed ice for a frozen version.
Did you know?? Margarita means "daisy" in Spanish!?
FAQ's
How long does a pitcher of margaritas last?
This depends on who you're serving! A 64 ounce pitcher of margarita mix should be enough for about 14 people. If you have 14 guests, then I can image no longer than an hour. It also depends how large your glasses are.
What is the ratio of tequila to margarita mix?
Because a standard margarita is 8 ounces and there is about 1.5 ounces of tequila in a single serving, a good rule of thumb is 1 part tequila to 6 parts mix. This allows one ounce of room for the ice.
If you want to make it stronger, you can add 2 shots of tequila (2 ounces) to 6 ounces of mix which would be a 1 to 3 ratio however you will have some leftover assuming there is ice in the glass.
Is triple sec or Cointreau better for margaritas?
Both taste similar and would work wonderfully in your margarita however I prefer Cointreau. If you want to read more, this might help.
Simply put, Triple Sec is ANY clear orange-flavored liqueur whereas Cointreau is a particular TYPE of triple sec that is better quality and higher alcohol content.
Margarita Variations
If you want to change up this recipe a bit, here are some ideas:
Use mezcal instead of tequila. If you've never heard of mezcal before, it is a similar to tequila but instead of smooth and sweet, it's smoky and savory.
Add some chili powder to your salted rim for an added kick if you love heat.
Muddle in some jalapenos or add some jalapeno syrup for a spicy margarita.
Use lemons or even oranges instead of limes! Lemons will mimic the flavors more than orange but both would be delicious.
Add strawberry syrup to make a strawberry margarita.
Mix in a blend with ice to make a FROZEN version.
FAQ's
How are margaritas traditionally served?
Traditionally, margaritas are served strong in margarita glasses like this one. They are not too large and are meant for one serving which can range from 8 oz to 16 oz.
How can I make this recipe less strong?
Add plenty of ice to your pitcher and stir well before serving. Then add more ice to each individual glass.
How many ounces are in one margarita serving?
Although most restaurants serve huge margarites, the standard amount is 6-8 ounces per serving.
Mexican Inspired Recipes To Serve With Your Margaritas!
Other Summer Cocktails You'll Love
📖 Recipe
Large Batch Margarita Pitchers
Classic large batch margarita pitchers are perfect for serving a crowd! This classic version is simple and uses fresh ingredients!
Print
Pin
Rate
Ingredients
Single Serving
2

oz.

Tequila Blanco (White Tequila)

1 ½

oz.

Cointreau or Triple Sec

1

oz.

Freshly squeezed lime juice

(*about 1 large lime)

½

ounce

Agave syrup

(*Optional)

Course salt/sugar for rim
Pitchers For 14
3 ½

cups

Tequila Blanco (White Tequila)

2 ⅔

cups

Cointreau or Triple Sec

1 ¾

cups

Freshly squeezed lime juice

(*about 14 large limes)

¾

cup

Agave syrup

Course salt/sugar for rims

(I like this rimming salt)
Instructions
Pitcher Margaritas
If serving right away, add lime juice, Cointreau, (Triple Sec), agave and tequila to a 64 oz. pitcher and stir. Top the pitcher with as much ice as you prefer along with a few lime slices.*If you don't want your margaritas watered down, wait to add ice to your pitcher!

*Optional* Prepare your margarita glasses in advance by dipping the rim in lime juice (I like to use honey) following by coarse sea salt or sugar.

Fill margarita glasses with crushed ice and garnish with a lime wedge. Pour 4 oz. of the prepared pitcher into each glass. Enjoy!
Individual Margaritas
Add lime juice, Cointreau, (Triple Sec), agave and tequila to a cocktail shaker filled with ice. Shake vigorously for 20-30 seconds.

*Optional* Wet the rim of your glass with lime juice or honey and dip into margarita salt.

Pour the margarita into a 4 oz. margarita glass filled with ice (preferably crushed). Garnish with lime wedge and serve cold.
Recipe Notes
This recipe makes approximately 14 drinks  that are 4 oz.-6 oz. each (the standard serving size that fills a standard margarita glass).
The total volume is 56 oz. of margarita mix so you will need a pitcher that is at least 64 oz. in volume to allow room for ice.
Additions
Add more ice to dilute it down if preferred.
Use a lime juicer like this one here to help squeeze the juice FAST!
Add fruit puree to make a fruit margarita.
Check out my spicy pineapple margarita

too!
Nutrition
Calories:
291
kcal
|
Carbohydrates:
2.4
g
|
Protein:
0.1
g
|
Fat:
0
g
|
Saturated Fat:
0
g
|
Trans Fat:
0
g
|
Sodium:
1
mg
|
Fiber:
0.1
g
|
Sugar:
0.5
g