Put down that margarita mix! This homemade pitcher of margaritas is SO much better! My recipe is made as simple as it gets made without any simple syrup, and just 3 ingredients: orange liquor, freshly squeezed limes and your best tequila, the way a margarita should be! 😉
Ironically, I never really liked margaritas...until I hit my 30's...now I can't get enough of 'em. I think because most restaurants serve margaritas sickly sweet that I gave up on them.
Until now! 🙂
Making homemade margaritas is SO easy I'm mad at myself for not learning sooner. Most importantly, when you make them at home, you can control the sweetness!!
So this recipe is classic and simple. You get a subtle sweetness from the orange liquor, lots of sour/tartness from the limes and an added salty kick that just WORKS! Paired with these Mini Baked Shrimp Tostadas Bites, and you're ready for some Cinco de Mayo festivities! Or just a casual Thursday... 🙂
This recipe is ideal for a crowd of people so put down that cocktail shaker and grab your best pitcher! Cheers!
If you love passion fruit, you will love my Passion Fruit Vodka Martini!
Ingredients:
Your best white tequila (Tequila blanco)
Freshly squeezed limes
Orange liquor of choice - Triple Sec, Cointreau, and Grand Marnier (not pictured below).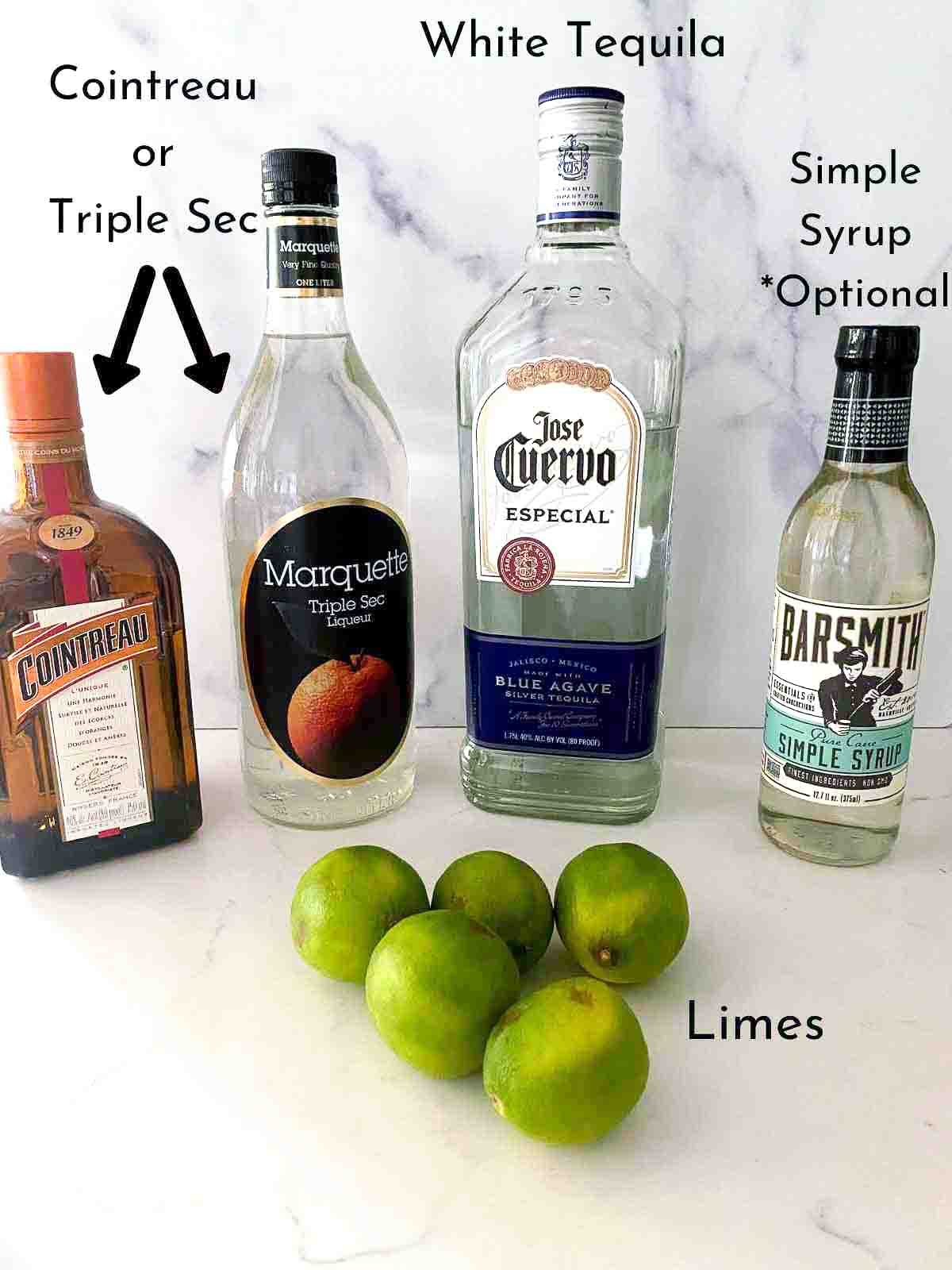 Expert Tips
There are not many ingredients in a margarita so using the best ingredients you have is key. That means freshly squeezed lime juice!! I can't stress this enough. That bottled stuff just doesn't taste the same.
When making a single serving of margaritas, I recommend shaking them in a cocktail shaker. But to make pitchers, it's not necessary. Just add and stir!
Add fresh lime slices to your pitcher as well as larger ice cubes. The limes look beautiful and larger ice cubes melt slower.
Summer time is hot! Serve margaritas over crushed ice for a frozen version.
Serving Tips
I am not a salted rim fan but I did it in my photos because I love the way it looks. If you want to rim your margarita glass, I suggest adding some honey to the rim then dip the rim in salt. Using lime juice or water simply doesn't allow the salt to stick well to the rim. Honey is super stick and slightly sweet so it not only is effective, it also tastes delicious!
Use Coarse Sea Salt or Sugar!
Stay away from using regular 'ol kosher salt around the rim of your margarita glass. (You know, the kind we cook with.) It doesn't look at good and just is not good practice. If you despise a salted rim but like a fancy presentation, dip the rim in coarse SUGAR instead!
Order yourself this Jose Cuervo Margarita Salt Container that makes dipping your glass SO convenient!
This lime juicer is also super convenient!
Check out my other cocktail recipes here!
Let's Talk Rocks
Margaritas are typically served "on the rocks" which means with ice. The fun thing about making cocktails is that you have many ice options to choose from. When it comes to margaritas, the ice doesn't typically matter. With that said, different ice cubes do affect drinks differently.
Larger ice cubes melt slower and will not dilute your ice as quickly. This margarita recipe is pretty darn strong so I don't recommend larger ice cubes. They just aren't needed.
So instead, I suggest using smaller ice cubes, crushed ice or even shaved ice if you have it for a frozen version.
Don't have crushed ice?
It is super easy to make your own crushed ice! Simply add regular large ice cubes to a bag. Plastic works but paper bags work too, just work quickly so they don't get soaking wet.
Then, using a meat mallet or rolling pin, bash the heck outta your ice! Do it on a sturdy table. Then add your ice straight to your pitcher of margaritas if serving immediately or individual glasses. Store extra ice directly in the freezer.
Did you know? Margarita means "daisy" in Spanish!
Other Margarita Variations
If you want to change up this recipe a bit, here are some ideas:
Use mezcal instead of tequila. If you've never heard of mezcal before, it is a similar to tequila but instead of smooth and sweet, it's smoky and savory.
Add some chili powder to your salted rim for an added kick if you love heat.
Muddle in some jalapenos for a spicy margarita.
Use lemons or even oranges instead of limes! Lemons will mimic the flavors more than orange but both would be delicious.
FAQ's
How are margaritas traditionally served?
Traditionally, margaritas are served strong in margarita glasses like this one. They are not too large and are meant for one serving.
How can I sweeten my margarita naturally?
You can add natural sweeteners like honey, agave or even maple syrup.
How can I make this recipe less strong?
Add plenty of ice to your pitcher and stir well before serving. Then add more ice to each individual glass.
How many ounces are in one margarita serving?
Although most restaurants serve huge margarites, the standard amount is 4 ounces per serving.
Other Summer Drinks You'll Love
Passion Fruit Vodka Martini Cocktail (With Puree)
The Perfect Gin Aperol Sour Cocktail
Appetizers To Serve With Margaritas!
Mini Baked Shrimp Tostadas Bites (w/ Chipotle Sour Cream)
Air Fryer Cheesy Loaded Nachos (5 Minutes!)
Beer Cheddar Cheese Pretzel Dip (Cold Spread)
Hot Crab & Artichoke Dip with Cream Cheese
22 Mini Sandwich Ideas (Party Appetizer Sliders)
Classic Margarita Pitchers (No Simple Syrup!)
Classic margarita pitchers are perfect for serving a crowd! This classic version doesn't use simple syrup and is made with just 3 ingredients!
Print
Pin
Rate
Ingredients
Single Serving
2

oz.

Tequila Blanco (White Tequila)

1 ½

oz.

Cointreau or Triple Sec

1

oz.

Freshly squeezed lime juice

(*about 1 large lime)

Course salt for rim

(*Optional)
Pitchers For 14
3 ½

cups

Tequila Blanco (White Tequila)

2 ⅔

cups

Cointreau or Triple Sec

1 ¾

cups

Freshly squeezed lime juice

(*about 14 large limes)

Course salt for rims

(*Optional)
Instructions
Pitcher Margaritas
If serving right away, add lime juice, Cointreau, (or Triple Sec), and tequila to a 64 oz. pitcher and stir. Top the pitcher with as much ice as you prefer along with a few lime slices.

*If you don't want your margaritas watered down, wait to add ice to your pitcher!

*Optional* Prepare your margarita glasses in advance by dipping the rim in lime juice (I like to use honey) following by coarse sea salt or sugar.

Fill margarita glasses with crushed ice and garnish with a lime wedge. Pour 4 oz. of the prepared pitcher into each glass. Enjoy!
Individual Margaritas
Add lime juice, Cointreau, (or Triple Sec) and tequila to a cocktail shaker filled with ice. Shake vigorously for 20-30 seconds.

*Optional* Wet the rim of your glass with lime juice or honey and dip into coarse salt.

Pour the margarita into a 4 oz. margarita glass filled with ice (preferably crushed). Garnish with lime wedge and serve cold.
Recipe Notes
This recipe makes approximately 14 drinks  that are 4 oz. each (the standard serving size that fills a standard margarita glass).
The total volume is 56 oz. of margarita mix so you will need a pitcher that is at least 64 oz. in volume to allow room for ice.
Additions
Add 7-14 oz. of simple syrup, honey or agave if you like it sweeter.
Add more ice to dilute it down if preferred.
Use a lime juicer like this one here to help squeeze the juice FAST!
Nutrition
Calories:
291
kcal
|
Carbohydrates:
2.4
g
|
Protein:
0.1
g
|
Fat:
0
g
|
Saturated Fat:
0
g
|
Trans Fat:
0
g
|
Sodium:
1
mg
|
Fiber:
0.1
g
|
Sugar:
0.5
g