Triple Sec is a clear, orange-flavored liqueur that originated in France. It is a popular ingredient in some of the most upscale cocktails all over the world, making it a true staple for every liquor cabinet. Check out this list of tasty Triple Sec cocktails - you may find your new favorite!
Jump to:
What Does Triple Sec Taste Like?
Simply put, it tastes like oranges. It somewhat resembles the taste of Orange Crush or even an orange-flavored Vodka. Triple Sec is a fruity, aromatic liqueur that adds a refreshing, citrus zing to any cocktail it's mixed in.
Do All Types of Triple Sec Taste The Same?
Even though all brands of Triple Sec stand to serve the same purpose in a cocktail, not all brands taste the same. For instance: a high-quality brand will have a subtle sweetness with more alcohol content, while a low-quality brand will be a lot sweeter with less alcohol content.
Various Triple Sec Brands:
Cointreau
Dekuyper
Marquette
Grand Marnier
Drillaud
Combier
Triple Sec Cocktails To Try!
Triple Sec is a must-have mixer! Here are some Triple Sec cocktail recipes, perfect for any season or occasion, that I think you will LOVE! Invite some friends over and start mixing 😉
Ingredients:
2 oz. Tequila Blanco (White Tequila)
1 ½ oz. Cointreau or Triple Sec
1 oz. Freshly squeezed lime juice (*about 1 large lime)
½ ounce Agave syrup (*Optional)
Course salt/sugar for rim
One of my FAVORITE cocktails! I honestly love a homemade marg I created this recipe to make a large pitcher for a party!
This Avocado Margarita is a unique favorite or my Spicy Pineapple Margarita made with Jalapeno Simple Syrup. This little addition is definitely a game-changer!
Ingredients:
Vodka
Triple Sec
Sugar
Lavender Buds
Blueberries
Lemon Juice
Lemon Slices
Lavender Simple Syrup (full recipe at the bottom)
Lavender Sprigs
Sugar
If you love the classic Lemon Drop shot, you'll love this cocktail too! It has the zing of the original variation with a calming, Lavender aroma. Super light and great for relaxation. Make sure to toss in some blueberries when making your Lavender Simple Syrup (see recipe at bottom) to incorporate that perfect pop of color. You can leave them out if you prefer. This cocktail is gorgeous, either way!
Ingredients:
Vodka
Tequila
Gin
White Rum
Triple Sec
Lemon Juice
Cola
Lemon Slices
Because there are so many different types of liquor in this cocktail, Long Islands pack a serious punch and leave you feeling great after only one! Did you know Long Islands don't really have tea in them? It's Cola! These are yummy and ridiculously easy to make. A splash of this, a splash of that, and you have the ultimate cocktail!
Sophisticated, delicious, and pretty! The Grand Duchess cocktail really lives up to the name. The refreshingly sweet, citrus flavors of Triple Sec and orange juice with the bitterness of cranberries and vodka blend excellently to create this elegant cocktail.
Ingredients:
Vodka
Triple Sec
Cranberry Juice
Orange Juice
Cranberries or Orange Slices
The Grand Duchess would be ideal to serve at an adult tea party. Put on your fanciest outfit and break out your best tableware... just make sure you don't forget the tea 😉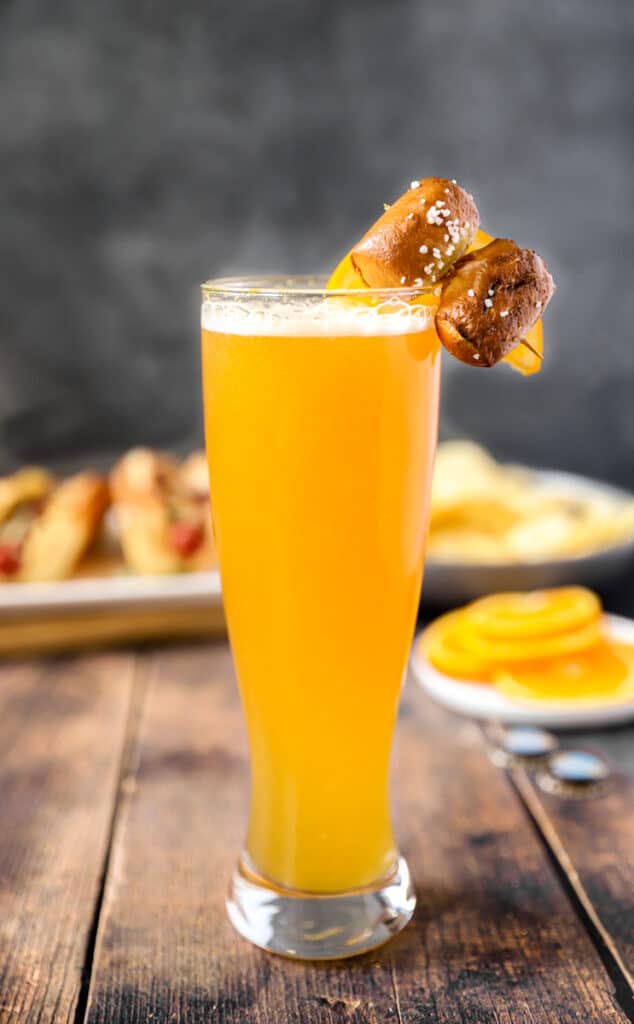 Ingredients:
Orange-Flavored Beer (Blue Moon is ideal)
Vodka
Triple Sec
Fresh-Squeezed Orange Juice
Orange Slices
So, you've probably heard of the Mimosa... but have you heard of a Beermosa?! The different spirits mixed here come together to give you the best of both worlds in this savory cocktail. These are great for brunch, tailgating, and boys' night out. Even with all of the citrus notes in this drink, it still holds the robust flavor of a good beer! Similar to Bloody Mary garnishes, this cocktail should be dressed with a snack on the side.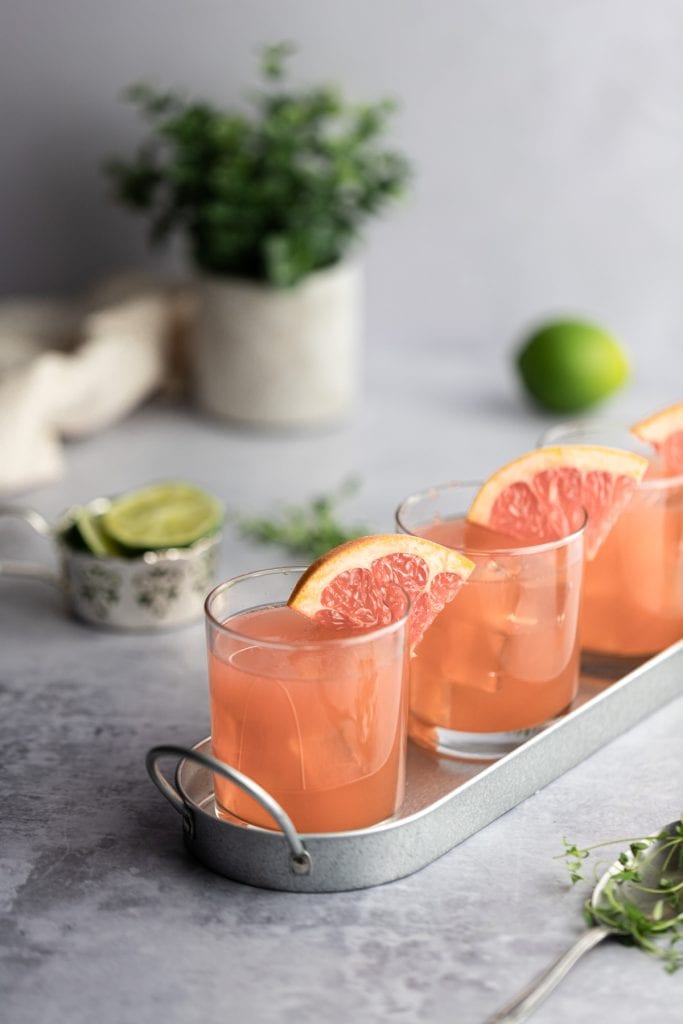 Ingredients:
Grapefruit Juice
Lemon Juice
Lime Juice
Vodka
Triple Sec
Thyme Simple Syrup
Grapefruit Slices
If you are a grapefruit lover, this one is for you. Good doesn't even begin to describe this cocktail! It is full of zest while the Thyme Simple Syrup creates a subtle, herbal flavor. I would suggest using fresh-squeezed juice for the most authentic taste, but store-bought works well to make the mixing process quick and easy.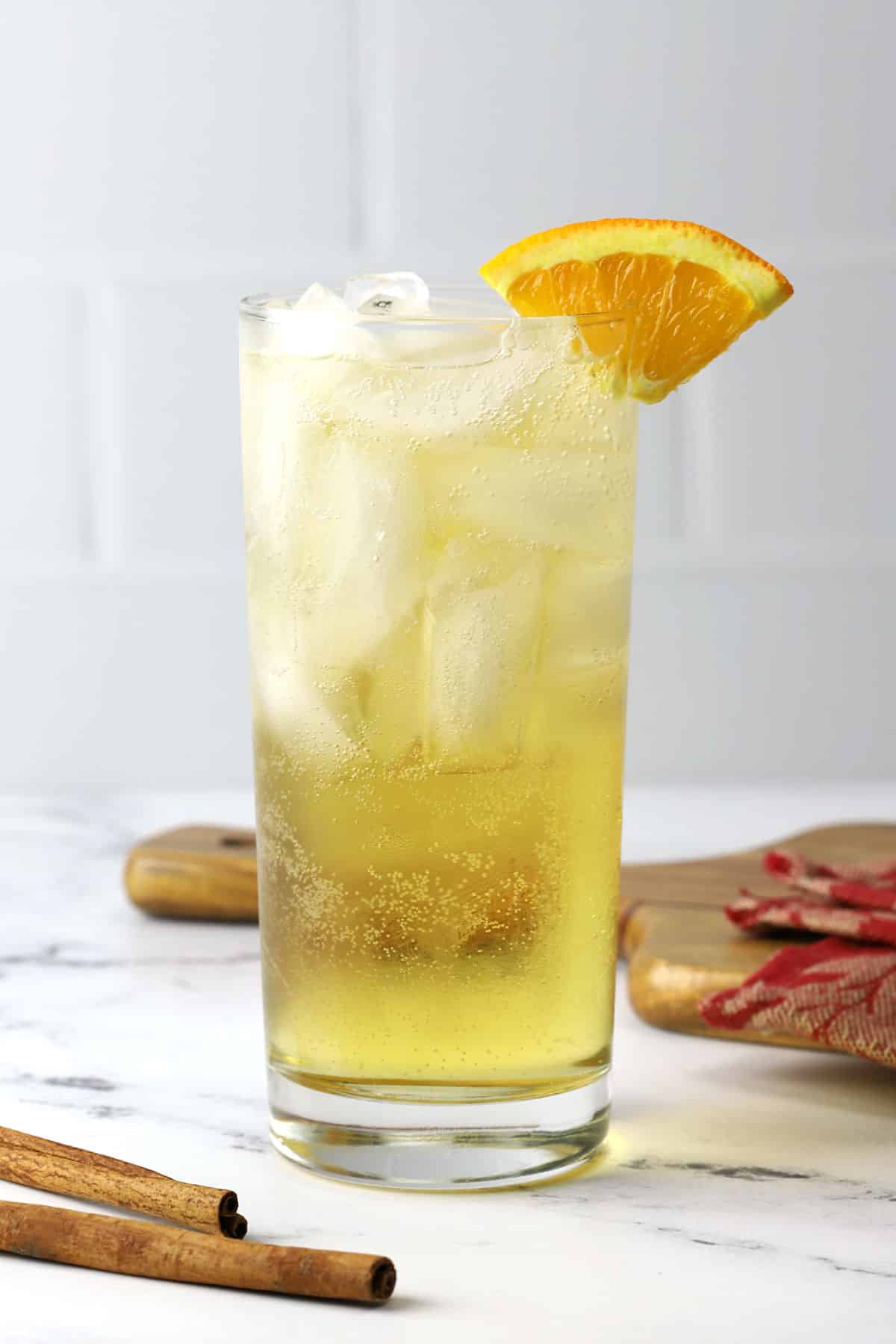 Ingredients:
Ginger Ale
Triple Sec
Fireball Whisky
Cinnamon Sticks
Orange Slices
A festive cocktail that is ideal for Fall and Winter get-togethers. These are so simple to throw together for a crowd and are likely to be a huge hit with everyone. Ginger Ale and Triple Sec give this cocktail a smooth finish and make them go down easy. Using the cinnamon stick for garnish also gives the option of adding a little extra spice to each glass!
If you need the perfect appetizer to pair with this cocktail, check out my list of bacon-wrapped appetizers! So many tasty options for your guests to enjoy.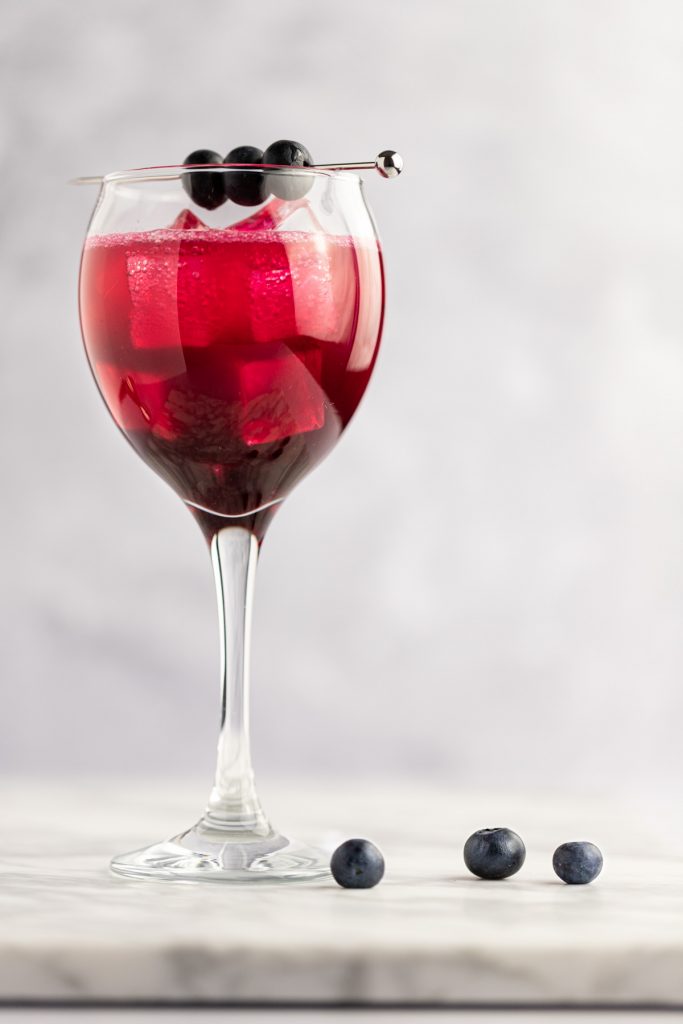 Ingredients:
Blueberry Simple Syrup
Gin
Triple Sec
Lemon Juice
Club Soda
Blueberries
If you prefer a subtle alcohol taste in your cocktails, you'll really enjoy this drink since the alcohol is overpowered by its fruity flavor. If your cocktail isn't strong enough, just add another shot of gin - play around and find what you like the best. This drink is so crisp and fizzy but tastes like a fruity, blueberry lemonade.
Change it up a bit and try my Homemade Blackberry Simple Syrup in place of the blueberry simple syrup with fresh blackberries for garnish! I bet it's equally divine!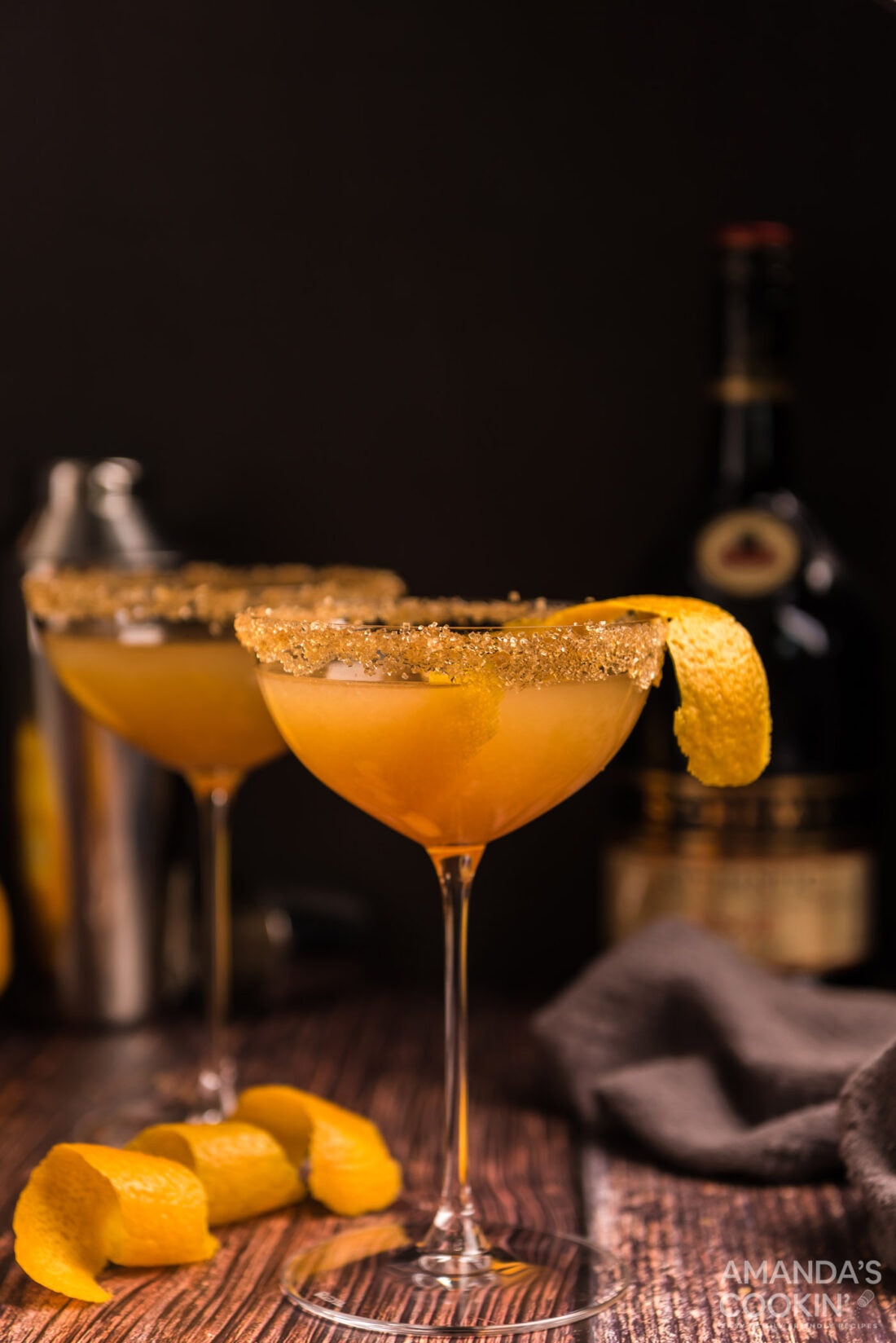 Ingredients:
Brandy or Cognac
Triple Sec
Lemon Juice
Orange Twist
Sanding Sugar
Every bartender out there knows how to make the classic Sidecar. It is definitely a classic staple for good reason - it's simple, strong, and delicious! This is a brisk and bitter cocktail, so it pairs really well with brie appetizers or these amazing vegetarian stuffed mushrooms.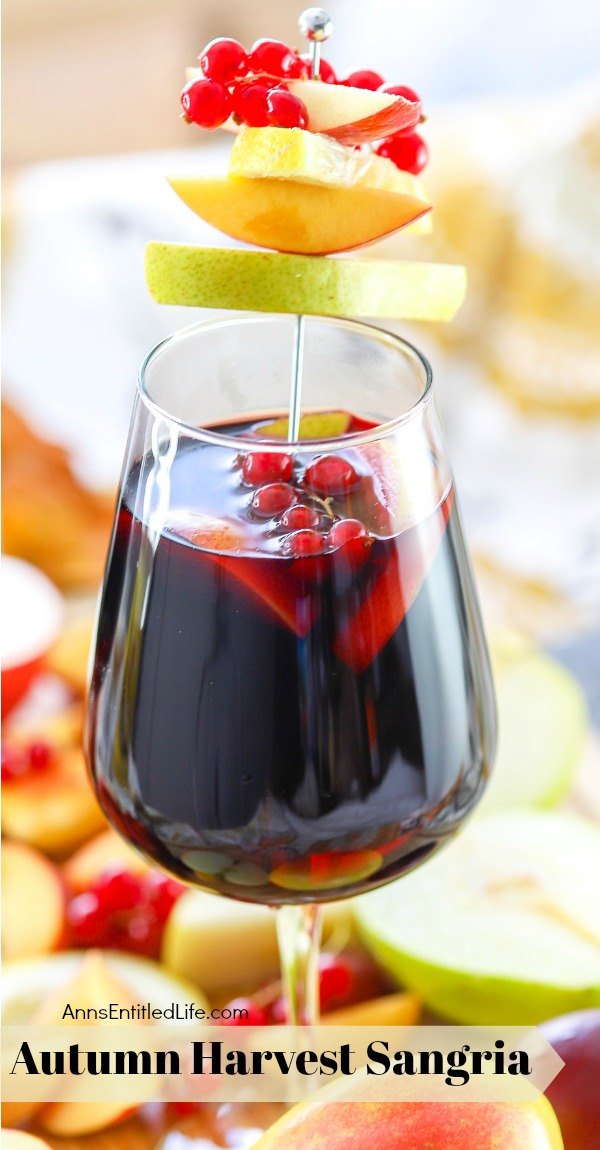 Ingredients:
Garnacha Syrah
Bourbon
Chambord
Sugar
Cranberry Juice
Triple Sec
Tonic Water
Lemon, Apple & Pear Slices
Festive and fabulous! This Sangria is full of fruit, red wine, and more flavor than you can imagine. Totally worth the extra effort of putting it together... plus, it is great for serving a crowd. While it seems fitting as a fall cocktail, it can absolutely be enjoyed year-round. Mix it up by using additional fruits of your choice. I can totally picture cranberries, cherries, and peaches in mine! 🙂
Ingredients:
Clementine Juice
Whipped Cream Vodka
Triple Sec
Clementine Slice
Magical is the best way to describe this cocktail. Whipped Cream Vodka and Triple Sec are a perfect match, here. It's sweet, smooth, and tastes exactly like a Creamsicle! I love how pretty and vibrant this drink is, especially with the clementine slices and edible flower garnish. What a super cute way to dress up your glass!
Consider Throwing A Cocktail Party!
Throw a lavish cocktail party for your closest friends! Here are some tips to make sure everything is perfect!
If you're serving more than one type of cocktail, use different styles of cocktail glasses to give each drink a unique appearance.
Some of your guests may prefer not to have alcohol. It's always great to have a few mocktails available, just in case.
Appetizers are always a hit at get-togethers. Here are some make-ahead appetizer ideas that will surely please a crowd!
Check out my recent cocktails!
📖 Recipe
Tasty Triple Sec Cocktails
A cosmopolitan is made with triple sec liqueur. It is a classic drink that has been around for years and one that uses orange liqueur well.
Print
Pin
Rate
Ingredients
2

oz

Vodka

1

oz

Triple Sec

¾

oz

Fresh Lime Juice

½

oz

Cranberry Juice

Ice
Instructions
Shake for 15 seconds and strain into a chilled martini glass.

Garnish with a lime wedge and serve.
Recipe Notes
Have you considered using Cointreau instead of triple sec? It's a higher end version of orange liqueur that I highly recommend trying out!