A bloody mary is ALL about the garnishes! The more over-the-top, the better! From bacon, to crab, to grilled cheese, here are some of the best garnishes I've found that will make your bloody mary the talk of the party!
If you love cocktails, check out how to throw the best cocktail party at home!
Savory, smooth (and sometimes spicy) a Bloody Mary has become one of THE MOST popular brunch staples in the world.
Although nobody is 100% certain where the name comes from, you can be certain this classic tomato juice cocktail is an absolute treat! You can always go with a classic-style recipe or put your spin on things to make it suited for your liking.
Bloody Mary Garnish Ideas
Shrimp- an easy bloody mary staple that's easy to prepare!
Cheese- Cubes of mild, sharp or spicey cheeses are always welcome!
Olives- Add a few variaties like black, green, blue cheese stuffed, marinated, etc.
Cold cuts- proscuitto, salami, pepperoni folded and skewered are a deliciously salty addition!
Bacon- Crispy is the key word here and something that adds beautiful height to your drink.
Cheeseburger sliders- Slider is a SMALL sandwich so grab a large skewer and add that baby on!
Cheeseburger Skewers- These are an amazingly perfect garnish!
Grilled cheese- Cut your grilled cheese into sticks or squares and skewer!
Pickles- Cornishons or baby dills are traditionally used.
Cocktail onions- You can find these in the canned food aisle.
Mini Peppers- Jalapenos, jalapeno poppers, cherry peppers or stuffed mini bell peppers would be delicious!
Lemon/Lime wedge- A classic MUST garnish.
Asparagus- Another long green vegetable that is healthy and delicious!
Cherry tomatoes- They are small and skewer perfectly.
Cucumbers- Cut them into long sticks so they are nice and tall.
Onion rings- Yes. It's amazing.
Celery stick- This is also a must and a healthier garnish option.
Carrot stick- A pop of color and healthy snack.
Fresh herbs- Parsley, cilantro, dill or basil would be a beautiful addition.
Meat cubes- Marinate and sear/grill some steak and skewer it on!
Meatballs- Any frozen variety works.
Hard Boiled Eggs- A healthy way to add some protein!
Crab claws- A fancy delicious way to step it up a few notches.
Pickled veggies- The tangy addition pairs well with the tomato juice.
Soft mini pretzels- You can find these in the frozen food section! Just reheat and skewer!
Mini cocktail weiners- These are also called mini hot dogs!
Kielbasa/Sausages- Grilled or smoked, a great option that is easy to find packaged at the store.
Okra- Fried okra gives your bloody mary a deliciously crunchy addition.
Beef jerkey- An easy way to add a salty protein-filled addition.
Tater tots- Bake up some frozen tots and skewer for the ultimate snack!
Pancake Skewers- These mini pancakes would make anyone's brunch complete.
French Toast Skewers- The perfect sweet addition to an otherwise salty drink!
Chicken wings- Any flavor works but get the wingettes since they're smaller.
BLT- Add a bacon, lettuce and tomato sandwich to it! What could be better?
Bagels- Imagine a toasted everything bagel with cream cheese cut into quarters and skewered? Yes please!
Cubano Skewers: These are PERFECT with cheese, pickles and ham!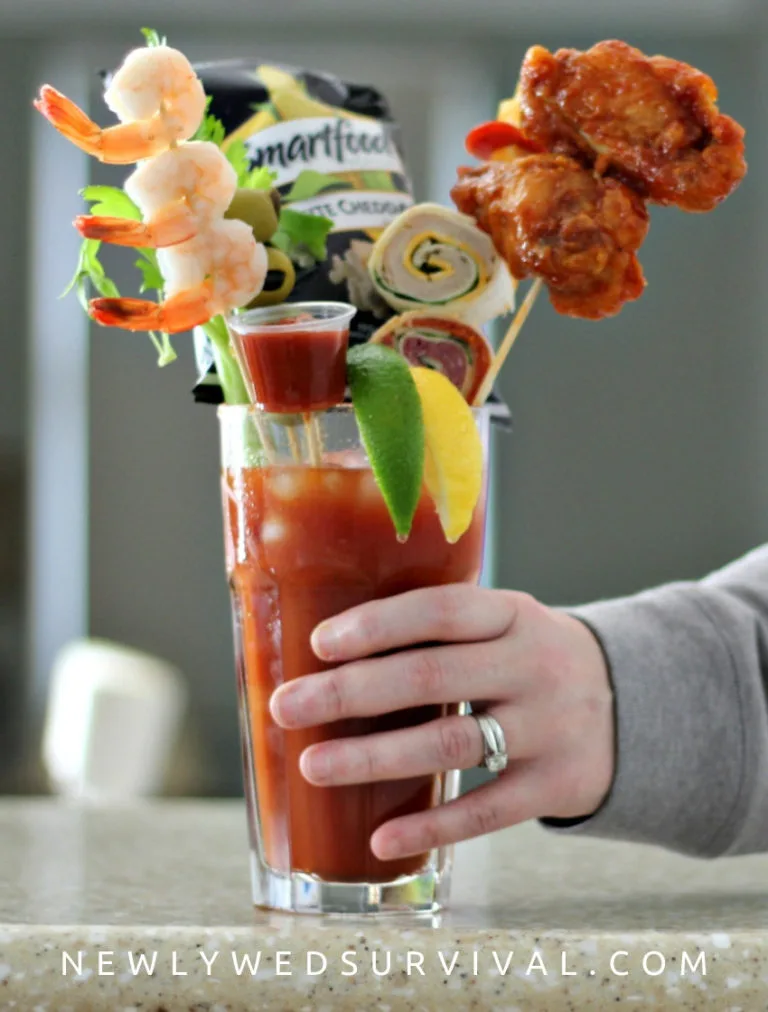 Check out how to assemble this amazing bloody mary!
Tips For Crafting Your Bloody Mary
Now, you should be forewarned that Bloody Marys are not sweet, subtle drinks. Oh, no. They are full of robust and salty flavors with a bit of a KICK - a bit complex, to be honest. They are called meal-in-a-glass for a reason!
Of course, you can use a store-bought mix that is already made for you, but let's be real here… homemade is so much better. Not to mention, completely fresh. I will say, when making the perfect Bloody Mary, you want to consider a few things:
Appearance:

As with any cocktail, appearance is part of the appeal; that is especially true here. A Bloody Mary should be eye-catching and mouth-watering with lots of vibrance. If you need your daily dose of veggies, this is one delicious way to get them!
Flavor:

Remember… There is no room for subtlety when it comes to a drink like this. It surely packs a punch with ingredients such as Vodka, hot sauce, Worcestershire sauce, citrus juice, salt, and pepper. This amazing blend of herbs and spices leaves your taste buds wanting more! The

most important

category in every cocktail. Homemade cocktails have no excuse for a lack of flavor; after all, you are creating them based specifically on your preference.
Texture:

It truly does have to be made

just right

. Too thick is more like soup-in-a-cup and too thin is just plain ol' V8. I enjoy both of those things, but not quite what's in mind when aiming to re-create a classic. Draw a line between the two and you will find the best consistency.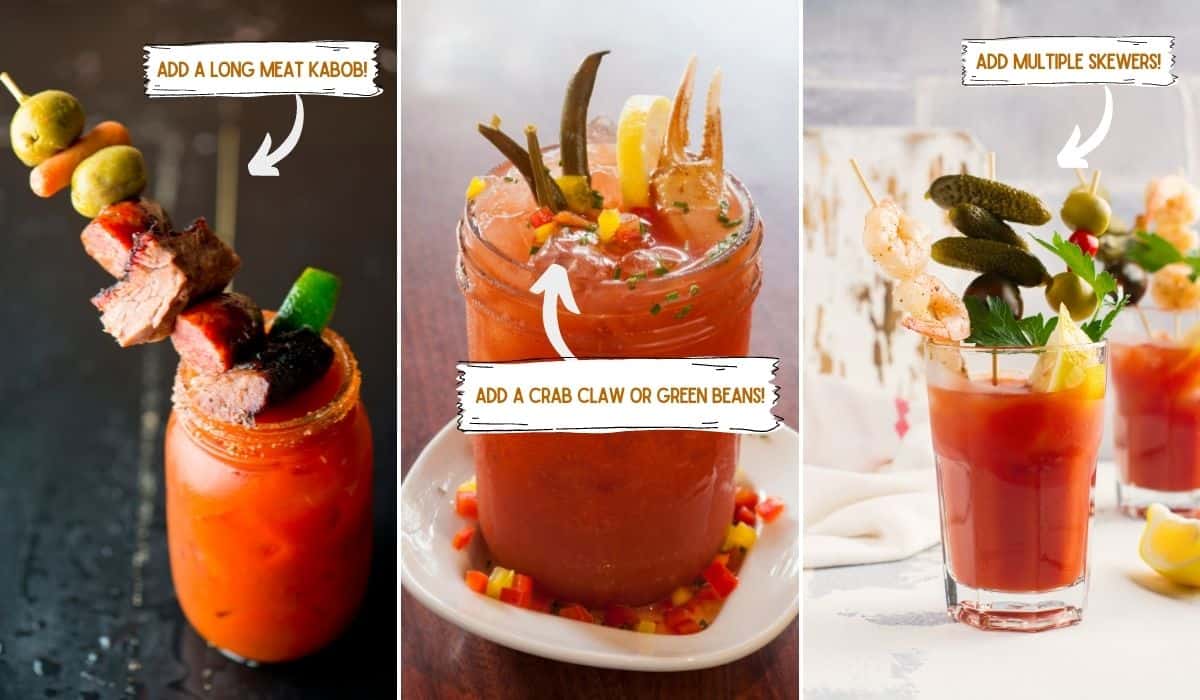 Mixing Your Bloody Mary
The way you put together a Bloody Mary is just as important as the ingredients that go into it. You can make single servings if it's just you, or you and a guest, or you can do a large pitcher if you're serving a crowd.
Alternatively, these mixtures can be frozen and used at a later time. Perfect for one of those days where you're just craving something extra yummy. I always start with plain tomato juice; any brand you prefer. Spicy, mild, whatever you like best… just make sure it's fresh!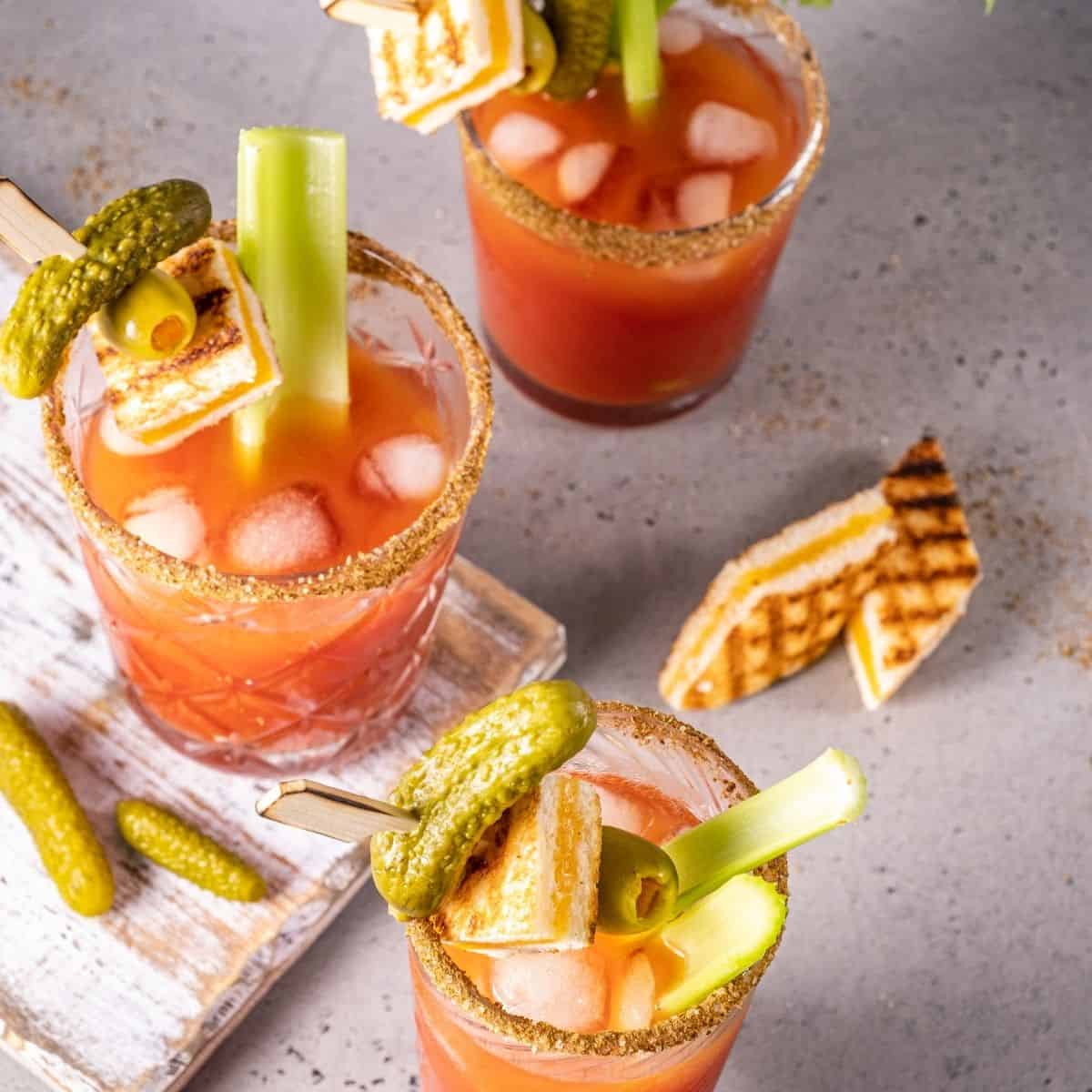 Step 1: Prepare The Mix!
You'll want to buy all ingredients ahead of time, if possible, so you can chill them before combining. You don't want to dilute the mixture too much with ice during the process, so chilling is the best way to avoid that.
Fill a large pitcher (or single-serve shaker) with tomato juice and vodka - measure accordingly, but make sure not to add any ice yet. By the way, you don't need top-shelf Vodka for this cocktail; basics will do just fine!
If you want to get creative with the taste, try a different type of alcohol. Tequila, Gin, etc., create very interesting variations that you may thoroughly enjoy.
Step 2: Spice it up!
Add the remaining ingredients: lemon or lime juice, Worcestershire sauce, hot sauce, horseradish, salt, and pepper, then stir (or shake) until completely mixed. Stick your creation in the fridge for about an hour to chill a bit more. I know the wait is undesired, but trust me - it is so much better when the drink has time to do this; allowing the flavors to set in.
Step 3: Rim the glasses!
No matter if it's one glass, or you're prepping for multiple people, if you want to add some zing to your rim now is the time to do it! Dip your glasses into a shallow dish of either lemon or lime juice or water, then dip in salt or Cajun seasoning.
Step 4: Pour your cocktail!
It's finally time for ice! If you prefer it without, that's fine, although I prefer ice in mine. Adding it early on in the process can dilute the mixture too much, but when consuming your cocktail, you may find that you like it to have a mild dilution. *Pour the mixture into your glass - cautiously avoiding the edges if you've added salt to the rim.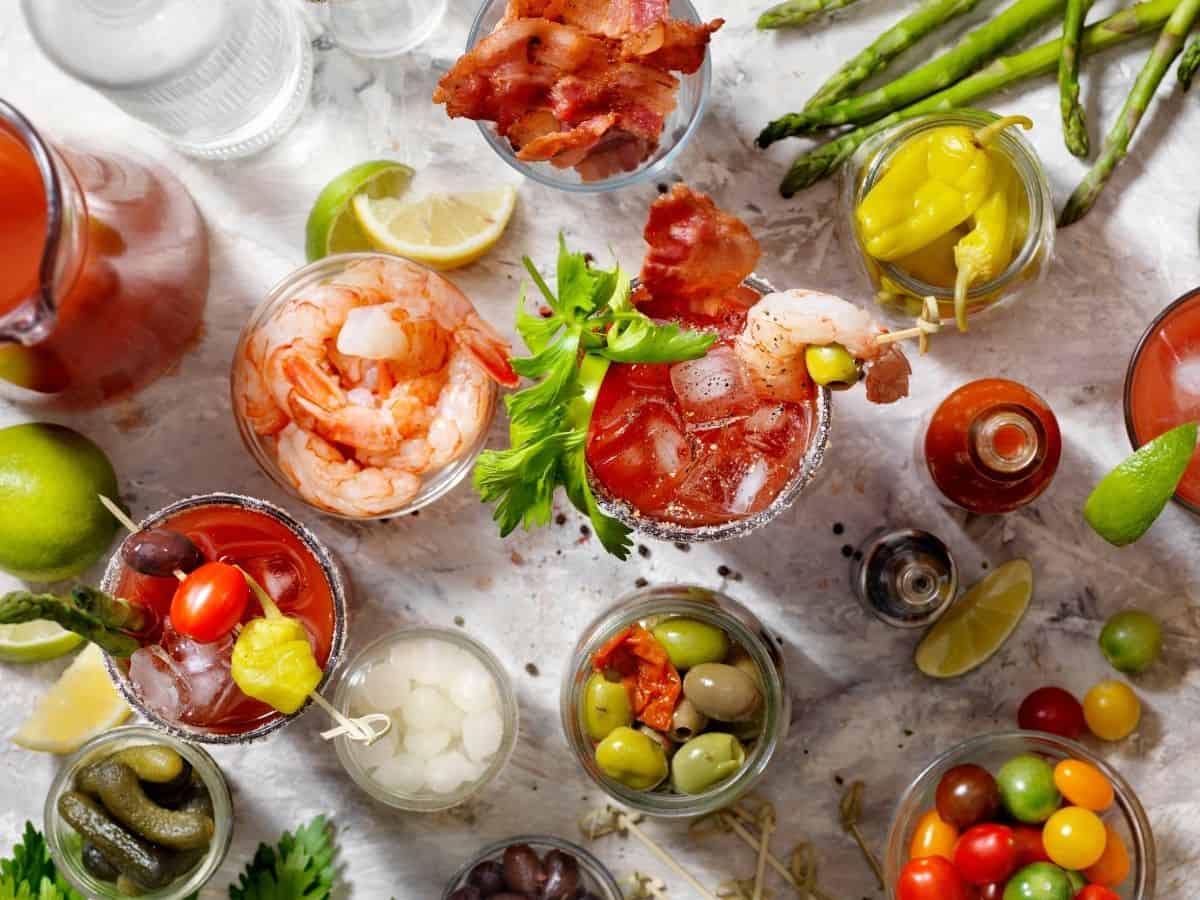 Step 4: Garnish!
Garnishing your drink can be as simple as a stalk of celery or as fancy as adding a cheeseburger on top. Uh uh, you read that right… Cheeseburger sliders as a garnish are totally a thing when we're talking Bloody Marys.
You can put just about anything with this cocktail, although I'd stick to the savory (or veggie) style to not take away from the overall taste. Don't be modest with your additions; the more robust, the better.
The garnishments also assist you in soaking up the alcohol! If you need ideas, I have an awesome list of skewers for you to choose from. Granted, a lot of these are party appetizers, but they can easily be modified to garnish your drink. You really have endless possibilities of flavor combinations… experiment and find the one you love.
P.S. vegan options are completely doable, and on that list, just so you know!
Set Up A DIY Bloody Mary Bar!
Ready to make the day even more fun for your guests (and yourself)? Repeat after me, "DIY Bloody Mary Bar" - assemble your own skewers… how amazing does that sound?!
Each guest will have a chance to add a little "oomph" to their cocktail. Maybe they want a vegan option that doesn't include cheese and tiny burgers, or maybe they enjoy all of the heavy-duty toppings that turn their drink into a full-blown snack!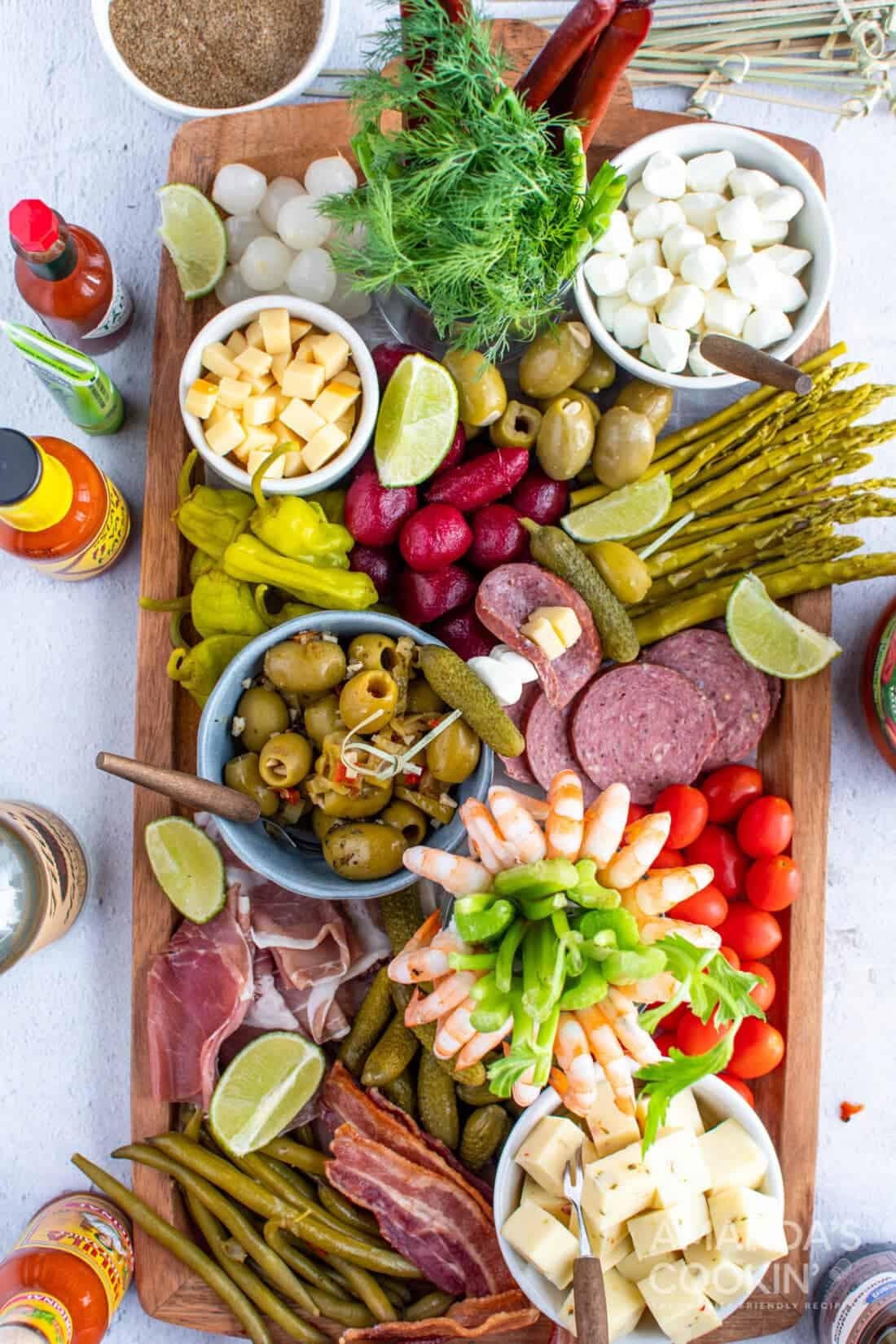 Check out this bloody mary charcuterie board!
I like to turn mine into a shrimp cocktail of sorts. Either way, having a setup such as this one guarantees the satisfaction of each individual while catering to their personal (or dietary) preferences.
Perfect for parties, celebrations, or a midweek brunch. If you don't want to go all out and take up too much room with a full-bar spread, how about trying a Bloody Mary Charcuterie Board instead?
A tabletop platter designed specifically for garnishing - which can also be used for regular ol' snacking if any guests prefer to have their drinks without the extra fancy stuff! You really can't go wrong with Charcuterie.
[Photo courtesy of Amanda Fromaro]
Other brunch-time cocktails you'll love:
Passion Fruit Vodka Martini Cocktail (With Puree)
Serve your bloody mary with these appetizers:
Prosciutto Melon & Mozzarella Skewers (w/ Balsamic Glaze)
Funeral Sandwiches (Hot Ham n' Cheese Sliders)
📽 If you love entertaining at home, subscribe to my YouTube channel!!