Hosting a cocktail party can be a fun and exciting way to entertain your guests. Whether you're planning a casual get-together or a more formal affair, there are a few key things you should consider to ensure that your party is a success.
In this guide, we'll explore some tips and tricks for hosting a cocktail party at home, including how to choose the perfect drinks, create a festive atmosphere, and make your guests feel welcome. So let's get started and make your next cocktail party one to remember!
I have hosted and helped plan many parties in the past. Hosting house parties is the best way to make the best memories with friends and family.
With these experiences, observations and much reading, I narrowed down what it takes to host a fabulous cocktail party in your home. I'm happy to say all of these tips are not difficult to do and do NOT require a huge budget.
And if you want more entertaining tips and recipes, don't forget to subscribe to my mailing list!
Tips For Hosting An At-Home Cocktail Party
Keeping these things in mind while planning out your party will help to ensure you throw a memorable cocktail party that people will rave about! I also go into further detail about each tip below!
Plan your guest list. Determine how many people you can comfortably accommodate and create a guest list.
Send out a classy invitation. Whether evite or paper invitation, they make a party official and tells guests when to RSVP by.
Choose your cocktails: Decide on a signature cocktail or a few drink options that you will serve at the party. Make sure to include non-alcoholic options as well.
Assign a bar area: Designate an area for your guests to mix and serve their own drinks, or consider hiring a bartender.
Set The Tone Within The First 5 Minutes. Remind your guests that it is a party and that it's time to have fun!
Have cocktails and food ready to go. It IS a cocktail party after all!
Have trash cans nearby. Something SO important but frequently overlooked. I explain why below.
Have plenty of ice. No one wants a warm drink.
Have non-alcoholic options like this Lavender Lemonade. Don't assume everyone can/wants to drink alcohol.
Purchase some inexpensive signs. Signs will make your party less stressful. Plus guests always appreciate them!
Turn on appropriate music and make a playlist.
Offer a variety of food spread out. Hot, cold, vegetarian, GF, you never know your guests dietary restrictions.
Have one "Wow" item. This is the one thing your guests will never forget.
Prepare snacks: Plan for some light snacks or appetizers to serve alongside your cocktails.
🍹Love fruity cocktails? Check out this awesome drink list!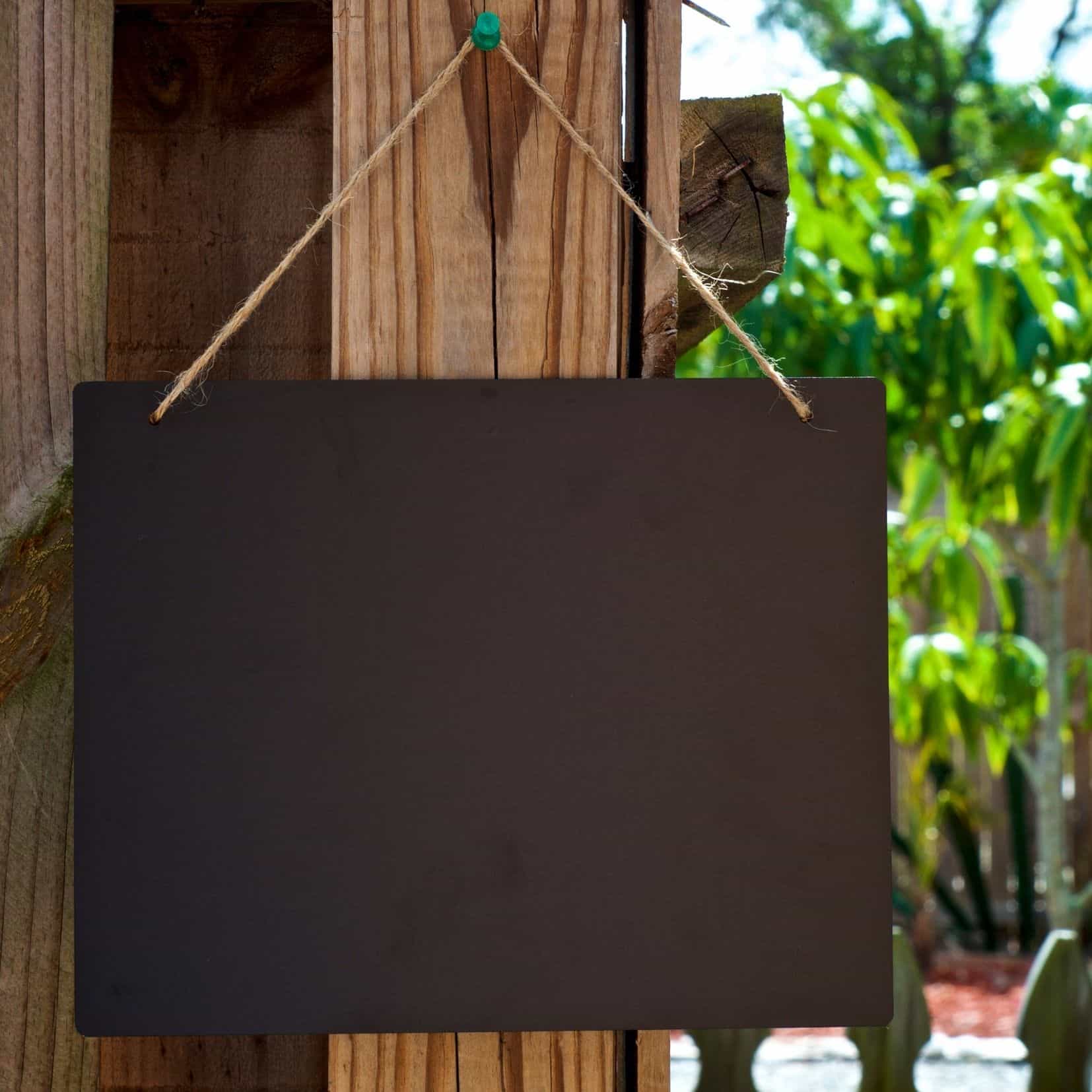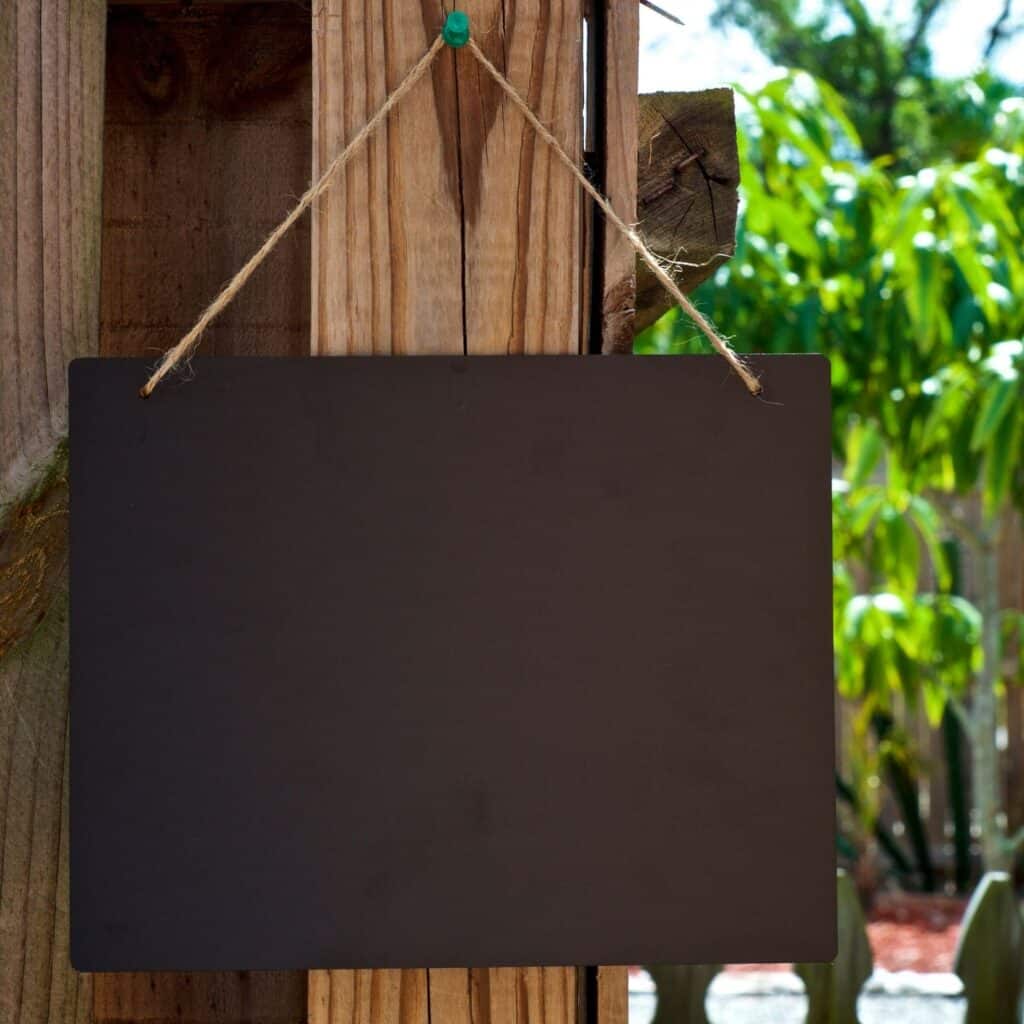 Next time, try throwing a blind wine tasting party!
1. Send Out A Classy Invitation
Rather than sending an unofficial text message that can easily be missed or forgotten, send out an inexpensive but classy invitation! These days, paper invitations are NOT the only way to go. Although they do make each guest feel special, they can be time consuming and costly.
Evites, on the other hand, are very popular because they're quick, budget-friendly and have features that paper invites don't allow. Things like allowing you to see who received the invite and who hasn't, each RSVP with a total guest count and what items guests can bring, will make planning your cocktail party especially convenient!
Here are some of the most popular evite website:
These paper invitations are cute and easily customizable!
Etsy template- These templates are under $10.00 and allows you to customize it for YOUR party. You can have them printed and shipped directly to you OR simply print at home on some cardstock paper. A last option is to take your customized template to your local FedEx or Kinkos.
2. Set The Tone Within The First 5 Minutes
The best hosts know that setting the tone for the rest of the night occurs in the first five minutes of walking into a party. I mean, just think about. When YOU walk into a party, it takes seconds to get a feel of the vibe. Since cocktail parties are already short, every minute counts!
Immediately Offer Your Guests A Drink
Better yet, have a drink ready if you know what they like. There's no better welcome than being greeted at a party with a cold drink. It makes the guest feel special, welcome and ready to party.
Coats/Shoes
As your guests walk in, if they have coats, take them asap! Making them hold them or wait for you to take them is not setting the right tone. Have a place in mind to put the coats that is out of sight but a somewhere guests have access to if they need to leave early. You can have a coat sign for this as well at the entrance in case you are busy welcoming other guests.
If you don't want your guests to leave their shoes on, the best way to do this is leave a sign with a large bin for them to put their shoes in. The sign can say, "Before you grab some booze, politely leave your shoes."
Items To Make This Happen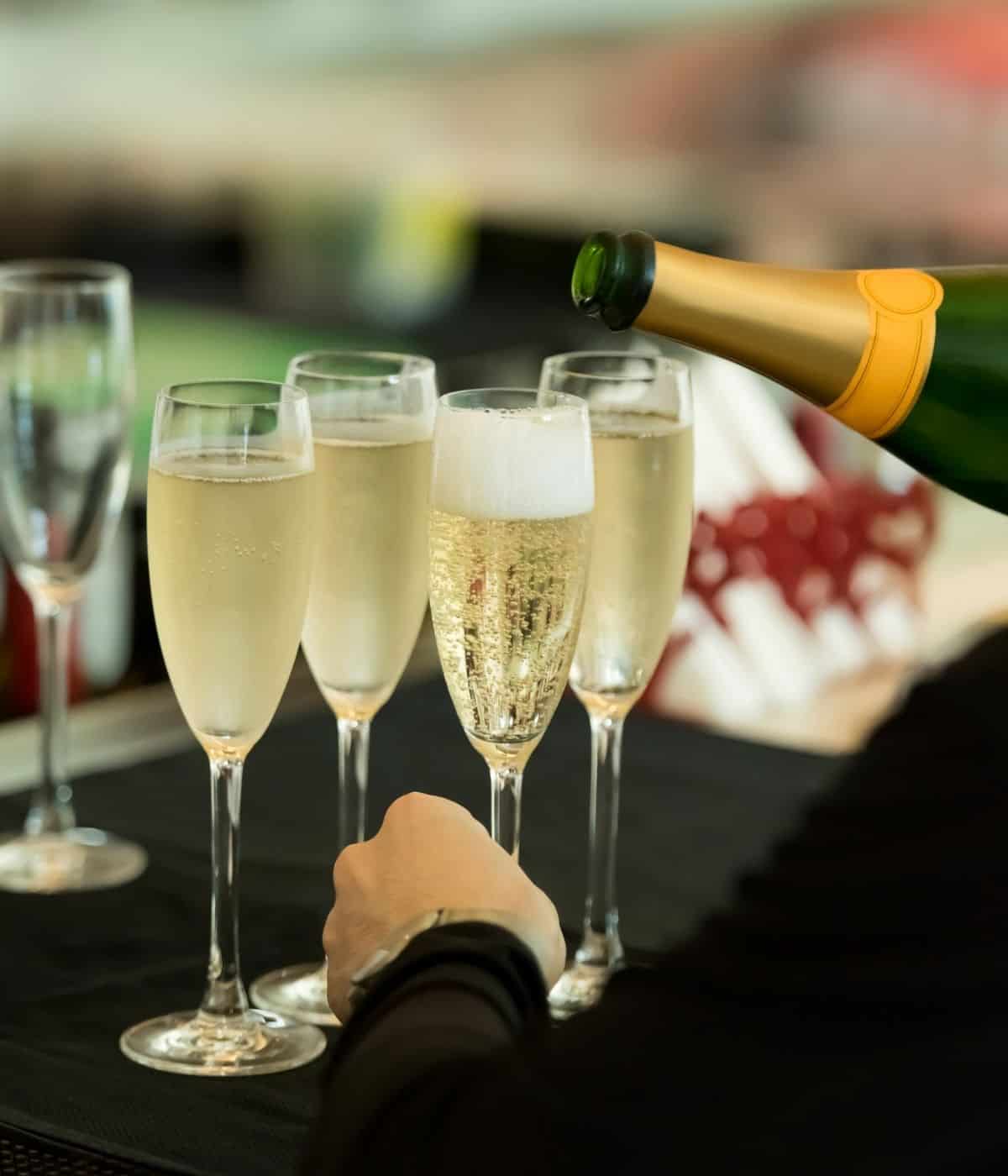 3. Have Drinks/Food Ready To Go
The worst mistake a host can do is still be prepping for the party AFTER the party has started. I have to say I am VERY guilty of this especially when it comes to food. You should never be cooking/cleaning when guests arrive unless, of course, it's your family or close friends who don't mind. But if we're talking your typically cocktail party, everything should be classy and professional.
Consider greeting your guests with a cocktail! What better way to start a cocktail party?!
Signature Drink
A signature cocktail is something I highly recommend. You can go fancy or classic but regardless, it is something people will remember and appreciate.
When choosing a signature cocktail, make sure it is tasty, not too sweet, not too strong and simple to make. I recommend choosing a drink that can be served in batches so you are not put on bartender duty all night. And don't forget to give your drink a name!
My most requested drink around the holidays is my white cranberry cosmo or you can use lavender syrup and food coloring to make gorgeous purple hued drinks like this one!
Pitcher Drink Ideas (Great for self-serving!)
Cocktail Options
Always have a wide selection of drinks available. After all, it is a cocktail party so you want more than two drink options.
These are some of the more popular cocktails you might want to offer.
Unique Cocktails
Here are some more unique cocktails people may want to try!
Wine- Have a few bottles of wine available. White, red, rose, dry and sweet. Plan on serving a bottle for every 2-3 people.
Beer- Have a few in-season beers including pale ales and lighter options. Opt for bottles over cans if your going for a classier cocktail party. Take it over the top by placing a few beer mugs on ice next to the beer.
Champagne- Champagne is not a must but if you know some of your guests are fans, offer a couple bottles. Dry and sweet or in between to be safe.
Hard Liquor- If you have a bar area or table to set one up, add some popular hard liquors like vodka, rum, gin, whiskey and/or bourbon. Do not feel like you need to offer every option but if you have it on hand, why not. Keep in mind if you DO offer multiple liquors, you should also offer mixers.
Mixers- The most popular mixers are cranberry juice, orange juice, soda like sprite/coke, tonic water and seltzer water.
Simple Syrups- Adding flavored syrups to cocktails is an easy way to infuse lots of fresh flavor in no time. Try this easy strawberry simple syrup!
Bar Accessories- Make sure to have accessories like stirrers, napkins, shakers if needed, highball glasses, etc.
🍸Looking for Classy Cocktails? Check out this list of Classy Cocktails you will love!
Set Up
It is important to set up your station separate from the food to avoid over-crowding. A table can be propped up if you need additional room. An ice bucket is important to have nearby especially at the bar station.
Items To Make It Happen
Floral drinks like these creme de violet cocktails are great for the spring! Don't forget to garnish with some edible flowers!
4. Have Multiple Trash Cans
This is such a simple and inexpensive thing that matters. When guests are holding onto trash because they can't find or are not near a trash can, they are uncomfortable and end up leaving a mess behind. Rather than discarding the trash, they leave it on a table. If they were near a trash can, they would throw out their trash technically doing the cleanup for you!
Other than in the kitchen, place one near the food table and drink station or wherever your guests tend to gather. Having multiple trash cans will also keep you from needing to empty it every hour which I would HATE to do during a cocktail party.
*To make them look a little less "ugly", a great idea is to place your trash can inside a decorative basket lined with a white or clear trash bag.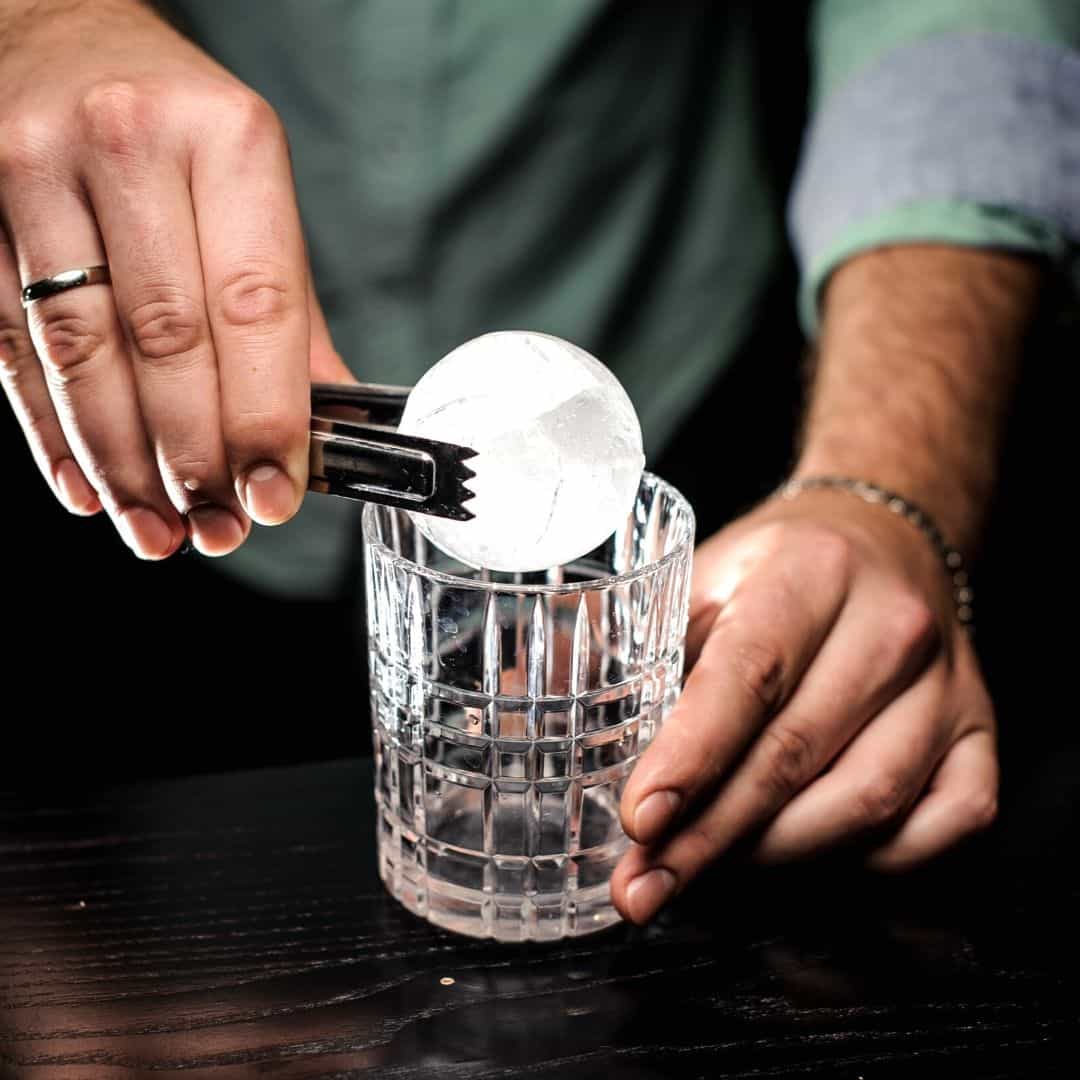 5. Have Plenty of Ice
What's a cocktail party without ICE?! If you want to save money, start putting your ice machine to work a week ahead of time so you have enough and don't run out the day of. You can always purchase bags of ice at your local store and keep it inside coolers. But for some reason, coolers aren't very cocktail party "chic", so instead invest in an ice bucket!
If you want to impress your guests and love little details, purchase ice cube molds to make your own ice balls or cubes. You will want to do this in advance since they take a few hours to make. But the end results is your guests wont need as much ice since the ice is larger. Plus, the idea is that the larger ice balls will not water your drink down as much as smaller cubes do!
Items To Make It Happen
6. Have Non-Alcoholic Drink Options
It is common courtesy to have all options for guests when you have a party. And if we are inviting people to a cocktail party without non-alcoholic cocktails, they wont be coming back.
There are plenty of options from non-alcoholic beers to sparkling cider to fancy virgin drinks. It is easy to make a fun drink that everyone can enjoy!
How To Make It Happen
Non-alcoholic Spirit Pack- This pack is classy and fun.
Mocktail recipes- Try this beautiful lavender lemonade!
Fresh Fruit- Adding strawberries/pineapple/cherries on the side will make any mocktail fun!
7. Purchase Some Inexpensive Signs
Have you as a guest ever been to a party and wonder, "What's IN that?" or "Is there meat in there?". Why have your guests wonder about anything? Like I mentioned above, signs are a personal touch that politely tell your guests what to do, what food is what and where to find things.
I don't want guests at my cocktail party looking for the cocktails, not knowing if something is GF or worse, wondering if they can help themselves to something.
But by putting a sign saying, "Come Right In!" or "Make Your Own Cocktail!" or "Gluten Free Quesadillas", is an easy way to inform your guests of these little details while encouraging them to have fun!
After all, we don't want to have to run around to all of your guests and tell them, "The food is over there", or "I have wine in that room". Let the signs do the talking for you so you can enjoy your cocktail! You will thank me later.
How To Make It Happen
Mini Chalkboard Signs- These are ideal for hanging on drink dispensers or placing on cocktail or appetizer tables.
Standing Chalkboard (Medium)- This one is great for placing on a table to tell guests what to do or where to find something.
Large Chalkboard- This large sign is perfect for placing outside the party or at the front of your house to direct people to a certain location. It is also great for writing the appetizer or drink menu on! What about that shoe sign I mentioned above?
Cost-Free Option* If you don't want to spend money on this, you can make your own DIY signs that can be printed or nicely written with a sharpie.
8. Play Appropriate Music
Music is everything. I have and will always believe that. That's why people spend thousands for bands at weddings.
If you are truly going for a cocktail party vibe, then stick to it. If you have a Spotify account, search "Cocktail Music" playlist and pick and choose songs from there. You don't want music that is too slow or too aggressive either.
Go through your playlist before the party and make sure all the songs are suited for the adults who are attending your party. What is the average age range? Frank Sinatra is always a hit no matter what age. Jazz music is also great and tends to set a classy, upbeat vibe. Take the time to do this and then set it on repeat for the party.
Something to think about is where the music is playing. If the music is in one room, people will most likely want to stay in that room.
If you can, try to add a speaker to another room or play another Alexa if you have elsewhere in the house especially if people are outside and inside or upstairs and downstairs. Something like this will make a cocktail party stand out.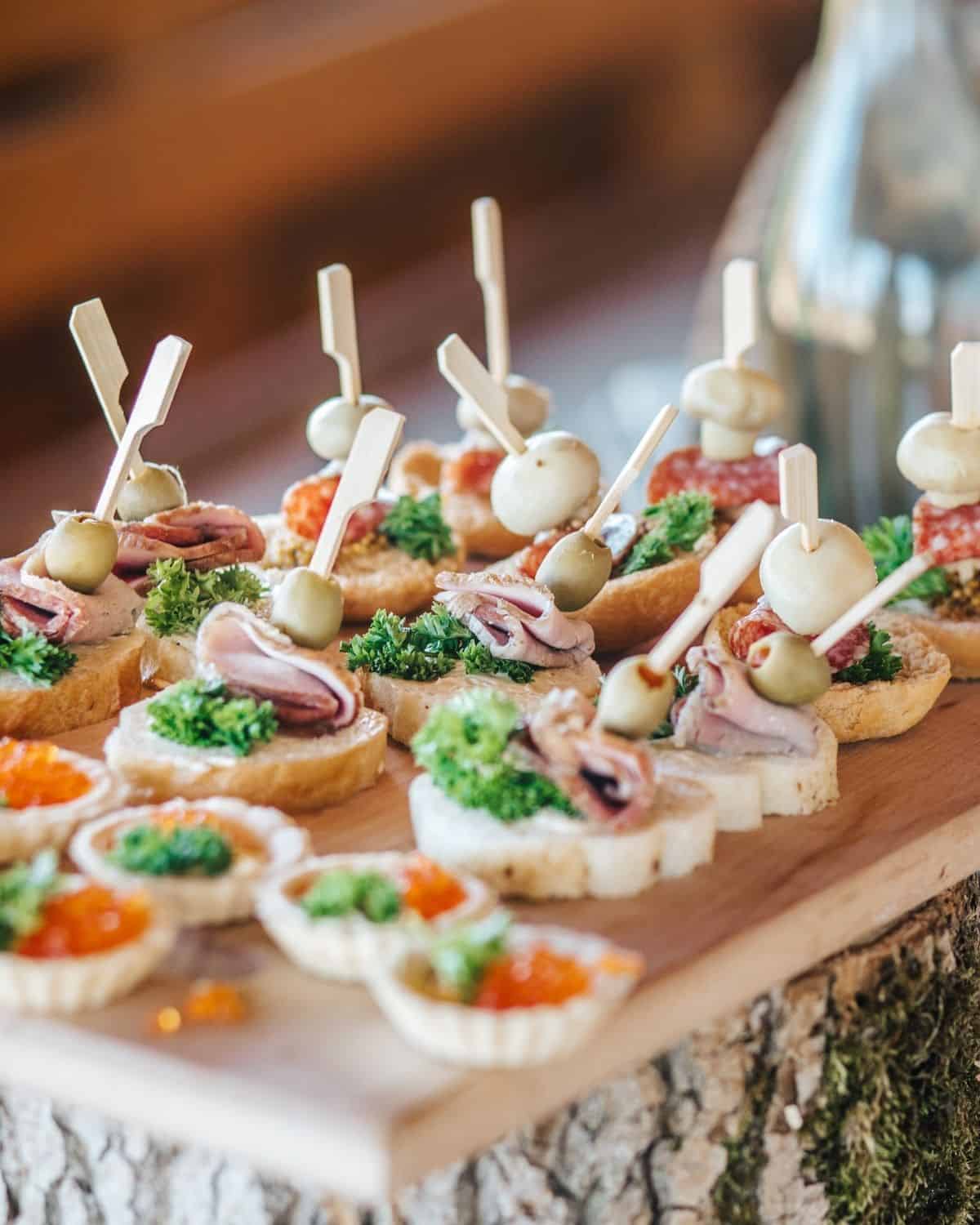 9. Offer A Variety Of Food
Food is the third most important thing at a cocktail party. Behind cocktails and music of course. It is important to have a variety of snacks, cold and hot food. Put those chafing dishes to work. Now-a-days they have small chafing dishes some that are electric too! Just remember that you don't want to be setting up food while guests arrive so set it and forget it.
The best kind of cocktail party food is finger foods that are easy to eat, like these Mini Cranberry Pecan Cheese Balls! You don't want your guests juggling their cocktail, a food plate and silverware all at once. It is uncomfortable and a waste of dishes. One to two-bite food is best!
Appetizers can range from fancy hors d'oeuvres to canapes to skewered bites.
I recommend serving 1-2 cold appetizers since they can typically be made hours or the day before. Then 1-2 hot appetizer that you keep hot in a chafing dish. Along with those, have a few easy to make snacks that are spread out around the party that pair well with cocktails.
Other Items
It is important to spread the food around the party so you can encourage people to mingle rather than crowding in one tight spot.
*Make sure to keep an eye out for fancy cocktail napkins weeks leading up to the party. This way guests can grab one with their drink and food!
10. Have A "WOW" Item
The best parties are the ones that are memorable. Average parties are never remembered and I always say, why throw a party that will be soon forgotten? To make your party memorable, you must have a "wow" item. Something that makes your guests think, "Wow, that is awesome", or "Wow, this is amazing".
It could be an appetizer you serve that is unique, delicious and comes straight out of the oven. (Something most parties don't have.) My Filet Oscar Crostini Appetizer is definitely a "wow" appetizer. Or this Baked Greek Shrimp Saganaki which you could light on fire as you serve like they do in Greek restaurants. (Do at your own risk.)
It could even be a signature drink that you offer your guests but not just an average drink. Something that is fun and different. Try a smoked old fashioned instead of the normal version. You can also try this fun Pink Starburst Shot if you're expecting a younger crowd who loves sweet drinks!
Another wow idea is to set up a massive charcuterie spread. I'm talking at least 3 x 2 feet. A dining table or kitchen island would work perfectly. Lay out some butcher paper down and start piling cheeses, fruits, snacks, etc. Then there's no need to worry about preparing or serving food once guests arrive.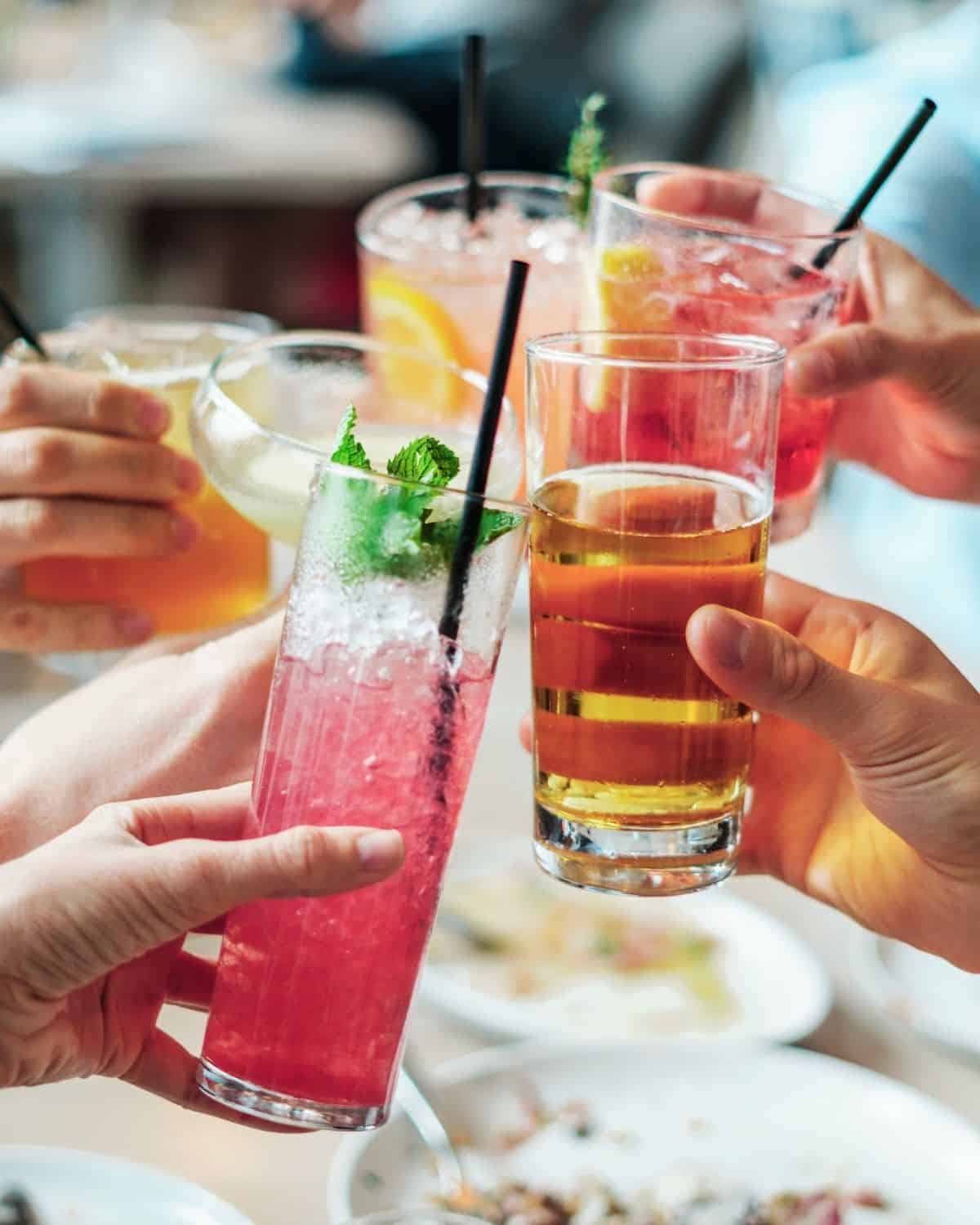 Final Party Tips
Hosting your own cocktail party at home does not need to be complicated to be classy. The most important thing is the drinks are good and the atmosphere is inviting. Adding small details are what people remember.
Encourage your guests to try new drinks and always have a drink in hand. Lastly, always make sure that everyone drinks responsibly and has the uber or lyft app so they get home safely.
Unsure of how many appetizers to serve? Check out my appetizer serving recommendations here!
Other cocktails you might like:
Appetizers to serve with your cocktail:
Graduation Party Food Ideas For A Crowd in 2021
73 Shrimp Appetizer Ideas For Your Next Party
22 Mini Sandwich Ideas (Party Appetizer Sliders)
The BEST Tips For How To Keep Food Warm At Your Next Party
27 Easy Phyllo Cup Appetizer Ideas
📲 FOLLOW Aleka on social!! 👋 Follow me on facebook, instagram, pinterest, youtube or tiktok for more recipes and entertaining tips!