This Burrata Cheese Appetizer is one of my most raved about recipes. The creamy burrata cheese and garlicky peppers is perfect for topping crusty bread. It's best served cold!
I LOVE burrata cheese. If you do too, you will love this burrata appetizer.
I always have guests asking me for this recipe. It is so easy to make and very difficult to mess up! This recipe inspired my Phyllo Cups With Roasted Peppers & Burrata Cheese.
The colorful bell peppers and garlic cloves are roasted in the oven until slightly charred. They are then chilled before topping with a heaping pile of burrata cheese (mozzarella ball). It is a drool-worthy vegetarian appetizer EVERYONE will go nuts over.
It is best served with a super CRISPY Italian baguette so you've got something to 'sop up' all those wonderful juices! If you love serving appetizers but don't have burrata on hand, try my Roasted Red Pepper Crostini (with Ricotta Cheese).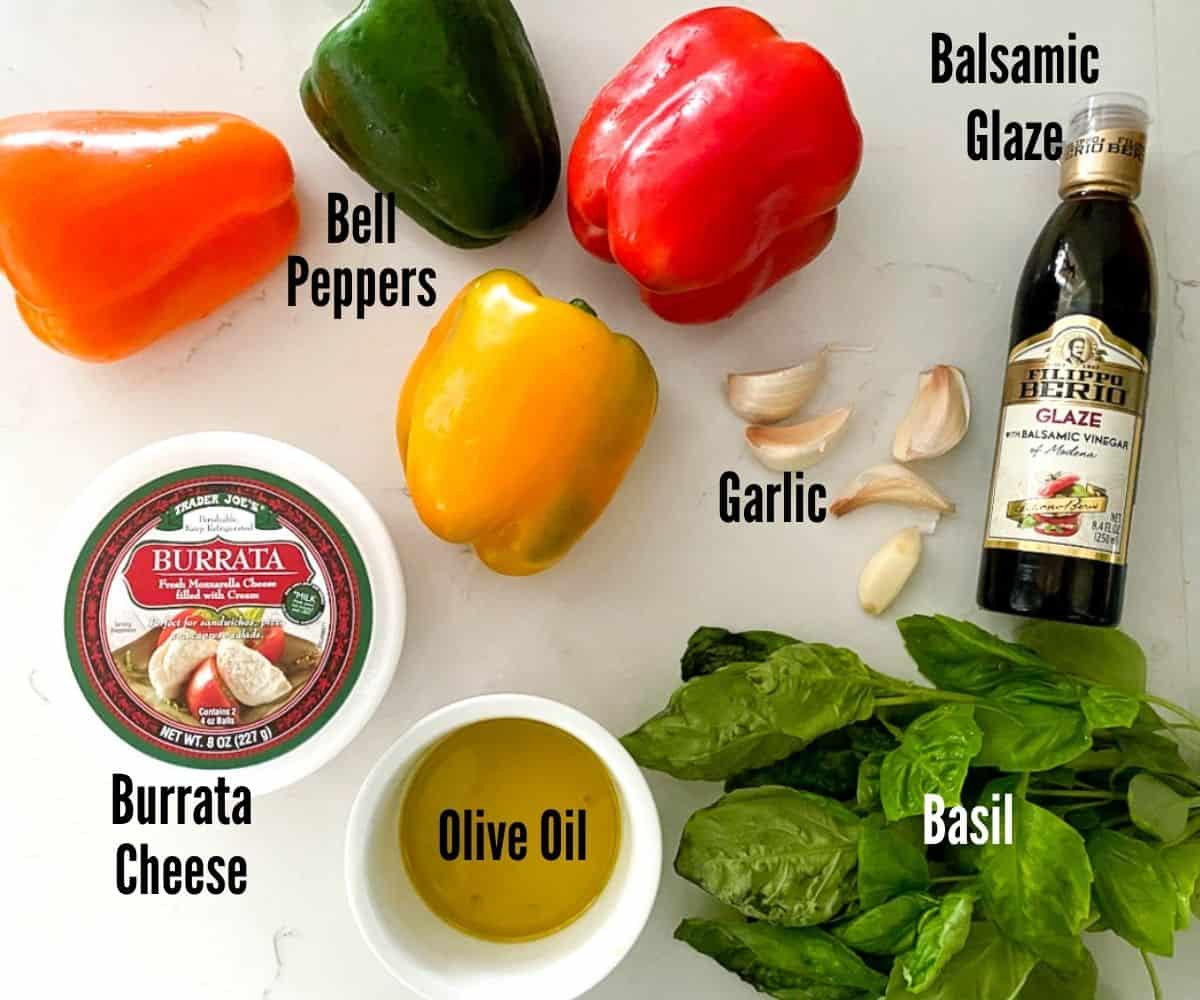 A Bit More About Burrata Cheese
Burrata cheese is a luxurious and creamy Italian cheese that's become increasingly popular in recent years. It's known for its delicate flavor, rich texture, and unique composition. Here's what you need to know about burrata cheese:
1. Composition: Burrata is made from cow's milk and has a distinctive structure. It consists of a soft, pouch-like exterior made from mozzarella cheese, which is filled with a creamy mixture of mozzarella curds and fresh cream. This combination gives burrata its luscious and creamy consistency.
2. Flavor and Texture: Burrata cheese has a mild, milky flavor with a hint of tanginess. Its texture is incredibly soft and creamy on the inside, similar to a creamy cheese or even a dessert-like texture, while the outer shell is slightly firmer due to the mozzarella layer.
3. Serving and Pairing: Burrata is typically served fresh, and it's best enjoyed at room temperature. It's often served as a standalone dish, drizzled with olive oil, sprinkled with salt and pepper, and paired with crusty bread or fresh vegetables. It's also a popular addition to salads, where its creaminess adds a luxurious touch.
4. Storage: Since burrata is a fresh cheese, it should be consumed relatively soon after purchase to enjoy its best flavor and texture. Keep it refrigerated and consume it within a few days for optimal quality.
5. Culinary Uses: Burrata's creamy interior makes it an excellent choice for spreading on bread, crackers, or vegetables. It can also be a wonderful addition to pasta dishes, where the creamy center creates a rich and velvety sauce. Burrata's versatility allows it to shine in both savory and sweet applications.
6. Variations: While traditional burrata is made from cow's milk, you might find variations that include different flavors or herbs mixed into the creamy interior. Some may even incorporate different types of milk, like buffalo milk, for a unique twist. I find burrata in a container soaking in water.
What is the best way to serve burrata?
Start by allowing the burrata to reach room temperature for about 15-20 minutes after taking it out of the refrigerator.
It tastes better when it is not super cold.
Once it's ready, place the burrata on a serving plate, either whole or with a gentle slit on top to reveal the creamy interior.
Drizzle high-quality extra-virgin olive oil over the cheese to enrich its taste, and add a pinch of flaky sea salt and freshly ground black pepper for seasoning. For a pop of freshness, garnish with fresh herbs like basil, mint, or chives.
Serve the burrata alongside accompaniments such as crusty bread, toasted baguette slices, or crostini. The choice is yours – from the classic combination with tomatoes and basil to prosciutto wraps or roasted vegetables – to complement its smooth and indulgent character.
How do you eat burrata appetizer?
Preparation:

Start by taking a moment to admire the presentation of the burrata on your plate. Its creamy interior and fresh exterior create an inviting visual.

Slice or Tear:

Use a knife to gently slice or tear open the top of the burrata. This reveals the luscious cream-filled center.

Dipping or Spreading:

Combining Flavors:
📃 NOTE: Recipe card with exact quantities and detailed instructions are below! Print it out for later!
🧑‍🍳 Aleka's Tips
Chopping up the burrata ball is recommended since most guests have a hard time dipping into the ball without using a fork.
Make sure to mix of the colors of your peppers to make it more appealing and tastier.
Cut your peppers thinly and in bite-sized pieces so its easy to dip into.
Serve with a spoon to guests can scoop some out onto a plater or directly onto their bread.
If your peppers are too dry, don't be afraid to top with more olive oil. It should be a "soupy" appetizer.
FAQ's
What is the difference between burrata and mozzarella cheese?
Inside burrata is a soft and creamy filling called stracciatella. While mozzarella has a delicate taste and is more solid, burrata is creamy like ricotta and is more flavorful. The burrata is held together by an outer shell that is made of mozzarella creating a ball.
Where can you find burrata?
They sell the mozzarella balls right in the cheese section near the mozzarella cheese. They are typically submerged in water.
Can I make this in advance?
Because this appetizer is meant to be served cold, it is best to make it a few hours or even a day in advance to allow the flavors to meld.
Tip* Because the outer layer of burrata is thicker, I suggest scooping the inside (creamy part) into a bowl. Then mince up the outer "shell" and mix it all together. This will allow you to scoop one big creamy pile in the center of your roasted peppers.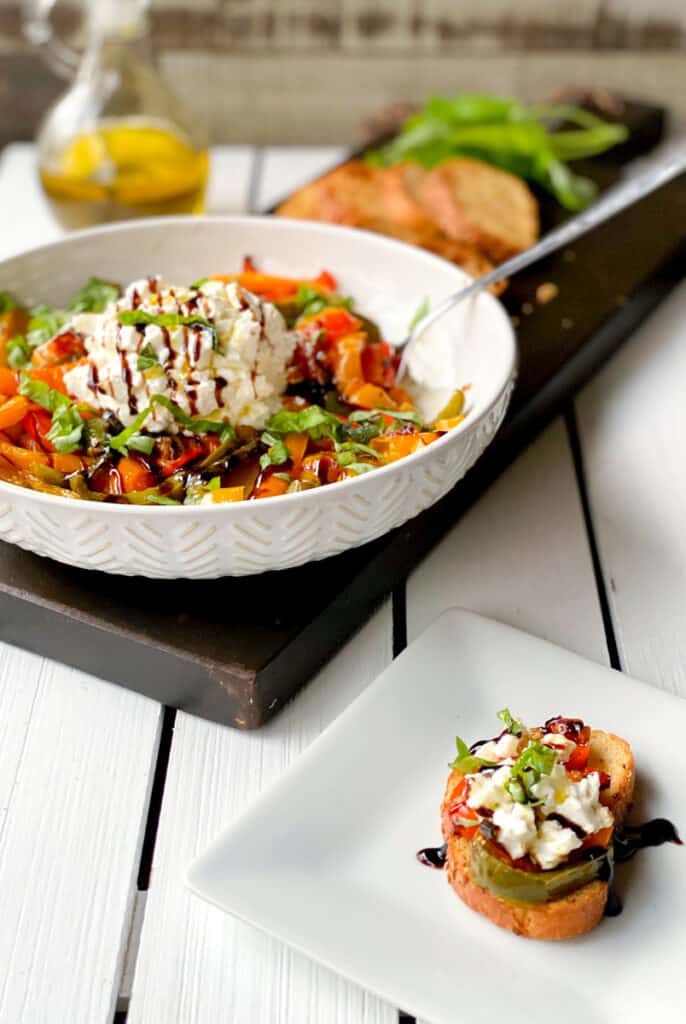 Tip! Purchase a bottle of balsamic glaze from the store and drizzle it over top of the dish. It will add a sweet acidity to the dish. Plus it makes for a beautiful presentation.
Other cold appetizers you may like:
📽 If you love entertaining at home, subscribe to my YouTube channel!!
📖 Recipe
Burrata Cheese Appetizer
A delicious twist on a caprese salad, this easy Burrata Appetizer with Roasted Peppers is my new go-to when I have last minute company! Grab your freshest baguette and dig in!
Print
Pin
Rate
Ingredients
1

8 oz.

Container Burrata Cheese

((comes with 2 balls))

5

Large

Bell Peppers

((Green. Red, Yellow, Orange))

5

Garlic Cloves

((Smashed not cut))

6

Basil Leaves

1

Tbsp.

Thick Aged Balsamic Vinegar or Glaze

(*See note)

½

Cup

Extra Virgin Olive Oil

Fresh

Italian Baguette

((For dipping))
Instructions
Preheat oven to 400° F. Cut peppers into thin strips (about ¼" wide), and spread onto a baking sheet with roughly chopped garlic cloves. Season with salt and fresh cracked black pepper.

Coat generously with olive oil. (about ½ cup)

Bake until you get a light char on your peppers (about 25 minutes).

Pour entire pan (including oil) into a shallow serving bowl/dish. Chill for at least an hour or until it comes to room temp. 

Chop up your mozzarella balls and place in the center of the peppers.

Finish with a drizzle of balsamic glaze over the entire dish and chopped fresh basil. S⅔erve alongside crusty bread warmed or room temperature.
Recipe Notes
The longer you allow this to sit in the fridge, the yummier it will taste! So opt for overnight if you can.
Crusty, crostini-like bread goes perfectly with this! Just slice it thin and toast lightly!
You can add any vegetables to this as you like! Just keep in mind that some veggies may need a longer to roasting time!
Serve with a pitcher of my limoncello Spritz or non-alcoholic Aperol spritz for a true Italian drink pairing!
Nutrition
Calories:
182
kcal
|
Carbohydrates:
0.7
g
|
Protein:
5.2
g
|
Fat:
19.7
g
|
Saturated Fat:
5.9
g
|
Cholesterol:
20
mg
|
Sodium:
87
mg
|
Fiber:
0.1
g
|
Sugar:
0
g