This Mozzarella Ball, aka burrata cheese, appetizer is one of my most raved about recipes. The creamy burrata and garlicky peppers is perfect for topping crusty bread. It's best served cold!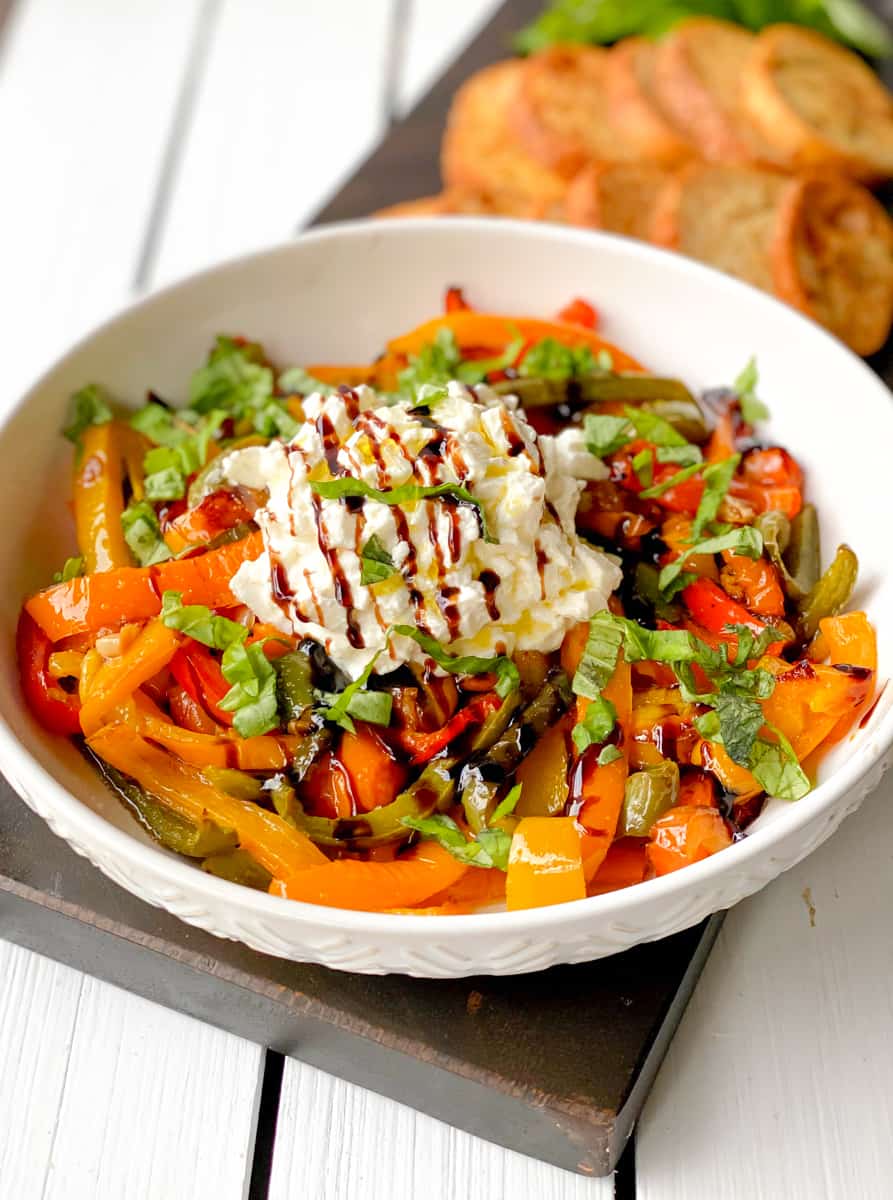 I always have guests asking me for this recipe. It is so easy to make and very difficult to mess up! This recipe inspired my Phyllo Cups With Roasted Peppers & Burrata Cheese.
The colorful bell peppers and garlic cloves are roasted in the oven until slightly charred. They are then chilled before topping with a heaping pile of burrata cheese (mozzarella ball). It is a drool-worthy vegetarian appetizer EVERYONE will go nuts over.
It is best served with a super CRISPY Italian baguette so you've got something to 'sop up' all those wonderful juices! If you love serving appetizers but don't have burrata on hand, try my Roasted Red Pepper Crostini (with Ricotta Cheese).
Expert Tips
Chopping up the ball is recommended since most guests have a hard time dipping into the ball without using a fork.
Make sure to mix of the colors of your peppers to make it more appealing and tastier.
Cut your peppers thinly and in bite-sized pieces so its easy to dip into.
Serve with a spoon to guests can scoop some out onto a plater or directly onto their bread.
If your peppers are too dry, don't be afraid to top with more olive oil. It should be a "soupy" appetizer.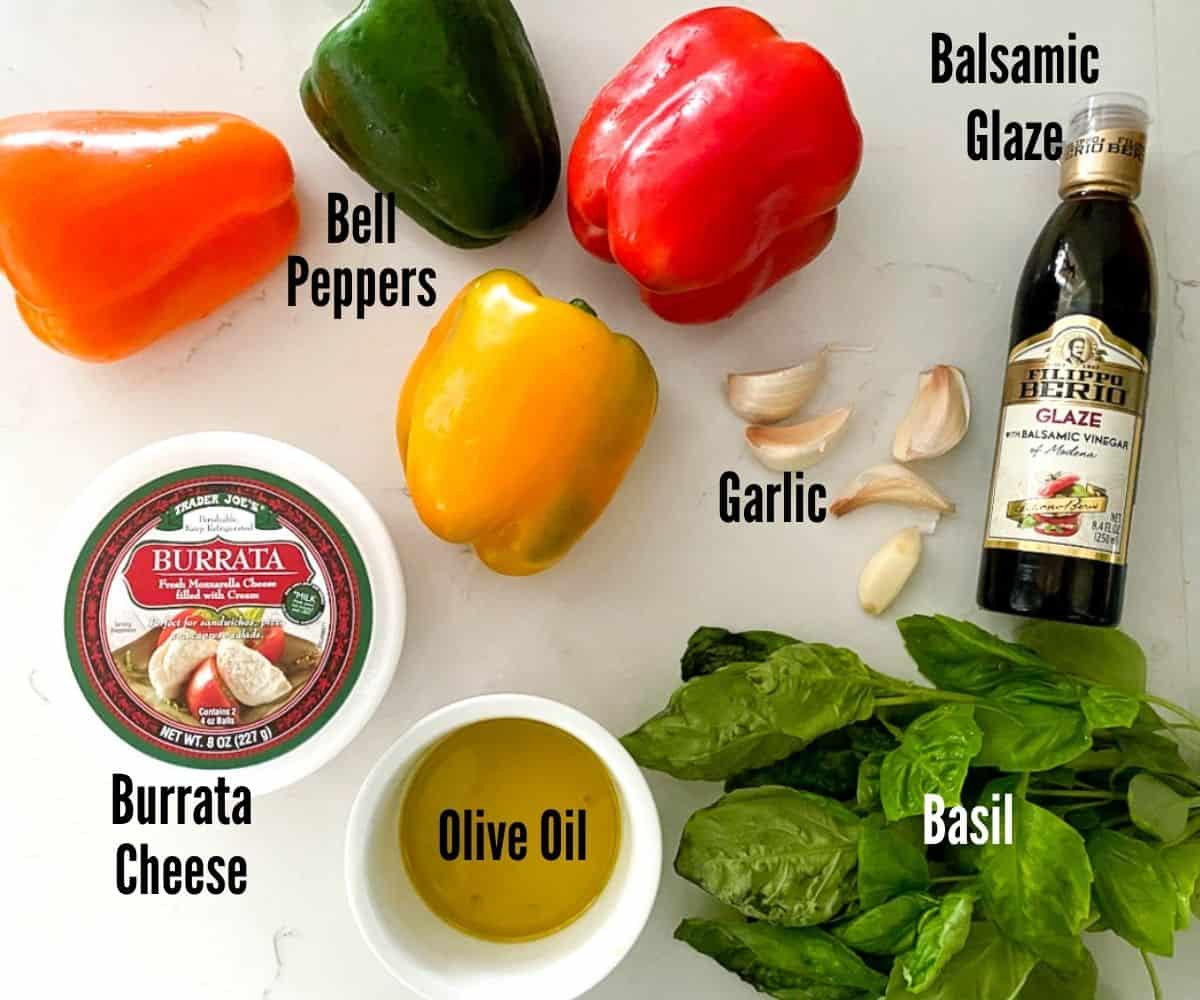 Ingredients:
Burrata cheese- Don't substitute this with regular ol' mozzarella. It is NOT the same.
Bell peppers- These are mild, slightly sweet and colorful. If you like head, add in some jalapenos or other spicier peppers.
Garlic- Freshly chopped garlic makes this dish much better than granulated.
Basil- Don't substitute the fresh basil with dried. Fresh is best for this appetizer.
Balsamic glaze- You can find this in any grocery store near the vinegars. A balsamic GLAZE is what you want. Not regular balsamic vinegar.
FAQ's
What is the difference between burrata and mozzarella cheese?
Inside burrata is a soft and creamy filling called stracciatella. While mozzarella has a delicate taste and is more solid, burrata is creamy like ricotta and is more flavorful. The burrata is held together by an outer shell that is made of mozzarella creating a ball.
Where can you find burrata?
They sell the mozzarella balls right in the cheese section near the mozzarella cheese. They are typically submerged in water.
Can I make this in advance?
Because this appetizer is meant to be served cold, it is best to make it a few hours or even a day in advance to allow the flavors to meld.

Tip* Because the outer layer of burrata is thicker, I suggest scooping the inside (creamy part) into a bowl. Then mince up the outer "shell" and mix it all together. This will allow you to scoop one big creamy pile in the center of your roasted peppers.
Serving Tips
The best way to serve your burrata mozzarella ball appetizer is with a large fork on the side and slices of super crusty bread! A French baguette would work well! Nothing too soft.
Something as simple as a fresh baguette can take this dish to another level so make sure you look for one!
Tip! Purchase a bottle of balsamic glaze from the store and drizzle it over top of the dish. It will add a sweet acidity to the dish. Plus it makes for a beautiful presentation.
My FAVORITE thing about this appetizer is that it does not need to be served warm. In fact, straight outta the fridge is best!
So I suggest making it a day or two in advance and letting the flavors meld together in the fridge as it chills.
If you really want to "up the ante", grill the bread to get that delicious charred flavor right before guests arrive.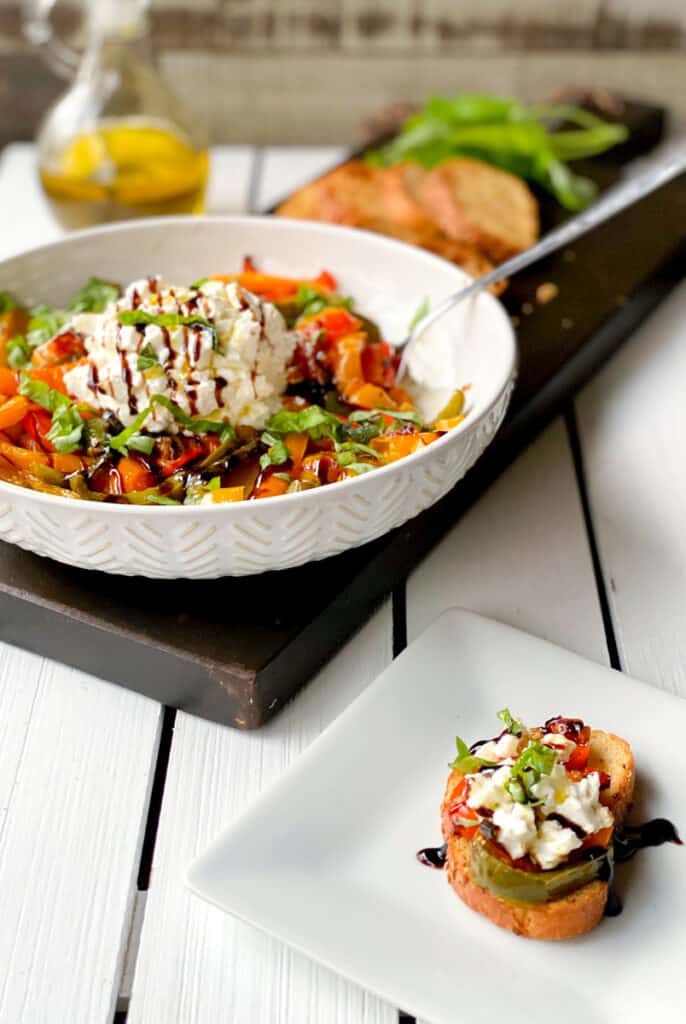 Other appetizers you may like:
Creamed Spinach and Feta Phyllo Cups
Easy Cold Spinach Dip With Cream Cheese
Caramelized Pearl Onions with Balsamic Glaze
Italian Stuffed Mushrooms with Clams
Tried this recipe? Comment and rate it below!
Mozzarella Ball Appetizer with Roasted Peppers and Garlic
A delicious twist on a caprese salad, this easy Mozzarella Ball Appetizer with Roasted Peppers is my new go-to when I have last minute company! Grab your freshest baguette and dig in!
Print
Pin
Rate
Ingredients
1

8 oz.

Container Burrata Cheese

((comes with 2 balls))

5

Large

Bell Peppers

((Green. Red, Yellow, Orange))

5

Garlic Cloves

((Smashed not cut))

6

Basil Leaves

1

Tbsp.

Thick Aged Balsamic Vinegar or Glaze

(*See note)

½

Cup

Extra Virgin Olive Oil

Fresh

Italian Baguette

((For dipping))
Instructions
Preheat oven to 400° F. Cut peppers into thin strips (about ¼" wide), and spread onto a baking sheet with roughly chopped garlic cloves. Season with salt and fresh cracked black pepper.

Coat generously with olive oil. (about ½ cup)

Bake until you get a light char on your peppers (about 25 minutes).

Pour entire pan (including oil) into a shallow serving bowl/dish. Chill for at least an hour or until it comes to room temp. 

Chop up your mozzarella balls and place in the center of the peppers.

Finish with a drizzle of balsamic glaze over the entire dish and chopped fresh basil. S⅔erve alongside crusty bread warmed or room temperature.
Recipe Notes
The longer you allow this to sit in the fridge, the yummier it will taste! So opt for overnight if you can.
Crusty, crostini-like bread goes perfectly with this! Just slice it thin and toast lightly!
You can add any vegetables to this as you like! Just keep in mind that some veggies may need a longer to roasting time!
Nutrition
Calories:
182
kcal
|
Carbohydrates:
0.7
g
|
Protein:
5.2
g
|
Fat:
19.7
g
|
Saturated Fat:
5.9
g
|
Cholesterol:
20
mg
|
Sodium:
87
mg
|
Fiber:
0.1
g
|
Sugar:
0
g