From casual and inexpensive to creative and fancy, I am sharing 23 creative party theme ideas for adults. So whether you are celebrating an 18th birthday, special event, or just planning a fun get-together with friends, when it comes to hosting a party for adults, the possibilities are endless!
I love a good party. And when there are no kids to entertain, the party fun gets taken to the next level!
The best thing about hosting a party for adults is that you can still use the same fun themes but add a wider variety of food, games, and cocktails!
While there are numerous ideas to choose from, here are 23 fun and creative party theme ideas for adults for your next get-together:
🔲 Black and White Party
This party theme isn't just classic but also inexpensive and easy to decorate. While a black and white party is typically associated with fancy events or big occasions, you can choose to make it as fancy or casual as you please.
Have guests dress in either all black, all white, or both colors. The decoration possibilities here are plentiful, as long as they're black or white!
🎲 Vegas Casino Party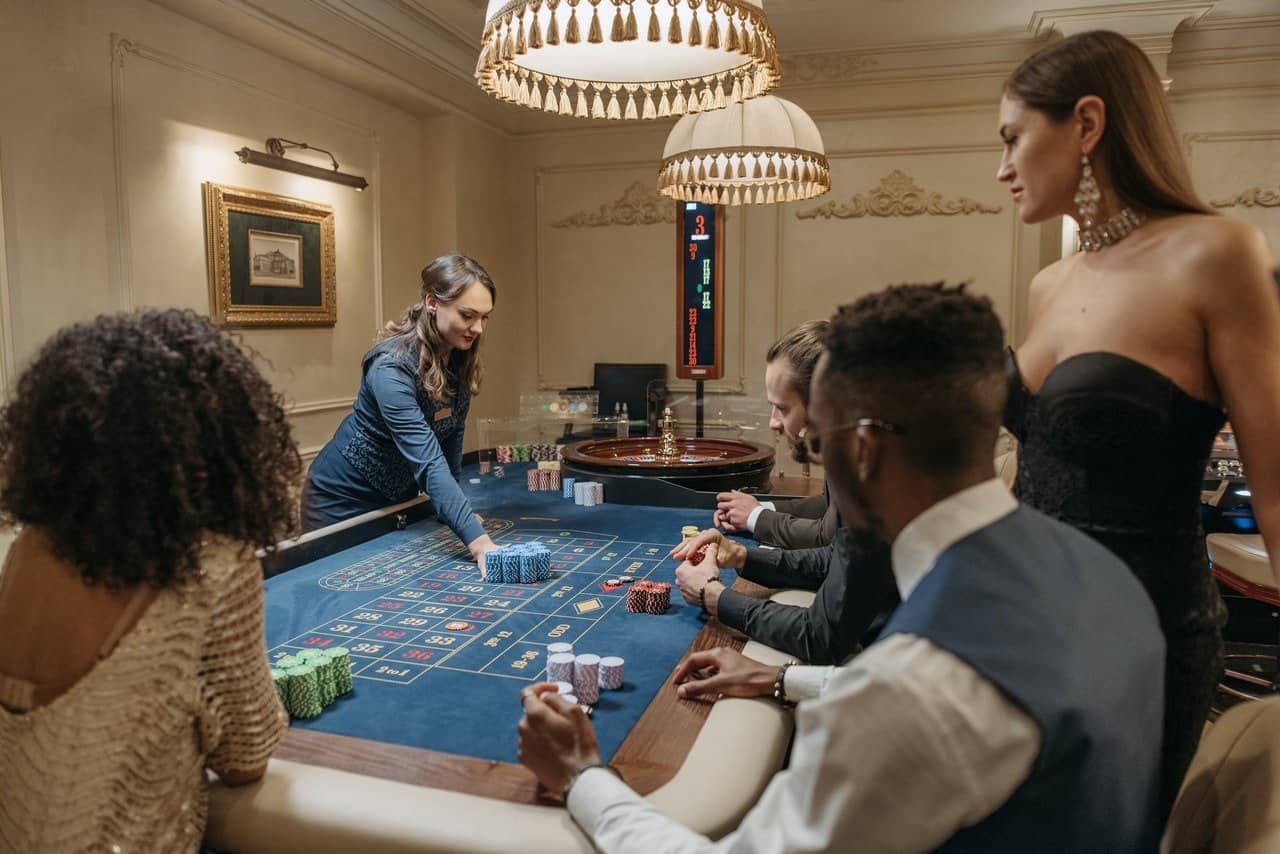 Everyone loves the glitz and glam of Vegas, so why not recreate it at home? Decorate with Las Vegas signs, dollar signs, dice, and playing cards. Set up fun table games such as poker, roulette, and blackjack and ask guests to arrive in glamorous casino gear.
If you don't already have the games at home, you can rent equipment from a local vendor or find smaller versions of the game on Amazon. Roulette lovers will love this seat that includes the wheel and felt number pad.
🎃 Halloween Party
I am obsessed with Halloween and throw a Halloween party any chance I get! Halloween usually focuses on dressing up the kids in costumes. But Halloween can be just as fun for the adults! Decorate the party with pumpkins and spooky decorations, and have guests arrive in fun Halloween costumes. For food, serve up some tasty Halloween party appetizers, mocktails, shooters and creepy cocktails.
🤵 Celebrity Red Carpet Party
This party theme for adults works best when you rent a venue but can also work at home if you have an open room with lots of space. Roll out a red carpet using a long roll of fabric or felt and have guests arrive as their favorite celebrity.
Serve fancy high end cocktails with your fanciest glasses like my Paper Plane cocktail.
Set up a media wall for photo ops, and if your budget allows a professional photographer, even better! Serve champagne on arrival for that exclusive celebrity touch. For food, you want to serve up your top-of-the-line hors d'oeuvres, fit for the A-listers!
🎭Mardi Gras Masquerade Party
Bring out the masks and beads! For this formal party theme, decorate using the traditional Mardi Gras colors of green, purple, and gold. For food, traditional New Orleans dishes such as king cake, po'boys, and jambalaya fit the bill perfectly.
Have guests arrive in cocktail dresses, black tie suits, and sparkling, sequined masks to hide their identities. Then at midnight, have everyone remove their disguise and reveal who they are!
🕺 70's Disco Party
Stayin' alive, stayin alive!
This party theme is one that never gets old! Decorate with a disco ball and flashing party lights and turn up the music with hits from that era. Have guests dress up in bell-bottoms, vests, and colorful prints as in the 70's decade.
These ham and cheese sliders are the perfect throwback sandwich everyone will love!
🦸 Superhero Party
Every adult had a favorite superhero as a child. This fun party theme for adults brings those memories back to life! Have guests dress up as their favorite superhero from childhood.
Decorate with different superhero logos and words such as Boom and Pow! To take the fun to the next level, throw in some "superhero" games such as an obstacle course, limbo, or balloon popping contest. Don't forget the photo booth!
🍸 Cocktail Tasting Party
This fun theme gives everyone a chance to be a bartender! Mix up your favorite drinks and serve them at cocktail stations. For added fun, have guests mix up a signature cocktail and award prizes for the best one! But like any alcohol-themed party, make sure you have enough heavy food and snacks on hand for absorption! Dressing up is optional.
👗 Adult Prom
We all remember the excitement of choosing the perfect prom dress during our high school days. With this party theme, you can relive the fun! Asks guests to arrive in a formal prom dress, suit, corsage, and boutonniere.
Decorate with a soda bar, candy bar, snack bar, and a photo booth with a themed backdrop. For music, play songs that were popular during your high school days. For a special touch that will be sure to entertain everyone, ask guests to bring their prom or high school photos for a trip down memory lane!
📿 1920's Great Gatsby Party
Blast back to the roaring 20's with this classic yet luxurious party theme where guests dress up in their formal flapper dresses, cloche hats, and suits.
Decorate in elegant colors such as black, gold, and silver and serve up popular 1920's cocktails such as mint juleps, gin and tonic, Gin Rickey cocktails, or Old Fashioned cocktails. And don't forget to play 20's music!
🍷 Wine Tasting Party
This party theme is perfect for wine lovers or friends who want to learn more about wine! Have each guest bring a bottle or two of wine for tasting. If you don't want to purchase or use your delicate wine glasses, you can find cheap plastic ones from the nearest party store.
Like a cocktail party, make sure there is plenty of food on hand. Preferably, serve foods that pair well with wines like a cheese and charcuterie board, crackers, and chocolate.
🛌 Pajama Party
Who said that pajama parties are just for kids? For this fun party theme for adults, have guests arrive in their favorite pajamas or arrange for guests to dress up in the same pajama set.
Decorate with colorful pillows, comforters, and blankets. Keep things interesting with games such as Twister, truth or dare, a pillow fight, or a sleeping bag/pillowcase relay race. Don't forget the camera!
Anything But A Cup Party
Are you sick of drinking from red solo cups or beer cans? You're not alone! The theme of this party is all about being creative and having fun drinking!
The rules are simple. At an 'Anything But A Cup', party, people are required to bring something OTHER THAN A CUP to drink out of. From wacky, funny to obscure, the more creative the better!
Grab your longest straws and get ready to start sipping from some unconventional items!
🫖 Adult Tea Party
Throwing an adult tea party is one of the classiest parties you can throw. Bring out your finest china and prettiest tea cups. Lace everything and floral decor is a must. Decorate long tables outdoors with fresh flowers and encourage guests to wear wide-brimmed hats.
Here are some great appetizers for a party like egg tartlets and tea sandwiches set the stage for tea parties. You can serve hot OR cold tea to friends with or without booze.
This type of party is something unique, classy and 100% memorable.
🥋 Toga Party
A toga party is a classic party theme for adults that is inexpensive and funny! The attire for this party can easily be made with white linens and fancied up with simple gold jewelry, decorative scarves, rope belts, head wreaths, and sandals.
Decorate with candles, hanging vines, and colors such as gold and white with a touch of purple. If you want to fancy things up, you can decorate with Greek architecture, like columns and pillars.
For food, you can keep it simple with fruits and veggies and other simple finger foods, or spruce it up with traditional greek fare like this large Greek meze platter or some tzatziki dip.
💆 Spa Party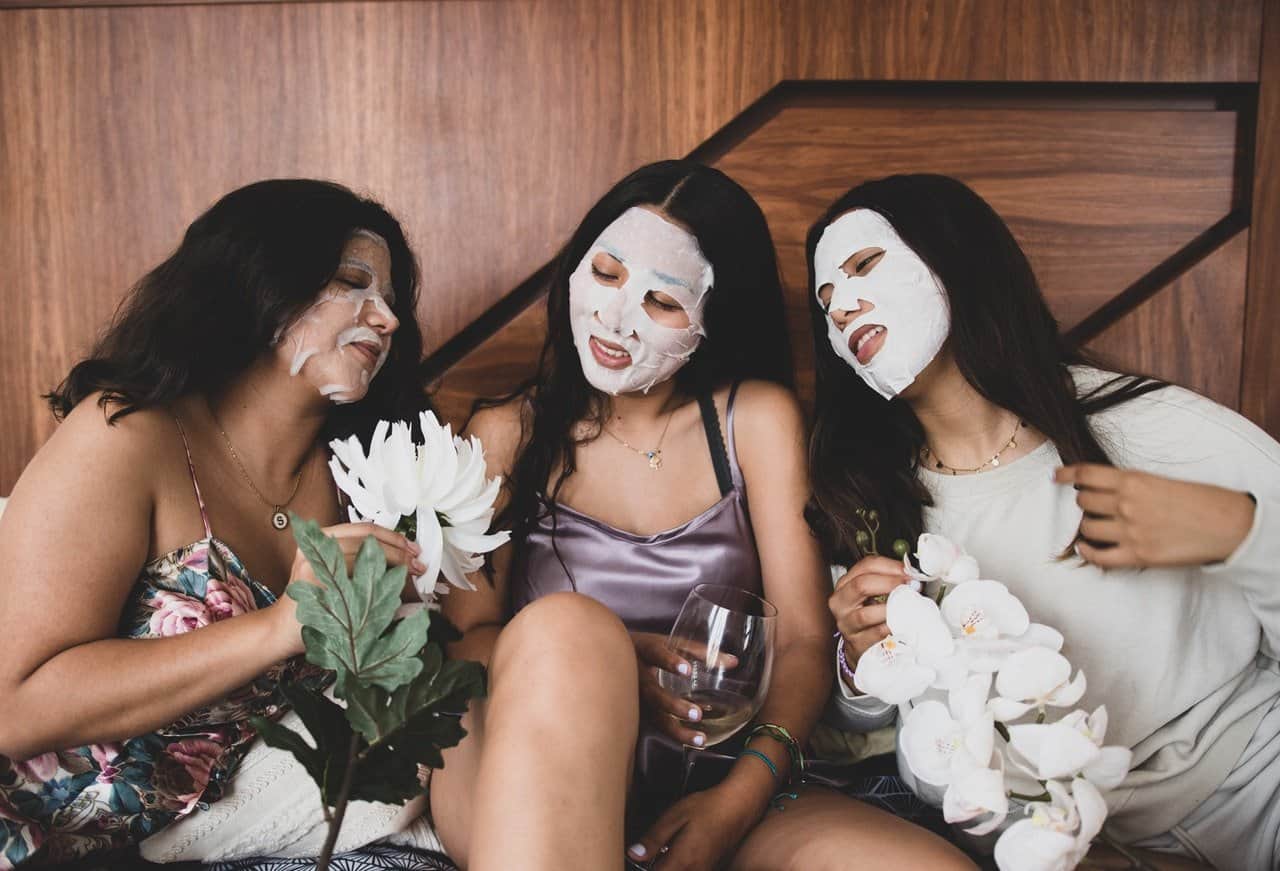 A spa party is a perfect theme for a relaxing night. Plus, you AND your guests will feel relaxed afterward rather than exhausted! Bring out the champagne and snacks and set up stations for manicures, pedicures, and facials. Have each guest bring at least one nail polish color to save money.
For facials, you can purchase these masks that don't require water. You can even set up a massage station with this inexpensive massage seat cushion! If in the budget, hire professionals to do the work while you and your guests sit back and relax!
🍹 Mocktail Mixing Party
Not everyone loves or may feel like downing alcohol at your party. So why not throw an afternoon mocktail mixer?!
Sunday's would be a great time for this or in the later afternoon.
You have a few options. You can premix a few mocktails, supply the ingredients to try a few OR ask everyone to bring their own mocktail ingredients for everyone to try!
Either way, everyone will be able to enjoy delicious non-alcoholic mixed drinks that will not leave your guests feeling in the dumps the next day. And best of all, everyone will remember your awesome party!
Check out this list of my best mocktails.
🦩Tropical Beach/Luau Party
A tropical beach or luau theme is a great way to get guests to think warm and is even more fun if you don't live near the beach! Ask guests to dress in their favorite tropical-themed beachwear and grassy skirts.
Decorate with colorful beach balls, beach umbrellas, leis, hula hoops, and sunglasses.
For food, keep it simple with freshly cut tropical fruits, chips and a bright fresh ceviche. Or serve these Fruit Fries with Coconut Yogurt Dip.
Serve tropical, fruity drinks like, these peach schnapps cocktails, a Virgin Blue Lagoon, or a Passion Fruit Vodka Martini. Garnish your cocktails with some edible flowers for a beautiful touch.
Add some fun to the mix with a hula hoop contest, water balloon toss, or a beach-themed scavenger hunt.
🌮 Mexican Fiesta Party
Throw a Mexican Fiesta with colorful decor and delicious food! Decorate with sombreros, maracas, guitars and papel picado and have guests arrive in traditional Mexican dresses, sombreros and serapes.
For food, serve up traditional Mexican dishes such as margaritas, mulitas, nachos, 7 Layer Mexican Taco Dip and tortilla chips with salsa, guacamole and queso.
🎮Classic Game Night Party
Get ready to get competitive with some of your classic childhood favorites like Uno, Twister, Monopoly, Pictionary, and Trivial Pursuit! Depending on how many guests you have, you may choose to have everyone participate in one game or split up into gaming stations.
🕶️Decade Party
In this fun party theme for adults, ask your guests to dress up for the decade they were born. It will be a hit to see the variety of costumes based on what was trending during that time and guess the decade!
To decorate, for a 50's party, make it a "Shake, Rattle and Roll" theme. Decorate with records, jukebox, guitars and classic cars. Think, Grease Lightning! For food serve diner foods like milkshakes and cheeseburgers.
For a 60's party, throw a "Hippie Party" and decorate with a groovy backdrop, tie dye colors, flowers and peace signs.
For a 70's party, make the theme, "Saturday Night Fever" and decorate with disco themed items like a faux disco ball, lava lamps, roller skates. Encourage guests to wear their widest bell bottoms!
For an 80's party, your theme could be "Totally Bodacious". Use brightly colored boombox decorations, giant cell phones, bananas, microphones, and guitars. Neon colors or glow in the dark decor is a must. Check out how to throw the best 80's themed party here!
For a 90's party, throw a "Clueless Party" and decorate with plaid decor. Your guests will have fun dresing up in 90's attire. Set out fuzzy pens, mood rings and scrunchies as favors. Decorate with large walkmans, roller skates, hoola hoops and microphones.
A great idea is to set up a photo booth with additional props from each decade so guests can remember the night!
💫Astrology Party
An astrology party theme is a unique and fun way to learn more about your guests! Ask guests to arrive wearing something that represents their sign. Use constellations, planets, and glow-in-the-dark stars to decorate.
Another option is to set up a horoscope station where guests can read their horoscope for that day and month. The fun part will be guessing the zodiac sign of each guest!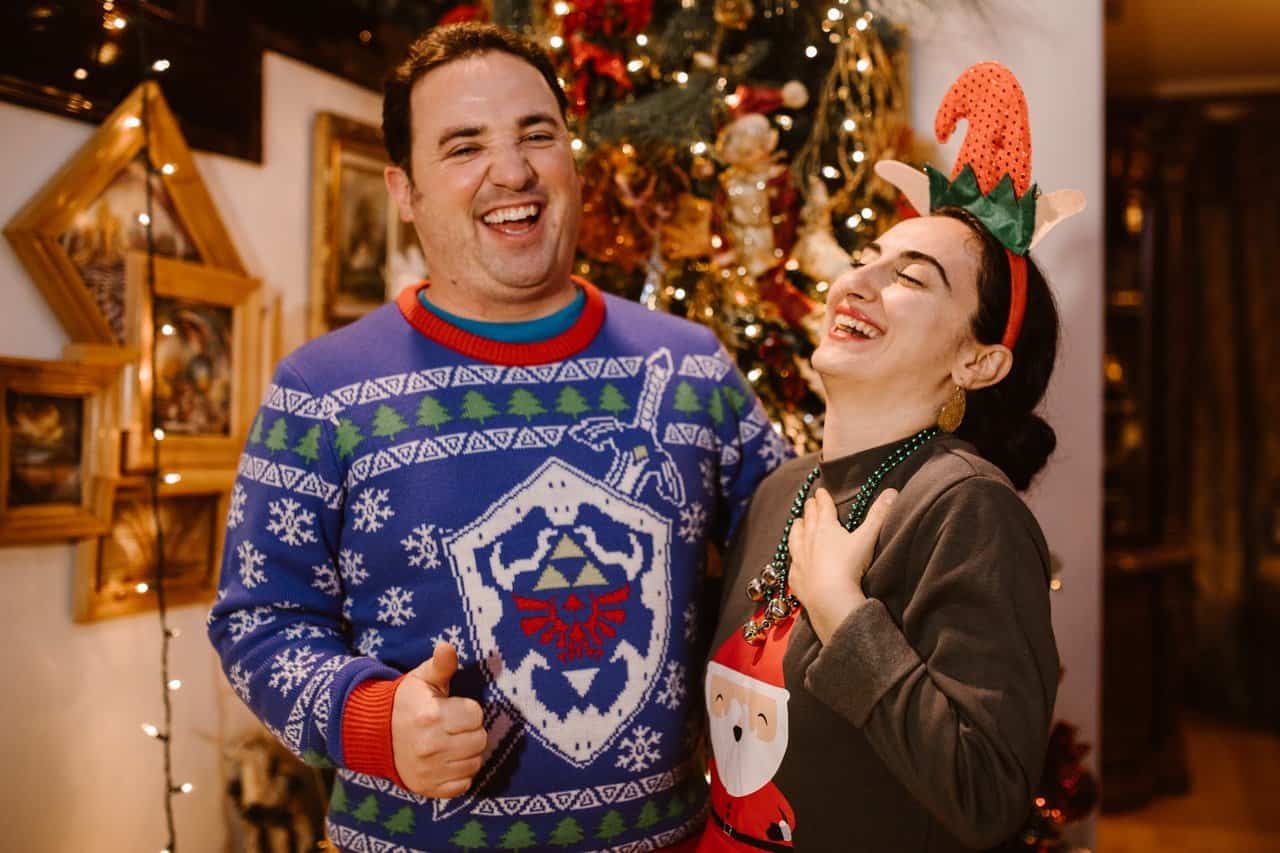 Ugly Sweater Party
Although most popular around the holidays, you don't have to wait for Christmas to host this fun, classic winter party! Have guests arrive in their ugliest winter sweaters and award prizes for the worst one.
Serve a few of these Holiday Party Finger Foods and a batch of these Winter White Cosmos.
🥝Food Festival Party
Take the usual potluck to the next level by having guests cook their favorite foods or desserts and set them up at individual tables like a food festival. To add some friendly competition, award prizes for the best food festival dish!
Tiktok Party
Tiktok is the most popular social app that everyone is going crazy over. Why not throw a Tiktok themed party?
Plan to record duets or new video trends with your friends! Serve up the viral baked feta pasta or dalgona coffee to guests!
Hang a balloon arch with teal, pink or black colors and plenty of music notes!
🤑Seven Deadly Sins
Pride. Greed. Lust. Envy. Gluttony. Wrath. Sloth. In this unique party theme, guests will need to test their creative skills and arrive wearing something that represents one of the seven deadly sins. The best part is guessing what sin they are!
🤴Fairy Tale Party
You grew up with fairy tales and told them to your children. Now you get to play the part! Pick one fairytale theme or have your guests dress up as their favorite prince or princess.
Disguise your cocktails as secret potions from your favorite fairy tales. When it comes to decorations, think elegant. Sparkling crowns, tiaras, and wands make fun giveaways, even for the adults! These purple cocktails are a great start!
🍾Truth Or Drink Party
Truth or drink is a casual game similar to truth or date. It's best played with a small group of 6-12 friends. All you need is some index cards and a pencil. Write down all the questions and ask to your friends. The ones who answer truthfully will not need to drink. The others, bottoms up!
Laugh over embarassingly funny truths and learn some secrets you may have never known about your friends! Here is a list of 100 questions to ask!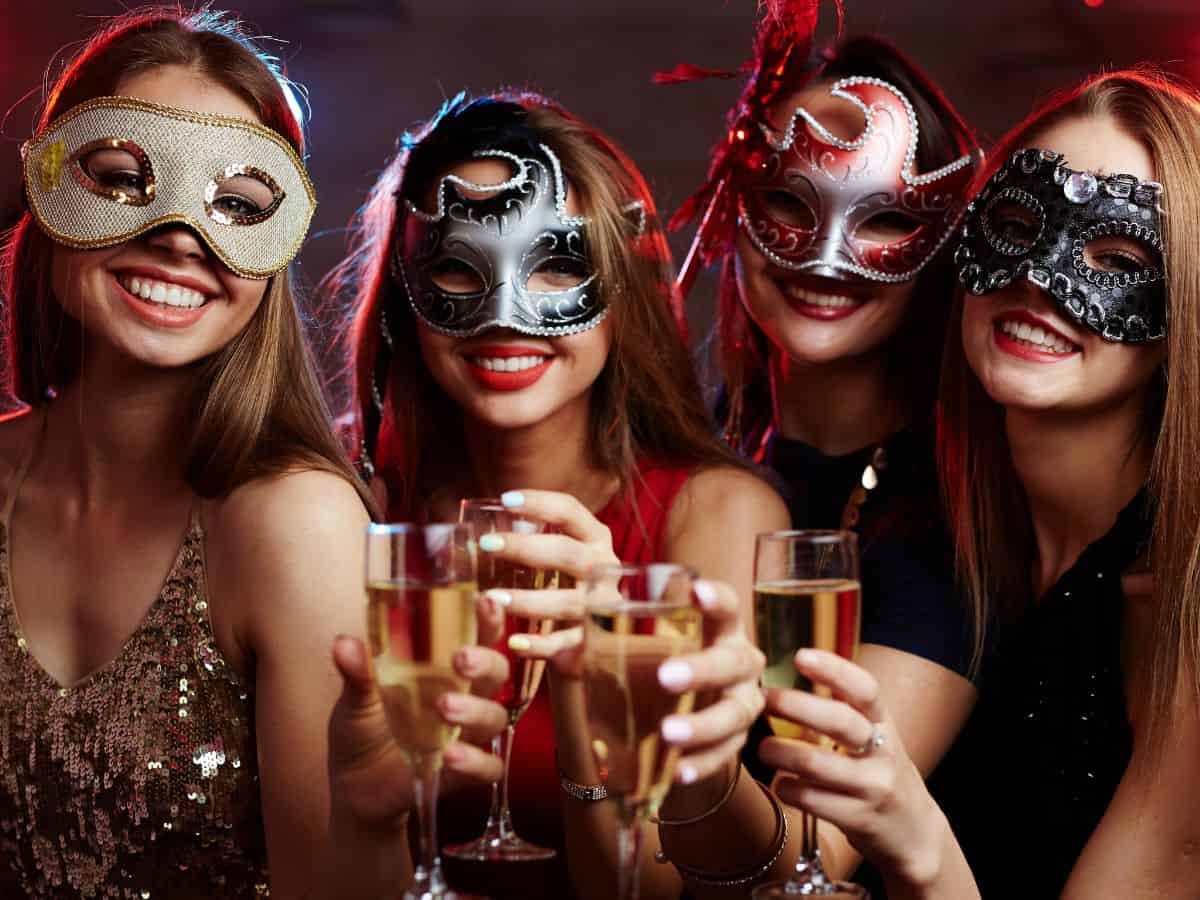 Masquerade Ball
A masquerade ball is a grand and elegant social event where attendees gather to revel in an atmosphere of mystery, allure, and intrigue. Steeped in tradition and charm, throwing a masquerade ball transports guests to a world of fantasy and enchantment.
As the name suggests, the best part of this occasion is wearing elaborate masks and costumes that conceal the identities of the attendees, adding an air of mystique and suspense to the party!
Spread masks on a table so as guests arrive, they can pop one on. Or require guests to find one themselves and wear it before arriving. Either way, this mysterious themed party is one that guests are sure to remember!
Wait! What Food Are You Serving??
The food is the MOST important part of any theme party! Here are some of my favorite party foods that are easy to make in advance! Consider serving foods in a chafing dish on a buffet table for guests to serve themselves!
Funeral Sandwiches (Hot Ham n' Cheese Sliders)
Vegetarian Eggplant Party Sandwiches (Primo's Bada Bing Copycat!)
Pinwheel Sandwiches For Parties
Prosciutto Melon & Mozzarella Skewers (w/ Balsamic Glaze)
Other party themes to try: