This Easy Crab Ceviche recipe is bright and refreshing! It is made with avocado, crab, cilantro and lots of fresh peppers making it the perfect appetizer for the summer months. Serve this ceviche with corn tortilla chips and a refreshing margarita for the perfect party snack!

What is ceviche?
Ceviche is a popular Latin American seafood appetizer. It is typically made with raw fish and fresh veggies like onion, chili peppers, citrus and herbs. You are supposed to marinate it for a few hours in the fridge and serve it cold with a fork or with chips for dipping.
Is Ceviche Cooked?
Lemon juice or lime juice is added which helps to "cook" the seafood. Though, you're really not cooking the crab in this crab ceviche. Instead, you are breaking down the proteins in your fish. It is called denaturation. The end result is fish (or crab) that is completely safe to eat!
Crab Fact: Pasteurized crab meat is safe to eat raw.
I remember making fish ceviche in the culinary class I took in college. It was the FIRST recipe we were supposed to make. I am assuming because it is served cold and requires no cooking. I wasn't excited to try it because I hate raw fish but I was pleasantly surprised when I tasted it. I took it back to my dorm and devoured the rest. It was quite acidic but super tasty especially using tortilla chips as a vessel for scooping. Substituting white fish with crab is much tastier, in my opinion.
How to make crab ceviche
I just LOVE crab. It is the ultimate summer time food. Give me a bucket of crabs, some lemons, and a beer and I'm a happy girl.
So if you love crab as much as me, you will definitely love crab ceviche. It is a deliciously easy and super fancy snack that always wows friends and family. Jumbo lumps of crab meat marinated in a citrusy dressing with fresh peppers, onions and cilantro. The colors are just beautiful!
The most IMPORTANT part of your ceviche is the chopping!
The main reason why this was the first recipe we had to make in class was because it showcased our chopping skills! I remember being so careful and meticulous so when the chef came around, I had perfectly minced squares and waited for a nod of approval.
Ingredients:
Crab ceviche is traditionally made with a few staple ingredients such as crab, peppers, a citrus and fresh cilantro. You can add a few different ingredients to the mix if you want since it is pretty versatile.
Here are ingredients you can add:
lumb crab meat/imitation crab meat/Dungeness crab
peppers (bell, jalapenos, chilies)
lime/lemon juice/vinegar
cilantro/parsley
avocado
mango
red onion
hot sauce/sriracha
cumin/coriander
olives/capers
corn
Using imitation crab meat vs. real crab meat
You can of course, use imitation crab meat to make your crab ceviche if you prefer! It is called "jaiva" in Latin America.
I have used imitation crab many times before like in these Krab Stick Tempura Bites and my Cold Imitation Crab Salad. I love how inexpensive it is compared to jumbo lump crab meat. This container of real crab meat above was about $15.00 compared to about $5.00 for the imitation crab.
Imitation crab is made from white fish but it tastes AND looks just like crab. You can find imitation crab meat in clear packages near the seafood counter.
You will want to use the same amount of imitation crab as you do real crab meat. The only difference is the texture. You will want to chop up your crab sticks into small pieces so that they resemble lumps.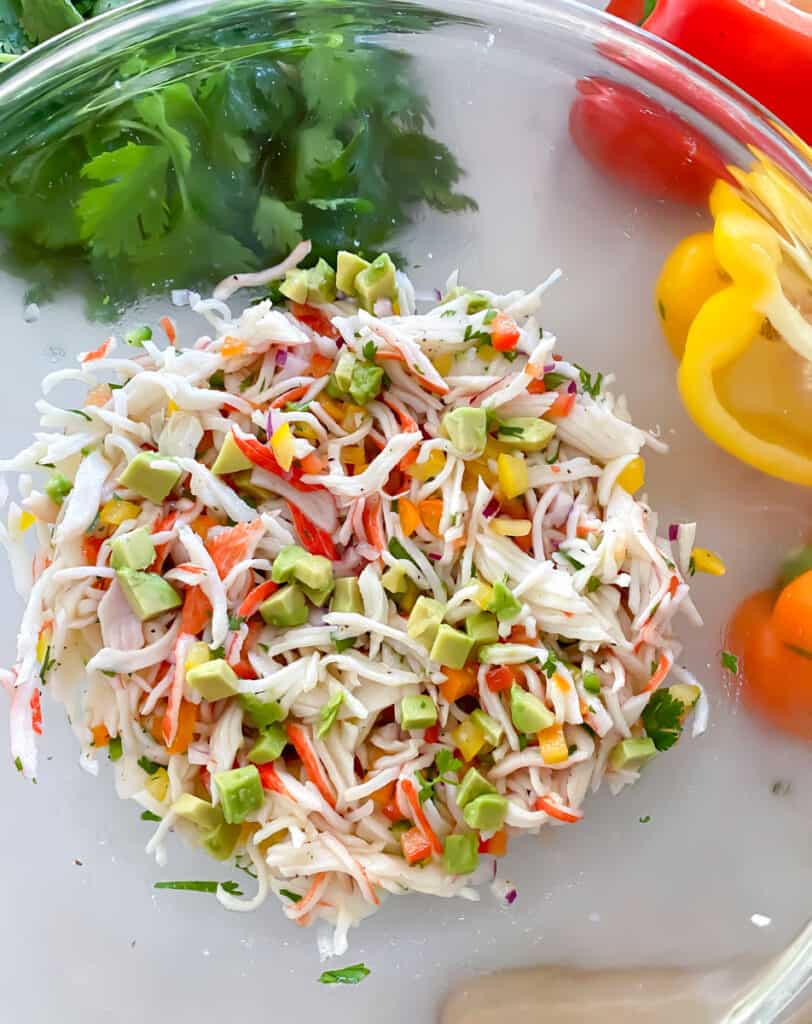 Tips To Keep In Mind
Although making homemade crab ceviche is pretty simple, you want to make sure you take your time precisely chopping your peppers and onions. (This is what my culinary professor at the time preached to us.) That strong knife skills can make a dish that much more appealing.
Mince your veggies so they are all the same size (watch that video for assistance) or see my photos above.
Allow your ceviche to marinate at least 2 hours to allow the flavors to meld
If you can afford it, use the best crab meat you can find
Don't be afraid of a little heat, jalapenos are not very spicy anyway
It is vital that you use FRESH ingredients. Do not use dried cilantro or bottled lime juice.
Serving Options
I classify ceviche as a "dip" because you normally eat it with a dipping agent like tostitos or pita bread. You could of course, eat it with a fork but I love the crunchy bite the corn tortillas provide. Plus, they have those perfectly shaped tortilla scoops that are just like little spoons!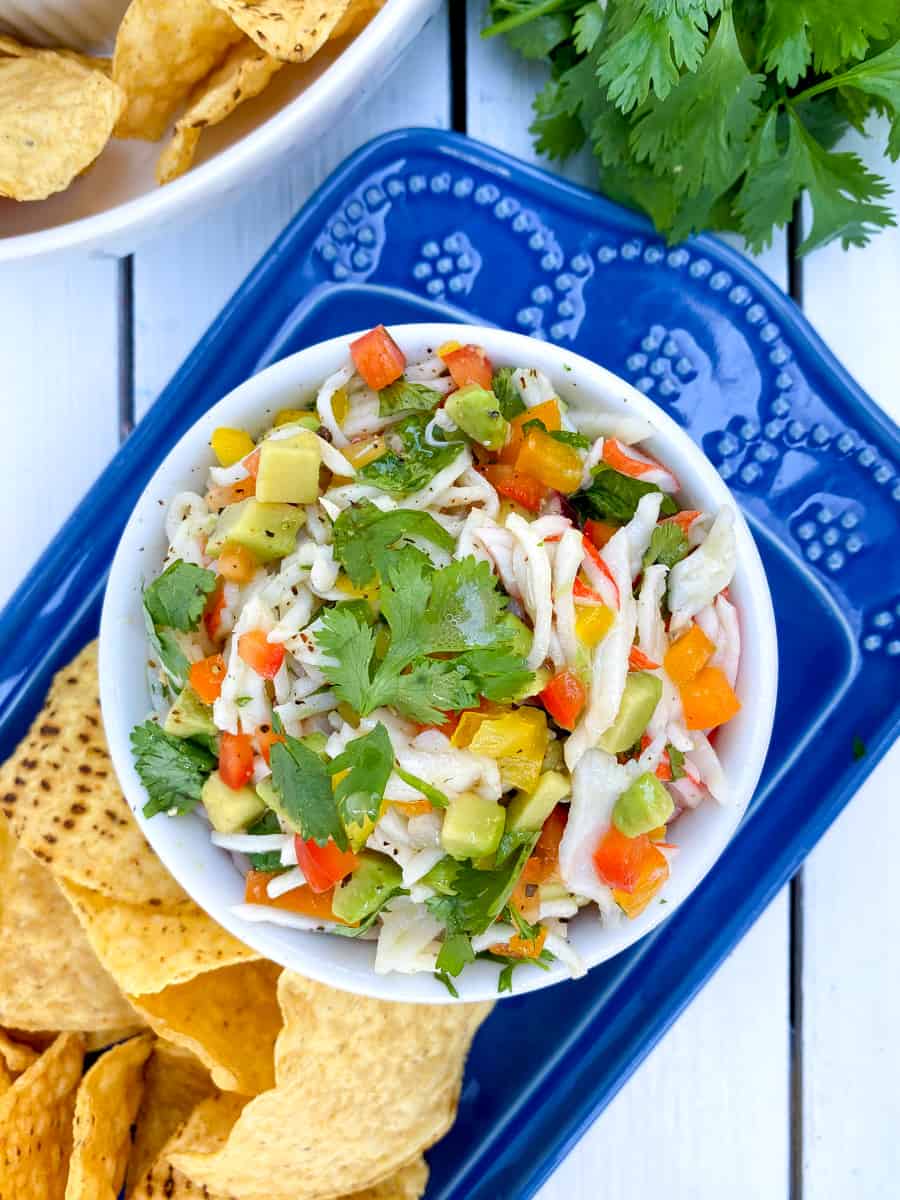 Other seafood appetizers you might like:
Hot Crab & Artichoke Dip with Cream Cheese
Tempura Fried Crab Stick Bites (with Old Bay)
Healthy Imitation Crab Meat Salad
Mini Fish Tacos With Chipotle Cream
Shrimp Tempura Boats with Sweet Chili Sauce
Easy Crab Ceviche (wtih Avocado)
This Easy Crab Ceviche recipe is made with avocado and other fresh ingredients making it the perfect appetizer for those warmer summer months. Serve with corn tortilla chips and a refreshing margarita for the perfect party treat!
Print
Pin
Rate
Ingredients
8

oz.

real crab meat or imitation crab meat

2

tbsp

red onion, minced

⅓

cup

bell peppers, minced

((I used red, yellow and orange for color))

1

avocado, small dice

1

jalapeno, minced (less if you don't like heat)

3

tbsp

freshly squeeze lemon (or lime) juice

¾

tbsp

freshly chopped cilantro

salt to taste*
Instructions
Make sure your crab is in small lumps or shredded.

Add all ingredients to a medium bowl and toss gently until nicely coated. Salt to taste.

Let chill for a minimum of 2 hours before serving tossing a few more times during that time.

Serve cold with corn tortilla chips or grilled pita triangles.
Recipe Notes
*Cutting your peppers and onions is important to a beautiful ceviche. Make sure you mince everything. That means chop it up very, very small. (See photos)
Nutrition
Calories:
162
kcal
|
Carbohydrates:
7
g
|
Protein:
8.3
g
|
Fat:
11
g
|
Saturated Fat:
2.2
g
|
Cholesterol:
30
mg
|
Sodium:
360
mg
|
Fiber:
3.8
g
|
Sugar:
1.3
g