These Crispy Fried Crab Sticks are made with imitation crabmeat making them a very inexpensive snack or party appetizer!
They're dipped in a tempura batter, lightly fried and then seasoned with Old Bay seasoning. I like to serve them with a creamy tarter sauce for dipping.
Love imitation crab? Try my EASY Krab Avocado Ceviche!
These fried crab sticks are a delicious seafood appetizer I love making! They're made from imitation crab or "krab" meat also known as surimi. If you've never purchased imitation crab meat before, you should try it!
It is a delicious way to get you crab fix in for about one fourth the cost of real crab meat. It's my go-to secret when entertaining on a budget!
If you love imitation crab meat, try my EASY Crab Avocado Ceviche (w/ Real or Imitation Krab) my Crispy Calamari or my Healthy Imitation Crab Meat Salad.
What Are Crab Sticks?
Imitation crab meat is really just fake crab meat, hence the name 'imitation'. It was originated in Japan years ago.
It is made from surimi, a fish paste made of starch and finely pulverized white fish. It is made to resemble the meat inside crab legs and tastes similar to real crab meat.
They are also known as krab sticks, ocean sticks and sea legs.
It is super cheap which is why I use them in some recipes like my Healthy Imitation Crab Meat Salad.
So when it comes to parties and serving a crowd, this is my go-to since crab meat is SO expensive! It is a tasty, inexpensive alternative! I bet your guests will not even know they're eating imitation crab!
Here is a good article that goes into further detail about what imitation crab meat really is.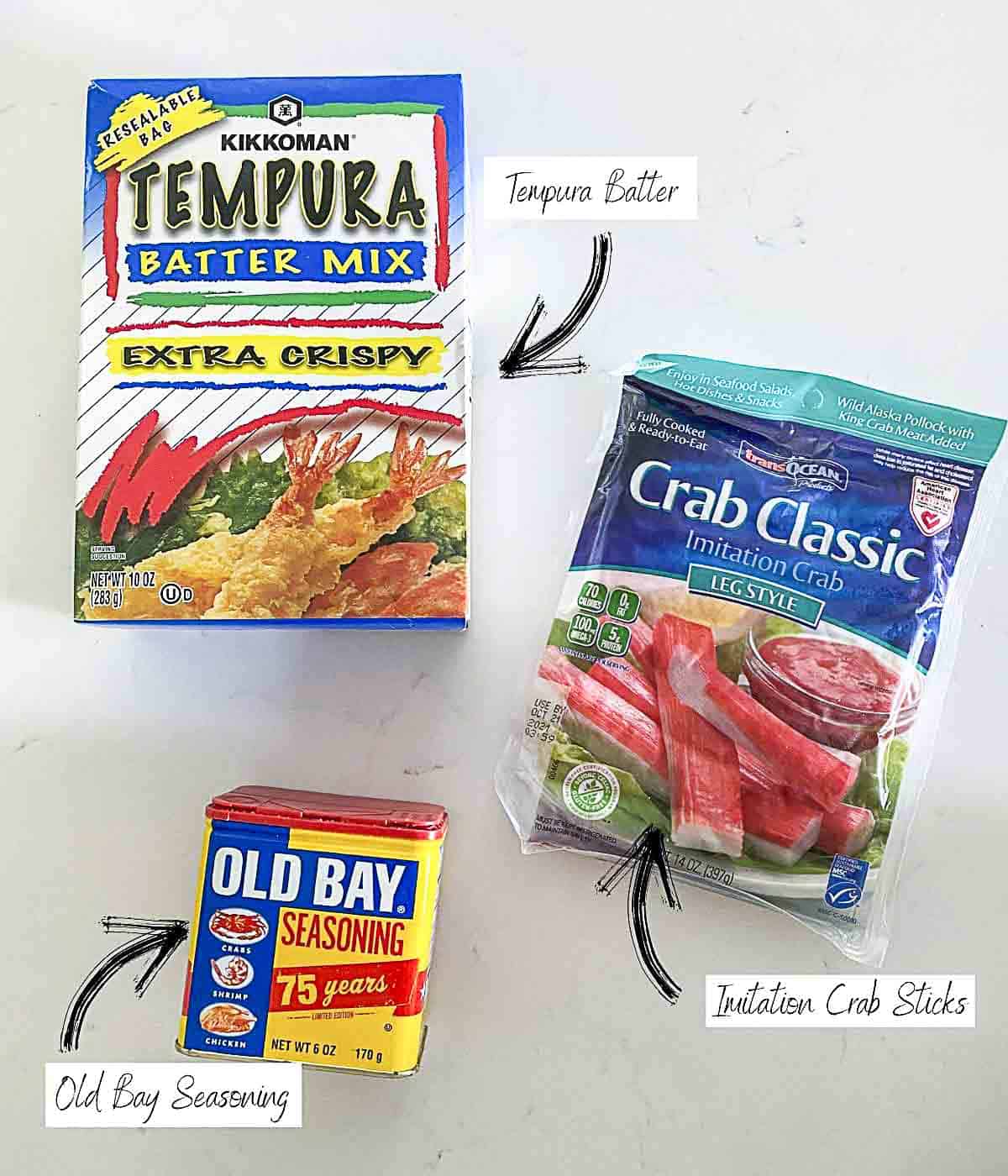 Ingredients:
This recipe is so easy, all you need is 3 ingredients!
Imitation Crab Sticks- Imitation crab sticks are easy to find in any grocery store. Look near the real crab or fish in the seafood section.
Old Bay Seasoning- Old Bay is a staple when it comes to crabs. You can make your own Old Bay if you don't have any on hand or use another spice blend you prefer.
Tempura Batter- Kikkoman has a box of tempura batter that you literally just add water to. It comes out perfect every time. You can also find this in the seafood section. OR try making your own!
How To Make Fried Crab Sticks
Imitation crab comes in three different varieties. Shredded, chopped and in STICKS. For this recipe, I like to use crab sticks since they're easy to cut into bite-sized pieces.
Step 1: Add oil like vegetable or canola into a small pot and heat to 375° F.
Step 2: Cut your crab sticks into 4 pieces each.
Step 3: Toss them into your tempura batter and coat thoroughly being careful not to break your sticks.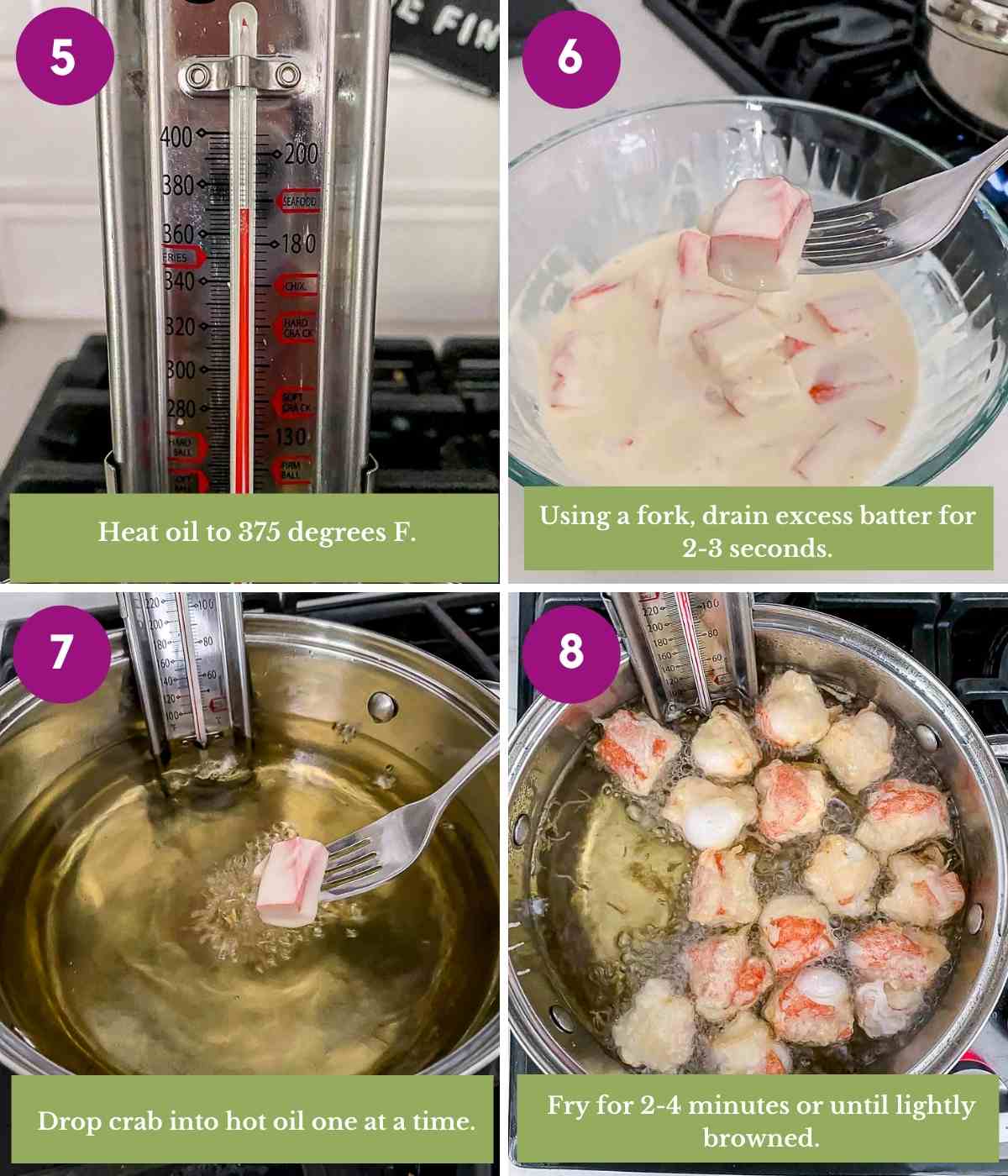 Step 4: Use a fork or toothpick to pick up each piece of crab allowing excess batter to drain.
Step 5: Add about 6-10 pieces at a time to your hot oil. You will need to fry in 2-3 batches. Make sure your pieces don't touch each other or they will stick.
Step 6: Drain fried crab stick bites on paper towels or wire rack and season with Old Bay seasoning.
Step 7: Serve with tarter sauce or sauce of choice.
Crab Tempura Batter
Tempura batter yields in a super light and crispy exterior which makes it perfect for crab sticks.
You have two options for tempura batter.
Make your own! Homemade tempura batter isn't hard to do and just requires some flour, egg and ice water. Here is a homemade batter recipe.
Use boxed tempura batter! I love Kikkoman's boxed tempura batter. It keeps in the pantry for a long time and all you need to do is add water! You can find it near the seafood in your grocery store.
When it comes to entertaining, I don't like to make things more stressful so in case my tempura batter doesn't turn out right, I won't be stuck without an appetizer.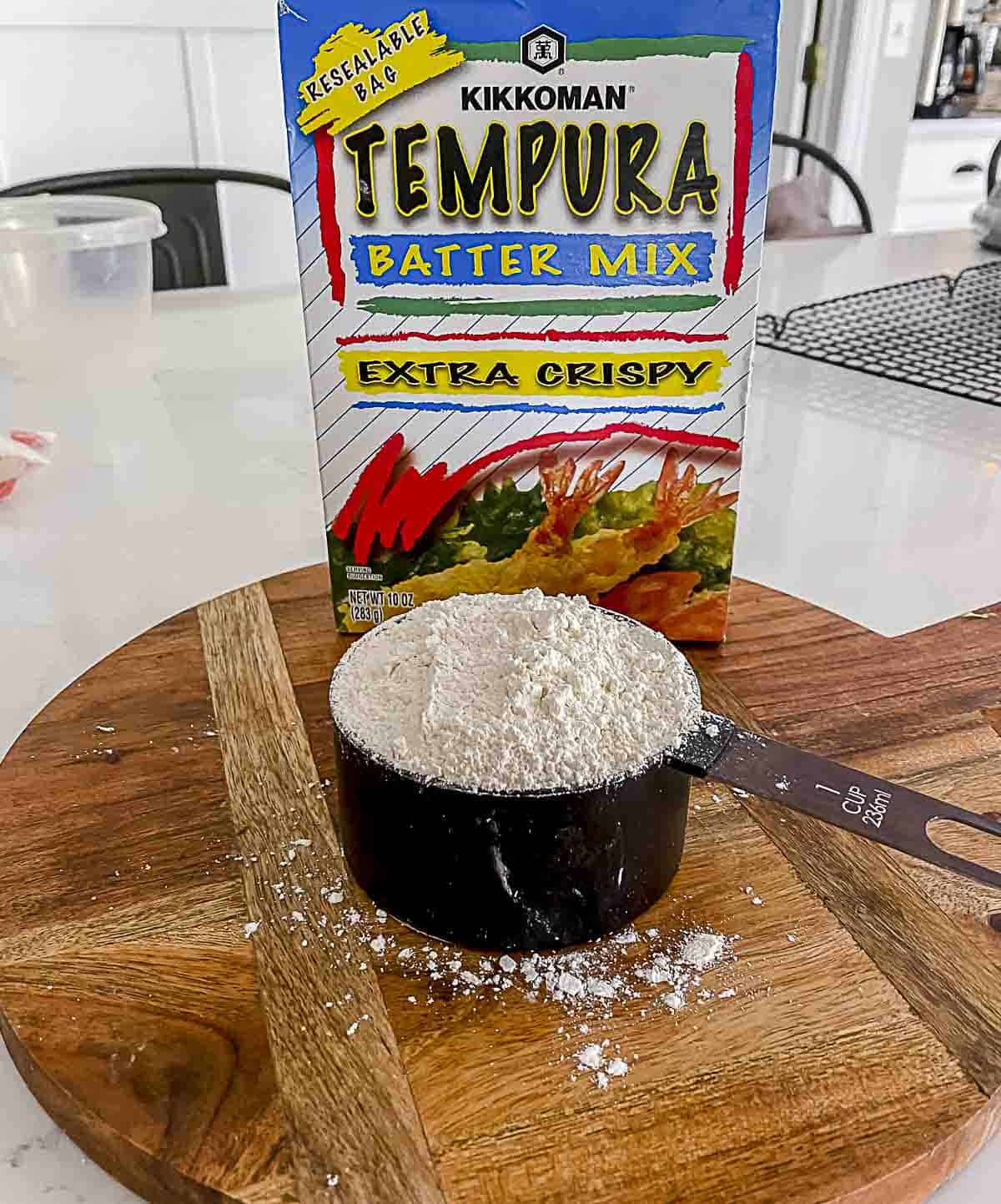 Expert Tips
If your batter is too thin, add more mix. If it's too thick, add more water. Ideally you want pancake batter consistency.
Using ICE water. Add ice to a cup of water and let it sit for a bit to get nice and cold. Then strain the ice and add your water.
Use an oil thermometer to make sure your oil is nice and hot. You don't need to cook the crab so we want just need to batter to brown.
Season right away with Old Bay so the seasoning sticks to your bites.
Make Them In Advance
You can fry your crab sticks hours before company arrives and then store them in a sealed Tupperware container when they have fully cooled. If you put them in the fridge or in a container when they're still hot, they will get soggy quickly.
Then, when your company is near, toss them in the oven (or air fryer) at 400º F until they crisp back up. This shouldn't take too long.
I do not recommend freezing these.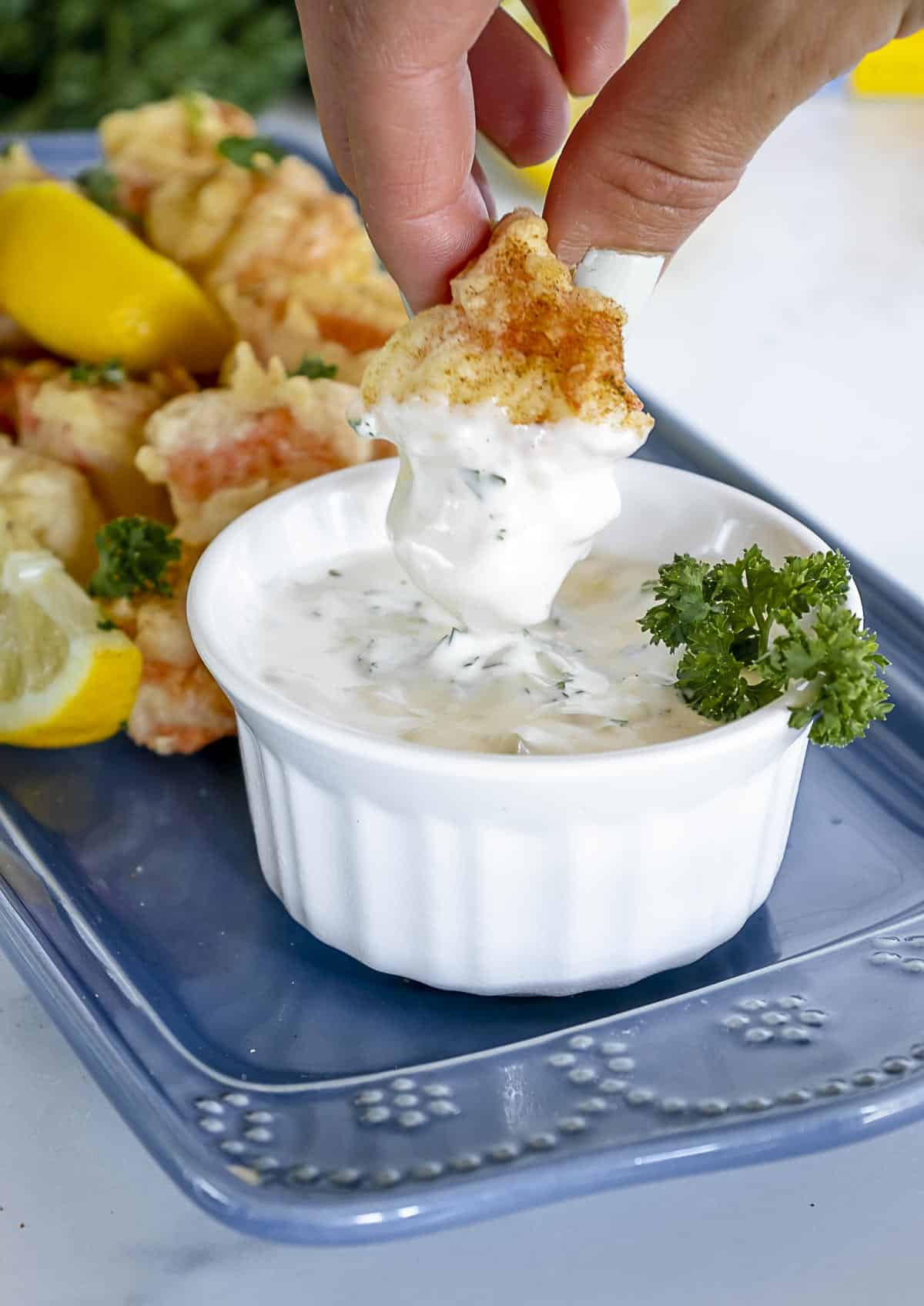 Frequently Asked Questions
Do crab sticks taste like crab?
Yes the taste is very similar to real crab even though a good portion of it is made with artificial ingredients. The texture is a bit more firm then most crab is and the color is brighter.
Is imitation crab meat healthy?
Imitation crab meat is not 100% natural so I wouldn't consider it "healthy". I like to serve this once or twice during the summer as an inexpensive alternative to costly crabmeat when I have a lot of guests to serve. Everything in moderation! 🙂
Can I eat crab sticks raw?
Yes, they are fully cooked and ready to eat out of the package.
Here are some other summer appetizers you may like:
Hot Crab & Artichoke Dip with Cream Cheese
Healthy Imitation Crab Meat Salad
Tempura Shrimp Stuffed Endive Leaves (with sweet chili sauce)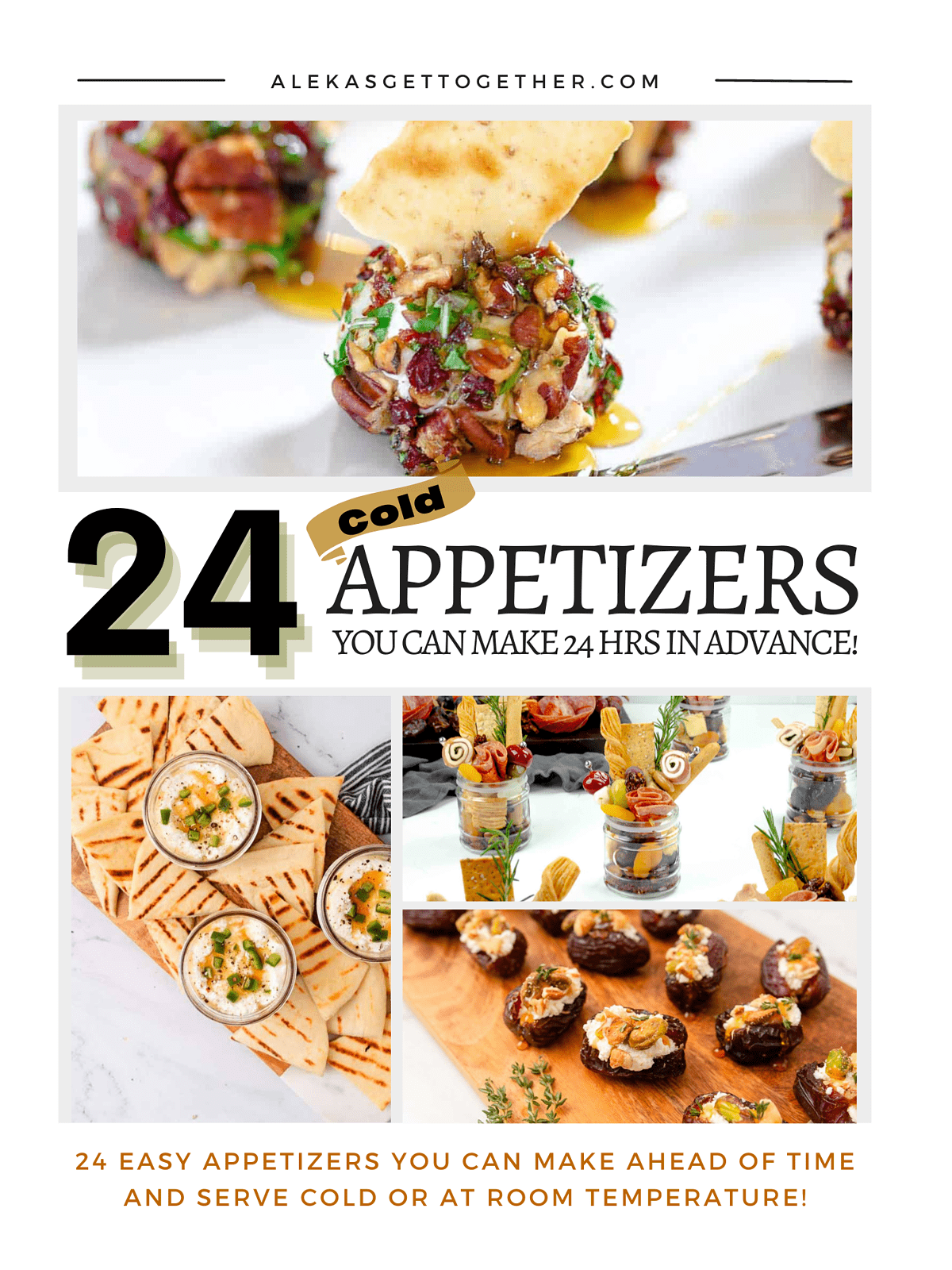 Love Make Appetizers in Advance?
I have an Ebook I created with my top make-ahead appetizers you'll LOVE! Get it here!
📽 If you love entertaining at home, subscribe to my YouTube channel!!
📖 Recipe
Fried Crab Sticks aka Imitation Crab
These fried crab stick bites are dipped in a light tempura batter and quickly fried. Serve them with a creamy tarter sauce, these crispy crab bites are an inexpensive appetizer recipe everyone will love!
Print
Pin
Rate
Ingredients
14

oz.

Imitation Crab Sticks

1

Cup

Tempura Mix

¾

Cup

Ice Water

1½

Tsp.

Old Bay Seasoning

Oil for frying

Tarter Sauce For Dipping

1

Lemon

(Optional)
Instructions
Add 2-3 inches of oil to a large pot and heat to 375° F. (use an oil thermometer)

In a large bowl, add your water and tempura mix. Whisk until you get a pancake batter consistency. If it is too thick to dip your crab sticks in, add a touch more water.

Cut your crab sticks into 4 pieces.

Add your crab bites to the tempura batter and one by one, add to hot oil using a toothpick, fork or tongs. (whichever is easier and less messy) You want to use something that allows the excess batter to drip off before adding it to your oil!

*Do not crowd your pot with too many at once because the cold batter will bring down the temperature of your oil and your bites will be saturated with oil instead of light and airy. Wait until the oil comes back to temperature before adding next batch.

Drain crab bites on paper towels and sprinkle with more old bay. Continue until all your crab is fried. Serve warm with tarter sauce and lemon wedges on the side!
Recipe Notes
*You can make your own tempura batter if you wish but the box mix works wonderfully and saves time!
*Serve these hot within an hour of frying. They will become soggy as they sit. Pop them back in the oven or air fryer to crispy back up.
Nutrition
Serving:
6
Bites
|
Calories:
480
kcal
|
Fat:
12.2
g
|
Saturated Fat:
0.3
g