These fried crab stick bites are dipped in a light tempura batter and quickly fried. Serve them with a creamy tarter sauce, these crispy crab bites are an inexpensive appetizer recipe everyone will love!
These fried crab sticks are made from imitation crab or "krab" meat. If you have never purchased imitation crab meat before, you should try it! It is a delicious way to get you crab fix in for about one fourth the cost of real crab meat.
Have you tried my Healthy Imitation Crab Meat Salad? It is another great appetizer that also uses imitation crab meat.
Imitation crab meat comes in stick form and lump form. For this recipe, I used the crab STICKS. You could easily use the other form of crab as well but the shape may be a little different. The taste is the same.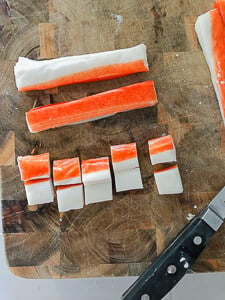 What is imitation crab meat?
Imitation crab meat is fake crab meat, hence the name 'imitation'. It is actually made from surimi fish that is tightly packed together. It tastes very, very similar to real crab meat so that is why I love it so much. So when it comes to parties and serving a crowd, this is my go-to since crab meat is pretty darn expensive! It is a tasty, inexpensive alternative! I bet your guests will not even know it is imitation crab!
Here is a good article that goes into further detail about what imitation crab meat really is.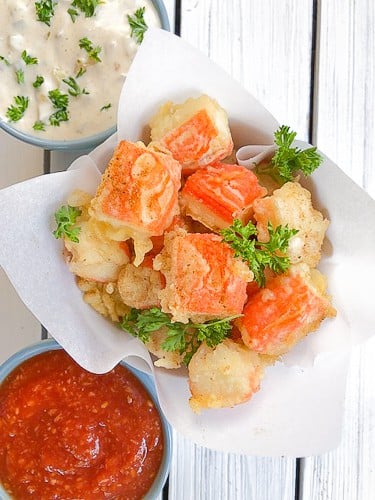 How To Fry Your Crab Sticks
I chose to use a tempura batter in this recipe so the result is a light and airy bite. All you need to do is cut your crab into pieces and coat in the batter. Then fry in some oil until the batter puffs up! The whole process should take no more than 10 minutes if you have a large pot for frying.
Since the imitation crab is already cooked, you do not need to worry about the crab reaching a certain internal temperature. All you need to look for is the tempura batter to puff up nicely and they're done!
How To Make Your Tempura Batter
I use boxed tempura batter. I have tried many times to create my own but I have yet to master it. I know rice flour and ice water are essential but my batter never turns out as airy and as crispy as Kikkoman's tempura mix. It is awesome! All you need to do is ADD WATER and it's ready for dipping!
Here is a tempura batter recipe if you want to make your own batter!
Keep in mind, you can change the consistency of the batter by adding less or more water. A thinner batter will have a lighter coating. You can choose the thickness but I would suggest not to go too thick. For this recipe, I went with a thinner batter so each bite stays light and airy. Think, thin pancake batter.
I also added some old bay seasoning to my batter. It is like the magical summer spice. And if you love crab, you know that old bay and crab go together like peanut butter and jelly! And because I was feeling crazy, I added old bay to both the batter and sprinkled some on top when they came out of the fryer. They look even more delicious that way!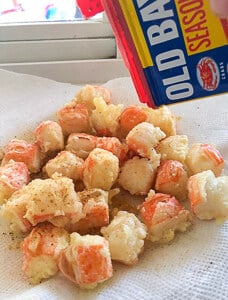 How To Serve Your Fried Crab Bites
The best way to serve these is warm with tarter sauce on the side! It is super easy to make on your own or you can buy your favorite kind. Cocktail sauce is another great option if you like it. I love dipping so I would have at least two sauces for everything if I could!
How To Make These Ahead Of Time
You can fry them hours before company arrives and then keep them in a sealed Tupperware container when they have fully cooled. If you put them in the fridge or in a container when they're still hot, they will get soggy quickly. When company is near, throw them in the oven at 400º F until they crisp back up.
Here are some other summer appetizers you may like:
Hot Crab & Artichoke Dip with Cream Cheese
Healthy Imitation Crab Meat Salad
Tempura Shrimp Stuffed Endive Leaves (with sweet chili sauce)
---