These Mini Shrimp Tostadas are a bite-sized appetizer version of the popular Mexican dish but baked! They are also gluten-free and could easily be made vegetarian OR with chicken!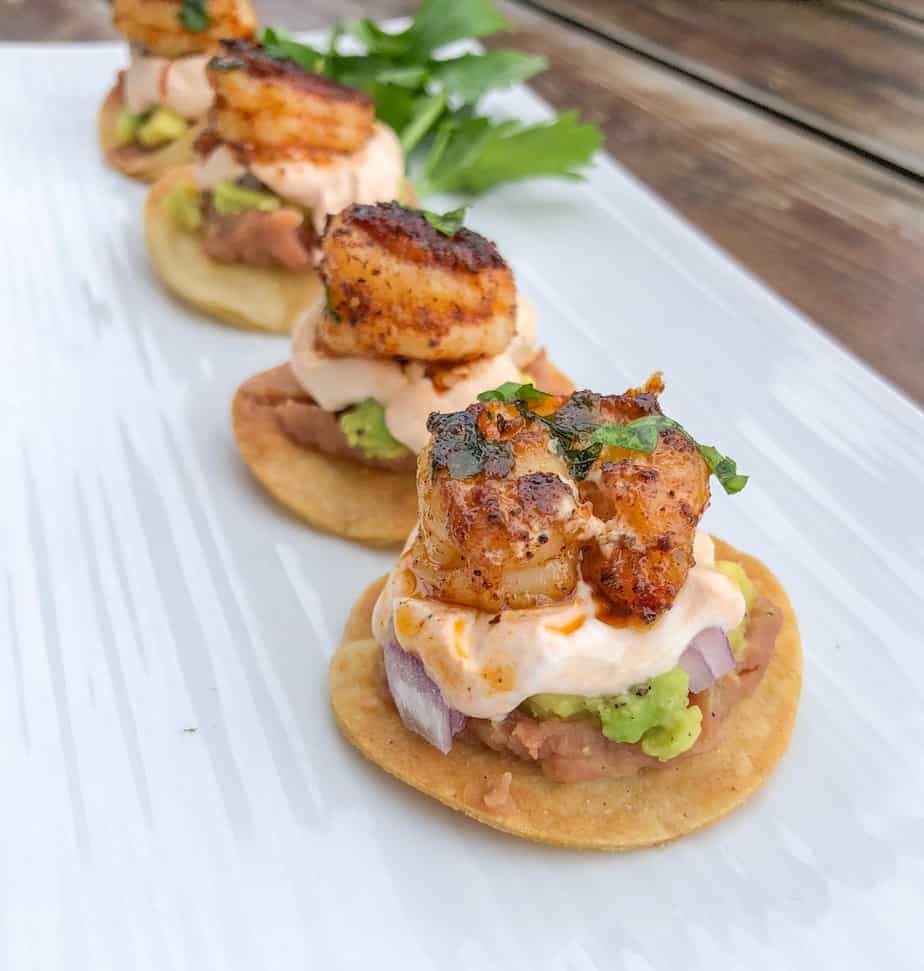 These mini shrimp tostadas are such a delicious party appetizer to serve friends and family at any party!
They are easy to make and more importantly, can be made in bulk which we all aim for when expecting larger crowds.
Since I chose to BAKE my tostadas as opposed to frying them, you don't have to worry about the stinky smell of oil before guests arrive.
I made these shrimp tostadas with corn tortillas, refried beans, guacamole and a chipotle sour cream that is SO delicious you will want to serve some on the side for dipping.
Make sure to check out these 73 Shrimp Appetizer Ideas!
What is a Tostada?
Tostadas are like an open-faced taco! "Tostadas" in Spanish means "toasted". So to make a real tostada(s), you will need to do just that! Toast the tortilla!
If you're wondering what other Mexican dishes there that involve a tortilla, check out this article!
A corn tortilla, like the one here, is typically used as the base and is usually topped with beans, veggies, meat, cheese, etc.
Think about serving a vegetarian option for guests who do not eat meat. My Veggie Empanadas are awesome. You would never know they're vegetarian!
Cutting Out MINI Tostadas
It is super easy to cut your tortillas.
All you need is something round to use as a template. I have round cookie cutters I like to use but if you don't have them, a small cup will work.
Just use a knife to cut around the cup to get perfectly round circles.
Baking Your Tostadas
Because I run a entertaining blog, I am always thinking about how to prepare food QUICKER. And baking them is the way to go.
Tip* If you want to deep fry your tortillas, you can but I suggest doing so hours in advance or your house will smell like oil.
Prepping your tortillas ahead of time will save you so much time. Then, when your guests start arriving, you can quickly assemble your ingredients!
To bake then, all you need to do it spray or brush both sides of your rounds with oil.
Next, just bake at 400 degrees F for no more than 10 minutes! You will see they are ready when they start to curl up and brown like in this photo here.
You don't even need to flip them. They will come out nice and crispy without the hassle of frying.
Baking your tostadas also saves a lot of calories. If you want to make these super healthy, use coconut oil. They even have coconut oil SPRAYS these days! How awesome is that?
Because coconut oil comes solidified, the spray makes it so easy. If you can't find the spray, just melt coconut oil in the microwave for about 15 seconds and then brush it on.
Serving Tips
If your making these for a party, I suggest doing a few things...
Offer a variety of tostadas:
Make a few

vegetarian

tostadas by replacing the shrimp with some corn (grilled if possible) , cheese and tomatoes on top!

Make a few meat tostadas by replacing the shrimp with some shredded chicken or ground beef!
Put together a tostadas bar:
Kind of like a taco bar, set out at least 5 or 6 small bowls with corn, onions, sour cream, meat, guacamole, shrimp, beans, chicken, tomatoes, etc. Bake or fry the tortillas ahead of time and place them in a large basket with tongs. Then allow guests to make their own mini tostadas! TIP* You can use a mini crock pot to keep the meat/fish warm. (Check out my Amazon list below to get one! They are awesome!!!)
Prep ahead:
Sear your shrimp/meat, cut your veggies, mash your avocados, mix your toppings, do anything and everything tedious ahead of time! Then store in the fridge in small Tupperware containers or bowls. Then assemble right before guests arrive.

Brown your tortillas ahead of time and keep WARM in the oven until ready to assemble. Use the "warm" setting on your oven for this! You don't want your oven temp any hotter or they will burn or get too dry.
Use Tostitos/Corn Chips Instead:
Buy any bag of ROUND corn chips and use them instead of cutting your own tortillas! Although I do not think they taste the same, they are still delicious as a substitute for your own corn tortillas and are the perfect bite size!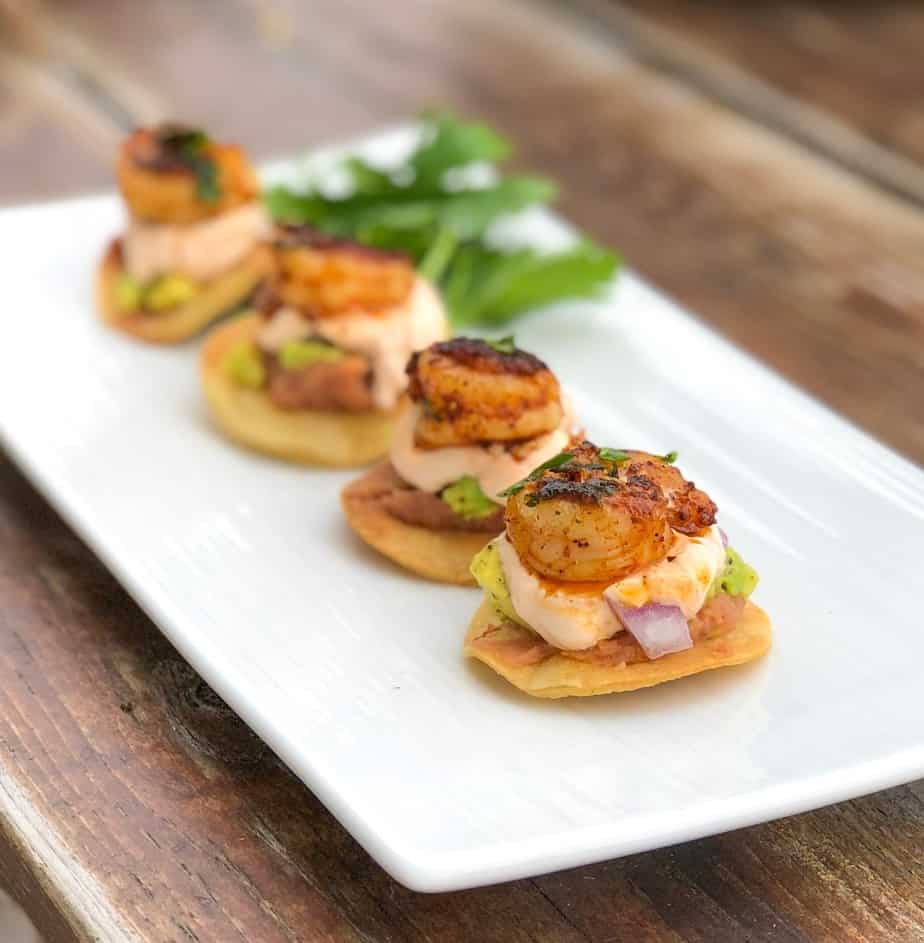 You may also like these shrimp appetizers:
Easy Baked Chinese Shrimp Toast with Sesame Seeds
Baked Greek Shrimp Saganaki with Feta and Ouzo
The Ultimate Guide To Serving Hors d'oeuvres
📖 Recipe
Mini Baked Shrimp Tostadas Bites (with chipotle sour cream)
These Mini Baked Shrimp Tostadas Bites are a bite sized version of the popular Mexican dish. Baking the corn tortilla rather than frying them is a huge calorie saver! This fun bite-sized appetizer is gluten-free and could easily be made vegetarian OR with chicken! You'll want to save the recipe for any future get-together!
Print
Pin
Rate
Ingredients
6

Corn

Tortillas

((I used 5-6"))

Oil
Chili Shrimp
24

Medium

Shrimp

((Cleaned and deveined))

½

Tsp.

Ancho Chili Powder

((or chili powder))

½

Tsp.

Paprika

½

Tsp.

Garlic Powder

½

Tsp.

Salt
Chipotle Cream
½

Cup

Sour Cream

2

Tsp.

Chipotle in Adobo

((canned))

1

Tbsp.

Chopped Cilantro (or Parsley)
Guacamole
1

Ripe Avocado

1

Lime

1

Tbsp.

Minced Red Onion

½

Cup

Refried Beans

((canned))
Instructions
Prepare your guacamole and chipotle cream first to allow time for flavors to meld. Keep in fridge until ready to assemble.

Dry your shrimp off as much as possible with a paper towel before seasoning! This will help your shrimp brown nicely! Add shrimp to a small bowl with chili seasoning plus 2 tablespoon of oil and mix. **You may use less seasoning if you do not like too much spice!

Turn heat to high and when your skillet is nice and hot, add shrimp. Saute until just pink. (This should take no more than a few minutes on each side!) Set asides in a small bowl when finished.

Preheat oven to 400 degrees F and begin preparing your mini rounds by cutting your tortillas using a 2" cutter. I was able to get 4 rounds from each of my tortillas but you may be able to get more (or less) depending on your tortilla and cutter. As long as you have mini 24 rounds when done!

Spray or brush both sides generously with oil Bake for 7-9 minutes or until tortilla edges start to turn up and brown.

When ready, begin assembly by adding a layer of refried beans, followed by another layer of the guacamole and then a dollop of chipotle cream. Finally, top off each tostada with one whole shrimp and serve immediately! (Sprinkle more cilantro or parsley on top if desired!)
Recipe Notes
Party Tips*
Prepare ALL of your toppings ahead of time to make the assembly quick and easy!
Store toppings in the fridge until your ready to assemble!
You can cut and bake your tortilla rounds ahead of time and warm them up in the oven before guests arrive.
You can make these vegetarian by removing the shrimp and adding corn, tomatoes and/or cheese instead.
You can also make these with ground beef or chicken!
Nutrition
Serving:
0
g
|
Calories:
38
kcal
|
Carbohydrates:
2
g
|
Protein:
3
g
|
Fat:
2
g
|
Saturated Fat:
1
g
|
Polyunsaturated Fat:
0.2
g
|
Monounsaturated Fat:
1
g
|
Trans Fat:
0
g
|
Cholesterol:
19
mg
|
Sodium:
85
mg
|
Potassium:
86
mg
|
Fiber:
1
g
|
Sugar:
0.5
g
|
Vitamin A:
170
IU
|
Vitamin C:
2
mg
|
Calcium:
16
mg
|
Iron:
0.2
mg