This White Cheese Sauce is made without flour and is ideal for dipping and smothering foods like nachos or fries. It is simple to make and ready in less than 15 minutes. Plus its gluten-free since there's no flour or 'roux' needed! It's similar to a queso dip so it can be used as both as dip and a sauce.
Here is another flourless appetizer I love! 👉 Sausage Stuffed Mini Bell Peppers With Cream Cheese
This white cheese sauce is grain free and gluten free meaning I did not use ANY thickeners or rouxs like flour or cornstarch which most other cheese sauces have.
It's straight cheese and milk. That's it!
It reminds me of a deliciously smooth and creamy queso sauce but can easily be used as a sauce to pour over nachos, add to cheesy mulitas, or just to dip pretzels, fries, or nuggets into!
Watch the video below to make sure your sauce comes out perfect every time!
Jump to:
Cheese Sauce Ingredients
Milk- Whole milk is the only type I recommend. The fat content will help to keep the sauce smooth and creamy without separating.
American Cheese- American cheese is great melting cheese and should be chopped up before adding to your pot.
Monterey Jack Cheese- Monterey Jack cheese is a delicious cheese that also melts very well making it ideal for sauces.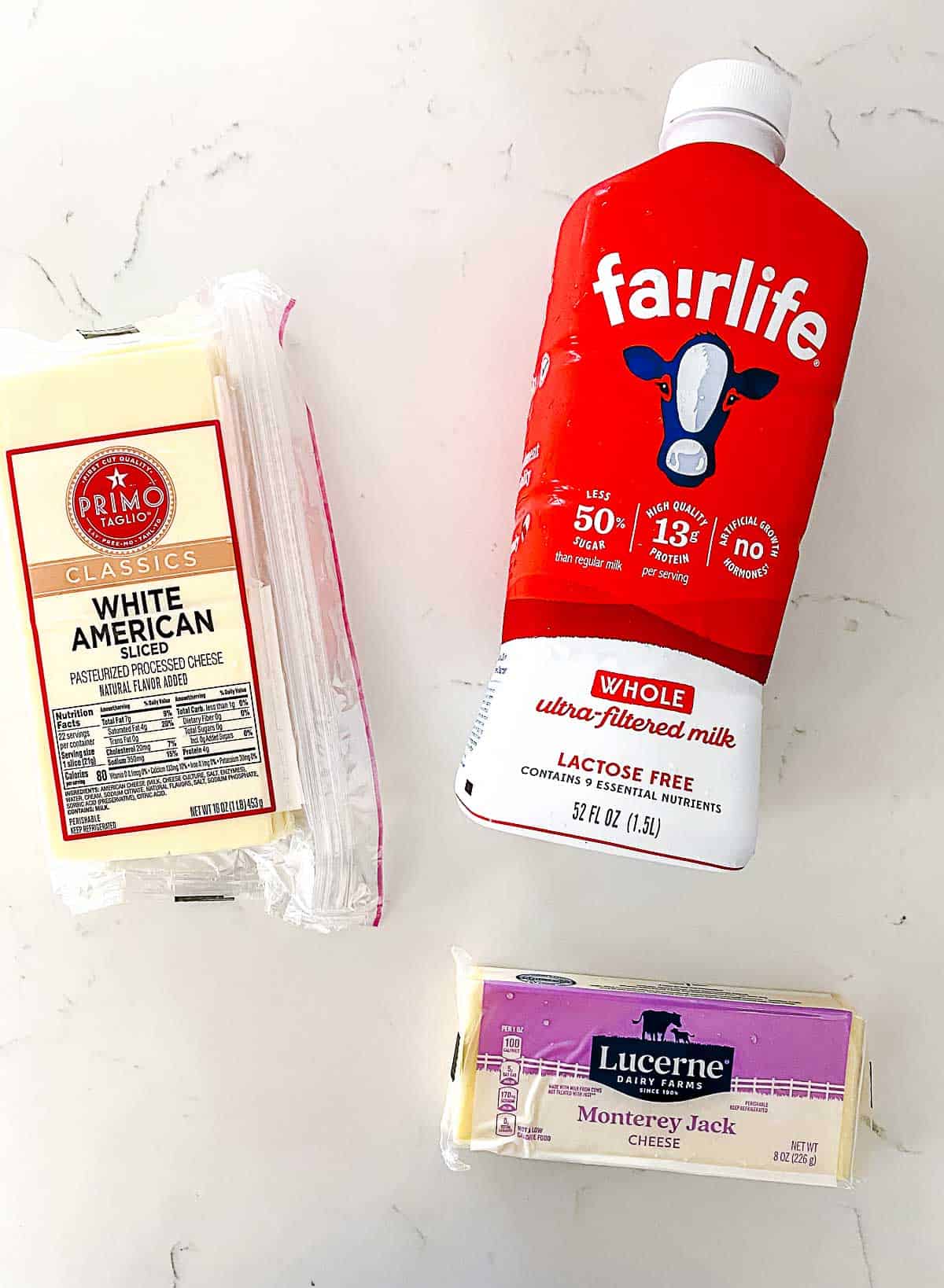 Getting The Perfect Consistency
A common question I hear is "How do you thicken a cheese sauce without flour?".
Cheese is naturally thick so it doesn't necessarily need a thickener. The hard part is getting it SMOOTH and CREAMY! All I do for this white cheese sauce recipe is melt my cheese in MILK. Although there is not much room for error, there are a few things that you have to keep in mind.
The TYPE of cheese you use makes a difference.
For example, sharp cheese does not melt as well as a mild cheddar. Neither does parmesan so I don't recommend it.
Instead, I use American cheese for two reasons...
It is white and what we're looking for. (looks better on my Pulled Pork Nachos)
It melts very well and is super creamy.
By adding hot milk to shredded cheese, the cheese will slowly melt giving you a deliciously creamy sauce that will NOT harden up on you when cooled!
YAY to flourless cheese sauces!
Try topping these Mini Baked Potatoes with this cheese sauce!
Choosing The Best Cheese
Most creamy cheeses will work but some will taste better than others.
The top FOUR cheeses for this sauce I like are:
American
Monterey Jack
Fontina
Gouda
*Cheddar cheese is delicious but unfortunately it does not melt very well so opt for one of the other cheeses I recommend.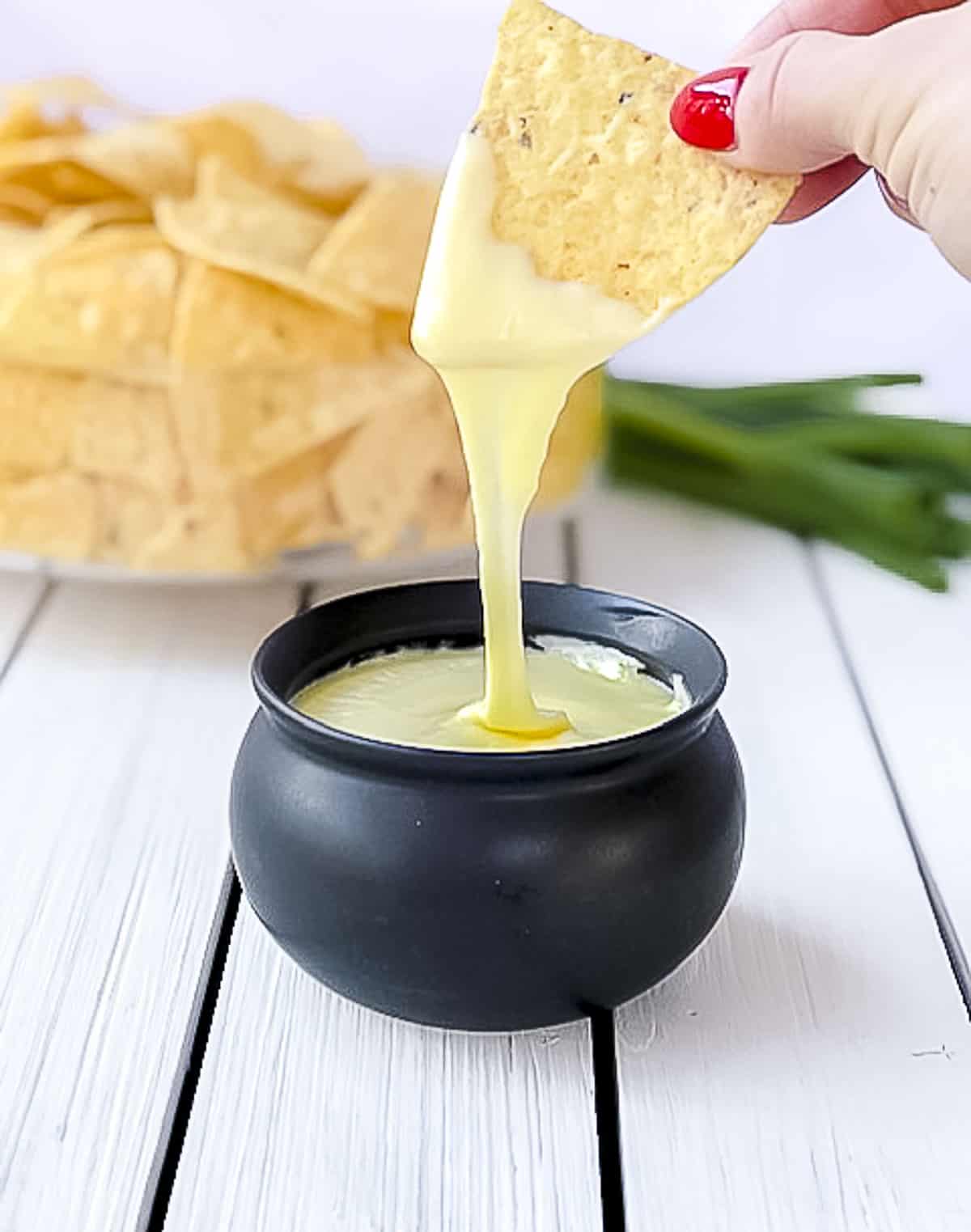 How To Thicken Your Sauce Without Flour
Typically you would need milk/cream and a 'roux' to make any cheese sauce. A roux is made by melting butter and flour together then adding milk or cream to the saucepan.
If you want to use cheddar cheese, this would be the way to go.
However, I'm assuming you're reading this because you want a flourless cheese sauce recipe. So to thicken this sauce, we need to allow the cheese ITSELF to be the thickener.
As the cheese melts, it will get creamy but not creamy enough to dip. So to make the sauce dippable, I add whole milk. It keeps the integrity of the sauce and adds more creamy flavor.
I do not suggest using LOW FAT or SKIM MILK. Whole milk is the best to ensure you get a creamy sauce.
This Sauce vs. Nacho Cheese Sauce
When we think of "NACHO" chees. we usually think of that processed orange/yellow cheese that we all can't help but LOVE. (at least I do...) I mean, what's to hate. It's thick, creamy, silky and never hardens!
But it isn't healthy and is very hard to make on your own without those nasty additives. Velveeta uses all kinds of food starches and hydrogenated oils to get its consistency. These are NOT a pantry staple in my house and are not natural.
If your going for that bright yellow/orange color, your best bet is to use cheddar cheese with a roux.
Preventing A Curdled or 'Gritty' Cheese Sauce
Cheese begins to separate at about 160 degrees Fahrenheit so be careful when making your sauce! It is a low and slow process!
To prevent curdling, make sure you DO NOT:
Turn your heat too high! NO boiling allowed! The lowest setting is best. Once it gets too hot, there's no turning back!
Use anything less than WHOLE milk! 2% or skim milk have much less fat in them. The fat is what you need to keep the sauce smooth and creamy!
Use any other cheeses then the ones listed above! Sharp cheeses like cheddar do not melt well AT ALL!
Add a huge chunk of cheese to your milk. Not only will it take longer but it will create uneven hot spots which lead to gritty cheese!
Serving Suggestions
Dipping?
Here are some things you can dip into your cheese sauce:
Tortilla chips
Soft pretzels
French fries
Chicken nuggets
Brea
Pita bread
Potato Wedges
It's also great for topping the following:
Broccoli
Cauliflower
Chips to make nachos!
Macaroni/Pasta
Fries
Enchiladas
Cheesesteaks
Here are some cute vessels to serve your cheese sauce in!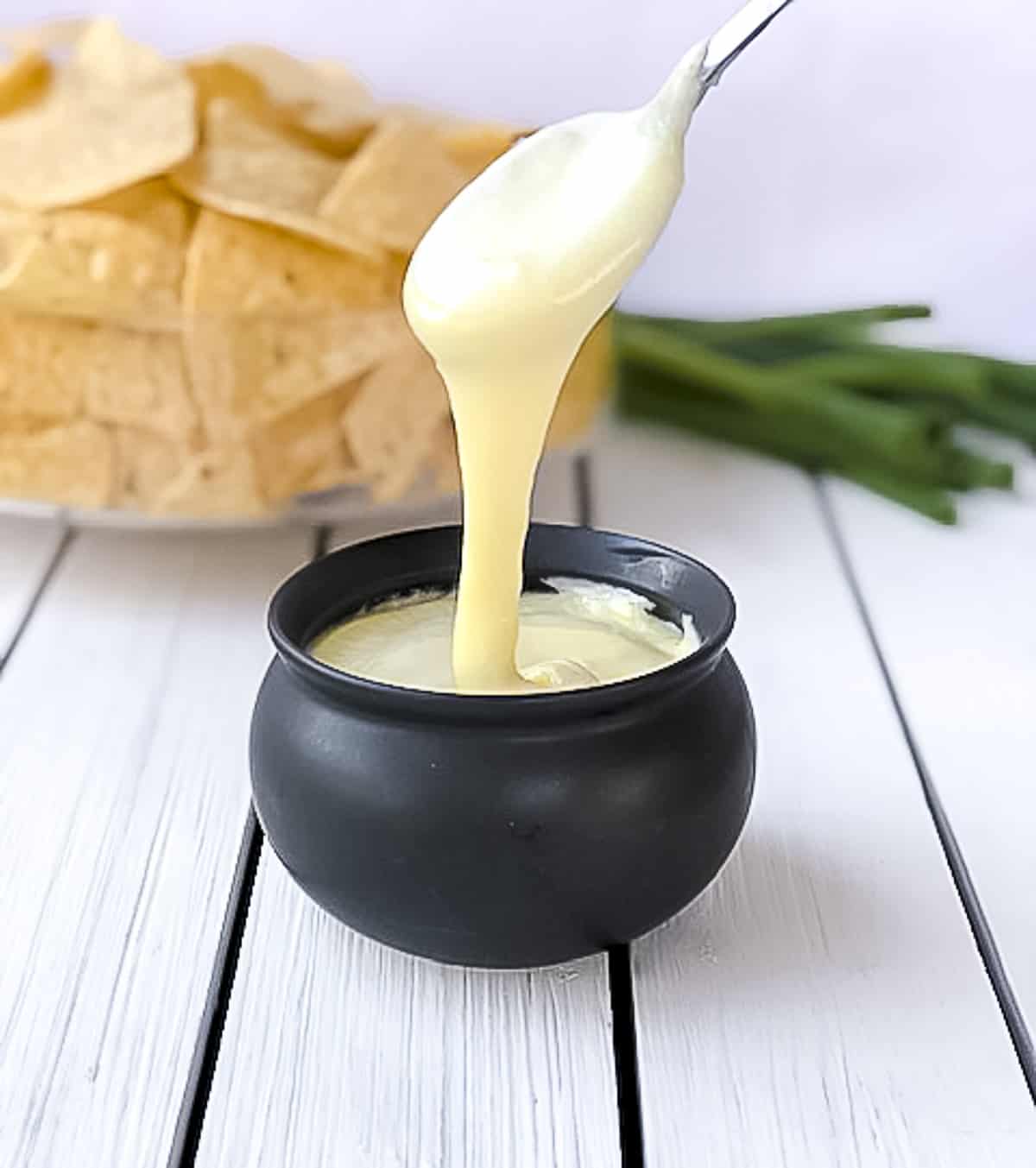 FAQ's
Why is my sauce gritty?
You either warmed your sauce too much or too quickly. You do not want to boil your sauce. Low and slow! Also make sure you use whole milk.
Can I use cheddar cheese?
I do not recommend using cheddar cheese as it does not melt well.
Will this sauce stay thick?
The sauce will be the most loose out of the pan. It will thicken more as it cools.
My sauce is too runny. Why?
Give it time to cool. If after 20 minutes or so, it hasn't thicken up a bit, you can melt in more cheese.
More Appetizers To Try!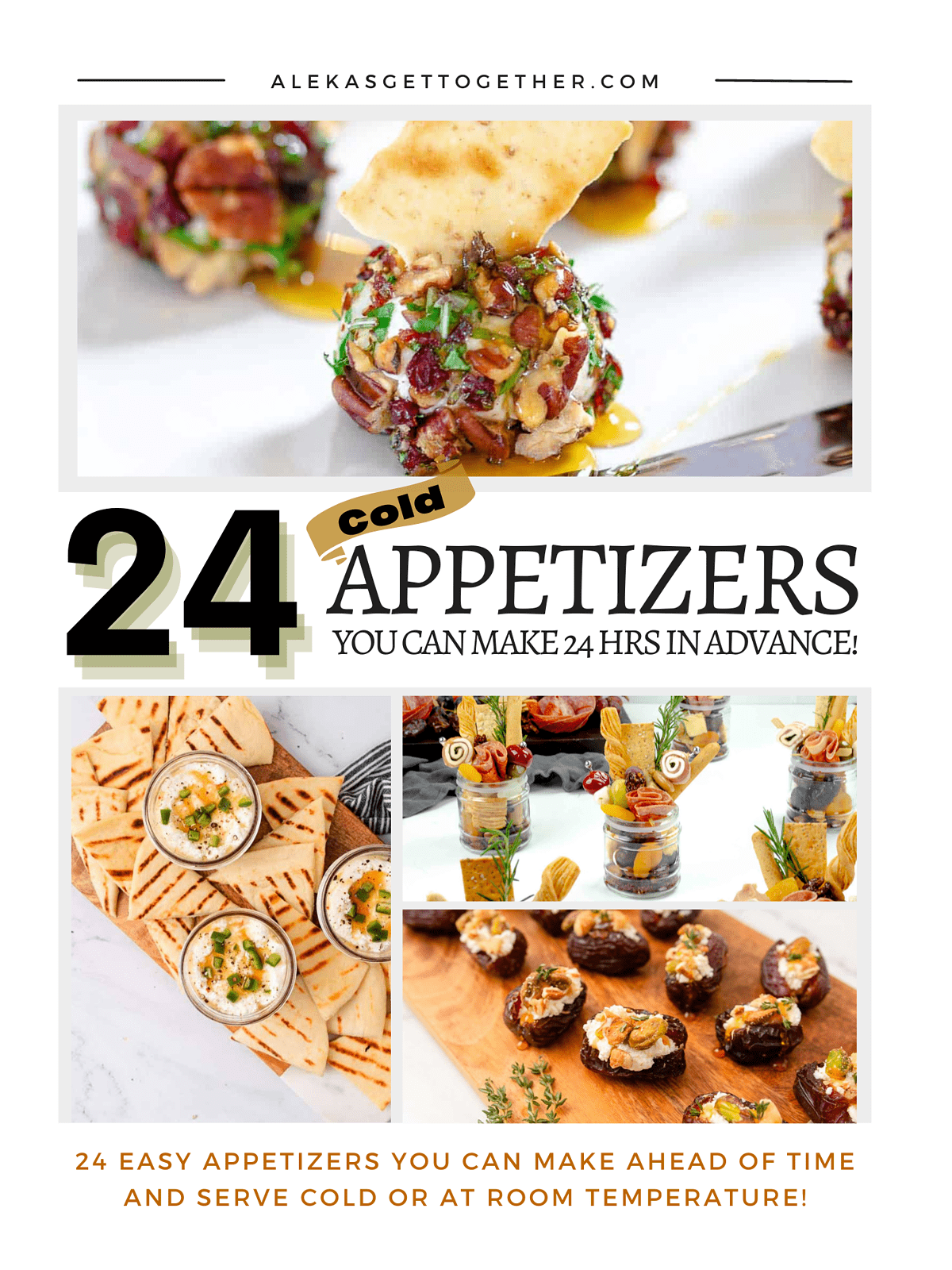 Love Make Appetizers in Advance?
I have an Ebook I created with my top make-ahead appetizers you'll LOVE! Get it here!
📲 FOLLOW Aleka on social!! 👋 Follow me on facebook, instagram, pinterest, youtube or tiktok for more recipes and entertaining tips!
📖 Recipe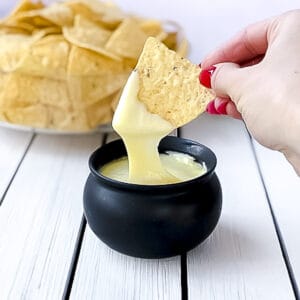 White Cheese Sauce Without Flour
This White Cheese Sauce Without Flour is simple to make and perfect for topping on nachos, fries, or even mac and cheese! It is ready in less than 15 minutes and stays creamy! Plus its gluten-free since there's no flour or 'roux' needed!
Print
Pin
Rate
Ingredients
¾

cup

Whole Milk

((NO SKIM OR 2%))

¼

lb.

American Cheese

¼

lb.

Monterey Jack Cheese

¼

tsp.

Salt

(*To taste)

⅛

Tsp.

Nutmeg

(*Optional)
Instructions
Grate your Monterey Jack cheese and set aside. Since American cheese comes in slices, you can't grate it. Either place it in a food processor to chop OR simply chop it up with a large knife into small pieces.

Heat milk over medium heat until it is just warm. Add cheeses and turn down heat to the LOWEST setting possible! Stir!

The cheese will slowly begin to melt but make sure to stir every so often with a flat spatula or spoon to make sure the bottom does not burn.

Cheese sauce should be fully melted in about 10 minutes. Turn off heat and allow to slightly cool before serving. This will allow it to thicken up a bit. Serve with tortilla chips, pretzels or fries!
Recipe Notes
The prevent your cheese sauce from turning gritty, make sure you used whole milk and the right cheeses. If your sauce got too hot at any point, it would have affected the consistency.
The ideal cheese sauce consistency is when the cheese is warm. If you cool the cheese in the refrigerator, it will thicken. Reheat in the microwave for 30 seconds at a time to warm your cheese back up.
You can use this mini crock pot to keep it warm like queso consistency!!
Nutrition
Serving:
0.25
cup
|
Calories:
151
kcal
|
Carbohydrates:
3
g
|
Protein:
9.1
g
|
Fat:
11.5
g
|
Saturated Fat:
7
g
|
Cholesterol:
35
mg
|
Sodium:
449
mg
|
Potassium:
114
mg
|
Fiber:
0
g
|
Sugar:
3.1
g
|
Calcium:
220
mg