These Air Fryer Loaded Nachos are hands down, the quickest party appetizers I have on my blog thanks to the speediness of my air fryer. Ready in just 5 minutes, nothing could be easier or more delicious!
When I made these loaded air fryer nachos for the first time, I gave my husband a small plate...then devoured the rest myself. Not on purpose. I forgot how delicious nachos were. Plus the fact that they took 5 minutes...I mean come on.
I love my air fryer. It puts any oven to shame. Especially when your making a small batch of something like these nachos.
If I were to use the oven to bake them, it would take at least three times as long!
Instead, they are literally ready in no time and with minimal cleanup.
These nachos are loaded with freshly grated cheddar cheese, black beans, diced tomatoes, green chilis, jalapenos, freshly chopped cilantro and topped with lots of sour cream. They could be a midday snack or pre-dinner appetizer and made vegetarian OR with beef.
If you love nachos, you have to try my Easy Slow Cooker Pulled Pork Nachos.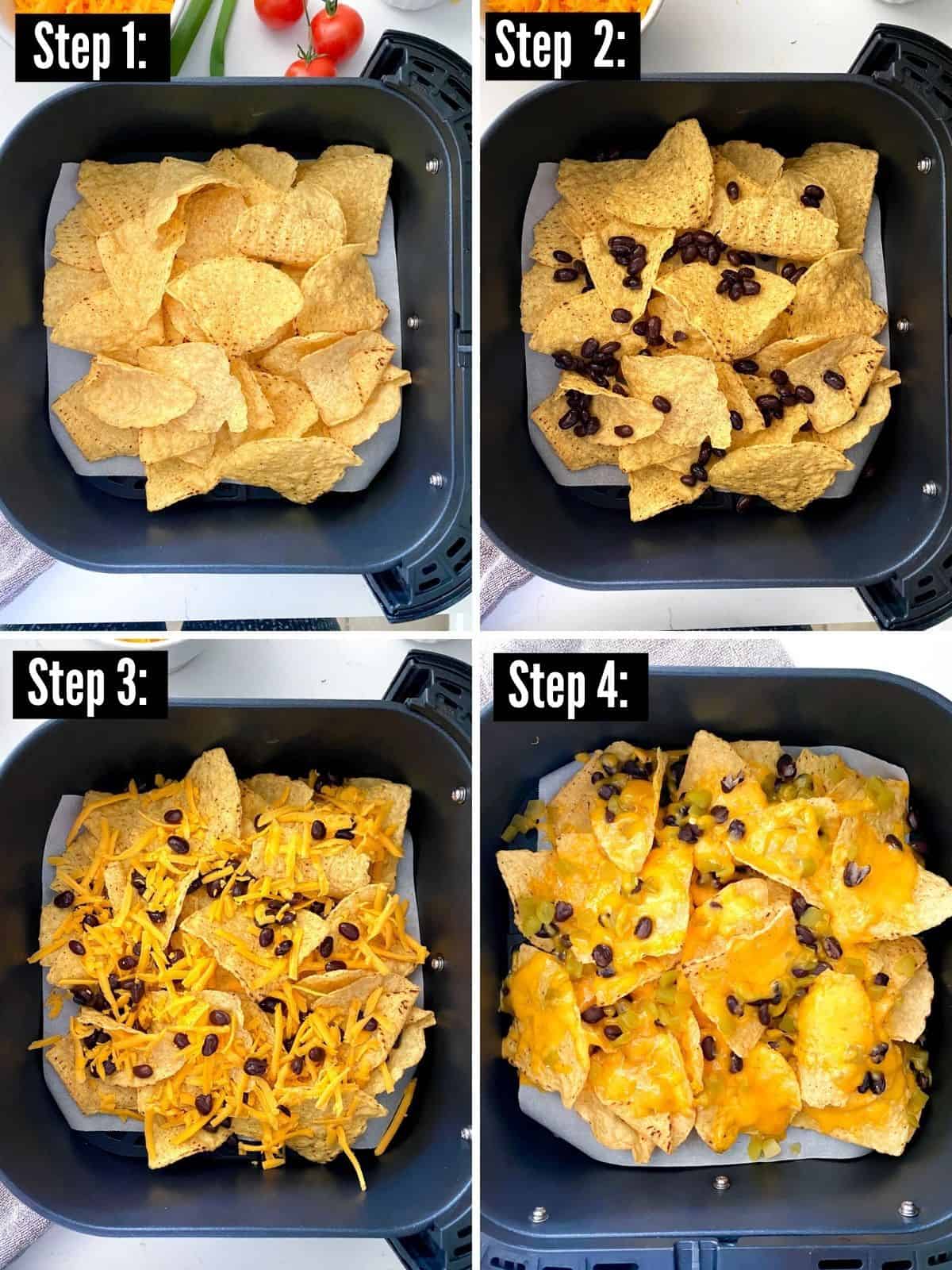 ✔️Tips For The BEST Air Fryer Nachos
Making air fryer nachos is not much different than sheet pan nachos. The biggest difference is the size of the appliance. If you are looking to serve more than 4 people, I suggest either air frying in two batches or using your oven instead.
Place a sheet of parchment paper or aluminum foil in your air fryer basket. Make sure you give it "flaps" so you can pull out your nachos easily. This is crucial!
Layer your nachos with cheese. If you want every tortilla chip covered, you will need to spread cheese one layer at a time. This will allow you to layer your nachos as high as possible without leaving out any "naked" chips.
Because your air fryer needs to reheat, you need to be able to add the chips AFTER it's preheated. To do this, make sure you form your aluminum foil (or parchment paper) lining by inserting it into the basket before removing it. This will give you a pre-formed tray that allows you to drop in the nachos when your air fryer is hot and ready.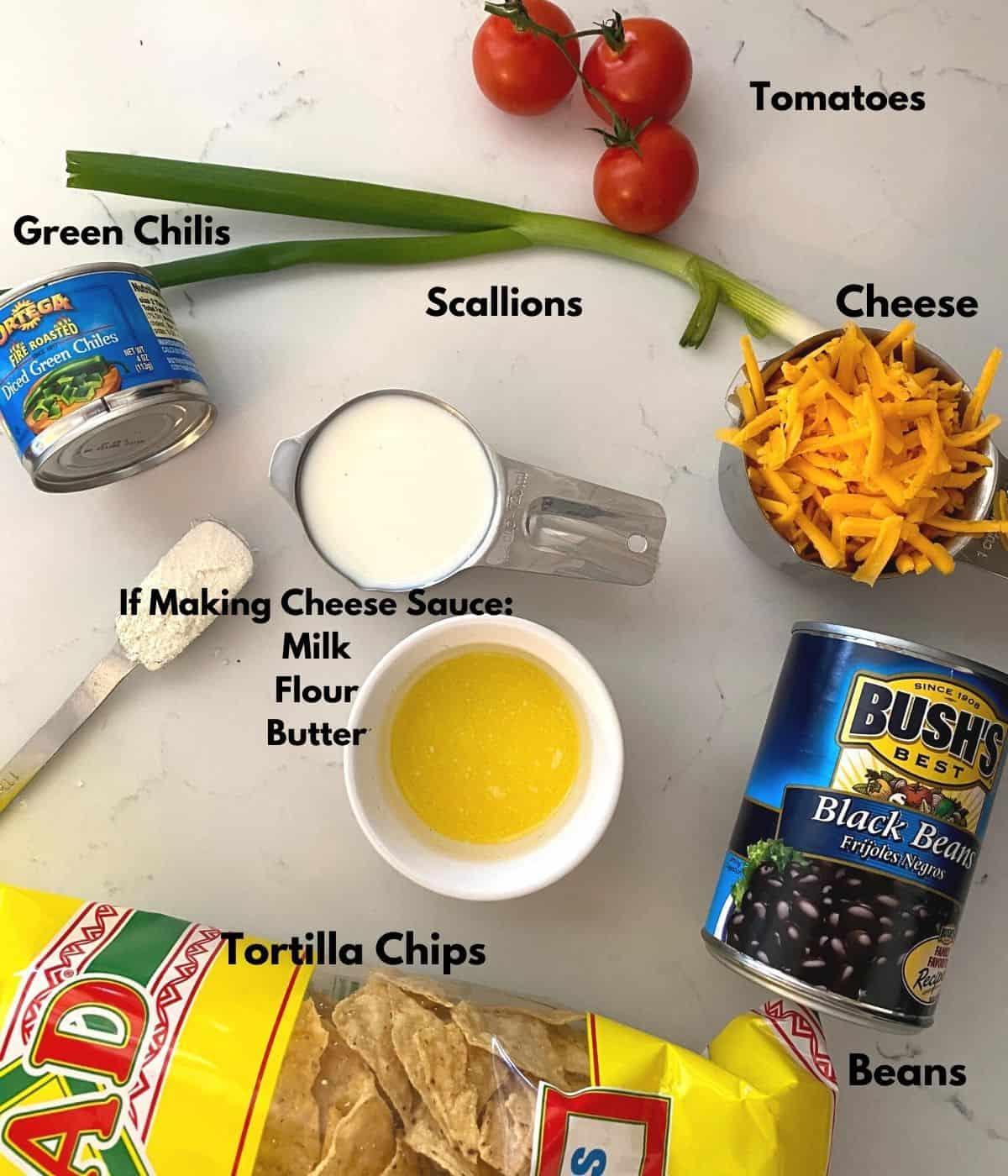 😋 My Layered Taco Dip and my Cold Spinach Dip are both popular party dips people go crazy over!
Nacho Topping Choices
Nachos are extremely versatile and can be swapped out as you wish.
Here are some ingredient swaps if you do not like what I used here:
Cheddar Cheese- I used cheddar cheese since we always have it on hand but feel free to use any soft cheese that melts easily like Monterey Jack or Gouda. I would stay away from the bagged cheeses since the coating prevent it from melting well. Any Mexican cheese blends would be great.
Green Chilis- I use canned green chilis. They are not hot but they add delicious flavor in no time.
Black beans- These add a beautiful pop of color and lots of protein. If you are not a bean fan, you can add ground beef or leave them out altogether.
Jalapenos- Jalapenos are slightly hot compared to many peppers out there. They look fancy and allow people to pick them off if they prefer spicier bites. Leave them out or add thinly sliced green bell peppers instead.
Cilantro- I have to admit I am not a huge fan but when it comes to Mexican food, I have to say, it's hard to replace. But if you hate the stuff, use parsley instead!
Other nacho toppings:
Black olives
Corn
Salsa
Pico de Gallo
Lettuce
Red Onion
Avocados/Guacamole
Shredded chicken
Refried beans
Sautéed onions or peppers
⏰How Long To Cook Nachos
Air fryer nachos take 2-3 minutes! That's it! You are just looking to melt the cheese and warm the beans and chilis since everything is already cooked through. If you fry them too long, the cheese will burn instead of turning gooey so watch them closely!
Reheating Nachos In Air Fryer
If you cheese gets cold or you want to pop some life back into soggy nachos, pop them back in the air fryer for another 2-3 minutes. The time will depend on how piled they are. If you have a large pile, turn the temperature to 350 degrees F. If you have a few nachos, 375 degrees for a minute or 2 is all you need.
📝Air Fryer Tips
I use the Instant Pot Vortex Air Fryer. It does not have a "basket" like other air fryers. Instead it has a tray. Make sure you create a make-shift liner to form your nachos on before you preheat your air fryer. Then insert the entire thing at once.
If you do NOT have aluminum foil or do not wish to do this, you can simply assemble your nachos directly to your air fryer basket and allow the preheat option to melt the cheese and warm everything through. This will do the job.
💬FAQ's
What is the best cheese to use on nachos?
If you are looking for easy, cheddar works perfectly. If you want to add more flavor, use a blend of Mexican cheeses like Monterey Jack, asadero, queso fresco or cotija cheese. If you want more of a queso cheese, you can use my white queso.
Can I double the recipe?
Definitely. You will just need to do so in two batches.
Can I make these in advance?
You can assemble your nachos up to an hour in advance and then pop them in the air fryer last minute. If you want to reheat them, you can do so the re-melt the cheese.
🍢Other Quick Appetizers:
Loaded Irish Pub Waffle Fry Nachos
59 Finger Food Ideas For Your Next Party
EASY Beer-Battered Onion Rings (w/ Red Pepper Aioli)
Crispy Seasoned Potato Wedges (Oven Baked)
Sweet Potato Chips in the Air Fryer
Air Fryer Lemon Tarragon Scallops
📖 Recipe
Loaded Cheesy Air Fryer Nachos
These Air Fryer Loaded Nachos are hands down, the quickest party snacks I have on my blog thanks to the speediness of my air fryer. Ready in just 5 minutes, nothing could be easier or more delicious!
Print
Pin
Rate
Ingredients
6-7

oz.

tortilla chips

((about half a bag))

¾

cup

cooked black beans

((about 6 oz.))

4

oz.

can diced green chilis

6

oz.

freshly shredded cheddar or Monterey jack cheese

((about 1½ cups))

2-3

small

tomatoes, diced

1

jalapeno thinly sliced

1-2

scallions chopped

1

tablespoon

freshly chopped cilantro

sour cream for topping
Instructions
Tear enough aluminum foil or parchment paper and insert it into your air fryer basket. Make sure to make it long enough to give yourself "handles" to pull when removing.

Form the foil or paper to the shape of your basket and place it on your counter top. Close your basket and preheat your air fryer to 375°F.

While preheating, layer half of your nachos onto the foil or parchment sheet. Sprinkle half of your cheese, chilis and beans. Add the rest of your nachos and add your beans, chilis and cheese on top.

When your air fryer is ready, carefully take the entire sheet of nachos using the "handles" and place it inside your basket and air fry for 2 minutes.

Take a peak when time goes off. If your cheese is not fully melted, pop back in for one more minute.

Using the handles, lift the nachos up out of the basket and place them directly onto your serving platter. If using parchment paper, I like to serve the nachos as is. (I think the paper looks nice). If using foil, slide the nachos off the foil using a long spatula.

Top your nachos with the tomatoes, jalapenos, scallions, a large dollop of sour cream and freshly chopped cilantro. Serve hot!
Recipe Notes
Make your own flourless white cheddar queso!
Reheat your nachos for 2 minutes at 350 degrees F. If doubling this recipe, air fry in two batches.
Other nacho toppings:
Black olives
Corn
Salsa
Pico de Gallo
Lettuce
Red Onion
Avocados/Guacamole
Shredded chicken
Refried beans
Sautéed onions or peppers
Nutrition
Calories:
400
kcal
|
Protein:
21
g
|
Fat:
15.8
g
|
Saturated Fat:
9.3
g
|
Cholesterol:
44.7
mg
|
Sodium:
400
mg
|
Fiber:
8.4
g