These Air Fryer Avocado Fries are a delicious party appetizer that your guests will go crazy over! Creamy avocado wedges, coated in panko breadcrumbs and air fried until golden brown and super crispy. Serve your wedges with this creamy cilantro lime crema for dipping.
Forget the avocado toast, avocado FRIES are trending in many restaurants now-a-days!
I couldn't believe how creamy and buttery the inside of my fries stayed while coming out shockingly crunchy on the outside. Kind of like my Eggplant Fries!
They're such a fabulous alternative to regular potato wedges....although I WILL say, these homemade potato wedges are the BOMB
But the fact that avocados are loaded with healthy fats, fiber and protein make them that much more enjoyable, right?! Plus, everyone loves savory appetizers!
Serve these with my Avocado Margaritas or a pitcher of my Classic Margarita, and your job is done.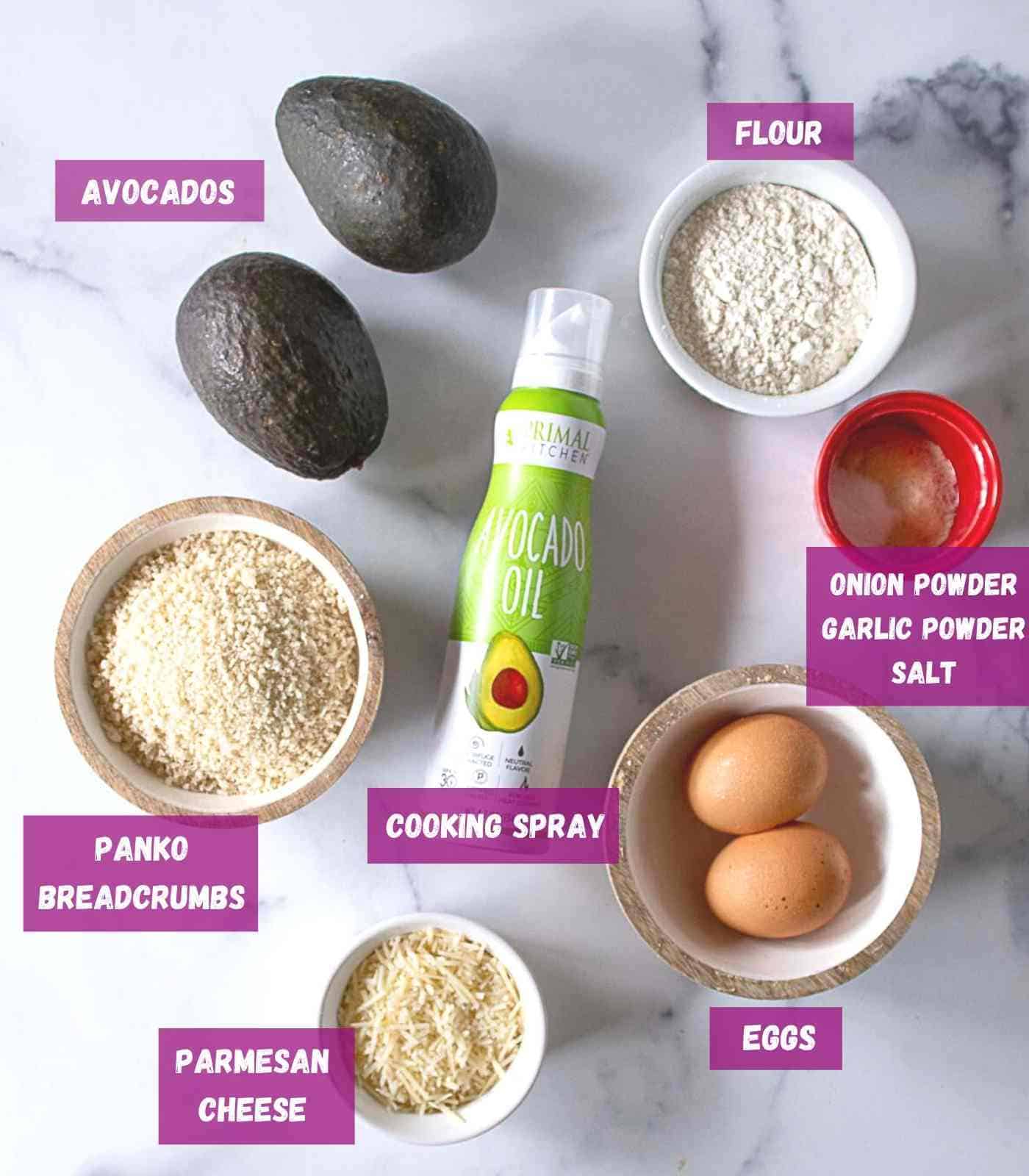 📌 Ingredient Tips
Avocados- Make sure your avocados are not overly ripe! You don't want to use mushy avocados for this recipe.
Breadcrumbs- I used panko breadcrumbs but you can use any kind you prefer. Panko result in more of a crunchy exterior.
Parmesan cheese- This is mixed with the breadcrumbs to add flavor and a salty bite.
Flour- I have used both coconut and all-purpose flour. If you want to use almond flour, that would work too or GF if you want.
Eggs- These are necessary and are what will keep the breadcrumbs from falling off your avocado fries.
📝 How To Make Avocado Fries
Step 1: Remove the pit and skin from each avocado. You should have four halves.
Step 2: Slice your avocado halves into 3-4 wedges depending how large your avocados are.
Step 3: Set up your dredging station. You want three bowls, one for your flour, one for your eggs and one for your breadcrumbs.
Step 4: Dredge or "coat" each avocado wedge in the flour mixture followed by the eggs then finally the breadcrumbs. You want to do this one wedge at a time making sure each avocado is fully coated.
Step 5: Preheat your air fryer to 400 degree. When ready, add your avocado wedges to the air fryer basket making sure they're not touching. Do this in two batches.
Step 6: Spray cooking spray onto both sides of your wedges. You want to make sure each wedge is nicely coated. This will ensure the avocados get golden brown and crispy.
Step 7: After about 7 minutes, your avocado fries should be beautifully golden brown and crispy on the outside.
Step 8: Serve with sour cream sauce on the side.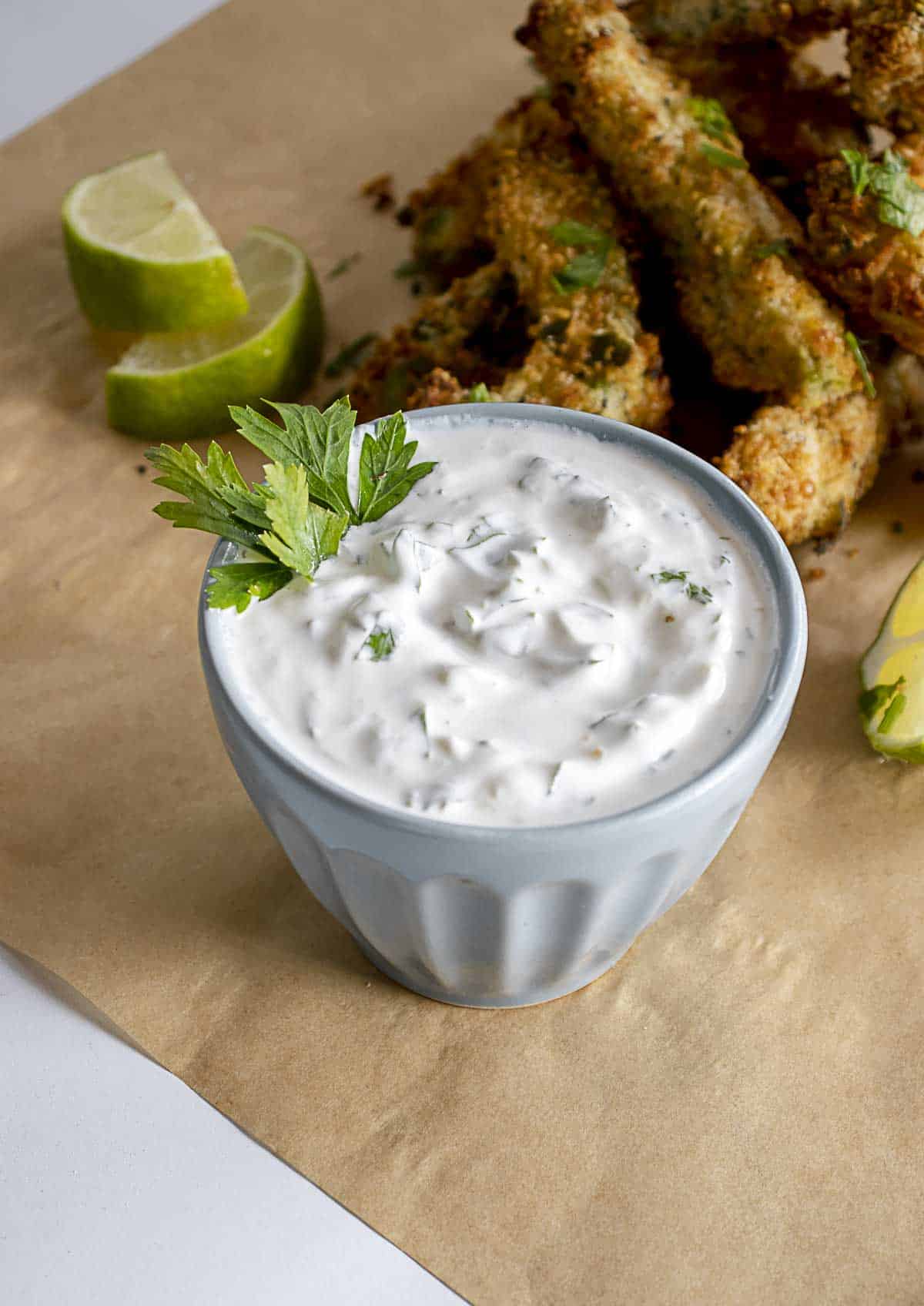 Cilantro Lime Crema Sauce (aka Fancy Sour Cream)
This sauce is everything!
It is simply a fancy sour cream. I chose NOT to use mayo but you can if you're mayo obsessed.
Avocados are pretty bland by themselves so a sauce is a must.
If you are going for a vegan version, you will want to look for something else to dip your fries into that's vegan friendly.
Fry Sauce Variations:
Sour cream- You can replace the sour cream with Greek yogurt or do a combination of the two.
Spices- I did not use any but you can add, cumin, paprika, chili powder or cayenne if you like a little heat.
Garlic- Freshly minced garlic does a lot of this sauce. All you need is a clove. Don't skip it!
Lime juice- Freshly squeeze lime juice is a must. You can also use lemon juice if that's all you have on hand.
Cilantro- I know some people have a love/hate relationship with it but if you love it, use it. If you don't, parsley is your next best option!
Other dipping sauce ideas:
If you want to serve your avocado fries with more than one sauce, you can try one of these!
-Ranch
-Hot Sauce
-Spicy Mayo
-Sriracha
-Ketchup (for kids)
✔ Expert Tips
To ensure your avocado fries come out perfectly every time, make sure to follow my tips.
Use panko breadcrumbs. They are MUCH better and come out MUCH crispier than regular breadcrumbs.
Use freshly shredded parmesan cheese. The pre-shredded stuff that you purchase in the store doesn't brown well in the air fryer and doesn't taste as delicious.
Spray your avocado fries WELL with cooking spray! This helps them turn evenly golden brown.
Use ALMOST ripe avocados. If your avocados are overripe, they will be very difficult to bread.
Avocados are pretty bland on their own so don't be afraid to add seasonings.
Make your own homemade breadcrumbs instead!
Make these for breakfast and add BACON BITS to your breadcrumbs!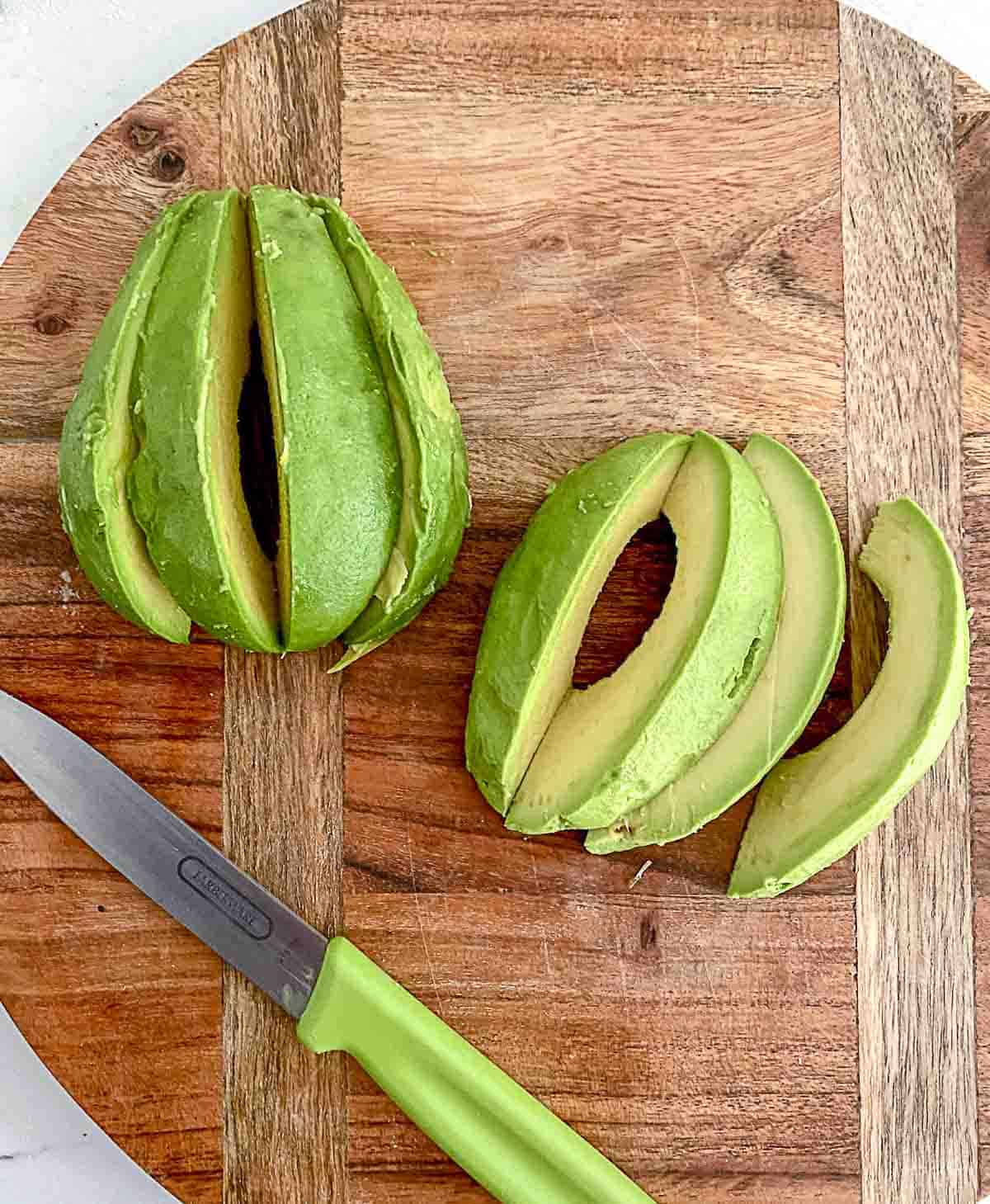 🥑 Avocado Tips
What we DON'T want:
Hard bright green avocados.
Blackened avocados that have mushy or dented outer skin.
Flesh that is darker yellow or brownish.
A rancid smell.
What we DO want:
Dark skin with flecks of green.
When you press your finger into it, it should give a bit and be slightly soft.
The brown stem should pop out easily.
The inside flesh will be a bright green color.
The avocado pit should easily pop out.
Not ready to use them yet? When avocados are ripe, put them in the fridge for a few days or until you're ready to use them. This will help prolong their shelf life.
Rock hard avocados? Speed up the ripening of your avocados and help them soften a bit.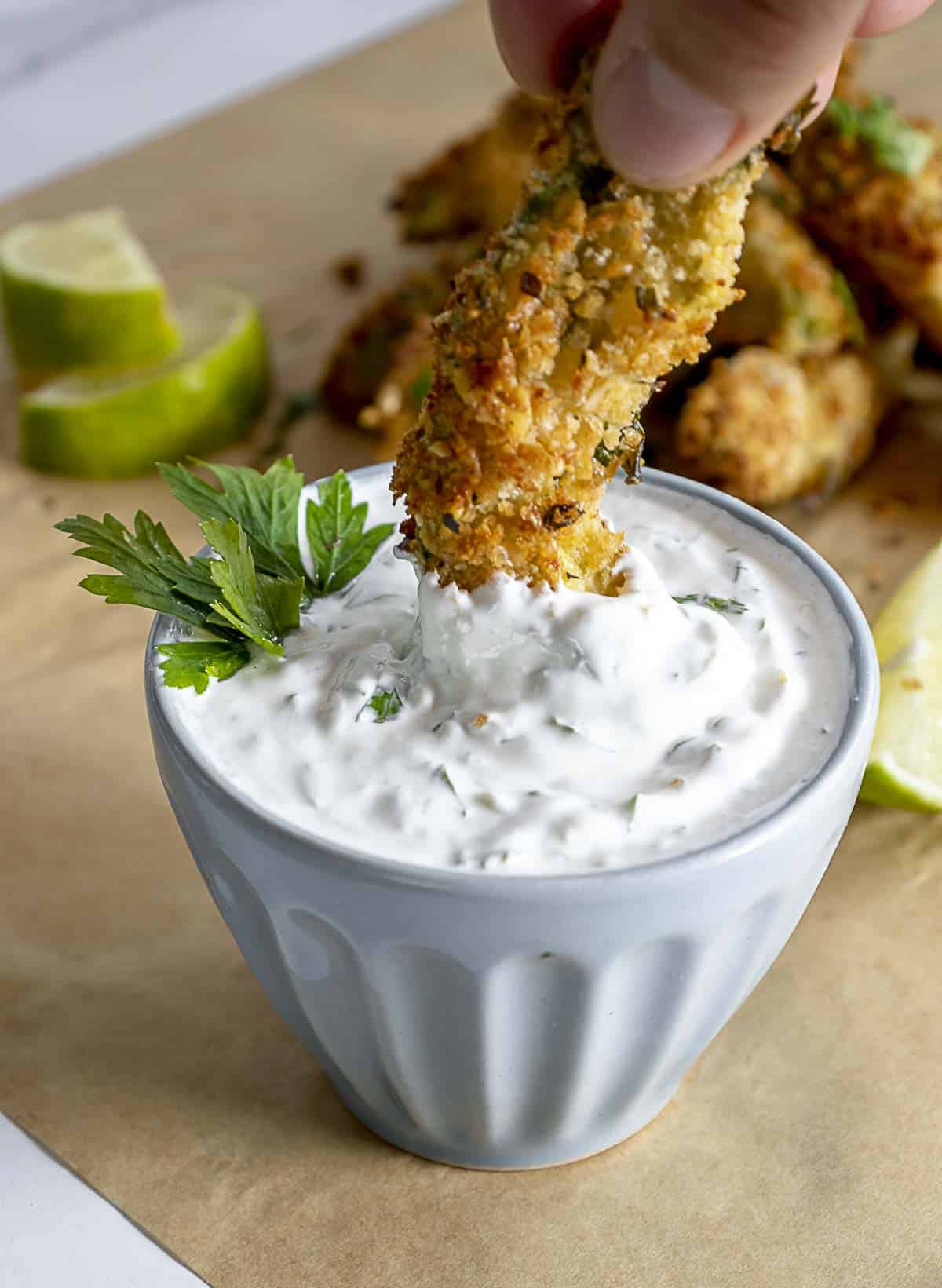 📝 Variations
Avocado fries are actually pretty versatile. Change these babies up however you please! Here are some suggestions:
Spice up your breadcrumbs with Italian seasoning for added flavor.
Add cumin, paprika, chili powder or cayenne powder to your flour for an instant flavor boost or spicy kick.
Feel free to use lemon juice instead of lime juice in your crema.
Swap out the all purpose flour with coconut flour, almond flour or another flour if you wish.
Use GF breadcrumbs if you want to make these gluten free.
💬 Frequently Asked Questions
Can I bake my avocado fries instead of air frying?
Yes of course! I have not baked them before so I don't have a time but I can tell you they will need more time in the oven, If you bake these, please comment below.
Can these be made dairy/vegan/soy free?
Yes just replace the eggs with any milk. The eggs help the breadcrumbs stick better and give the fries a thicker coating but replacing them with milk will still allow the breadcrumbs to stick.
Can I make these in advance?
I recommend cutting and breading them ahead of time. You can do this hours or the night before. Wait until the last minute to fry them up so they are hot and crispy when serving. Your fries will stay crunchy for about 2 hours. After that, the water in the avocados will start to soften the breading. Pop them back into the air fryer to re-crisp them!
Is cooked avocado poisonous?
Nope! I get most people eat it raw but it's totally safe...otherwise I would be out of a job by now.
Why did my avocado fries come out bitter?
Sometimes avocado will become bitter as it cooks. Make sure to not overcook them. You just want to warm them through and brown the exterior.
📽 If you love entertaining at home, subscribe to my YouTube channel!!
📖 Recipe
CRISPY Air Fryer Avocado Fries w/ Lime Cilantro Crema
These Air Fryer Avocado Fries are a delicious appetizer that your guests will go crazy over! Creamy avocado wedges, coated in panko breadcrumbs and air fried until golden brown and super crispy. Serve your wedges with this creamy cilantro lime crema for dipping.
Print
Pin
Rate
Ingredients
2

large avocados

((or 3 small))

1

cup

panko breadcrumbs

½

cup

freshly grated parmesan cheese

½

cup

flour

¾

teaspoon

garlic powder

¾

teaspoon

onion powder

¾

teaspoon

salt

cooking spray
Cilantro Lime Crema
¾

cup

sour cream

3 ½

tablespoon

freshly squeezed lime juice

((or lemon))

2

garlic cloves, minced

2

tablespoon

chopped cilantro

((or parsley))

pinch of salt
Instructions
Slice your avocados in half lengthwise around the pit. Remove the pits and use your fingers to gently peel the skin off.

Slice each half into 3-4 wedges depending how large your avocados are. ( I cut mine into 4 wedges.) If you slice them too thin, they will be too delicate to handle.

Set up your dredging station by adding your breadcrumbs, flour and eggs to three separate small bowls. Add the garlic powder, onion powder and salt to the flour and mix. Add 1 tablespoon of water to your eggs and scramble well.

Take one avocado wedge at a time and dredge each into the flour, followed by the egg, finishing with the breadcrumbs. You want to make sure you coat each wedge WELL so take your time. If the egg does not stick to the flour, the breadcrumbs wont stick either.

Set breaded wedges on a plate and spray them well with cooking spray.

Preheat your air fryer to 400°F for 7 minutes.

When the air fryer is ready, add your wedges oil-side down to your air fryer basket making sure they don't touch. Then spray the top of your wedges with more cooking spray.

While waiting, mix up the ingredient for the cilantro lime crema.

After 7 minutes, if your wedges need more color, add another minute or 2. Serve them hot with the sour cream sauce on the side for dipping.
Recipe Notes
*Make sure your avocados are not overly ripe or they will be too soft to handle.
Use any flour or breadcrumbs you wish.
Make sure to preheat your air fryer or the cooking time will need to be longer.
These will stay crispy for up to 2 hours.
Make in advance:
Mix your sauce and bread your wedges as far as the night before and refrigerate them until your guests arrive. Then fry them as stated in the directions.
Nutrition
Calories:
462
kcal
|
Carbohydrates:
41.8
g
|
Protein:
16.3
g
|
Fat:
27.2
g
|
Saturated Fat:
8.5
g
|
Cholesterol:
20
mg
|
Sodium:
750
mg
|
Fiber:
8.5
g
|
Sugar:
2.5
g