Hosting a favorite things party is a fun and unique way to bring friends together, celebrate shared interests, and exchange gifts that hold special meaning to each guest.
As the organizer, it's important to be prepared and have a plan in place to ensure the event is a success.
In my experience, the key to hosting a memorable favorite things party lies in setting a budget, creating a festive atmosphere, and guiding guests through the gift exchange process.
With some organization and attention to detail, you'll find it's a wonderful way to connect with friends and enjoy a delightful time together.
What Is A Favorite Things Party?
A "Favorite Things" party is a popular and fun social event you host with friends and family.
Everyone is asked to bring a favorite item, something they cannot live without that usually with a set price limit, to exchange with others!
The concept behind the party is to share things you personally love with your friends or acquaintances, while also getting the chance to discover new favorite items from others.
Here's how a "Favorite Things" party typically works:
Invitations:

The host sends out invitations, explaining the concept of the party and providing details such as the date, time, location, and any price limit for the items.

Gifts:

Each guest brings a predetermined number (often three) of the same favorite item, usually within a specified budget. The item can be anything the guest personally enjoys, such as a beauty product, a kitchen gadget, a book, a candle, a snack, or even a craft item.

Sharing:

Guests take turns presenting their favorite item to the group, explaining why they love it and what makes it special. This part of the party is usually a great conversation starter!

Exchange:

After the sharing session, the gifts are exchanged among the guests. Some parties use a random drawing to determine the order of gift selection, while others might have a specific order for exchanging gifts.

Enjoyment:

Guests leave the party with several new items, each chosen by their friends based on personal preferences and recommendations.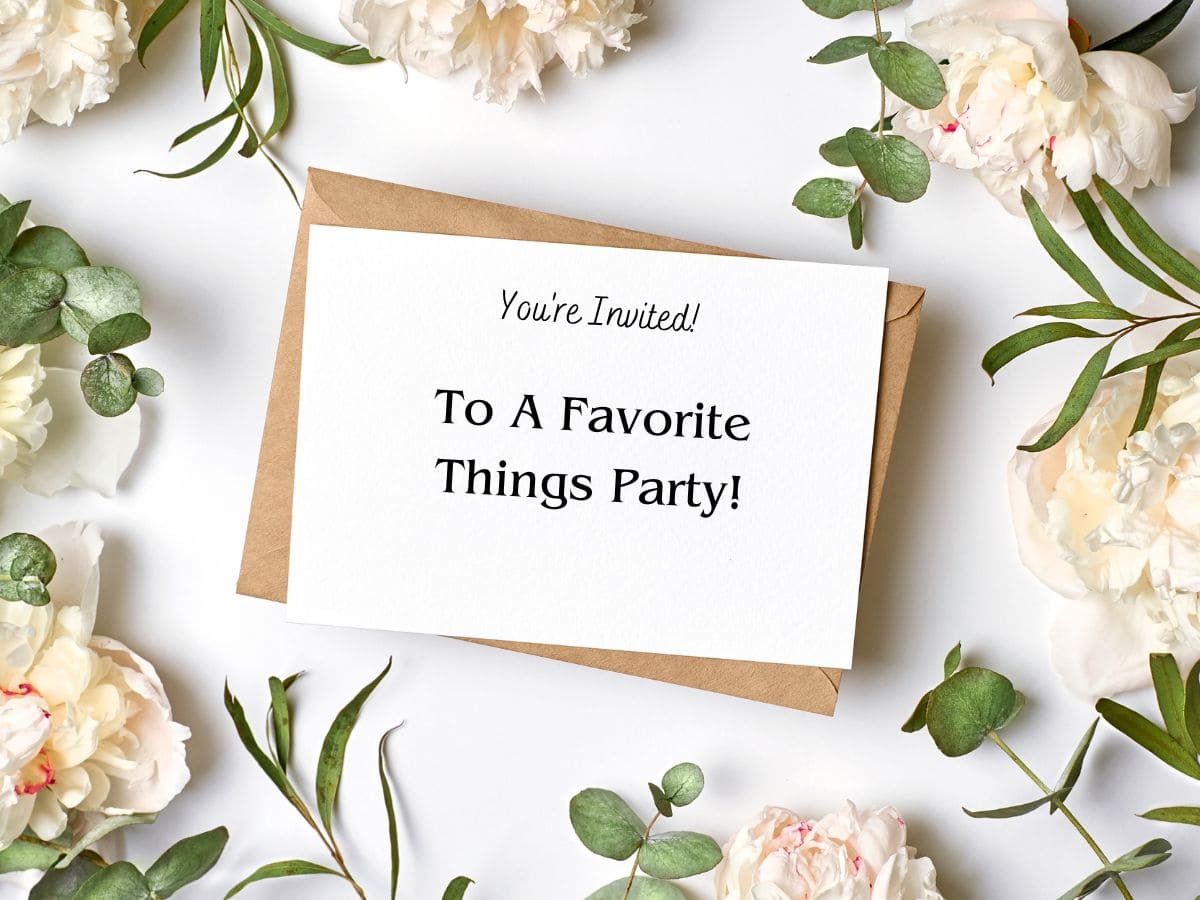 Planning the Party
Choosing a Date and Time
When I plan a favorite things party, the first step is to choose an appropriate date and time that works well for my guests. I consider whether it's during the holiday season or a less busy time of the year. Weekends usually work best, as people generally have more flexible schedules during that time.
Creating a Guest List
Next, I create a guest list, including friends and acquaintances with diverse interests and tastes, as this enhances the variety of gift ideas exchanged at the party.
Setting the Venue
I also need to decide on the best venue for the party. If my home can comfortably accommodate the guests, I prefer to host it there, as it allows me to create a cozy and personalized atmosphere.
Alternatively, I look for a suitable location, such as a community center or a rented space that provides the necessary amenities and ample room for my guests.
Establishing a Price Limit
To ensure a smooth and enjoyable experience for my guests, I set a price limit for the gifts to be exchanged at the favorite things party. This ensures that everyone's on the same page and that nobody feels pressured to spend excessively.
Including this information in the invitations helps guests prepare and choose their favorite items accordingly.
For example, if the budget is set at $20, each guest should bring a favorite thing that falls within that price range.
I would then have everyone place their gifts on a designated table, along with a small note describing the item and why it's their favorite. Once every guest arrives and puts their gift on the table, it's time to begin the exchange.
I prefer to draw names from a hat, with each person picking a gift from the table when their name is called. This keeps the process fair and adds an element of anticipation.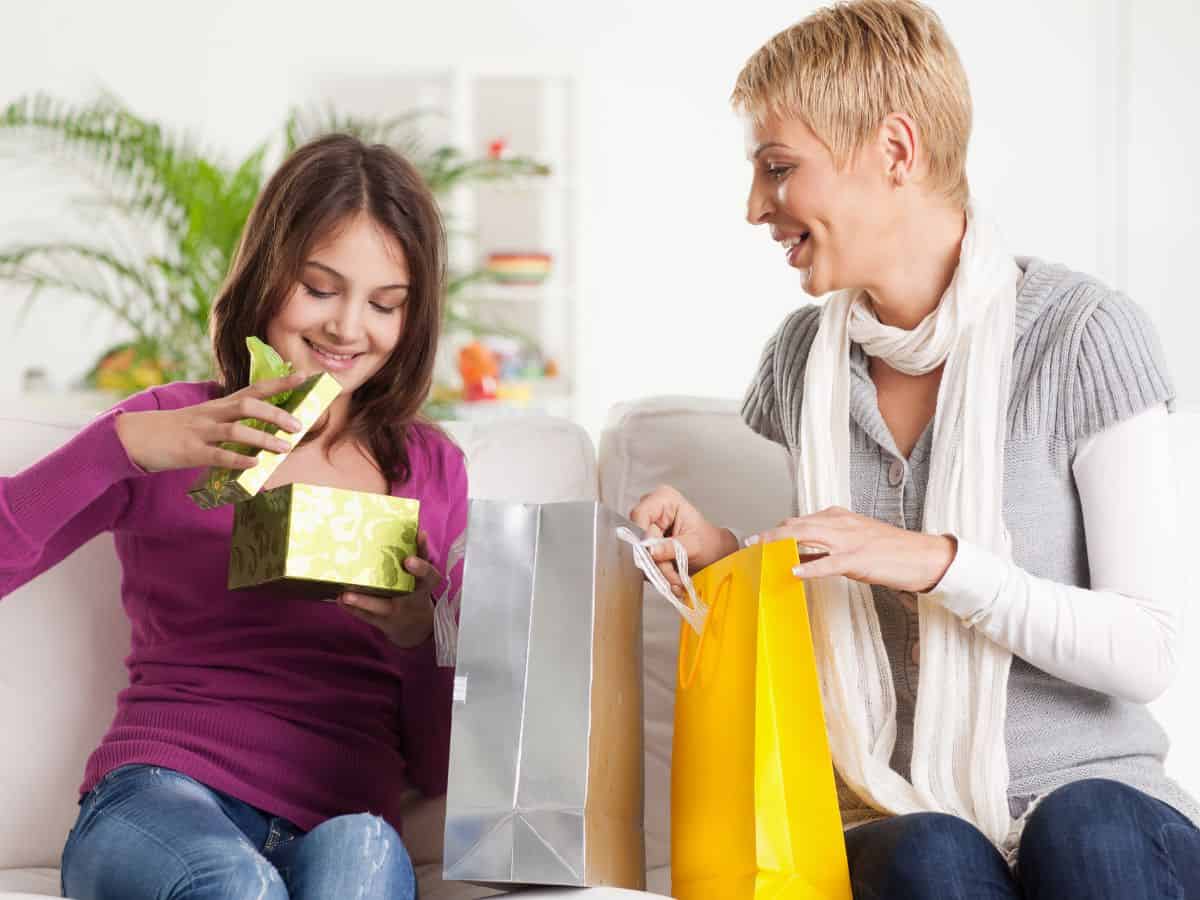 TOP Favorite Things Party Rules
1. Determine the Number of Gifts
When hosting a favorite things party, deciding on the number of gifts each guest should bring is essential. I typically recommend having each guest bring three of their favorite things as gifts to accommodate a broader range of preferences and ensure that more participants have a chance to take home something they like.
This number can be adjusted based on the size of the guest list or personal preferences. Whatever your decision, be sure to include this information in the invitation to avoid confusion.
2. Set A Per Gift Price Limit
Establishing a per-gift price limit can help make the gift exchange fair and accessible for all participants. I suggest setting a price limit of $10-$20 per gift to maintain a balance between the affordability and quality of the gifts.
Again, it's essential to communicate this information in the invitation so everyone comes prepared with favorite things party gifts that fall within the established budget.
3. Decide On An Anonymous Or Open Exchange
An anonymous gift exchange is like a white elephant! It can add an extra element of excitement and surprise to the favorite things party.
To implement this, I instruct guests to wrap their gifts without names or labels. After everyone has arrived, I place all the gifts in a central location, making sure they are mixed up so that no one knows which gift came from whom.
Guests will take turns selecting a gift from the pile, unwrapping it, and sharing why they chose that item as one of their favorite things. This approach not only makes the experience more fun but also encourages conversation and bonding among party attendees.
Favorite Things Gift Ideas
In this section, I'll share some gift ideas for hosting a favorite things party. Remember, the key to a successful party is selecting thoughtful and practical gifts that you love and KNOW your guests will love too!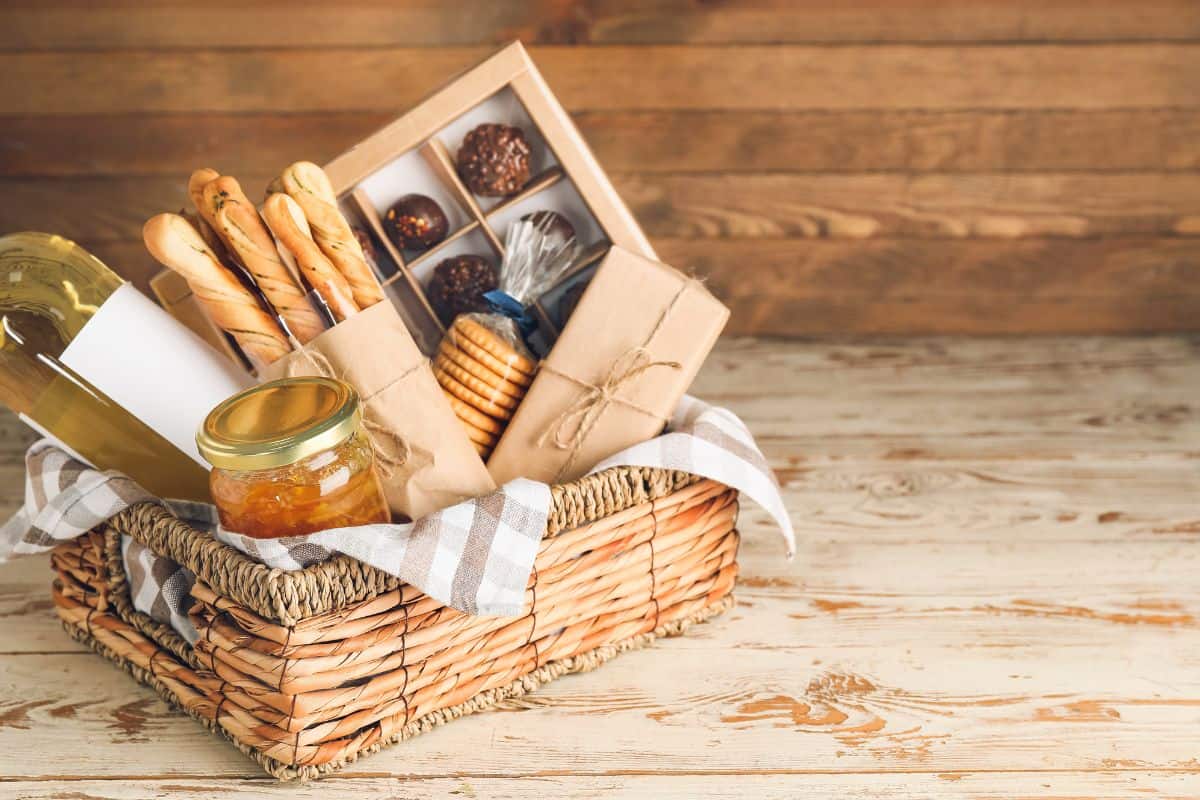 Popular Favorite Things Gifts
Some of the most popular favorite things gifts are items that people use regularly and can't live without. Here are a few examples:
Favorite Foods: This does not need to be a perishable gift. Think about your favorite luxurious chocolates or that expensive jar of peach preserves you love. Maybe some truffle salt, a jar of caviar, a block of rare cheese or even a good bottle of wine. Food warms the soul and is always a winner!
Nail polish: A classic favorite, nail polish is an affordable and versatile gift. You can choose from a wide range of colors and finishes to suit your guests' preferences.
Hair Care: Hair products are always a great gift! Consider some dry shampoo, luxurious conditioner or a hair repair that may just be too pricey for friends to casually buy themselves.
Convenient Items: Think AMAZON FINDS! These items are ALL the rage these days. Items like portable phone chargers, the latest travel water bottles, or remote control candles.
Personal and Self-Care Gifts
Help your guests pamper themselves with these thoughtful self-care gift ideas:
Scented candles: A lovely addition to any home, scented candles create a cozy and welcoming atmosphere. Choose a variety of scents to cater to different preferences.
Face masks: Pamper your guests with sheet or clay face masks. These self-care items make for a relaxing and indulgent treat.
Bath bombs: Add some fun to bath time with colorful and fragrant bath bombs. They're an excellent way to unwind and enjoy a soothing, relaxing bath.
Gifts for the Home
Consider these thoughtful gift ideas for the home:
Cute dish towels: Practical and stylish, cute dish towels are a charming addition to any kitchen. They're also an easy gift to accommodate different tastes and styles.
Picture frames: Help your guests preserve cherished memories by gifting them a beautiful picture frame. Consider different sizes and designs to suit everyone's taste.
Small potted plants: Bring some greenery into your guests' homes with small potted plants, such as succulents. They make an adorable and low-maintenance gift that brightens up any living space.
Party Preparation Tips
As I prepare to host my favorite things party, there are a few key elements I need to focus on. I'll break it down into two sub-sections: Decorations and Ambiance and Food and Drinks.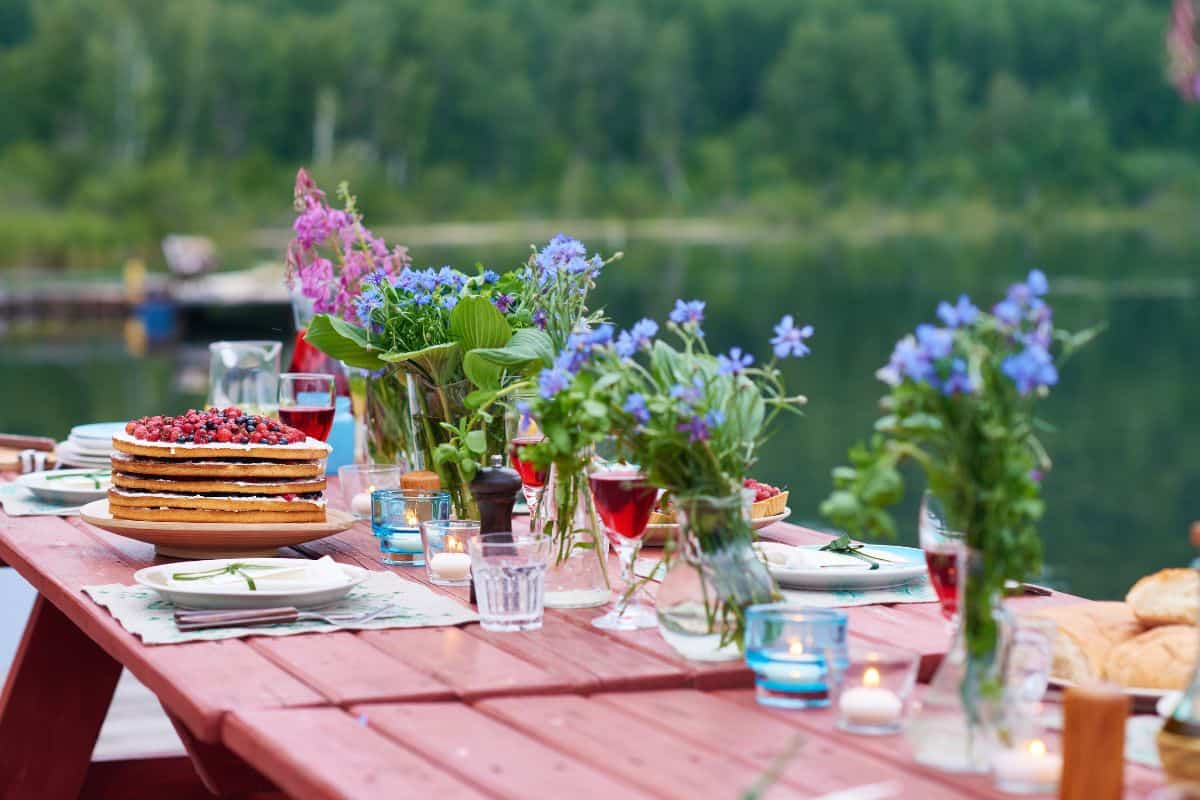 Decorations and Ambiance
I pay attention to the decorations to create the perfect atmosphere for the party. I'll incorporate festive elements, such as string lights and ornaments if it's a holiday party.
Choosing a color scheme can help tie the decorations together, so, for example, I'll pick a palette of red, green, and gold for consistency.
I'll also create a cozy and inviting atmosphere by adding soft lighting, candles, fresh flowers and comfortable seating areas. Asign displaying the party theme can be a nice touch to welcome my guests.
Food and Drinks
One of the best parts of any party is the food and drinks. I'll focus on easy and delicious appetizers that pair well with the theme for this event. Examples of finger foods that I pick include:
Cheese and crackers
Seasonal fruit skewers
Stuffed olives
As for drinks, I'll create a self-serve drink station featuring a variety of beverage options, such as:
Mulled wine, sangria or cider
A selection of soft drinks
Sparkling water with fruit garnishes
I hope my party preparation tips help you host your own favorite things party. Remember, the most important aspect of any party is to enjoy spending time with your friends and loved ones, so make sure to have a good time!
Party Activities
Games and Entertainment
In addition to the gift exchange, incorporating games and entertainment into the party can make it even more enjoyable for everyone.
Personally, I find that trivia games related to the favorite things theme work well - for instance, having guests guess each other's favorite movies, songs, or hobbies. This helps guests bond over similarities and enjoy friendly competition.
Another game idea would be a "favorites scavenger hunt," where guests need to find objects or items in the party area that represent their favorite things. This can be a fun way for attendees to learn more about their friends while also incorporating creativity and problem-solving.
I also like to include some downtime for mingling, allowing everyone to chat about their favorite things and the reasons behind their choices. It's an excellent way for guests to connect and share their passions with others in a relaxed environment.
By incorporating the gift exchange process, games, and entertainment, a favorite things party can provide a fun and memorable experience for everyone involved.
Remember to keep the tone light and focus on facilitating a comfortable space where guests can easily share their favorite things with friends.
Wrapping Up
Sharing Experiences
As the favorite things party comes to an end, I like to encourage everyone to share their experiences. We all might end up with new favorite items!
It's great to hear which gifts people absolutely love and how they plan to use them throughout the year. This not only reinforces the joy of giving but also helps to create lasting memories with friends and loved ones.
Thanking Guests
Before everyone departs, I make it a point to express my gratitude for their presence and participation in the favorite things party. A heartfelt thank-you can go a long way in leaving guests feeling appreciated, and celebrating together truly helps to strengthen our bonds.
I always remind myself to cherish these moments, for they contribute to lasting friendships and unforgettable experiences.
By keeping these essential tips in mind, a favorite things party can be a memorable and enjoyable experience for all involved.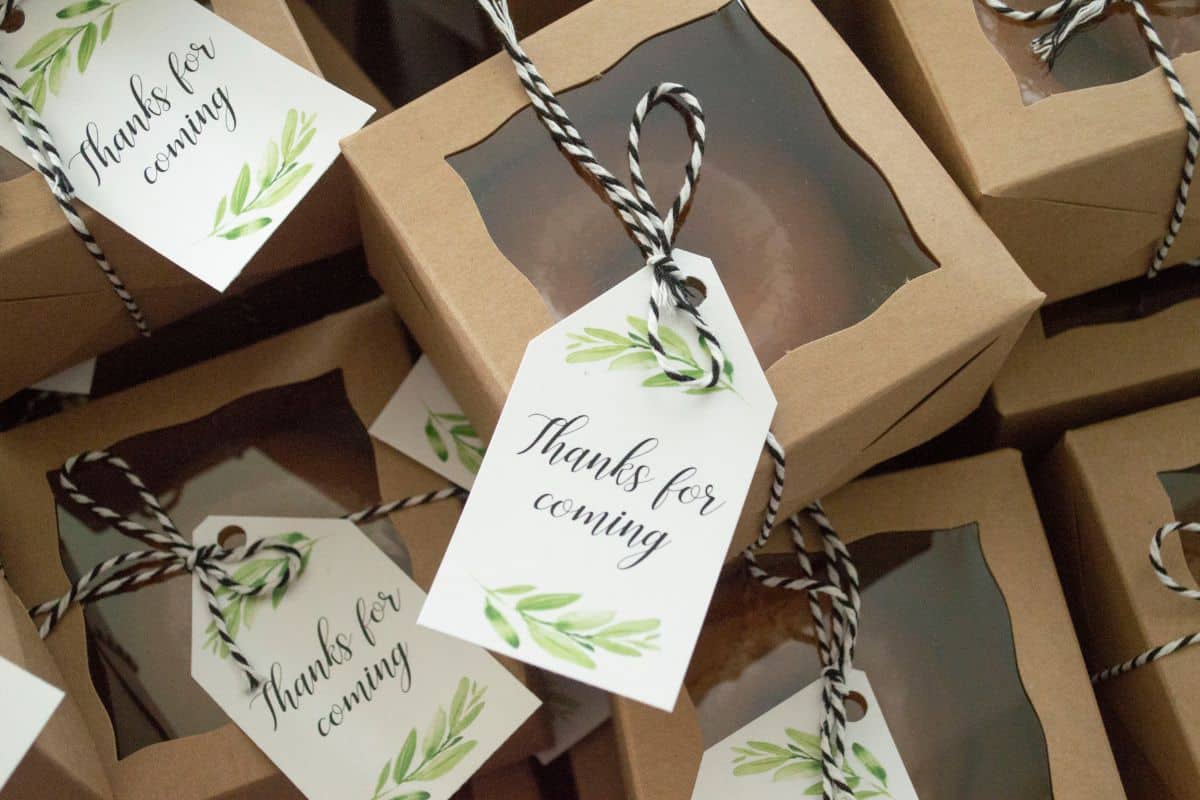 Frequently Asked Questions
What are some popular gift ideas for a favorite things party under $10?
Some popular gift ideas under $10 may include lip balm, cozy socks, scented candles, and gourmet tea or coffee. It's essential to remember that gifts should be useful and appeal to the guests at the party.
How do I properly organize and set up a favorite things party?
To organize a favorite things party, first, decide on the number of guests and set a budget for the gifts. Send out invitations that specify the theme and gift budget. On the day of the party, ensure there is a designated space for all the wrapped gifts.
What are some unique items to gift at a favorite things party in different price ranges?
Consider gifting a reusable shopping bag, essential oils, or a mini succulent plant for a budget-friendly option. Mid-range gifts could include a stylish phone case, Bluetooth speaker, or a skincare product. For higher price ranges, consider gifting electronic gadgets, luxurious throws, or designer candles. Just ensure that the gift falls within the decided budget for the party.
Do gifts need to be wrapped for a favorite things party?
You can choose whether to have gifts wrapped or unwrapped for a favorite things party. If you decide on wrapped gifts, make sure to communicate this clearly to guests in the invitations.Wrapped gifts can add to the excitement and surprise of the gift exchange.
How does a favorite things party differ from a white elephant party?
A favorite things party involves guests bringing items they genuinely love and would want to share. In contrast, a white elephant party focuses on exchanging quirky, humorous, or unusual gifts.
The main goal of a favorite things party is for guests to leave with something they would truly enjoy, while a white elephant party is often more focused on entertainment and laughs.
What specific categories or themes can you choose for a favorite things party?
To make your favorite things party more unique, you can pick categories or themes like beauty and skincare, home decor, kitchen gadgets, books, or even food and beverages.
Choosing a specific theme can help curate a more memorable experience for your guests and encourage everyone to share their interests.
Other Party Ideas You Will Love: