Hi! I'm Aleka and welcome to my get-together!
Here at AGT, I've been testing recipes and entertaining tips for over 5 years in hopes of sharing everything I've learned about entertaining and hosting get-togethers at home.
My goal is to share fun and easy party appetizers, desserts, snacks, cocktails and party tips to help you entertain like a boss at home!
Entertaining people is not just about impressing your guests. It's also about making them feel comfortable and welcome in your home so they have a memorable experience.
If you are on the same page as me, I'd love for you to SUBSCRIBE to my mailing list so I can personally send you recipes and entertaining tips I collect along my hosting journey!
More About Aleka
My family and I moved to Sarasota, FL recently but I grew up spending a lot of time in the kitchen of my parent's donut shop in New Jersey. At the time, my grandparents had their own donut shop too. We were a donut family.
Donut, donuts and more donuts...and shockingly, I didn't even like them.
Then as I got older, I waitressed and eventually became the chef and manager. Over that time, I gained more than ten years experience which is what contributed to my love for the culinary and hospitality world.
I have a masters degree in education and taught middle school math for over 10 years before diving into food blogging full time! I currently live in Florida with my husband Derek and our two crazy boys Calvin and Lucas.
I am also Greek and Yugoslavian so it's all about the food (and music) at our family gatherings! If you joined us on Easter, you would see my yiayia eating the eyeball of the goat we just roasted. 😆
AGT has been featured in outlets such as:
Follow Aleka! Instagram | Facebook | Pinterest | TikTok
---
10 Fun Facts About Me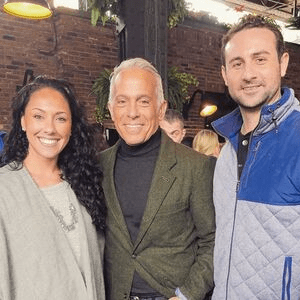 After teaching for 10 years, I left to follow my passion of food blogging.
I played D1 soccer in college and for a semi-pro team after.
My favorite drink is a Manhattan.
I was married in Mexico.
I took a culinary course in college as an elective.
My hubby and I met GZ at the New York Wine and Food Festival.
I'm an "Irish Twin" and not Irish.
My biggest pet peeve is hearing people eat cereal.
I have a weird habit of smelling everything.
I have a love for essential oils and also run another blog surrounding that.
My Most Popular Posts:
The BEST Tips For How To Keep Food Warm At Your Next Party
59 Finger Food Appetizer Ideas For Your Next Party
Easy COLD Finger Foods You Can Make Ahead
White Cheese Sauce (without flour)
77 Puff Pastry Appetizer Ideas You Will Love!
Are You A Food Blogger?
If you are looking to increase your organic traffic, you might be interested in my Cooking With Keywords courses! I offer keyword coaching and assistance as well to help other food bloggers get their recipes to rank on page 1.
Contact Aleka
If you would like to contact me, you can email me at: Aleka@AlekasGetTogether.com
---
Want to link to a recipe?
One image can be used with a follow link back to Aleka's Get-Together along with proper attribution.
---
Never Miss a Post!
Join my FREE e-mail list here for weekly recipes and meal plans!
---
Where to next?
Start Here! 59 Good Appetizer Recipes For Parties