Throwing a party at home can be stressful if not planned properly. But have no fear, throwing a good party is what I LIVE for. So allow me to share my best hosting tips and hosting ettiquete with you so you can throw the best house party ever!
Hosting a party at home can go many different ways. The TYPE of house party you throw will depend not only on how many people are coming but the type of people coming.
Is it going to be a large party or smaller more intimate? Are your guests party animals or are they more inclined to chill and have a few glasses of wine?
These things have to be considered before you create your guest list and plan the party! Once you have that figured out, then you can start planning!
Tips For Hosting A Party At Home
Don't invite TOO many people!
Determine the number of guests your space can comfortably accommodate. Unless your aiming for frat party vibes, too many guests will make your house feel crowded and confined. Which brings me to my next tip.
Think About Seating Arrangements
You can't expect for everyone to have a seat however there should be enough seating for at least half your guests. Consider setting up folding tables with folding chairs if you don't have enough couches or stools. This is especially important if you are serving food. Standing and eating is never enjoyable.
Send Invites
Now-a-days, we can send invites out many ways. Through text, which is very informal. Through email, aka evite style, which is very common can can be pretty fancy! Through social media like a Facebook event, OR the old fashioned way, through physical invites.
Know that the invite is the first perception of your party. If it's a casual party, the invite should be casual. If it's more upscale, follow through with an upscale invite.
Just Serve Appetizers
If it's a LARGE party, I recommend a buffet-style service using chafing dishes. Or set up a pasta bar!
But if you're keeping it smaller, I highly recommend serving JUST appetizers.
You can opt for lighter appetizers or heavy appetizers. Here at AGT, I have a WHOLE list of party appetizers to serve that are lighter and heavier. Take your pick! 🙂
I suggest serving good appetizers that can be served cold or at room temperature so you can put them out in advance.
Set Up Coolers Or A DIY Bar
My favorite way to serve drinks to a crowd of 10 or more is to use a beverage dispenser.
A mimosa bar or bloody mary bar is also a great and easy way to please guests depending on the time of day.
If you simply want more of a cocktail party at home, make sure to set up a cocktail bar or area where guests can help themselves to their own cocktails. Add wine glasses, whiskey glasses, champagne flutes, and high balls glasses.
If you are having a casual get-together, coolers are all you need. Make sure to offer a selection of alcohol such as beer, hard seltzers and wine. Always separate booze by cooler.
Beverage buckets are a fancier, classier way to serve drinks. Here is one I have and use all the time and it does not leak.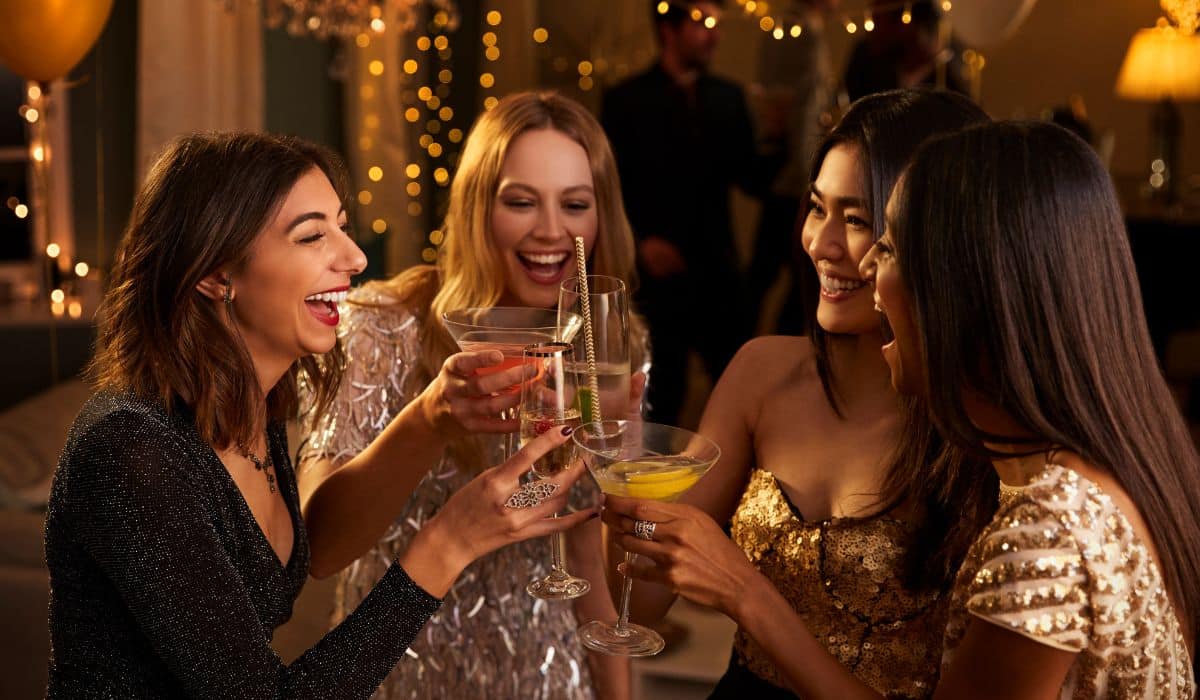 Choose One Type of Entertainment
All parties have some form of entertainment. Whether it's music, games, photo booths, dj's or even cornhole, there needs to be something for your guests to enjoy.
Music is essential but sometimes it's nice to offer ANOTHER form of entertainment.
The entertainment highly depends on the number of people you invite. Smaller parties can get away with more personable entertainment like:
Board Games and Card Games:

Classic board games like Scrabble, Monopoly, or card games like Poker, Uno, or Cards Against Humanity can be a great way to have fun and foster friendly competition.

Trivia or Quiz: Create a trivia quiz based on a specific theme or general knowledge. You can have teams or individual guests participate.
Movie or TV Show Marathon:

Pick a favorite movie series or TV show and have a mini-marathon complete with popcorn and snacks.

Karaoke:

Set up a karaoke machine or use a karaoke app and have your guests take turns singing their favorite songs.

DIY Craft or Art Projects:

Provide art supplies and have a creative session where guests can make art, paint, or craft something special.

Cooking or Baking Challenge:

Organize a friendly cooking or baking competition where guests team up to create dishes, and everyone gets to taste and judge the results.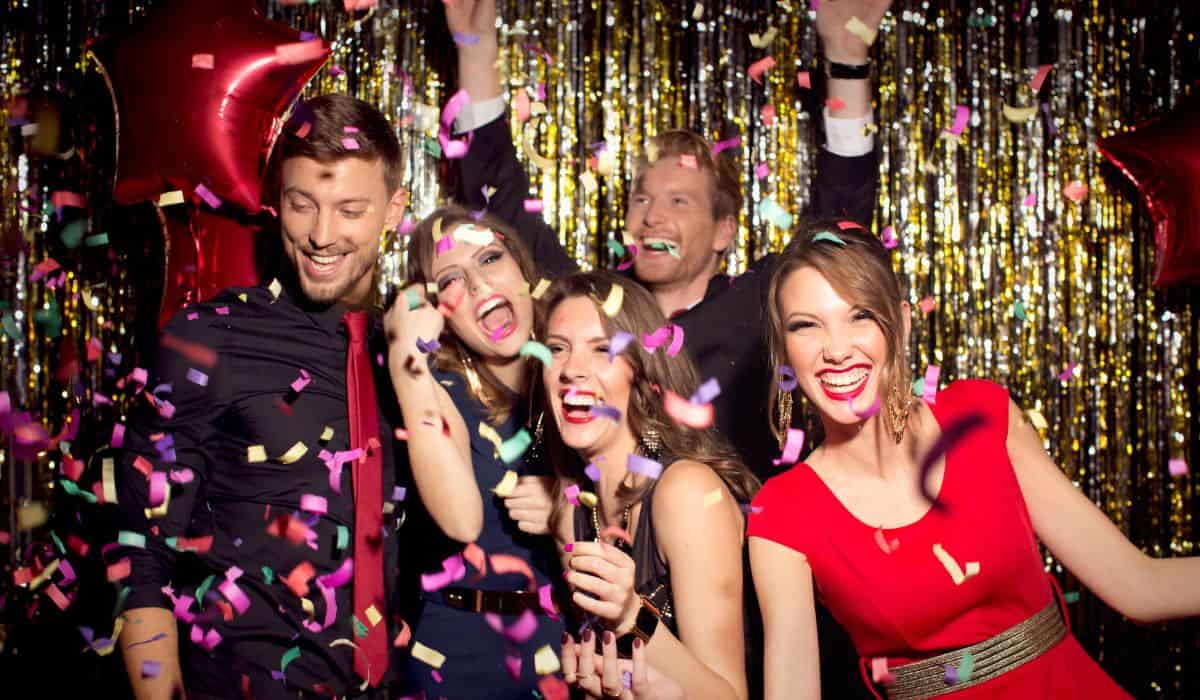 Set Up In Things One Week In Advance
Purchase party supplies, including plates, cups, napkins, and utensils at least 1 week in advance. This will give you enough time to determine if you're missing anything.
Set out tables and chairs if you have. Iron any tablecloths if using and dust off any glassware, dishes and platters you plan on using and plan your menu.
Decoration Must Haves
If your house party is happening on a random weekend with no celebratory reason behind it other than getting together with friends and family, not much decor is necessary. Instead I recommend some fresh flowers, fragrance free candles, fancy serving platters, cute napkins and your best glassware.
Greet Guests
I cannot stress enough the importance of greeting guests as they arrive. It's what hostesses do. Always offer a drink and tell them where they can find everything.
If they do not know many people at the party, introduce them to a few guests before leaving them.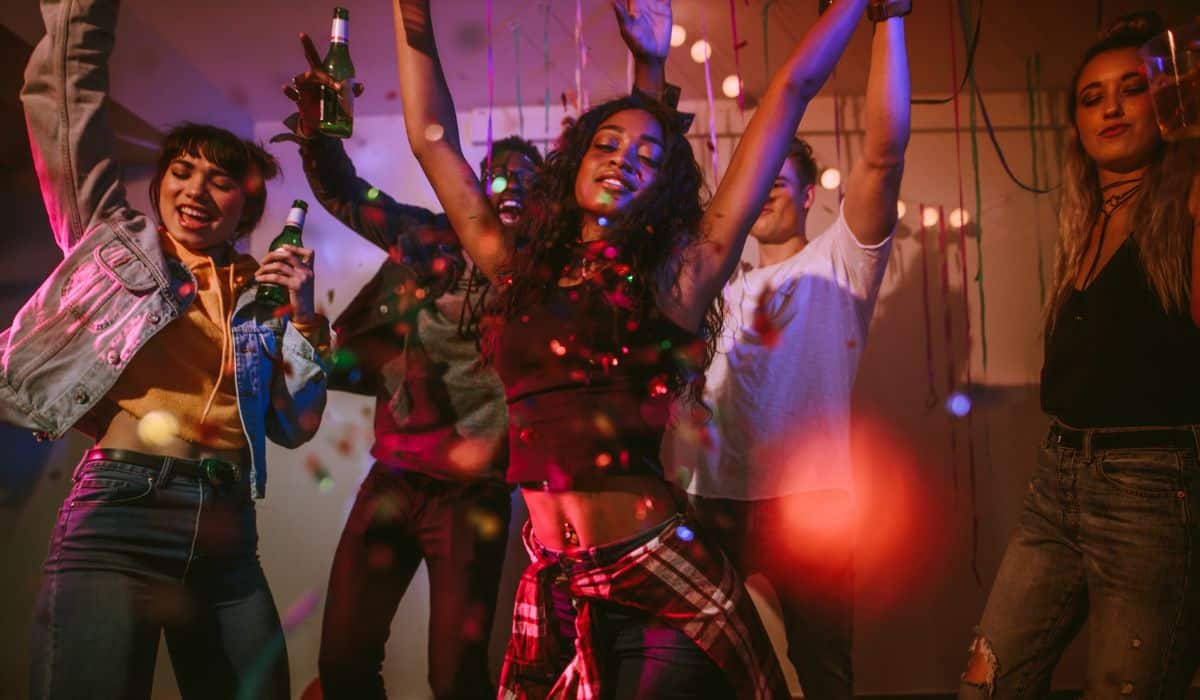 Keep An Eye On Food and Drinks
Monitor food and drinks and replenish as needed. Always offer bottled water and non-alcoholic drinks. Ask a close friend if they can help with this!
Enlist In Some Help
Ask a close friend or family member to help! Ask them to help set up the morning of so you can clean and get yourself ready. Then when the party starts, there will need to be someone who take coats, fills drinks, and helps clean up empty cups and dirty plates.
Choose a Party Theme
The BEST parties are themed parties! You can throw a cocktail party, a Masquerade Party, a Favorite Things Party, an 80's Themed Party, a TikTok Party, a 90's Theme Party or another party theme!
Ending The Party
Thank your guests and express your gratitude to your guests for attending. If you have party favors, make sure to hand them out before they leave!
This can be an inexpensive DIY favor like chocolate covered almonds in mini saran wrap or candied nuts!
If anyone offers help cleaning up, accept it and thank them with a bottle of wine. Then put your feet up and relax.