Here you can learn all of my tips and tricks for setting up a DIY Mimosa Bar right in your own home! It's simple, charming, and perfect for all of your spring and summer entertaining. From birthdays, bridal showers, brunch and more, guests will love helping themselves to your elegant set-up.
While I do love to host a good cocktail party and serve delicious homemade cocktails, sometimes it's nice to take a break and enjoy a slower pace.
So when I want less stress while hosting, I will set up a bar, like my Ultimate Bloody Mary Bar, that allows guests to mix their own drinks without needing ME.
Setting up a DIY Mimosa Bar is fun, elegant, simple, and always a hit amongst friends and family.
Your guests can fill up their own glasses with their desired amount of champagne and fruit juice and garnish as desired, all while you get to actually relax and enjoy their company. It's a win-win for everyone involved!
So take just a few minutes, chill your favorite bubbly, grab a few different juices, dice up a couple of fruits to garnish your mimosas with and enjoy a calm, stress-free party full of fun, friends, and of course, FIZZ!
Why You'll Love A Mimosa Bar
It's easy for the guests to help themselves
Less stress on you, the hostess
Drinks are easily customizable to anyone's taste preferences
Perfect to set up for a tea party, bridal shower, or Sunday brunch
It looks elegant and refined, but is actually very simple
Preparing A DIY Mimosa Bar
Here's what you will need to create a simple, yet stunning display!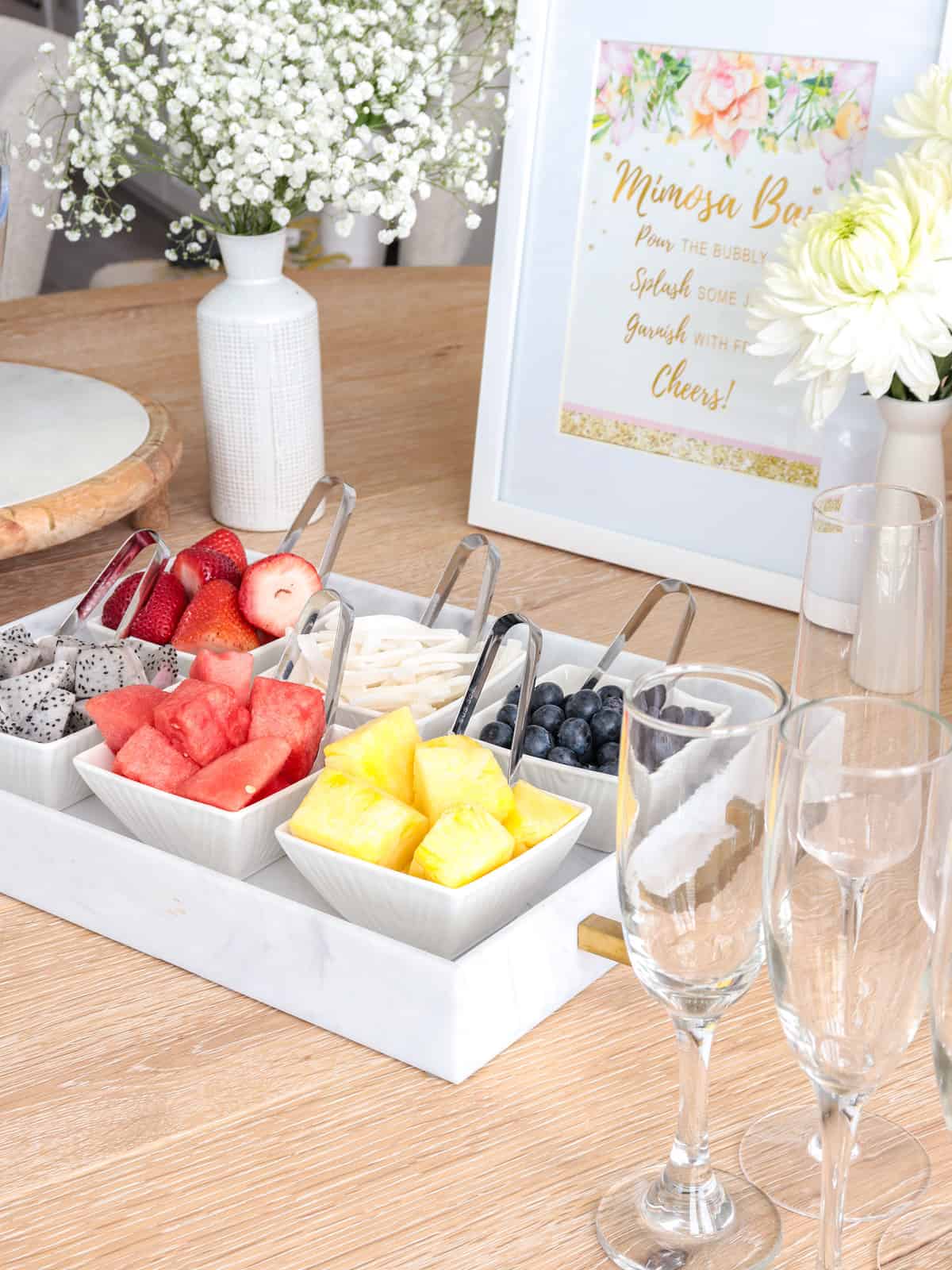 Equipment
Champagne flutes: You could set out glass ones, plastic if you're worried about breakage, or even disposable for easy clean up!
Carafes: You'll need these to hold your variety of juices. I prefer ones like these because they're sturdy, pretty, and glass which allows the juice to add a bright pop of color
Ice bucket: You'll actually want 2 of these, one for the juices and another for the champagne. This 2 pack from Amazon would be perfect!
Serving tray with bowls: I like to set out a variety of fresh fruit garnishes, so I use a serving tray and place a few small bowls for the garnishes on it. (mini tongs are helpful in this scenario as well!)
Kitchen towel or napkins: Always good to have on hand in case of a spill!
Ingredients
Champagne: You simply cannot have a mimosa bar without champagne!
Juice: Any fresh juice will work, but I think the best juices for mimosas are: blueberry juice, peach nectar, pineapple juice, orange juice, strawberry puree, and mango juice.
Orange liqueur: Optional, but highly recommended if you have it! A tablespoon or so of either Triple Sec or Grand Mariner is traditional, but I do suggest giving guests the option to add it.
Garnishes: What's a mimosa without a fresh fruit garnish?! I set out blueberries, sliced strawberries, pineapple, watermelon, dragon fruit, and shredded coconut for guests to top their drinks with. Fresh mint is another pretty garnish!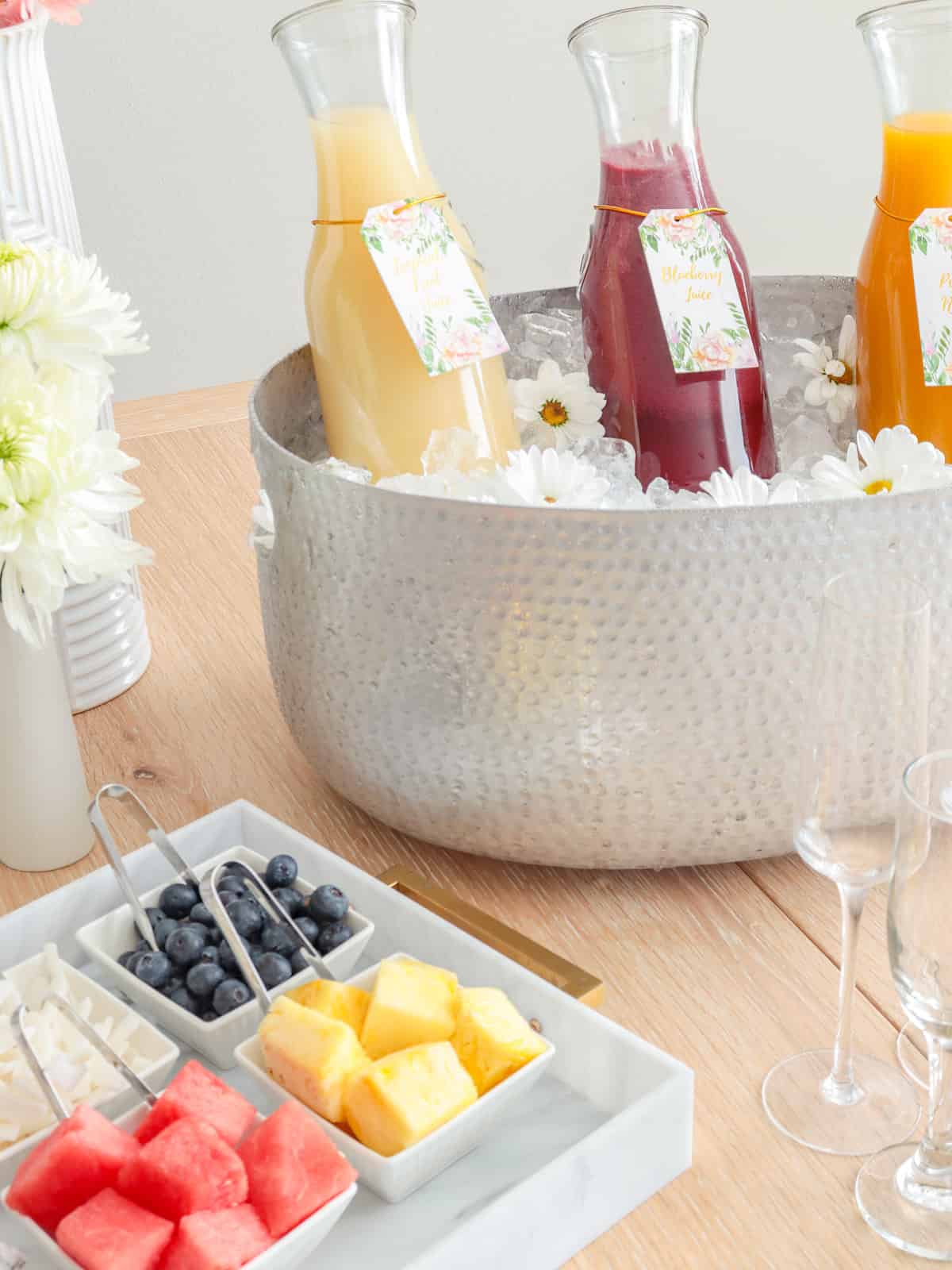 Expert Tip! If you have an open bottle of champagne left over, use these champagne stoppers to help keep it fresh for a day or two.
What is the best champagne to use?
When choosing a champagne for your mimosa bar set-up, you're going to want to go with your favorite! It depends on the size of your party, but you probably won't need more than a few bottles if you average that one will serve 3 guests.
The one you see pictured here is my go-to. It's Freixenet which goes from about $10-15. It isn't too expensive, but still has a nice crisp flavor.
However, I know that sometimes champagne can get a bit expensive, so if you want you can opt for Prosecco instead!
How To Set Up Your Mimosa Bar
First things first, you will need to decided on an area to set up your bar. It could be a corner of your countertop, on a table, or even on a bar cart.
No matter where you choose to set up, just make sure that there is enough room for people to mill about and serve themselves without bumping into one another.
Keeping The Champagne Cold
Next, you're going to want to chill the champagne. I like to keep it in the fridge and then right before I'm ready to serve, I fill an ice bucket up with ice to keep the 2-3 bottles I'm setting out nice and cold.
I also like to keep backups in the fridge so that they are already cold and ready to go when a bottle runs out!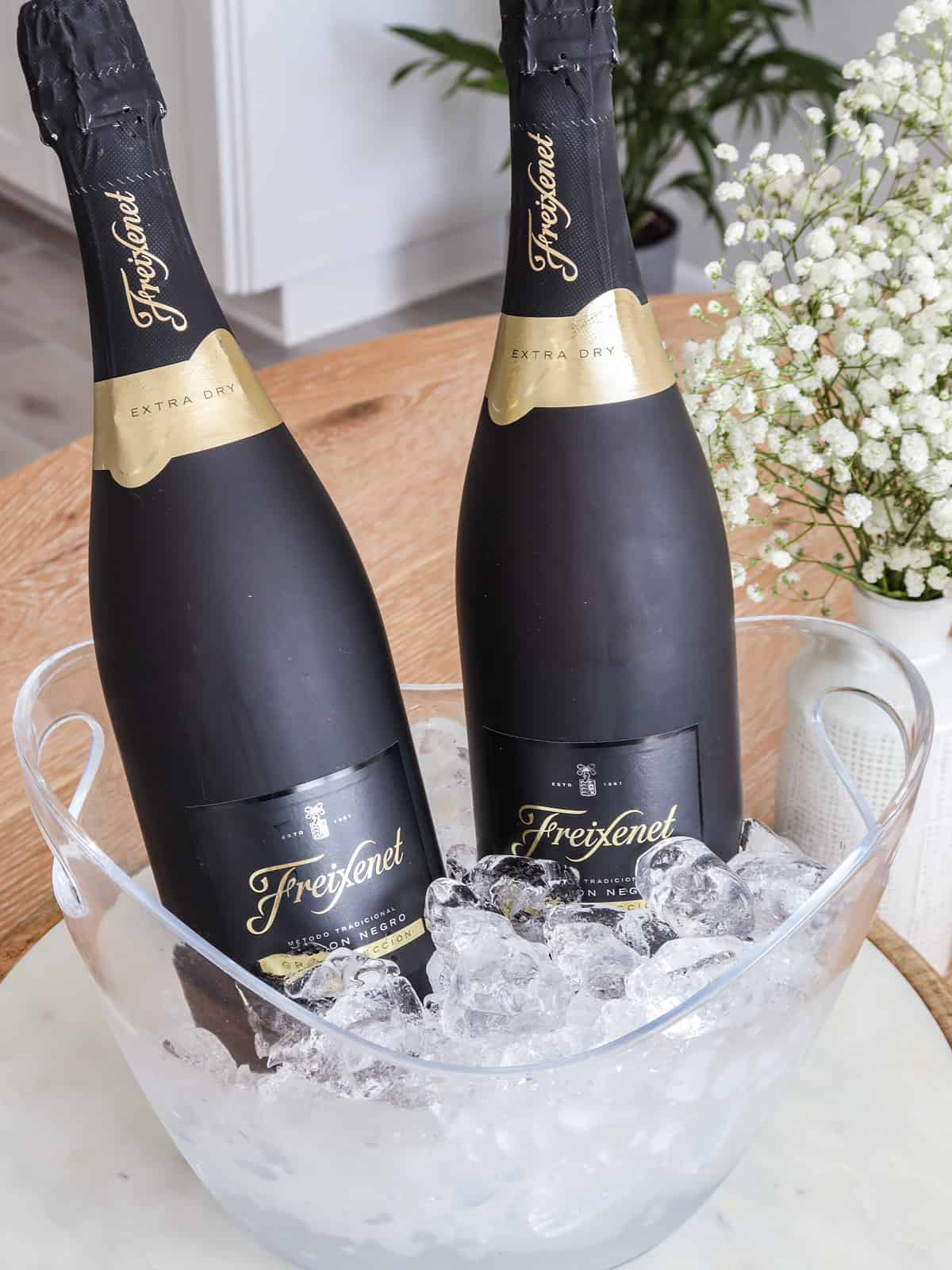 How To Serve The Juice
After the champagne is chilled, you're going to juices for the mimosas all prepped. I like to pour each one into a carafe and chill in the fridge until it is time to serve.
You do not have to keep the juices on ice if you don't have a bucket large enough, but if you can, I do recommend it.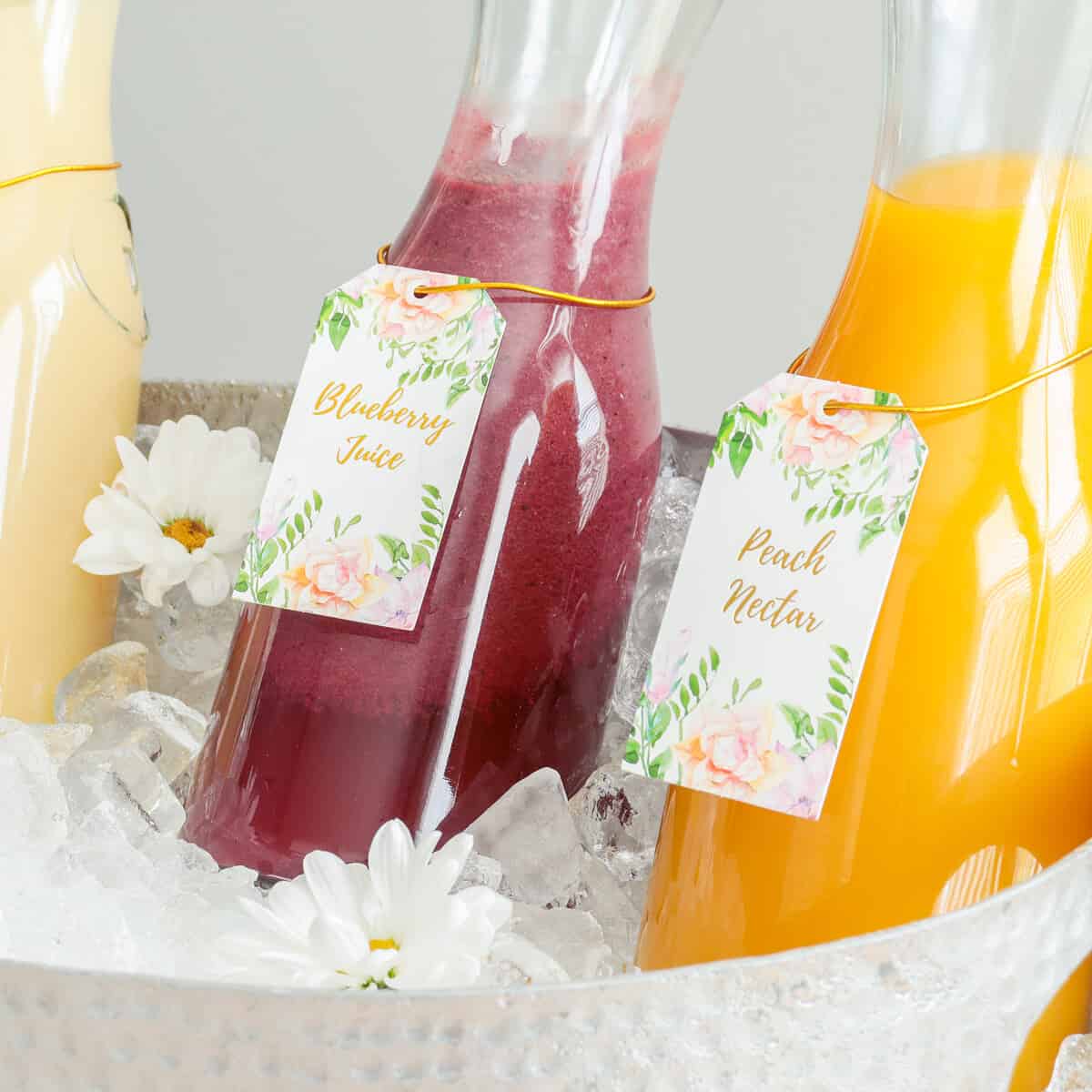 Set Out Garnishes
Finally, now that it's almost party time, you're going to want to start assembling all of the pieces!
On your chosen bar location, set out the glassware, ice buckets, garnishes, and any decorations you may have. A few minutes before guests are supposed to arrive you can put out the chilled champagne and fruit juices so it's all set to go when they walk in!
Making A Mimosa
When making a mimosa, I like to keep it simple with a 1:1 ratio. Pour an equal amount of juice, top it with an equal amount of champagne, garnish with some fresh fruit, then sip and enjoy!
It's really a very easy cocktail to make, but looks SO pretty and elegant. Which is one of the reasons why I love serving it at parties!
🥂 Aleka's Mimosa Tips
Make sure to chill your champagne beforehand for the best flavor
Use glass flutes for a pretty presentation or disposable if you want easy clean up
Serving juice in glass carafes adds a pretty pop of color to your bar
Label the juices with printable tags so guests aren't guessing what they're pouring
Prosecco is a less expensive alternative to champagne
Use sparkling white grape juice for a non-alcoholic/kid friendly mimosa bar option
Frequently Asked Questions
What does a mimosa bar consist of?
It's an elegant, yet simple display made of champagne flutes, fresh juices in carafes, chilled, bubbly champagne, and fresh fruit and herbs for garnish.
What alcohol goes in mimosas?
In a traditional mimosa, both champagne and an orange liqueur (typically Grand Mariner) are added along with a splash of orange juice.
How many bottles of champagne per person for a mimosa bar?
It's averaged that one 750mL bottle of champagne will make 6-8 mimosas, depending on how strong someone likes them. Most people usually have 1-3 drinks, so a single bottle will generally serve 3 people.
Using that as rule of thumb, you can check your guest list and assume that you will need one bottle of champagne for every 3 guests that are attending your party.
What juices should you use for a mimosa bar?
For a traditional cocktail, orange juice is always the first choice. If you want to have fun and go out of the box, a few options are: pineapple, watermelon, pomegranate, peach, mango, blueberry, strawberry, even grape might be good!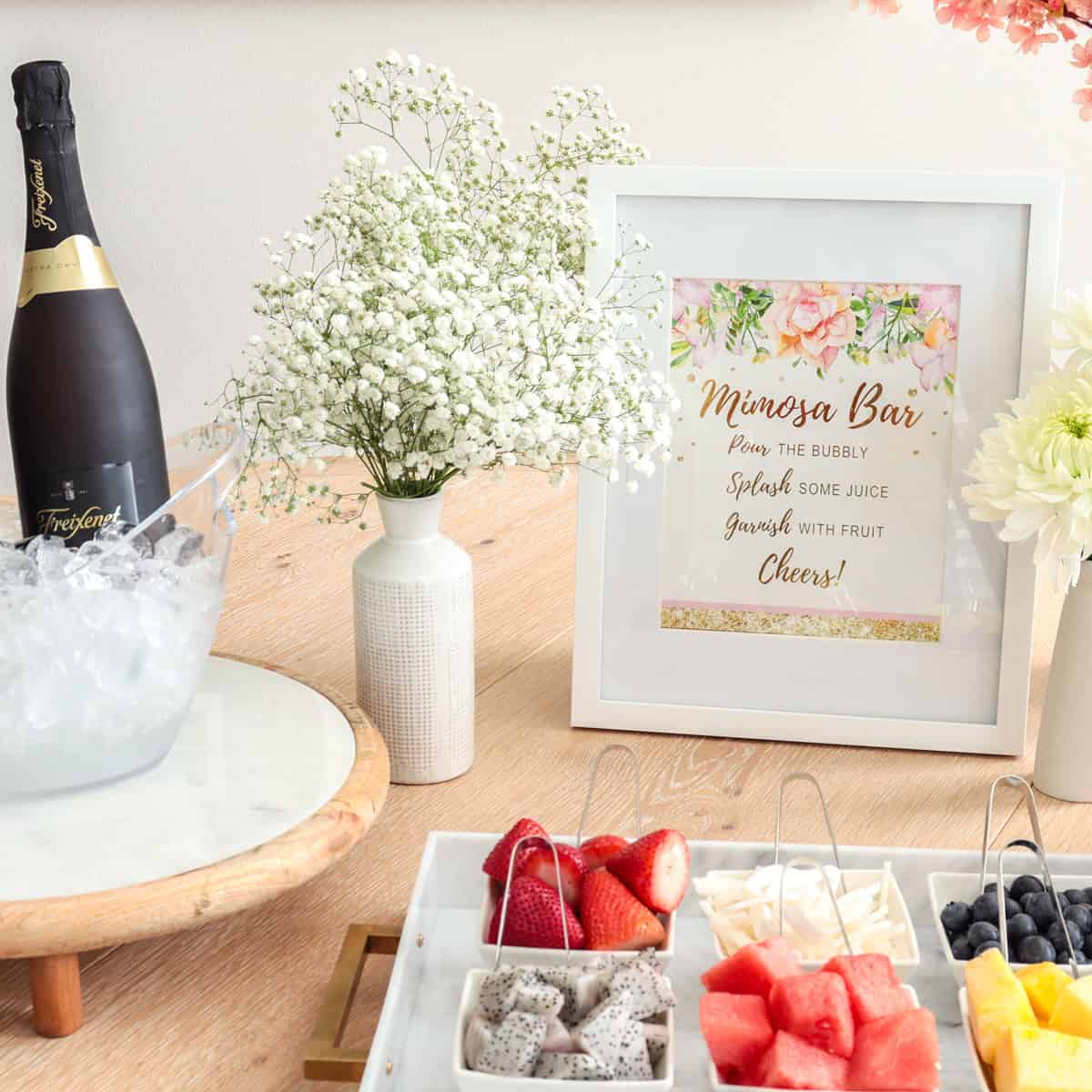 How To Decorate A Mimosa Bar
I like to keep things simple when it comes to decorations because I don't want too many things to get in the way and be obstacles for people when pouring their drinks.
A few simple vases full of fresh flowers, a clear color scheme, and printable signs are really all you need. It looks clean, elegant, and allows the colors of the fresh fruit and juice to really be the star!
If you're hosting a bridal shower, you might want to think about incorporating the bride's chosen colors into the decorations for a personal touch. Or if you're setting up a mimosa bar for a certain holiday, use colors traditionally associated with that holiday!
Roses for a Galentine's Day party, brightly colored daisies for Easter, or mom's favorite colors for a Mother's Day brunch are all easy, yet personalized details that will make your DIY bar just a little more special 🙂
Make a Bloody & Bubbly Bar!
If you're expecting both men and women, I highly suggest making BOTH a bloody mary and a mimosa bar together. Add the juice and champagne to the same ice container as your bloody mix and vodka.
Then add some juices and fruit on the side!
It will be the HIT of your party I promise!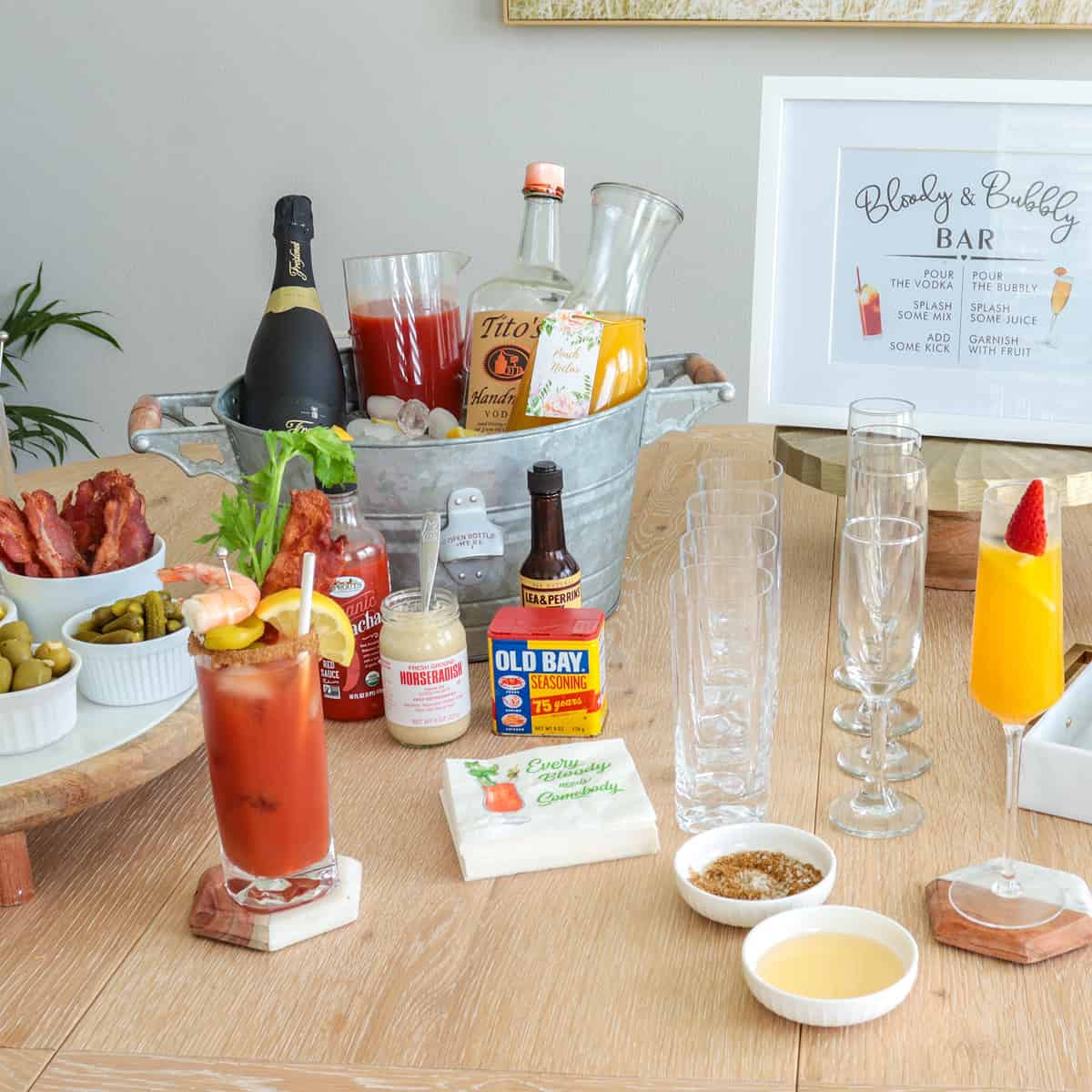 📖 Recipe
Easy Mimosa Bar Set-Up
Here you can learn all of my tips and tricks for setting up a DIY Mimosa Bar right in your own home! It's simple, charming, and perfect for all of your spring and summer entertaining. From birthdays, bridal showers, brunch and more, guests will love helping themselves to your elegant set-up.
Print
Pin
Rate
Ingredients
3

Ounces

Champagne

3

Ounces

Fruit juice of choice
Optional
1

Ounce

Grand Mariner or Triple Sec

Berries, melon, or fresh herbs

(for garnish)
Instructions
Chill the champagne and fruit juices in the fridge at least 4 hours before serving

Set out the glasses, chilled champagne, fruit juices, and garnishes of choice just before guests arrive

To make a mimosa, combine equal parts champagne and fruit juice into a flute. Add Triple Sec if desired and garnish

Sip and enjoy!
Recipe Notes
Make sure to chill your champagne beforehand for the best flavor

Use glass flutes for a pretty presentation or disposable if you want easy clean up

Serving juice in glass carafes adds a pretty pop of color to your bar

Label the juices with printable tags so guests aren't guessing what they're pouring

Prosecco is a less expensive alternative to champagne

Use sparkling white grape juice for a non-alcoholic/kid friendly mimosa bar option
Nutrition
Calories:
167
kcal
|
Carbohydrates:
19
g
|
Protein:
1
g
|
Fat:
0.3
g
|
Saturated Fat:
0.1
g
|
Polyunsaturated Fat:
0.1
g
|
Monounsaturated Fat:
0.04
g
|
Sodium:
9
mg
|
Potassium:
253
mg
|
Fiber:
0.2
g
|
Sugar:
17
g
|
Vitamin A:
170
IU
|
Vitamin C:
43
mg
|
Calcium:
17
mg
|
Iron:
1
mg