If you've never had a pasta bar party, you're missing out! A pasta bar is one of the best things ever. Multiple choices of different sizes and shapes of pasta with multiple sauces to choose from and all the Parmesan cheese to top it with? Pure pasta heaven.
Jump to:
Pasta Bar
I love pasta in any form.
It's such a comforting dish that is hard to pass up. And coming from someone who hosts parties a lot, it's CHEAP as heck and hard to mess up!
Those two boxes are what us hostesses look to check off when throwing parties home.
This entire bar cost me less than $30 and can feed 16 people!
A pasta bar is such a great buffet idea especially if you need to serve a larger crowd for get-together like game day tailgating, birthday parties, holiday parties, or evene graduation parties.
Best of all, both kids AND adults love pasta!! A win for all!
What To Include On A Pasta Bar?
The PASTA-bilities are endless!!
See what I did there? 🙂
All jokes aside, it's very simple! Pasta, sauces, toppings. Done.
Here are the must haves!
Pasta (at least two types)
Sauces (at least two types)- Offer one that is dairy free!
Garlic bread or a sliced baguette
Parmesan cheese
Fresh basil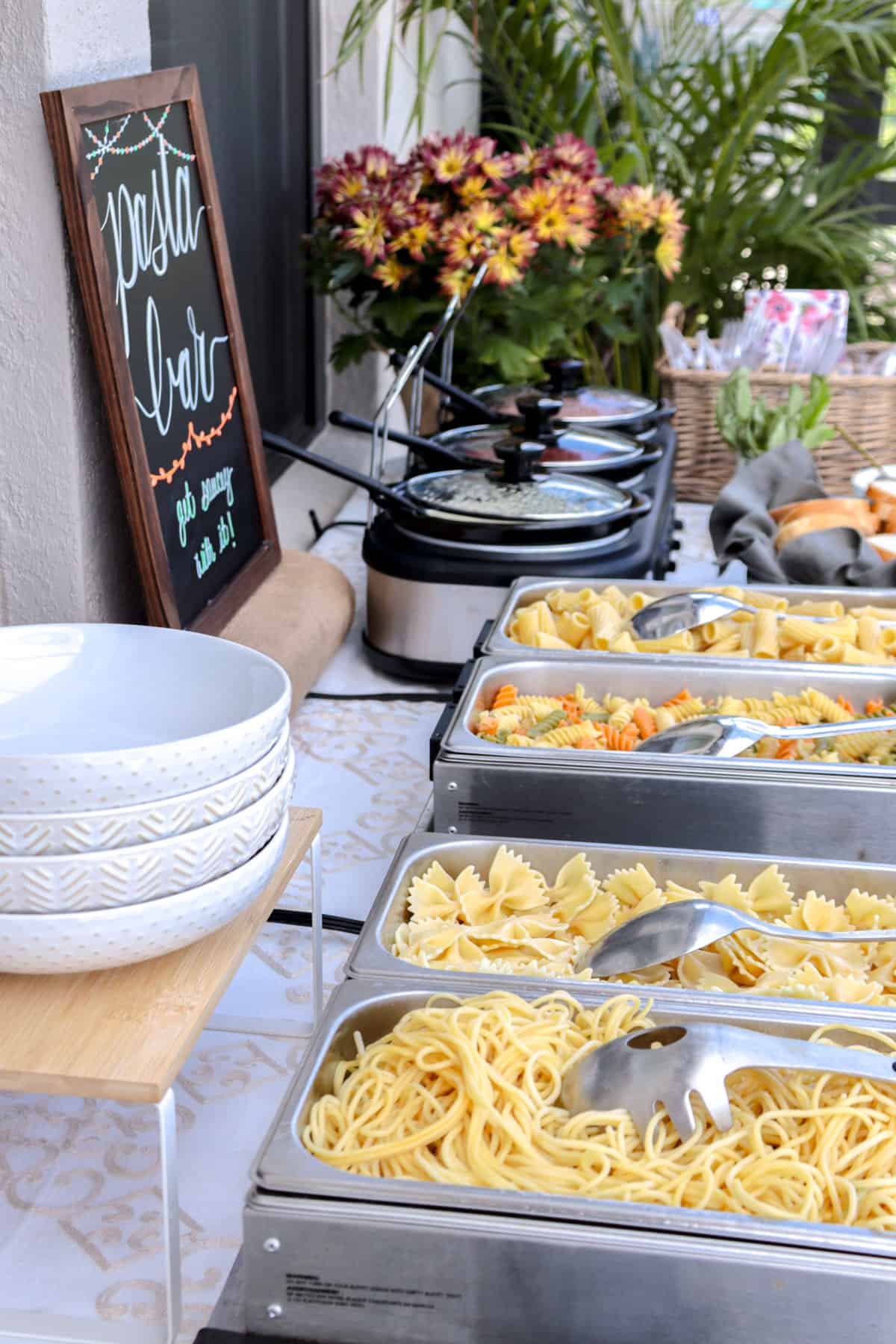 The Best Pastas For A Pasta Bar
You can add any type of pasta to your pasta bar. I suggest polling your guests to find out if they have any gluten allergies first. If you have kids, I highly recommend offering kid-friend pasta like spaghetti and elbow macaroni.
Pastas that are best for making ahead for a pasta bar:
penne
rigatoni
rotini
orecchiette
farfalle
cavatappi
campanelle
ziti
Pastas that are NOT very good for a pasta bar:
angel hair
linguini
tagliatelle
capellini
These type of pastas are more likely to stick together and not ideal for sitting at a pasta bar.
Additional Pasta Bar Ideas
You can make your pasta bar extra special by adding an assortment of pastas, sauces and toppings for your guests to choose from.
Some other items to add to your pasta bar are:
Pesto sauce- This will add a pop of color and is also dairy and gluten free!
Melted butter- This is more for the kiddos who are pickier.
Bolognese- Adding ground beef to your marinara sauce is a great way to add some protein.
Cheese whiz- This brings me back to high school. Teens love it and it's great mixed with the marinara or bolognese sauce.
Bacon bits- This is a delicious fun addition!
Sauteed mushrooms- If you really want to take your pasta bar to the next level, saute mushrooms in oil and garlic. Then transfer to a bowl.
Grilled chicken: Toss some chicken on the grill and slice before adding to the bar.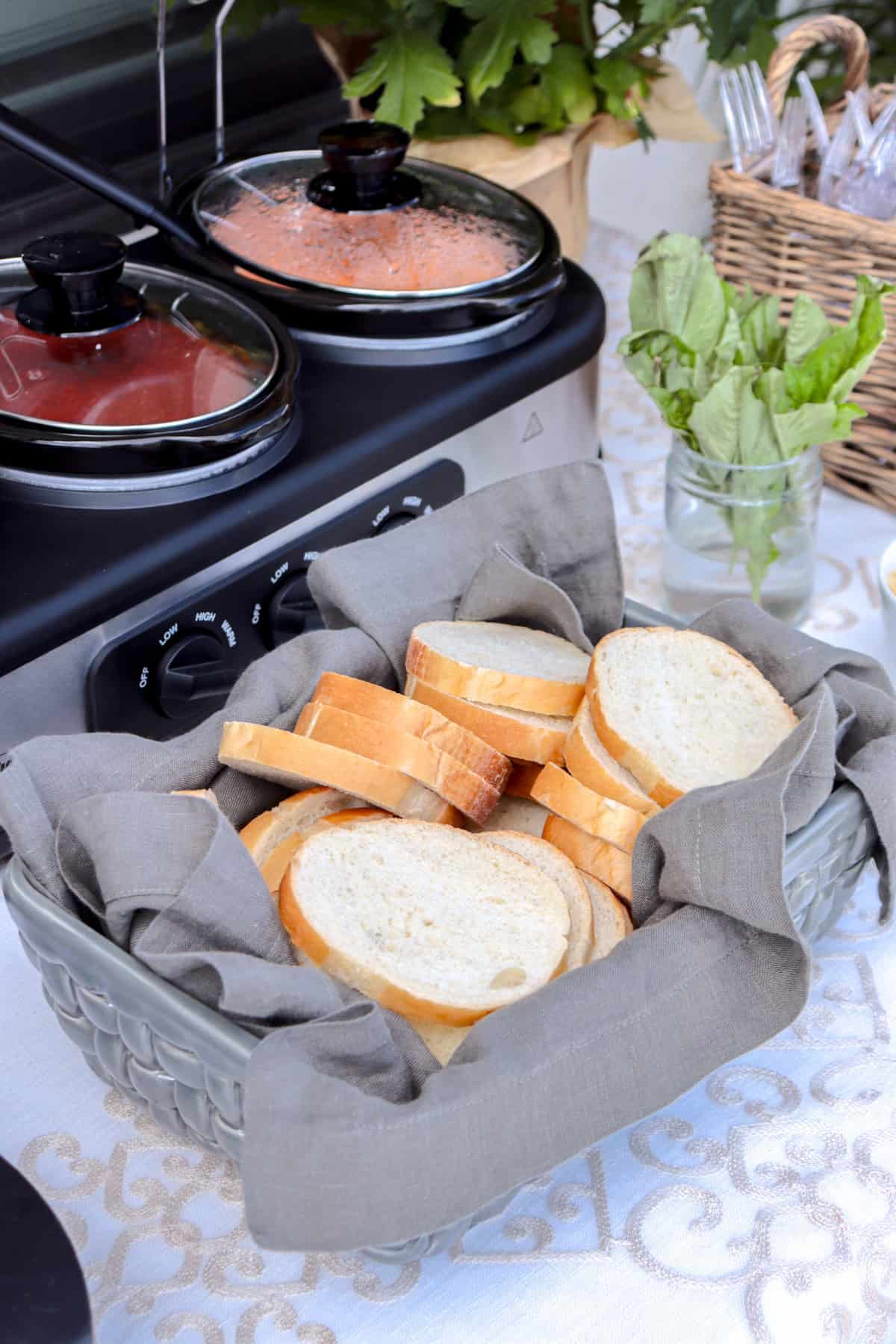 How To Prevent Your Pasta From Sticking
Once you drain your pasta, add a touch of butter or olive oil and toss well. This will prevent it from sticking as it cools inside the pans.
Adding a cup of pasta water to each chafing dish or bowl afterwards will also keep the pasta moist. Dry pasta is not very appealing. Make sure to serve with slotted spoons!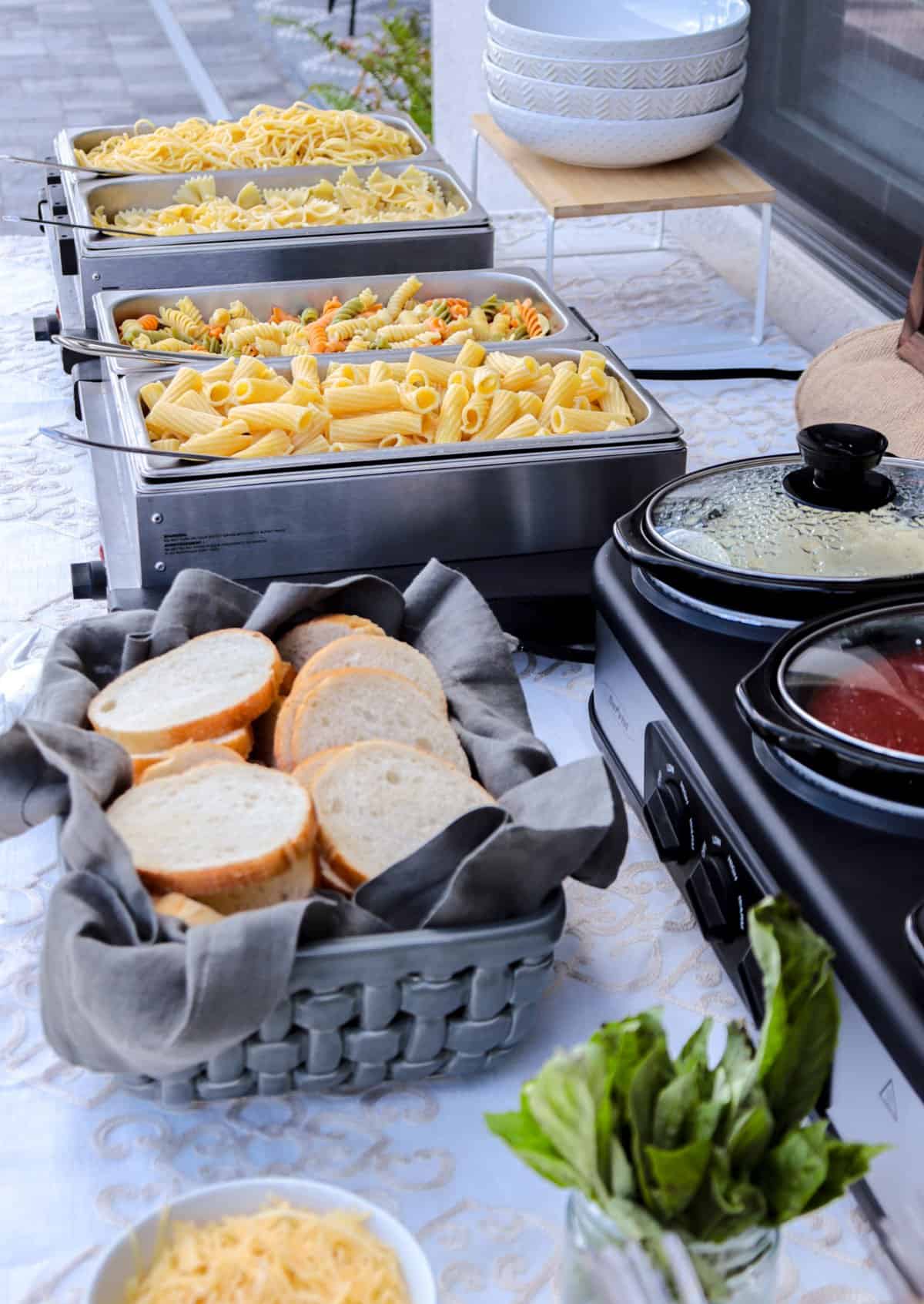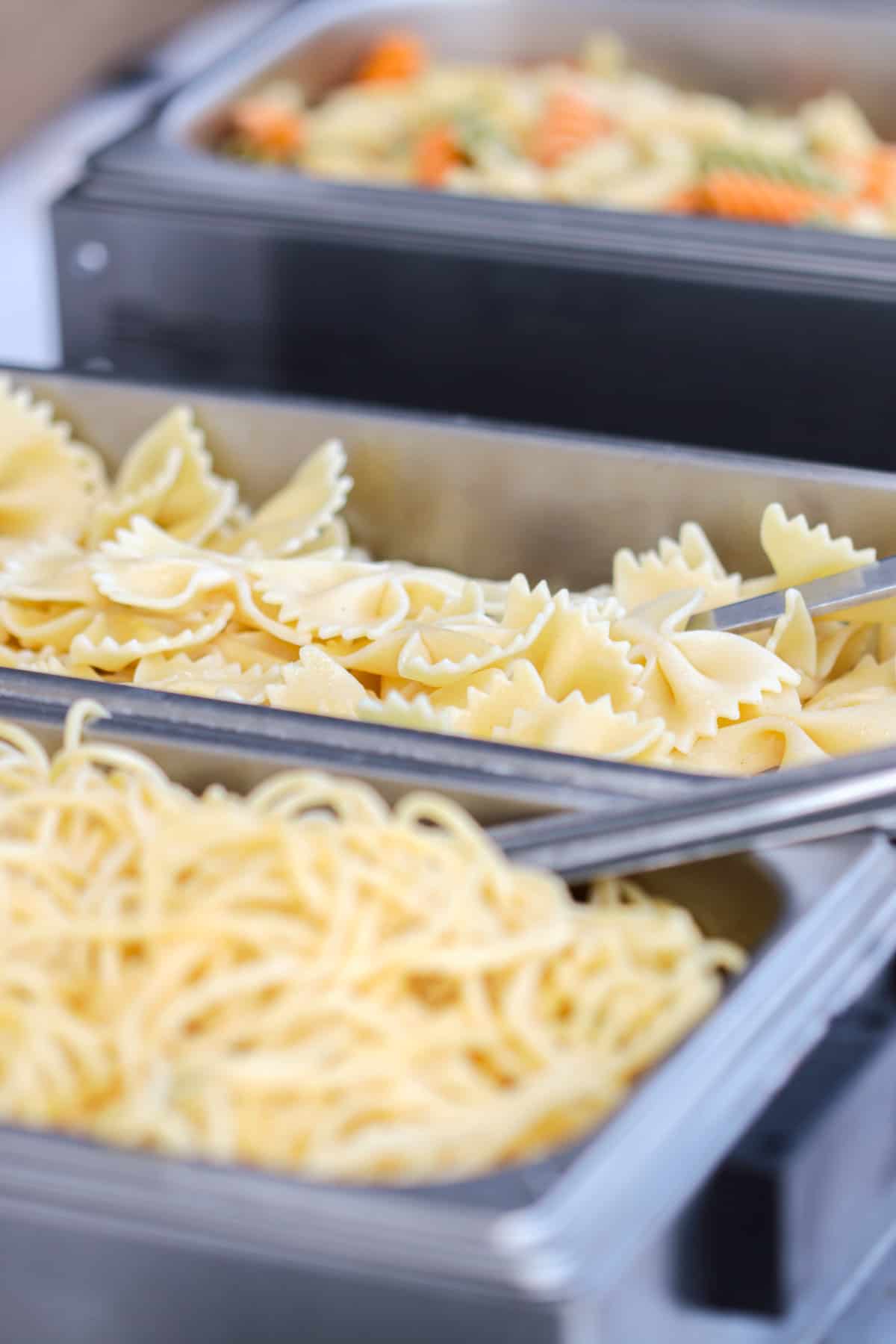 Tips For Setting Up Your Pasta Bar
Chafing dishes, warming plates and/or mini crock pots are a MUST have when entertaining! They help to keep the food warm while taking the stress of the host so you are not running around last minute reheating pasta or sauces.
All of these tools are meant to be placed on buffet tables and and are for serving larger crowds.
Add A Chalkboard Sign
I bought this chalkboard sign off of Amazon! It's awesome. It comes with chalk markers AND a stand to place it on. I find it to be the perfect size to placing on tables when entertaining.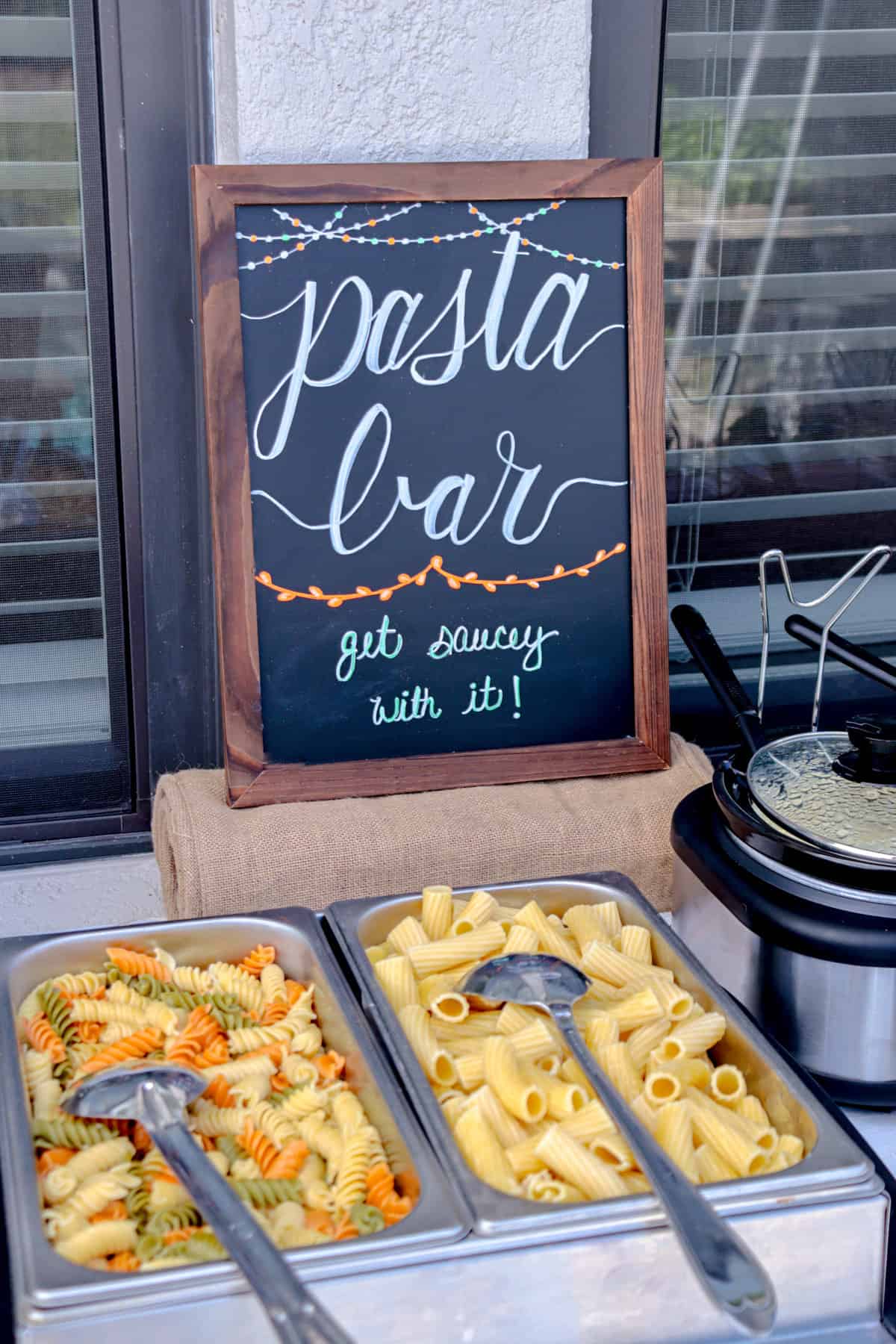 Place The Pasta Inside Warming Dishes
A true pasta bar party will need to be set up on a large table with something to keep the pasta and sauces warm.
I used electric warming dishes instead of chafing dishes. Electric warming dishes are great because they do not need Sterno cans or fire. Just plug them in and you're set! You can also easily control the temperature.
If you don't have these, the next best option is chafing dishes. You can use disposable ones which are pretty inexpensive.
Large bowls are a third option but your pasta will not stay cold so make sure your sauces are super hot if going this route!
I split each warming dish into two and added ONE POUND of pasta to each side. Make sure to add a large serving spoon for each or a spaghetti spoon for each.
Add The Pasta Sauces To Mini Crock Pots
For the sauces, I used mini crock pots! I got this triple crock pot from Amazon! It's amazing and much larger than I thought it would be. It really is perfect for serving sauces, dips, meatballs, or even side dishes!
If you do not have crock pots or don't want to purchase mini crocks, you can serve your sauces in bowls but make sure they are really hot when adding them to your bar. You don't want cold pasta or cold sauces.
Add Toppings In Small Bowls At The End
Any toppings should be placed at the end of the pasta bar after guests add the pasta and sauce to their plates. Utencils and napkins should also be placed at the end.
Make sure to add mini spoons to each bowl. I love these mini gold spoons.
Final Pasta Bar Tips
Make sure you serve your pasta and sauces in warmers! This will allow you to set everything up at least an hour in advance and forget about it. No reheating or running around last minute.
Add a sign! Signs go a long way and add a decorative touch to any bar.
Add some flowers to decorate your table!
Add mini chalkboard signs to indication which sauce is which.
Purchase store-bought marinara, alfredo, vodka and pesto sauce if you're short on time! Garlic toast too!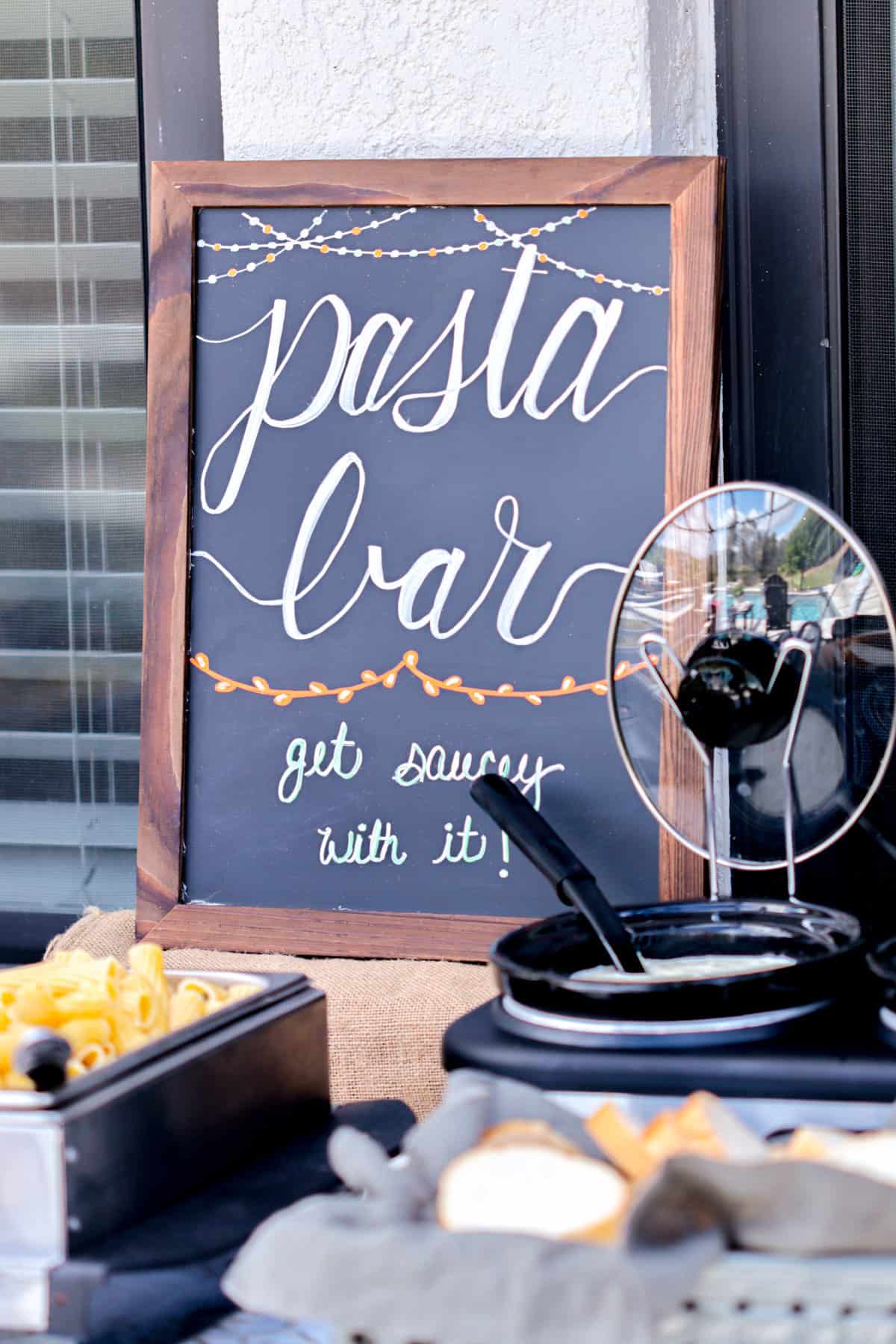 Drink pitchers to serve with your pasta bar!
Large Batch Margarita Pitchers Recipe (For 14 People!)
13 Fruity Cocktails For This Summer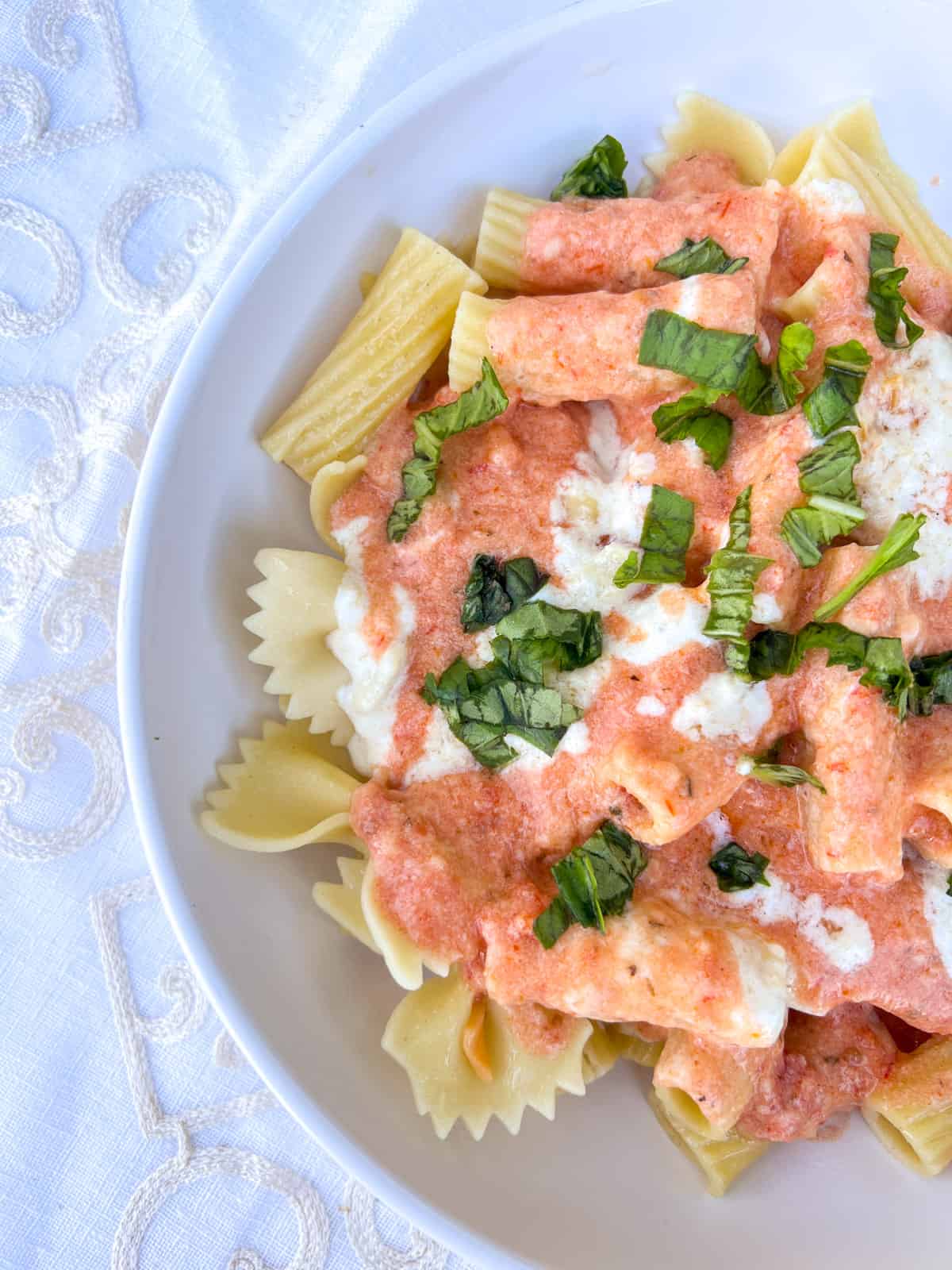 If you need help throwing a house party check out this post!
How To Host A House Party At Home
Recent Recipe Posts
📖 Recipe
Pasta Bar Ideas For A Party
For my pasta party, I chose four different pastas and three different sauces. The sauces are a marinara, alfredo and vodka sauce. I serve bread, parmesan and fresh basil on the side for topping. Simple, easy and delicious!
Print
Pin
Rate
Ingredients
Alfredo Sauce
3

tablespoon

butter

1

yellow onion, minced

2

garlic cloves, minced

2

tablespoon

flour

24

oz

heavy cream

Parmesan cheese

½

teaspoon

salt
Marinara Sauce
24

oz

storebought marinara sauce
Blush Sauce
12

oz

marinara sauce

12

oz

alfredo sauce (storebought or from above)

1

bunch

chopped basil
Instructions
Alfredo Sauce
Simmer onions with butter and garlic over low medium-low heat.

Add flour and saute until brown.

Add in your heavy cream and whisk together.

Simmer for 10 minutes or so until it thickens.

Mix in your Parmesan cheese and turn off heat. Add salt if you prefer a saltier alfredo sauce.

Serve over pasta of choice!
Blush Sauce
Combine alfredo sauce with marinara sauce of choice and chopped basil and mix well.
Recipe Notes
Make your sauces first, then add them to mini crock pots to keep them warm.
Pasta Tip!
Make the pasta last using as many stock pots as you have. I used two large stock pots and a SPIDER or BASKET to remove the pasta without straining it so you can keep the hot water. (This is how restaurants do it so quickly!)
I suggest offering a gluten free pasta too!
Pasta Bar Items Used:
Chalkboard Sign
Warming Dishes For Pasta
Triple Crock Pots For Sauces