We are hosting Thanksgiving again this year and I'm pulling out ALL my chafing dishes! As much as I love a sit down family-style dinner, nothing beats the convenience of buffet-style serving. Especially on Thanksgiving when there's an abundance of food and people!
Buffet-Style Thanksgiving Set-Up
Everyone's house is different and certain set-ups will work better for others. With that said, you do NOT need a huge home to set up a proper Thanksgiving buffet table! All you need is a couple sturdy tables and some chafing dishes!
*Check out this list of my favorite Chafing Dishes!!!
Here are some buffert table MUST HAVES before we dive in!
1. Festive or crisp white linens with runner. I try to stay away from white since you can spot spilled food much easier. If that's all you have, place a festive runner over top!
2. Serving spoons. Think about WHAT your serving and what spoon works best. Slotted? Ladel? Large fork?
3. Sterno cans. We don't want to run out of heat so make sure you have enough fuel cans like Sternos ready to go!
4. Resting plates. It's nice to have a spot to rest the serving spoons when guests are done with it.
5. Food Labels. These make things much more inviting and will help those with allergies or restrictions. Here are some festive Thanksgiving themed ones.
Here are the top things to consider when setting up your buffet table.
Choose A Set-Up Spot
Decide a spacious area for your buffet table, ideally this will be in a well lit room with an entrance and an exit. This can be your dining room, living room, or kitchen. Think about where your guests can easily access the food.
Set Up Tables
Use a LONG table or multiple short tables set up next together either lengthwise or in an L shape.
Place a white, ivory, festive fall or Thanksgiving themed tablecloth over your tables if you want to cover then up. Make sure to iron them if they are wrinkly! Watch this video to cover your tables the right way.
Serving Dishes & Utencils
Place your serving dishes and utensils at one end of the table. This will be the STARTING spot. I like to use a utencil basket so it does not take up lots of space. This can hold napkins too.
Place chafing dishes on table making sure to leave enough room to place the lids and spoon rest plates.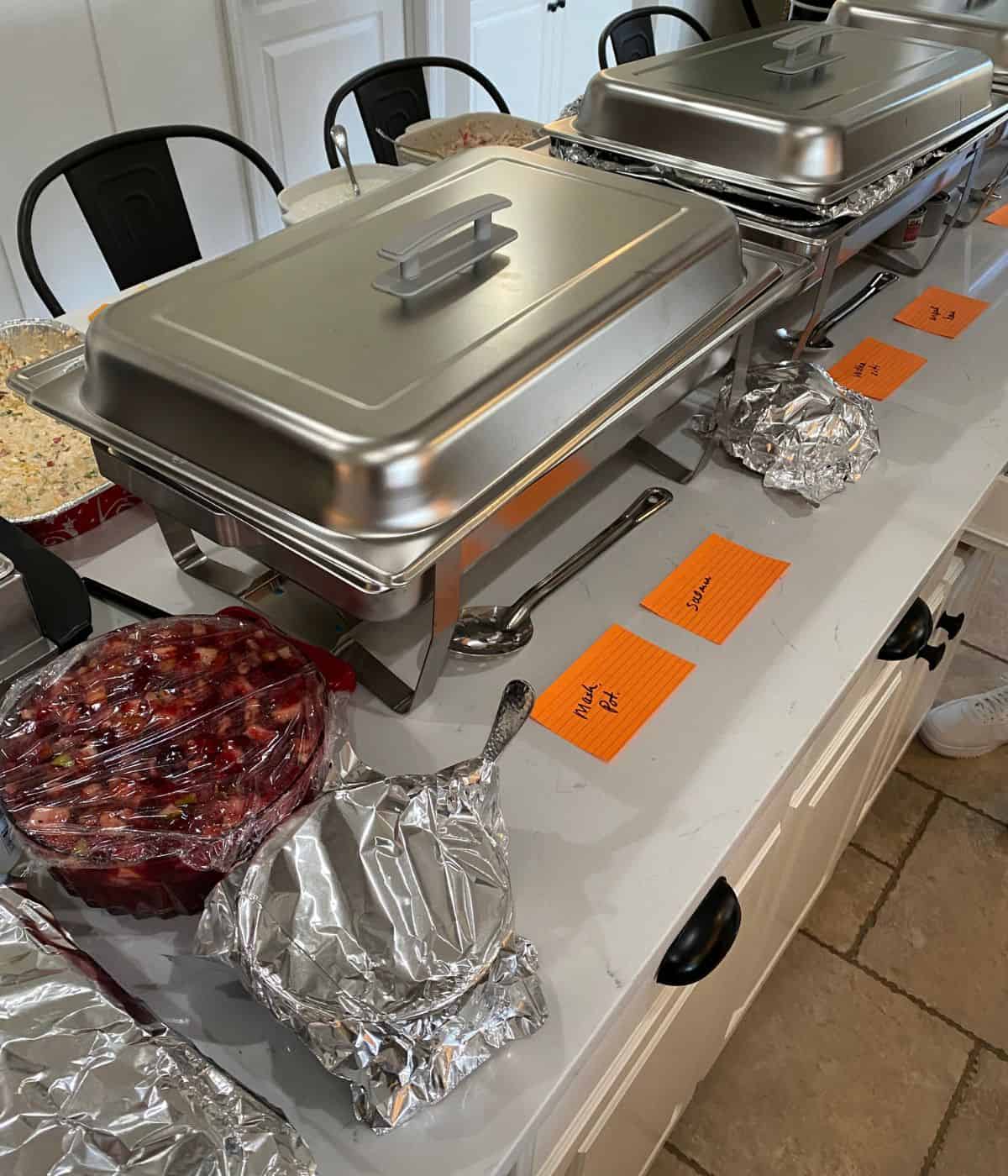 Centerpiece & Decor
Create a beautiful centerpiece as the focal point of your buffet table. You can use a decorative fall-themed centerpiece, a bouquet of seasonal flowers, or a rustic arrangement with pumpkins and gourds.
Add additional decorative elements such as candles, autumn leaves, or faux foliage or florals.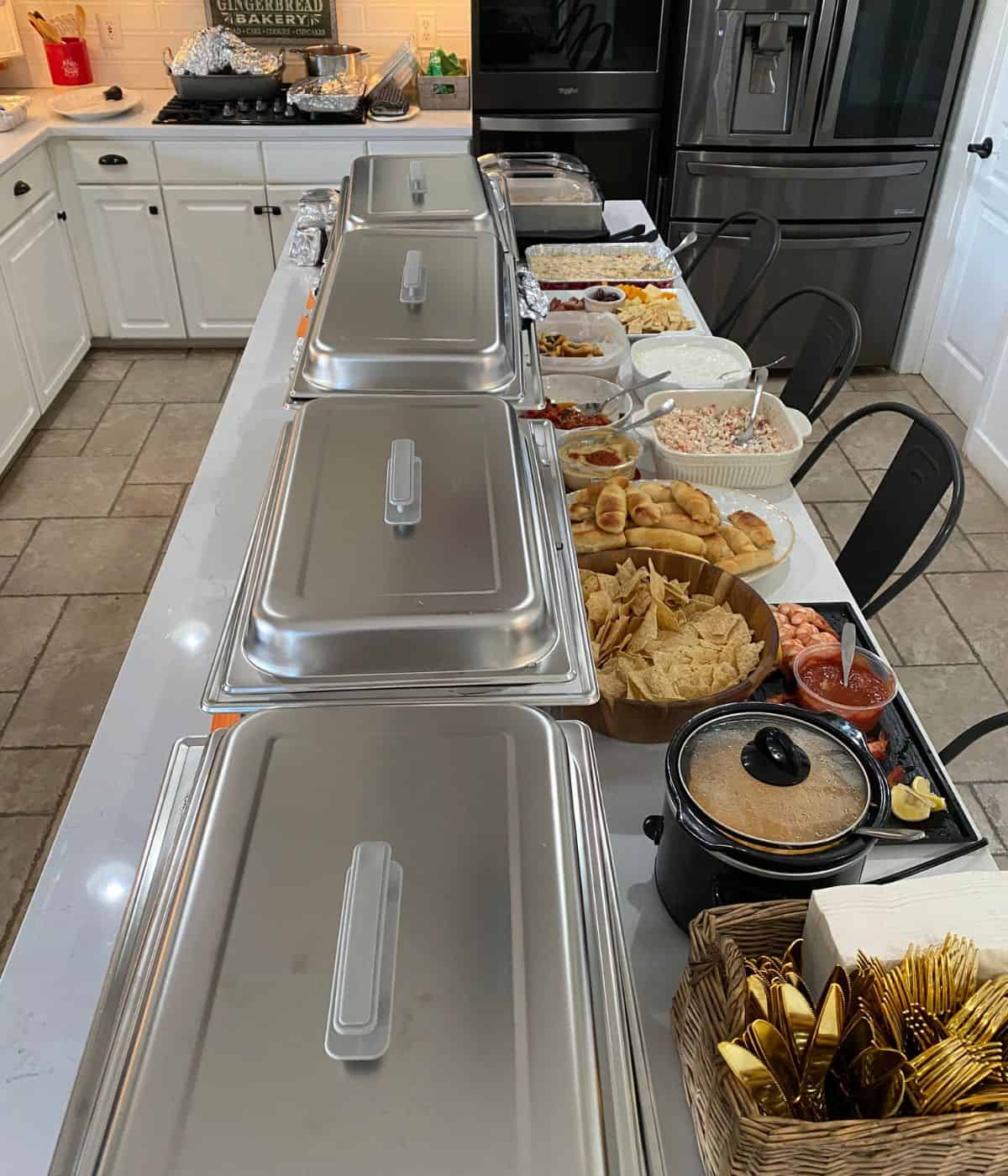 Food Placement
Place the main dishes at the beginning of the buffet line, typically the turkey, ham, chicken, fish or steak.
Place side dishes next. I like to split side dishes into TWO smaller warming dishes rather than a large chafing dish.
Put condiments and sauces, like cranberry sauce and gravy, in easy-to-pour containers towards the end.
Set up bread and rolls at the end of the table like I did for my Pasta Bar!
Desserts can have their separate dessert table if space allows, or you can place them on the buffet table after the main meal.
You can see in the photo above that we split the kitchen island in half and placed all the Thanksgiving appetizers on one side and the chafing dishes on the other.
Keep Things Organized
If serving cold sides, consider using tiered serving platters or risers to create different levels to make it visually appealing while saving space.
Arrange utensils and napkins at the beginning or end of the table for easy access.
*You can see these chafing dishes have a lip to place the lids. This is such a space saver and keeps things looking sharp.
Final Tips
Make sure to set up your tables AT LEAST a week in advance. This will allow you time to purchase any last minute items, tables, linens, serving spoons, etc.
Also, always ALWAYS accept help when guests offer it! If they offer to bring something, have a list of foods you don't care to make and would gladly accept if someone else made or bought it! This for me, is typically desserts, appetizers and wine!
If a family is known for their corn casserole or stuffing, I will kindly ask them to bring it!
If you do cannot afford chafing dishes, check out these other ways to keep food warm for a crowd!
Popular Thanksgiving Recipes To Make!