Thanksgiving is a time to indulge, eat and be thankful for everything we have. And typically with that comes lots of food, treats and turkey comas! Try these light appetizers to serve before Thanksgiving and aren't too heavy so that you will still have room for dinner!
If you're looking for some delicious cocktails to serve with appetizers, check out my Spiked Hot Apple Cider and my Pumpkin Pie Martini!
Jump to:
This savory pumpkin hummus is made with pumpkin puree, chickpeas and a few other delicious ingredients that result in a tasty savory fall dip people will love!
Butternut Squash and Bacon Skewers
These butterut squash skewers are roasted and then topped with maple syrup and bacon bits. They're an ideal appetizer that is festive and delicious!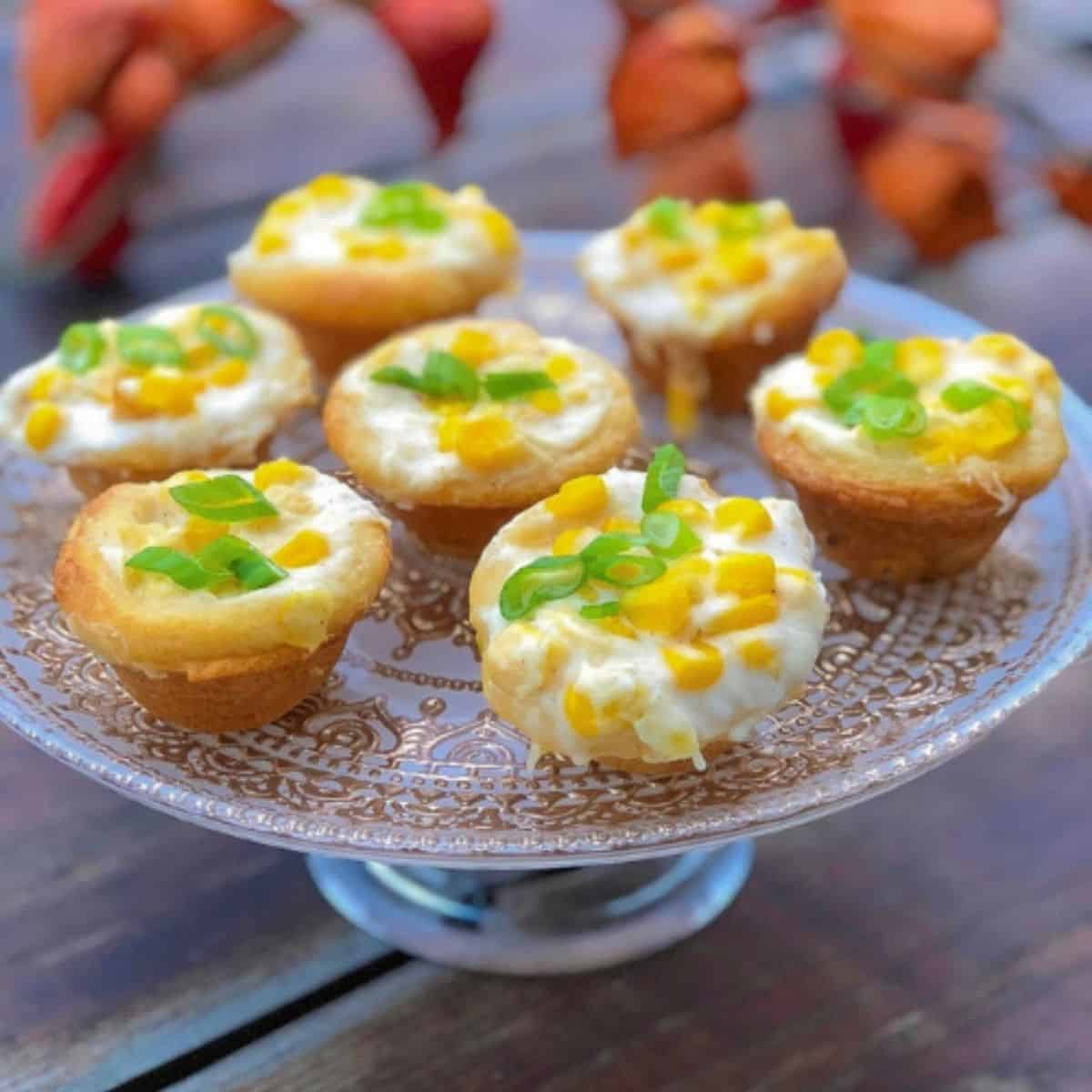 Creamed Corn Filled Biscuit Cups
Creamed corn is a classic Thanksgiving side dish that needs a fork to eat...until now! These bite-sized cups are an easy and fun way to enjoy creamed corn without any utencils!
Sweet potato rounds are roasted and topped with a slice of brie cheese and maple coated walnuts for a sweet, savory, crunchy appetizer perfect for kicking off Thanksgiving!
These Pear Gorgonzola Appetizer Bites are not your typical way to use this classic flavor pairing. These incredibly tasty little morsels are a different way to enjoy the delicious and classic combination.
Pistachio, Feta & Pomegranate Crostinis
If you're looking to add some festive color to your table, then look no further than these pistachio, feta, and pomegranate crostinis!
Oven Roasted Sweet Potato Wedges
Oven Roasted Sweet Potato Wedges are a healthy and delicious appetizer or side dish for your Thanksgiving dinner. These wedges are super easy to make and come together in 30 minutes using simple ingredients.
Roasted Pumpkin & Beetroot Salad
This hearty recipe features roasted pumpkin and beetroot that has been tossed in a delicious maple vinaigrette dressing. It is topped with feta, pine nuts, pepitas and arugula. The perfect fall/winter salad or holiday side dish!
Mini cheese balls are the perfect individual appetizer idea. These bite-sized appetizers are perfect to serve as a quick bite before your big Thanksgiving dinner!
This Thanksgiving, try integrating pears into your feast as an appetizer. The savory tart and puff pastry pairs perfectly for pre-dinner entertaining!
If you are looking for an easy, make-ahead appetizer, these apricot and goat cheese bites are perfect. This is a simple, elegant, and delicious canape that is suitable for any party and is ideal for the festive season.
This healthy spinach dip is an easy go-to for any celebration. It's one of the easiest healthy dips to make and perfect for a quick appetizer!
Whipped Feta Apple Hazelnut Crostini Without Bread
These crostinis are made without bread to not to fill you up before your big turkey dinner! They are a unique appetizer that everyone is sure to love!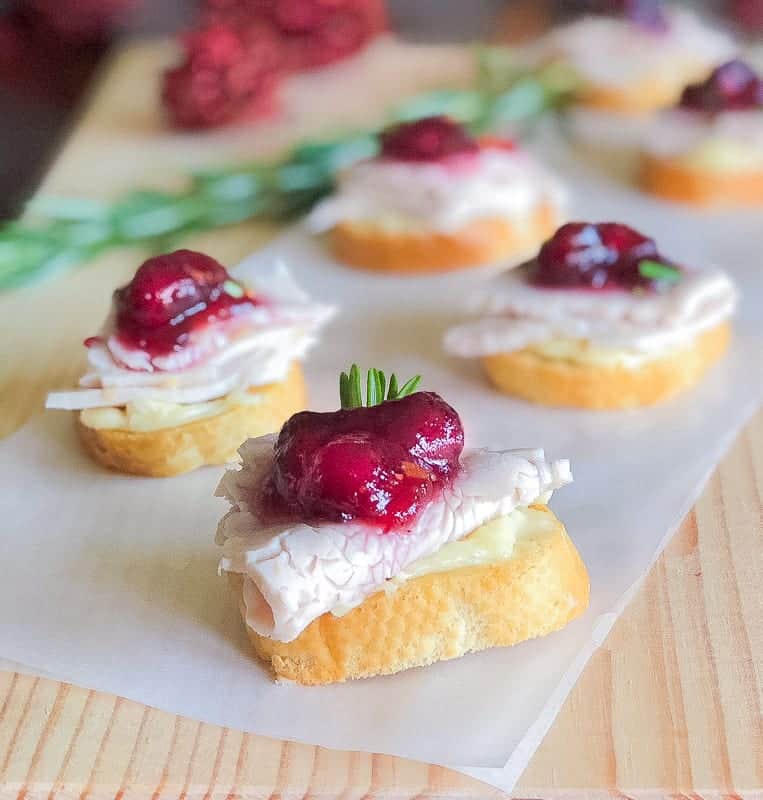 Turkey Breast Crostini with Brie and Cranberry Sauce
This turkey crostini is a delicious Thanksgiving appetizer your guests will love digging into! Who says you can't enjoy turkey before the actual turkey arrives??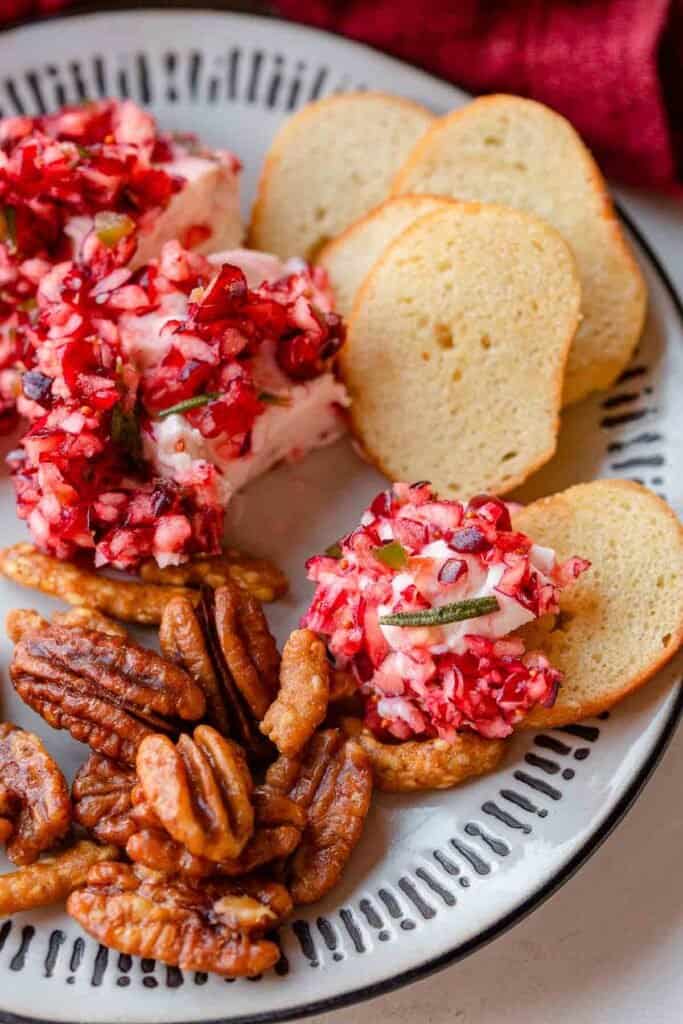 The first time I tried this holiday-inspired Cranberry Jalapeno Dip, I was amazed at how delicious it tasted. Who would have thought fresh cranberries with jalapenos would pair so perfectly? The flavors are a delicious combination of savory, tart, sweet, and just a tad bit heat (I promise it's NOT too spicy!). I love to serve this cold dip with crackers, crusty bread, crostini or pita triangles.
Unsure of how many appetizers to serve? Check out my appetizer serving recommendations here!
Other Light Appetizers/Snacks You Might Like
Seasoned Oven Baked Potato Wedges
Air Fryer Avocado French Fries
Cheesy Crispy Potato Croquettes
Pumpkin & Maple Sausage Flatbread
Here Are Some Thanksgiving Desserts You'll Love
3 Ingredient Pumpkin Puree Dip (No Cool Whip!)