The first time I tried this holiday-inspired Cranberry Jalapeno Dip with Cream Cheese, I was amazed at how delicious it tasted. Who would have thought fresh cranberries with jalapenos would pair so perfectly?
The flavors are a delicious combination of savory, tart, sweet, and just a tad bit heat (I promise it's NOT too spicy!). I love to serve this cold dip with crackers, crusty bread, crostini or pita triangles.
If you love cranberries, try these deliciously festive Mini Cranberry Cream Cheese Bites that I love serving around Christmas time. Oh and these Candied Spiced Pecans too!
Jump to:
Who needs a premade dip from the store, when you can make this incredible red and green Christmas festive dip at home?
I especially love how this Cranberry Jalapeno Dip is prepared using fresh, easy to find ingredients, such as whole cranberries, jalapenos, cream cheese, and goat cheese.
It's the kind of dip you can't get enough of, especially if you're a fan of the sweet and savory combination.
The fresh cranberries pair perfectly with the cheese and the slight kick that the jalapenos offer. In addition to these ingredients, you'll also combine green onions and rosemary to the mix to add even more flavor to the dip.
Make sure to check out my copycat Bonefish Grill's white cosmo to serve with this appetizer!
How Is This Cranberry Jalapeno Dip Different?
This cranberry dip is a bit different than the others out there because of THREE changes I made:
I added goat cheese to the mixture because it adds a delicious tang and creaminess that I feel cream cheese doesn't normally bring.
I swapped the cilantro for rosemary. It makes it much more festive for the holidays!
I used BROWN sugar instead of white granulated sugar. If it were up to me, I would swap brown for white year-round but it's not. 😂 The flavor is just so much richer.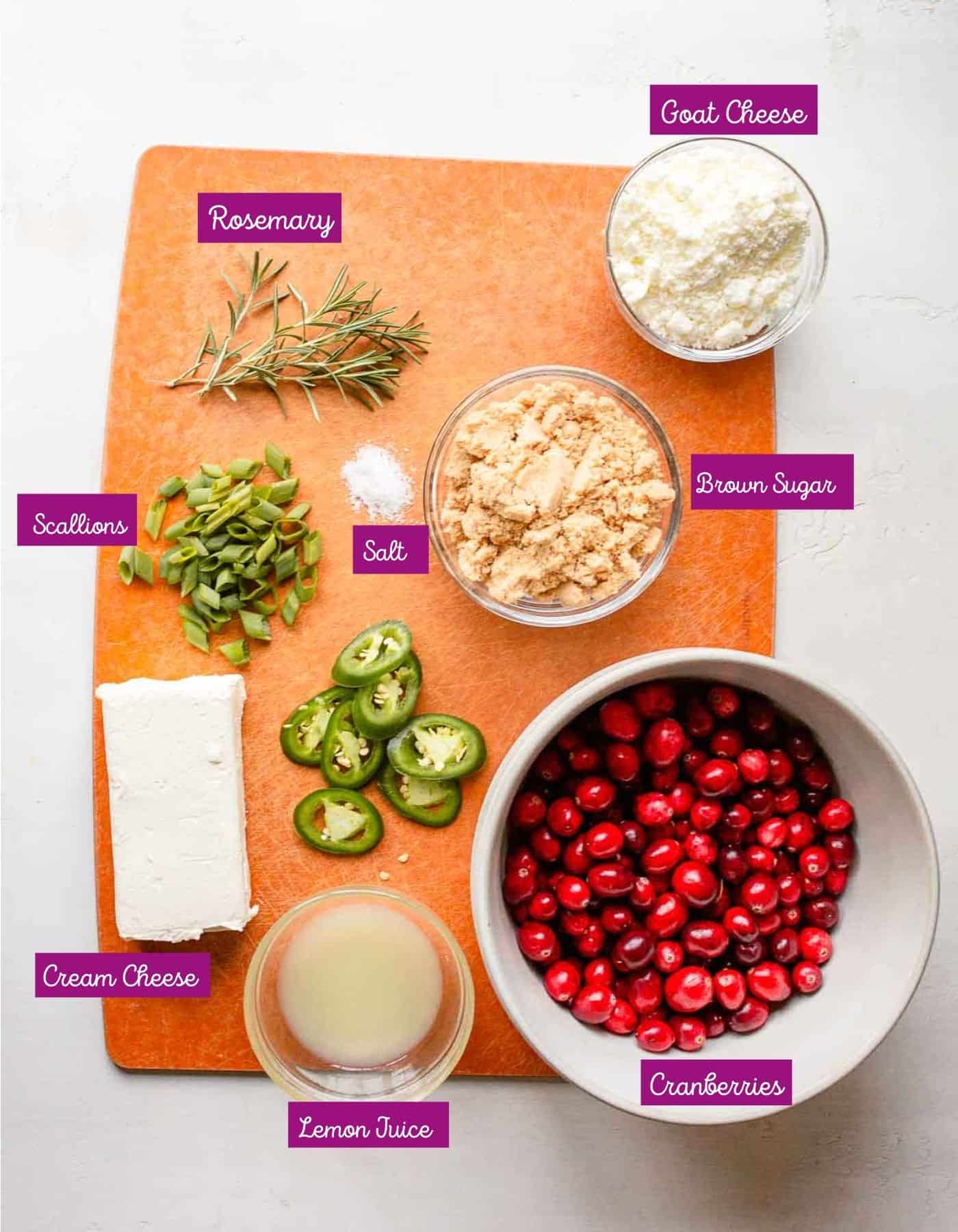 🛒Dip Ingredients
Whole Fresh Cranberries - You can find fresh cranberries in the grocery aisle of the store. Cranberries are tart on their own, but with the other ingredients, they add a great flavor to this dip.
Cream Cheese - Use any brand of cream cheese. If you want this dip to have fewer calories, choose a low-fat option. Whipped cream cheese can also be used for a softer, easier spread.
Goat Cheese - The texture and taste of the goat cheese adds a special touch to this savory and sweet dip.
Brown Sugar - Bring more sweetness to the dip with a bit of brown sugar in the mix. I prefer it over white sugar.
Lemon Juice - If you don't have lemon juice, feel free to use lime juice as a replacement for that citrus-y taste.
Green Onions - Chop your green onions into small pieces for added flavor and use them as a garnish, too!
Rosemary Sprigs - If you can't find fresh rosemary sprigs, you can use dried rosemary from the spice aisle.
Jalapenos - Slice your jalapenos and remove the seeds or keep them, depending on how hot you want your dip.
Instructions
Put all ingredients, with the exception of both cheeses, in a food processor and pulse for a minimum of five times and up to 10 times. This will give your cranberries and the jalapenos the perfect texture for this dip.
Scrape the sides, pulse a few more times, and make sure the ingredients have the right consistency that isn't too runny.
Wait 15 minutes before straining your mixture and reserving the liquid from it.
Add up to five tablespoons of the liquid into your mixture with the goat cheese and cream cheese.
Spread the cheese onto the bottom of a baking dish, place the rest of the cranberry mixture over it, and then garnish with more jalapenos, cranberries, green onions, and rosemary sprigs.
Serve with anything you'd like!
📃 NOTE: Recipe card with exact quantities and detailed instructions are below! Print it out for later!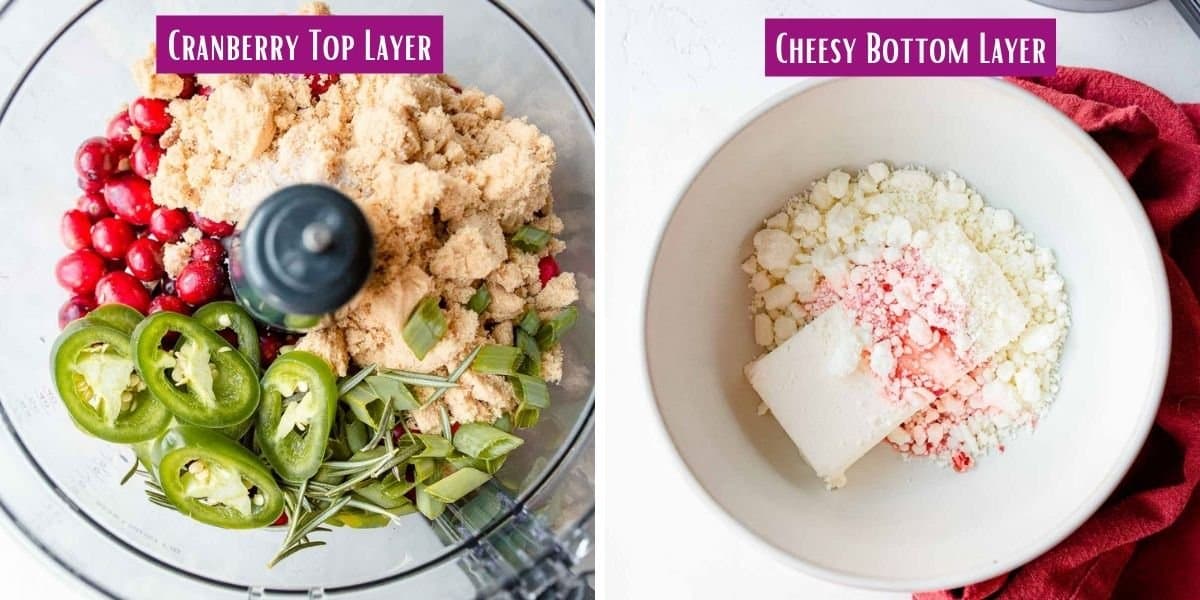 Substitutions
If you don't like goat cheese or don't want to use it, you can replace it with more cream cheese. You can also use rictotta if you have any on hand.
Use a fresh lime to replace fresh lemon juice. If you don't have fresh lemons or limes, you can use bottled lime or lemon juice.
Variations
You can add chopped pecans, walnuts, or cashews to the dip to give it a bit of a crunch with each bite.
Feel free to sprinkle some shredded sharp cheddar cheese into the mixture for more flavor.
Some people like to add corn into the mix for an added sweet touch that pairs well with the cranberries and jalapenos.
Love COLD appetizers you can make in advance? Check out all of my cold appetizers!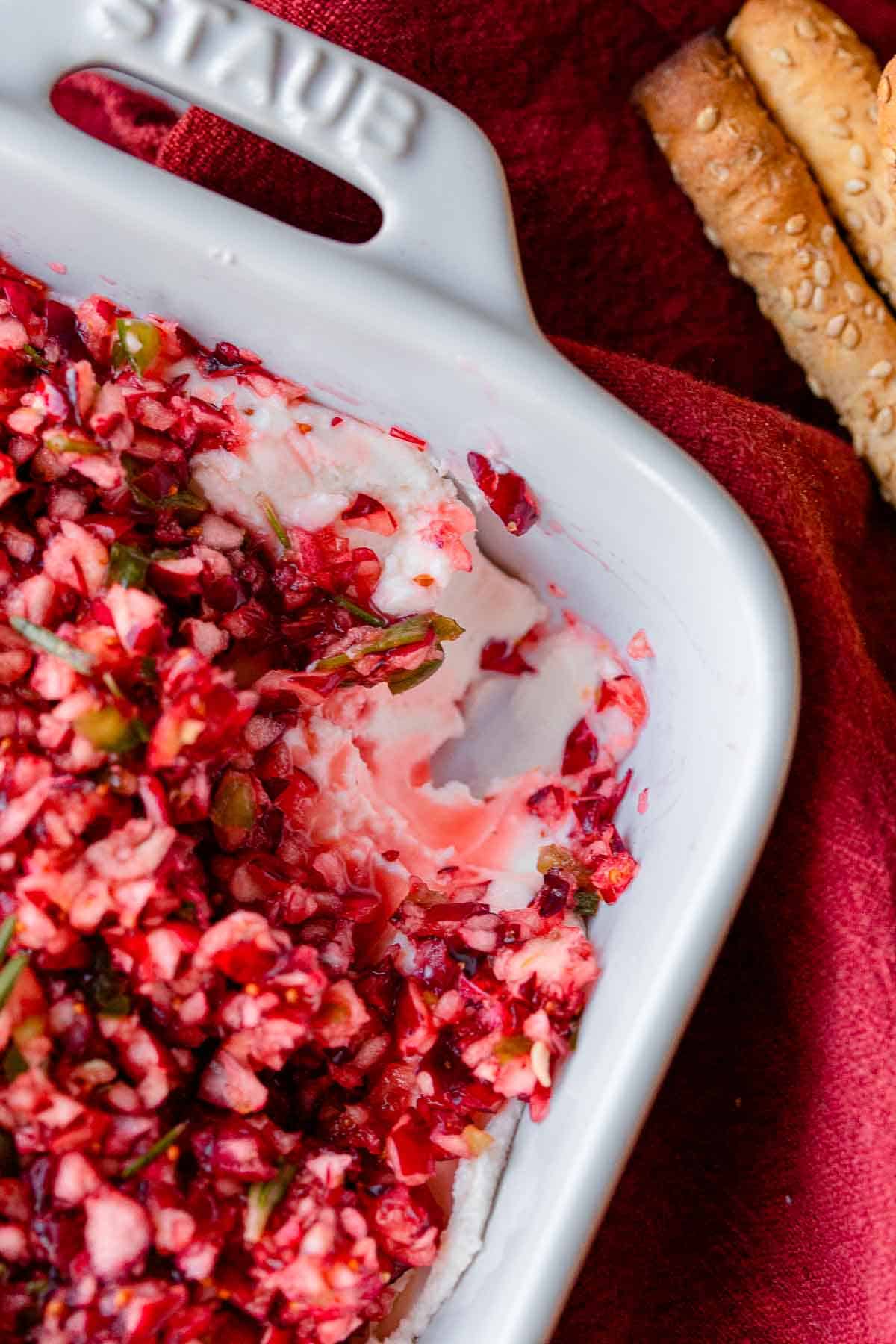 What should you serve with cranberry dip?
Crostini- Many bakeries sell pre-bagged crostini or you can even find some in the cracker aisle. You can also make your own by slicing a skinny baguette and baking them in the oven until crispy.
Pita triangles- Look in the bread aisle near the rolls for pita bread. Cut like a pizza into mini triangles and serve them serve soft or baked for a crispier bite.
Bread Cubes- If you cannot find crostini and want to serve with bread, slice a loaf of freshly baked bread into cubes or simply rip them into small bite-sized pieces. Rustic is in right?
Crackers- The most classic thing to serve with any dip and often my go-to. I prefer mine buttery and round. I recommend serving with a few different cracker options including GF.
Expert Tips
✔ Make your cranberry "relish" 24 hours in advance or the night before to allow the flavors to develop.
✔ Use FRESH RAW cranberries! The juice that's released helps make the dip more "dippable" and juicy.
✔ Save the extra cranberry juice to make martinis or any cocktail!
Equipment Needed
Food Processor
Glass Baking Dish
Mixing Bowl
Lime or Lemon Squeezer (You can also use your hands if you don't have one!)
Storing Tips
Place your dip in an airtight container and keep it refrigerated so that it stays fresh for up to 3 days.
You can freeze the dip in an airtight container if you need to save it for more than a week.
It's safe to use a plastic or glass food storage container for this dip.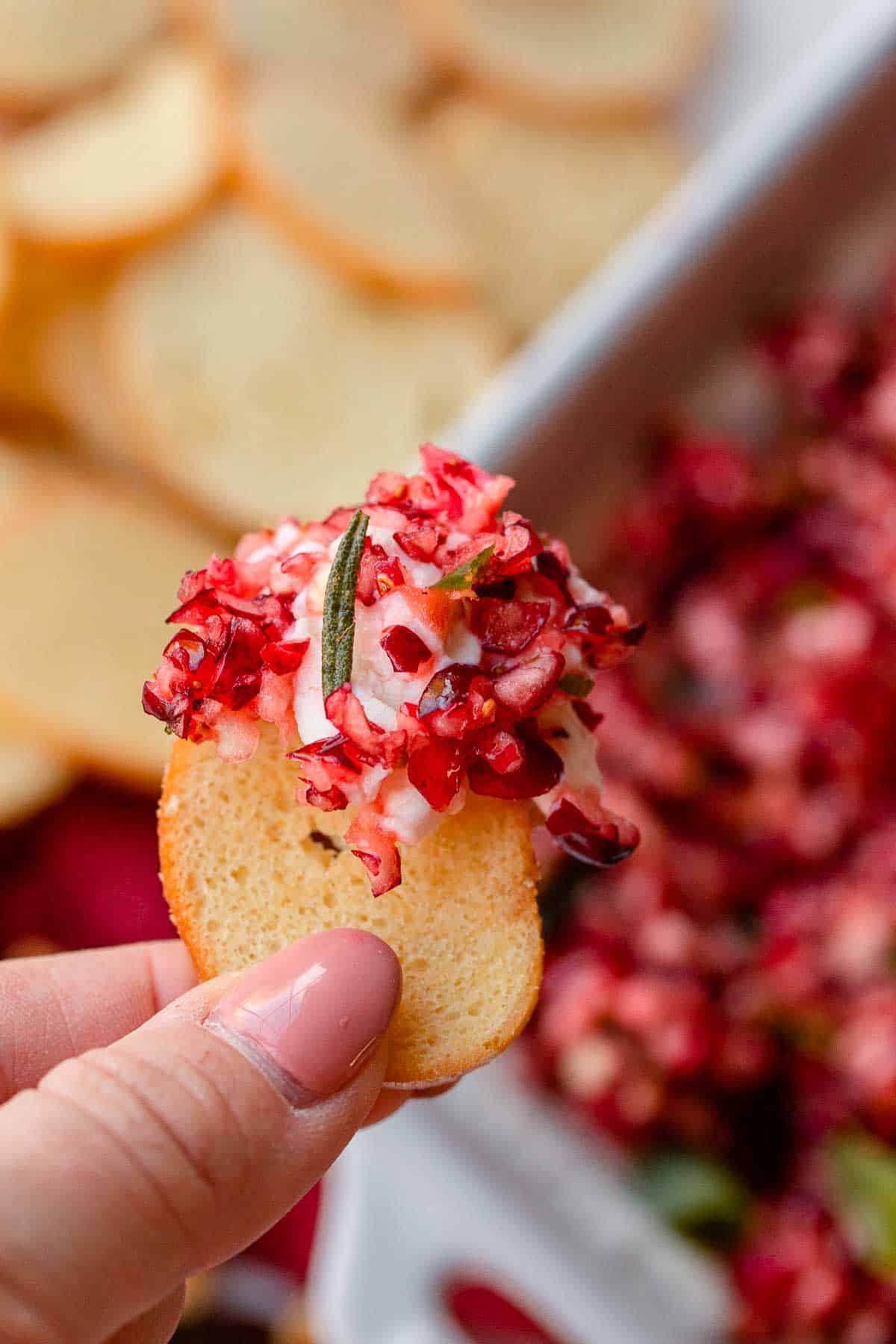 FAQ's
Can I use dried cranberries?
The juice from the fresh cranberries is what really pulls this dip together to give it brightness and the right consistency however if you prefer dried cranberries over fresh cranberries, they would work. I would reduce the amount of brown sugar if you plan to use dried cranberries since they are usually sweetened with sugar.
Why is my cranberry relish "runny"?
You either pureed your relish too much and turned it into a liquid OR you did not strain enough juice out to begin with.
I don't have a food processor, can I chop everything by hand?
Of course! But it will take some time since you want everything to be finely minced. You can also use a blender and pulse everything lightly.
Do I leave the seeds in the cranberries?
Yes!
Can I use canned cranberries?
I have not tried this but I wouldn't recommend it since they will have a lot more water and possibly sugar.
Should I remove the seeds from the jalapenos?
This all depends on how hot you want your dip! For a milder dip, remove the seeds. If you like a bit more spice, leave the seeds and membranes.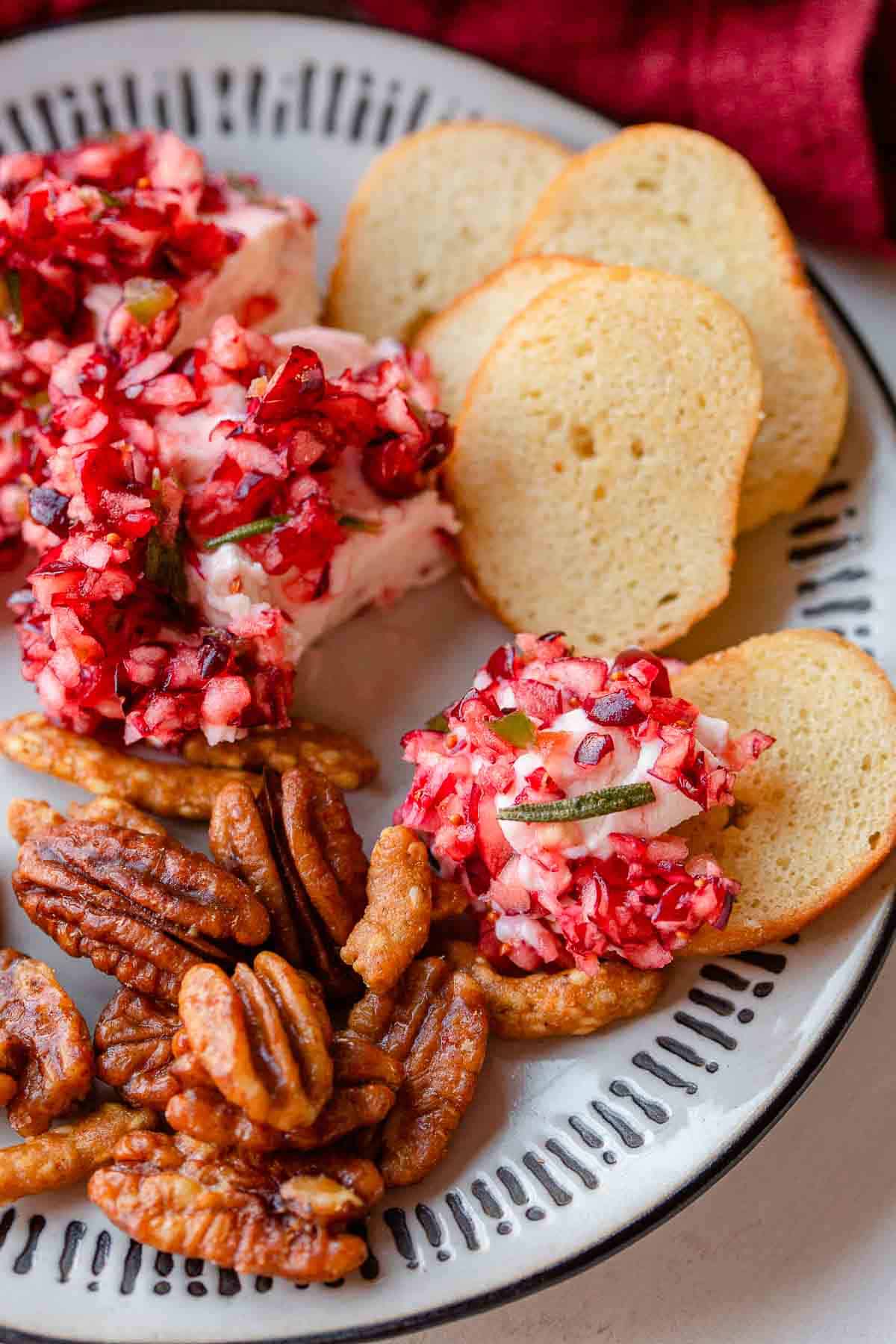 Other Cold Dips You'll Love!
📲 FOLLOW Aleka on social!! 👋 Follow me on facebook, instagram, pinterest, youtube or tiktok for more recipes and entertaining tips!
📖 Recipe
Cranberry Jalapeno DIp
This cranberry jalapeno dip is creamy, tangy, sweet and EVERYTHING you could want from a holiday appetizer! Serve with crackers or bread for a tasty, slightly spicy spread people will go crazy over!
Print
Pin
Rate
Ingredients
12

oz.

whole fresh cranberries

(Raw)

8

oz.

cream cheese

8

oz.

goat cheese

(*See note)

1

cup

brown sugar

1

freshly squeezed lemon juice

(or lime)

3-4

green onions

3-4

rosemary sprigs

1-2

jalapenos

(more if you like heat)

¾

teaspoon

salt
Instructions
Add all ingredients except for the cream cheese and goat cheese to a large food processor. Pulse 5-10 times. Scrape down the sides and pulse a few times more until the mixture is fine but still slightly coarse. We don't want it to turn into a liquid.

(See images above for proper consistency.)

Wait 15 minutes and then strain the cranberry mixture using a fine mesh strainer reserving the liquid!

Add 3-4 tablespoons of the reserved cranberry liquid along with the goat and cream cheese and mix until the consistency is looser.

*The idea is to add flavor while loosening the cheese spread so it's easy to scoop with a cracker without breaking. (We all hate that! 😁)

Spread cheese layer evenly onto the bottom of a shallow bowl or clear 9 x 9" baking dish.

Spread cranberry jalapeno relish on top.

Garnish with fresh cranberries, sliced jalapenos, scallions and/or chopped rosemary. Serve with crackers and enjoy!
Recipe Notes
*You can use 16 oz. cream cheese if you do not like goat cheese.
Tips
✔ I recommend serving this dip in a large, shallow bowl or 9 x 9" casserole dish. If you have a clear glass dish, even better so guests can see the beautiful layers.
✔Store dip covered in the fridge for up to 3 days. 
✔ Make your cranberry "relish" 24 hours in advance or the night before to allow the flavors to develop.
✔ Use FRESH RAW cranberries! The juice that's released helps make the dip more "dippable" and juicy.
✔ Save the extra cranberry juice to make martinis or any cocktail!
Nutrition
Calories:
301
kcal
|
Carbohydrates:
34
g
|
Protein:
7
g
|
Fat:
16
g
|
Saturated Fat:
10
g
|
Polyunsaturated Fat:
1
g
|
Monounsaturated Fat:
4
g
|
Cholesterol:
42
mg
|
Sodium:
421
mg
|
Potassium:
136
mg
|
Fiber:
2
g
|
Sugar:
30
g
|
Vitamin A:
764
IU
|
Vitamin C:
10
mg
|
Calcium:
98
mg
|
Iron:
1
mg