If you're throwing a party, you need at least one cold dip on your table. Cold dips can be made 1-3 days in advance and pulled right out of the fridge last minute. What could be better than that?
Here are other cold party appetizers to check out!
The cold dip recipes I included below are all unique in some way and best of all, super easy to throw together and can be made days in advance for any birthday party or holiday celebration.
---
Set out this beautifully SEVEN layered cold taco dip and your guests will be in awe. It is easy to layer, quick, and will feed a large group of at least 10 people! Pair it with my chicken taquitos, veggie empanadas and pitcher of margaritas for the perfect tex-mex meal.
⌛Total Time: 15 minutes
🛒Ingredients:
refried beans (1st layer on bottom)
guacamole
sour cream
cream cheese
taco seasoning packet
cheddar cheese
scallions
Roma tomatoes
black olives
A good cold spinach dip is a must at any party. Serve it in a bread bowl and let your guests devour it! This one is a staple at all parties and can be served with many cold dippers like veggies or crackers.
⌛Total Time: 7 minutes
🛒Ingredients:
Cream Cheese
Frozen Chopped Spinach
Sour Cream
Tomatoes
Scallions
Onion Powder
Worcestershire Sauce
Garlic Powder
Saltv& Pepper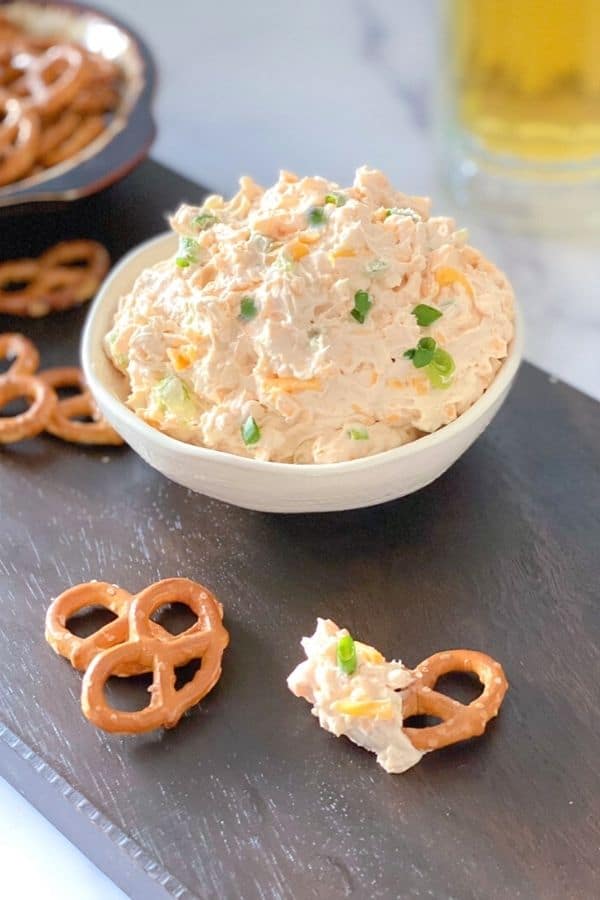 This beer cheese hard pretzel dip is the perfect dip to serve before the big game or while tailgating with ice cold beer. It's easy to throw together and pairs perfectly with the saltiness of pretzels.
⌛Total Time: 5 minutes
🛒Ingredients:
cheddar cheese
cream cheese
light beer
Worcestershire sauce
Dijon mustard
garlic powder
green onions
A deliciously flavorful twist on your classic hummus, this bright orange dip is the perfect creamy dip to pair with bread, pita or crackers! Make it GF by serving with veggies!
⌛Total Time: 40 minutes
🛒Ingredients:
Garbanzo beans
Red peppers
Garlic cloves
Fresh lemon juice
Tahini paste
White pepper
If you love sour cream and onion dip, THIS one will become a new favorite. Serve with your classic rigged potato chips, your guests will be in dip heaven.
⌛Total Time: 10 minutes
🛒Ingredients:
olive oil
bacon
onion
sour cream
chives
cheddar cheese
salt and pepper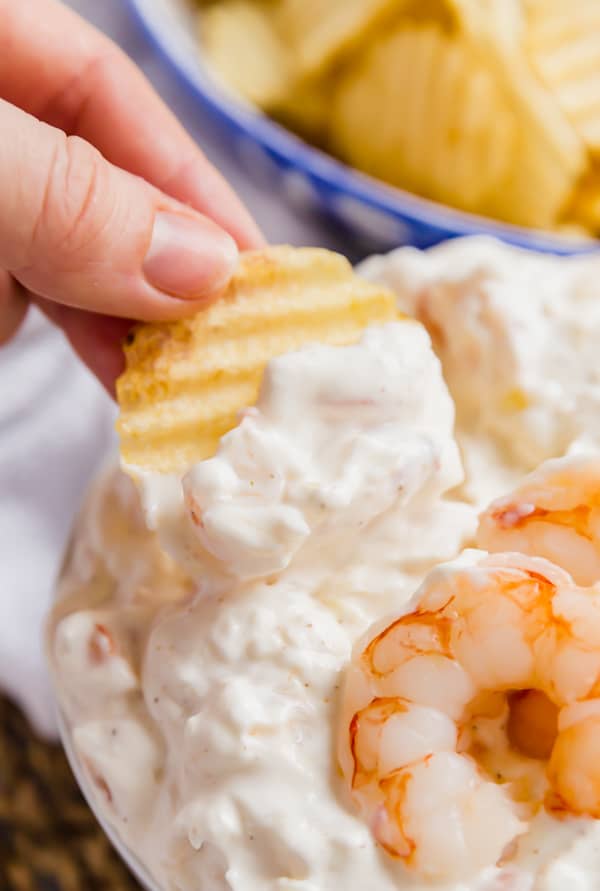 This cold dip is quick and delicious. Allowing it to chill overight or a few hours before the party will help the flavors to develop creating a sinfully deliciously creamy shrimp dip!
⌛Total Time: 10 minutes (+ chill time)
🛒Ingredients:
cream cheese
sour cream
onion
celery salt
tabasco sauce
¼ teaspoon garlic powder
mayonnaise
cooked shrimp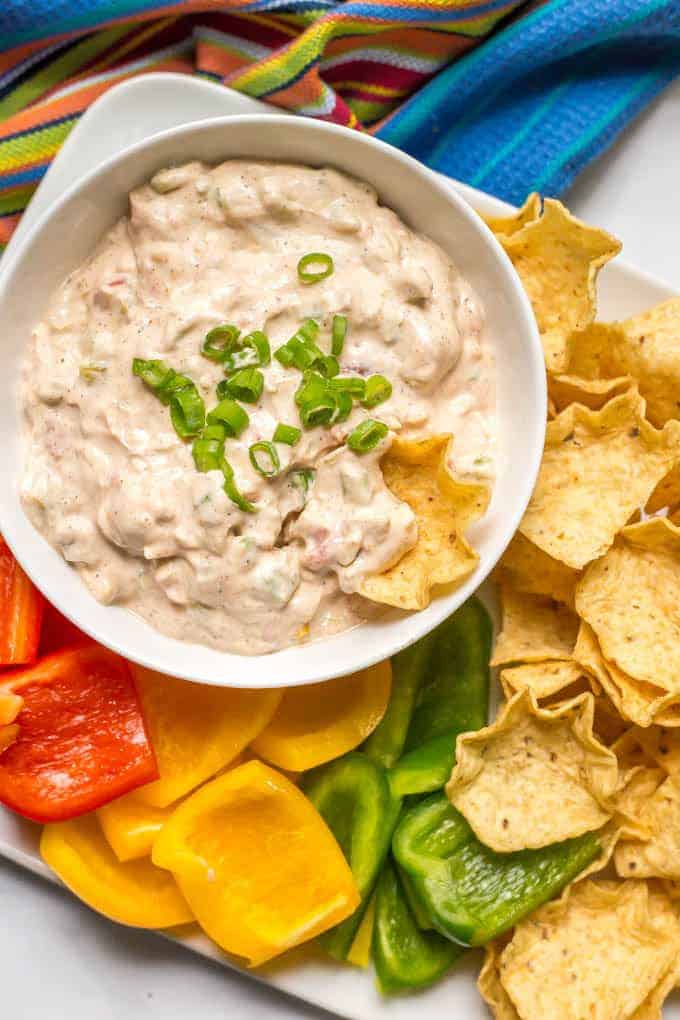 Greek yogurt is mixed with mayo, veggies and cheeses for a creamy cheesy dip. The heat from green chilies and chili powder is subtle but noticeable making it a uniquely tasty dip.
⌛Total Time: 10 minutes
🛒Ingredients:
Greek yogurt
mayonnaise
green bell pepper
diced tomatoes
diced green chilies
chili powder
ground cumin
cheddar cheese
green onion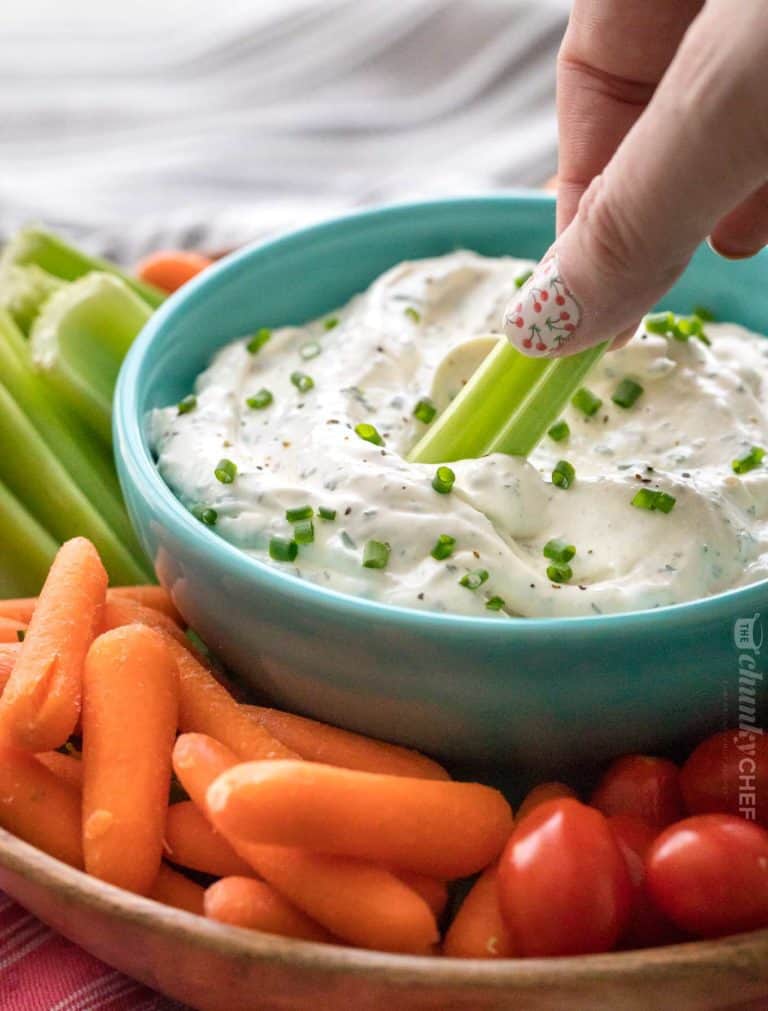 Creamy mayo and tangy sour cream is mixed with multiple herbs and spices to make this dip quick, easy but not lacking in flavor! Pair it with veggies, crackers, or bread, and serve chilled and you will have everyone in dip heaven.
⌛Total Time: 5 minutes
🛒Ingredients:
mayonnaise
sour cream
dried parsley
dried chives
dried tarragon
dried dill weed
garlic powder
paprika
dried minced onion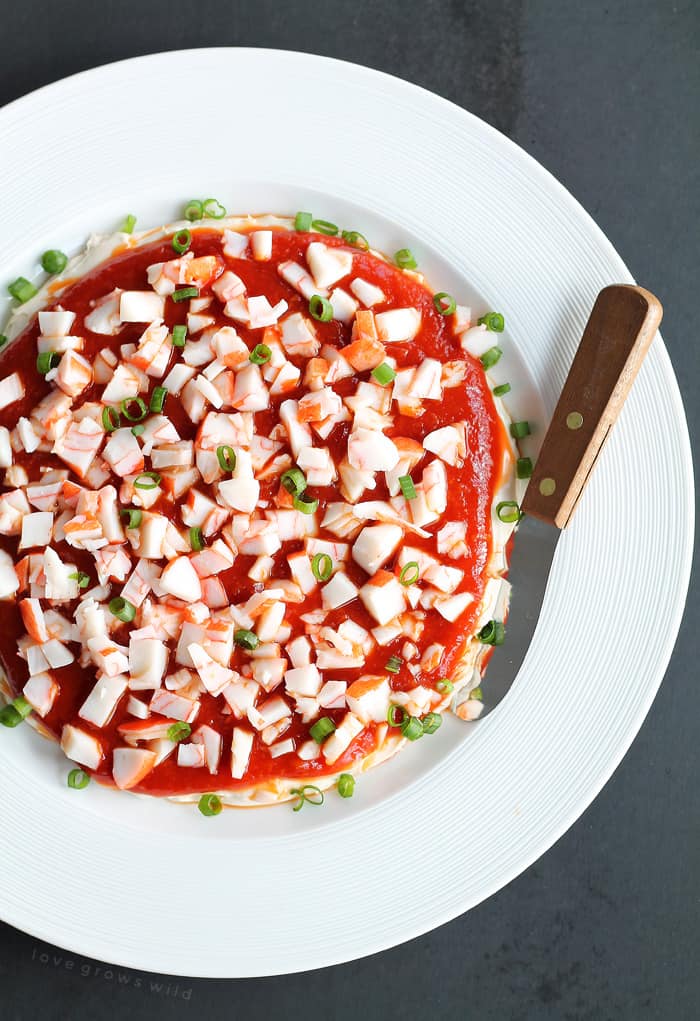 This is an impressive dip that is best served in the warmer months because it's cold. It is a delicious combination of cocktail sauce and creamy cheese which pairs incredibly well with fresh crab meat. Butter crackers are really the only dipper I recommend.
⌛Total Time: 5 minutes
🛒Ingredients:
cream cheese
mayonnaise
Worcestershire
cocktail sauce
crab meat
crackers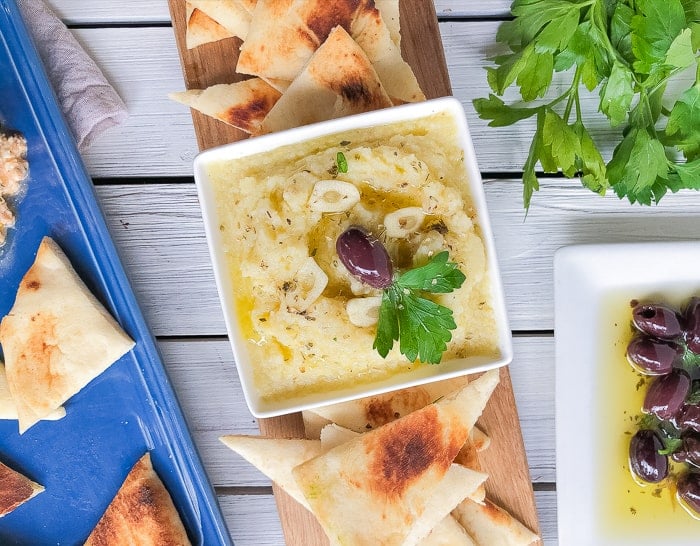 This dip is a delicious vegan friendly dip that can also be made without bread. It is packed with garlic flavor and best served with grilled pita or naan bread. A popular Greek appetizer that can be served cold or hot.
⌛Total Time: 23 minutes
🛒Ingredients:
russet potatoes
garlic cloves
bread
olive oil
shallot
chives
lemon juice
salt
parsley
A delicious twist on the classic hummus, this hummus has a delicious green colr and unique Asian flavor using soy, hoisin and ginger! Serve with chilled veggies for the perfect match.
⌛Total Time: 15 minutes
🛒Ingredients:
frozen shelled edamame
lemon juice
soy sauce
hoisin sauce
ginger
garlic
salt
extra virgin olive oil
This is my favorite vegan dip that has been in the family for years! Also a Greek dip, it's healthy, light and couldn't be easier to puree. Just add everything in the food processor, chill and serve cold!
⌛Total Time: 1 hr 40 minutes
🛒Ingredients:
Eggplant
Olive Oil
Garlic Cloves
Lemon Juice
Fresh Parsley
Salt and Pepper
If you don't want a heavy cream cheese dip, this lighter, healthier taco dip is the best option for your guests. I bet guests wouldn't even be able to tasre the cottage cheese!
⌛Total Time: 10 minutes
🛒Ingredients:
cottage cheese
taco seasoning
Mexican cheese blend
iceberg lettuce
roma tomatoes
scallion
This healthy Italian inspired olive oil dip is and has always been one of my favorite party appetizers. It's fresh, flavorful and would be perfect to serve at your next wine tasting party! A fresh baguette is a must! It's best not cold but at room temperature.
⌛Total Time: 10 minutes
🛒Ingredients:
Extra Virgin Olive Oil
Fresh Basil
Fresh Parsley
Fresh Thyme
Fresh Chives
Fresh Rosemary
Dried Oregano
Garlic
Red Pepper Flakes
Salt & Freshly Cracked Pepper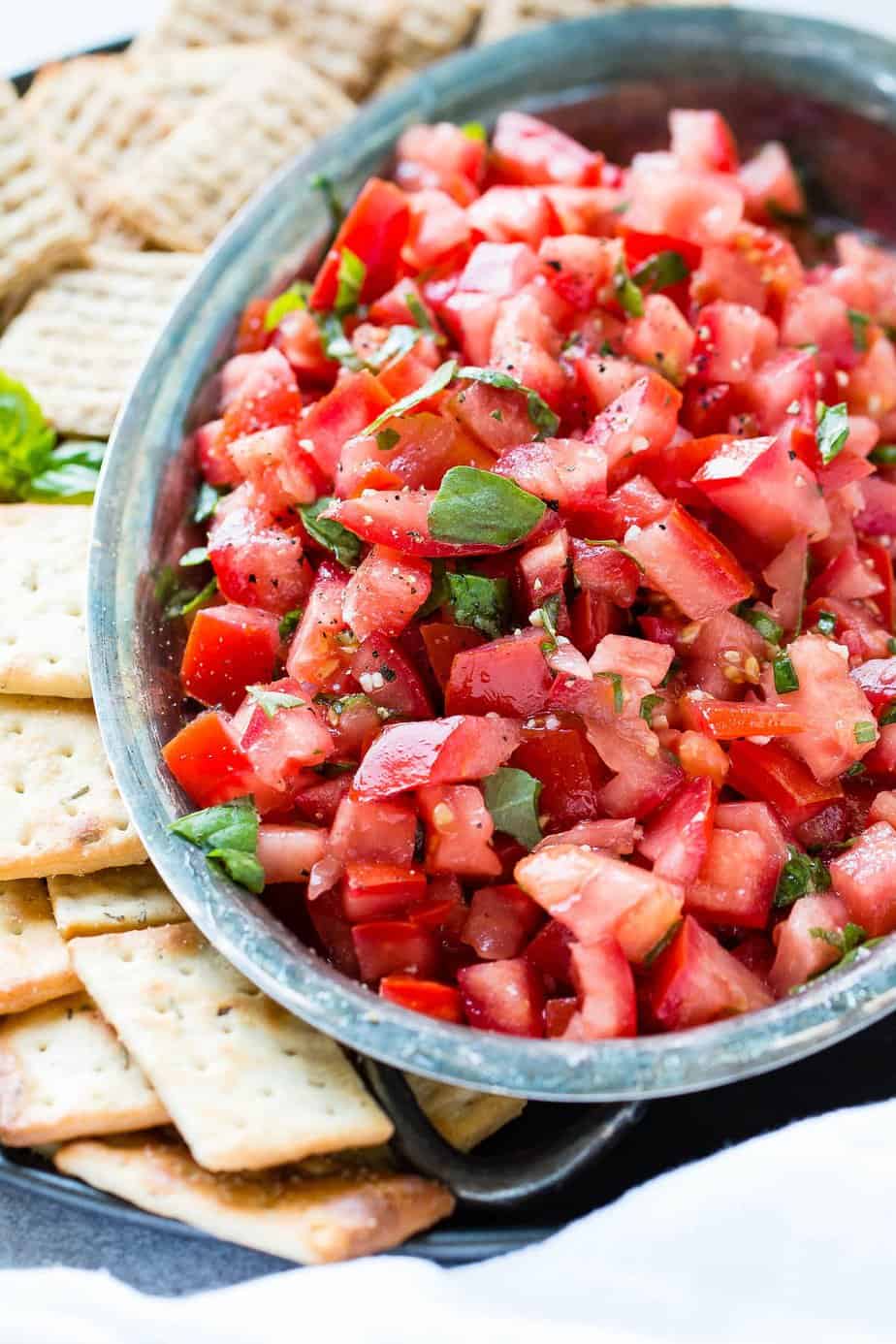 Bruchetta is a must when entertaining. This recipe is simple but used quality ingredients like fresh heirloom tomatoes, fresh basil and quality olive oil. Fresh is best when tomatoes are in season.
⌛Total Time: 10 minutes
🛒Ingredients:
Heirloom Tomatoes
Basil
Olive Oil
White Wine Vinegar
Crackers or bread
If you love umami flavors and salty dips, this cold olive tapenade is for you! Serve with veggies, pita or bread, it's always a unique appetizer best served with wine.
⌛Total Time: 10 minutes
🛒Ingredients:
pitted, brine-cured olives
anchovy paste
capers
parsley
garlic
lemon juice
Salt and freshly ground black pepper
olive oil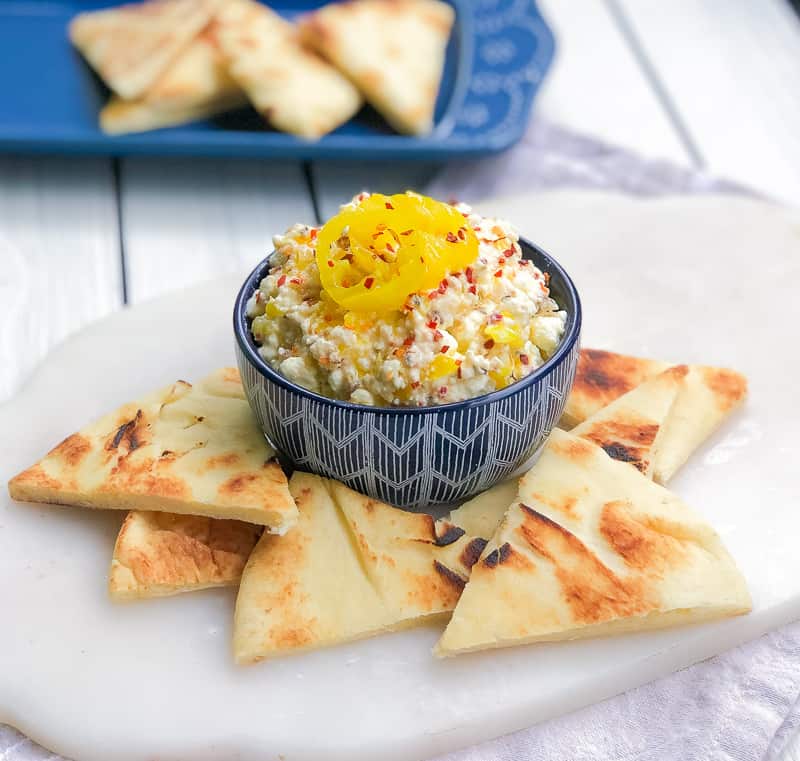 A go-to Greek favorite. This feta dip is salty and little spicy from the peppers. The combination is so delicious and one that guests ask me about whenever I entertain.
⌛Total Time: 10 minutes
🛒Ingredients:
Feta Cheese
Jarred HOT Banana Peppers
Red Pepper Flakes
garlic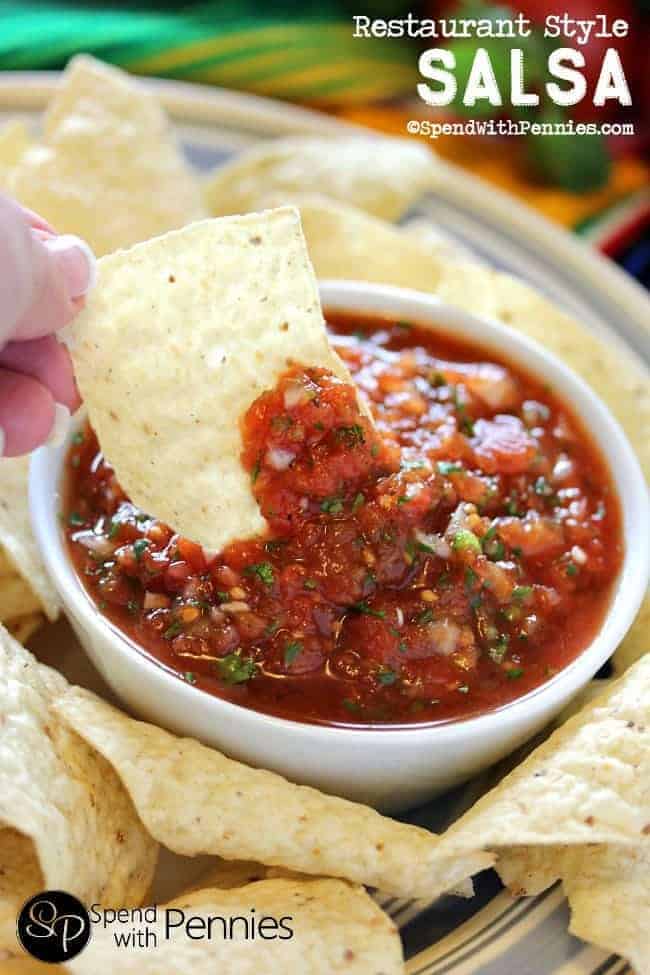 Chips and salsa are always a hit. Skip the store-bought version this time and make your own! It's surprisingly easy and couldn't be tastier! Serve cold or at room temperature!
⌛Total Time: 7 minutes
🛒Ingredients:
whole tomatoes with juice
cilantro fresh
onion
jalapeño
lime juice
garlic
cumin
salt
This dip is BETTER than hummus. I used white beans and NO tahini so it's easy, simple and is packed with garlicky spicy flavors. I love how unique it is and how it get's better when chilled in the fridge for a few days.
⌛Total Time: 15 minutes
🛒Ingredients:
Extra Virgin Olive Oil
Garlic
Crushed Red Pepper Flakes
Cannellini White Beans
Salt
Lemon Juice
Fresh parsley
Have you checked out these 14 Quick and Easy Appetizers?
---
Tips To Serving Cold Dips
As you can see, your cold dip options can still be delicious! With or without dairy, vegetarian to GF, it is easy to please everyone's tastes while still satisfying all food restrictions!
I recommend making all of these dips at least a few HOURS in advance to allow all of the flavors to meld together. You can even make it the night before and let it chill in the fridge for the best results! Happy dipping!
---
Looking for more party recipes or tips? Check these posts out!
Easy Crock Pot Party Appetizers
Graduation Party Food Ideas and Set Up
Tips For Keeping Food Warm At Your Next Party
COLD finger foods you can MAKE AHEAD!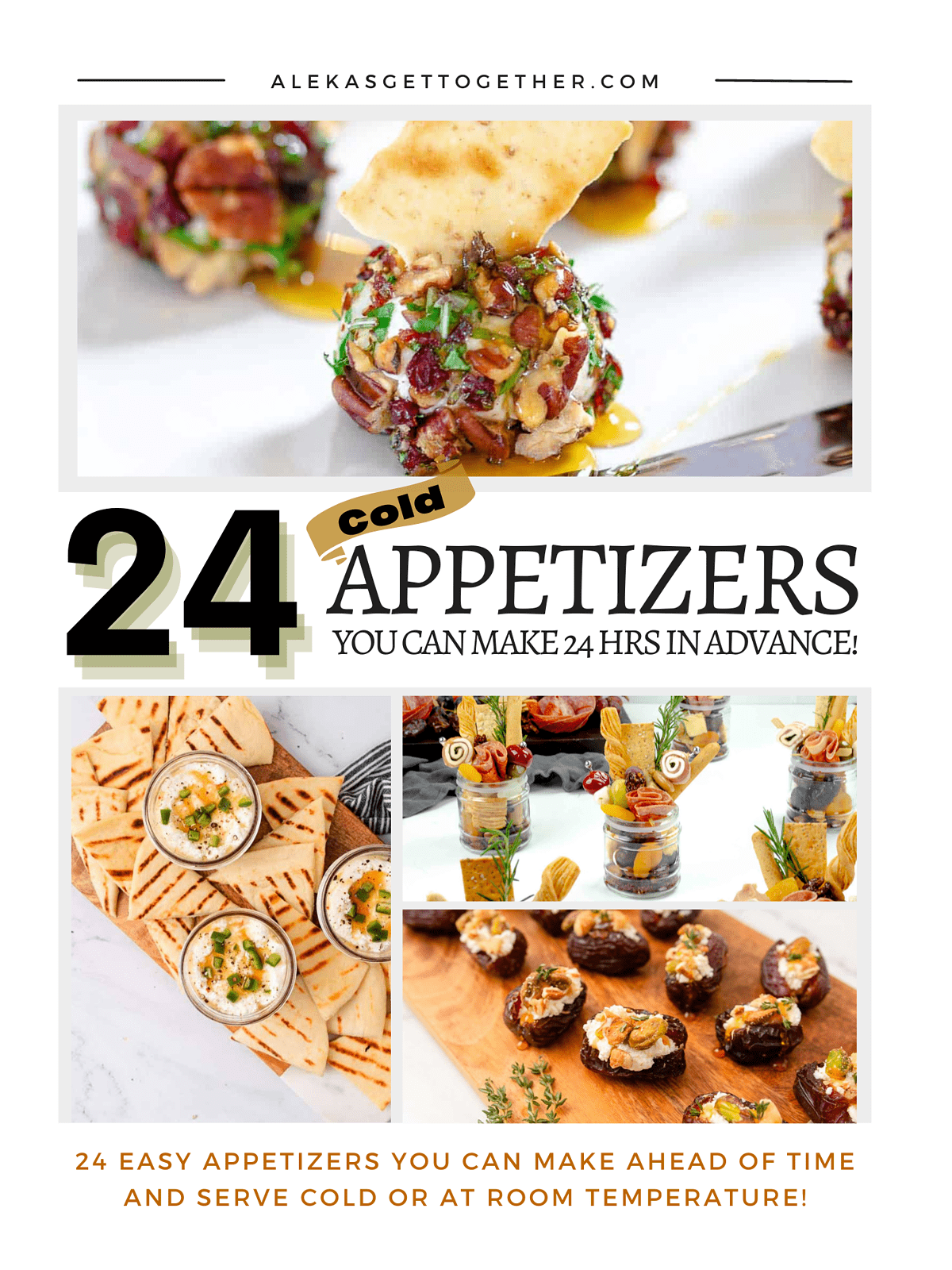 Love Make Appetizers in Advance?
I have an Ebook I created with my top make-ahead appetizers you'll LOVE! Get it here!
📽 If you love entertaining at home, subscribe to my YouTube channel!!