This Olive Oil Dip For Bread is something I have been making for years and is always a favorite appetizer when entertaining! It is just like the herb oil you get from Italian restaurants while waiting for dinner but it's BETTER! Get your "crustiest" bread ready!
I got my inspiration for this bread dipping oil during my first trip to Carrabba's!
Fortunately at the time, I actually knew someone who worked there so I asked them what was in their bread dip and they told me.
So my recipe is somewhat of a copycat of Carrabba's, but I believe it's BETTER!
And if you love oil dips, you should check out my Bagna Cauda recipe.
🛒 Ingredients
The ingredients for making a delicious bread dipping oil can be as simple as adding salt and pepper to a good, quality olive oil. Add a fresh, crusty loaf of bread and you're set!
But to make this dip truly packed with flavor, you need to add in a bit more.
✔️ Olive Oil: Choose the best quality olive oil you can find.
✔️ Spices: Oregano, red pepper flakes, fresh garlic, salt and pepper
✔️ Herbs: FRESH herbs are a must. I use basil, rosemary parsley, thyme and chives.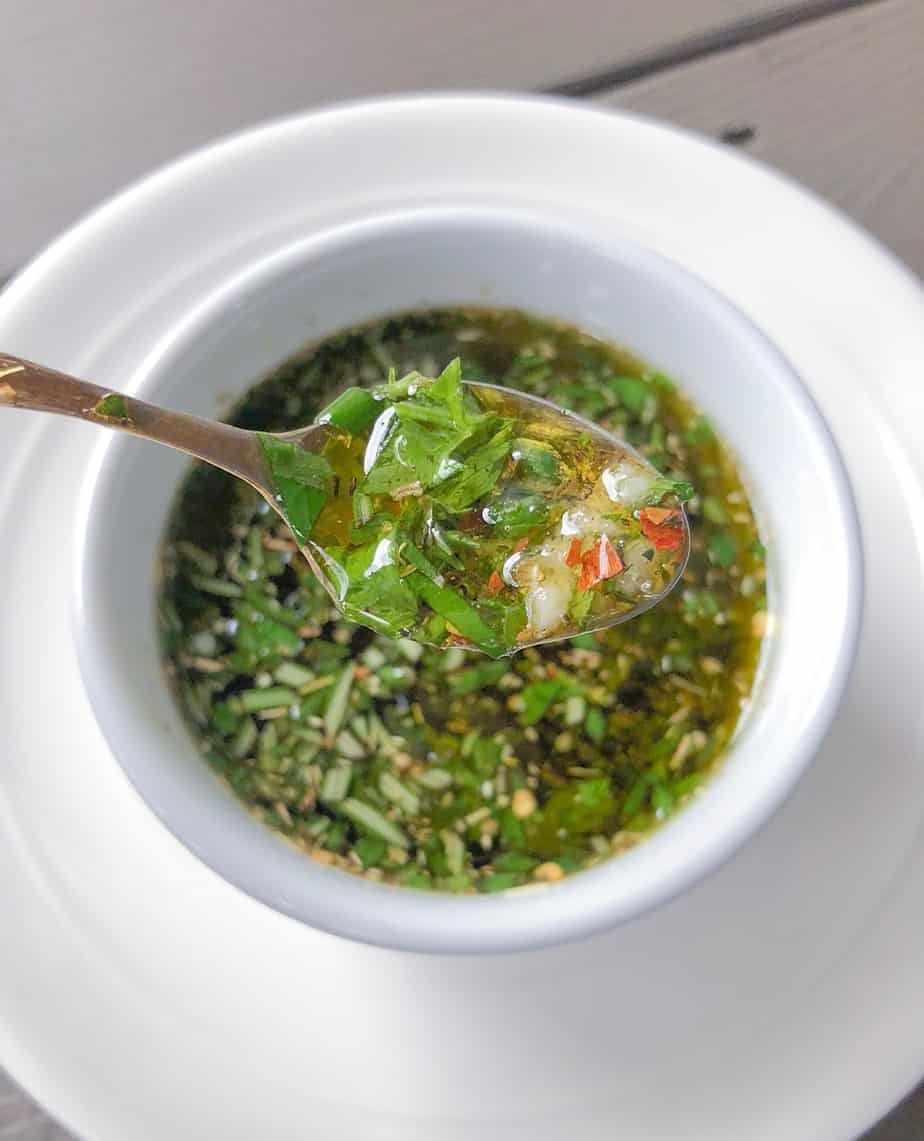 📝 Variations/Substitutions
Herbs
Parsley
Mint
Tarragon
Rosemary
Spices
Onion Powder
Garlic Powder
Celery Salt
Other Ingredients
Parmesan cheese
Balsamic vinegar
Red wine vinegar
Anchovy paste
Capers
Olives
👨‍🍳How To Make Bread Dipping Oil
Chop up your herbs so they are tiny but still in tact.
Add in your spices and other seasonings.
Mix into your olive oil of choice and let sit for at least an hour.
Serve with fresh bread at room temperature or warmed.
🌿Chopping Your Herbs
Chopping up your herbs is important part.
You do not want large clumps of parsley or it will look off and taste off.
So grab your BEST, sharpest chef's knife for the job. Then, on a cutting board, chop them all up together as fine as you can.
🥖Best Bread To Use
A crusty Italian baguette!
Really, ANY crusty bread will be a delicious dipping bread! Weather your talking about a spinach dip or fondue, a fresh crusty loaf makes a HUGE difference. If you have bread but it's not as crusty as you want, try tossing it in the oven for a little at 350ºF.
Italian Bread Sticks!
These are never turned away! Plus, they are great for dipping and kids LOVE them!
Garlic Bread!
Can you imagine. Garlic bread, dipping into a garlicky oil dip? This one is for my garlic lovers.
If you love this appetizer, try my Puff Pastry Garlic n' Herb Pinwheels!
🫒 Best Olive Oils For Dipping
This is simple. Find the BEST olive oil you can afford. The more expensive is usually the better but any true 'extra virgin olive oil' will work!
California Olive Ranch olive oil is what I use since it's best tested as a top olive oil.
Extra virgin is more pure and tastes better. Some olive oils taste more "olivey" than others so choose one you enjoy on its own! Just stick your finger in and try it!
Here is a guide of the best olive oils in 2022!
✅Expert Tips
Don't use DRIED herbs! They just won't give you the same fresh result. Oregano is the only exception!
Don't murder your herbs when you chop them!!

This is the biggest mistake I see in most herb oil recipes. Keep the herbs slightly 'chunky' so you see them and all the beautiful colors.

Choose a FRESH CRUSTY BAGUETTE

Fresh is key. No one likes poor, stale, old bread. I always have a baguette frozen in the freezer. Just pull it out the morning of so it has time to defrost.

Serve with the bread in BITE SIZED slices.

For one reason...Sanitation! If people are breaking off their own pieces, it is just not sanitary. They also may break off a piece that is too big for ONE dip. This leads to the ever controversial "double dipping" concern.

Serve dipping oil on a PLAIN WHITE SHALLOW PLATE!

White so you can see all of the beautiful colors!

Shallow so people can get all of the goodness when they dip. Some of the herbs and garlic may sink to
the bottom if your using a "bowl" and after your guests keep dipping away, you will be left with ALL herbs on the bottom and no oil.

Make a few hours ahead of time.

It is important to let your herbs rest in the olive oil for at least an hour before you serve your olive oil dip. It will give not only the herbs but the garlic and red pepper flakes time to infuse the oil with all kinds of flavor.

Use FRESH herbs and FRESH garlic.

Fresh herbs like basil, parsley, chives and rosemary are everything in this dip.

**OREGANO is the

only

herb I rarely buy fresh because it is too strong. Dried oregano is the ONLY dried herb I use here.

Refresh your oil if it runs dry!

The bread naturally absorbs into the oil better than the herbs so as your guests dip, you may find leftover herbs on the bottom with no more oil.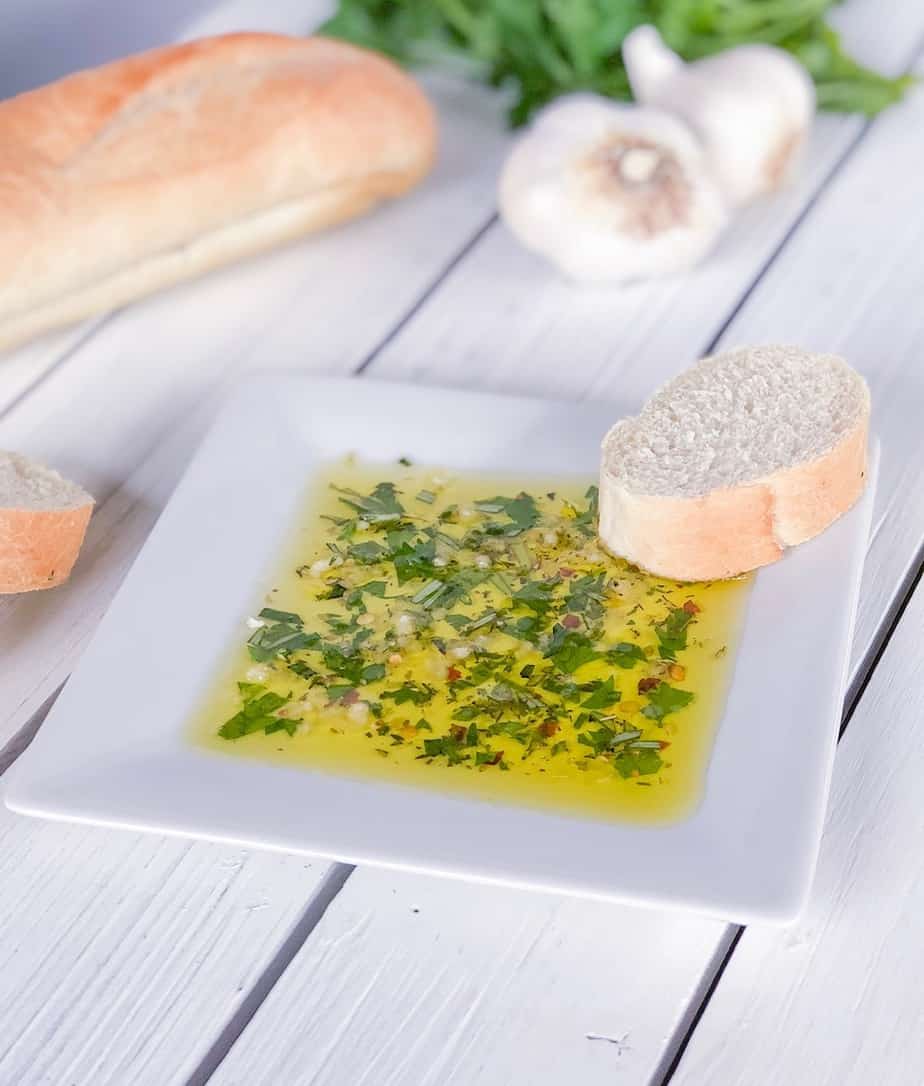 😋 My Layered Taco Dip and my Cold Spinach Dip are both popular party dips people go crazy over!
"Can I Use A Food Processor?"
I do not recommend doing this as your dip will turn green and you won't be able to see all those delicious herbs.
Use A Proper 'Oil Dipping Plate'
You do not want to serve this dip in a bowl!
Instead, take a large spoonful and scoop some directly onto a flat plate. This is how the restaurant serves it. This way, the herbs are evenly spread on the plate and not stuck on the bottom of a bowl.
Choose a small to medium sized plate either square or round for this. I also like to use a PLAIN WHITE dish. This is probably the one thing I urge you to do!
Your guests will be able to really see ALL of the wonderful colors in your bread dipping oil.
---
Other dips you may like:
---
📖 Recipe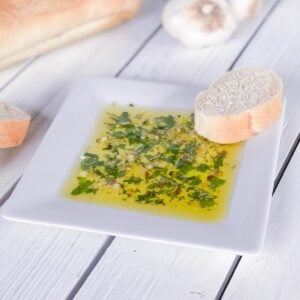 Ingredients
Fresh Crusty Italian Bread (Baguette)
1

Cup

Extra Virgin Olive Oil

¼

Cup

Fresh Basil

3

Tbsp.

Fresh Parsley

1

Tsp.

Fresh Thyme

1

Tbsp.

Fresh Chives

1

Tsp.

Fresh Rosemary

½

Tsp.

Dried Oregano

1

Large Clove

Minced Garlic

½

Tsp.

Red Pepper Flakes

½

Tsp.

Salt

¼

Tsp.

Freshly Cracked Pepper
Instructions
ROUGHLY chop your basil, rosemary, parsley and set aside.

Remove thyme leaves from stem by pulling with your fingers in the opposite direction. Chop up thyme leaves finely along with your chives.

Mince your garlic (or use a garlic press) and then add ALL ingredients together with your oil. Mix and allow to infuse for at least an hour.

Spoon a few spoonfuls of herb oil onto a flat white plate and serve with fresh crusty bread on the side! (Make sure when you spoon onto a plate, you get a good ratio of herbs to oil!) Add more oil if needed.
Recipe Notes
Tips
Use FRESH herbs! It makes a difference.
Use the BEST most fresh baguette you can find.
Serve on a FLAT small dish.
Refresh the oil if it runs dry.
*Dipping oil can be stored in the fridge for up to 4 days or in the freezer for up to 6 weeks.
Nutrition
Calories:
175
kcal
|
Carbohydrates:
0.4
g
|
Protein:
0.1
g
|
Fat:
20.2
g
|
Saturated Fat:
2.9
g
|
Cholesterol:
0
mg
|
Sodium:
117
mg
|
Fiber:
0.2
g
|
Sugar:
0
g