This cold spinach dip with cream cheese recipe has been in the family for years. It's made without mayo which I personally love and is a popular party dip that takes less than 7 MINUTES to whip up. I like to make this dip ahead of time and add it to a freshly cut bread bowl when guests arrive!
If you love quick dips, try my Hot Crab & Artichoke Dip with Cream Cheese or my Easy Bagna Cauda (Garlic and Anchovy Dip).
This post contains affiliate links. Click on my disclosure to find out more!
7 minutes!
That's all you need to make this cold spinach dip! And maybe some hungry guests.
It's one of those recipes that you'll want to whip up again and again!
This recipe is the best cold spinach dip I have come across because it uses cream cheese and NO mayo which I dislike in dips.
Instead of the mayo, I use sour cream which is light, tasty and adds some tang. Any appetizer that is easy to make in advance and can be served cold (or room temperature) is a winner in my house.
This dip is one of my most popular recipes for good reason.
I like to put this spinach dip in a sour dough BREAD BOWL. It looks so festive this way! Plus, you don't have to worry about asking for your Tupperware back if you bring it to a party! (Don't you hate that?)
Then add some crudites, fresh pita or bread and you're ready to serve!
How To Make A Cold Spinach Dip
Making a cold spinach dip is one of the easiest things because all of your ingredients can be tossed in ONE mixing bowl!
Here are steps on how to make your dip:
Step 1: Prep your spinach! If using frozen spinach, you need to allow it to fully thaw out. Then, once it's defrosted, squeeze all of the water out. I like using paper towels or a thin dish towel to do the job. (See how I do this quickly below.)
Step 2: Add your spinach to a large bowl along with every other ingredient except for the tomatoes, and mix until nicely creamed and blended together.
Step 3: Mix in your tomatoes last to maintain their shape. Chill for at least 2 hours or overnight. Serve in a bread bowl or any bowl!
Have you tried my creamy tzatziki dip yet?
Fresh Spinach vs. Frozen
Fresh spinach will work in this recipe BUT it takes more work!
First, you will need to chop it down because some fresh spinach leaves are SO large.
If you just throw them in the dip as is, you'll get a "stringy" spinach dip...and trust me...no one likes "stringy" dips.
You also will need to saute your spinach before you add it to your dip. It will help the leaves to break down a bit resulting in more of a wilted spinach which is really what we want in a cold spinach dip.
Use Frozen Spinach
I prefer to use FROZEN chopped spinach leaves for this recipe.
Why? Because it is super cheap AND does not require you to cook or pre-chop your spinach.
All you need to do is defrost your frozen spinach quickly in the microwave or let it sit in the fridge overnight in a bowl.
Then SQUEEZE all of your water out before you add it to your dip! I like to use a thin towel, cheese cloth OR paper towels to do this. If you don't squeeze the water out, your dip will be watery!
Substitutions/Variations
red peppers (adds some color, sweetness AND crunch)
sauteed onions
caramelized onions
fresh garlic
water chestnuts (adds a fresh crunch)
Knorr dried vegetable soup mix
Favorite Spinach Dip Pairings
Everyone has their own dipping go-to's. I like serving this dip with multiple dipping options to satisfy all my guest's dietary needs.
My husband goes in for the more substantial dippers. You know..the 'carby' dippers, like bread or crackers!
But some people may be gluten free, so think about who you're serving.
These are my favorite items to serve alongside a cold spinach dip:
Tortilla Chips
Pita Chips
Mini Crostini
Grilled pita bread (this is my

favorite

dipper!)
Crackers
Crudite (celery, carrots, cucumbers, broccoli, peppers)
Tomatoes
Add your dip inside a bread bowl for a fun presentation!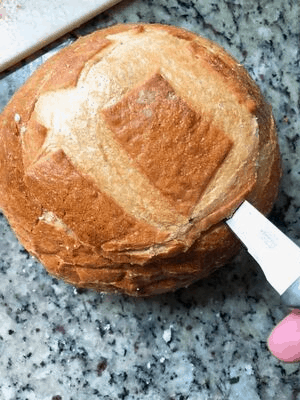 How To Make A BREAD BOWL
Get yourself a nice round loaf of sour dough or pumpernickel bread. Really, any round loaf should work!
Then cut out the inside using a large serrated knife. Point the knife on a downward/inward angle and cut a circle around the top portion. Be careful not to cut too much off the top!
Then, using your hands, pull off the top. Rip out any extra breading inside the loaf. You want to create a hole. Be careful not too cut or rip out too much. All you need is a medium sized hole to fit the dip inside.
Reserve any of the bread you cut out and reuse it for dipping!
If you love cold creamy dips, try my 7 layer Mexican Dip!
Make Your Dip In Advance!
Because this dip is served COLD, it can be stored in the fridge until your ready to serve it! In fact, storing it overnight will give the flavors time to infuse! It should last 3-4 days in the fridge.
Other COLD party dips you might like!
Cold Taco Dip With Cottage Cheese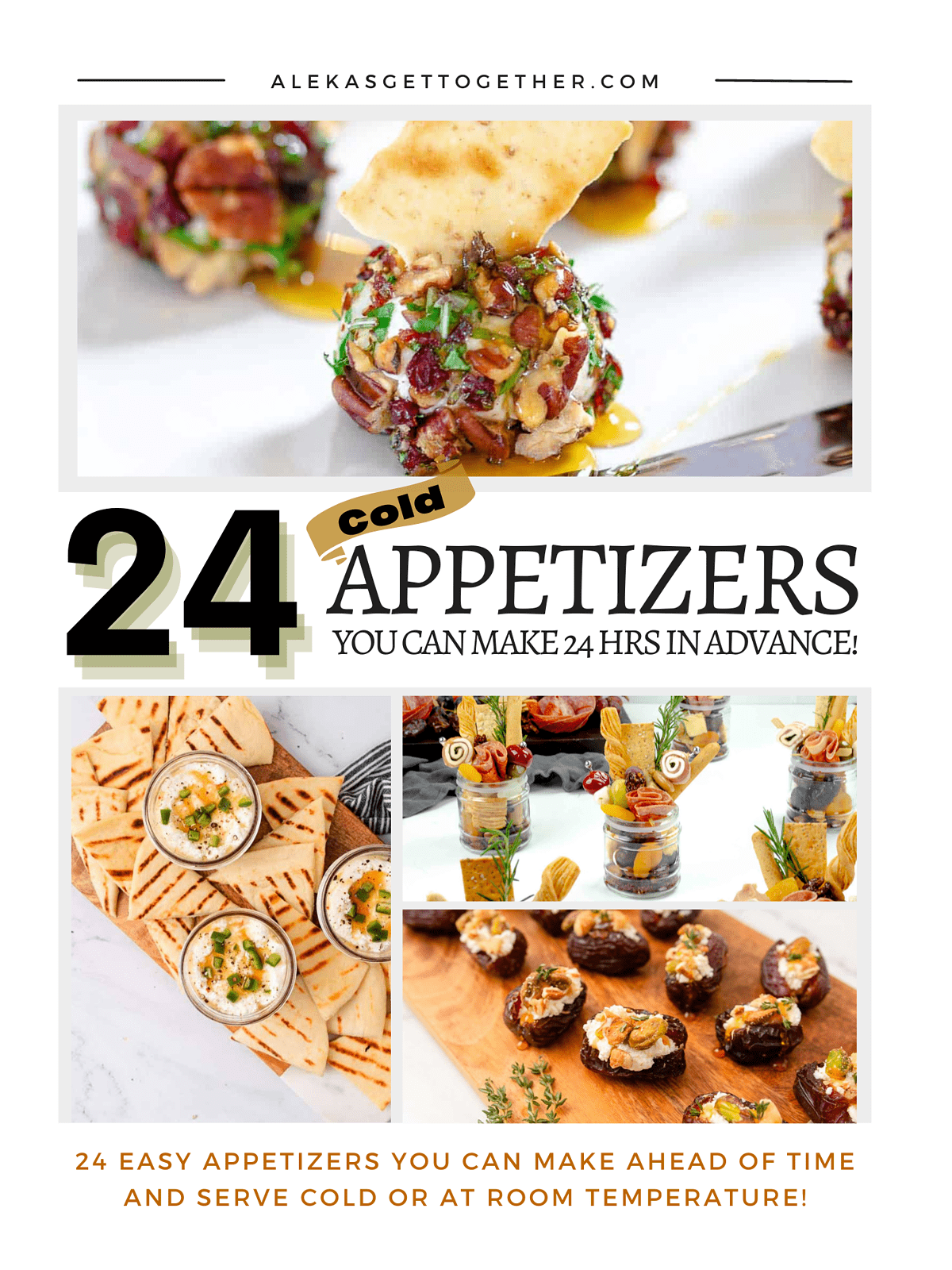 Hungry for more?
These 24 Appetizers You Can Make 24 Hours in Advance are my tried and true recipes that everyone will love! If you're ready to host like a BOSS, this recipe book is for you!
📽 If you love entertaining at home, subscribe to my YouTube channel!!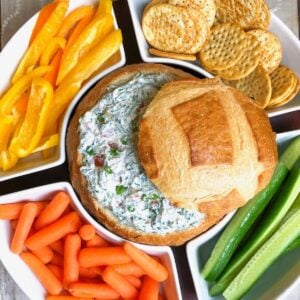 COLD Spinach Dip With Cream Cheese
This Cold Spinach Dip With Cream Cheese is super creamy! It is a family favorite that pairs well with vegetables, crackers and/or pita bread. Served in a sour dough bread bowl, it has been a family favorite for years!

Print
Pin
Rate
Ingredients
1

8 oz.

Package Cream Cheese

1

10 oz.

Package Frozen Chopped Spinach (1.5 cups squeezed)

((thawed))

1 ½

Cup

Sour Cream

2

Medium

Tomatoes (1 cup)

((Small Diced))

2

Scallions (⅓ cup)

((Chopped))

½

Tsp.

Onion Powder

½

Tsp.

Worcestershire Sauce

¼

Tsp.

Garlic Powder

½

Tsp.

Salt

(*or to taste)

¾

Tsp.

Pepper
Fresh Round Loaf of Ciabatta or Rye Bread (Optional)
Instructions
Thaw spinach and squeeze out ALL excess water using a towel or paper towels. (You can defrost in the microwave if you need to do it quickly)

Add spinach and all other ingredients EXCEPT for your tomatoes to a mixer and mix until fully incorporated.

Lastly, add in your tomatoes and on low speed mix briefly to maintain their shape. Chill for at least 2 hours or overnight. Serve in a bread bowl or any bowl!

Prepare your bread bowl if using. Cut off the top and scoop out the middle.

Add dip to desired serving bowl and serve cold with veggies, crackers, bread and/or pita!
Recipe Notes
Tips*
If refrigerating before serving, allow dip to come to room temperature before serving. (The cream cheese will be too stiff to scoop if immediately taken out of the refrigerator.)
Grill your pita or toast your bread for a crispy and warm element!
Stick a small serving spoon in the dip so you don't have to worry about the double dippers out there! 🙂
Save the inside of your bread bowl! Freeze and use as croutons or to make meatballs later!
Nutrition
Calories:
177
kcal
|
Carbohydrates:
5
g
|
Protein:
4.4
g
|
Fat:
16.1
g
|
Saturated Fat:
10
g
|
Polyunsaturated Fat:
0
g
|
Monounsaturated Fat:
0
g
|
Trans Fat:
0
g
|
Cholesterol:
44
mg
|
Sodium:
348
mg
|
Potassium:
360
mg
|
Fiber:
1.3
g
|
Sugar:
1.2
g
|
Vitamin A:
0
IU
|
Vitamin C:
0
mg
|
Calcium:
70
mg
|
Iron:
1.4
mg
---