These Egg Bites are made WITHOUT a sous vide machine or molds! Instead, I use a mini muffin tin and simply pop them in the oven!
After many tests, I've discovered the trick to making the BEST egg bites that are super moist, tender, less money than Starbucks AND ready in under 15 minutes! They are the perfect breakfast to take on the go OR enjoy for a weekend brunch with friends!
🥞 If you're looking for more on-the-go breakfast ideas, check out my Mini Pancakes Skewers or my Sweet Bread French Toast! Kids love both!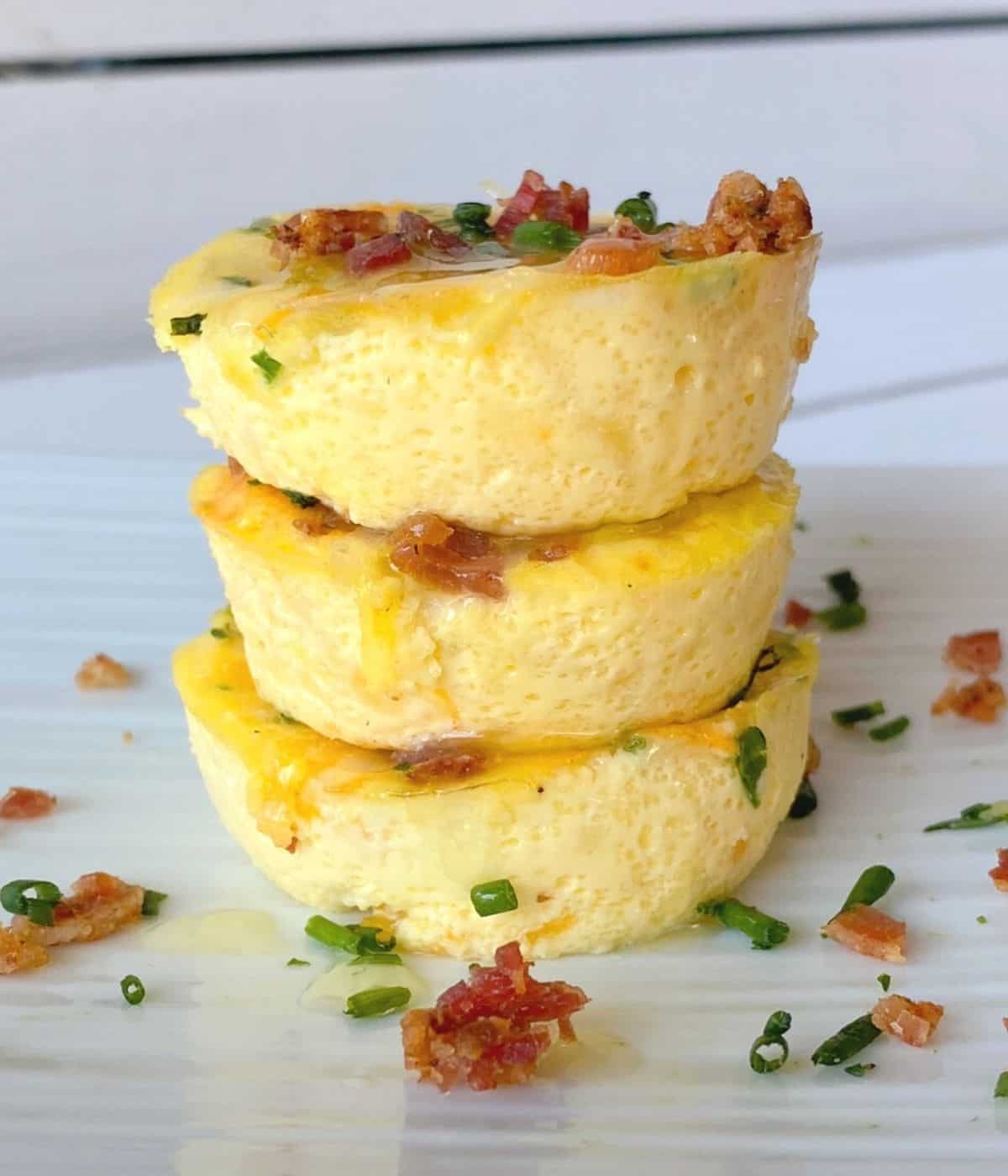 The first time I tried Starbucks sous vide egg bites I was hooked. They were super moist, full of flavor and filling! Just what I needed in the mornings or after a crazy slumber party.
The only thing is.....they are freakin' EXPENSIVE!! (As is anything as Starbucks right?)
I knew I could not afford to purchase them more than once a week. Add a latte and I am easily dropping more than $15.00 by 8:00 am on a small "breakfast".
So I was on a mission to recreate my own cheaper version without a machine, without jars, without molds, without instant pot, and without a blender!
All I wanted to use was a mini muffin tin and my oven. Simple, easy and at no additional cost to me. Hooray!
SO after much, MUCH testing, I can happily say, I found a recipe that works!!
Like my Cinnamon Sugar Brioche Skewers, they are a delicious breakfast or brunch option if you're craving something unique.
💦No Water Bath or Sous Vide Machines Here!
Did you know that Starbucks uses a sous vide machine to get them so tender?
A sous vide machine is simply a water bath and is expensive!!
So I created a recipe where all you need is a mini muffin tin. (👈This muffin tin is the one I like.)
Let me just say, I have made egg bites MANY times before.
They didn't always turn out great. Most of the time, they turned out dry or rubbery. Other times they stuck to the muffin tin. Getting them to cook evenly throughout was a challenge to say the least.
But this version comes out perfectly soft and moist every time!
Test after test, I realized there were TWO things that made a huge difference in my egg bites...
1. 🥛Use Milk or Cream
I am not talking about a splash either. I am talking ½ cup!
If you don't use a good amount of milk, cream or another milk substitute, your egg bites will turn out dry.
Cream or half and half will give you richer bites that are great for keto dieting.
2. ⌛Bake At A Low Temperature
Sous vide cooking is all about low and slow. So to get these right, I knew I had to go low and slow in the oven.
The baking temperature I set my oven to is 275 degrees F. It cooks the eggs quick enough but not TOO quick to where they dry out.
🍳 TIP* If you are using a larger regular-sized muffin tin, the bake time will be longer!
🛒Ingredient Tips
eggs-brown, white, extra-large, medium, whatever works for you.
milk/cream- cream will give you a richer egg bite.
cheese- I prefer cheddar, swiss or provolone. You can also use gruyere cheese like Starbucks uses in their bacon egg bites!
veggies and/or meat- make sure to saute your veggies and pre-cook your meat before adding them to your muffin cups.
ketchup* - optional but adds a TON of flavor. (Trust me!)
🍳How To Make Egg Bites
Whisk your eggs, milk and ketchup (if using) together.
Add in your sauteed veggies or cooked meat and mix.
Add in your grated cheese.
Use a mini ice cream scooper to scoop egg mixture into each greased muffin tin.
Bake at 275 degrees F for at least 10 minutes or until the center is just jiggly.
Remove from muffin tins carefully and enjoy!
📃 NOTE: You can print exact quantities with detailed instructions below!
🍳Egg Bite Variations
I love both Starbucks egg white bites AND their gruyere and bacon bites. I have made these cups both ways and loved them equally.
My tip is to vary, substitute or swap out ingredients however you like...just don't remove the amount of milk or change the baking temperature.
Those are key ingredients in making these "sous vide" style.
Egg Bite Variations:
Sausage
Ham
Peppers
Mushrooms
Spinach/Kale
Tomatoes
Different cheeses like cheddar, swiss, feta or gruyere.
*Some recipes add cottage cheese in the mix to help make them moist and fluffy. This isn't necessary for this recipe if you use the milk/cream.
🥶Freezing Egg Bites
Freezing is an option but not recommended. Eggs don't freeze as well as other items but, it can be done.
To do so, place each stack in a large freezer bag with as much air removed from the bag as possible. Freezer burn is the enemy!!
Freeze up to 4 weeks. The longer, the increased chance of quality loss.
💡Tip* Use a straw to suck out the air in your freezer bags!
Read here to learn HOW TO PREVENT FREEZER BURN!
🔥Reheating Egg Bites
It is important to let your egg bites defrost in the refrigerator before reheating!
If you don't, you will be forced to microwave them longer (since they're frozen) which will lead to dry, rubbery eggs! NOT good.
Once they're fully thawed, pop them in the microwave with a damp paper towel over top (creating a steam effect) and reheat in 15-30 second intervals.
Do not over cook!!
Eggs cook VERY QUICKLY so make sure to check your bites every 15-30 seconds so they do not end up rubbery.
🙋‍♂️FAQ's
Can I use a regular-sized muffin tin for my egg bites?
Yes! This will give you larger sized bites like Starbuck's BUT the bake time is going to be approximately 25% longer! The time depends on how high you fill your muffin cups and how large your tin is. You want to bake them until the middle JUST barely jiggles.
How do I make sure my egg bites don't stick?
Using a nonstick muffin tin is the first step. Next is to grease or spray your muffin tin well with butter or non-stick spray.
Are these as good as Starbucks?
It's impossible to replicate them exactly without the additives and proper machines. With that said, they are pretty darn close considering! (Plus, they're healthier!)
Here are more breakfast recipes for entertaining:
Healthy Chocolate Chia Energy Bites
Everything Bagel Celery Sticks
📲 Say hi on social!! 👋 Follow me on facebook, instagram, pinterest, youtube or tiktok for more recipes and entertaining tips!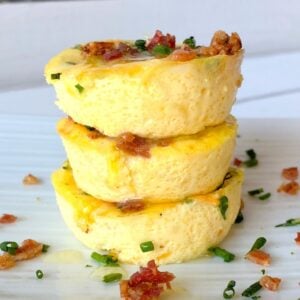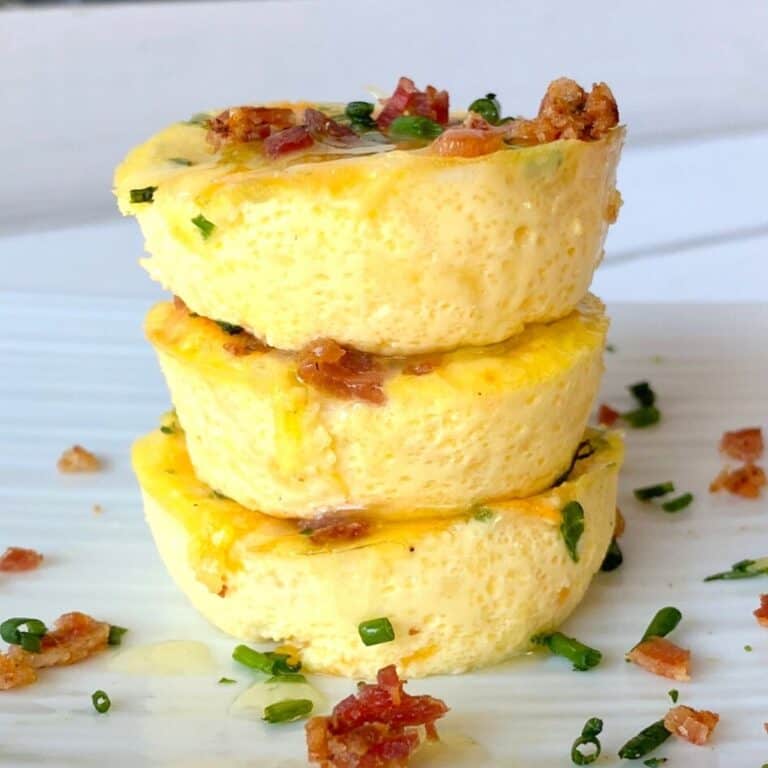 Starbucks Copycat Egg Bites Recipe (In Oven)
These Starbucks Copycat Egg Bites Recipe are made WITHOUT a sous vide machine or molds! Instead, I use a mini muffin tin and simply pop them in the oven! After many tests, I found out how to make the BEST egg bites that are super moist AND ready in under 15 minutes!
Print
Pin
Rate
Ingredients
2

large

eggs

½

cup

milk or cream

1

cup

gruyere or cheddar cheese, grated

2

tablespoon

cooked bacon, crumbled (2-3 slices)

(*Optional)

½

tablespoon

fresh chives, chopped

2

tablespoon

butter, melted

1

tablespoon

ketchup

(*Optional)
Instructions
If not already done, cook your bacon in the oven or in a skillet until crispy. Crumble into bits and set aside.

(Reserve 2 tablespoon of cheese and ½ tablespoon of bacon.) Add eggs, milk, bacon (if using), cheese, chives and ketchup in a bowl. Whisk well!

Using a mini muffin tin, brush melted butter generously inside each cup. (You can also use nonstick spray or liners to prevent them from sticking. If using liners, spray them as well.)

*You can also use a regular sized tin if you wish.

Using a mini ice cream scoop or small ladle, add the egg mixture to each muffin cup making sure to scoop the bacon/cheese sitting on the bottom of the bowl! Fill each cup to the brim then top with remaining cheese and bacon.

Bake for 10-15 minutes on the MIDDLE rack for mini egg muffins and 16-20 minutes for regular sized egg muffins.*Depending upon your oven and the size of your muffin tin, they may need to bake longer! Try to keep from opening and closing the oven since this will drop the temperature. You are looking for the center to be slightly jiggly. You do NOT want to overcook your eggs!

As soon as you can handle them, GENTLY use a knife or small silicone spatula to loosen the outside of each egg cup to allow your bites to slide out. Turning the tin upside down helps.

Do not wait for them to cool or they will be tougher to remove.

Eat immediately or store in the fridge for 3-4 days in a sealed container.
Recipe Notes
Yield
If using a mini-muffin tin:
If using a regular-sized muffin tin:
*Once cooled, you can freeze your bites by stacking a few and wrapping them in mini stacks with plastic wrap. (See photo above.) Then place the stacks in a large freezer bag with as much air removed from the bag. Freeze for up to 4-6 weeks.
*Always defrost frozen egg bites in the refrigerator before reheating them and reheat in 15-30 second intervals. Do not OVERHEAT them. Eggs cook super fast and they will become rubbery!
*If you're vegetarian, you can add fresh or sautéed veggies to your egg bites instead of the bacon. Just make sure to mince your veggies.
*Egg whites can be used in place of the eggs. (I would use 3 whites) or ⅓ cup in place of every 2 whole eggs.
Nutrition
Calories:
269
kcal
|
Protein:
15.9
g
|
Fat:
21.6
g
|
Saturated Fat:
11.2
g
|
Cholesterol:
151
mg
|
Sodium:
442
mg
|
Sugar:
2.5
g
|
Calcium:
326
mg
|
Iron:
1
mg