Using Pillsbury Crescent Roll to make Cream Cheese Danish is genius! It is an easy and quick way to make danish at home with minimal effrort. This danish recipe his filled with a canned blueberry filling and an irresistable sweet cream cheese which happens to taste JUST like blueberry cheesecake!
How to make homemade "danish" using crescent dough
MY father makes THE BEST danish around. If you don't follow me here on the blog, my family owned a bakery for 30+ years and he made his own danish FROM SCRATCH.
They were the best thing on earth. There was only one thing that he hated about them.... the whole process took HOURS!
To make traditional danish pastry dough you have to...
-allow it to rise (or proof)...
-roll and fold it again while filling the dough with cinnamon and sugar...
-cut your danish into strips and twist them...
-fill each danish with whatever filling you desire (this was the best part)...
-then let them proof again...
-bake...
-brush with a honey glaze...
EAT it!
Phewwww...
Now you know why I was looking for a quick and easy danish recipe!
Pillsbury's crescent rolls will be our easy and quick faux danish dough. No, it won't be as flakey or tender BUT it will still taste delicious.
And 20 minutes later, you've got yourself a pretty darn tasty breakfast danish!
Danish Ingredients:
Canned crescent roll dough- (I like Pillsbury) but any canned dough works.
Blueberry pie filling- I prefer Duncan Hines, Lucky Leaf or even Great Value brand.
Cream cheese + milk + vanilla + powdered sugar- This makes the delicious creamly cheesecake filling.
Steps for making crescent dough danish:
Step 1: Roll our your crescent dough and cut into 3" rounds using a cooking cutter or upside down cup and a knife. (You can also roll its strips and TWIST them like a rope but I find this more tedious).
Step 2: Brush your crescent dough with an egg wash. This gives the dough color and a shine.
Step 3: Add some of your cheesecake filling to the center of each round.
Step 4: Add a dollop of blueberry pie filling on top and bake for 12 minutes at 375 degrees F.
Tips for cutting your dough
Before you open your crescent roll dough, sprinkle some flour onto your counter top. The dough is sticky and this will help prevent sticking. Then lay your crescent sheet onto the counter and, using a round cookie cutter or a cup, cut out as many crescent dough rounds as you can! I was able to get 15 danish rounds for the can I purchased. Try to aim for a diameter of about 2.5-3" for mini bite sized danishes.
If you want to get as many rounds out of the dough as possible, roll out the scraps of dough again until you have another thin sheet and cut more rounds from that.
If you want to try making your own homemade crescent dough, you can!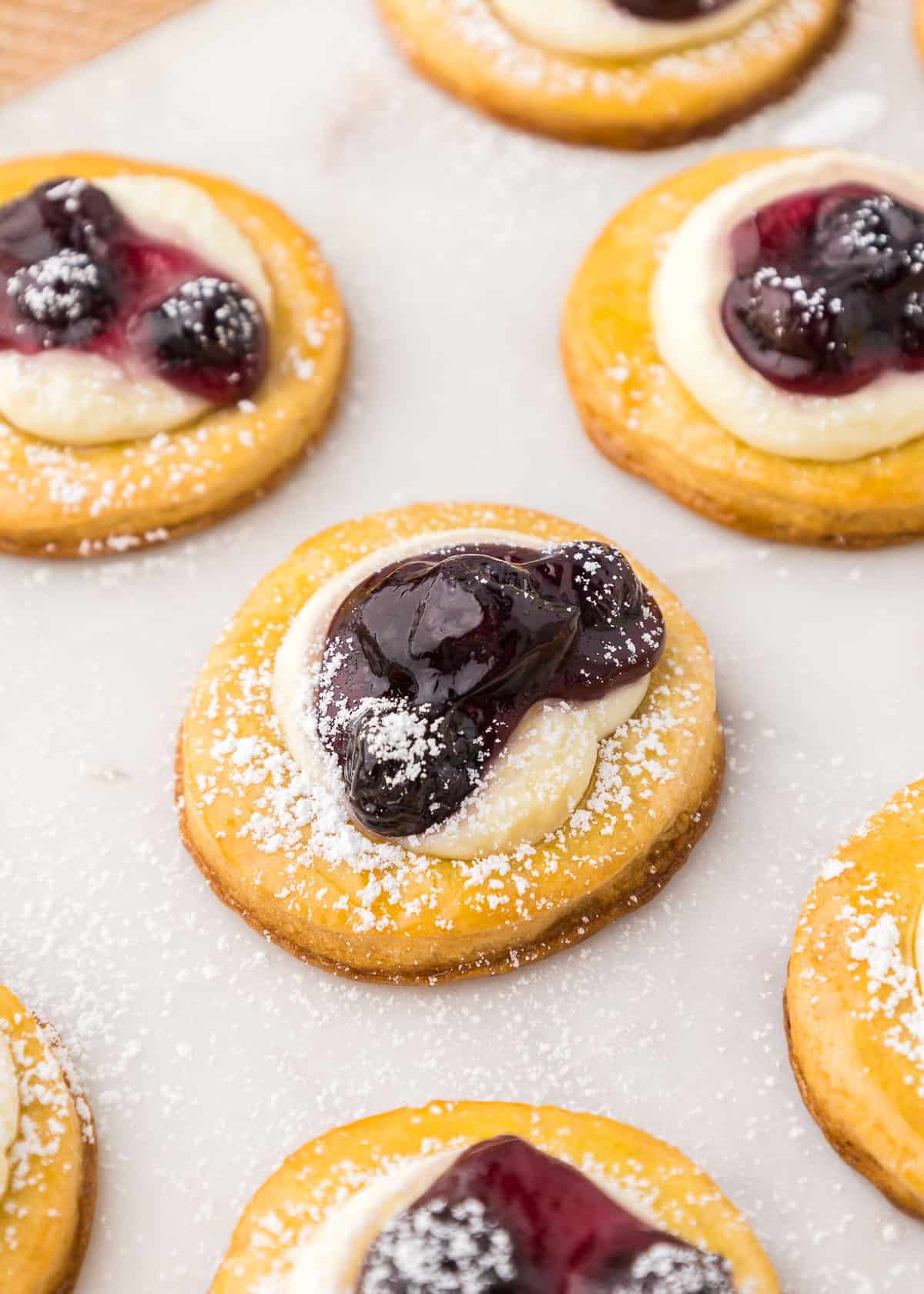 Sweet blueberry cream cheese filling
For my danish filling, I used cream cheese, powdered sugar, vanilla and a touch of milk to loosen the filling a bit. I did not use any eggs in the cream cheese filling because I wanted my cheese to stay creamy.
For the blueberry filling, I used canned blueberry pie filling. This is the easiest option.
Other danish filling options:
Use jam or preserves- try apricot, peach, strawberry, or blackberry
Add lemon curd- this is amazing. They sell jars of it in most stores.
Make a homemade blueberry sauce- Simmer blueberries and sugar over the stove to make your own blueberry sauce. *Tip: You will need to add cornstarch if you do this to thicken it up like pie filling!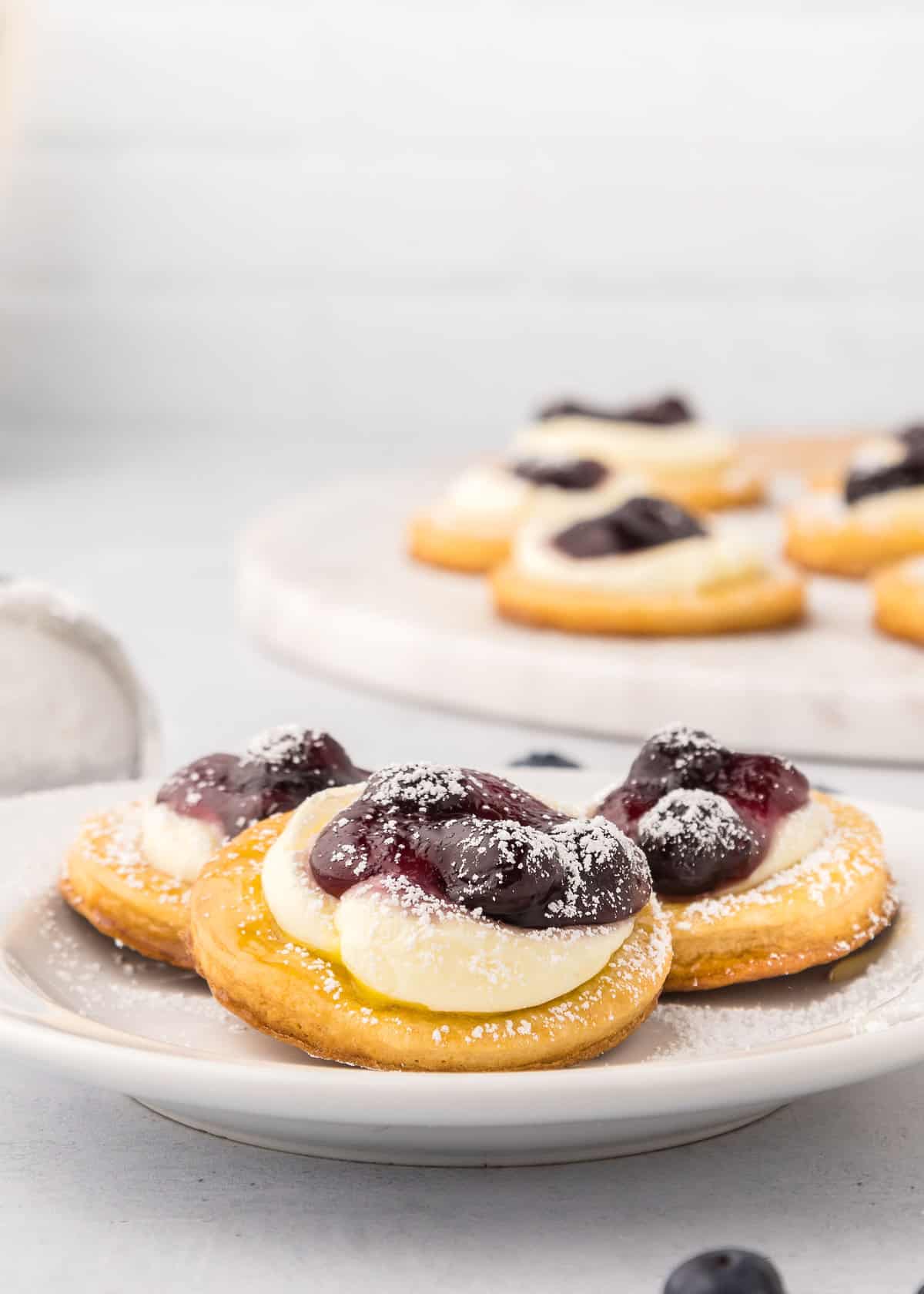 The best way to fill danish
The best way to fill these mini danishes is to add your cream cheese filling to a piping bag. This makes the whole process so much easier and neater!
If you do not have a piping bag, use a plastic sandwich baggie and snip off the corner. You want a hole that's about the size of a quarter. If you don't want to do either of these methods, you can spoon the mixture on top using a small spoon.
Danish Glaze
To add a beautiful glaze to your danish, add powdered sugar to a bowl with a touch of milk or water until the consistency is thick enough to drizzle.
Then drizzle over top danish and allow to harden.
How Do You Store Danish?
Cream cheese needs to be refrigerated so you should store the danish in a sealed Tupperware container in the fridge. Your rounds should last anywhere from 5-7 days.
Can You Freeze Danish?
YES! Danish freeze extremely well so I suggest making a bunch of mini crescent roll danishes ahead of time and freezing them. Then pull them out an hour or so before you want to serve them. This is a great option for mornings on the go!
You can freeze danish for up to 4 months.
Freezing tip* A trick my dad would do with the dozens and dozens of danish he made was separate each one with a square of parchment paper so they do not stick to one another. Then you can stack them neatly.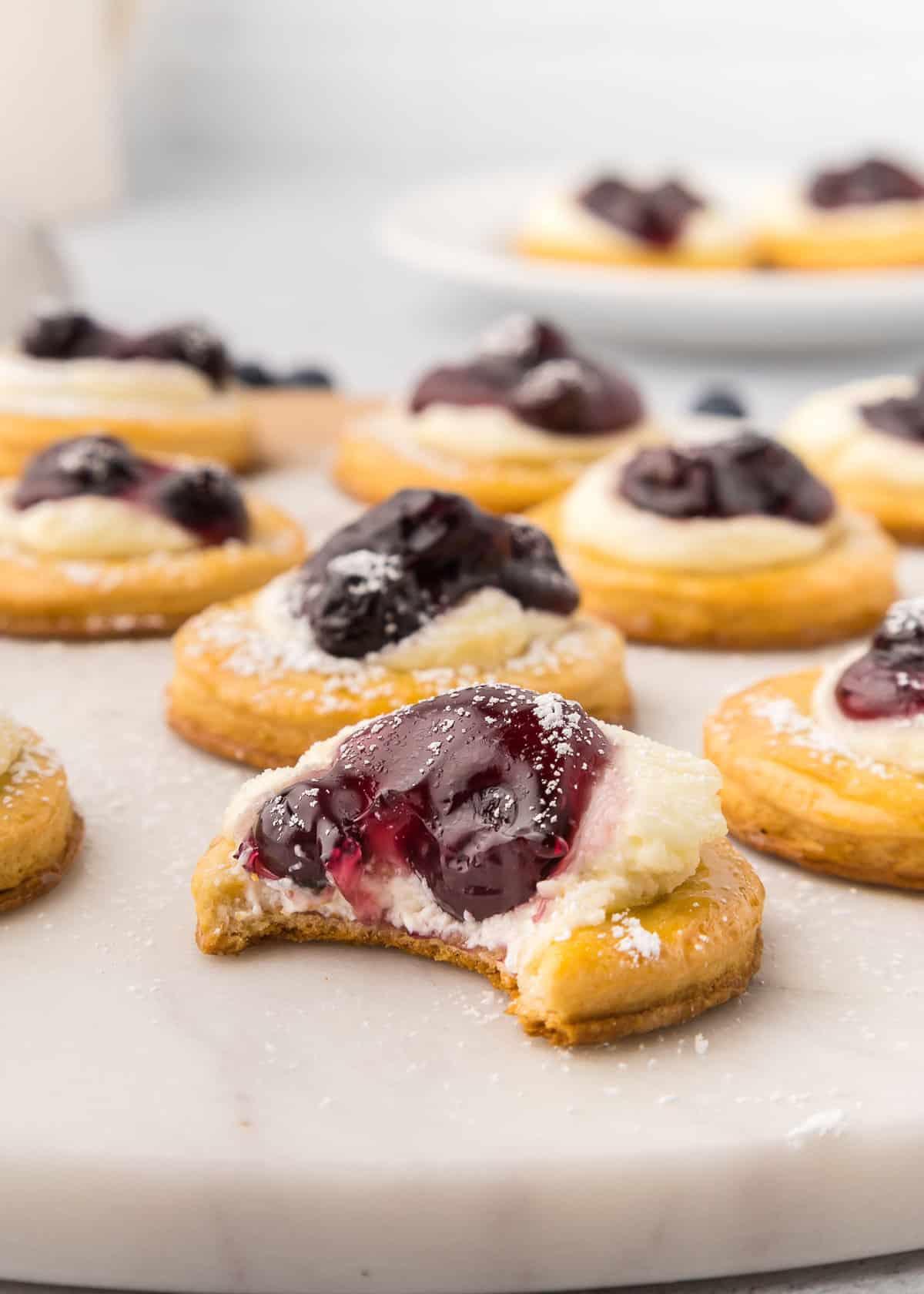 Other popular breakfast sweets to try!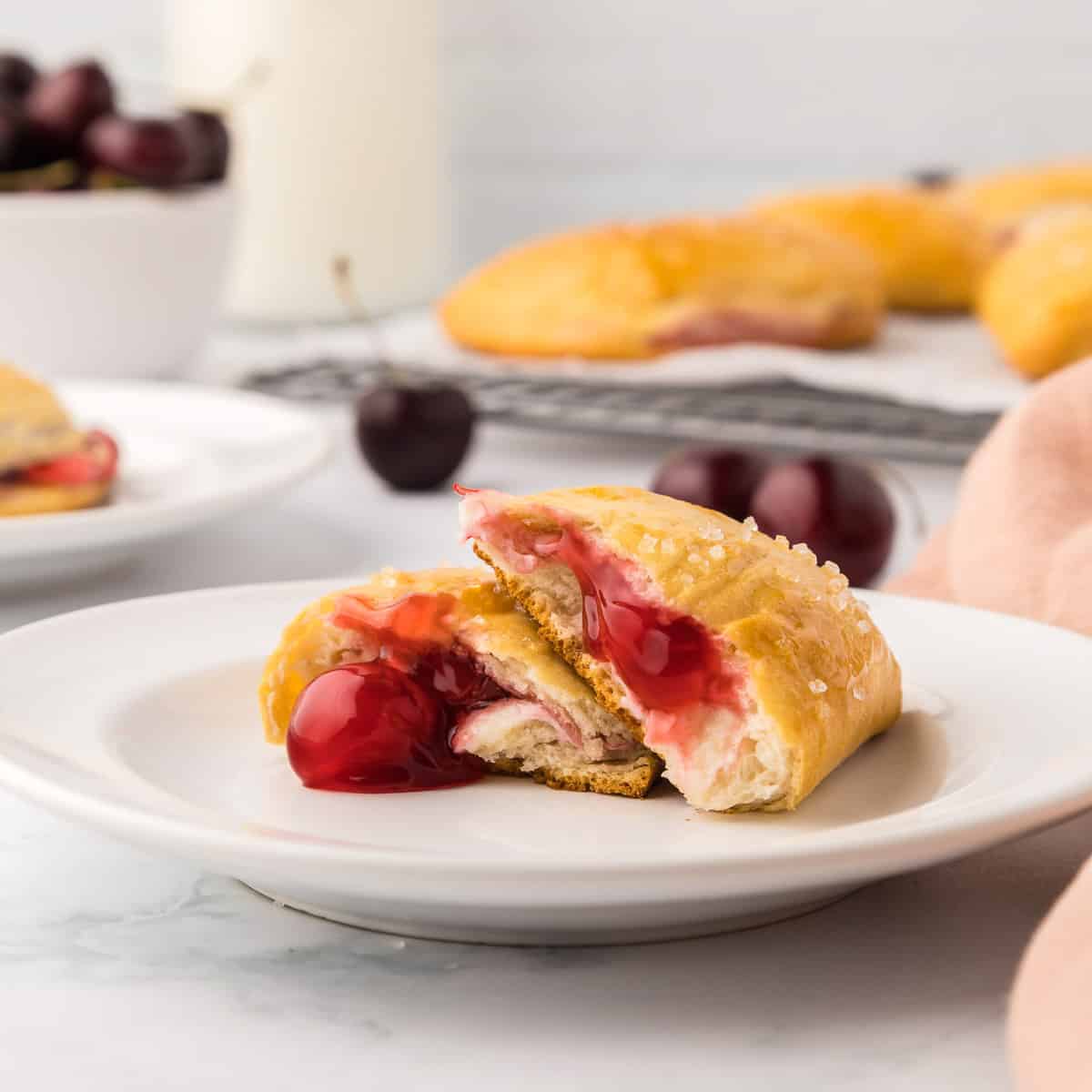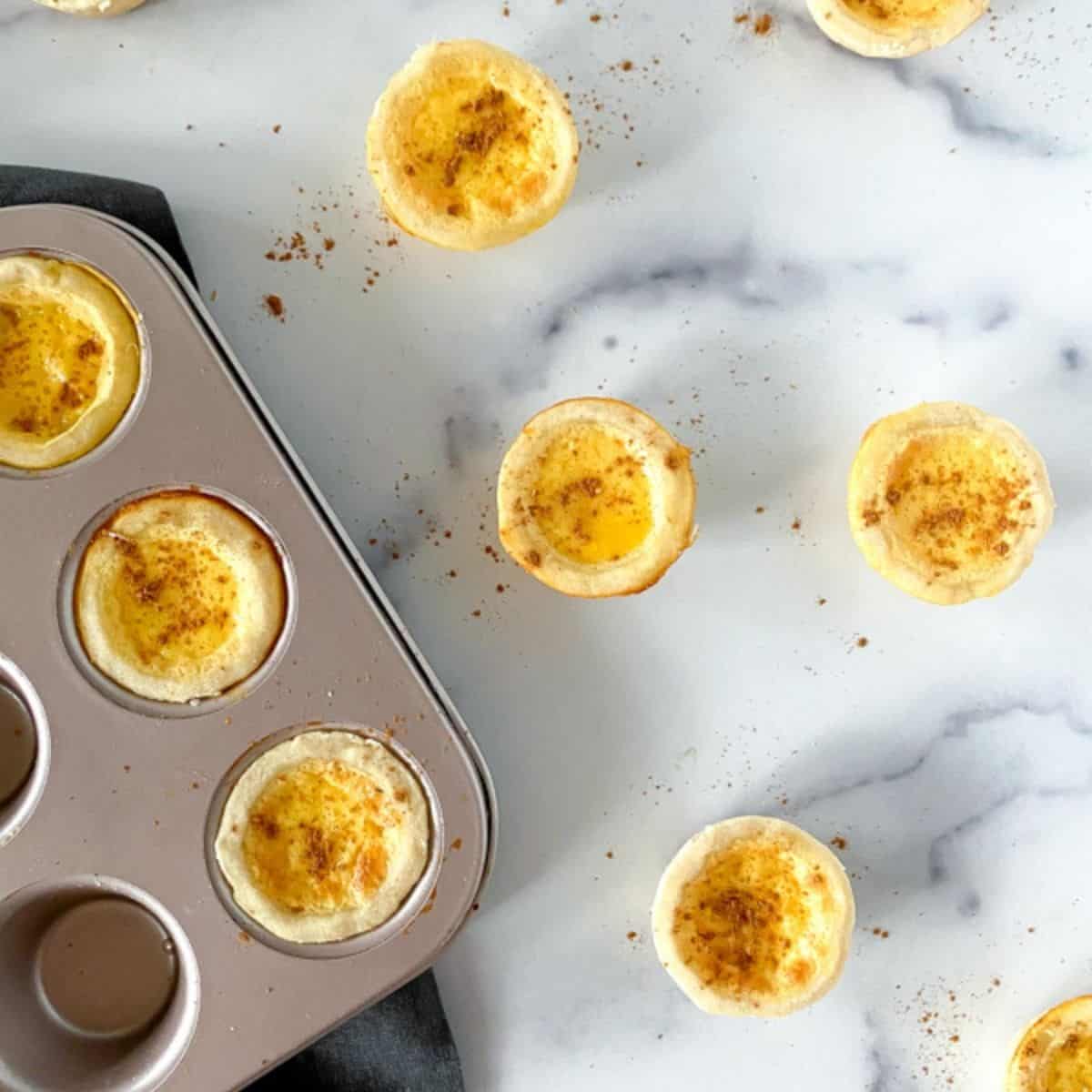 ---
📖 Recipe
Cream Cheese Crescent Roll Danish
I use Pillsbury crescent rolls to make this super easy and quick danish recipe! They're fun to make for brunch or morning get-together and can be filled with whatever filling you like best!
Print
Pin
Rate
Ingredients
1

Sheet

Crescent Roll Dough

¼

Cup

Blueberry Filling

((I used canned pie filling))
Cream Cheese Filling
4 oz.

Cream Cheese + 1 tablespoon Milk

¼

teaspoon

Vanilla Extract

2

teaspoon

Powdered Sugar
Egg Wash
1

Large

Egg + 1 tbsp. water
Instructions
Take your crescent dough and unroll it onto a floured surface. Cut out as many rounds as you can. I was able to get about 15 rounds that measure about 2 ½" in diameter. Lay each round onto a nonstick baking sheet.

Brush each round gently with your egg wash.

Mix your cream cheese filling and add to a piping bag or ziploc bag. Your hole should be about the size of a quarter so the filling comes out nice and thick. Pipe the cheese filling into the center of each round.

Top with a dollop of your canned blueberry filling.

Bake for about 12 minutes at 375°F or until edges are golden brown. Enjoy warm or cooled.

Optional* When cooled, sift some powdered sugar over top.
Recipe Notes
You can add a glaze by mixing together:
¾ cup powdered sugar
1-3 tablespoon milk or cream (Start with 1 and add more as needed!)
*The consistency should be thick but thin enough to drizzle over your danish.
You can use any fruit filling you prefer. Here are the more popular danish toppings you can try:
strawberry
apple
lemon curd
cherry
Freeze in a storage container for up to 3 months. Make sure to use parchment paper to prevent sticking.
Other breakfast sweets to try:
Nutrition
Serving:
0
g
|
Calories:
83
kcal
|
Carbohydrates:
0
g
|
Protein:
2.1
g
|
Fat:
6.3
g
|
Saturated Fat:
3.8
g
|
Polyunsaturated Fat:
0
g
|
Monounsaturated Fat:
0
g
|
Trans Fat:
0
g
|
Cholesterol:
41
mg
|
Sodium:
0
mg
|
Potassium:
29
mg
|
Fiber:
0.1
g
|
Sugar:
3.2
g
|
Vitamin A:
0
IU
|
Vitamin C:
0
mg
|
Calcium:
19
mg
|
Iron:
0
mg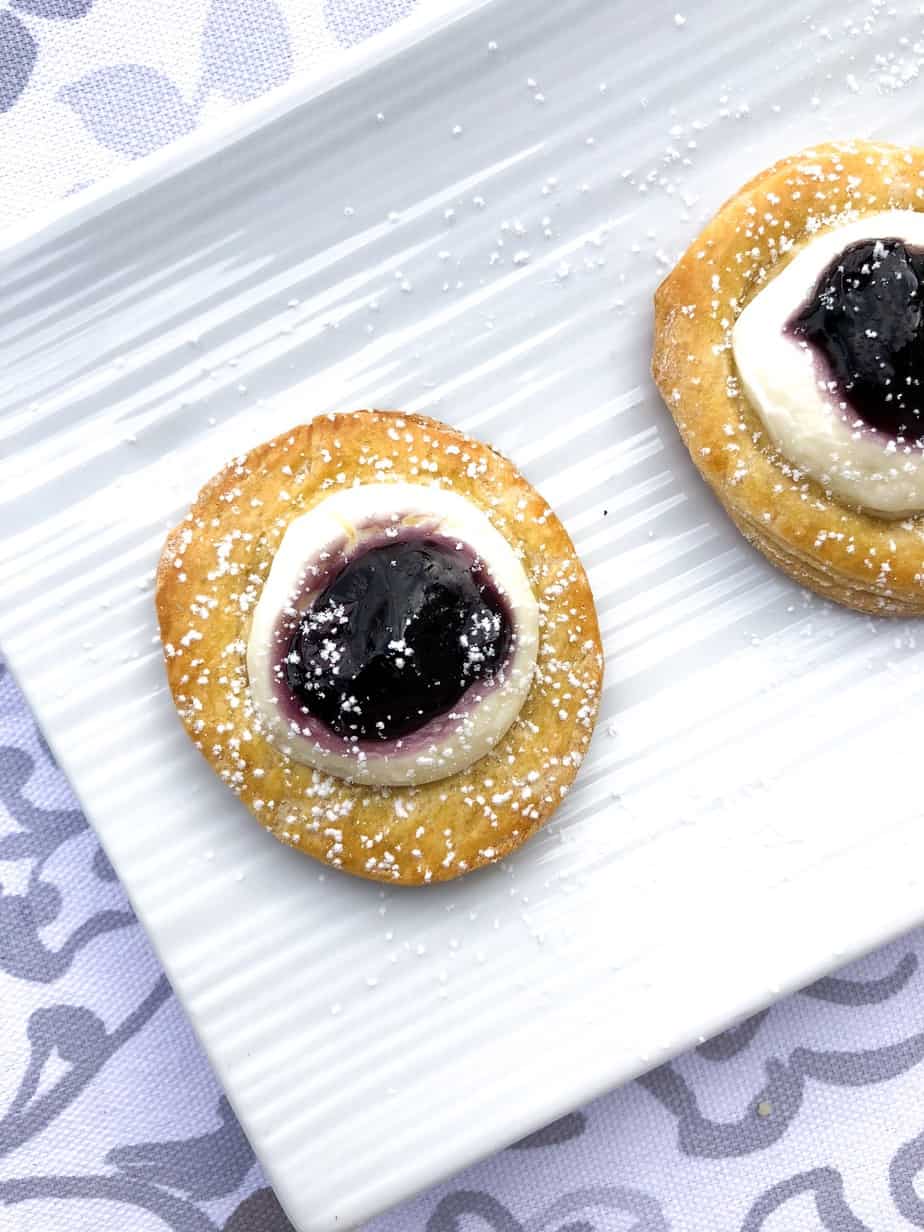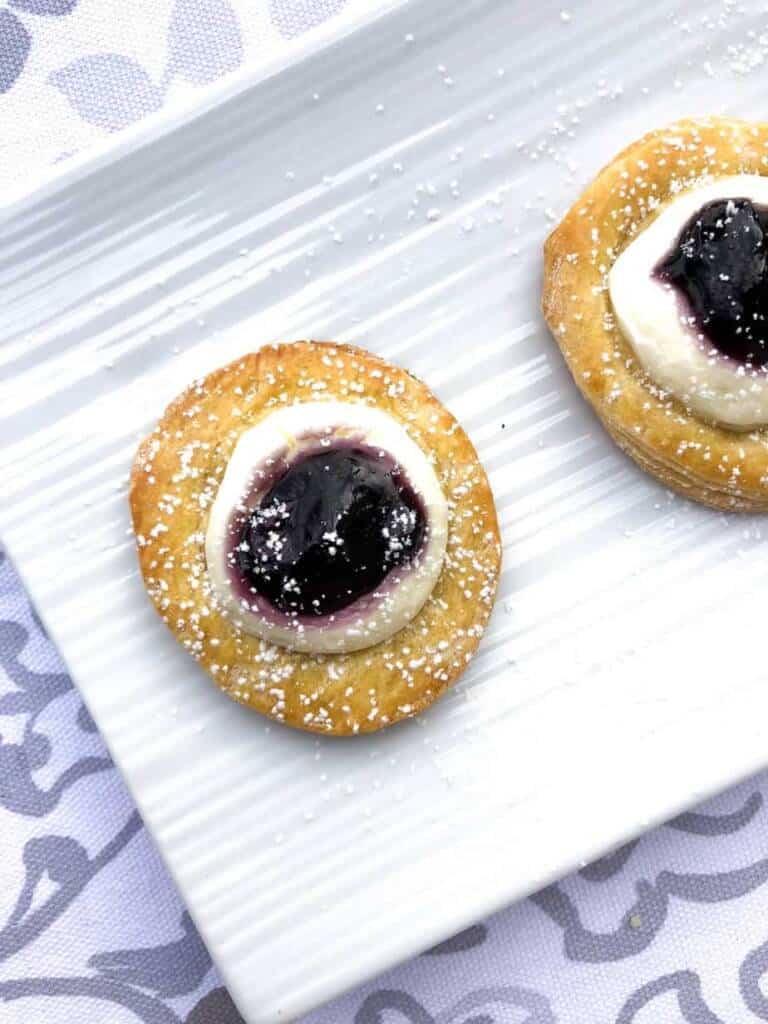 Recent posts!