These Sweet Dessert Empanadas are a fun easier take on an empanada. It uses canned biscuit dough so no need to worry about rolling out the dough. I stuffed each empanada with a sweet cherry cream cheese and then bake them until light and puffy. They're an easy and fun dessert kids and adults will love.
Jump to:
This dessert empanadas recipe (or empanaditas aka mini empanadas) are a fun and delicious sweet treat friends and family will LOVE!
They remind me of a cherry cream cheese turnover or handheld cherry cheesecake!
I used Pillsbury's flaky biscuits for my empanada dough. They make this recipe super quick since the dough is all ready for you! I mean biscuits stuffed with a cherry cheesecake filling??
Yess pleasse!
What are empanadas?
Empanadas are a type of baked or fried pasty stuffed with either a sweet or savory filling. It is a popular treat in many countries such as Mexico, Latin America, and Spain.
Dessert empanadas are simply using a sweet filling as opposed to a savory one like my veggie empanadas.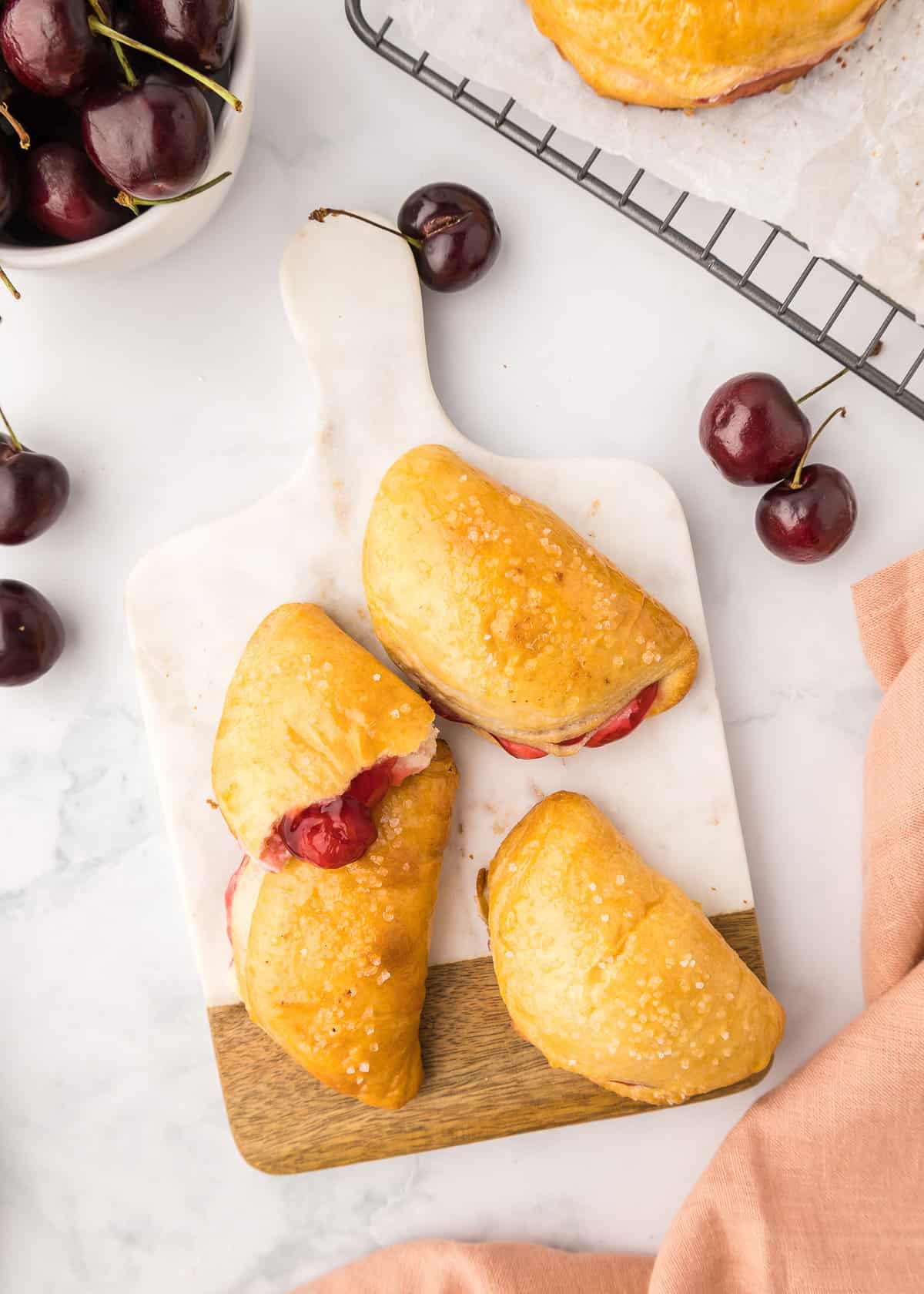 How do you make dessert empanadas?
Dessert empanadas are made by taking pastry dough or empanada dough, cutting it into small rounds and then filling the round with any sweet filling you choose.
Then you fold your empanadas in half sealing with your fingers or a fork.
For this sweet empanada recipe, I used:
-canned cherries
-cream cheese
-vanilla extract
-powdered sugar
But feel free to use any sweet filling you like!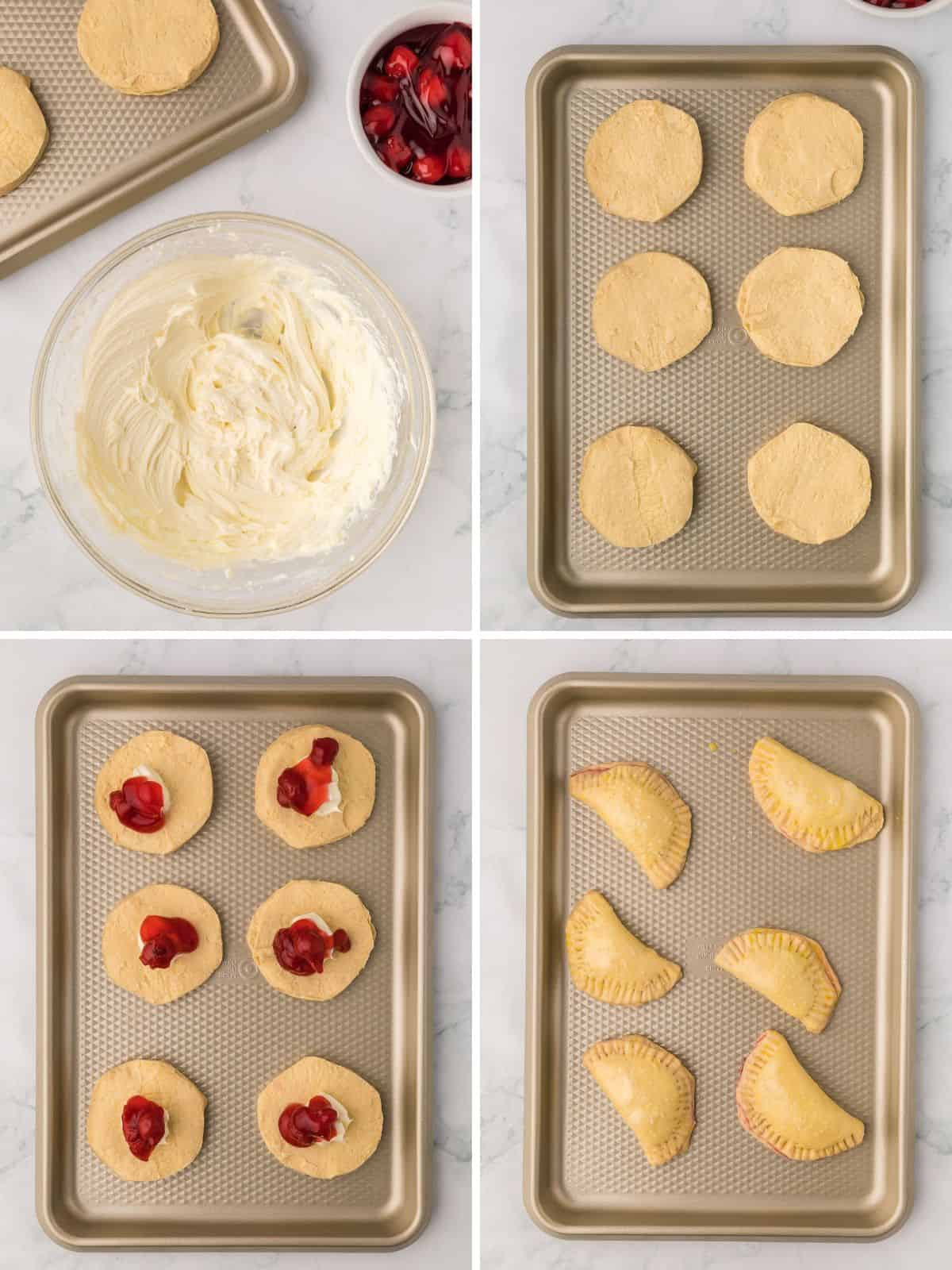 Other sweet empanadas fillings:
You could add ANY fruit filling to the cream cheese mixture and they would be just as delicious! I recommend using canned pie filling since it is already thickened and sweetened. Some other filling ideas are:
apple
peach
strawberry, blueberry, raspberry
rhubarb
pumpkin
chocolate (or nutella!)
I think it would be fun to do a mixture of a few fruit fillings and let guests choose!
Empanada Dough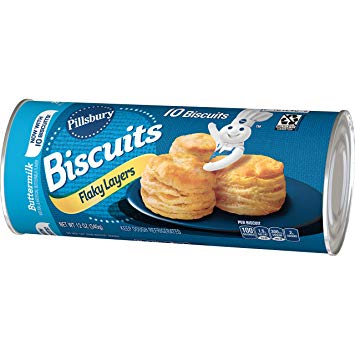 For this recipe, I used Pillsbury's canned flaky layers biscuit dough! I LOVE this product because the dough already come in perfectly shaped rounds so you don't have to worry about rolling and cutting. Plus, the dough is so moist and flaky, it's a win-win!
All you need to do is pull apart the biscuit layers, stuff the dough round and fold over the dough. Then brush with an egg wash and your empanadas are ready to bake!
Other dough options:
If you're looking to make your OWN homemade dough from scratch, here is a good recipe.
You can also purchase store-bought frozen empanada discs like Goya has here.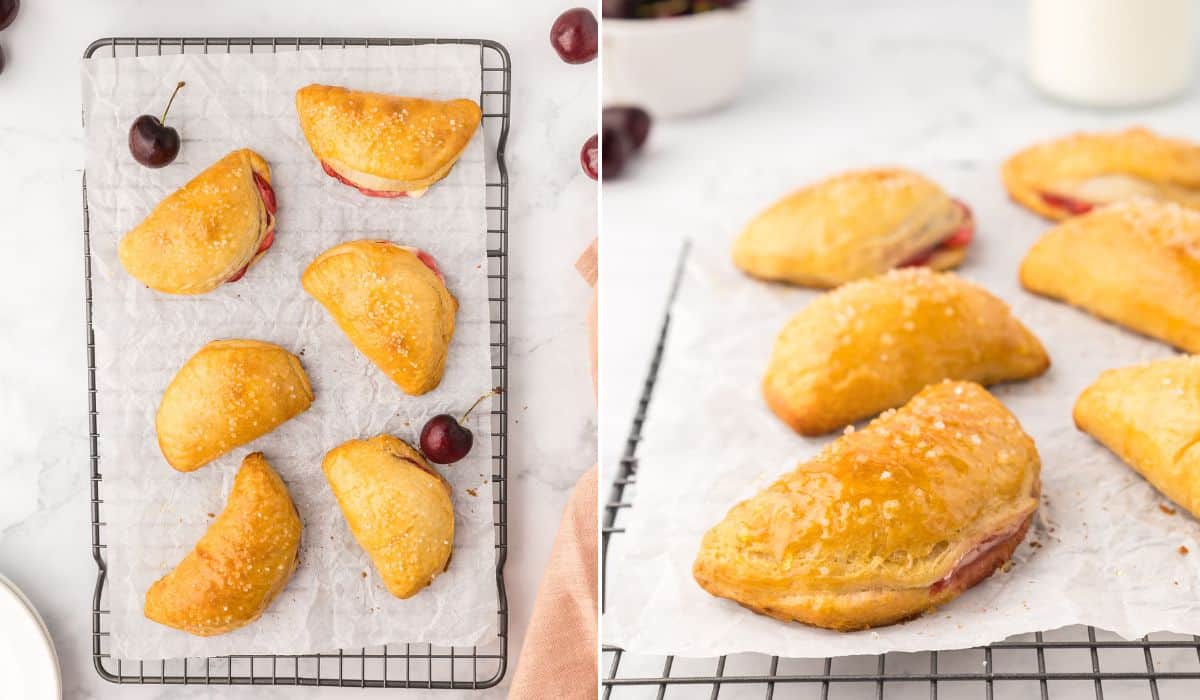 Should You Fry or Bake Them?
You can cook your empanadas by either frying or baking them! Since these empanadas are made with a sweet dessert filling, I think frying them may cause the cream cheese filling to ooze out. Plus, it is not as healthy and takes more time.
So instead, I chose to BAKE my minis! Baked empanadas are healthier, easier to cook in batches and allows the filling to stay packed inside! I baked these at 350 degrees F for 12-15 minutes.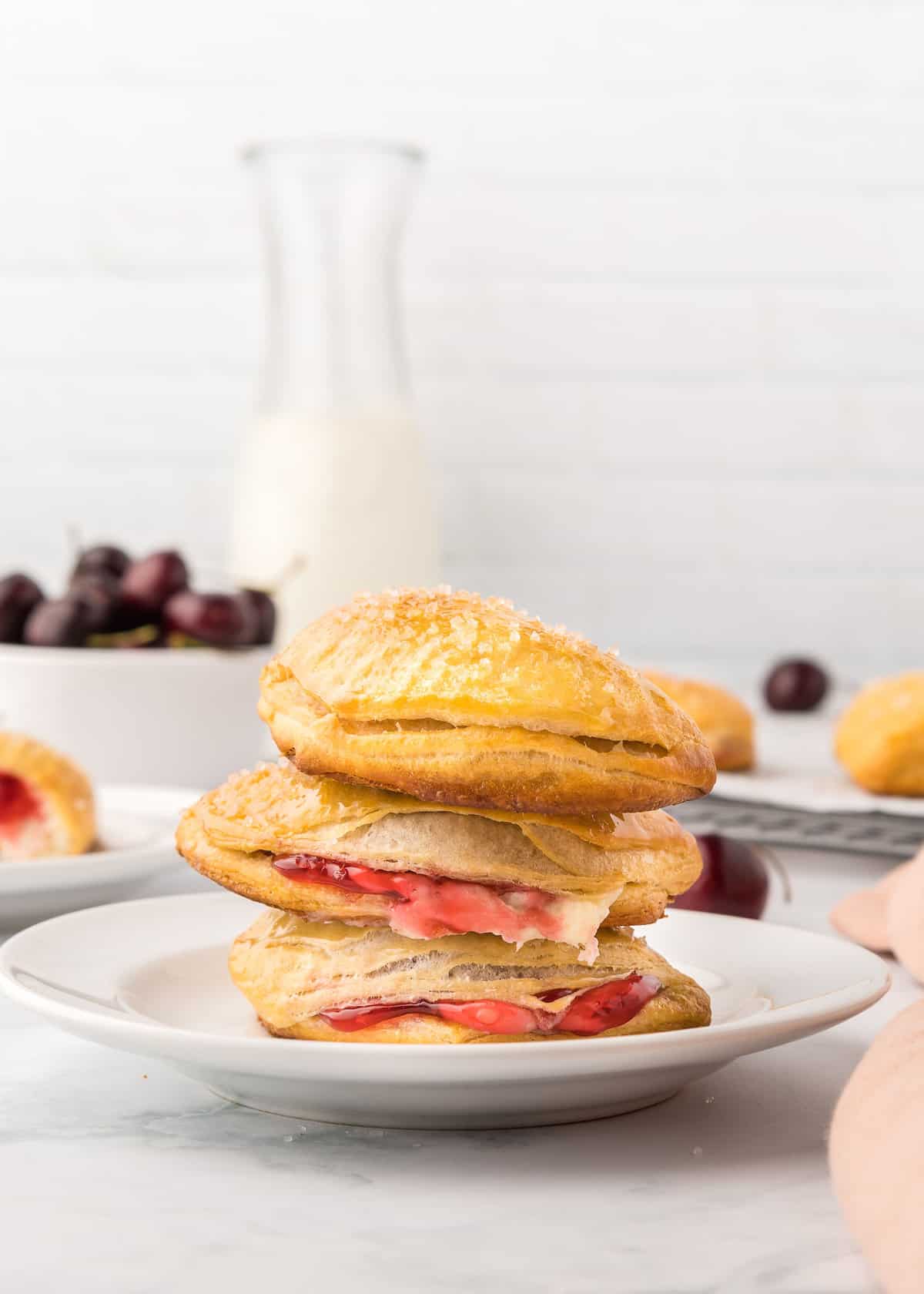 Serving Tips
I recommend serving your dessert empanadas WARM! They will need to cool for about 5 minutes but so worth the wait! You can sprinkle powdered sugar on top of your pastries or more sugar or cinnamon or whatever your heart pleases!
If you want to make these sweet empanadas ahead of time, I suggest waiting until the last minute to pop them in the oven. So what you will want to do is assemble them and then line them on a baking sheet. Cover with plastic wrap and refrigerate until ready to bake!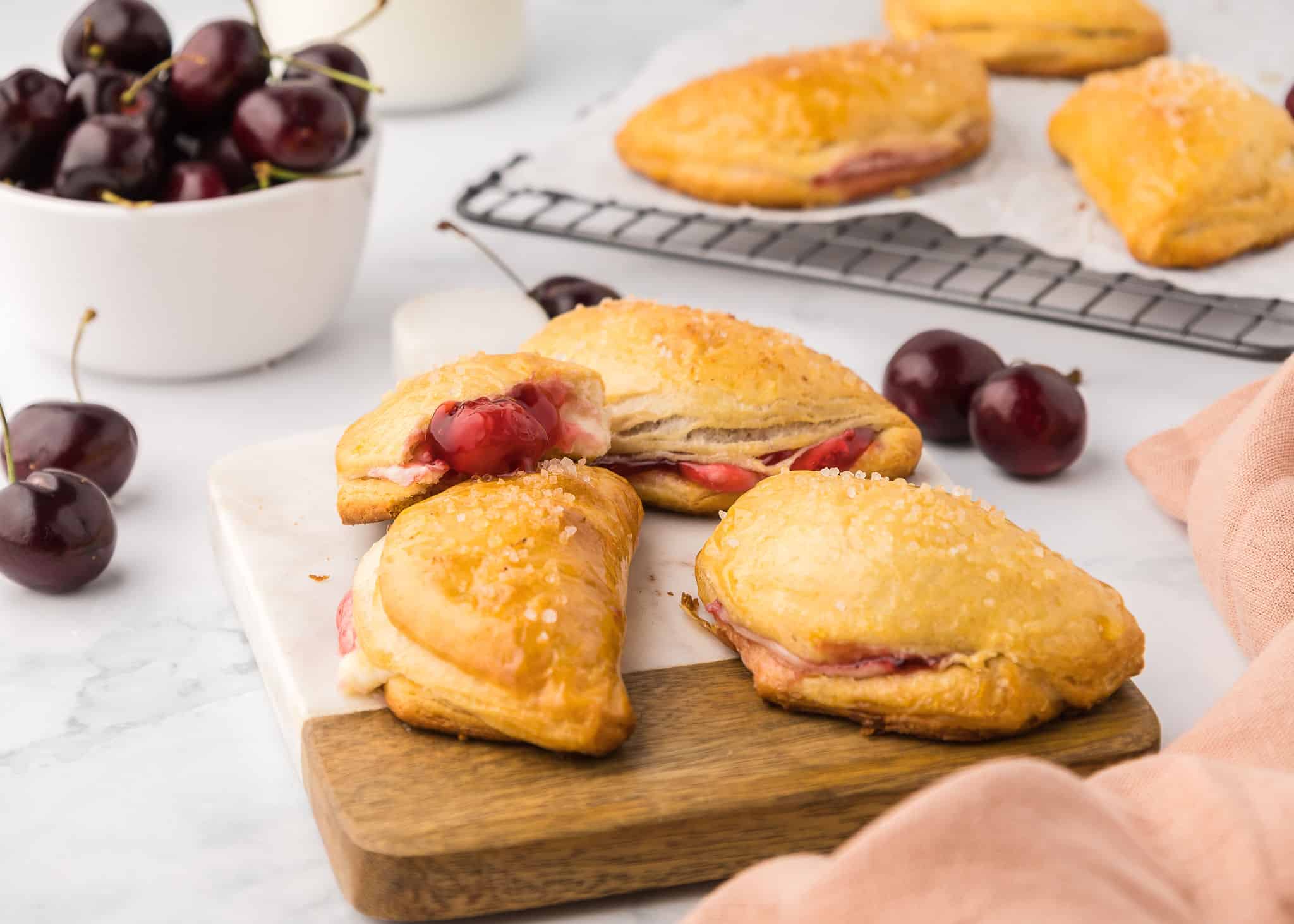 Expert Tips
Make sure to fill your empanadas up!
Seal your edges well by using a fork or pinching the dough together with your fingers
You can fill these ahead of time and freeze them to save for later
Adding sugar crystals to the top before baking gives your empanadas a pretty look AND a crunchy bite (like some muffins have)
Serve for breakfast with coffee OR as a fun dessert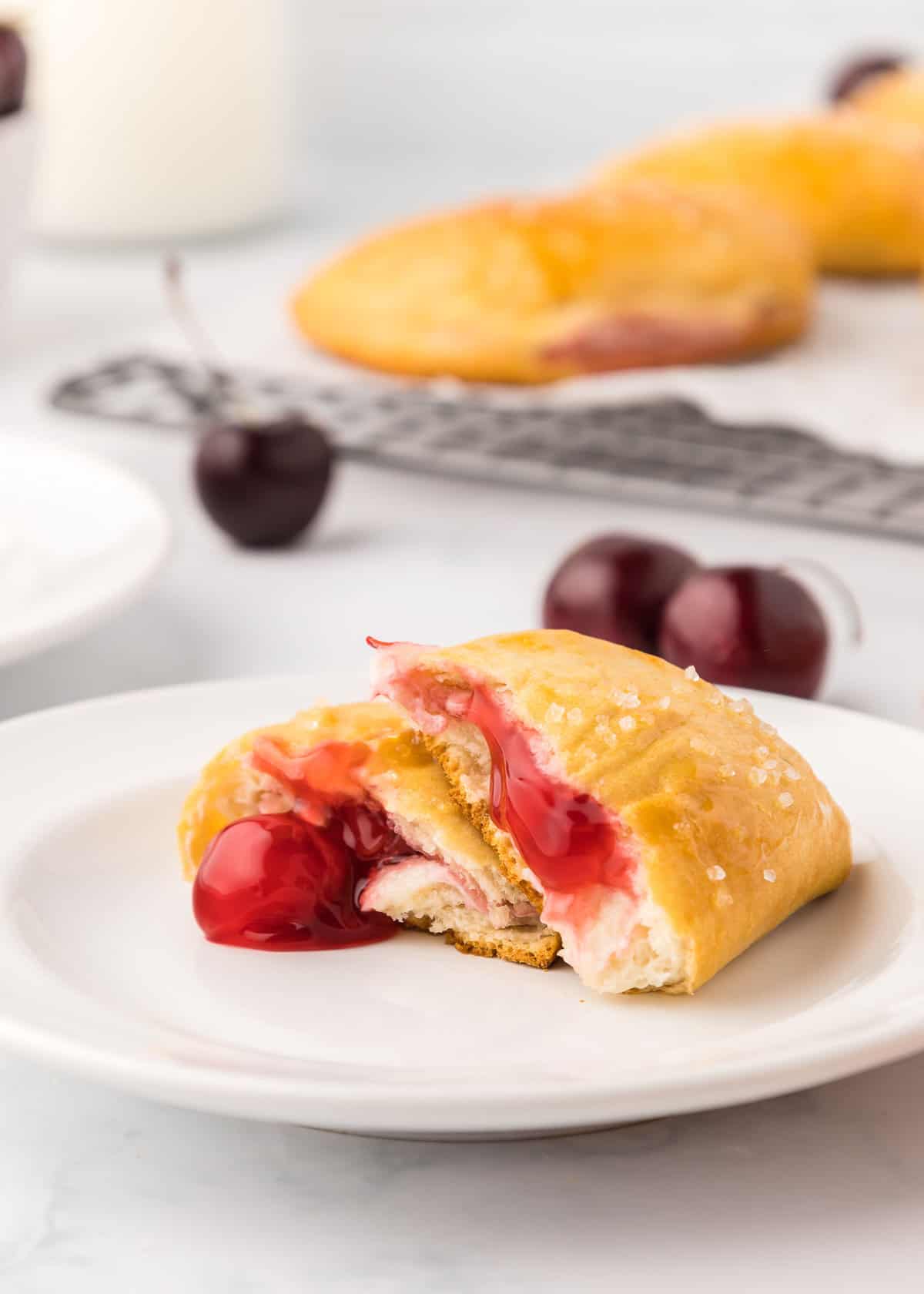 Other Popular Sweets To Try!
📖 Recipe
Sweet Dessert Empanadas
These Sweet Dessert Empanadas are a fun treat that uses canned biscuit dough. The dough is stuffed with sweet cherry cream cheese and then baked until light and puffy. An easy and fun bite sized party dessert!
Print
Pin
Rate
Ingredients
1

8 ct 16.3 oz Can

Pillsbury Grands! Flaky Layers Original Biscuits
Cherry Cheesecake Filling
⅔

Cup

Canned Cherry Pie Filling

8

oz.

Cream Cheese

½

Cup

Powdered Sugar

1

Tsp.

Vanilla Extract
Instructions
Pop open your can of biscuits and separate each of the 8 biscuits. Next, take each biscuit and separate them in half by pulling apart the layers down the middle. You should have 16 biscuits now. Take each separated biscuit round and lay each onto a baking sheet. (Greasing your baking sheet is not needed).*If you did not use Pillbury's FLAKEY LAYERS biscuits, see note below.

Cream together your cream cheese, sugar and vanilla in a bowl or mixer.

Add your cheesecake filling and your cherry pie filling to two separate Ziploc sandwich bags. (small bags) Snip off the corners of each so you have a hole about the size of a dime. We will use these to neatly pipe our filling.*Adding your filling to bags is not necessary but helps makes thing MUCH easier and quicker.

Squeeze, or spoon, about a tablespoon of cheesecake filling in the center of each biscuit round. Then squeeze the same amount of the cherry filling over top of the cheesecake filling. You want to fill your rounds up as MUCH as possible without spilling out! (And if filling spills out, it's okay!)

Carefully close your empanadas by folding them in half and either pinch the ends together using either your fingers or a fork to seal the edges together. (See photos above.) Make sure to seal them well! TIP* The dough stretches easily so to help close them, pick the filled dough up by both sides and let the weight of the filling sink down in the middle to help stretch the dough a bit before folding.

Using a pastry brush, lightly brush your scrambled egg wash over top of each sealed empanada. Then sprinkle the top of each with sugar crystals if you have them for a pretty look AND an added crunchy bite. (This is optional)

Bake them on the middle rack for 12-15 minutes or until your dough becomes golden brown. Serve warm or at room temperature.
Recipe Notes
*For this recipe, I used Pillsbury's canned flaky layers biscuit dough. They already come in perfectly shaped rounds so you don't have to worry about shaping them out.
If you did not get this type of biscuit dough, you will need to CUT each biscuit in half lengthwise and then roll them out or pat them down until they are rounded. (They don't need to be perfect rounds.) Store any leftover empanadas in a sealed Tupperware container. They have the shelf-life of a danish so will last just 1-2 days at room temperature. If you refrigerate them, they can last up to a week. Freeze them and they will last up to 2 months.
Nutrition
Serving:
2
g
|
Calories:
328
kcal
|
Carbohydrates:
38.9
g
|
Protein:
5.1
g
|
Fat:
17.1
g
|
Saturated Fat:
6.7
g
|
Cholesterol:
28
mg
|
Sodium:
614
mg
|
Potassium:
167
mg
|
Fiber:
0.8
g
|
Calcium:
47
mg
|
Iron:
2
mg