These Mini Cornbread Muffins are sweet, moist and easy to make from scratch. I used a little maple syrup which takes them to another level, TRUST ME! They're the perfect breakfast pairing or for serving as a side dish at your next BBQ or alongside a batch of chili!
These homemade mini cornbread muffins are one of my favorite things to serve when entertaining because they can be enjoyed for breakfast, brunch, with dinner or as a dessert!
I love this recipe because its made with NO Jiffy cornbread mix!
Instead, I used fine or medium ground yellow cornmeal which I highly recommend. (See why below!)
They're the perfect finger food for any gathering especially in the summer or you can serve for breakfast along with my Healthy Banana Walnut Muffins.
Serving dinner? Pair the, with my Potato Salad (No Mayo) or my Greek Orzo Pasta Salad.
🌽Know Your Cornmeal
Cornmeal can be quite complex.
They have fine, medium, and coarsely ground cornmeal not to mention, white, yellow and blue!
Stone-ground is another option as opposed to rolled.
Different cornmeal is better for different recipes. For example, polenta and grits vs. corn muffins require different levels of coarseness.
For corn muffins, the best type of cornmeal to use is a medium-grind or fine-grind yellow cornmeal. Medium-grind cornmeal will give the muffins a slightly gritty texture, while fine-grind cornmeal will produce a more tender texture.
Anything but coarsely ground is best for making cornbread muffins! Fine or medium ground is recommended.
"What's the difference between cornbread and cornbread muffins?"
Cornbread and cornbread muffins are both made from the same basic ingredients: cornmeal, flour, sugar, baking powder, salt, eggs, milk, and oil or butter. However, there are a few key differences between the two:
Shape: Cornbread is typically baked in a square or round baking pan, while cornbread muffins are baked in individual muffin cups.

Texture: Cornbread is often denser and coarser in texture than cornbread muffins, which are lighter and more tender.

Serving size: Cornbread is usually served in larger portions as a side dish, while cornbread muffins ESPECIALLY mini ones, are often served as a smaller accompaniment or snack.

Cooking time: Cornbread typically takes longer to bake than cornbread muffins due to the larger size of the pan. Cornbread muffins bake more quickly due to their smaller size.
Overall, cornbread and cornbread muffins are very similar in taste and ingredients, but their differences in shape, texture, serving size, crust, and cooking time make them distinct from one another.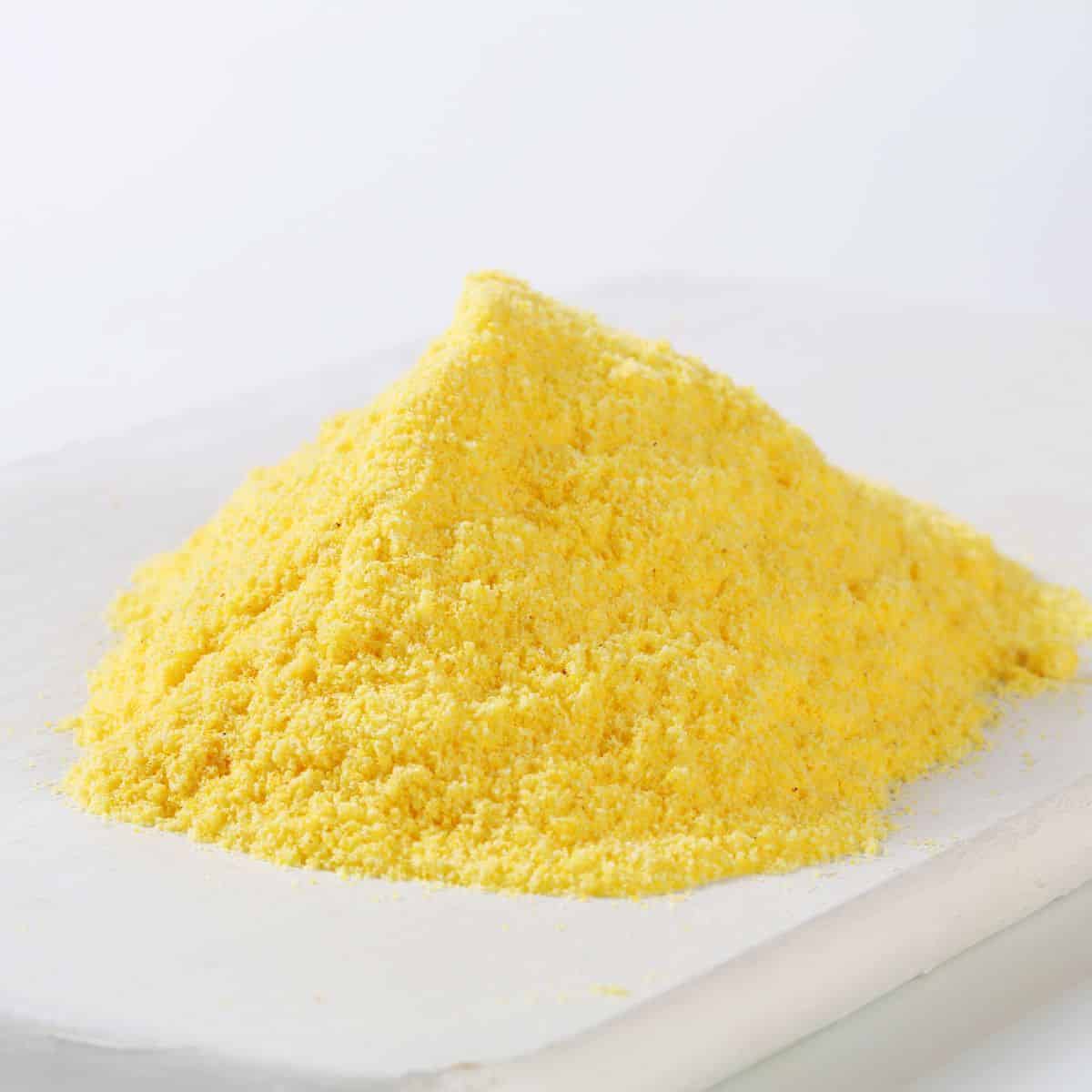 Should I use white or yellow cornmeal?
White cornmeal can also be used for a milder flavor, but it will produce a less golden color in the muffins compared to yellow cornmeal.
It's important to avoid using self-rising cornmeal or cornmeal mixes that contain leavening agents, as they can affect the texture and rise of the muffins. We will be using our own leaveners to do this! 🙂
🛒 Ingredient Tips
Stone Ground Yellow Corn Meal- I recommend fine or medium ground cornmeal for the best results.
Flour- Any all purpose or wheat flour will work.
Baking Soda & Powder- This helps your muffins rise.
Cinnamon- This adds some warm spice.
Brown Sugar- For some sweetness! I love the deep molasses flavor brown sugar gives compared to white sugar.
Butter- All cornbread needs butter!
Eggs- To help hold the muffin together.
Pure Maple Syrup- To add more sweetness.
Sour Cream- Adds a tang as well as some moisture.
Whole Milk- For moisture and to maintain a rich flavor.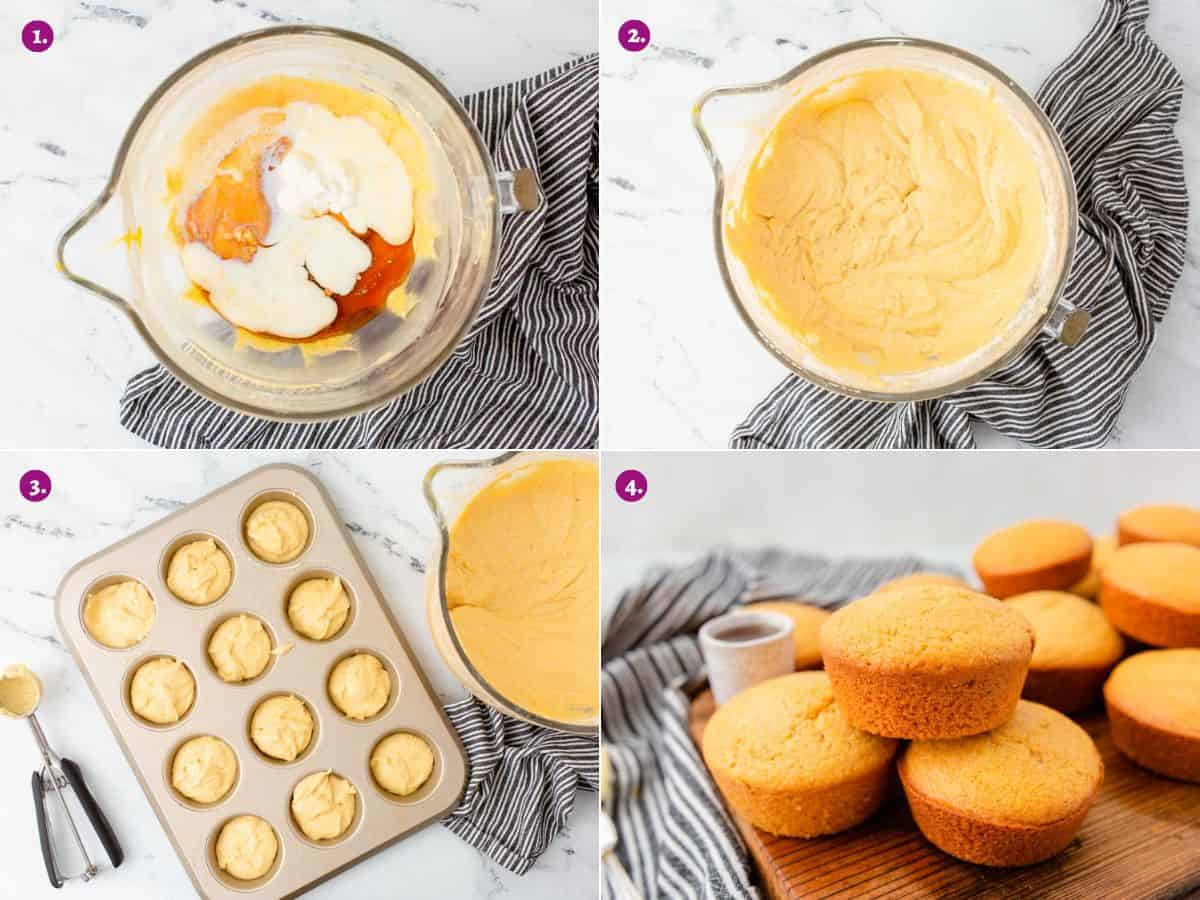 🧑‍🍳 How To Make Mini Cornbread Muffins
Add your dry ingredients to a large mixing bowl.
Whisk in your wet ingredients and blend until JUST incorporated. You do not want to overmix your muffin batter.
Grease a mini (or regular sized) muffin tin with butter or cooking spray.
Scoop your muffin batter into each tin and bake.
Let cool and serve with honey and butter on the side.
📃 NOTE: You can print the FULL recipe with all ingredients & detailed instructions below!
Options For Baking
You have a couple different options...
You can bake them in mini muffins tins like I did in this recipe. If you do NOT have a mini muffin tin, see option #2.

You can bake these in larger muffin tins! Just know you will need to bake them longer

.
You can bake your cornbread in a brownie pan or any rectangular baking pan. Nothing too large though! I would aim for a 9 x 9, 11 x 7 or 9 x 13 pan. Then you can cut your cornbread into bite-sized squares. This is easier for serving.
Tip* Brush these bites with a mixture of melted butter and maple syrup right when they come out of the oven for an extra sweet, decadently moist cornbread.
Other side dishes you may like:
Easy Baked Chinese Shrimp Toast with Sesame Seeds
Oven Roasted Seasoned Potato Wedges
📽 If you love entertaining at home, subscribe to my YouTube channel!!
📖 Recipe
Mini Cornbread Muffins From Scratch
These Mini Cornbread Muffins are my favorite BBQ side dish! The maple flavor takes them to another level making them irresistable.
Print
Pin
Rate
Ingredients
2

Cups

Fine or Medium Ground Yellow Corn Meal

2

Cups

Flour

1½

Tsp.

Baking Soda

½

Tsp.

Baking Powder

1½

Tsp.

Salt

½

Tsp.

Cinnamon

1

Cup

Brown Sugar

2

Sticks (8 oz.)

Butter (room temperature)

3

Large

Eggs

½

Cup

Pure Maple Syrup

⅔

Cup

Sour Cream

1½

Cup

Whole Milk
Instructions
Add all dry ingredients, except sugar, to a large bowl and mix.

In a mixer, cream the butter and sugar together on high for 1 minute.

Turn down to medium speed and add eggs one at a time followed by the rest of the wet ingredients. Scrape down the sides with rubber spatula as you mix.

Slowly add the dry ingredients until fully incorporated.

Grease muffin tins and use a small spoon or mini ice cream scoop to fill each tin about ¾ of the way up.

Bake at 350 degrees F for 10 minutes on the middle to top rack or until middle comes out clean with a toothpick.

Brush some extra maple syrup onto the tops of each hot muffin while still in the tin.

When slightly cooled, turn muffin tin upside down onto counter and shake. Muffins should pop out. Hit the edge of the tin on counter to shake them out if needed.

Serve with butter or as is. Freeze if saving for later!
Recipe Notes
Tips*
Using coarse ground cornmeal is not recommend for these mini muffins.
Make these ahead and freeze them in layers in Tupperware!
Try serving with maple syrup drizzled over the top or serve it along side.
Nutrition
Serving:
0
g
|
Calories:
166
kcal
|
Carbohydrates:
31
g
|
Protein:
4
g
|
Fat:
3
g
|
Saturated Fat:
1
g
|
Polyunsaturated Fat:
1
g
|
Monounsaturated Fat:
1
g
|
Trans Fat:
0.01
g
|
Cholesterol:
28
mg
|
Sodium:
226
mg
|
Potassium:
116
mg
|
Fiber:
2
g
|
Sugar:
14
g
|
Vitamin A:
97
IU
|
Vitamin C:
0.1
mg
|
Calcium:
51
mg
|
Iron:
1
mg