I make these Potato Wedges in my oven weekly for dinner! They are the perfect side dish that stays moist and fluffy on the inside and crispy golden brown on the exterior.
I love BAKING my potato wedges in the oven instead of frying them which makes them much easier and healthier. I use a simple but flavorful seasoning to add flavor. I suggest serving them as a side dish, appetizer or tasty snack!
Oven roasted potato wedges are one of my most popular recipes and something I make at home for my family MULTIPLE times a week. They really are the BEST out there!
No lie.
They are better AND cheaper than those store-bought frozen wedges or restaurant or pub versions. The seasoning is simple but 100% necessary!
Plus, roasting your potato wedges make them much healthier than french fries.
Like my dairy free potato salad, these wedges pair incredibly well with dinners as a side dish especially roasted chicken. Plus, they are easy, quick and my kids LOVE them.
Jump to:
Have you ever served wedges as an APPETIZER? Guests rave over them! Make sure to check out other potato appetizer ideas!
🙋‍♂️Common Wedge Questions
Do you put seasoning before or after cooking potatoes?
Typically we want to add seasoning BEFORE cooking potatoes to impart the most flavor into our potatoes.
This is most likely because:
Your potatoes were too wet before they went into the oven
You didn't use enough oil
Your heat isn't high enough
Which potato is best for roasting?
I prefer using yukon gold or russet potatoes! Yukon gold or yellow potatoes are buttery as opposed to russet which are more starchy. The starch helps to produce a deeper golden brown color when roasting.
Should potatoes be soaked before roasting?
No they do not have to be soaked. I find that simply rinsing off the starch is good enough. Make sure to pat them completely dry after!
🥔How My Potato Wedges Are Different
No Flipping Required! Most people flip their wedges halfway through cooking time but not with this recipe. This will make sure your wedges don't tear or rip!
Oven placement! We are baking these babies at a high oven temperature and placing them on the bottom rack to crisp up the bottom of our wedges then transferring them to the top at the end to get the tops golden brown.
Yukon Gold: Instead of using russet potatoes like many other recipes, I use Yukon Golds. They are more buttery, tender and fluffy which results in the best wedge...in my opinion (although yukons work too!)
🛒Ingredient Tips!
Potatoes- I recommend using Yukon Gold. They're buttery and fluffier than russet.
Olive oil- Use a good heart healthy EVOO.
Spices- I like to keep it simple but flavorful by using garlic powder, onion powder, oregano and salt and pepper. Cajun/Italian seasoning, chili powder or Lawry's would work too.
*Parmesan Cheese- This is an optional addition but something that will add lots of flavor.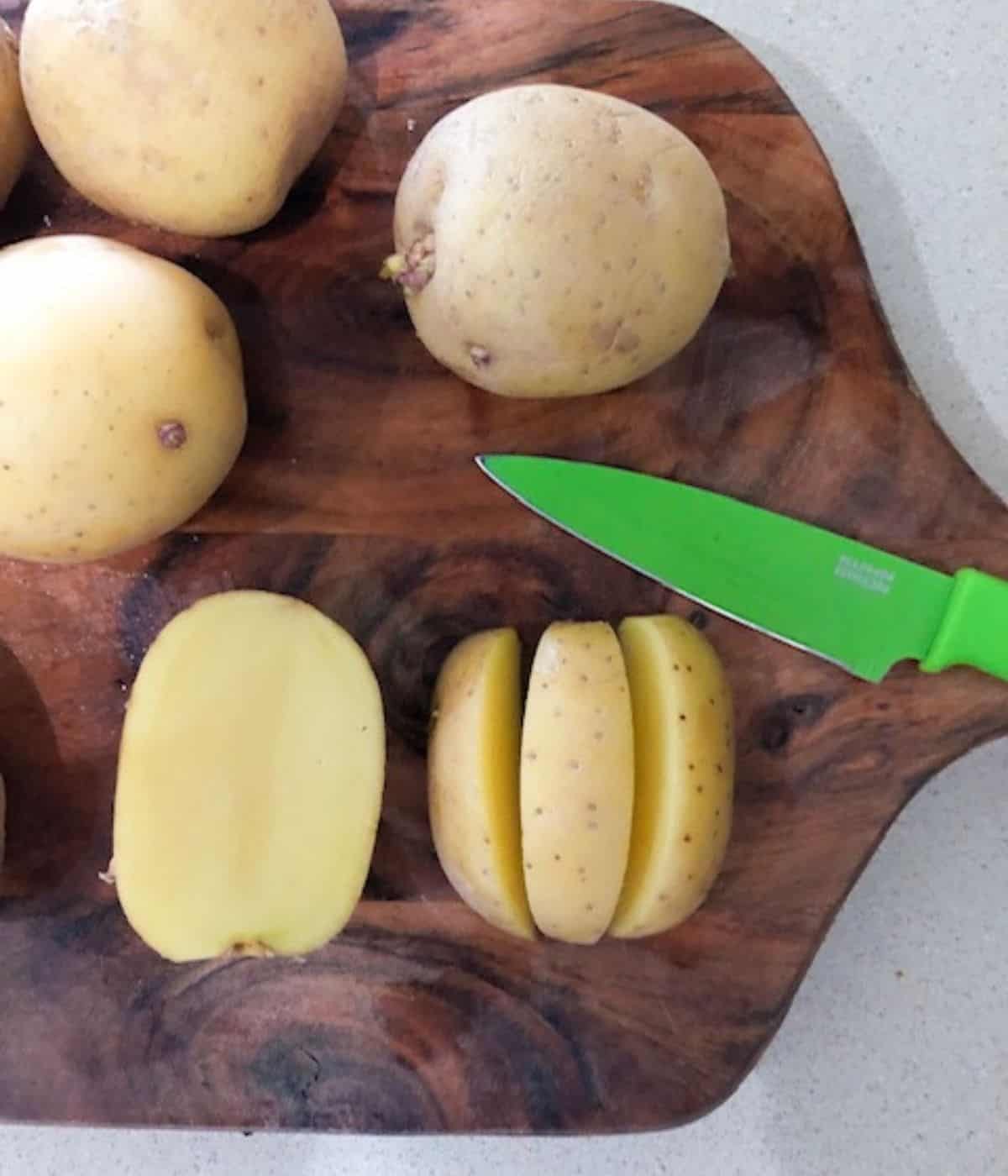 How To Make Oven Roasted Potato Wedges
🔪1. Cut Potatoes Into Wedges
Clean your potatoes and grab a cutting board. You have two options for slicing:
Cut your potato in HALF lengthwise.
Cut each half into thirds or quarters or eights if they are really large potatoes.
*If your potatoes are smaller, cut them into thirds.
💦2. Rinse Off The Starch
Rinse your potatoes under cold water to remove the starch which can prevent crispy potatoes. Pat dry completely using a paper towel or dish cloth.
🧂3. Add Seasoning
I like to add a blend of salt, pepper, garlic powder, onion powder and oregano. Smoked paprika is also a great addition! Add oil with your seasning.
🔥4. Roast Your Potatoes
Lay wedges FLAT on a baking sheet and roast in the oven at 400-425 degrees F. The trick is to place them on the BOTTOM rack first so the bottom of your wedges get golden brown and crispy.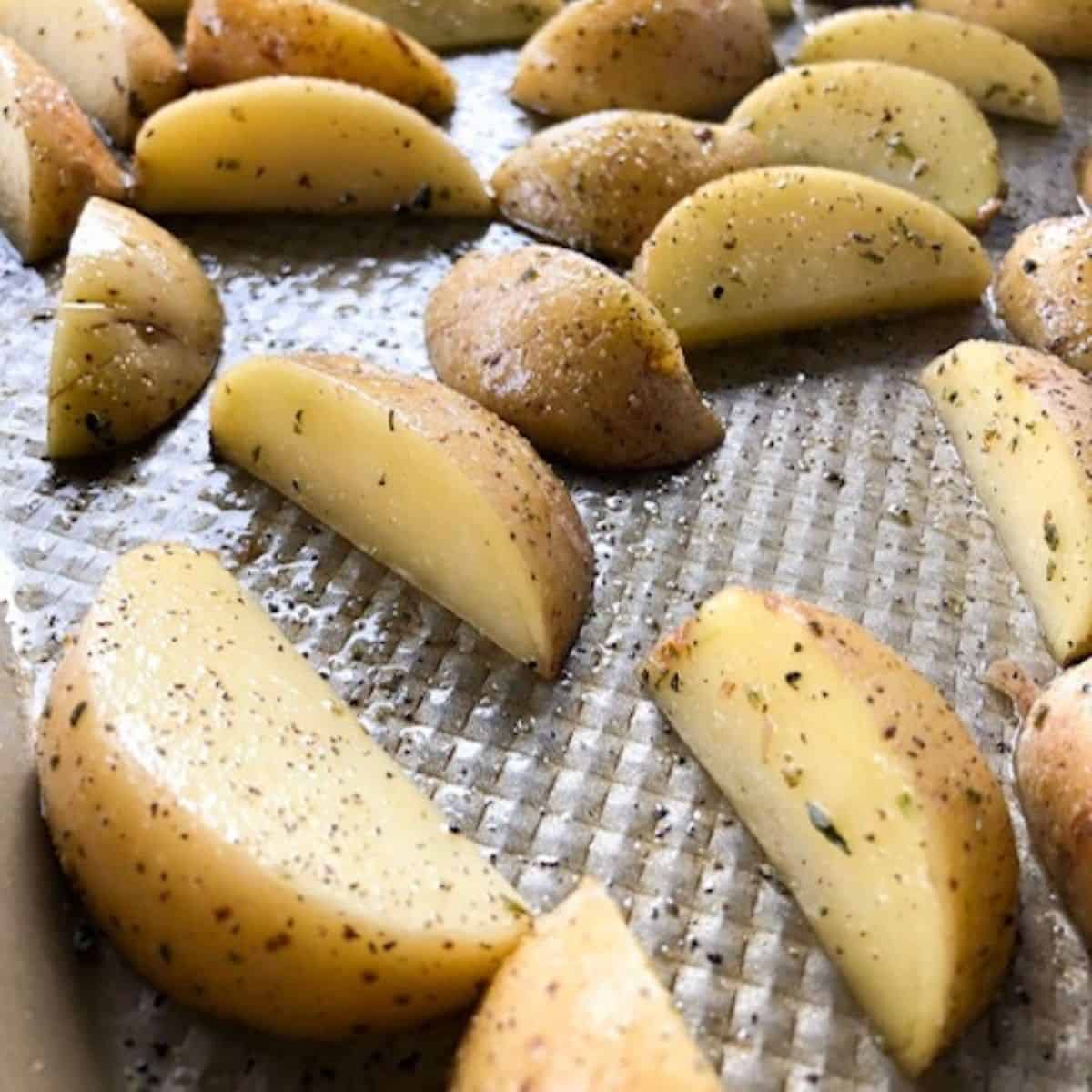 🥔 Wedge Tip* Throw your wedges along with the olive oil and spices in a Ziploc gallon sized bag and shake it to quickly coat or even marinate overnight!
📃 NOTE: Recipe card with exact quantities and detailed instructions are below! Print it out for later!
Other Seasoning Options
chili powder
lots of fresh garlic
paprika
freshly grated parmesan
fresh herbs like parsley and rosemary
Old bay seasoning
🥓 Love BACON? These wedges would be delicious served alongside of these Appetizers Wrapped In Bacon!
🧑‍🍳 Aleka's Wedge Tips
Tips to ensure your oven baked wedges are the best every single time:
1. OVEN PLACEMENT IS KEY! Place on the bottom of the oven first then finish on top!
2. SEASON WELL! Potatoes crave salt! You may need to season before AND after roasting.
3. USE ENOUGH OIL: Olive oil is a healthier go-to. Cooking spray isn't the best option since you need a lot of oil. You can use canola, vegetable or peanut oil.
4. CHOOSE THE RIGHT POTATOES: Yukon golds or russet will work best.
5. RINSE YOUR POTATOES: This will help them crisp up better.
7. DON'T OVERCROWD YOUR WEDGES: Space them apart to ensure the heat moves around them. Use two sheet pans if necessary!
What To Serve Potato Wedges With
These wedges are amazing on their own but would pair so well as a side dish with burgers, roasted chicken, fish or a fancy steak dinner.
They would also pair really well with my easy homemade white cheese sauce!
Ketchup, ranch, garlic aioli, chipotle sauce, or sour cream would be great options to dip your wedges into!
More FAQ'S
How do I prevent my wedges from sticking?
Use parchment paper! It's amazing stuff and works so well. Otherwise, make sure you are using enough oil. They should remove easily if they are baked properly.
Can I freeze potato wedges?
Yes, I recommend flash-freezing them flat on a baking sheet so they don't stick together. Then add them to a large freezer bag and store for up to 3 months.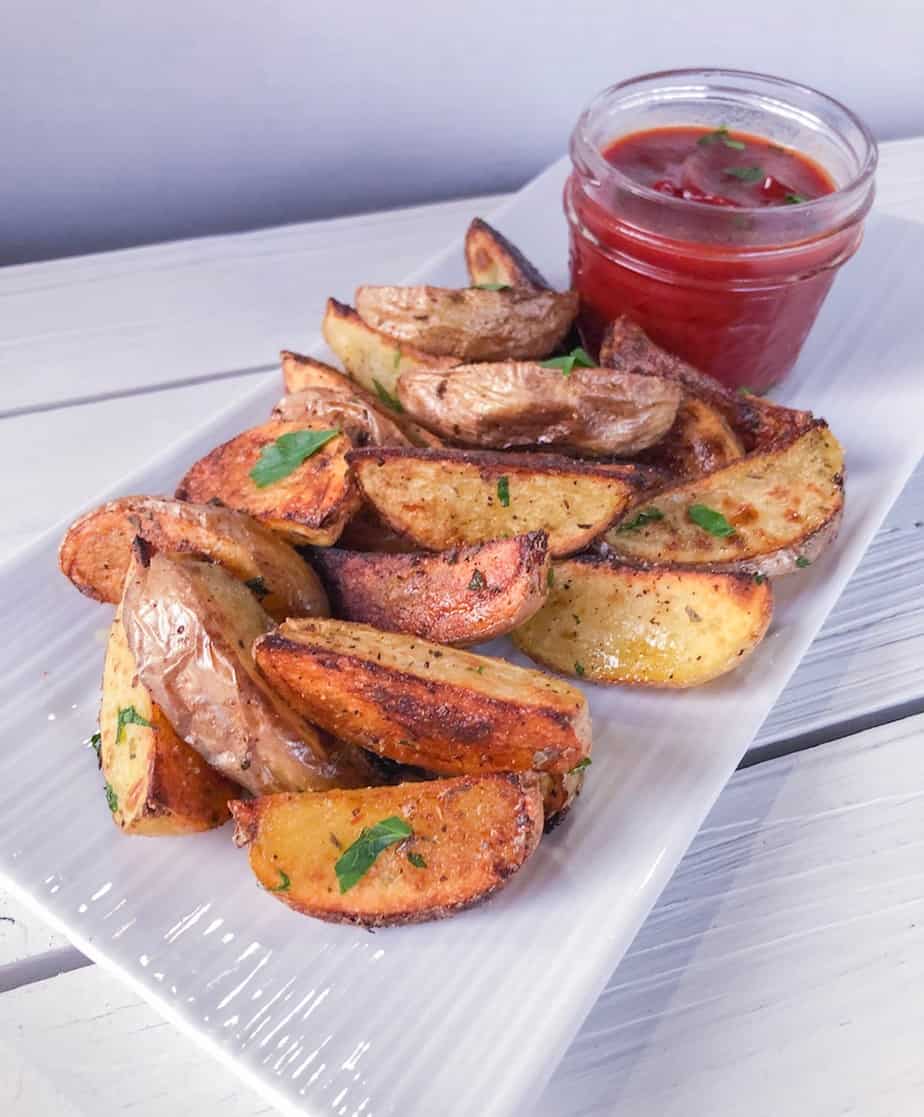 📲 FOLLOW Aleka on social!! 👋 Follow me on facebook, instagram, pinterest, youtube or tiktok for more recipes and entertaining tips!
Other Potato Recipes you'll LOVE:
📖 Recipe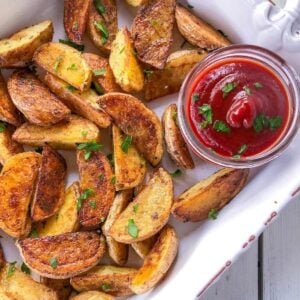 How To Make Potato Wedges
Crispy oven baked potato wedges that stay moist and fluffy on the inside! Baking your potatoes in the oven makes them an easy and healthy way to enjoy wedges without frying!
Print
Pin
Rate
Ingredients
8

Small-Medium

Yukon Gold Potatoes

((these work the best))

¼-½

Cup

Olive Oil

1

teaspoon

Oregano

⅛

teaspoon

Garlic Powder

⅛

teaspoon

Onion Powder

2

tablespoon

Fresh Chopped Parsley

Salt and Pepper to taste*
Instructions
Preheat oven to 400°F. Cut your potatoes in half, then cut each half into thirds. Each potato should give you 6 wedges! If you have larger potatoes, cut each half into quarters.

If you have parchment paper, lay some down on your baking sheet first.Place wedges on your baking sheet and drizzle with the olive oil, oregano, garlic powder and onion powder. Toss to evenly coat. You want your wedges generously coated in olive oil or the spices will burn. If you need to add more do so. Next, it is very important that you do these two things:1. Make sure your wedges are NOT touching each other! (use two sheets if you need or bake it two parts.)2. Make sure you lay your wedges cut side DOWN. (Not peel side down like a boat.)

Place your sheet pan on the lower third of your oven (bottom rack) for about 12-15 minutes or until the bottom of your wedges are nicely browned.

Move pan to one of your TOP racks and turn broiler to high. (Baking sheet should be about 6" from your broiler!) Leave for another 5-10 minutes or until golden brown on top. Keep an eye on your wedges, they will burn if you forget about them.Important* If your wedges are not fork tender at this point, turn oven to 350° F and leave them on the middle rack until they are fork tender.

When ready, take your wedges out and immediately season to taste with a little more salt, freshly cracked black pepper and parsley. Serve hot!Tip* Don't be afraid to add salt! Potatoes crave salt!
Recipe Notes
Potato Wedge Tips
Yukon Gold potatoes will give you the BEST results!
Make sure you buy medium to small sized potatoes. Huge wedges will take

longer

to cook and don't look as nice.
Season liberally with salt once they are still hot!!! Potatoes need salt! 🙂
***If your wedges are LARGE, you will need to bake these in the center of the oven for a longer time or the bottoms will burn and the center will not cook. Wedges will be done when you can prick easily with a fork.
Nutrition
Calories:
310
kcal
|
Carbohydrates:
42
g
|
Protein:
4.8
g
|
Fat:
9
g
|
Saturated Fat:
1.2
g
|
Cholesterol:
0
mg
|
Sodium:
28
mg
|
Potassium:
1468
mg
|
Fiber:
4.9
g
|
Sugar:
0.8
g
|
Calcium:
30
mg
|
Iron:
1.3
mg