These Crunchy Air Fryer Sweet Potato Chips are a healthy snack or party appetizer that are air fried instead of deep fried! They also happen to be vegan, paleo, whole 30 and super delicious!
I like to serve these chips with a tasty sauce on the side for dipping! Also make sure to check out this list of potato finger foods!
🛒 Ingredients
Sweet Potatoes: I used orange and purple because I LOVE the color. Plus, the colors make them perfect to serve as a Halloween snack!
Oil: I use olive but avocado oil or coconut oil both work well.
Spices: I use cinnamon, garlic, onion and paprika.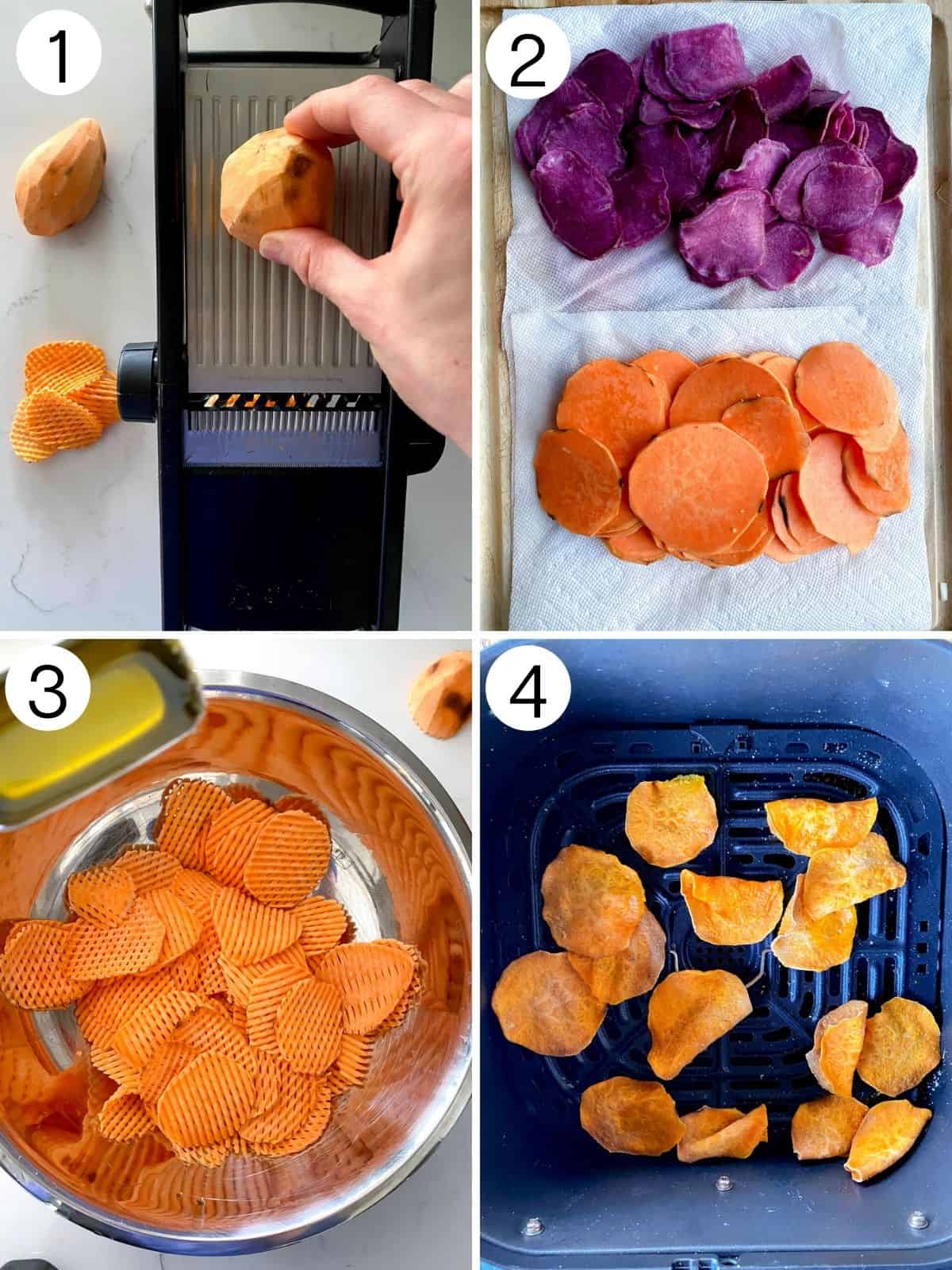 🍠 How To Air Fry Your Chips
Step 1: Peel and slice your sweet potatoes thinly. I used a different blade that came with my mandolin. You can use any blade you like.
Step 2: Add your chips to a bowl and spray with cooking spray, either canola oil, olive oil, coconut oil or avocado oil.
Step 3: Preheat your air fryer and add your chips in a single layer.
Step 4: Flip or toss your sweet potato chips half way through the frying time.
Step 5: Remove and allow to cool on a wire rack.
👨‍🍳 Air Fryer Tips
I use the Instant Pot Vortex Air Fryer which I love. It is only $99.00 and does exactly what it needs without too many buttons or unnecessary features. It has a "basket" or tray inside that holds the chips nicely and is large enough to make my chips in 2-3 batches.
When air frying your chips make sure to preheat your air fryer no matter what type of air fryer you have! Then, when you pull the basket out, make sure to add your chips quickly. Like an oven, you don't want the inside temperature to drop too much.
Add your sweet potato chips in a single layer. When food touches in the air fryer, it does not allow the air to hit it resulting in soft or soggier portions.
You will need to air fry in BATCHES! This will ensure your chips are all uniformly crispy.
Don't spray your chips while in the air fryer, do it before in a large bowl and toss so every chip gets nicely coated on both sides.
Keep a close eye on your chips near the end so they don't burn!
When your air fryer beeps alerting you to flip the food, give the chips a quick toss.
💫 The Magic of Cornstarch
Sweet potatoes naturally contain more sugar, more starch and more water. All of these things contribute to a soggy, lifeless potato.
It's also important to know that, since sweet potatoes have lots of sugar, the sugars will caramelize as they air fry. If you do not shake your chips around or keep an eye on them, the sugars will burn.
Since sweet potatoes do not like to get crunchy, we have to give them a little help! So let me introduce you to...
Cornstarch!!
Cornstarch helps to create a crisp exterior to many foods especially when fried. They make food like my EASY Beer-Battered Onion Rings super crunchy without needing to soak your potatoes in water.
So how we add cornstarch is, after spraying with oil, drop your sliced potatoes to a large plastic baggie and shake them around with a bit of cornstarch until they are fully coated. Then air fry as needed!
✅ Expert Tips
When it comes to chips, the crispier the BETTER! But sweet potatoes are not like regular potatoes. Getting them super crispy and crunchy are very difficult to do.
Sweet potatoes also need to be seasoned well. Here are some tips I want to share to make your sweet potato chips perfect every time:
Use a mandolin to slice your potatoes! If you do not have one, I highly suggest getting one. It makes cutting and slicing fast, consistent and perfect every single time.
Spray your chips with oil before air frying. It will allow them to crisp up nicely.
Use cornstarch to help your chips crisp up.
The thickness of which you slice your sweet potatoes matter. If you go too thick, they will not crisp up nicely. Aim for less than
Sweet potatoes will SHRINK in the air fryer so go for fatter/wider sweet potatoes as opposed to the longer skinny ones.
Sweet potatoes can burn easily so keep an eye out for them. Open the basket with a few minutes to spare to check on them.
Your sweet potato chips will crisp up as they cool. Place on a wire rack or paper towels in a single layer to prevent soggy chips.
Storing Your Chips
Wait for your chips to cool completely! Then you can store them in a large Ziploc baggie or plastic storage container at room temperature. I suggest a container vs. a bag since they are delicate especially if they are thin. They will break easily.
Other Healthy Sides You Might Like
Healthy Imitation Crab Meat Salad
27+ Vegan Snacks and Appetizers
FAQ's
Can I BAKE my sweet potato chips instead?
Yes! You will prepare them the same way but instead, use parchment paper! It will helpy the chips crisp up while preventing them from sticking. I suggest a baking temperature of 350-375 degrees F depending how thick your chips are sliced.
Why did my chips burn?
Your air fryer might fry differently just like every oven baked differently. Remove them earlier next time or lower the heat 20-25 degrees.
Why did my chips come out soft?
There could be a few reasons for this. Either you chips were not sliced thin enough, you did not coat your chips evenly with the cornstarch OR you did not cook your chips long enough. A mandolin will help you slice your chips paper thin if you like. Laying your chips out in a single layer will help them coat better. If your chips are not slightly browned, they can fry a little longer.
Do I have to slice my potato chips like this?
No! The idea is to slice them as thin as possible so feel free to slice as you wish.
Other Air Fryer Recipes:
Sweet Potato Chips in the Air Fryer
Air Fryer Cheesy Vegetarian Nachos
Buffalo Panko Crusted Shrimp in Air Fryer
Air Fryer Lemon Tarragon Scallops
Other easy potato snacks you might like:
Baked Cheese Stuffed Baby Potatoes
Bite-Sized Potato Snacks For Parties
Cheesy Crunchy Potato Croquettes
Maple Sweet Potato Bites with Président® Brie and Walnuts
📲 Say hi on social!! 👋 Follow me on facebook, instagram, pinterest, youtube or tiktok for more recipes and entertaining tips!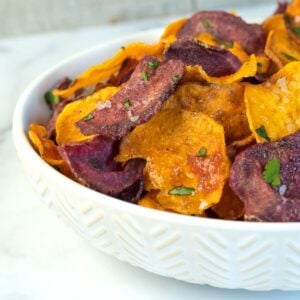 CRUNCHY Air Fryer Sweet Potato Chips
These Crunchy Air Fryer Sweet Potato Chips are a healthy snack or party appetizer that are air fried instead of deep fried! They also happen to be vegan, paleo, whole 30 and super delicious! I like to serve these chips with a tasty sauce on the side for dipping!
Print
Pin
Rate
Equipment
Air Fryer

Mandoline *Optional
Ingredients
1-2

tablespoon

extra virgin olive oil (or oil of choice)

3

medium

sweet potatoes (about 16 oz.)

¼

teaspoon

salt

(*to taste)

¼

cinnamon

½

teaspoon

garlic powder

½

teaspoon

onion powder

¼

teaspoon

paprika
Maple Dijon Aioli
¼

cup

mayonnaise

2

tablespoon

maple syrup

½

teaspoon

Dijon mustard
Instructions
Peel and slice your sweet potatoes into very thin slices. Use a mandoline to help achieve thin consistent slices. You want slices a little thinner than ⅛" thick or else your chips wont crisp up. Aim for 1/16". This is 1-2 clicks on my mandoline slicer.

Dry your sweet potatoes fully using paper towels and lay them out on a flat dish or baking sheet.

Drizzle with olive oil (until they are coated but not drenched). Mix spices in a bowl then season your potatoes by sprinkling over top of each slice. If you do this in a bowl, your slices will stick to each other and not get seasoned.

Preheat your air fryer to 350°F and set your time to 10 minutes.

When ready, add your sweet potato slices to the bottom of the basket. You want your slices to barely overlap. If they overlap too much, they wont get crispy.

No need to flip or toss. Check on them after 8 minutes. If they look too brown, remove them. You can leave in any slices that are not ready for another 1-2 minutes.

While waiting, mix together dipping sauce ingredients in a small bowl and chill until ready to eat.

Remove slices from fryer and allow to cool in a single layer on a wire rack or paper towels. If any slices are still soggy after 10 minutes, throw them back in the air fryer for 3-5 more minutes. Allow chips to fully cool before serving or storing.
Recipe Notes
Get a mandoline for slicing. It is important that your chips are not too thick and this tool does the job in seconds.
You can season your chips however you wish but salt is definitely needed for flavor.
Chips are best the day of but can be stored for 1-3 days in a sealed container.