These quick and easy Air Fryer Scallops are flavored with lemon, garlic and tarragon. Air frying takes the mess out of frying and results in juicy, tender scallops every time. All you need is less than 10 minutes and you'll have a fancy appetizer, main or side dish that pairs perfectly with white wine!
Why These Scallops Are So Tasty
When you air fry scallops, they come out super juicy, succulent and tender... every single time!
Plus, they're easy and FAST to fry up just like my Italian Calamari!
I think most people are intimidated by scallops but they are actually EASIER to cook then most proteins especially using your air fryer!
The trick is to make sure you don't OVERCOOK them which isn't hard to do as long as you preheat your air fryer accordingly and pop those babies in as soon as possible.
They can be served as a deliciously fancy cocktail appetizer with skewers or alongside of another seafood appetizer.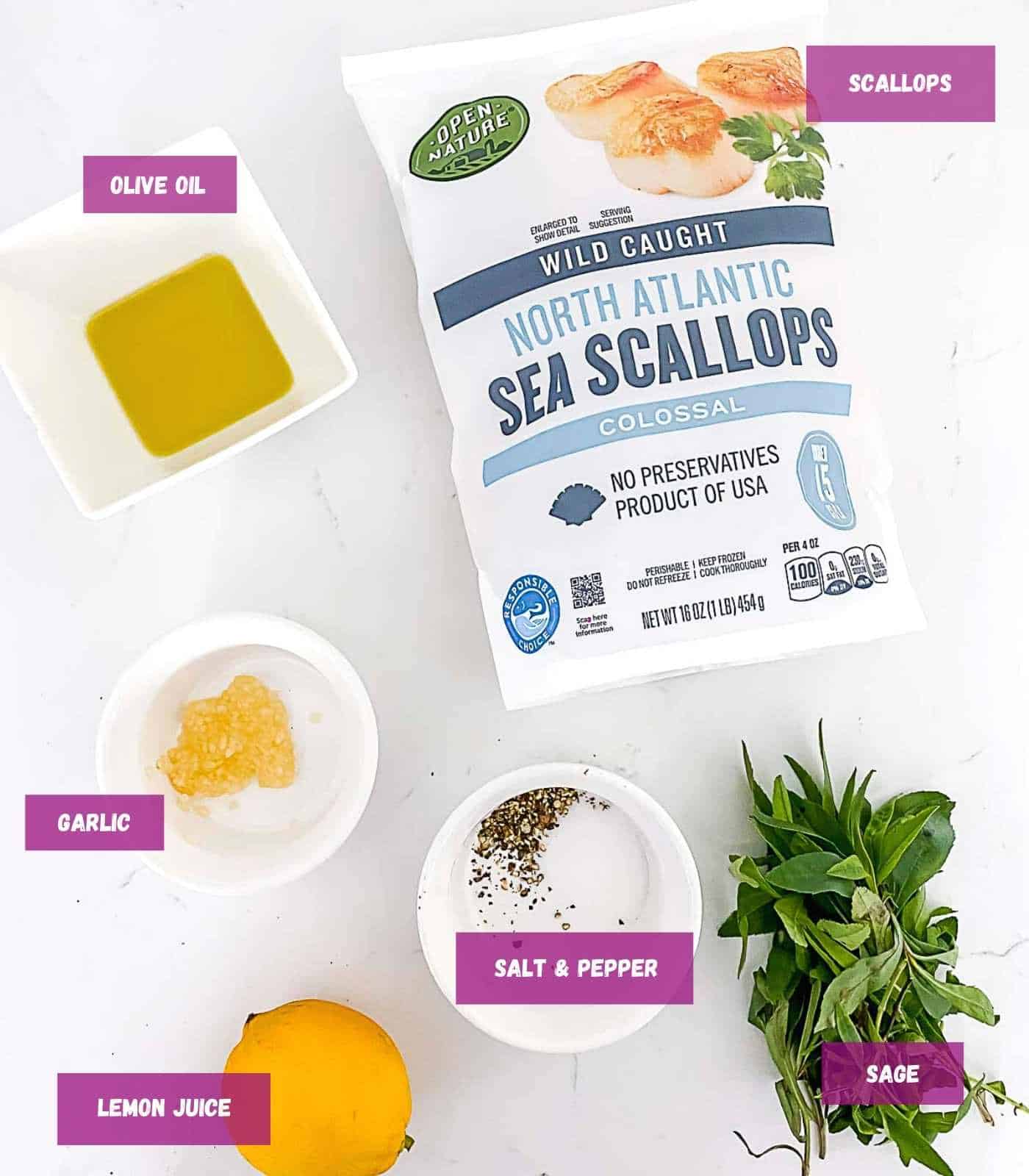 Ingredients
Scallops- You want the LARGEST scallops you can find!
Tarragon- This herb goes so well with seafood! If you like, you can swap out any fresh herb like parsley, dill, thyme or rosemary.
Garlic- I used freshly minced garlic to infuse lots of flavor into the scallops.
Lemon- Seafood in general goes very well with lemon. I wait until the END of frying to squeeze the juice so the citrus does not cook the scallops. (This would be ceviche.)
How To Air Fry Scallops
Rinse your scallops and make sure to pat them dry very well.
Remove any side-muscles if they're still attached by gently pulling them off.
Add your scallops, olive oil, tarragon and season with salt and pepper to a medium bowl and toss everything well.
Preheat your air fryer oven.
When ready, add your scallops to the air fryer one at a time keeping them spread out.
Remove them when they reach an internal temp of 130 degrees. The time may vary! (Read below.)
Drizzle with fresh lemon juice and serve hot.
Cook Time
Scallops cook up VERY quickly.
Depending upon the cooking method you use, the time can range from 3-5 minutes or up to 10 minutes if broiling in the oven.
The most important thing to look for is a firm and opaque scallop. The size of your scallops should also be taken intro consideration.
The best way to test for doneness is to use an instant thermometer. The internal temperature should be about 130 degrees F but this is according to personal preference.
Note* Undercooking scallops is completely safe so it's better to remove your scallops earlier rather than too late! No one wants a dry, rubbery scallop!
Choosing Your Scallops
Scallops can be found fresh or frozen in the grocery store. They come in different sizes too so choose what works best for you.
Sea scallops are the biggest scallops.
Bay scallops are smaller.
Diver scallops range in sizes since divers pick them by hand.
Fresh scallops are not any "better" than frozen scallops because all seafood, especially shellfish, has been frozen at some point.
If you want to air fry your scallops within 24-48 hours, then purchase the fresh scallops so you don't need to thaw them.
If you are not making your scallops right away, purchase the frozen ones and then you won't need to rush to fry them.
📝 It's important that your scallops do not have a strong odor!! They should have a mildy sweet ocean smell. If they smell like ammonia, they are bad.
Scallop sizes:
U10's- (10 per pound) These are the LARGEST and are tricky to find but they are the best. If using these, you will need to increase your frying time a few minutes.
U15's- (15 per pound) These are the size I used. They are easier to find but smaller than the U10's.
U20's- (20 per pound) These are pretty small and will work but you will need to cut your frying time shorter.
Did you know?
Scallops can be soaked in a phosphate solution which helps to whiten them and helps absorb more liquid. This is NOT something we want in our scallops. If you want to avoid these chemicals, look for dry-packed or chemical free scallops.
Keep in mind that scallops will SHRINK as they cook!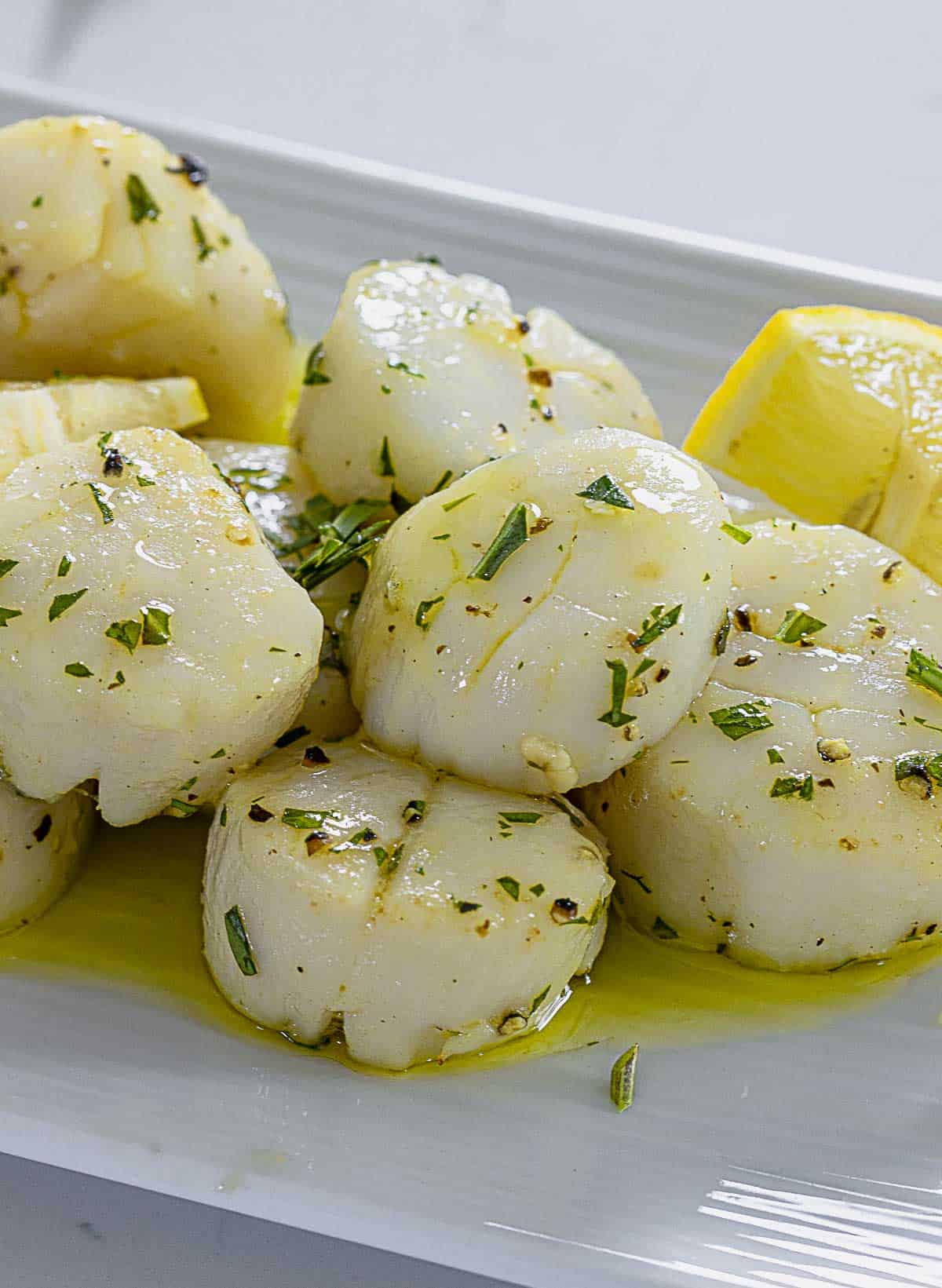 Expert Tips
Make sure to preheat your air fryer fully. I know it's tempting to just throw them in and start it, but it will ensure your scallops are cooked properly.
It's important to not crowd your air fryer. You want the air to circulate around the scallops so they cook evenly.
Use extra virgin olive oil or butter instead of those sprays. Those will give the scallops delicious flavor, vegetable or canola oil will not.
DRY your scallops off as much as you can.
Your scallops should smell fresh.
Use fresh chives or parsley instead of the tarragon for a delicious swap.
Use a thermometer to check for doneness so you don't dry your scallops out.
When your scallops are white not opaque, they are ready.
FAQ's
How can I get a brown sear on my scallops?
Using the air fryer? Unfortunately no. The sear comes from direct contact with a hot skillet. However the flavor will still be there.
Can I use butter instead of oil?
Yes. This will add all kinds of yummy flavor to your scallops!
My scallops came out rubbery. Why?
You most likely overcooked your scallops. Make sure to follow the cooking time accordingly and if using SMALLER scallops like bay scallops, cut the time in half and check on them. Use a thermometer to check for doneness!
Can I pan fry or bake them in the oven?
Yes but the cooking times will be different and depend. Just keep the internal temperature in mind and they will be fine.
Do I need to use tinfoil inside my air fryer?
All air fryers are different. If your doesn't have a nonstick rack then tinfoil may be necessary.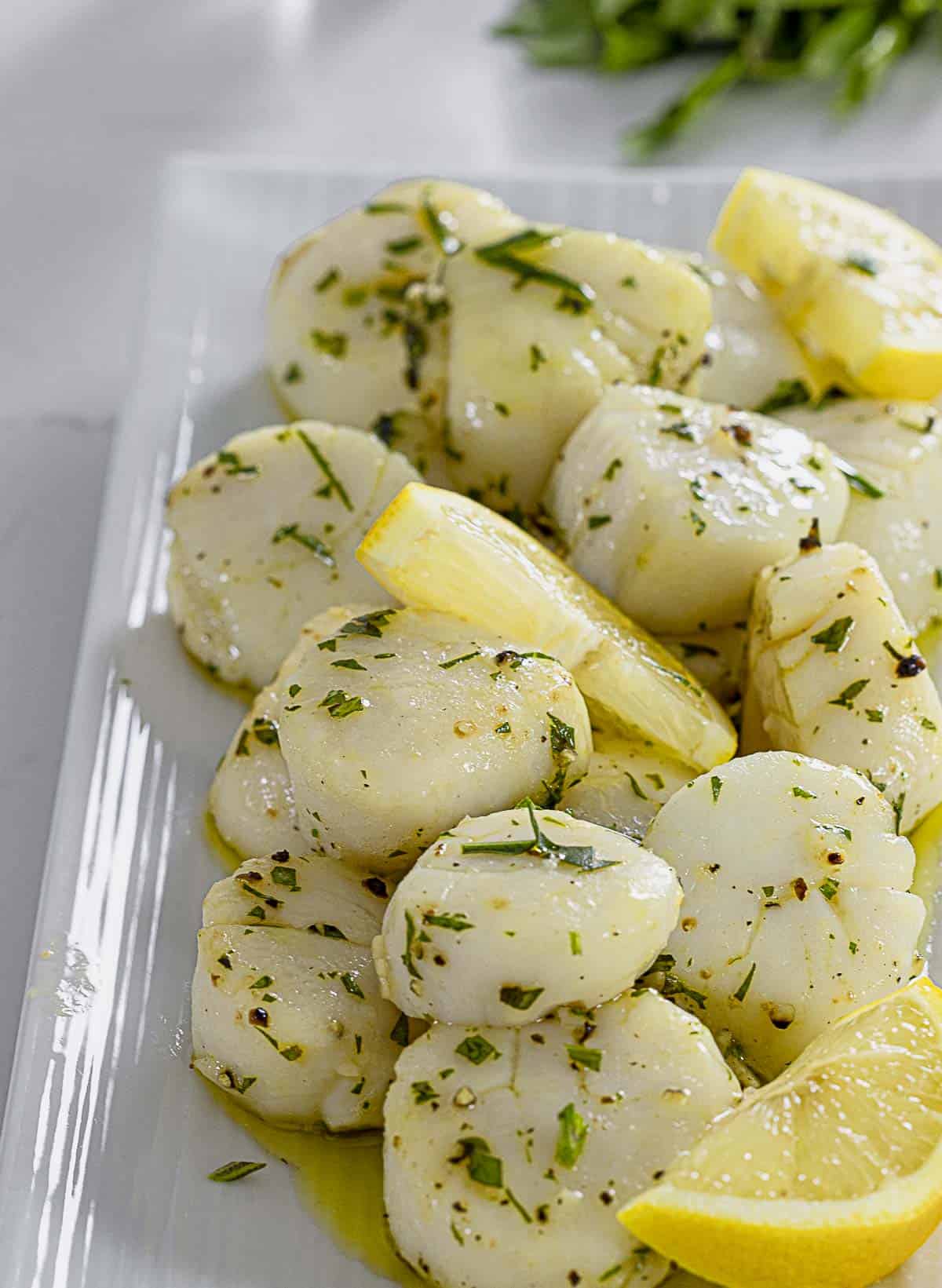 Other Air Fryer Recipes You'll Love!
Air Fried Avocado Wedges With Lime Cilantro Crema
Air Fryer Loaded Vegetarian Nachos (5 Minutes!)
Air Fryer Buffalo Panko Sauce Shrimp
📲 FOLLOW Aleka on social!! 👋 Follow me on facebook, instagram, pinterest, youtube or tiktok for more recipes and entertaining tips!
📖 Recipe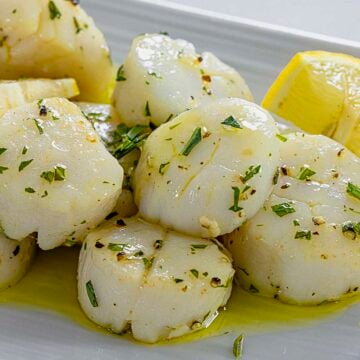 Air Fryer Scallops With Lemon and Tarragon
These quick and easy Air Fryer Scallops are flavored with lemon, garlic and tarragon. They take less than 10 minutes to whip up and make a fancy appetizer that pairs perfectly with white wine.
Print
Pin
Rate
Ingredients
1

lb.

sea scallops

(*U/10 or U/15 (these are larger))

1

large

garlic clove, minced

½

tablespoon

tarragon, minced

2

tablespoons

extra virgin olive oil

salt and pepper to taste*

1

large

lemon
Instructions
Clean your scallops and remove and side-muscle if needed by pulling. Pat dry them very well with a paper towel.

Add dried scallops to a medium bowl and add all of the ingredients except for the lemon juice. Coat each scallop thoroughly.

Season with salt and pepper to taste.

Preheat your air fryer to 400°F.

*No need to line your air fryer with foil unless your rack is non-stick.

When fully preheated, add your scallops to the air fryer making sure to spread them out so they're not touching. If needed, fry in two batches.

Air fry for 5-6 minutes or until the internal temperature reaches 130°F. (If using U/10 scallops, your frying time will be 1-2 minutes longer, if using U/20 scallops, take a minute off.)

Remove from air fryer, add to a serving plate and finish with freshly squeezed lemon juice.
Recipe Notes
Make sure to preheat your air fryer. If you do not, your scallops will take longer to cook.
Use a meat thermometer to test the internal temperature of your scallops. (It is completely safe to eat scallops that are slightly undercooked.)
Using a quality oil like olive oil will make your scallops taste better.
If using FROZEN scallops, make sure to thaw in the fridge and pat dry very well before cooking.
Remove your scallops from the air fryer immediately so they do not overcook.
Nutrition
Calories:
162
kcal
|
Carbohydrates:
3.1
g
|
Protein:
19.1
g
|
Fat:
7.9
g
|
Saturated Fat:
1.1
g
|
Cholesterol:
37
mg
|
Sodium:
183
mg
|
Fiber:
0
g
|
Sugar:
0
g