These Prosciutto Melon & Mozzarella Skewers are such a delicious skewered appetizer that I like to serve cold and make in advance! Serve this starter before dinner or simply with cocktails.
Along with my watermelon cucumber salad, prosciutto wrapped melon is one of the most classic Italian cold appetizers to serve when entertaining especially in the summer.
A perfect bite of salty, sweet goodness. Prosciutto and cantaloupe melon also pair very well with so many other foods like bread and cheese which makes it the perfect starter for any occasion whether a cocktail party or holiday party!
This version of prosciutto wrapped melon is kicked up a notch (as Emeril says) by adding little mozzarella balls, aka bocconcini and a generous drizzle of balsamic glaze!
The sweet, salty, tangy and acidic flavors makes these skewers one of my favorite starters to serve when entertaining.
If you love skewered appetizers, check out my popular Mini Cubano Sandwich Skewers!
Jump to:
Choosing Your Prosciutto
Prosciutto is an Italian dry-cured ham made using the hind legs of pings. There are two types of prosciutto. Prosciutto "crudo" is uncooked and cured while prosciutto "cotta" is cooked.
We will be using the cured kind in this recipe.
Prosciutto is typically sliced very thin making it extremely tender, almost to the point where it melts in your mouth.
There are many types of prosciutto out there.
Prosciutto De Parma is a 100% natural cured ham without any additives, preservatives, hormones, gluten or coloring agents. There are other American prosciuttos also that were made in the states that are not bad but may not be as natural. All prosciutto has it's own unique flavors and textures.
Another common type is called serrano ham (or Jamon Serrano) and is a Spanish dry-cured ham.
Since these skewers are made with just four ingredients, I suggest purchasing the best cured ham you can find.
Assembling Your Proscuitto Skewers
If you are serving these skewers to guests, I highly suggest making them in advance!
All you need is some toothpick skewers and saran wrap.
When assembling, I suggest folding your prosciutto before skewering. You want your prosciutto skewers to look neat without prosciutto falling off. Then use the mozzarella balls and melon to "sandwich" the prosciutto in the middle.
I also think they look best with the basil leaf on top so you can still see it. Stick with smaller basil leaves so the skewer looks more proportionate.
Lay your skewers on their side in a row and cover well with saran wrap until ready to serve. Do this 1-2 days in advance.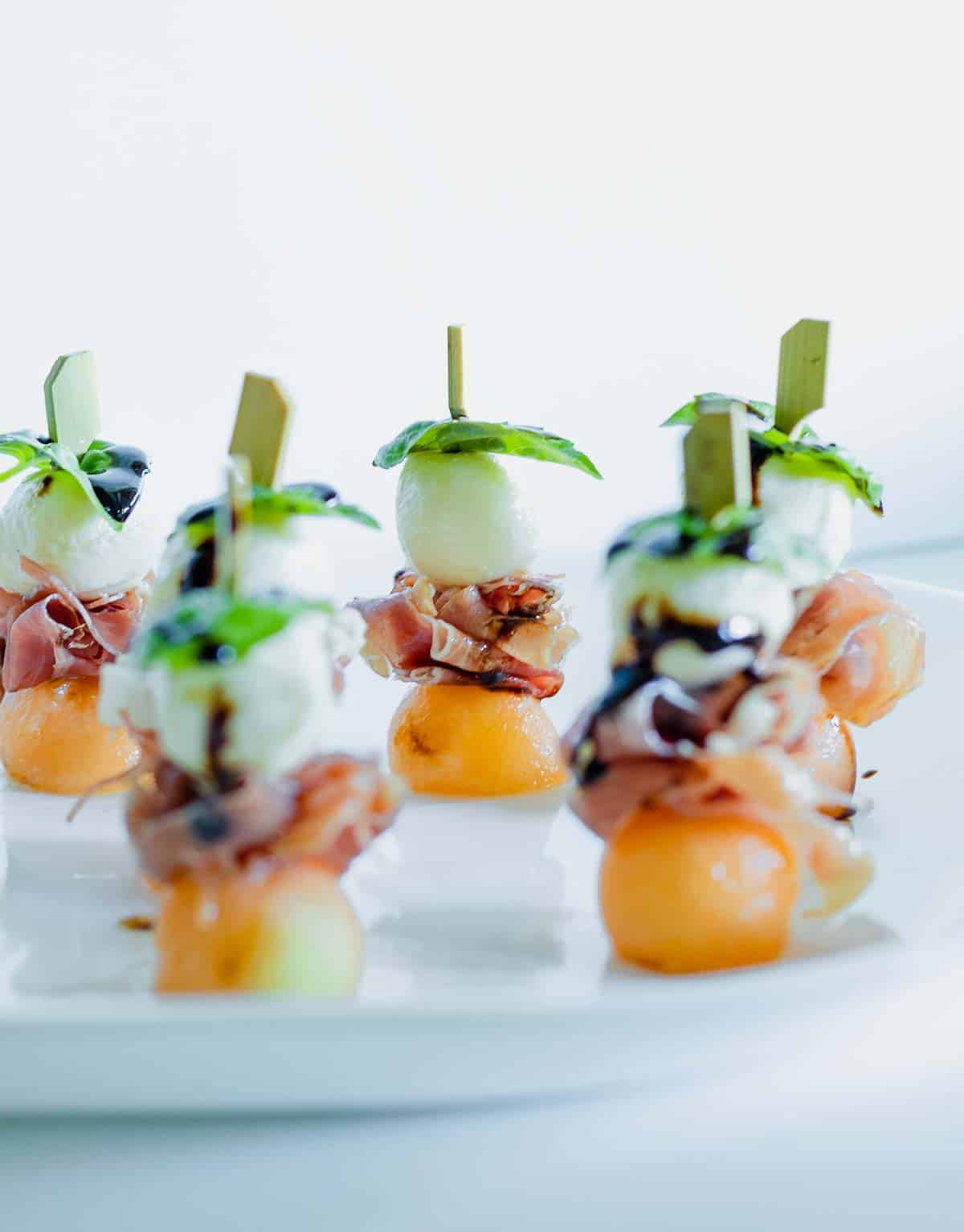 Cutting Your Melon
Most people prefer prosciutto with cantaloupe melon rather than honeydew melon but both would be delicious. Honeydew melon is a bit sweeter but just as tasty. You can even use both for a more colorful skewer.
Just make sure you choose the BEST melon you can find. Nothing is worse than a sour, unjuicy melon.
If you want your prosciutto melon skewers to STAND UPRIGHT, it is important to cut your melon into cubes and skewer them last. If you don't mind how you serve your skewers, then cut your melon however you prefer.
I used a melon baller and placed the skewers upright on its FLAT side. Here is an inexpensive melon baller you can grab. If you like your melon more round, then simply lay your skewers flat on a serving platter. The round melon would match your round mozzarella perfectly!
To be honest, using a melon baller is quicker then cutting into perfectly sized cubes.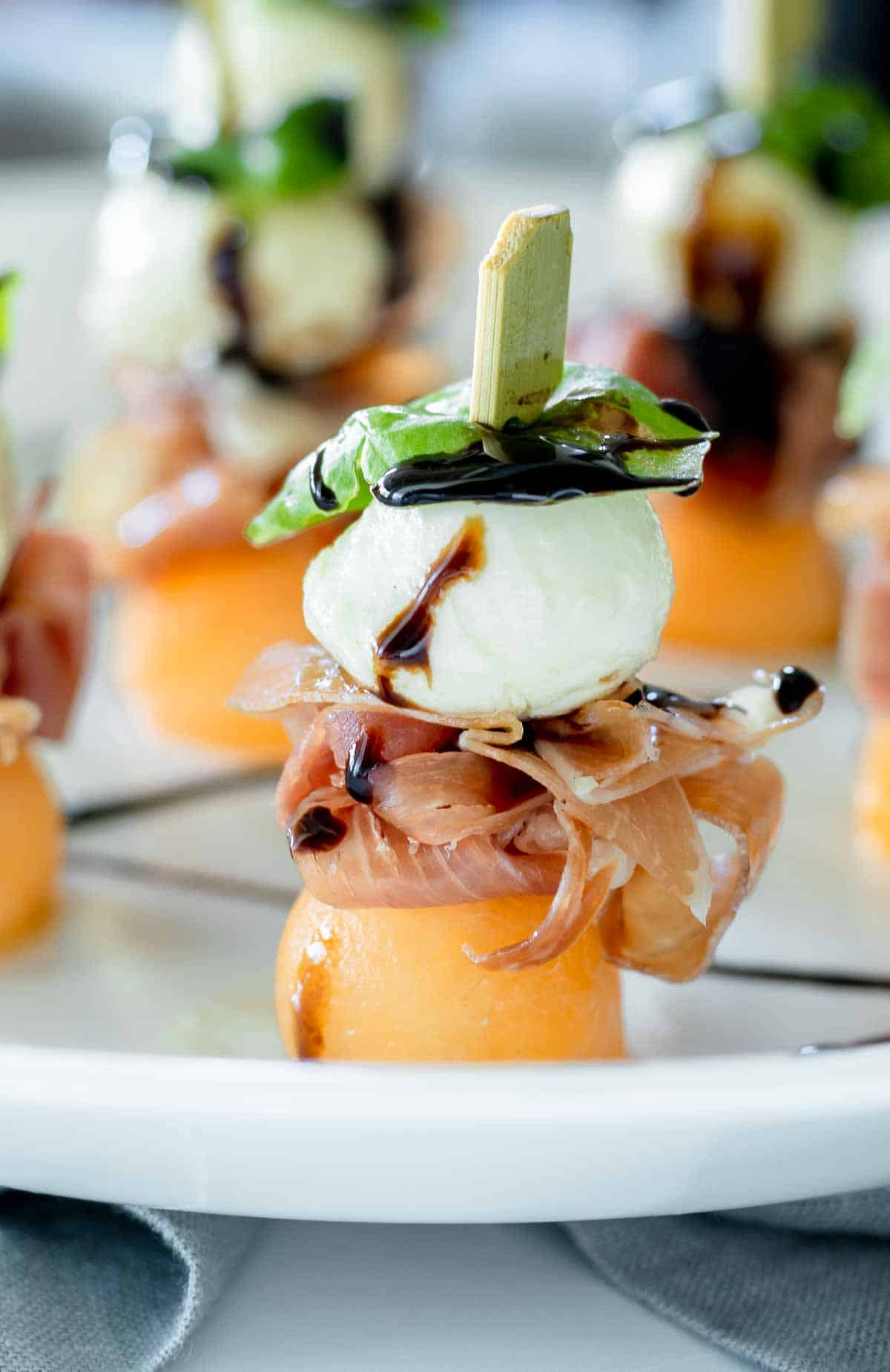 Mozzarella Balls
Make sure you choose fresh mozzarella for your skewers. In this recipe, I used marinated mozzarella balls, called Bocconcini. Galbani sells them in an oil herb mixture. It adds lots of flavor to the cheese and takes these skewers to the next level.
If you cannot find the marinated balls, you can either marinate them yourself by letting them sit in olive oil, garlic, salt, pepper and Italian seasonings overnight. Or you can purchase a fresh mozzarella log and simply dice the mozzarella cheese similar in size to your melon so everything is uniform.
FAQ's
What fruit goes well with prosciutto?
Prosciutto pairs well with sweet juicy fruits such as melon, cantaloupe, pairs or figs.
How long should my skewers be?
Keep your skewers around 3" in length. This is ideal to fit one melon square, one mozzarella ball and some prosciutto without too much extra skewer.
Can I use balsamic vinegar instead of balsamic glaze?
No. Balsamic vinegar is sweeter and thicker. You can make your own by adding sugar to balsamic vinegar and simmering it down for about 20 minutes until it thickens up.
Other skewered appetizers you'll love!
Skewered Party Appetizers On Mini Toothpicks
Mini Cheeseburger Skewers (w/ Burger Sauce)
Maple Bacon Butternut Squash Skewers
Boozy Watermelon Mojito Skewers
📽 If you love entertaining at home, subscribe to my YouTube channel!!
📖 Recipe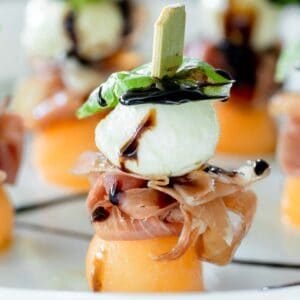 Prosciutto Melon & Mozzarella Skewers (w/ Balsamic Glaze)
Proscuitto melon skewers are ideal to serve in the spring, summer or early fall. They're sweet, salty & creamy and always a party hit.
Print
Pin
Rate
Ingredients
1

lb.

cantaloupe melon

5-6

oz.

Prosciutto, thinly sliced

10-12 oz.

marinated mozzarella balls

((approx. 16-20))

16-20

fresh basil leaves, smaller in size

1-2

tablespoon

balsamic vinegar glaze
Instructions
Cut your cantaloupe into small cubes that are about 1" wide. You can also use the larger side of a melon baller. You want about 20 cubes/balls.

Tear/rip your prosciutto into small pieces/strips.

Start skewering by adding one basil leaf, followed by one mozzarella ball, then your prosciutto, lastly your melon.

*When adding your prosciutto, use your own judgement. Make sure to fold/roll the prosciutto before skewering so it holds.

To make your skewers stand up, make sure the melon has one flat end. You can trim it if needed before skewering.

Drizzle your balsamic vinegar over top each skewer to your liking. Serve chilled.
Recipe Notes
*You can use Serrano ham or any prosciutto you can find however purchasing the best prosciutto, freshest mozzarella and in-season melon will ensure your skewers are the BEST they can be!
I don't recommend substituting regular balsamic vinegar for the glaze. If you only have the vinegar and want to make your own balsamic glaze, you can follow that recipe.
Make your skewers 1-2 days in advance and cover with plastic wrap.
Nutrition
Calories:
184
kcal
|
Carbohydrates:
6
g
|
Protein:
9
g
|
Fat:
15
g
|
Saturated Fat:
5
g
|
Polyunsaturated Fat:
1
g
|
Monounsaturated Fat:
3
g
|
Trans Fat:
0.02
g
|
Cholesterol:
24
mg
|
Sodium:
159
mg
|
Potassium:
126
mg
|
Fiber:
0.5
g
|
Sugar:
5
g
|
Vitamin A:
1966
IU
|
Vitamin C:
6
mg
|
Calcium:
132
mg
|
Iron:
0.3
mg