This crispy pan fried calamari is a delicious Italian appetizer that is very similar to Olive Garden's calamari recipe! It's light, crispy, mixed with fried peppers and packed with flavor. Ready in just minutes, you will have a restaurant quality appetizer your guests will rave over!
Besides my clam stuffed mushrooms fried calamari is another favorite seafood appetizer of mine to order when I go to Olive Garden! It's so flavorful, tender, and full of crunch like my eggplant fries.
Making your own fried squid rings at home is not nearly as difficult as it looks!
Calamari can be prepared in less than 20 minutes, needs a few simple ingredients, and cooks in just 3 minutes!
Just soak the squid in milk, dredge it in seasoned flour, and fry to golden brown, crispy perfection. A final squeeze of lemon juice brightens the entire dish, taking it to a new level.
What makes this appetizer Italian like Olive Garden's is the addition of fried peppers. It is a small thing that goes a long way with flavor.
See my tips below to ensure your calamari doesn't turn out greasy or tough.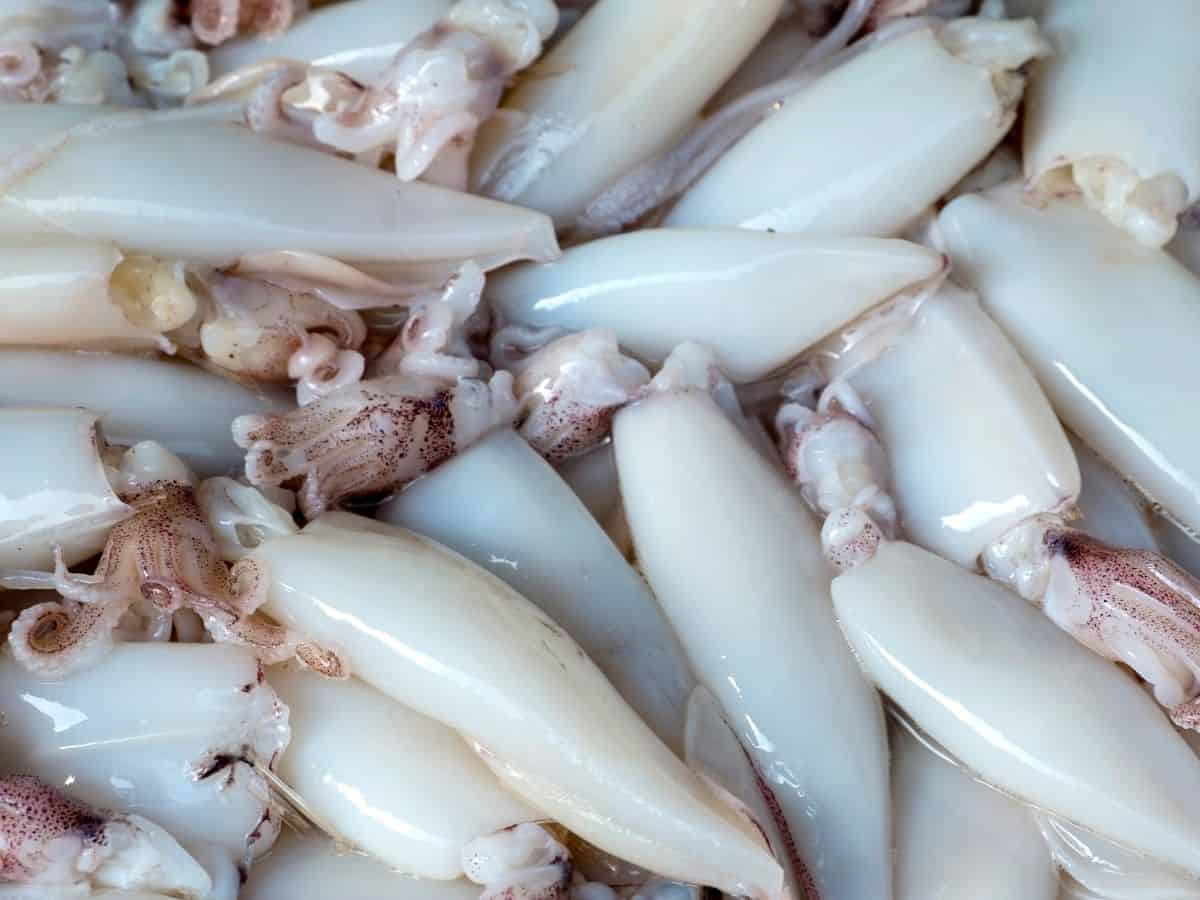 🦑
What Is Calamari?
Calamari is actually the Italian word for "Squid." Squid is white and firm with a mild, yet sweet meaty taste similar to lobster or shrimp. It's fairly inexpensive to purchase and also widely available, which makes this recipe a fantastic idea for a simple party appetizer.
You should be able to find fresh calamari in all fish markets, most grocery stores (in the seafood department or in a big bag in the freezer aisle).
More often than not, it's sold in rings, but some places sell the whole bodies with the tentacles attached as well. Ask your seafood guy/gal to cut it up and clean for you if needed.
I prefer to make this recipe with just the rings, but I've included instructions for cleaning and cutting the whole body if you end up going that route.
If you love using your crock pot, check out these Easy Crock Pot Appetizers to serve at your party!
🔪
How To Clean Squid Before Cooking It
Squid will take about 5-10 minutes to fully clean and prepare for frying. Once prepared and sliced, you can use it immediately or place it into a freezer safe bag for later use. Here's how to clean it:
On a large cutting board, place the whole squid. Grasp it tightly but gently, by the mantle and slowly pull up from the head to release it as well as the innards. You may need to twist slightly to separate the innards from the body

If there's any innards left after removing the head, gently squeeze them out of the opening

Next, cut right above the space where the tentacles attach to the head, but below the eye, to remove the tentacles.

Then you're going to look under the tentacles to find the beak, squeeze and gently pull the beak out. It should come out fairly easily

Next, it's time to remove the cartilage. The cartilage is just a thin, flat piece of bone that you'll find at the mantle opening. All you have to do is pull it out

Now, clean the skin off and remove the fins. The fins are edible, so you can cut them into slices

Lastly, thoroughly rinse the mantle and tentacles in cold water, making sure to clean both inside and out.

You now have cleaned and prepared squid and you can cut the mantle into rings and turn it into delicious fried calamari!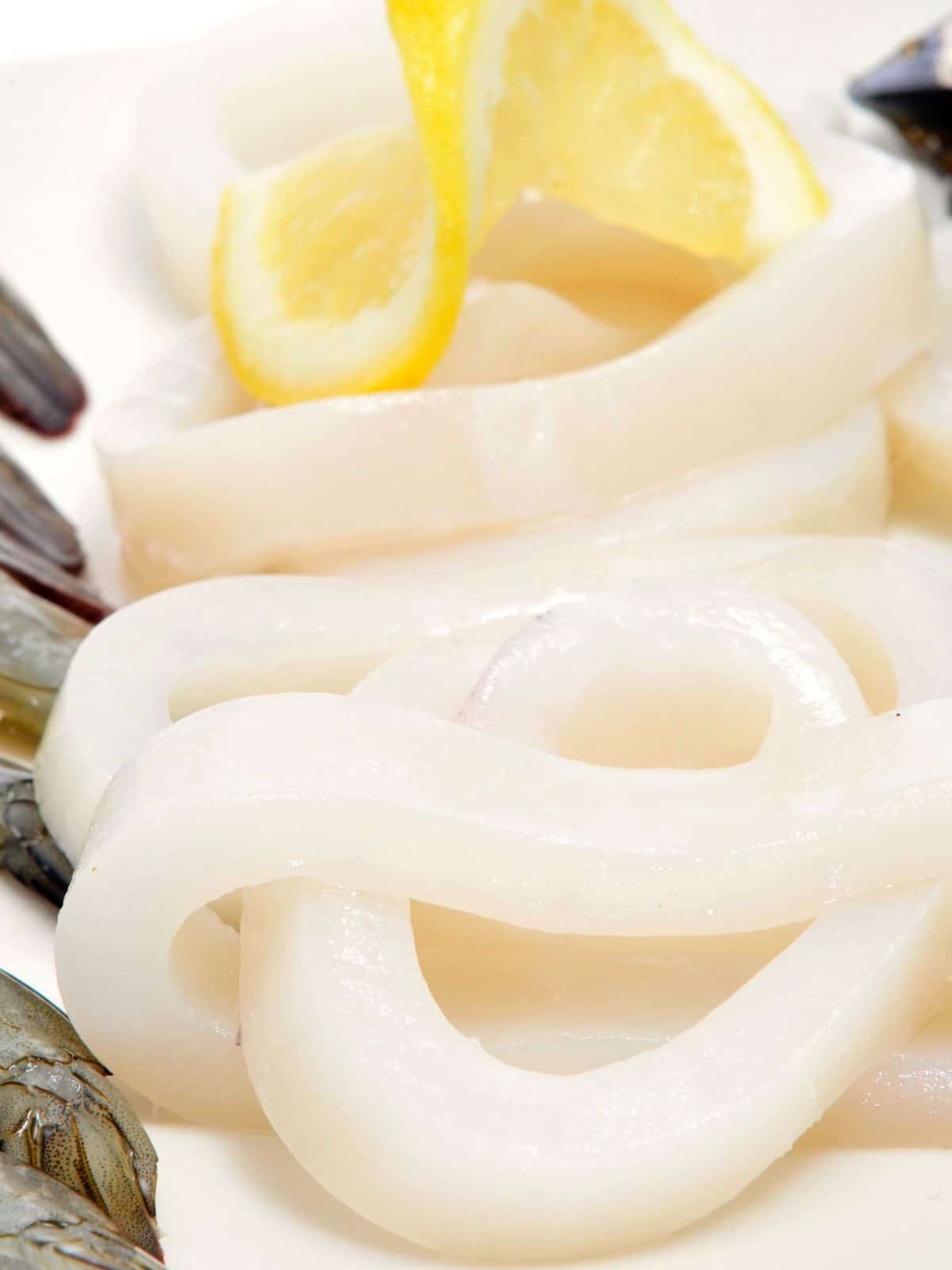 📝
Expert Tips For The Crispiest Fried Calamari
Don't cut the calamari rings too thin

. You want them to be thick enough that you can get a nice, crisp golden brown coating and the squid inside still stays super tender

Soak the cut squid in a salted milk mixture

. By soaking it for at least 10 minutes, it's long enough to tenderize squid and also help to subde any fishy smell

Keep the oil hot

! You want it to be at least 350 degrees F before you start frying, and I suggest leaving a thermometer in the pot so you can monitor the temperature and make sure it doesn't drop too much

Don't overcook!

The calamari only needs to fry about 3 minutes, any more and it will be tough and rubbery

Serve immediately

. Fried calamari is best serve piping hot, fresh out of the fryer with a squeeze of lemon juice
😋 My Layered Taco Dip and my Cold Spinach Dip are both popular party dips people go crazy over!
🛒Ingredients
Squid

: I prefer to purchase my squid already cleaned and cut, but in case you buy it whole, I've included instructions on how to prepare it

.
Milk

: You add salt and lemon to the milk and soak the squid in it to make your fried calamari flavorful and tender

.
Lemon

: The zest is used to season the squid and the juice is great for squeezing over the calamari once it's cooked to add a level of freshness

.
Flour

: The soaked squid is dredged in a seasoned flour mixture and once fried, it is what gives the squid it's crunchy golden brown crust

.
Spices

: I keep my seasoning simple by just using salt, pepper, and dried oregano in the flour dredge, and finishing the fried calamari with a sprinkle of fresh parsley

Oil

: Choose one that has a relatively high smoke point like canola, vegetable or peanut oil.

Peppers

: I like to fry up a mixture of bell peppers and jalapenos in my recipe and mix them into the calamari for a fun, fresher option that always surprises my guests

. (It's the best part.)
Marinara

: You absolutely can't serve fried calamari without warm marinara! My favorite brand to use is Rao's marinara sauce, but any kind will work.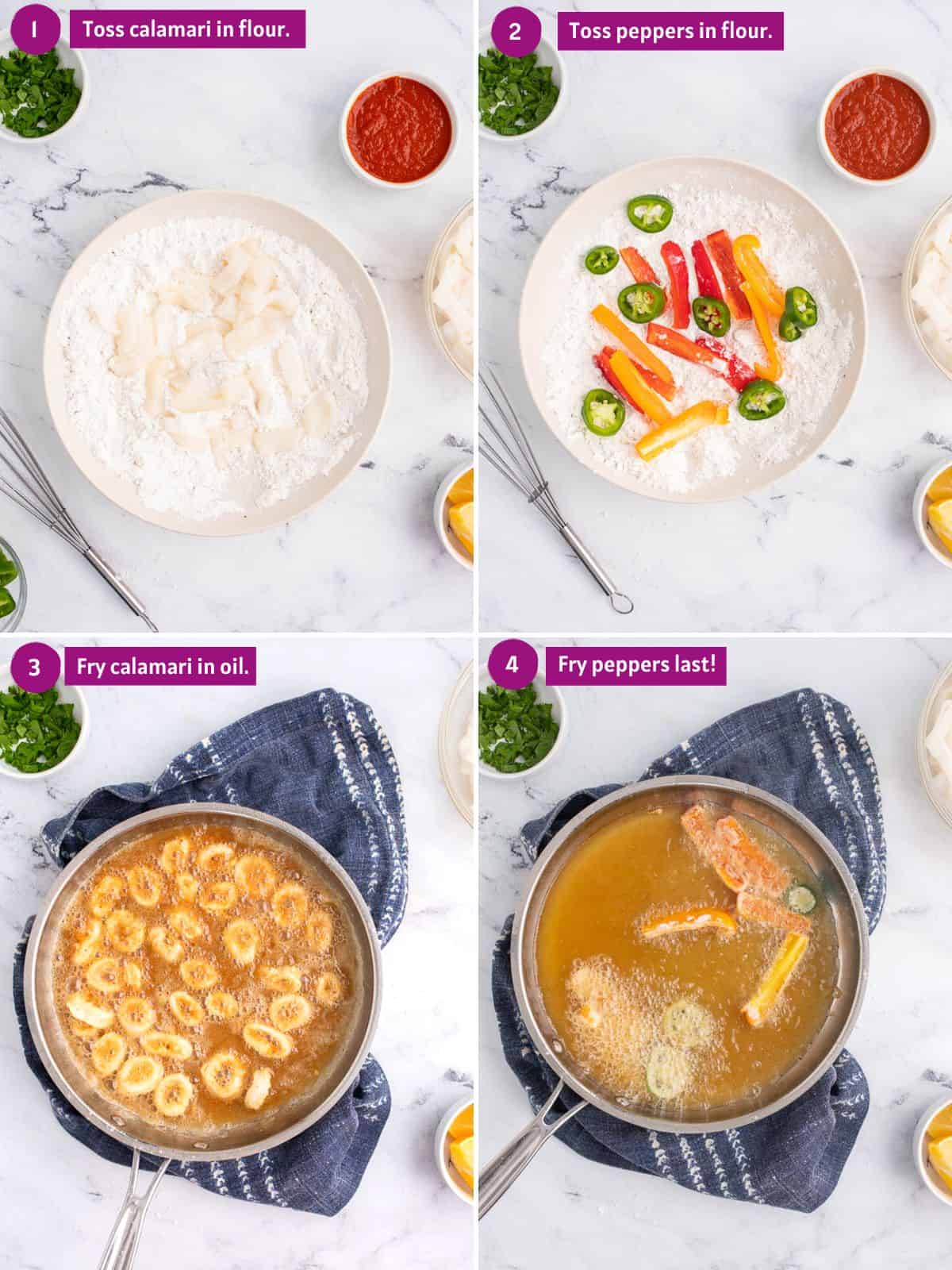 ✔️
How To Make The Best Fried Calamari
Add cleaned, sliced squid to a medium size bowl with milk, salt, and lemon zest.

Place the bowl into the fridge and let it rest for 10 minutes

While the squid is tenderizing in the salted milk mixture, prepare your flour dredge by mixing flour, salt, pepper, and oregano in a shallow bowl

Next, add the olive oil to a large

skillet

and heat over medium/high heat

Heat olive oil to 350 degrees F, (you can check with a

thermometer

)

Take the squid out of the milk and place it into the breading mixture. Use your fingers to toss it in the flour until all sides are coated

Carefully place the floured squid into the hot oil and cook for 2-3 minutes, until it is golden brown and crispy

Take the calamari out of the skillet and lay it on a plate lined with a paper towel

Finish frying any squid, then prepare the peppers for frying

Slice bell peppers and jalapeno peppers into strips, quickly soak them in the milk mixture, then dredge in the seasoned flour and place into the hot oil

Fry for 2-3 minutes until golden brown, then serve on a platter with the hot calamari, a side of marinara, fresh parsley, and a squeeze of lemon juice

.
📃 NOTE: Recipe card with exact quantities and detailed instructions are below! Print it out for later!
Substitutions And Variations
Substitutions:
Milk: Use buttermilk instead to tenderize the squid
Oil: You could fry your calamari in avocado oil or another neutral oil like vegetable oil or canola oil.
Jalapeno pepper: If you're not into spicy food, use all bell peppers or substitute it with a poblano pepper which is much less spicy.
Variations:
Make it a meal: Add fried calamari on top of a plate of pasta with shrimp or mussels. Serve alongside toasted bread or a baguette!
Breading: Make your calamari crunchier by mixing Italian breadcrumbs, cornstarch or cornmeal into the flour dredge.
Seasoning: Change up the spices! I usually keep mine simple with salt, pepper, and oregano, but you could add red pepper flakes, chili powder, or Italian seasonings for a boost of flavor!
Dips: Fried calamari is traditionally served with marinara sauce, but you could serve it with tartar sauce, cocktail sauce, Tzatziki, or even leftover spaghetti sauce.
Serving Suggestions
I think homemade calamari is best served with a simple side of marinara sauce and a squeeze of lemon juice,
However, if you'd like to make a few other light appetizers to go with it, try one of these options!
FAQs
Can I make this in the air fryer?
Yes. Make sure to spray well with cooking oil. Fry for 6-7 minutes at 400 degrees F.
How long does leftover fried calamari keep?
You can keep leftovers in an airtight container in the fridge for up to 3 days. Keep in mind that seafood is susceptible to harboring bacteria so it's best to refrigerate any leftovers no more than 2 hours after cooking it.
What's the best way to reheat leftovers?
The best way to reheat any leftovers is in the oven.
Preheat your oven to 375 degrees F and lay the leftover calamari out in a single layer on a baking sheet. Spray it with a light coating of olive oil and cook for 7-10 minutes until it's hot to the touch.
Where can I buy squid?
You should be able to find it in most grocery stores. If it's not in the seafood department, be sure to check in the frozen aisle.
What's the secret to tender calamari?
The secret is to not overcook it! The best way to cook calamari to keep it tender is to fry it quickly in HOT oil, that way you'll get crisp, golden brown calamari that won't be greasy or tough.
Recent posts you might like!
More appetizer recipes:
📖 Recipe
Fried Calamari
This crispy pan fried calamari is a delicious homemade recipe that is very similar to Olive Garden's calamari recipe! It's light, crispy, mixed with fried peppers and packed with flavor.
Print
Pin
Rate
Ingredients
1

lb

calamari sliced into ⅓" - ½" rings

½

cup

extra virgin olive oil

1 ½

cup

flour

1

tablespoon

salt

¼

teaspoon

pepper

½

yellow bell pepper

(sliced into 2" strips)

½

red bell pepper

(sliced into 2" strips)

1

jalapeno pepper

(sliced into rings)

1

lemon for finishing

Fresh parsley for garnish

Marinara sauce for dipping
Instructions
Add oil 3" deep into a saucepan or 1" deep in a skillet over medium heat. Heat to 350 F.

Mix together the salt, pepper and flour in a medium bowl.

Add in your sliced calamari rings and coat well in the seasoned flour.

Shake off excess flour and add to hot oil in small batches. Calamari cooks VERY fast. Remove after 1-2 minutes MAX or they will get tough.

When both sides are golden brown, drain on a wire rack or paper towels.

Repeat with the rest of the calamari.

Lastly, coat the peppers in the flour and fry until golden brown.

Add fried peppers and calamari to a plate. Garnish with chopped parsley, lemon wedges and serve with marinara sauce on the side.
Recipe Notes
Note: Some people find that marinating the calamari in buttermilk will help to tenderize it more. I don't notice a difference as much as focusing on the cook time. As long as you do not overcook it, it should be tender!
Nutrition
Calories:
349
kcal
|
Carbohydrates:
28
g
|
Protein:
15
g
|
Fat:
19
g
|
Saturated Fat:
3
g
|
Polyunsaturated Fat:
2
g
|
Monounsaturated Fat:
13
g
|
Cholesterol:
176
mg
|
Sodium:
1198
mg
|
Potassium:
269
mg
|
Fiber:
1
g
|
Sugar:
1
g
|
Vitamin A:
381
IU
|
Vitamin C:
37
mg
|
Calcium:
32
mg
|
Iron:
2
mg