Seafood appetizers make any party much more classy and sophisticated. They are my favorite kind of appetizers since they typically cook much quicker and don't need as much seasoning added as other proteins do.
🍤 Seafood Appetizers
I collected a few of my favorite seafood appetizers from other bloggers out there. If you want the recipe just click on the link, hit "jump to recipe" and print it out for later!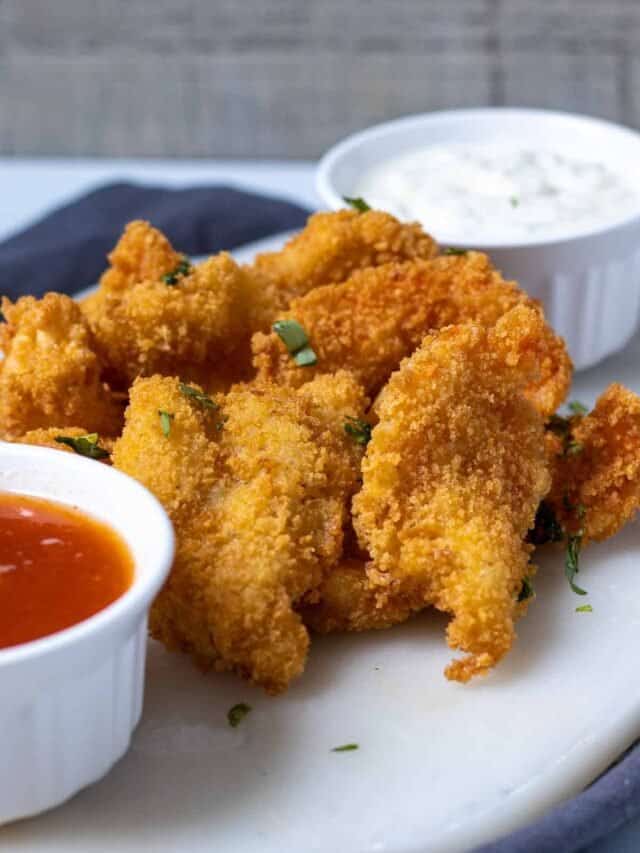 Panko crusted butterfly shrimp is a crispy and easy appetizer that you can serve with a few different dipping sauces. I love serving it before dinner with cocktail sauce or a squeeze of lemon, or with cocktails at a summer party!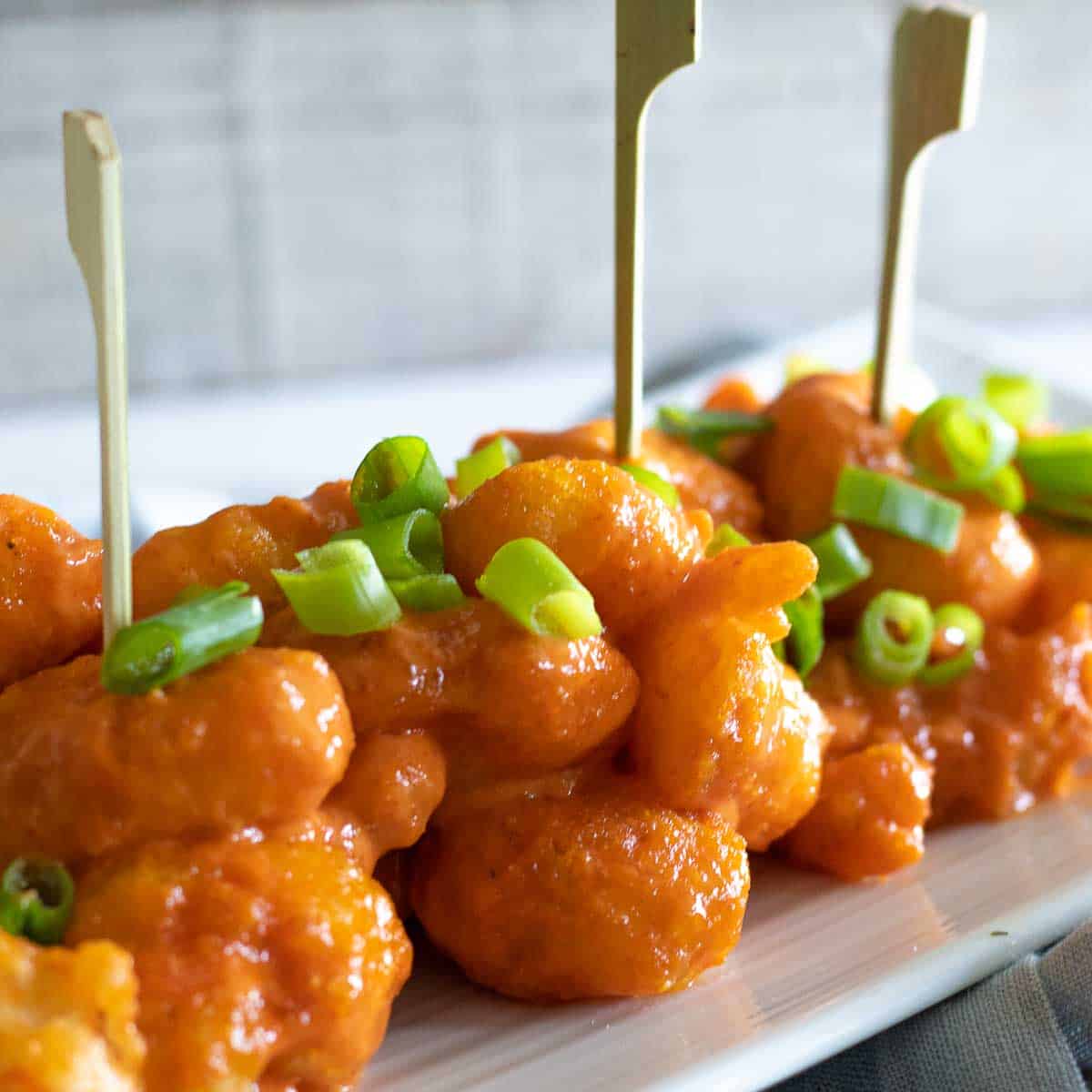 This shrimp appetizer is one of my favorite seafood appetizers ever, it is just so delicious! Crispy, salty, sweet, and a bit spicy, serve these bites with mini toothpicks and your guests will be in heaven.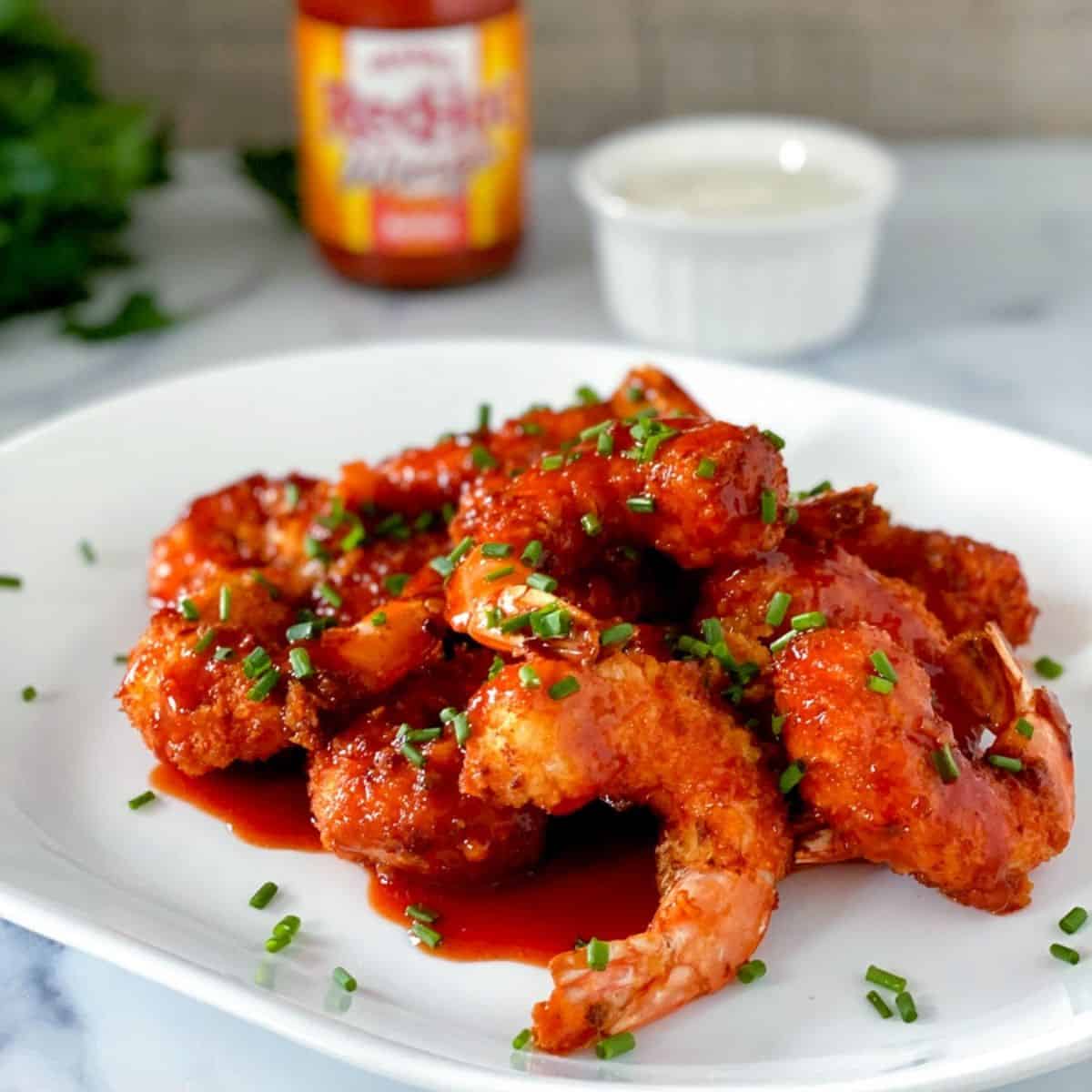 If you love buffalo wings and shrimp, meet your next best friend. This recipe is made using panko breadcrumbs and an air fryer so you know you will be getting a super crispy bite! The sauce is sweet and spicy, the way a good buffalo sauce should be.
Pro Shrimp Tip!
Unless you're going to a local fishmonger, you're better off purchasing frozen shrimp from the store. Frozen are usually fresher than the ones sitting at the counter of the fish department!
The ultimate summertime dip, this yummy crab artichoke dip is baked and served hot. It's creamy, cheesy, flavorful, and so simple to make. Pair with your favorite crackers and enjoy!
These shrimp tempura boats are my next favorite appetizer. This recipe was inspired by my favorite Japanese restaurant, Morimoto. Serve the crispy, fried shrimp inside these endive leaf boats for a delicious, slightly bitter, crunchy "spoon".
The flavors on this shrimp toast are absolutely amazing! If you've never tried it before, you are certainly in for a real treat. It's a unique appetizer that Chinese food lovers will go crazy over.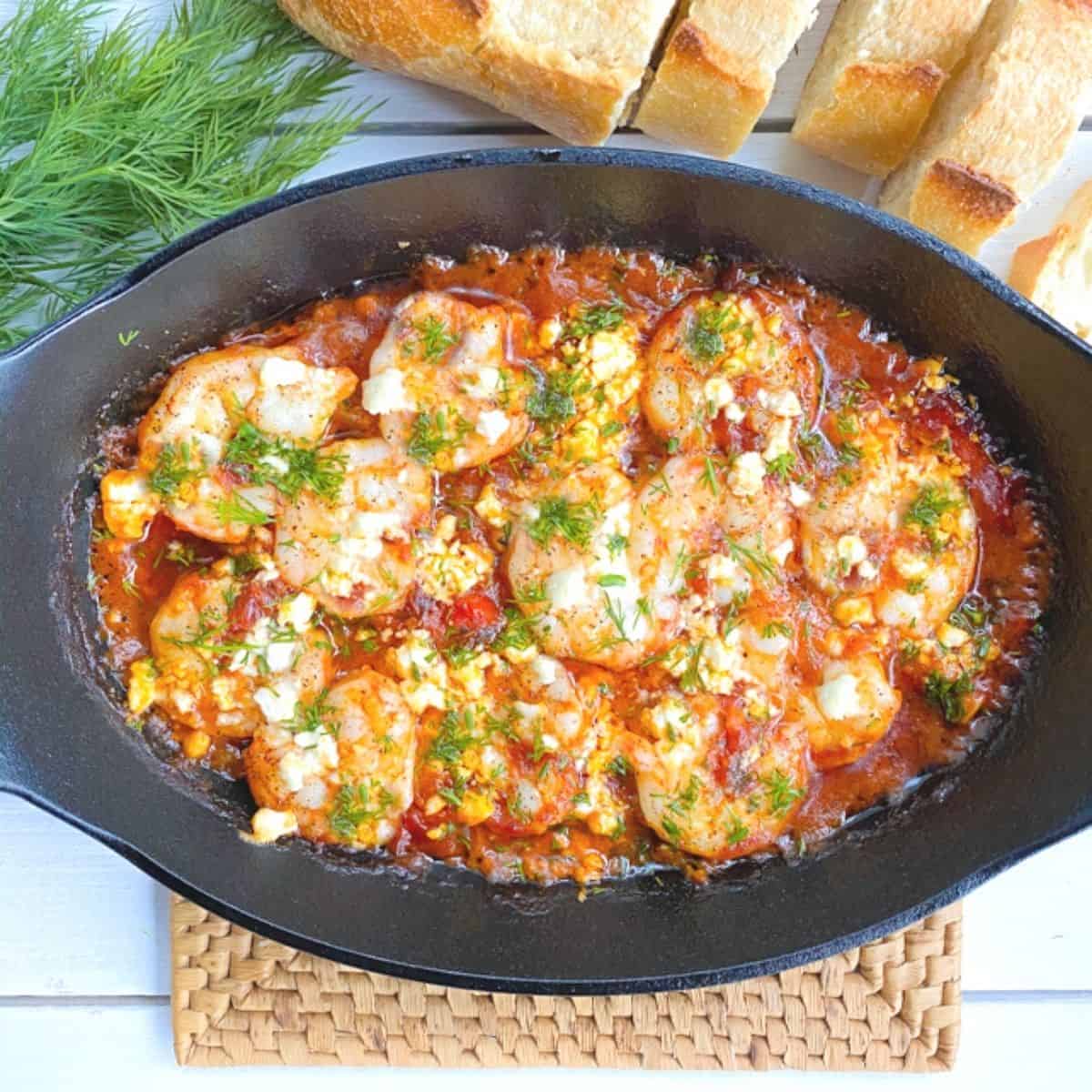 The ultimate Greek Appetizer! It's best served inside a cast iron dish with crispy bread for sopping up those delicious flavors at the bottom. At some ouzo and light it on fire for a real show stopper!
Pro Shrimp Tip!
Shrimp has a very short amount of time that it's good. You only want to keep shrimp (whether cooked or raw) 2-3 days in the fridge.
These are a take on Olive Garden's stuffed mushrooms. They are so delicious and unique compared to your standard creamy stuffed mushroom. I love serving them at fancier dinner parties or during the summer months when clams are the freshest.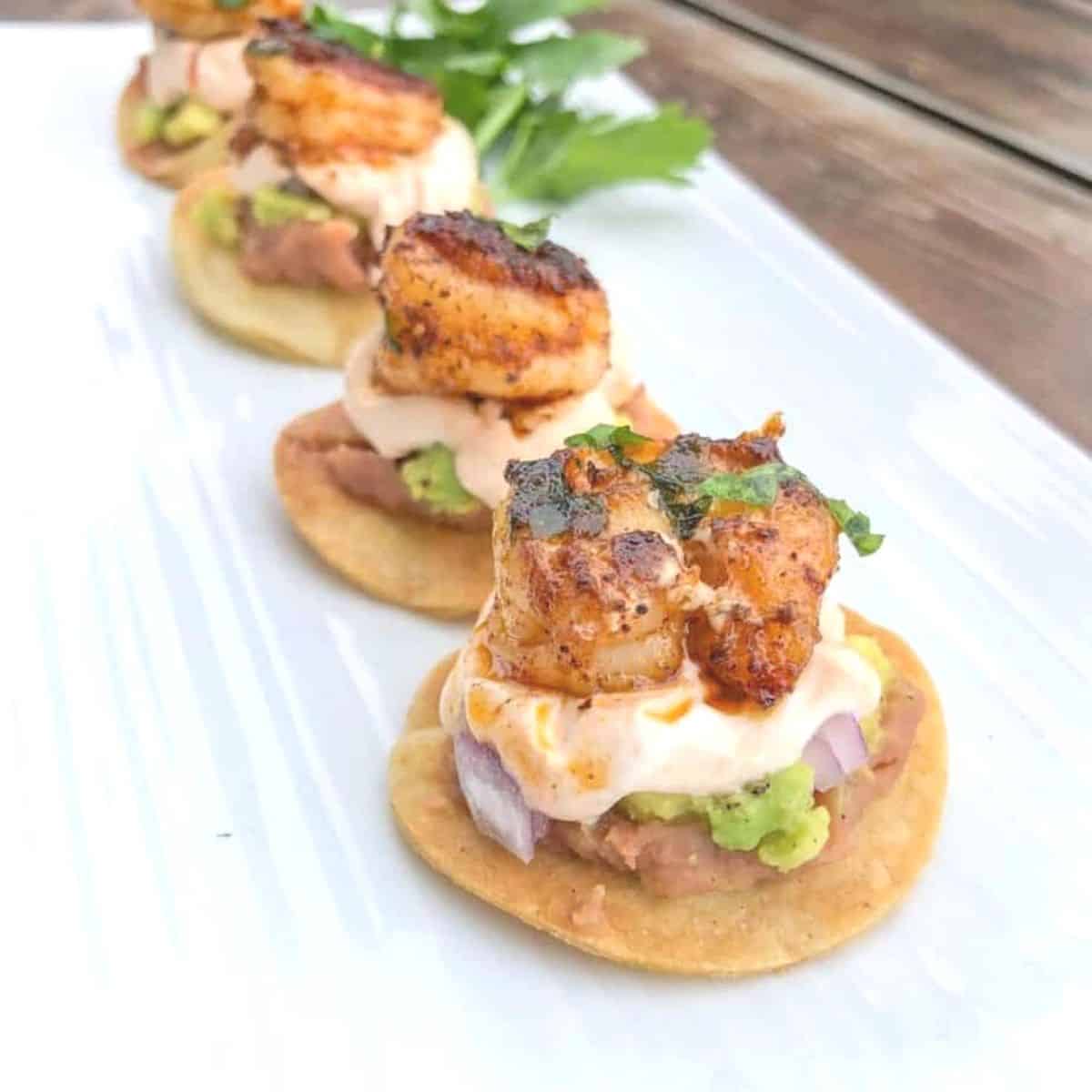 These tostadas are SO fun and packed with flavor. They take some time to assemble but are the perfect delicious bite sized appetizer Mexican food lovers will gladly devour. Serve in the summer for an outdoor party or Mexican fiesta!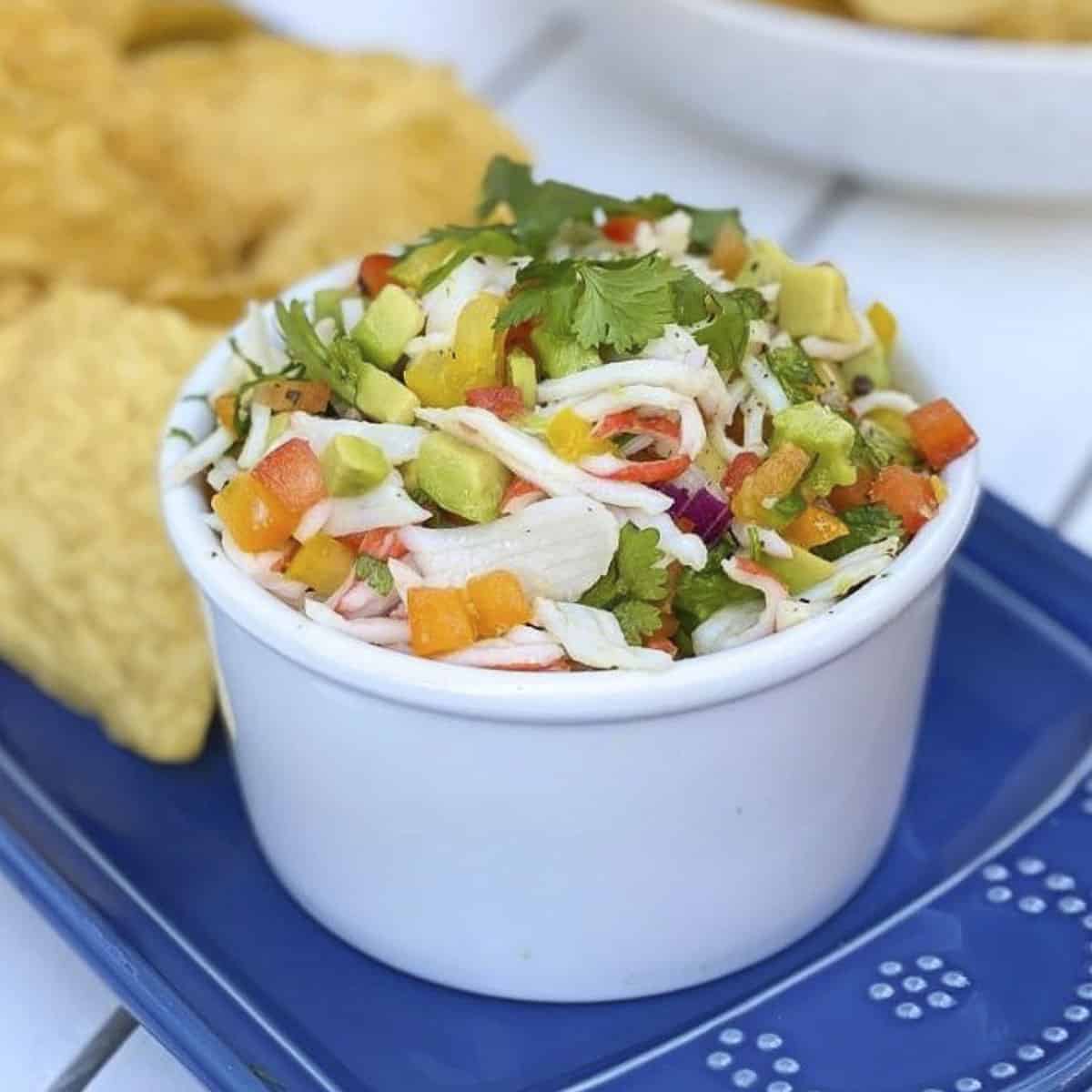 This recipe is much cheaper than your traditional ceviche. It's made with imitation crab meat so it's less expensive, but still just as tasty! It is also super healthy as it's dairy free. Serve in the summer with crispy tortilla chips for a tasty snack guests will appreciate.

Another faux seafood recipe that is much less expensive than using jumbo lump crab meat. They are SO fun to eat and often have guests wowed not knowing how easy AND inexpensive they are. Fried in a tempura batter and topped with Old Bay seasoning, its the ultimate summer appetizer!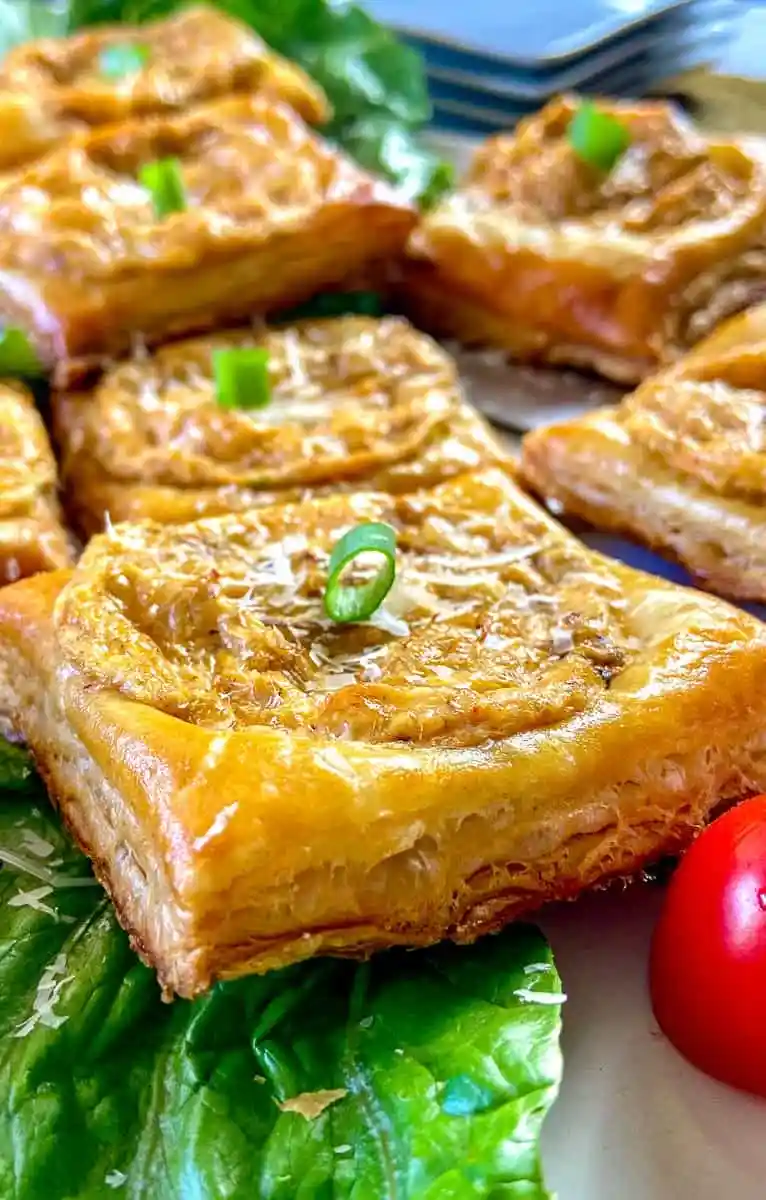 Crab puffs are such an elegant appetizer to pass around at your next party. Even though they look sophisticated, this recipe is truly very simple to make. I like to think they are a fancier appetizer that can be served at indoor or outdoor summer gatherings.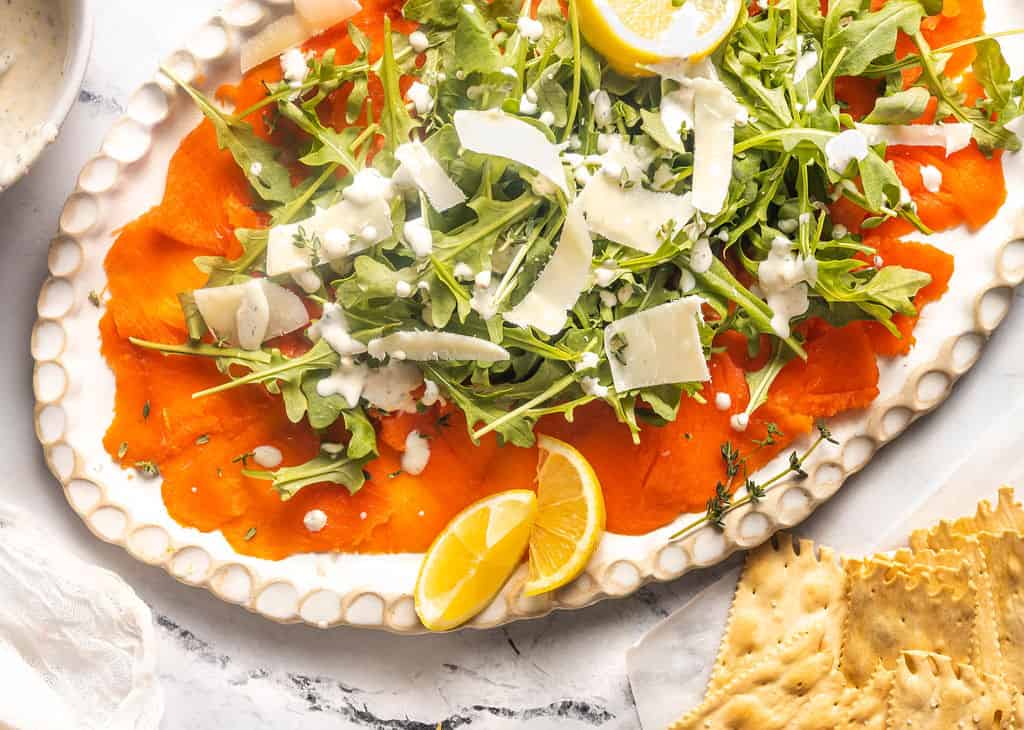 Smoked salmon carpaccio is a fancy but light brunch or lunch appetizer to serve guests during the spring or summer time. I love serving this on a large white platter with lots of crackers or crostini for topping! So fresh bright and delicious!
Salmon blinis are flavorful and sophisticated, yet so incredibly easy to make! They make the perfect light starter and look like you spent all day preparing them. They're topped with a Chili, Lime and Ginger Dressing and really couldn't be simpler to make.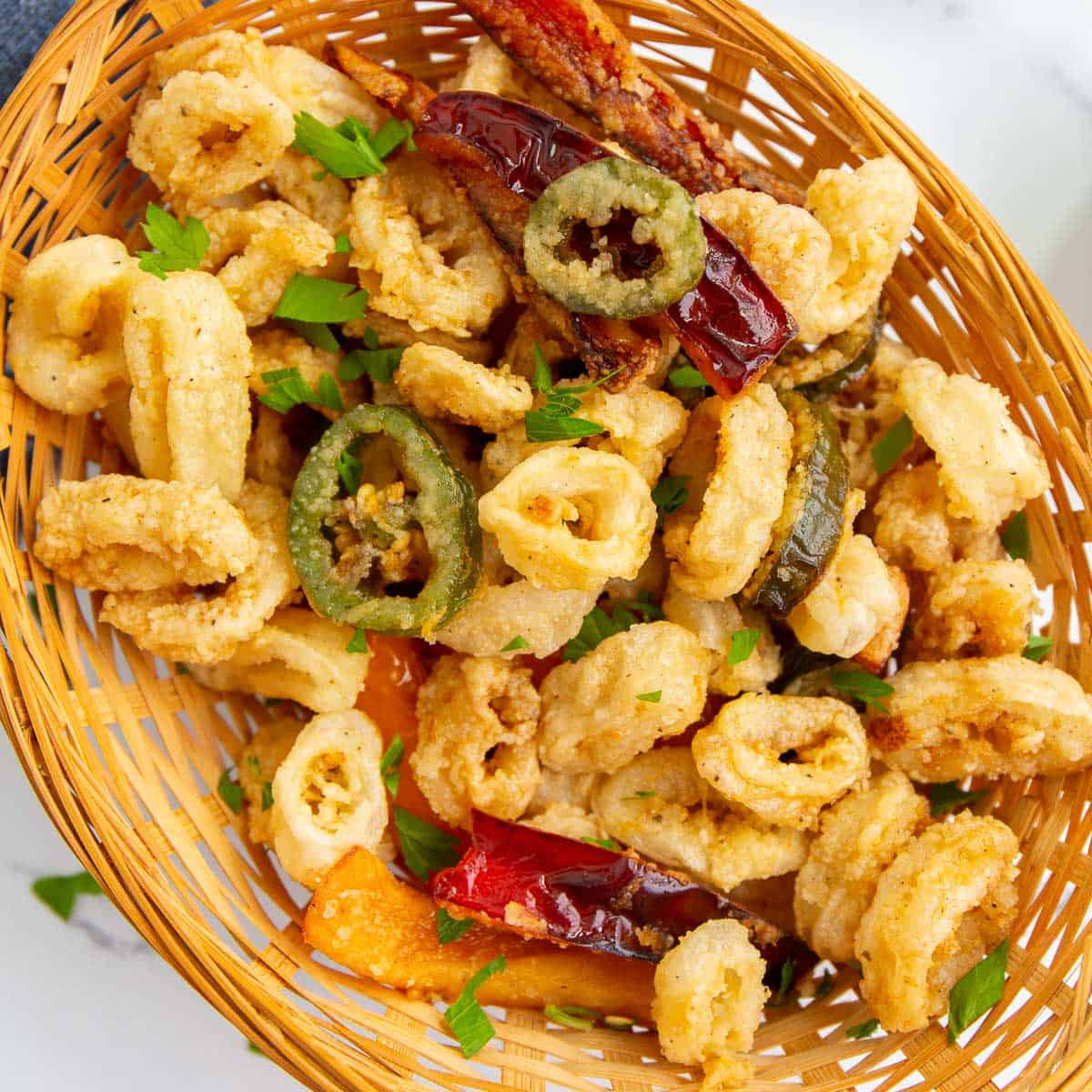 If you love Olive Garden's calamari, you will LOVE this version. It's quick, easy, and so flavorful. In just minutes you can have a restaurant quality appetizer that guests will rave about.
Your instant pot makes this shrimp dip fast and easy, yet oh so elegant. It's creamy, cheese, and full of delicious Cajun flavor. Pair with crunchy crackers or little toasts for a seafood appetizer that's ready in no time!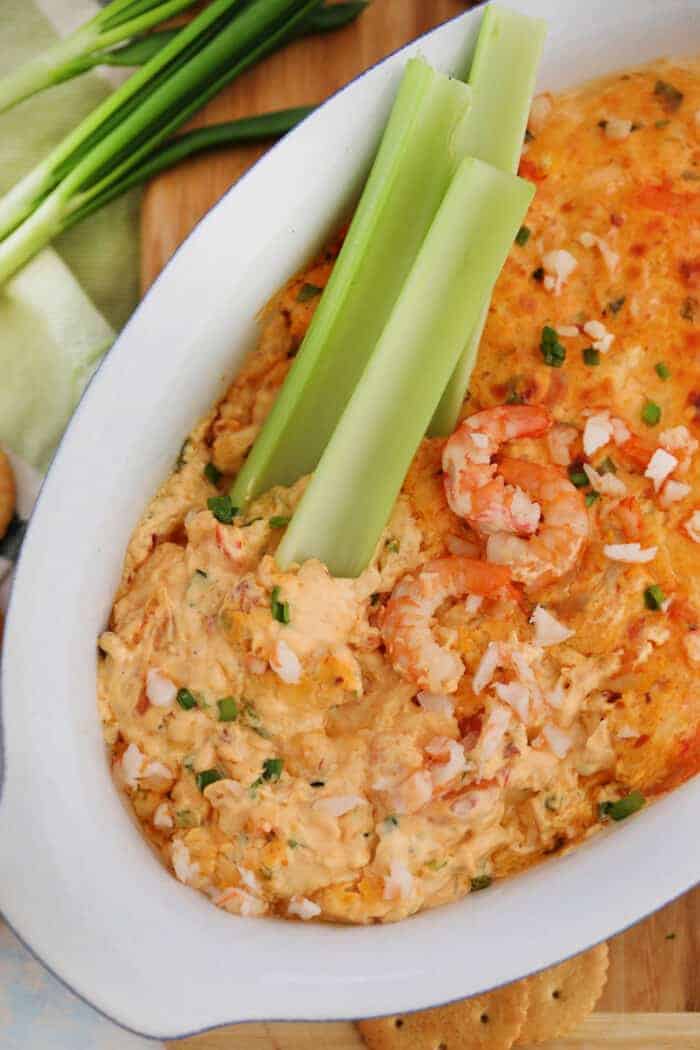 Another shrimp dip recipe is always a good way to fill up a crowd with something that feels fancy but is so easy to make. What I love about this recipe is that you can make it in advance, or even double the ingredients to feed a large crowd.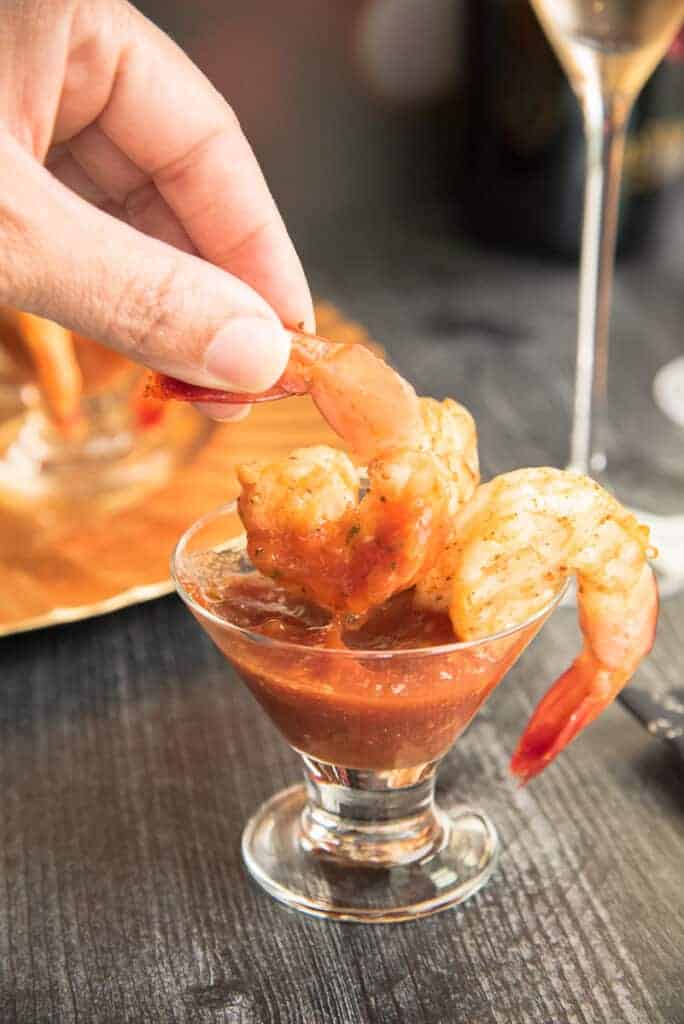 Shrimp cocktail is good, but ROASTED shrimp cocktail? That's even better. This recipe is like an upgraded shrimp cocktail, that's still just as easy to prepare as the traditional recipe.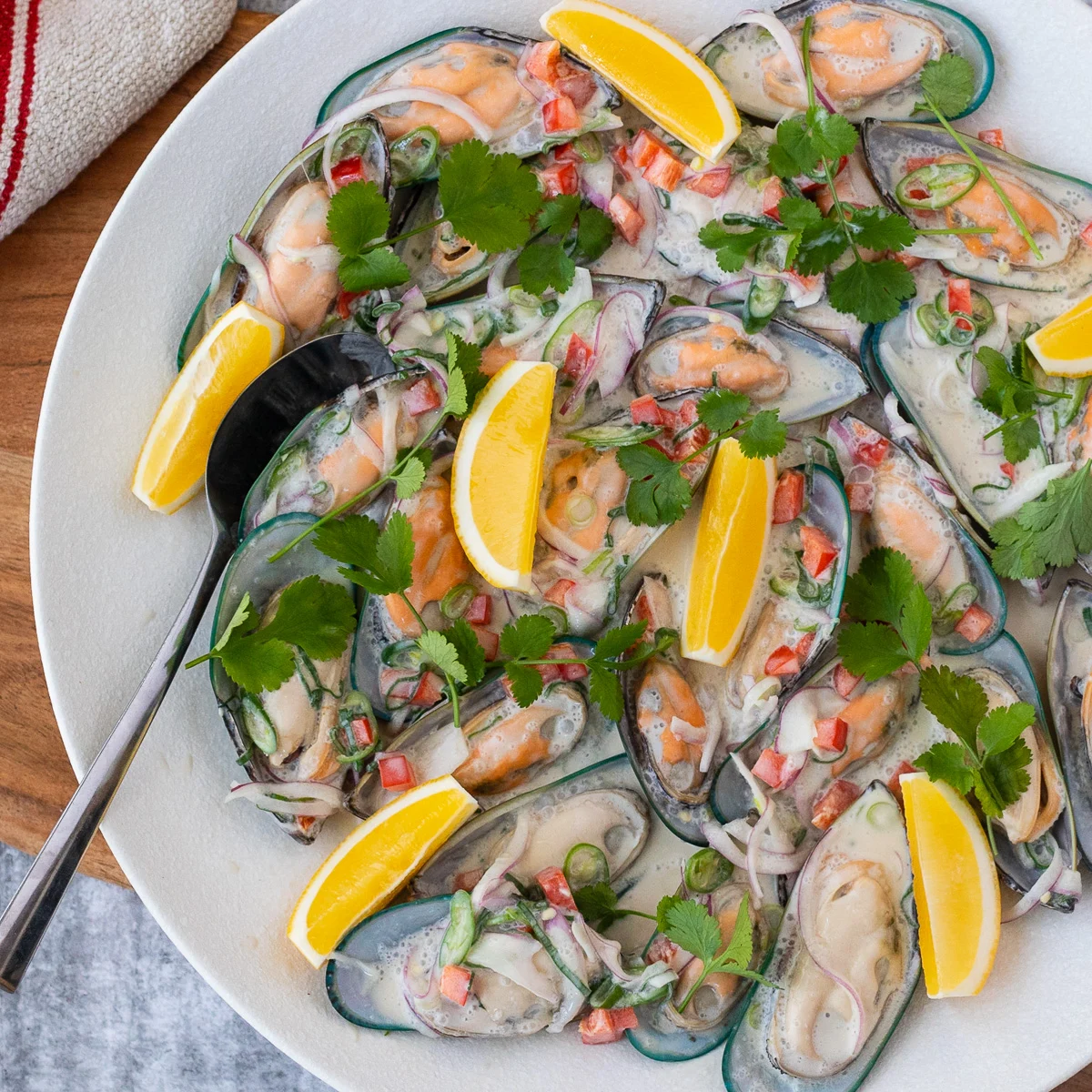 Fresh, delicious mussels are topped in a sweet and spicy coconut dressing. It's an impressive salad that tastes just as good as it looks, and best of all it takes less than 30 minutes to make!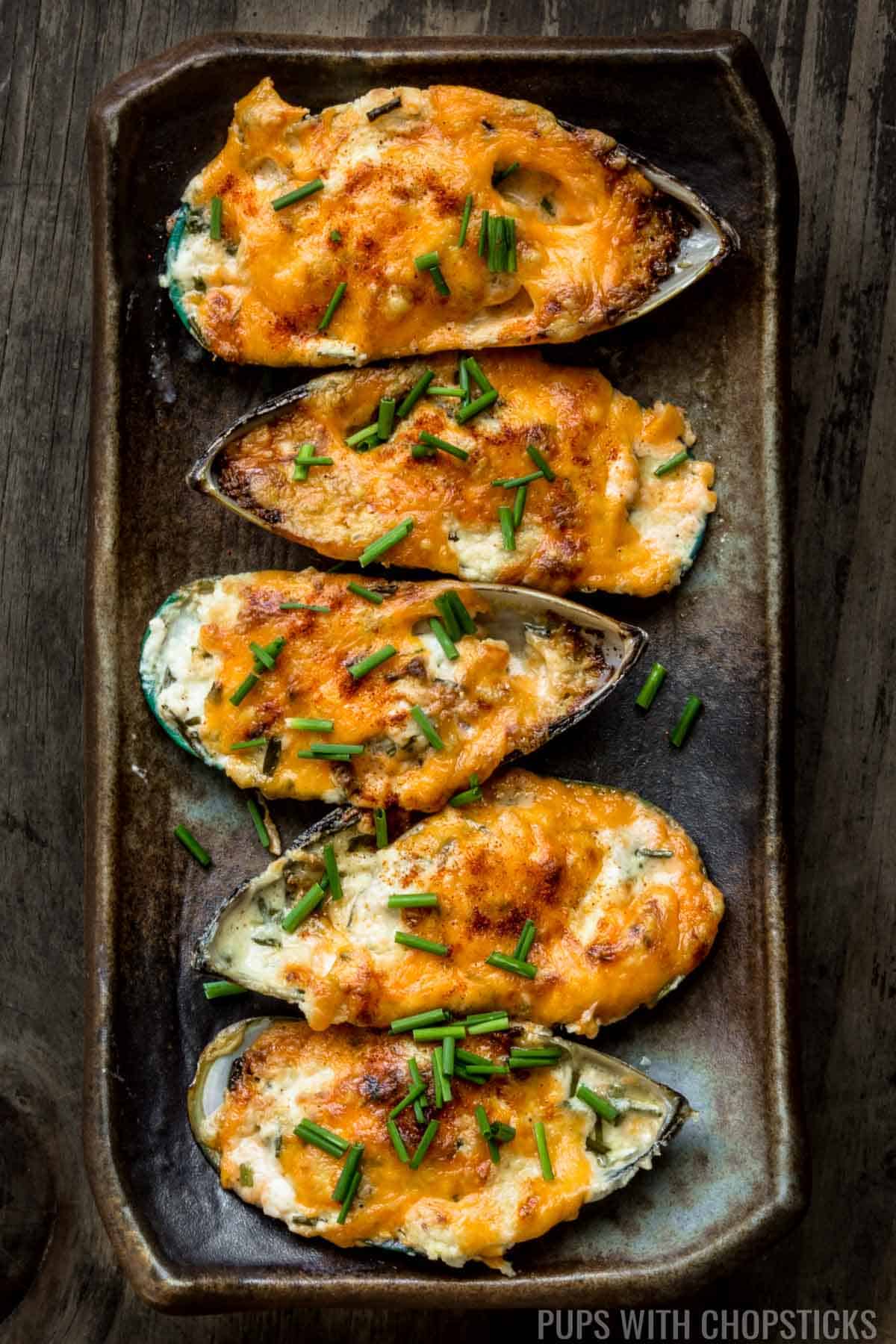 Garlic and cheese are just the ingredients needed to elevate this mussels appetizer. They're so simple, yet impressive to look at, and guests will think you spent hours in the kitchen. Serve before dinner with some drinks or even enjoy as a light lunch if you want!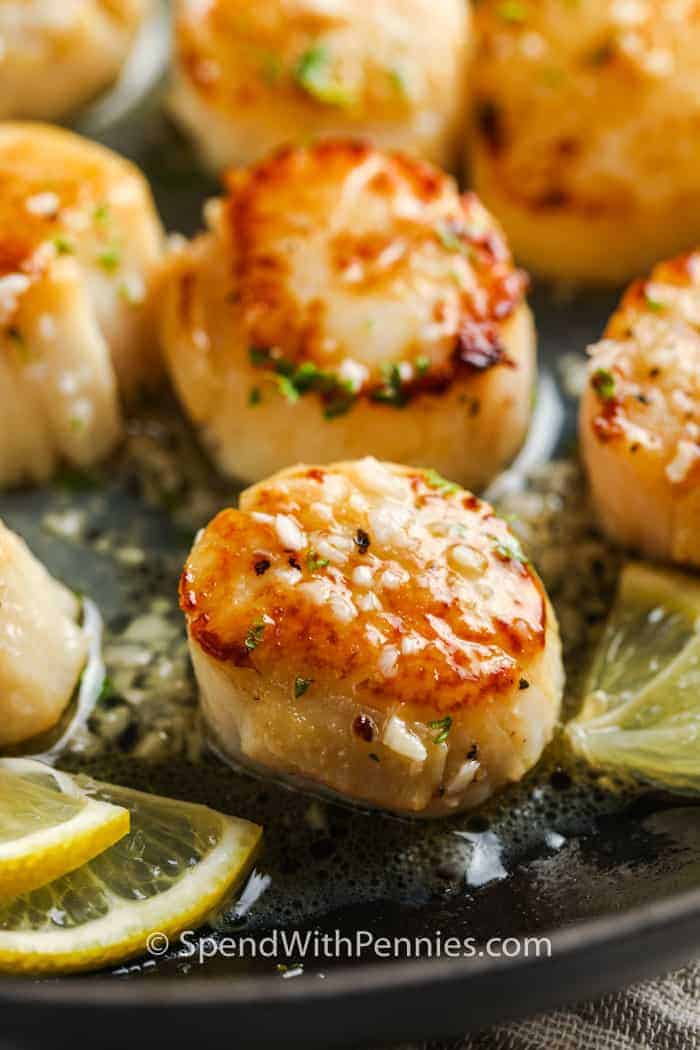 Seared scallops are the perfect size for serving as an appetizer at your next party. They have that lovely brown sear and are served in a delicious garlic butter sauce. Pair with toothpicks so guests can easily grab one. (or two!)
Crab stuffed mushrooms are a must make for your next gathering. These popable goodies are just the thing to serve to a crowd. They're simple, flavorful, and always the first thing to go at any party!
Baked lobster cakes are the perfect, elegant seafood appetizer to serve. They're made with rich, succulent lobster and topped in a light, lemon dill sauce. You may want to double the batch, I'm sure they'll be gone quickly 😉
Lastly, I'm sharing one of my most favorite seafood appetizers- these Vietnamese Shrimp Toasts! They're crunchy slices of baguette, topped with a delicious, creamy spread of shrimp, mayo, and cheese. These toasts are full of flavor, texture, and are sure to be a hit!
🍾What cocktails are you serving? Try one of my 9 Delicious Chambord Cocktails or my 7 Popular Peach Schnapps Cocktails.
More Recipes You Will Love!
📖 Recipe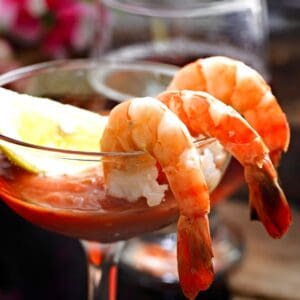 Seafood Appetizers
Seafood appetizers make any party much more classy and sophisticated. They are my favorite kind of appetizers since they typically cook much quicker and don't need as much seasoning added as other proteins do.
Print
Pin
Rate
Ingredients
🦐Shrimp Cocktail Recipe:
1

pound

medium or large shrimp uncooked

1

tablespoon

salt

3

cups

seafood or shrimp stock

Cocktail Sauce

Lemon wedges
Instructions
Bring stock to a simmer in a saucepan.

Add the shrimp and cook until they curl and turn pink. This should take only a few minutes!

Drain. When cool enough to handle, peel the shrimp and remove the vein along the curve (top) part of the shrimp, if desired.

Serve with cocktail sauce and lemon wedges! (Cover and refrigerate if not serving right away.)
Recipe Notes
Leaving the shell on gives the shrimp more flavor. You can remove them before if you wish or purchase pre-peeled and cleaned shrimp for a quicker appetizer!