Seafood appetizers make any party much more classy and sophisticated. They are my favorite kind of appetizers since they typically cook much quicker and don't need as much seasoning added as other proteins do.
Seafood Appetizers
I collected a few of my favorite seafood appetizers from other bloggers out there. If you want the recipe just click on the link, hit "jump to recipe" and print it out for later!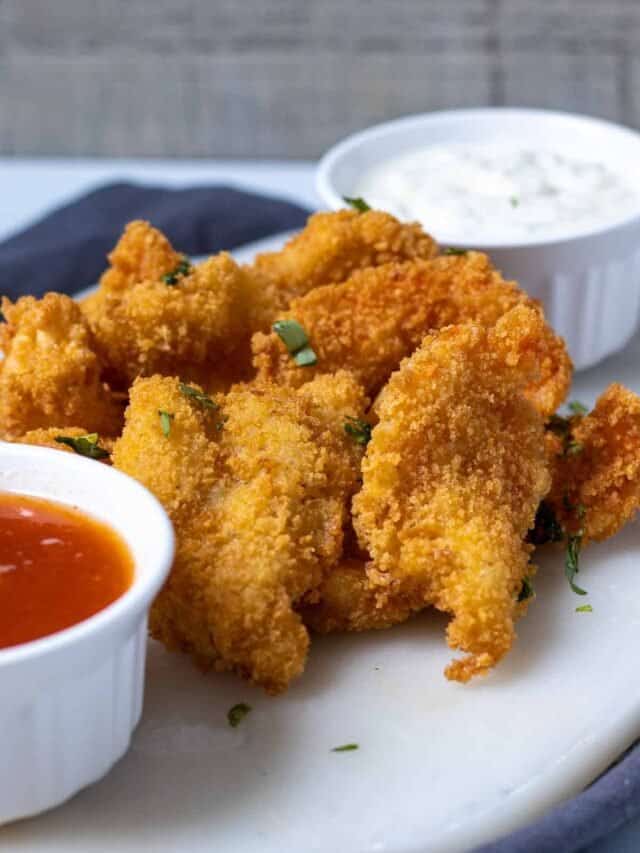 Panko crusted butterfly shrimp is a crispy and easy appetizer that you can serve with a few different dipping sauces.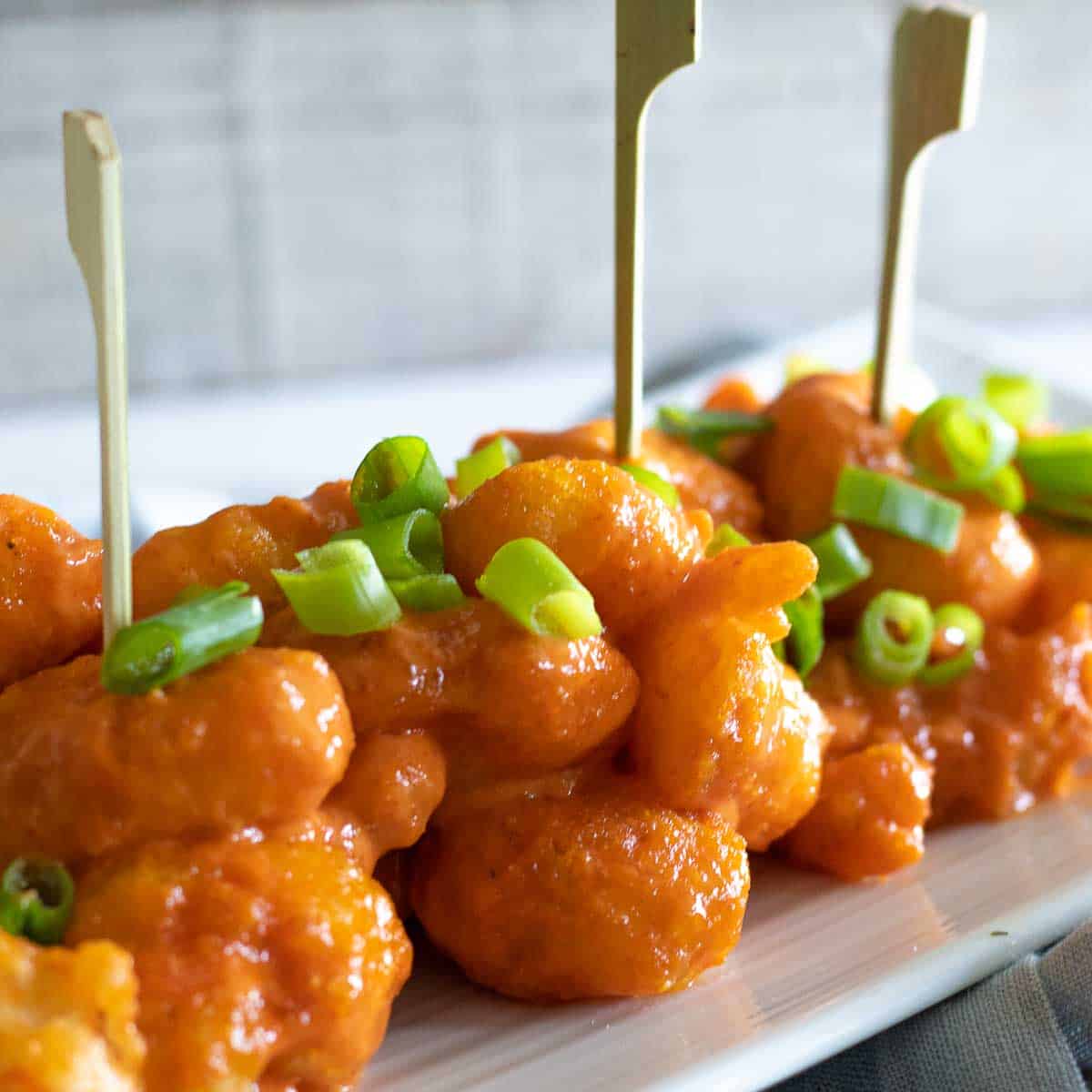 This shrimp appetizer is one of my favorite seafood appetizers ever. It is so delicious. Crispy, sweet, salty and a bit spicy. Serve with mini toothpicks and your guests will be in heaven.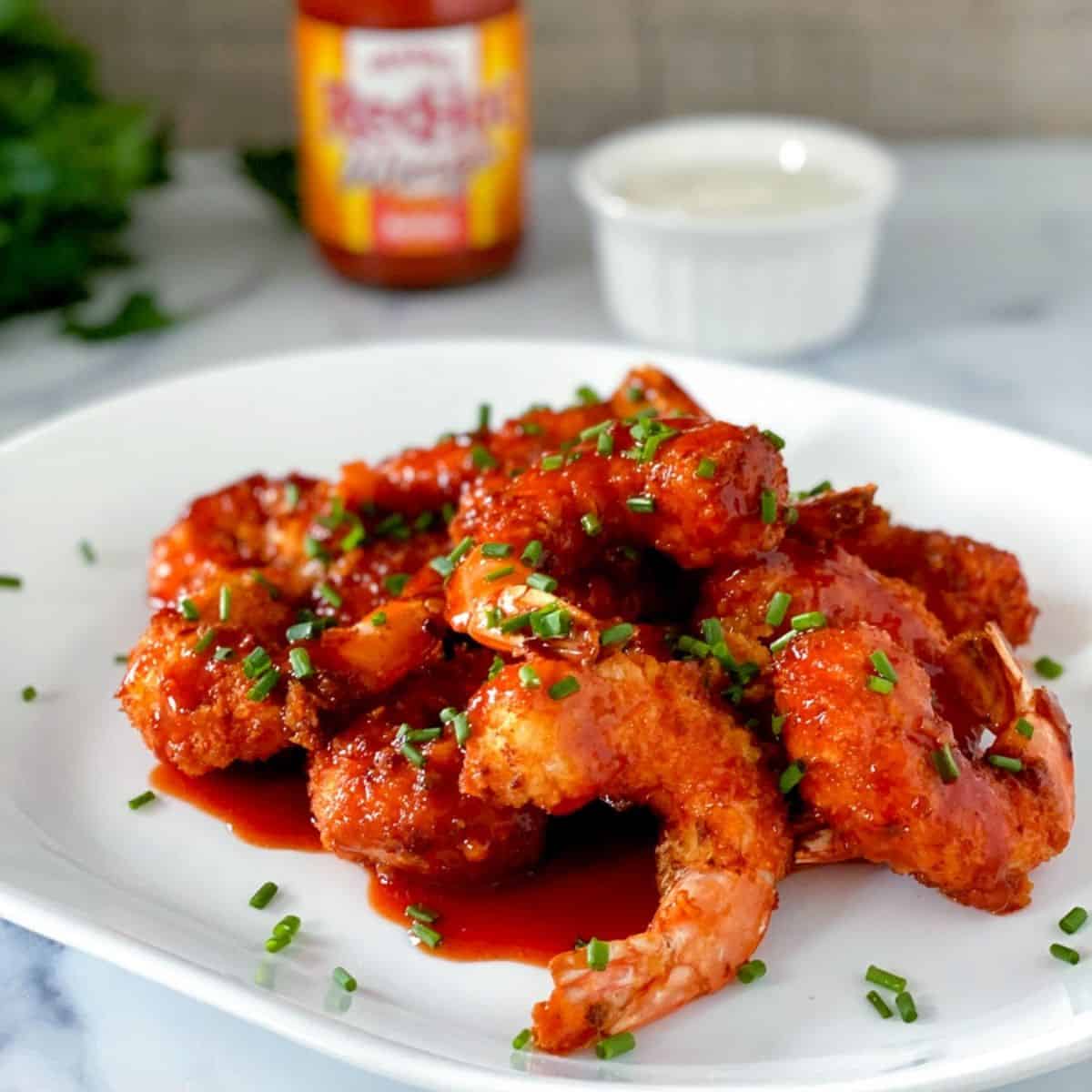 If you love buffalo wings and shrimp, meet your next best friend. This recipe is made using panko breadcrumbs and an air fryer so you know you will be getting a super crispy bite! The sauce is sweet and spicy, the way a good buffalo sauce should be.
crab
The ultimate summertime dip, this crab artichoke dip is baked and served hot. Serve with buttery crackers for the perfect paring!
boat
This is my next favorite appetizer. It was inspired by my favorite Japanese restaurant, Morimoto. Serve inside these endive leaf boats for a delicious, slightly bitter, crunchy "spoon".
toa
The flavors on this shrimp toast are amazing. If you've never tried it before, you are in for a real treat. It's a unique appetizer that Chinese food lovers will go crazy over.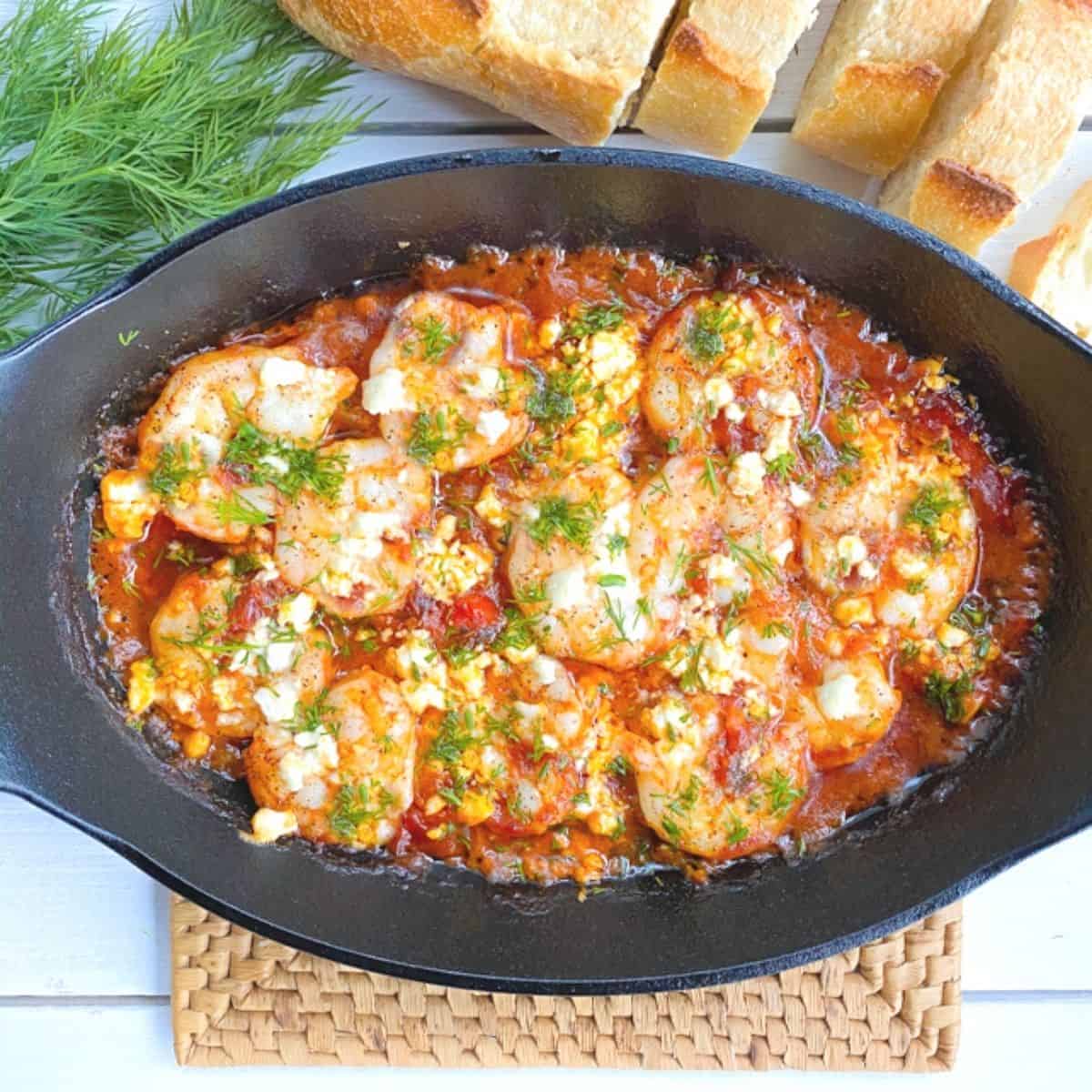 The ultimate Greek Appetizer! It's best served inside a cast iron dish with crispy bread for sopping up those delicious flavors at the bottom. At some ouzo and light it on fire for a show!
These are a take on Olive Garden's stuffed mushrooms. They are so delicious and unique compared to your standard creamy stuffed mushroom.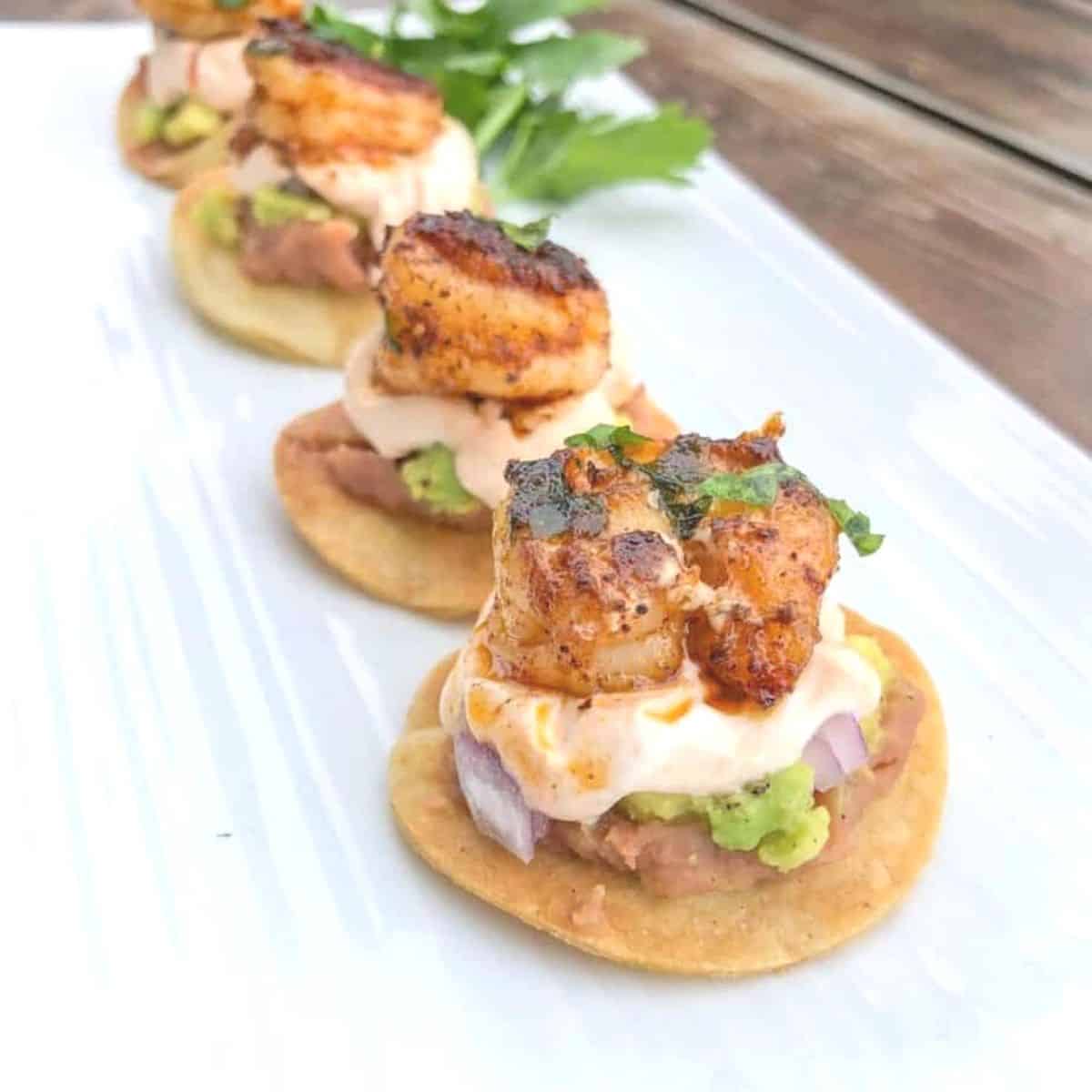 These tostadas are SO fun and packed with flavor. They take some time to assemble but are the perfect delicious bite sized appetizer Mexican food lovers will gladly devour.
kra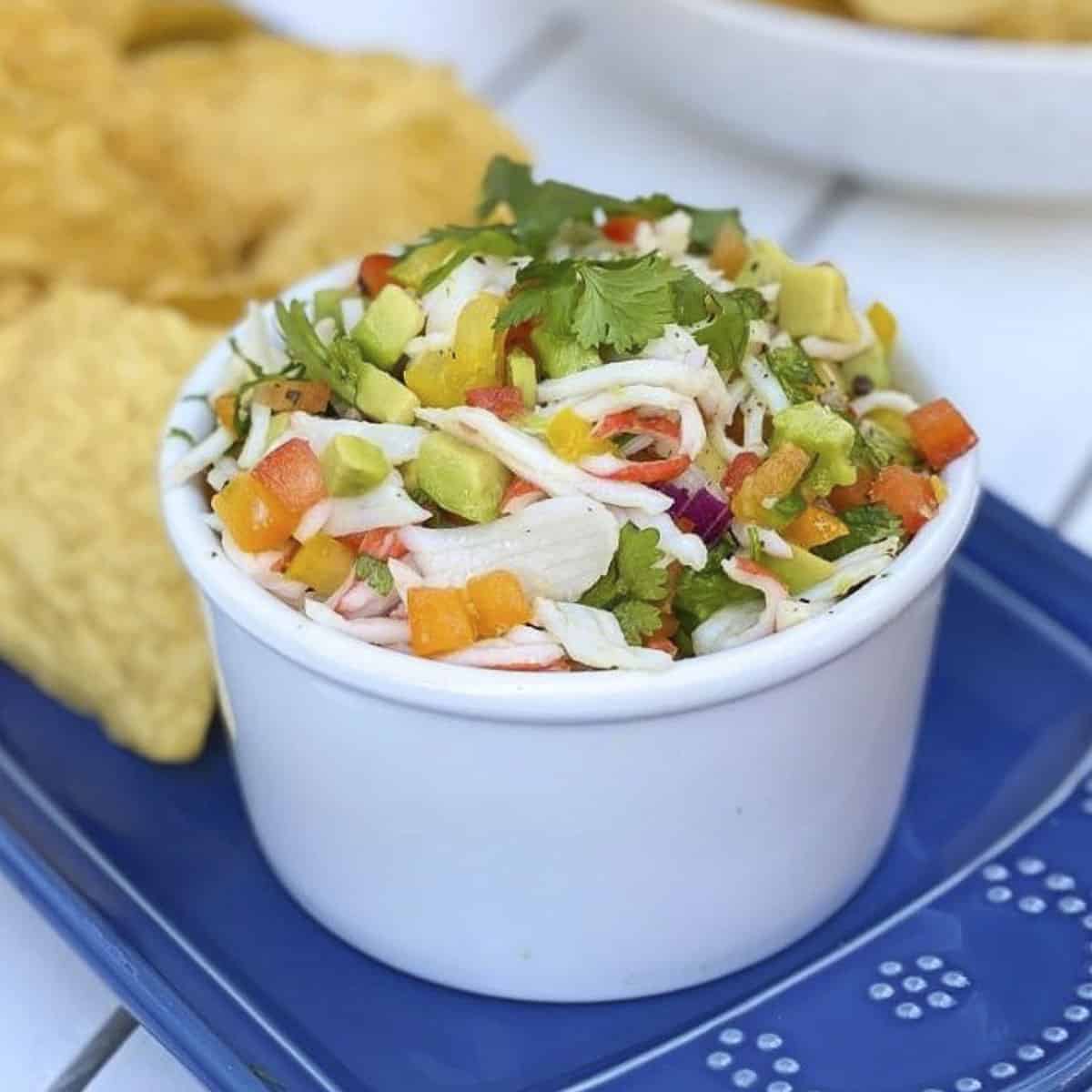 This ceviche is much cheaper than your traditional ceviche. It's made with imitation crab meat so it's very inexpensive but just as tasty! 
Another faux seafood recipe that is much much cheaper than using jumbo lump crab meat. Fried in a tempura batter and topped with Old Bay seasoning, its the ultimate summer appetizer!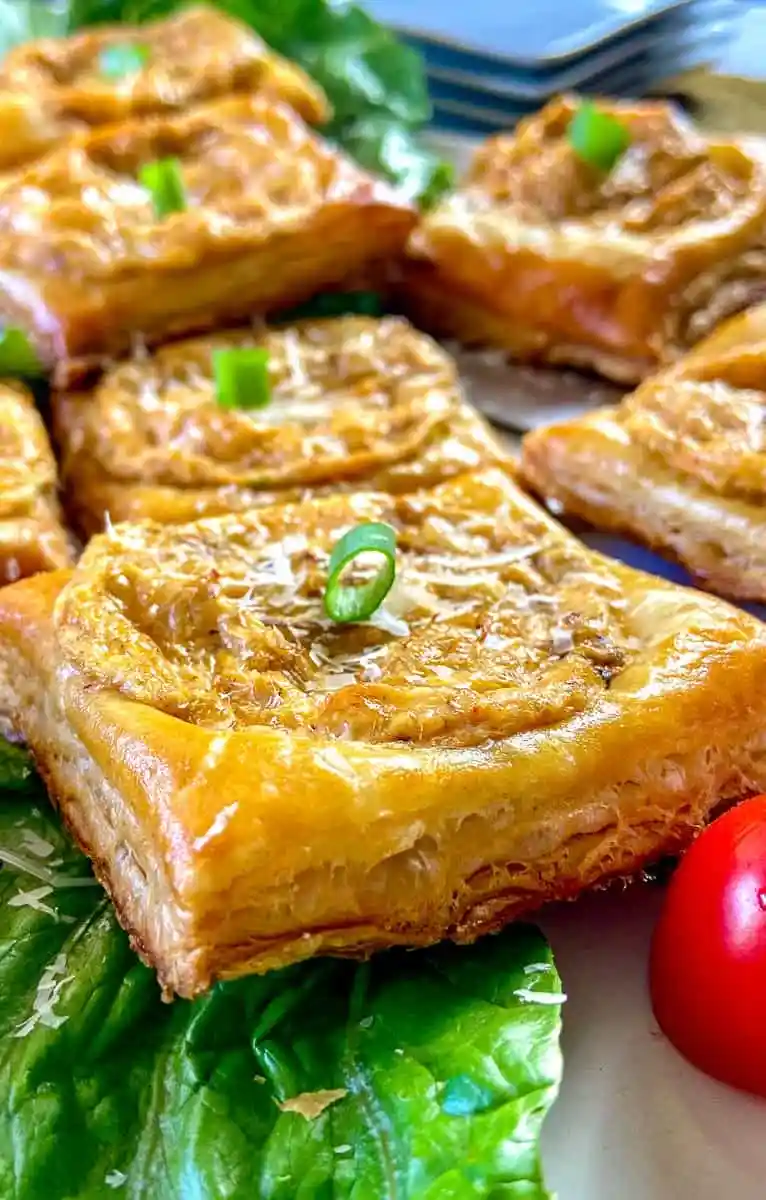 Crab puffs are such an elegant appetizer to pass around at your next party.
Cold shrimp makes for one amazing party food to share, and this recipe makes for bite sized little nibbles everyone will adore.
This fuss free salmon blini recipe is going to be a favorite way to serve appetizers.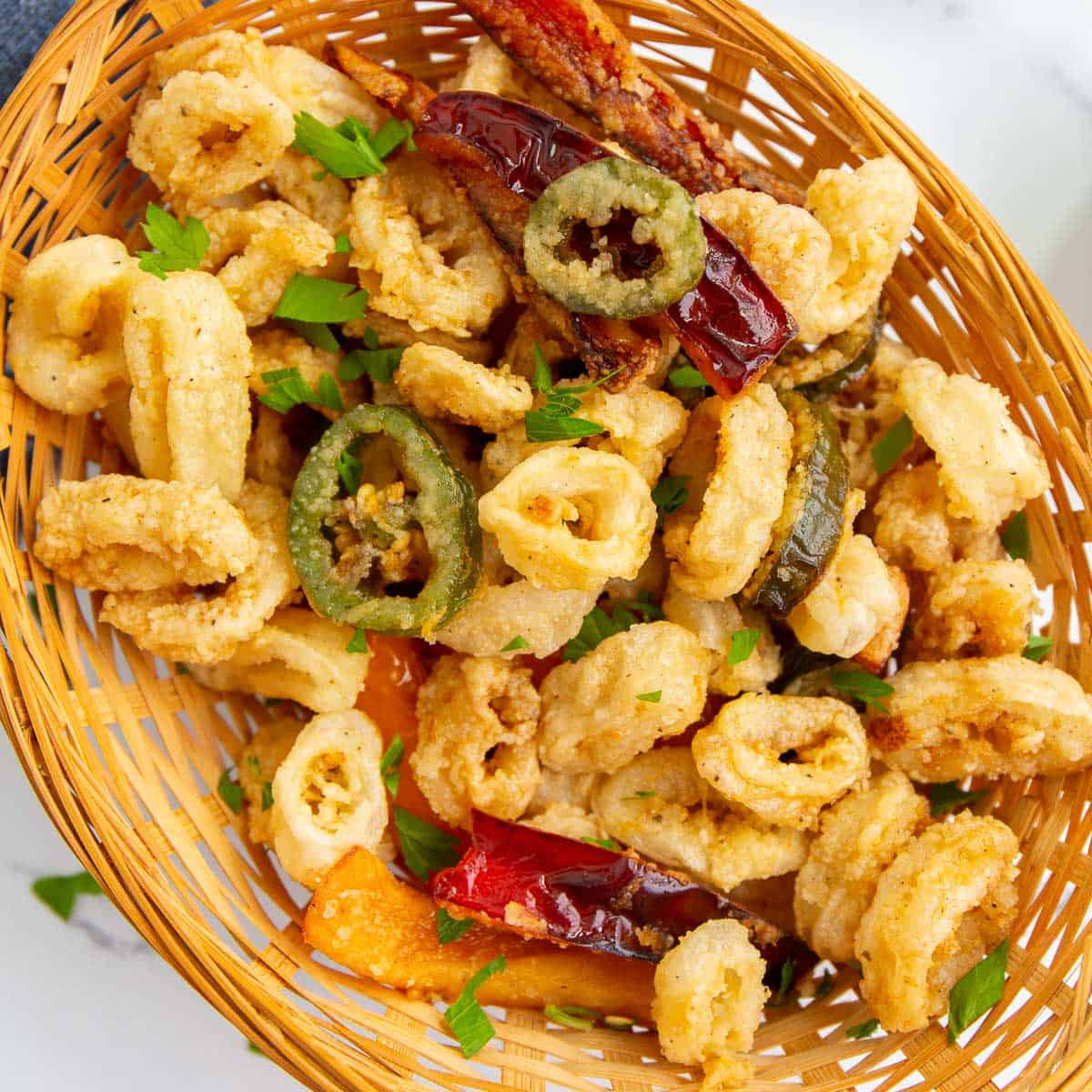 If you love Olive Garden's calamari, you will LOVE this version. It's quick, easy and filled with Italian flavors.
Smoked oysters are one way to instantly elevate your appetizer offerings.
Your instant pot makes this shrimp dip fast and easy, yet oh so elegant at a party when paired with tiny toasts.
Mango, avocado and shrimp are the perfect partners for this tasty salad.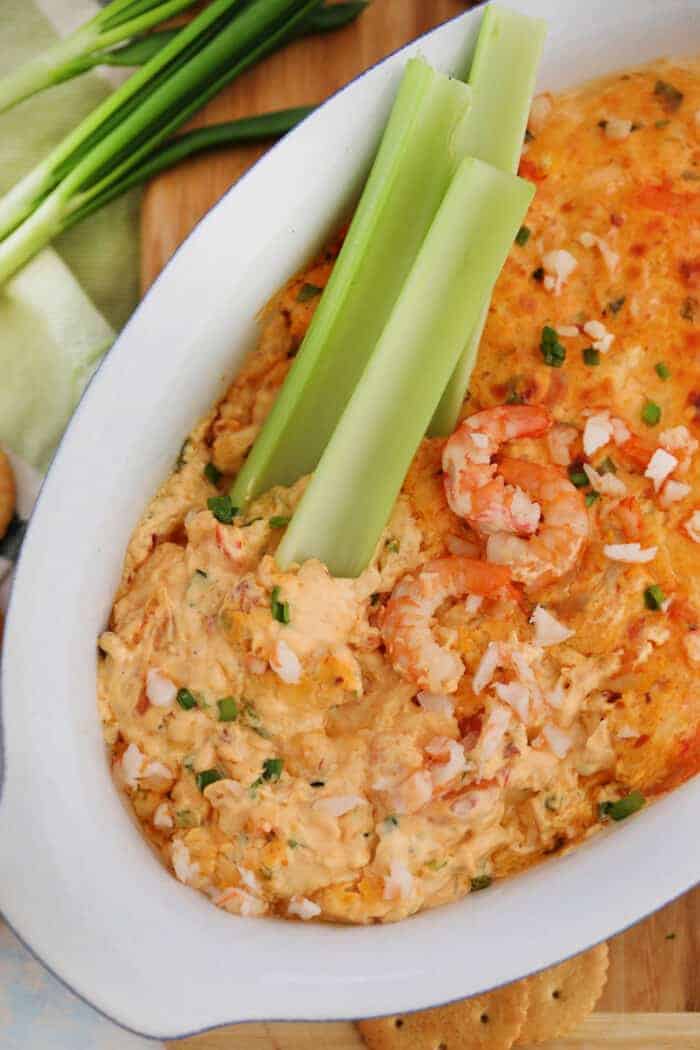 Shrimp dip is always a good way to fill up a crowd with something that feels fancy but is so easy to make.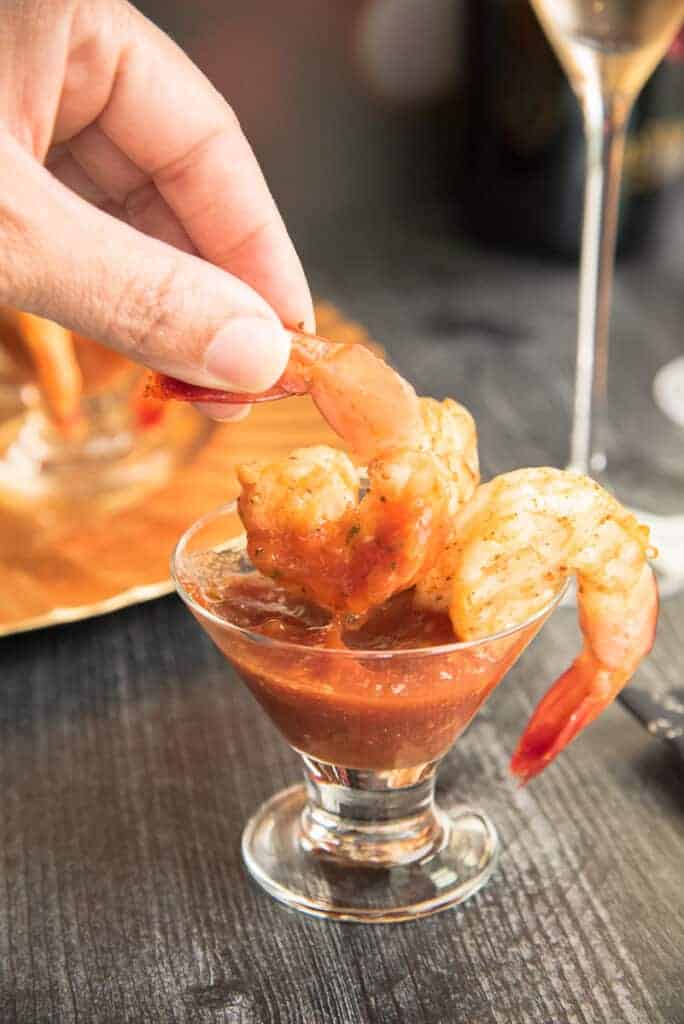 Give shrimp cocktails an upgrade by roasting the shrimp. It is so good!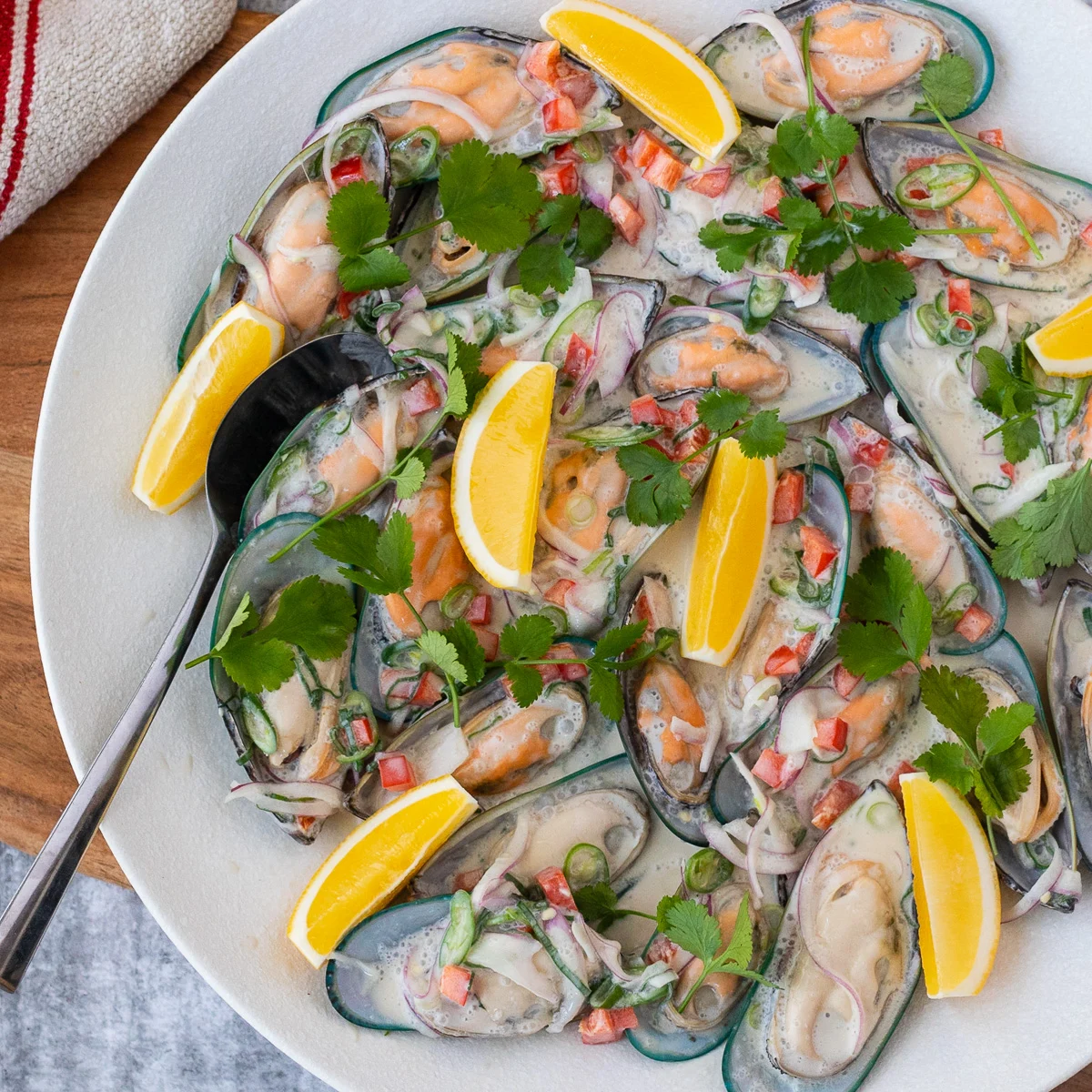 Mussels make for this salad super impressive. Your guests are sure to be wowed by this salad.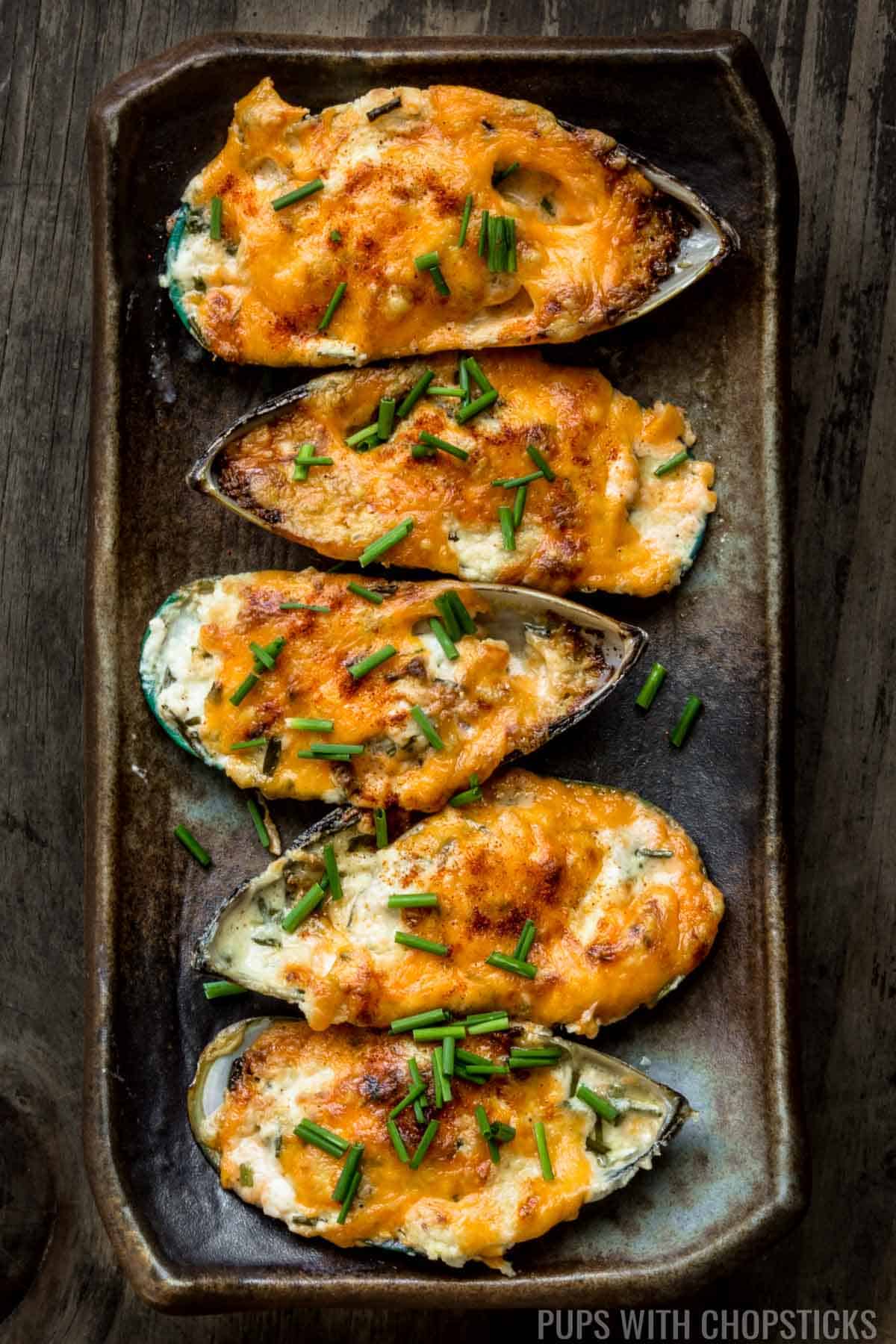 Garlic and cheese are just the things to bake with your mussels for an elegant app everyone will love.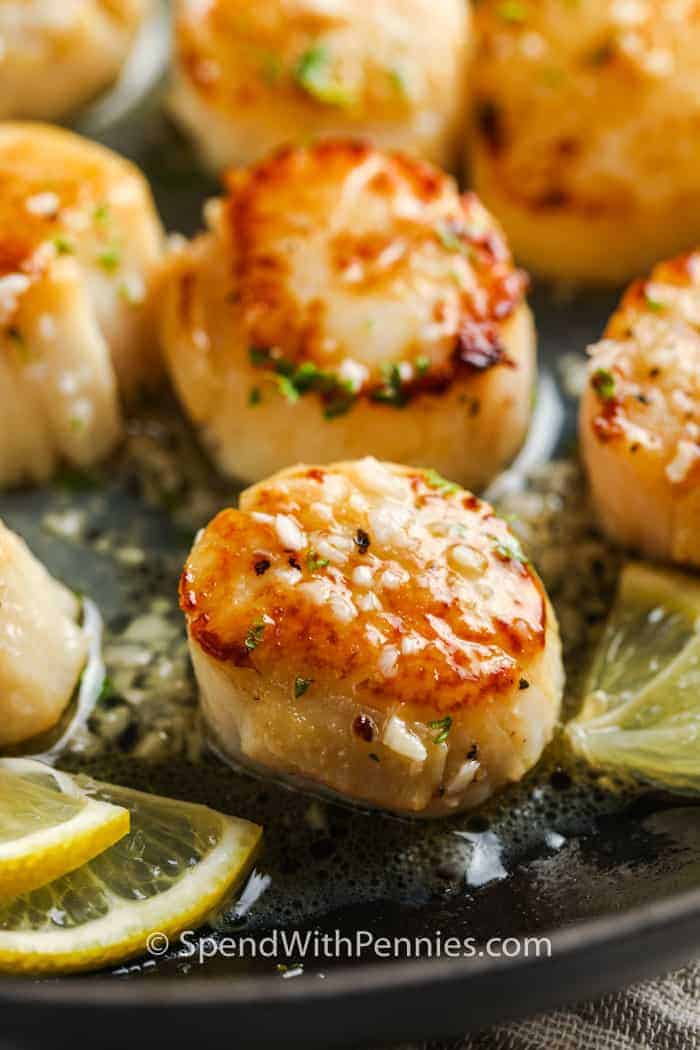 Seared scallops are the perfect size for serving as an appetizer at your next party. These would be perfect for New Years Eve!
Crab stuffed mushrooms are a must make for your next gathering. These popable goodies are just the thing to serve to a crowd.
Want the fanciest option of all for your guests? Then you must make lobster cakes to serve as an appetizer!
This recipe makes the tastiest little shrimp toasts ever!
🍾What cocktails are you serving? Try one of my 9 Delicious Chambord Cocktails or my 7 Popular Peach Schnapps Cocktails.
More Recipes You Will Love!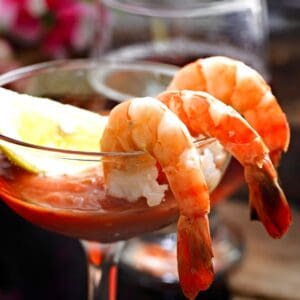 Seafood Appetizers
Seafood appetizers make any party much more classy and sophisticated. They are my favorite kind of appetizers since they typically cook much quicker and don't need as much seasoning added as other proteins do.
Print
Pin
Rate
Ingredients
🦐Shrimp Cocktail Recipe:
1

pound

medium or large shrimp uncooked

1

tablespoon

salt

3

cups

seafood or shrimp stock

Cocktail Sauce

Lemon wedges
Instructions
Bring stock to a simmer in a saucepan.

Add the shrimp and cook until they curl and turn pink. This should take only a few minutes!

Drain. When cool enough to handle, peel the shrimp and remove the vein along the curve (top) part of the shrimp, if desired.

Serve with cocktail sauce and lemon wedges! (Cover and refrigerate if not serving right away.)
Recipe Notes
Leaving the shell on gives the shrimp more flavor. You can remove them before if you wish or purchase pre-peeled and cleaned shrimp for a quicker appetizer!