This Dynamite Shrimp appetizer is lightly battered, fried and coated in a creamy sriracha mayo aioli. It's such a tasty appetizer that everyone goes crazy over!
Love shrimp? Try my Deep Fried Butterfly Shrimp or my Air Fryer Frank's Buffalo Shrimp.
I love shrimp. Like a lot.
Boiled, fried, sautéed, cold, hot, all of it. It's something I never really get sick of. And when it's slathered in an addicting sauce like this spicy aioli, it's hard to resist.
Dynamite shrimp is at the top of my top 3 favorite shrimp appetizers. Along with these Air Fryer Brown Sugar Buffalo Shrimp. The other one is my Shrimp Tempura Boats with Sweet Chili Sauce.
If you love P.F. Chang's, then you know about their dynamite shrimp. This "copycat" version is a cheaper alternative that is just as tasty in my opinion!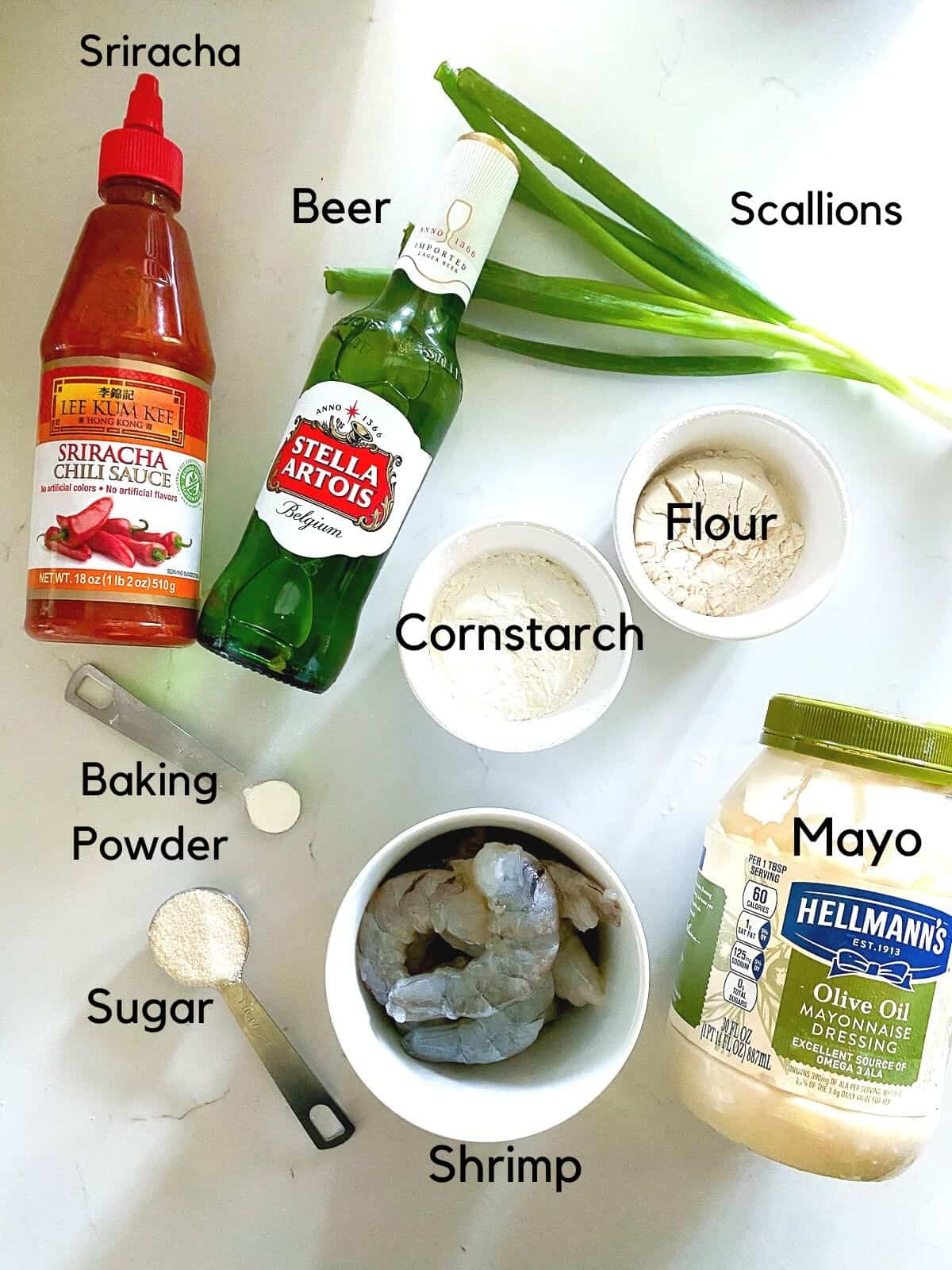 🛒 Ingredients
Shrimp- You don't want or need super large or jumbo shrimp for this recipe. Stick to medium-large shrimp. Too small and they will be tedious to fry.
Beer- Beer is NOT a necessity for this recipe but I do recommend something carbonated like club soda/sparkling water. I chose to use beer because I love how light and crispy it makes food while adding a touch of flavor. You cannot taste the beer after it's fried.
Baking Powder- Baking powder helps to make the tempura-like exterior lighter and crispier.
Cornstarch/Flour- I love how crispy cornstarch makes things and flour is a must so this combination works well. If you want GF, you can use GF flour or even corn flour.
🍤 Dynamite Shrimp Batter
The best dynamite shrimp are coated in a tempura batter before being fried.
Tempura batters do not need to be complicated. The trick is to make sure your batter is cold and carbonated. The combination makes for a crispy and light exterior.
Some recipes use an egg but I find the egg isn't necessary and prevents the exterior from getting super crispy.
Tempura Tip* If you want to save time with less mess, you can purchase the Kikkoman tempura batter mix (in a box) that just requires water!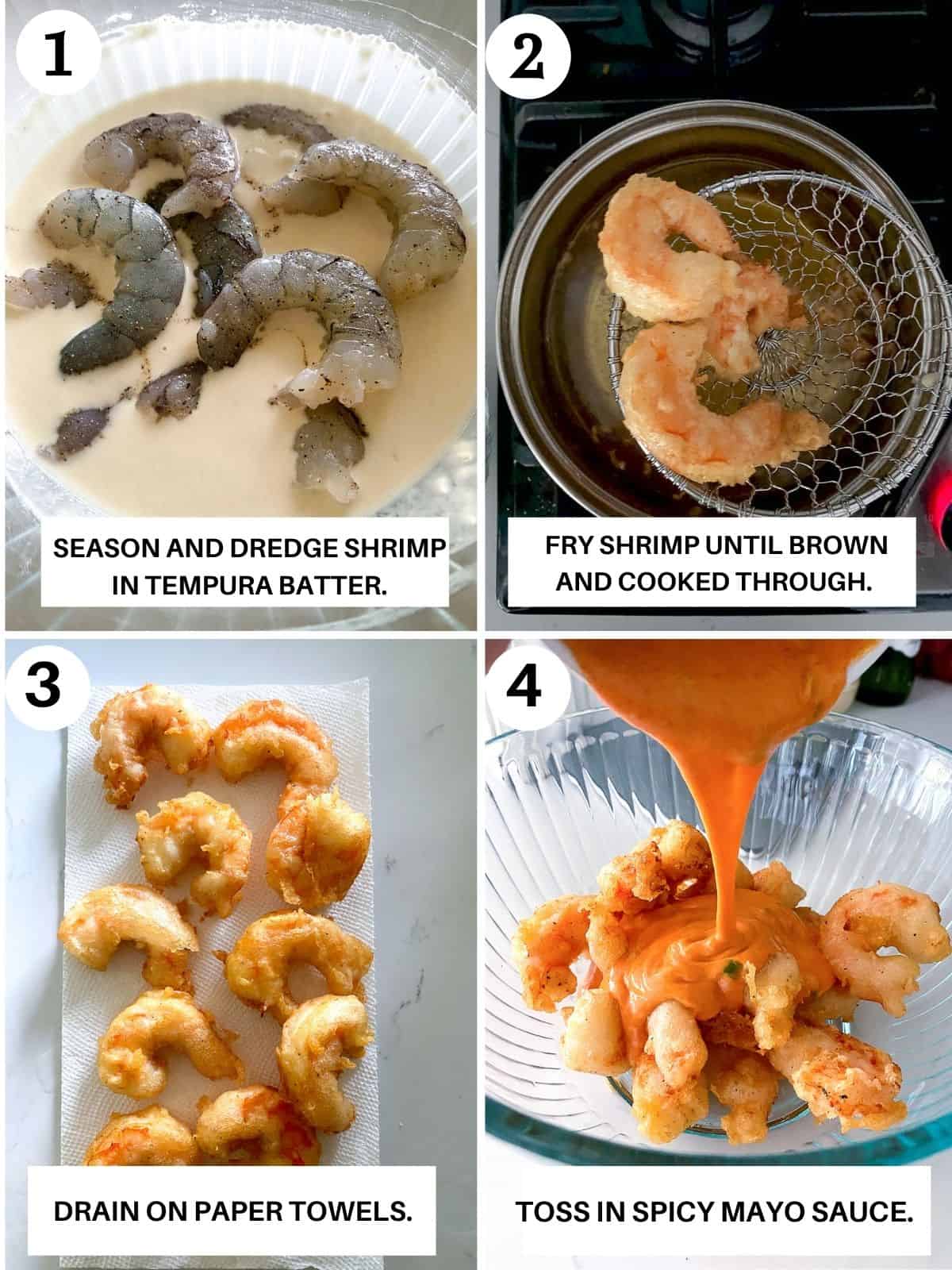 I love using a boxed tempura mix for last minute recipes like my Shrimp Tempura Boats with Sweet Chili Sauce.
The Dynamite Sauce
This sauce is a little sweet and a little spicy, just how a bang bang sauce should be! If you want to coat your shrimp in another sauce, try one of these awesome shrimp sauces!
🍽️ Serving Tips
If you want to make these in advance, do it. Fry them and then reheat them in the oven or air fryer as guests arrive to re-crisp them.
The most important thing is that you coat your shrimp in the spicy mayo sauce at the last minute! You want your shrimp to stay as crispy and crunchy as possible.
🥬Serve with lettuce!
Dynamite shrimp is a heavier appetizer so I like to serve it on top of a bed of crisp chopped romaine lettuce. This way, guests can enjoy both at the same time.
Serving appetizers with toothpick skewers or chopsticks make eating much more fun!
🧑‍🍳 Pro Tips
When making dynamite shrimp, there are just a few things you should keep in mind:
Use a deep frying thermometer to make sure the oil stays at optimal frying temperature. (350-375 degrees F.)
Don't overcrowd your pan. This drops the oil temperature down leading to soggy shrimp.
Coat your shrimp in the dynamite sauce last minute to maintain the crispy texture.
Drain your shrimp on paper towels or a wire rack to keep them as crispy as possible.
Season your shrimp well before dredging them.
Sweeten your sweet chili sauce using sugar or honey.
⁉️ FAQ's
Can I use honey to sweeten my sauce instead of sugar?
Yes! Many dynamite shrimp recipes use honey. I like both so use what you have on hand. The ratio is about 1:1 but I encourage you taste test and add as much as you like.
Why did my shrimp come out fluffy instead of crispy?
For perfectly crisp shrimp, your oil needs to be between 350-375 degrees F. Most of the time, it drops after frying. Check it after you fry each batch and wait for the heat to reach temperature again before adding the next batch of shrimp.
Can I use seltzer water instead of club soda?
Yes!
How can I make the sriracha chili sauce less spicy?
If you are not a fan of heat, then tone down the sauce by increasing the ratio of mayo and lemon juice.
Can I use prawns instead of shrimp?
Yep! The taste will be the same.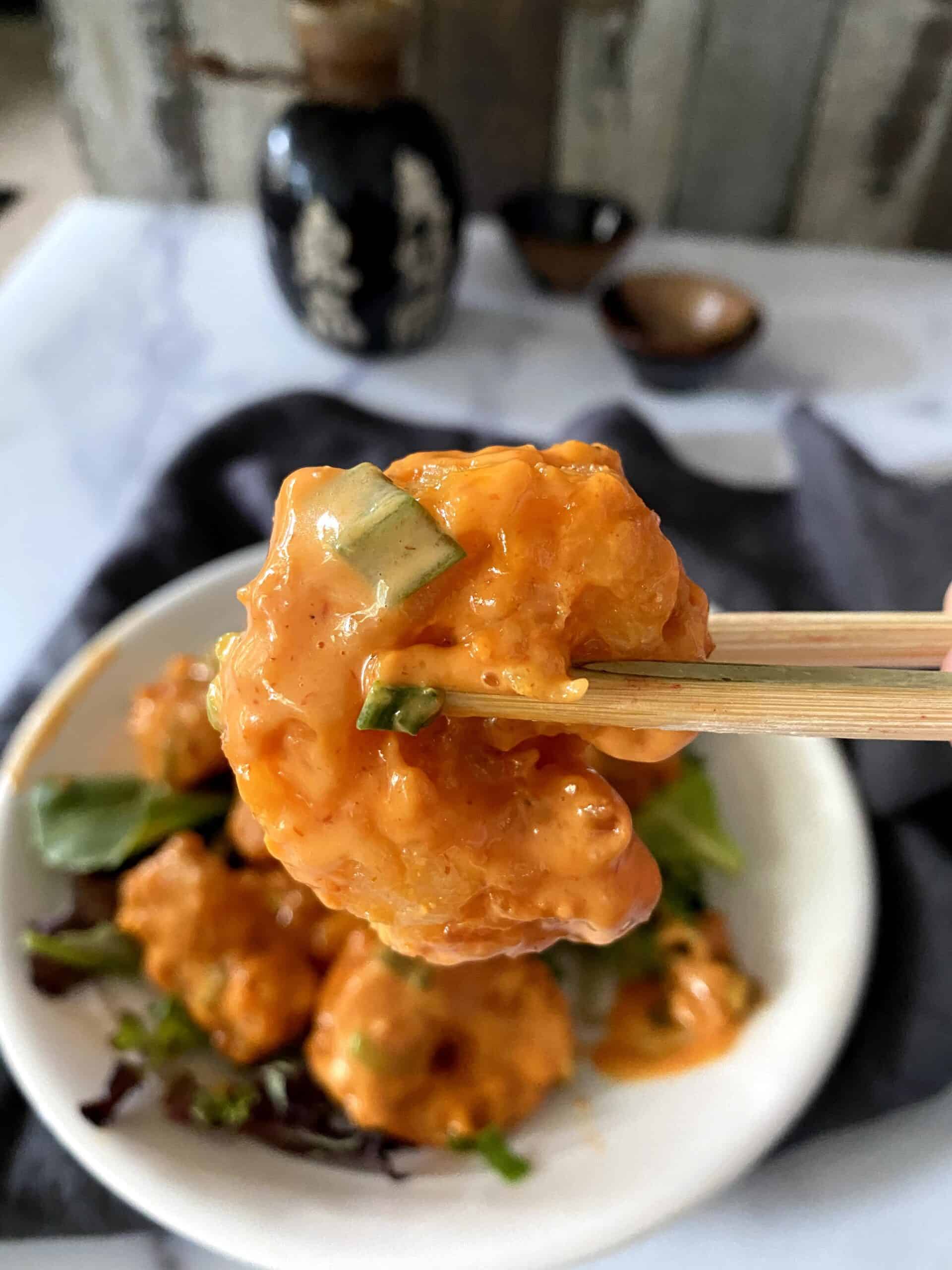 Other shrimp appetizer you will like:
73 Shrimp Appetizer Ideas For Your Next Party
Air Fryer Brown Sugar Buffalo Shrimp (Crispy)
Shrimp Tempura Boats with Sweet Chili Sauce
Easy Baked Chinese Shrimp Toast with Sesame Seeds
Baked Greek Shrimp Saganaki with Feta and Ouzo
📽 If you love entertaining at home, subscribe to my YouTube channel!!
📖 Recipe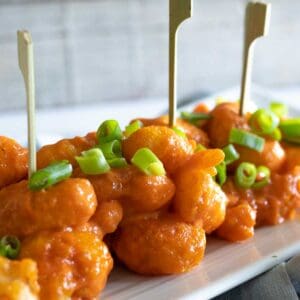 Dynamite Shrimp Tempura (w/ Sriracha Aioli)
This Dynamite Shrimp appetizer is lightly battered, fried and coated in a creamy sriracha aioli. It's such a tasty appetizer that everyone goes crazy over!
Print
Pin
Rate
Ingredients
½

lb

shrimp, cleaned and deveined

((about 12 medium to large shrimp))

⅓

cup

flour

¼

cup

corn starch

½

teaspoon

baking powder

½

cup

cold beer or carbonated water

Oil for frying

(*Canola or vegetable)

2

scallions
Sriracha Aioli
½

cup

mayonnaise

¼

cup

sriracha sauce

1

tablespoon

lemon juice

1

tablespoon

brown sugar

(*or white sugar)

½

teaspoon

garlic powder
Instructions
Heat your oil to 350-375°F.

While waiting, whisk together mayo, sriracha, sugar and garlic powder in a large bowl. Set aside.

Pat dry your shrimp well with paper towels and season both sides. Slice the shrimp in half then season with salt and pepper.

In a medium-sized bowl, whisk together your flour, cornstarch, baking powder and beer (or carbonated water). You don't want any lumps.

Add your shrimp to the tempura batter and toss to fully coat. Using two forks, drop one shrimp at a time into the hot oil. (The second fork can help release the shrimp.)

Fry for 1-2 minutes until light brown or until the internal temperature reaches 120°F.

Do not overcrowd your pan or the oil temperature will drop causing your shrimp to be greasy.Make sure shrimp do not touch when you put them in or they will stick together.

Use a spider tool or slotted spoon to remove shrimp when ready. Let drain on paper towels or a wire rack to prevent soggy bottoms. Wait 30 seconds or so and repeat with the rest of your shrimp.

Garnish with chopped scallions. Serve hot!
Recipe Notes
Recipe Tips*
This recipe is spicy but not too spicy. Tone down the spice by using more mayo.
The beer batter gives the shrimp added flavor without being too overpowering.
This recipe is best served hot. The shrimp will not stay crispy once they sit in the sauce but that's okay.
Replace the sugar with honey if you prefer.
Wait to coat your shrimp in the sauce if you are serving later on and simply reheat the sauce in the microwave.
Nutrition
Calories:
154
kcal
|
Carbohydrates:
13.1
g
|
Protein:
13.9
g
|
Fat:
4.5
g
|
Saturated Fat:
0.7
g
|
Cholesterol:
119
mg
|
Sodium:
246
mg
|
Fiber:
0.5
g
|
Sugar:
2.5
g