Learning how to butterfly shrimp at home is easy! This recipe uses panko breadcrumbs and is deep fried for super crispy, golden brown shrimp. I love serving this as an appetizer with two sauces for dipping!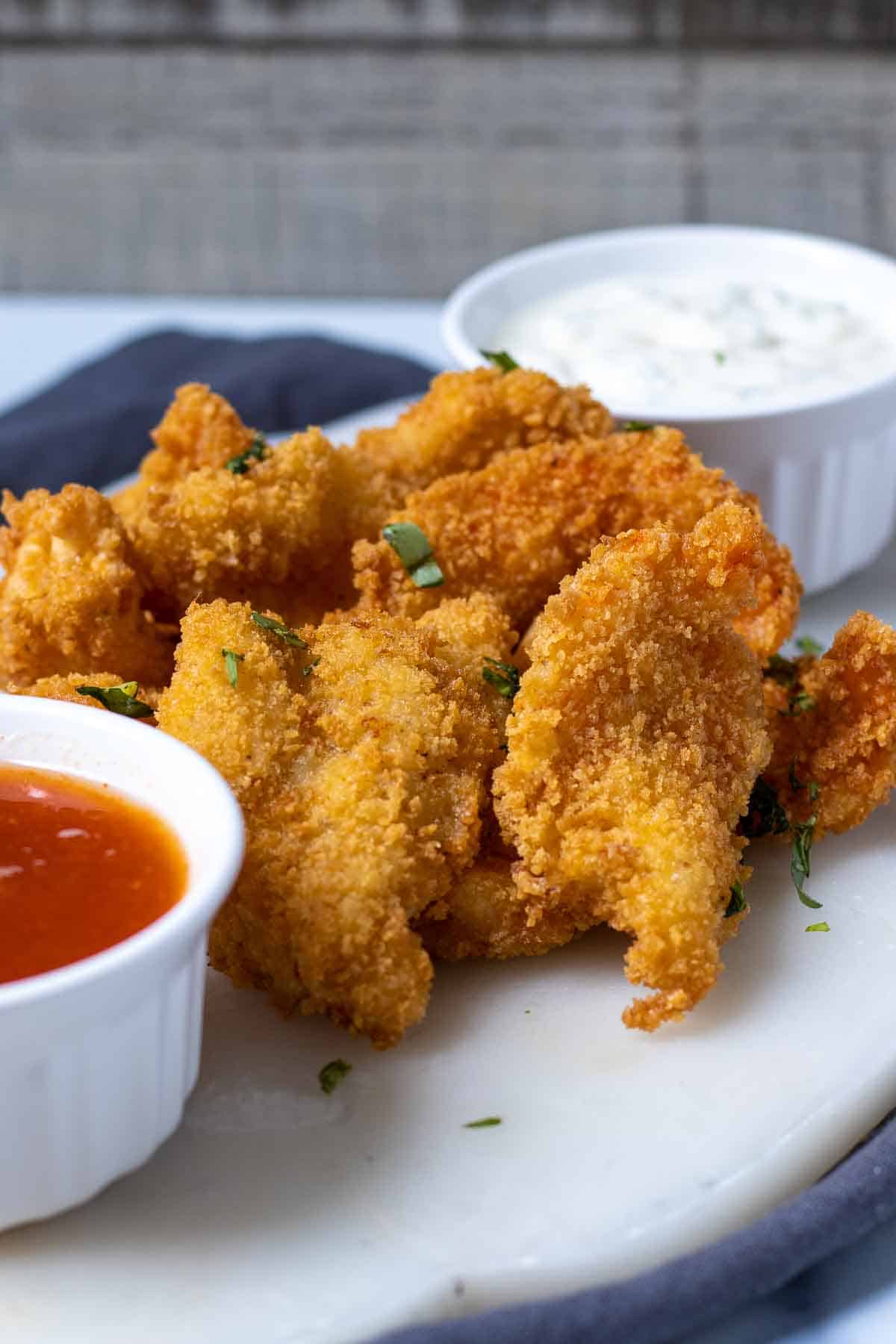 Deep fried shrimp is as simple and delicious as it gets. This recipe is made using shrimp that's "butterflied". I use a simple egg, flour and panko breadcrumb coating for the exterior which is super versatile.
Don't forget the sauce! These sauces are sweet and savory and pair perfectly with the crispy shrimp. They make the perfect finger food for any party! Check out these 59 Finger Food Ideas For Your Next Party!
Why Do We Butterfly Shrimp?
Butterflying shrimp is completely optional when cooking shrimp. So why do people bother?
The primary culinary reason for butterflying shrimp is to allow the shrimp to cook faster and more evenly.
By butterflying shrimp, you open the flesh along the back of the shrimp exposing more surface area. This promotes even cooking so the shrimp is juicy throughout. So ideally, chefs will butterfly shrimp if they have extra large or jumbo shrimp.
An added benefit or reason people butterfly shrimp is for aesthetics. It simply looks nicer while appearing larger. Kind of like a beautiful butterfly opening its wings to fly away. (kinda...) 😉
Ingredients For Frying Shrimp
Frying shrimp is simple and requires a few staple ingredients.
Breadcrumbs- For the exterior of your shrimp. You can use panko, regular, seasoned, wheat or even cornmeal.
Flour- You can also use cornstarch. Flour sticks to the shrimp first allowing the egg to soak in and hold.
Eggs- This allows your breadcrumbs to stick to the shrimp and holds them in place after they fry.
Herbs- (Optional*) You can add fresh or dry herbs to your breadcrumb mixture if you want more flavor.
Expert Tips
When butterflying shrimp, it is important to have a good pairing knife. Pairing knives are small but sharp allowing you to hold and manipulate the shrimp and knife easily.
Choose shrimp that are not too small in size. Butterflying small shrimp is tougher to do and much more tedious. Aim for large to jumbo sized shrimp.
Be careful not to slice all the way through the shrimp. A little slice is all you need.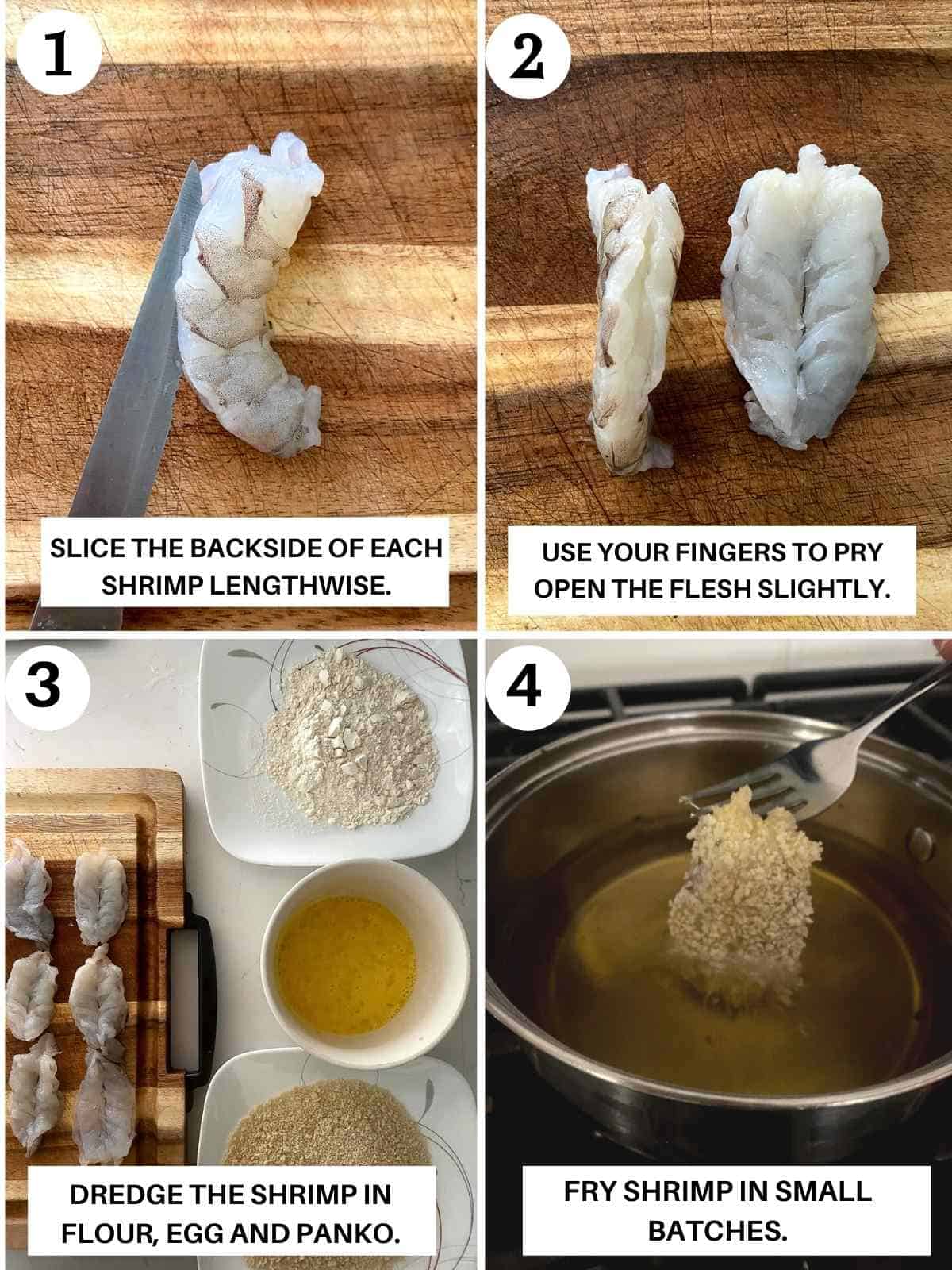 Don't Slice Too Deep!
To butterfly your shrimp, make a lengthwise incision on the backside of your shrimp. The incision should not be too deep or you will slice your shrimp in half. You can then use your fingers to pry open the flesh. You want it to resemble butterfly wings. I prefer a slight flair as opposed to fully butterflied.
You can leave the tail ON or OFF, it is up to you. Leaving the tail on allows people to use it as a handle. It also looks nicer but is tougher to keep intact while cleaning and butterflying.
Sauce Options
I love sweet/sour and savory sauces for shrimp. Here are the most popular types of sauces to serve with your butterfly shrimp:
cocktail sauce- always a winner and can be made/purchased spicy or not
tarter sauce- can easily be store-bought or made
sweet and sour sauce- goes great with shrimp
*remoulade sauce- like the one in this recipe
*sweet chili sauce- like the one in this recipe
ketchup- the kids love it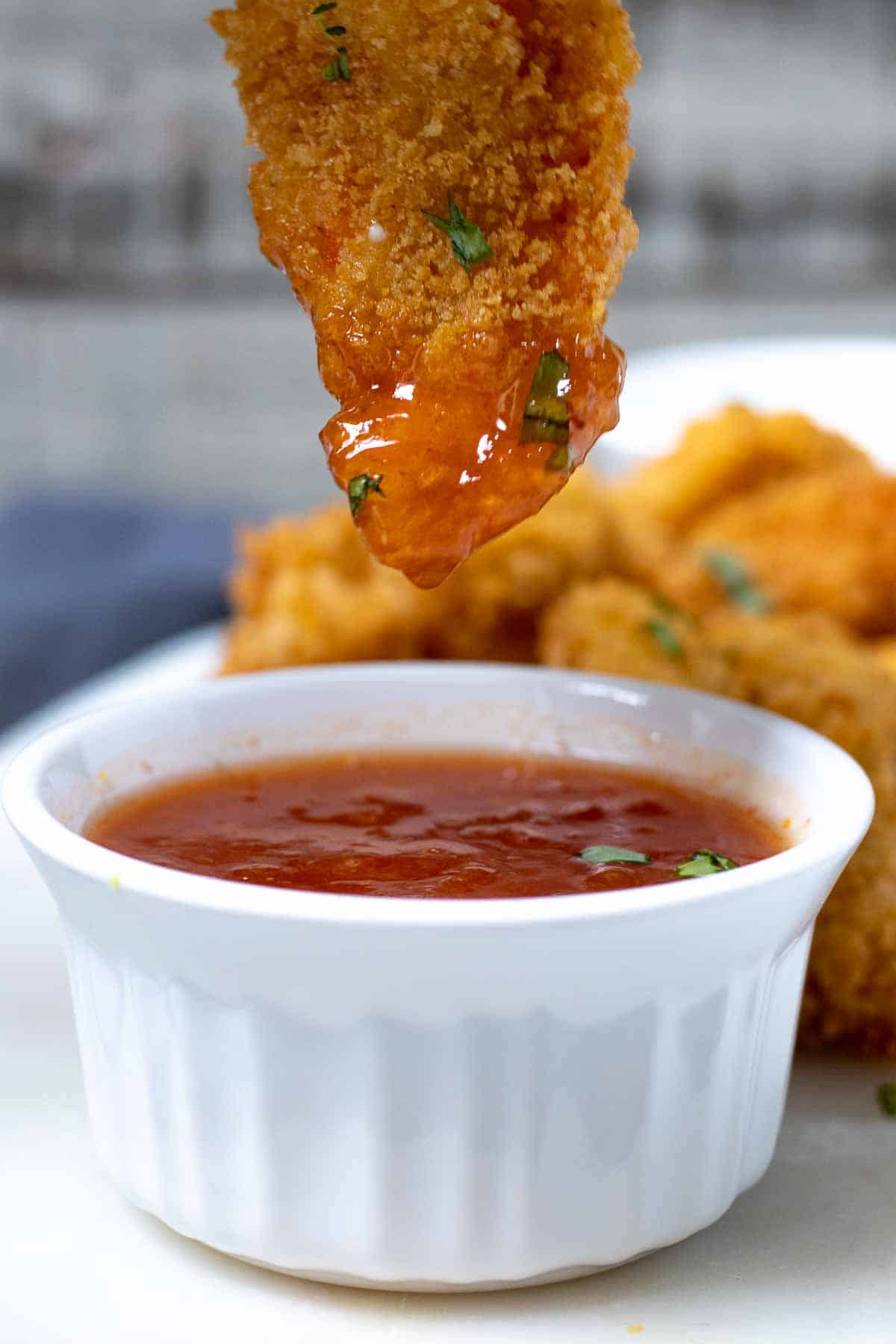 FAQ's
Can I use plain breadcrumbs instead of panko?
Yes. Feel free to use any breadcrumbs you prefer. Cornmeal also works.
What size shrimp should I use?
I recommend using large to extra large which is about 26/35 shrimp per pound.
Can I dredge my shrimp in cornstarch instead?
Yes. GF flour works too.
Can I bake my shrimp instead of deep frying them?
Yes BUT they won't come out as crispy. I suggest spraying them well with cooking spray before baking.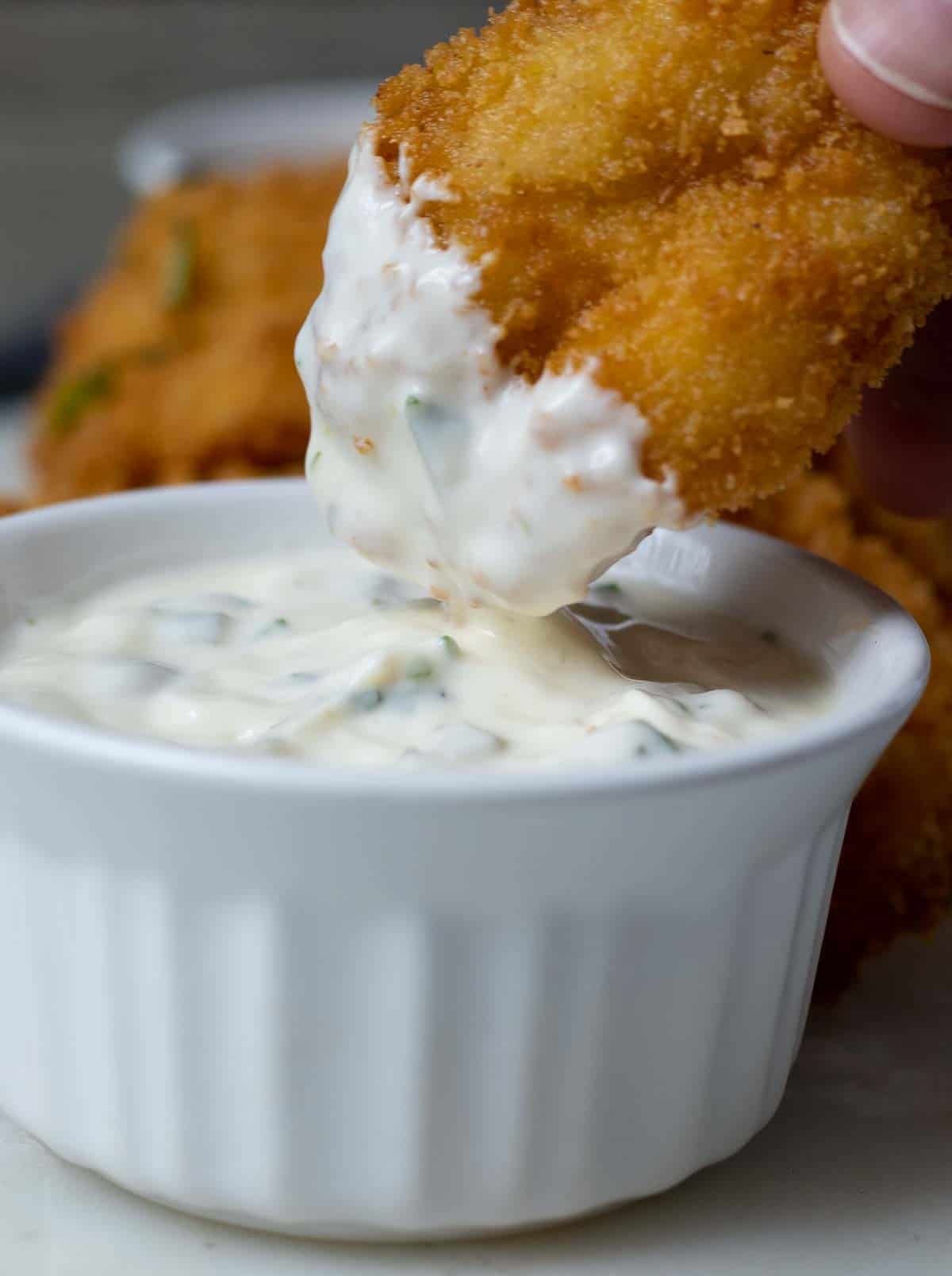 Other Shrimp Appetizers You'll Love!
Dynamite Shrimp Tempura (w/ Sriracha Aioli)
Air Fryer Brown Sugar Buffalo Shrimp (Crispy)
Shrimp Tempura Boats with Sweet Chili Sauce
Easy Baked Chinese Shrimp Toast with Sesame Seeds
Baked Greek Shrimp Saganaki with Feta and Ouzo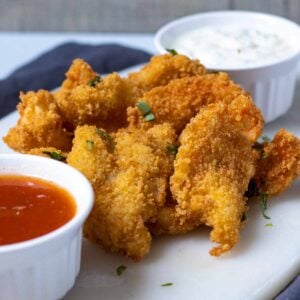 Panko Butterflied Shrimp (w/ Two Sauces)
Learning how to butterfly shrimp at home is easy! This recipe uses panko breadcrumbs and is deep fried to golden brown perfection.
Print
Pin
Rate
Ingredients
½

lb.

large shrimp, peeled and deveined

((about 12 shrimp))

1

cup

panko breadcrumbs

½

cup

flour

2

eggs

oil for frying
Sweet Chili Sauce
½

cup

apricot, peach or orange marmalade

1

tbsp

sriracha sauce

2

tbsp

lemon juice
Remoulade Sauce
¼

cup

mayonnaise

1

tbsp

pickles, minced

1 ½

tbsp

pickle juice

½

tsp

paprika

½

tsp

onion powder
Instructions
Add approximate 3" of oil (canola or vegetable oil works) to a small saucepan or wok. Heat to 350-375°F using a thermometer. (Keep an eye on the oil while preparing your shrimp.)

Mix up each of your sauces in a small bowl and set aside or chill until ready.

Pat dry your shrimp. It will make them easier to work with.

Take a pairing knife and slice about halfway, lengthwise, along the back of each shrimp. Use your fingers to pry open the flesh a bit so it opens resembling a butterfly. Do not slice too deep!

*When all shrimp are butterflied, season with salt and pepper (or other preferred seasoning.)

Add your flour and panko breadcrumbs to two separate dishes. Scramble your eggs in a bowl.

Dredge each shrimp in the flour, followed by the egg and finally in the breadcrumbs. Make sure the egg fully coats the shrimp and you allow excess egg to drip off before moving to the breadcrumbs.

Once all your shrimp is fully breaded, wash your hands and get ready to fry!

When your oil has reached temperature, add 3-4 shrimp at a time. Fry for 1-2 minutes MAX or until the exterior is golden brown and the interior is about 120°F. Do not overcook!

Drain on paper towels or a wire rack and serve hot with sauces on the side for dipping.
Recipe Notes
This recipe is very versatile and can be seasoned multiple ways. Feel free to use seasoned breadcrumbs if you like Italian-style shrimp.
If your oil temp. drops too much, your shrimp will be oily and not turn beautifully golden brown in color. After each batch, allow the oil to come back to temp. before adding more shrimp (wait about 30-60 seconds between batches!)
If making these for a get-together, bread the shrimp ahead of time and make your sauces in advance. Then fry last minute.
Reheat your shrimp in the oven at 350°F for about 5 minutes. (Too long and they will dry out.)