Making this Panko Fried Butterfly Shrimp at home is an easy way to make shrimp look extra fancy. It's a simple seafood appetizer to do at home and something everyone loves dipping!
I use a panko breadcrumb coating and deep fry them to until they're crispy, crunchy and golden brown.
If you love this recipe, try my Dynamite Shrimp Tempura, my crispy Calamari or my Air Fryer Shrimp with Buffalo Sauce.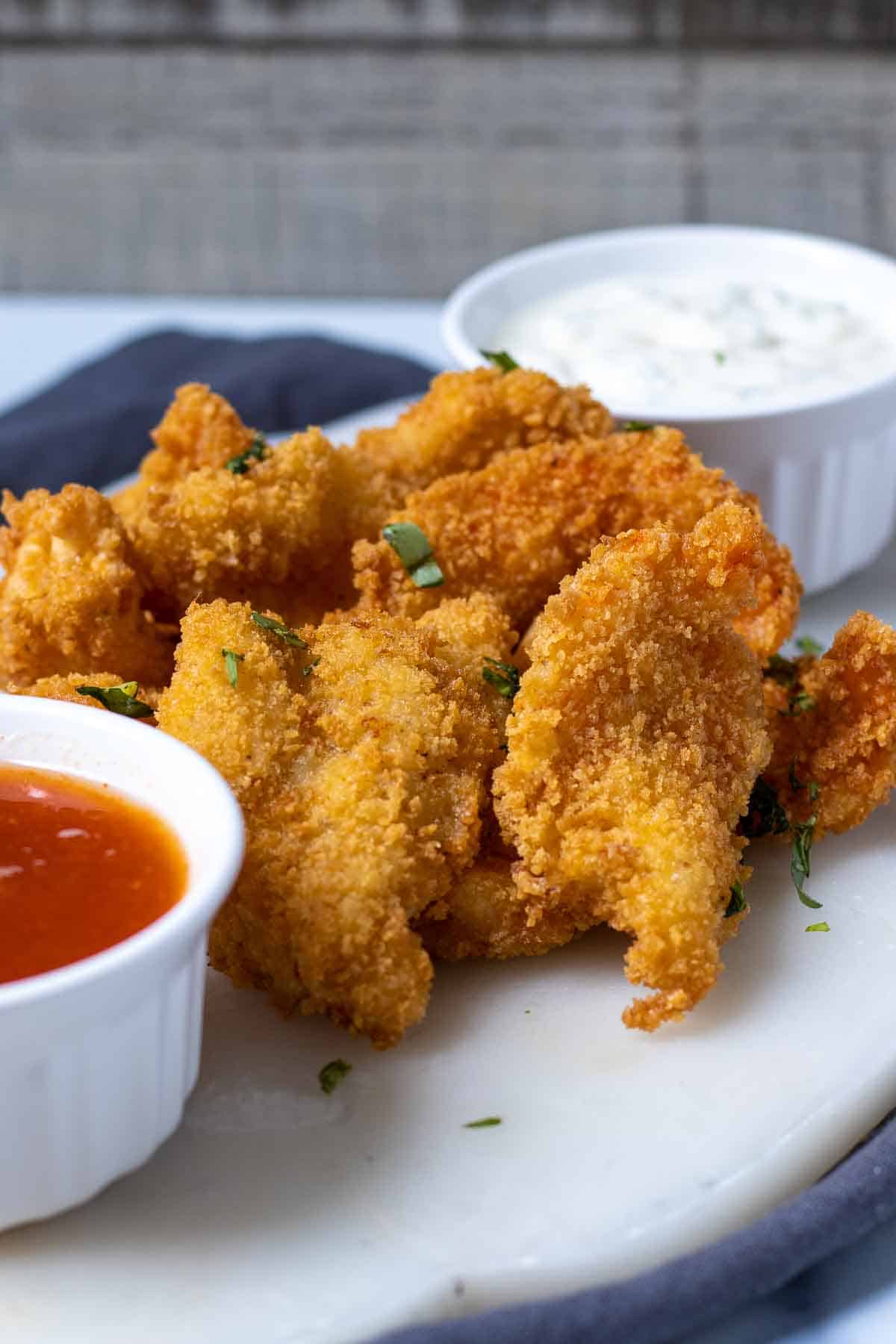 🦋 What does it mean to "butterfly" shrimp?
To butterfly shrimp, means to slice the shrimp lengthwise along the back of the shrimp exposing more surface area. Doing this resembles the wings of a butterfly.
The main reason we butterfly shrimp is to allow the shrimp to cook faster and more evenly.
So ideally, chefs will butterfly shrimp if they have extra large or jumbo shrimp as opposed to smaller shrimp.
An added benefit or reason people butterfly shrimp is for aesthetics. It simply looks nicer while appearing larger. Kind of like a beautiful butterfly opening its wings to fly away. (kinda...) 😉
🛒 Ingredients
Now we can butterfly our shrimp and then choose a cooking method like saute, bake, grill or fry. For this recipe, I chose to keep it classic and decided to bread and fried them.
Frying shrimp is simple to do and requires a few staple ingredients.
Breadcrumbs- For the exterior of your shrimp. You can use panko, regular, seasoned, wheat or even cornmeal. All wiill give a crunchy exterior.
Flour- You can also use cornstarch. Flour sticks to the shrimp first allowing the egg to soak in and hold.
Eggs- This allows your breadcrumbs to stick to the shrimp and holds them in place after they fry.
Herbs- (Optional*) You can add fresh or dry herbs to your breadcrumb mixture if you want more flavor.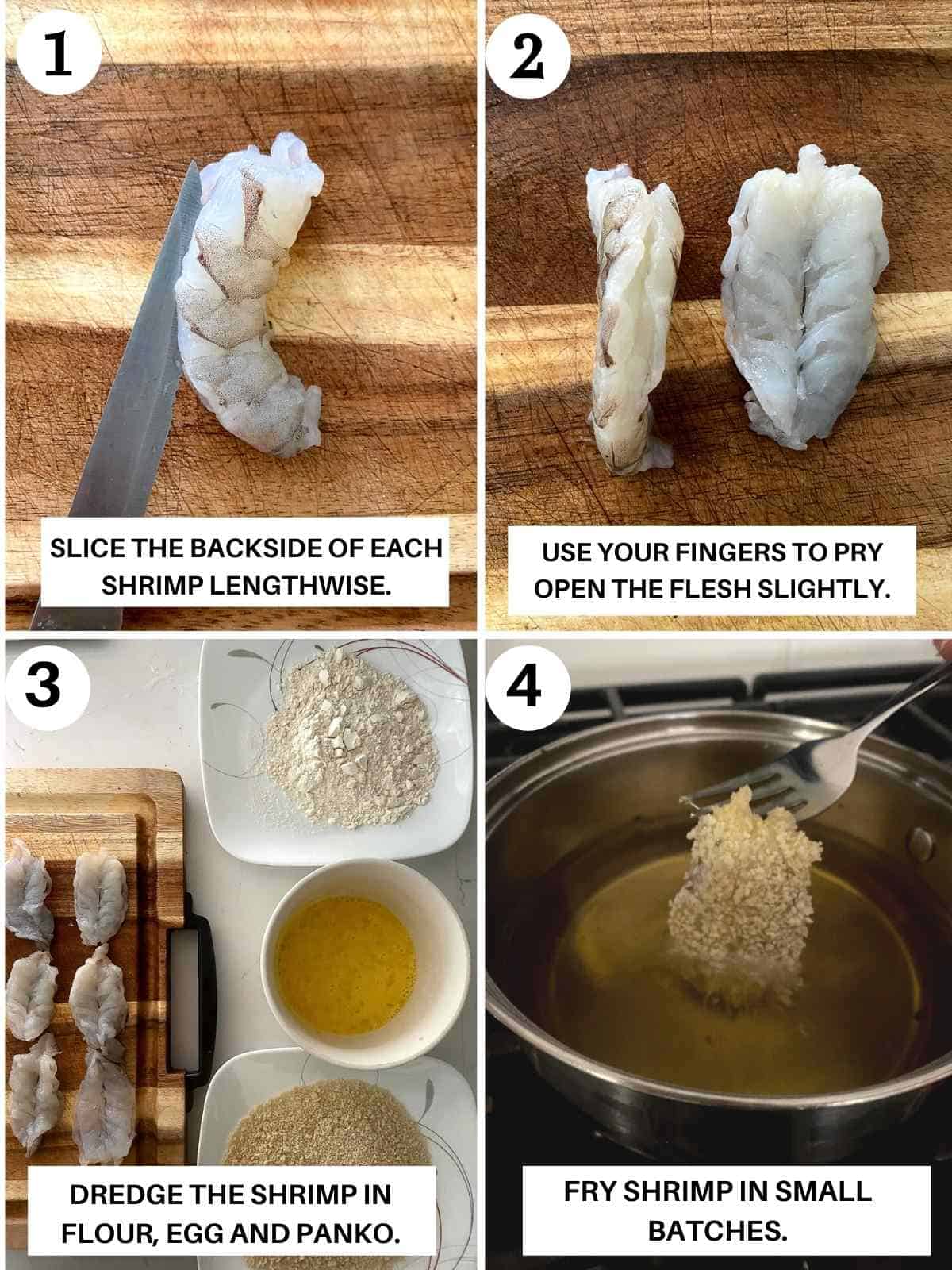 🍤 How To Butterfly Your Shrimp
Step 1: First, make sure all your shrimp is peeled and deveined. You can leave the tail on if you wish. Take a small pairing knife and make a lengthwise incision alongside the back of the shrimp. Try to make the cut so the shrimp is symmetrical on both sides meaning the same.
Step 2: Use your fingers to gently pry open the shrimp then season with salt and pepper.
Step 3: Dredge the shrimp in the flour, egg wash and breadcrumb mixture.
Step 4: Heat oil to 350-375 degrees F in small batches until the exterior is golden brown. Let drain on paper towels or a wire rack.
How To Devein Shrimp
The outer side of the shrimp is where the digestive tract aka "poop chute" is. (I know, nasty but we have to call it what it is.) It is darker in color as opposed to the white vein underneath, which is okay to leave.
A lot of restaurants do not remove the digestive tract because it's a bit tedious however I always do when making shrimp at home.
To remove it, all you need to do is run a knife along the curver, over the vein. Then use the tip of the knife to pry it out. I like to do this under running water which helps to wash the vein away.
🧑‍🍳 Expert Tips
When butterflying shrimp, it is important to have a good pairing knife. Pairing knives are small but sharp allowing you to hold and manipulate the shrimp and knife easily.
Choose shrimp that are not too small in size. Butterflying small shrimp is tougher to do and much more tedious. Aim for large to jumbo sized shrimp.
Be careful not to slice all the way through the shrimp. A little slice is all you need.
Don't overcook your shrimp or they will be rubbery.. They only need a few minutes.
Clean your shrimp well so the tiny black line, or digestive tract, which is on the top, is removed. It's unappetizing and just nasty.
To maintain a crispy texture, let your shrimp cool off on a wire rack or paper towels.
🔪 Don't Slice Too Deep!
To butterfly your shrimp, make a lengthwise incision on the backside of your shrimp. The incision should not be too deep or you will slice your shrimp in half.
You can then use your fingers to pry open the flesh. You want it to resemble butterfly wings. I prefer a slight flair as opposed to fully butterflied.
You can leave the tail ON or OFF, it is up to you. Leaving the tail on allows people to use it as a handle. It also looks nicer but is tougher to keep intact while cleaning and butterflying.
🦐 Fresh or Frozen?
All shrimp have been frozen at some point so the question is, should you purchase shrimp that is STILL frozen or that has already been thawed?
If you are in a rush and need to make them right away, purchase them defrosted at the seafood counter.
If you can't find them or don't care about time, purchase them frozen. You will have more options to choose from like wild caught, farm raised, deveined, peeled, as well as the option to choose the SIZE of shrimp you want.
If you want to thaw your shrimp QUICKLY, add them to a bowl with warm water and wait 10 minutes or so. Then drain and pat dry.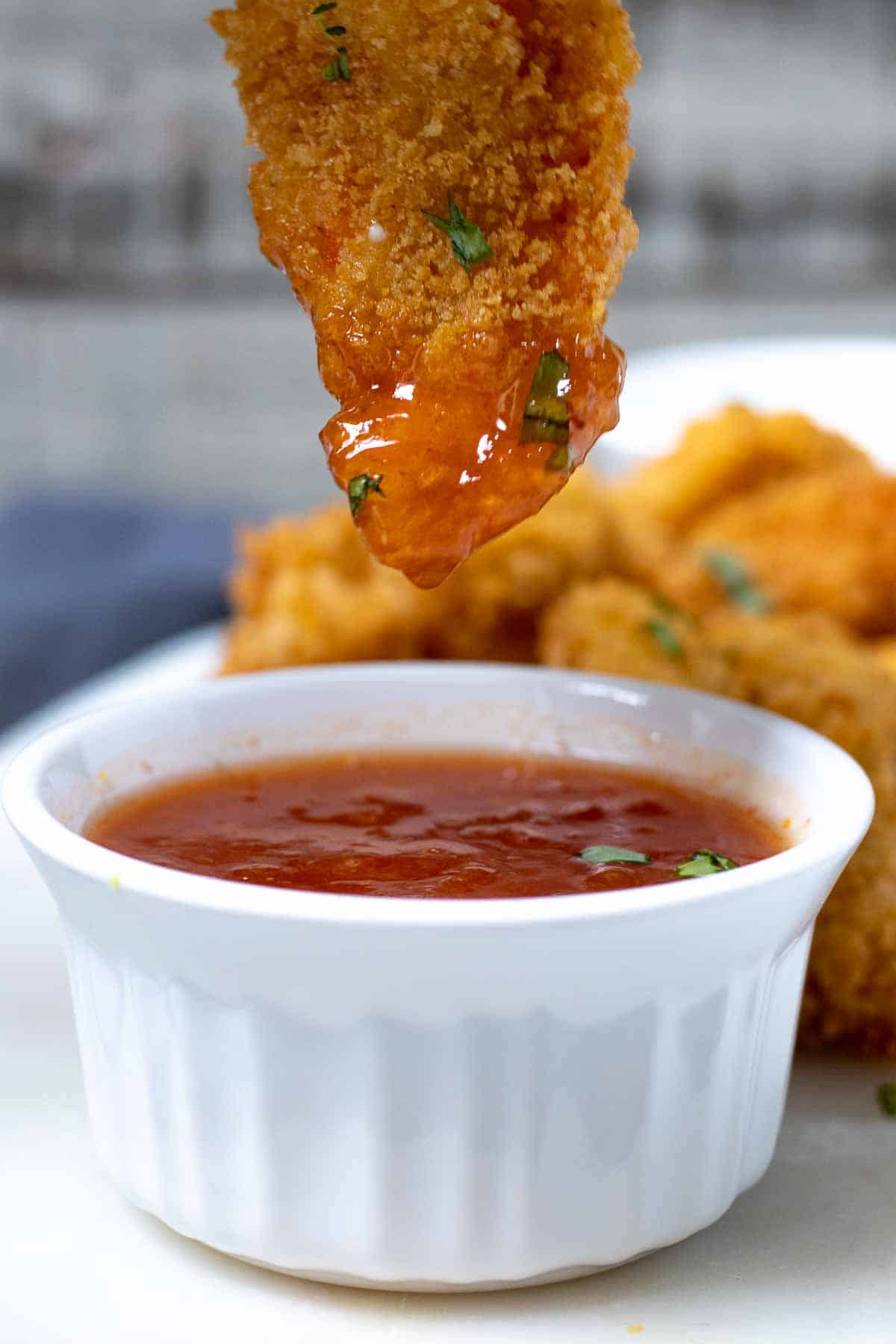 Although fresh lemon wedges are really all you need, there are many sauces to dip your butterfly shrimp into! Here are the most popular types of sauces:
cocktail sauce- always a winner and can be made/purchased spicy or not
tarter sauce- can easily be store-bought or made
sweet and sour sauce- goes great with shrimp
*remoulade sauce- like the one in this recipe
*sweet chili sauce- like the one in this recipe
ketchup- the kids love it
Can I Freeze Butterflied Shrimp?
Yes you can. I recommend not frying them and instead, clean, cut and bread them all first. Then add to a parchment lined tupperware container and freeze them until you're ready to eat.
Then, fry them like you would normally. I recommend waiting for them to thaw before frying.
⁉️ FAQ's
Can I use plain breadcrumbs instead of panko?
Yes. Feel free to use any breadcrumbs you prefer. Cornmeal also works.
What size shrimp should I use?
I recommend using large to extra large which is about 26/35 shrimp per pound.
Can I dredge my shrimp in cornstarch instead?
Yes. GF flour works too.
Can I bake my shrimp instead of deep frying them?
Yes BUT they won't come out as crispy. I suggest spraying them well with cooking spray before baking.
What oil is best for frying?
I prefer a healthier oil like olive, peanut, avocado or sunflower oil but vegetable or canola oil works too.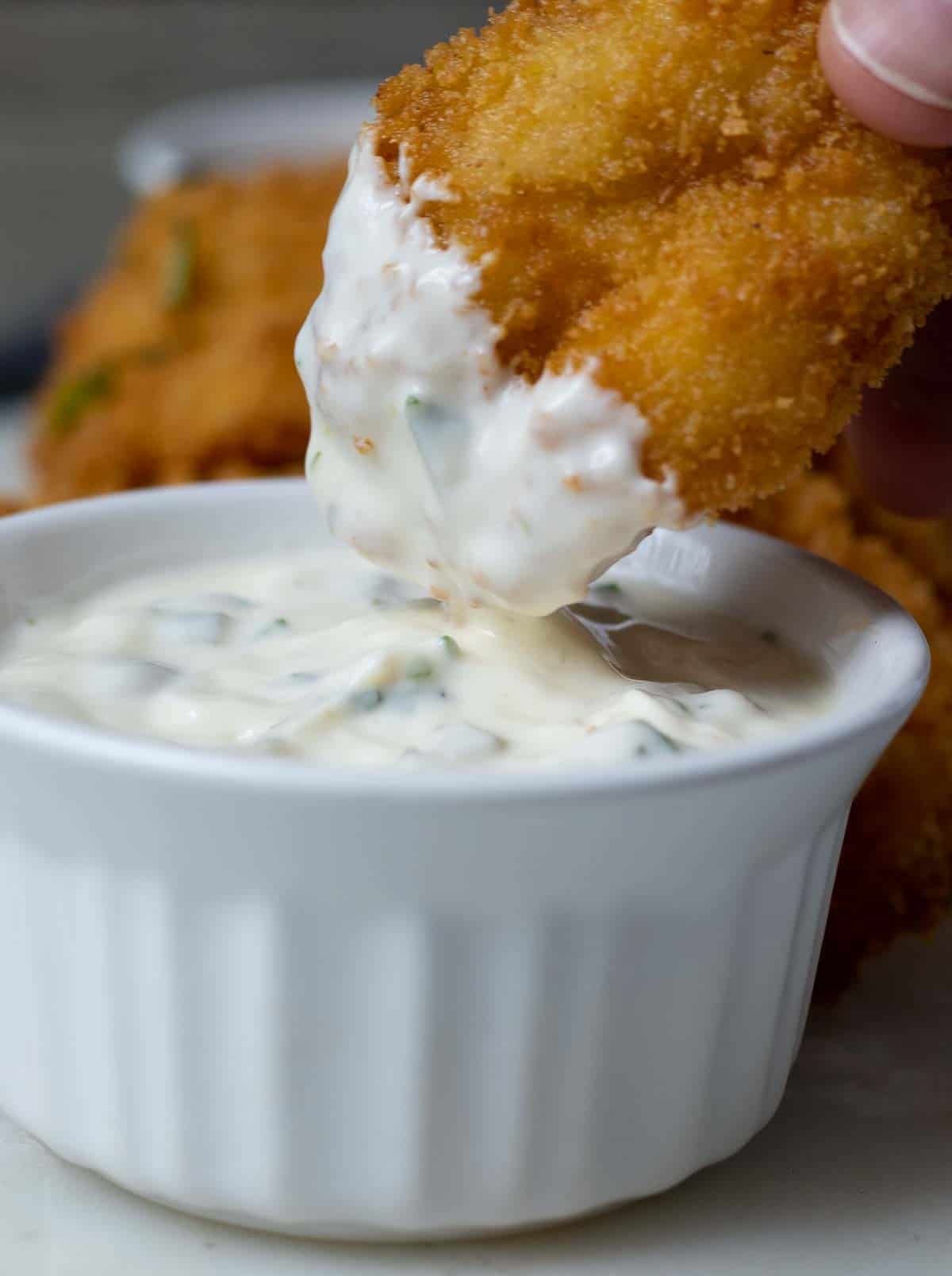 Remember that these butterflied panko shrimp are best when served FRESH! My tip is to fry them in advance and keep them warm in the oven OR fry them a few minutes short and then finish them off in the oven before guests arrive!
Other Shrimp Appetizers You'll Love!
73 Shrimp Appetizer Ideas For Your Next Party
Shrimp Tempura Boats with Sweet Chili Sauce
Easy Baked Chinese Shrimp Toast with Sesame Seeds
Baked Greek Shrimp Saganaki with Feta and Ouzo
📽 If you love entertaining at home, subscribe to my YouTube channel!!
📖 Recipe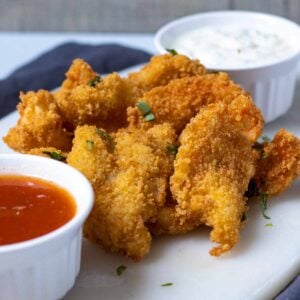 Panko Butterflied Shrimp
Learning how to butterfly shrimp at home is easy! This recipe uses panko breadcrumbs and is deep fried to golden brown perfection.
Print
Pin
Rate
Ingredients
½

lb.

large shrimp, peeled and deveined

((about 12 shrimp))

1

cup

panko breadcrumbs

½

cup

flour

2

eggs

oil for frying
Sweet Chili Sauce
½

cup

apricot, peach or orange marmalade

1

tablespoon

sriracha sauce

2

tablespoon

lemon juice
Remoulade Sauce
¼

cup

mayonnaise

1

tablespoon

pickles, minced

1 ½

tablespoon

pickle juice

½

tsp

paprika

½

teaspoon

onion powder
Instructions
Add approximate 3" of oil (canola or vegetable oil works) to a small saucepan or wok. Heat to 350-375°F using a thermometer. (Keep an eye on the oil while preparing your shrimp.)

Mix up each of your sauces in a small bowl and set aside or chill until ready.

Pat dry your shrimp. It will make them easier to work with.

Take a pairing knife and slice about halfway, lengthwise, along the back of each shrimp. Use your fingers to pry open the flesh a bit so it opens resembling a butterfly. Do not slice too deep!

*When all shrimp are butterflied, season with salt and pepper (or other preferred seasoning.)

Add your flour and panko breadcrumbs to two separate dishes. Scramble your eggs in a bowl.

Dredge each shrimp in the flour, followed by the egg and finally in the breadcrumbs. Make sure the egg fully coats the shrimp and you allow excess egg to drip off before moving to the breadcrumbs.

Once all your shrimp is fully breaded, wash your hands and get ready to fry!

When your oil has reached temperature, add 3-4 shrimp at a time. Fry for 1-2 minutes MAX or until the exterior is golden brown and the interior is about 120°F. Do not overcook!

Drain on paper towels or a wire rack and serve hot with sauces on the side for dipping.
Recipe Notes
This recipe is very versatile and can be seasoned multiple ways. Feel free to use seasoned breadcrumbs if you like Italian-style shrimp.
If your oil temp. drops too much, your shrimp will be oily and not turn beautifully golden brown in color. After each batch, allow the oil to come back to temp. before adding more shrimp (wait about 30-60 seconds between batches!)
If making these for a get-together, bread the shrimp ahead of time and make your sauces in advance. Then fry last minute.
Reheat your shrimp in the oven at 350°F for about 5 minutes. (Too long and they will dry out.)
Nutrition
Calories:
384
kcal
|
Carbohydrates:
26.4
g
|
Protein:
20.1
g
|
Fat:
21.7
g
|
Saturated Fat:
3.5
g
|
Cholesterol:
201
mg
|
Sodium:
367
mg
|
Fiber:
1.4
g
|
Sugar:
1.9
g