This Greek Shrimp Saganaki with Feta is one of my all-time favorites meze to nosh on with a glass of wine. Succulent shrimp, savory garlicky tomato sauce, and salty feta cheese is baked in a sizzling cast iron skillet.
Guests will absolutely love seeing this plopped down on the table. Light it on fire and you have dinner AND a show! Don't forget to serve saganki with plenty of crusty bread for dipping into the flavorful saganaki juices.
Serve this popular taverna seafood appetizer with a side of my Greek orzo feta salad or my popular Greek Chickenm Soup!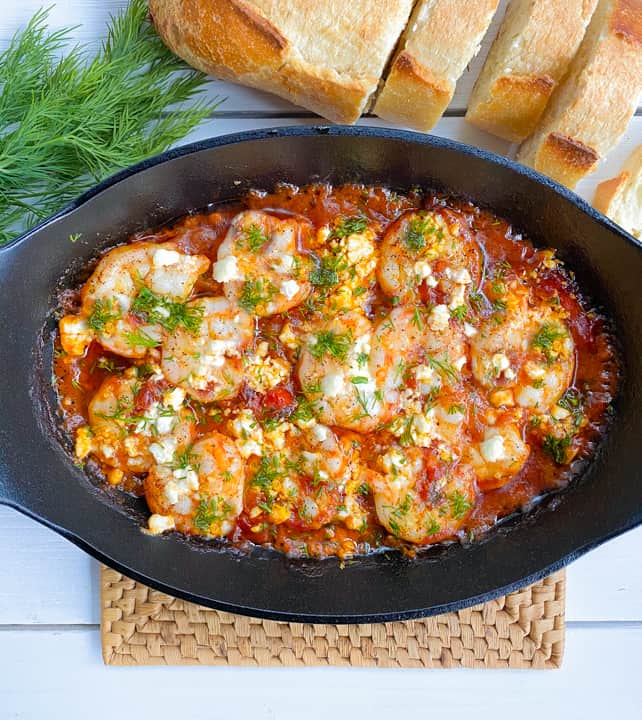 What Is Shrimp Saganaki?
Most people are familiar with traditional cheese saganaki which is simply fried cheese served sizzling in a dish.
Shrimp saganaki is an authentic Greek appetizer, or "meze", served everywhere in Greece also referred to garides saganaki. It is served hot with plenty of crusty bread to sop of those delicious juices.
This recipe uses large prawns, aka shrimp, which are cooked in a rich and often spicy tomato sauce, topped with ouzo, set on fire, and then finished with a heavy sprinkling of feta cheese.
The word 'saganaki' refers to this heavy-bottomed two-handled skillet that the dish is typically cooked in. The skillet is meant to be put in the oven to bake then placed directly on the table in its trivet.
The skillet itself will retain a lot of heat allowing the dish to stay warm longer.
The Greek part comes from the feta and ouzo! Ouzo is a Greek spirit that is sipped straight up. But in this dish, it adds a nice sweet flavor and is completely optional.
Saganaki dishes are a Mediterranean dish served with plenty of bread, preferably pita bread, for dipping and sopping up those delicious juices!
Paired with some crispy bread or grilled pita triangles and other popular Greek "mezethes" like these, it is the best appetizer to feed a small crowd without taking out any silverware!
Serve this shrimp appetizer with some tzatziki sauce and Spanakopita Triangles.
Ingredient Tips
Make sure to check out these 73 Shrimp Appetizer Ideas!
How To Make Shrimp Saganaki
This Greek appetizer is actually very simple to make! There are two ways you can make this: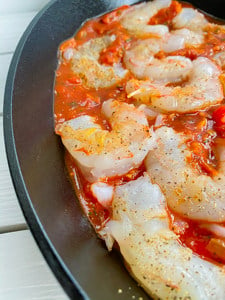 Option #1: You can make this dish directly on your stove top in a skillet without baking. Simply add your onion, garlic, tomatoes, ouzo, herbs and simmer to allow the flavors to come together. Then add your shrimp until its cooked through. Top with feta and serve in a shallow bowl.
Option #2: You can make this shrimp dish in the oven. If choosing this route, you need to make sure you add your shrimp LAST so they do not overcook. Shrimp only take about 10-12 minutes in the oven. If you put them in at the start, the shrimp will cook but the onions will not have enough time to soften.
So the best way to do this is to bake the tomatoes, garlic, onion, seasonings, ouzo first for about 10 minutes, then add your shrimp and bake another 10 minutes or so. Lastly, add your feta and broil for a minute or so until it just begins to melt.
Cleaning Your Shrimp
You can ask the person behind the seafood counter to shell and devein your shrimp so they are ready to go when you get home. But if you purchase frozen shrimp, like I often do, you may have to clean them yourselves.
To do this, make sure your shrimp are slightly defrosted. Then remove the entire shell by pulling off the tail and then using your thumbs to open each up from the bottom up.
Then take a small pairing knife to slice down the backside of the shrimp and pull out the vein. Do this under running water to help rinse each shrimp well.
If you cut too deep, you will end up butterflying your shrimp which is fine but results in a different wider shape.
Here are step-by-step photos to show you how to do this properly.
How To Serve Shrimp Saganaki
Most saganaki dishes are served straight from the skillet itself when its hot. So pull out your best trivet and place it in the center of your table where your guests will be with loads of crusty sliced bread for dipping!
Popular Greek dishes to serve with this appetizer are Mediterranean fish like plaki and branzino or go the ground beer ground and serve moussaka or pastistio.
When it comes out of the oven, place the hot skillet on top of the trivet and serve immediately with one large fork and LOTS of crusty bread and/or pita bread for dipping!
My Greek orzo salad and my yiayia's tzatziki dip are also a must!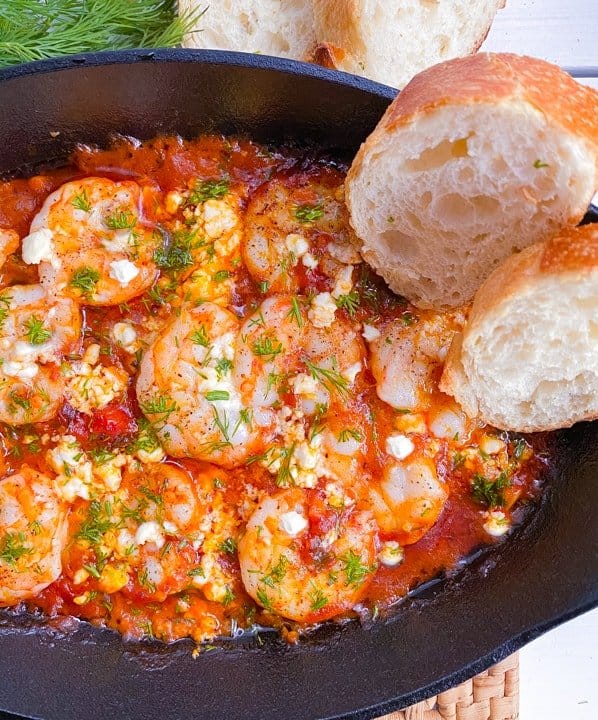 Saganaki Variations
There a few ways we can change up this dish.
Swap out the dill for other herbs like fresh parsley, tarragon, or basil leaves.
Add white wine instead of ouzo for a sweet addition.
Use a homemade tomato sauce if you have!
Mix in kalamata olives for another Greek addition.
Add a fresh squeeze of lemon juice to the top when finished.
Swap the shrimp for another seafood like scallops or mussles.
Here are two great skillets for serving this dish from Amazon!
Greek Feta Cheese Fries (w/ Yogurt Sauce)
Greek Potato and Garlic Spread
Greek Cold Roasted Eggplant Spread
Grilled Greek Lamb Chop Lollipops
📽 If you love entertaining at home, subscribe to my YouTube channel!!
📖 Recipe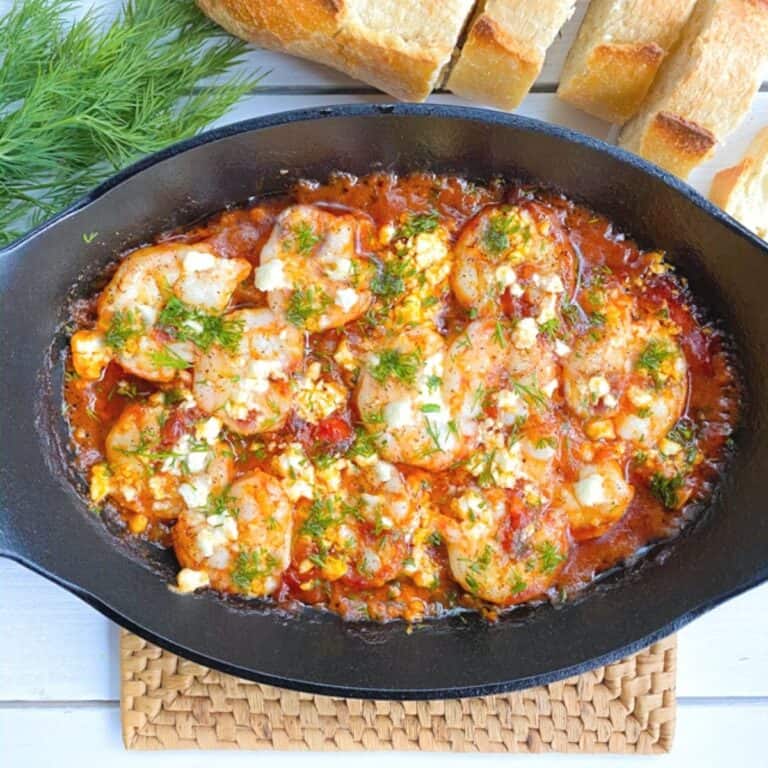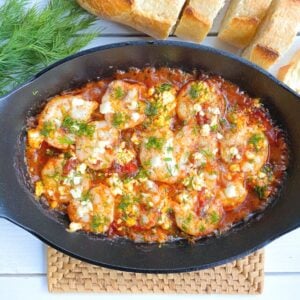 Baked Greek Shrimp Saganaki (w/ Feta and Ouzo)
This Baked Greek Shrimp Saganaki appetizer is one of my all-time favorites 'tapas' dishes to nosh on with a glass of wine. Guests will love dunking bread into the flavorful juices of this dish!
Print
Pin
Rate
Equipment
Cast Iron Skillet, Saganaki Dish
Ingredients
⅓

lb.

Large Shrimp

(Shelled and deveined)

2-3

tablespoon

Olive Oil

¼

Cup

Yellow Onion, Minced

2-3

Large

Garlic Cloves, Minced

½

Tsp.

Red Pepper Flakes

2

tablespoon

Ouzo

½

Cup

Crushed Tomatoes or Marinara Sauce

2

tablespoon

Freshly Chopped Dill

1

Tsp.

Sugar

4

oz.

Crumbled Feta Cheese
Instructions
In a skillet, add 2 tbsp. of olive oil and your onions. Saute for about 3-4 minutes or until the onions become translucent.

Add your garlic and red pepper flakes and simmer for another minute.

To be safe, turn off heat before you add 2 tbsp. of ouzo. Turn heat back on. Be careful as the ouzo may catch on fire. Just step back when you turn the stove back on. If the alcohol ignites, its okay! It will go out quickly! (This is when you say "OPA!")

After about one minute, add your crushed tomatoes, sugar and chopped dill to the pan and bring to a hard simmer. Turn off heat.

Add tomato sauce to a small cast iron skillet or baking dish. No larger than 10" wide. You will be serving your saganaki in this dish.

Season your raw shrimp well with salt and pepper and spread them around the sauce so they lay flat and are slightly submerged.

Crumble your feta cheese over top and bake for about 18 minutes or until the shrimp is pink and fully cooked.

Garnish with more dill and another drizzle of olive oil. Serve hot on a trivet with freshly sliced bread on the side for sopping up the tomato sauce!
Recipe Notes
No ouzo? You can use ⅓ cup white wine instead or leave it out entirely.
Fresh dill is better than dried in this dish.
You can make this appetizer for a larger crowd if you double or triple the recipe. To serve it, simply bake in a larger baking dish. A chafing dish would be great for keeping it warm the entire party.
Nutrition
Calories:
130
kcal
|
Carbohydrates:
5.7
g
|
Fat:
8.8
g
|
Saturated Fat:
3.5
g
|
Cholesterol:
53
mg
|
Sodium:
285
mg
|
Fiber:
1
g
|
Sugar:
2.9
g
|
Calcium:
128
mg