A delicious last-minute 3 ingredient dip you'll want to make over and over again! This Spicy Greek Feta Cheese Dip also known as "Tirokafteri" is a traditional Greek spread made with feta cheese and spicy peppers.
This spicy feta dip is incredibly easy to make and has always been a family favorite along with my Greek tzatziki dip, olive oil bread dip and my Melitzanosalata.
I love how I can make it in advance and also how simple it is to throw together. Guests always rave over it and I love sharing how easy it is!
Serve this dip as part of a large Greek Meze Platter.
How To Make This Spicy Feta Cheese Dip
Most feta dips are pretty easy to put together. We Greeks like to keep it simple. Because the ingredients are minimal it is important that you use THE BEST ingredients you can find.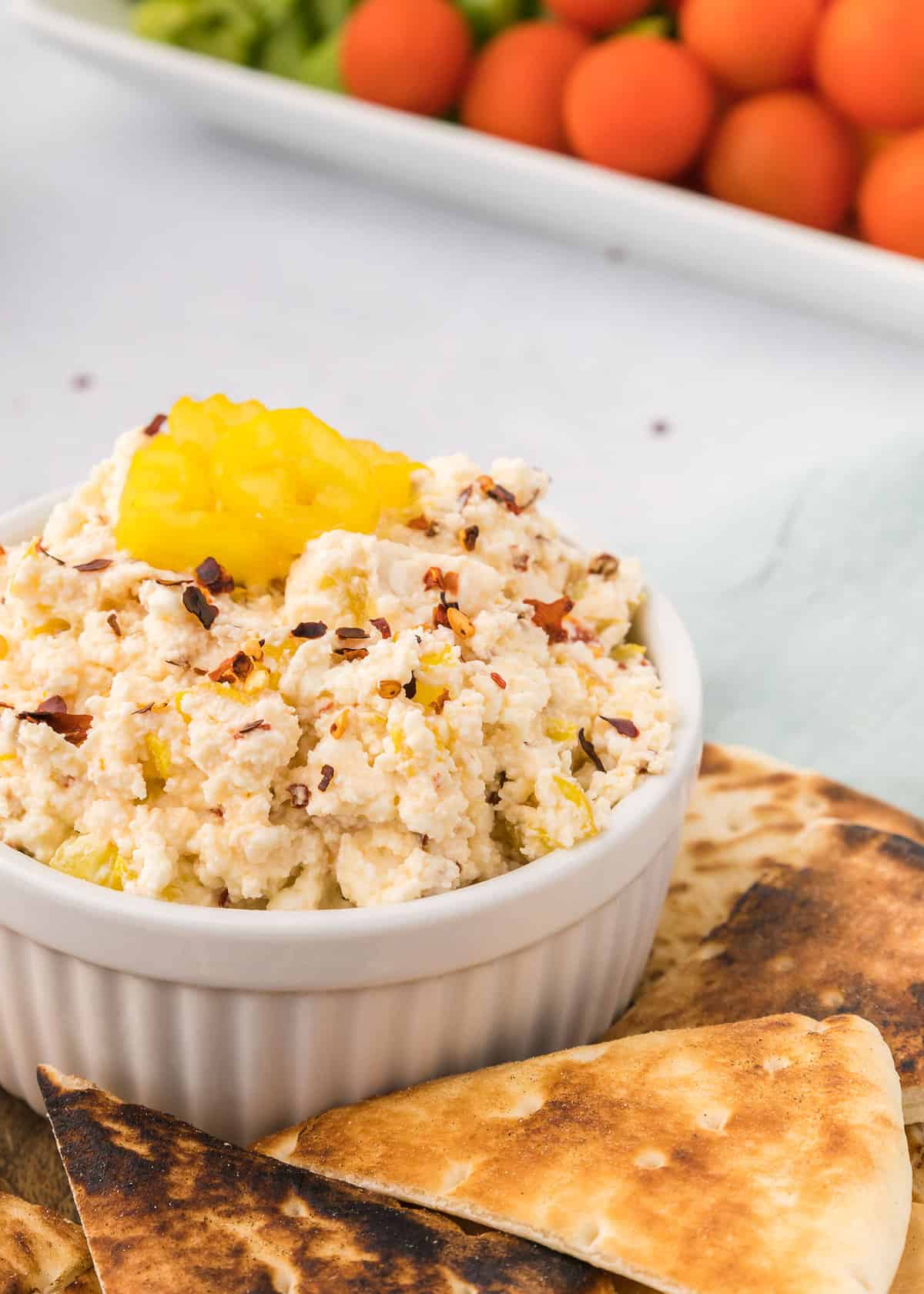 Step 1: Choose A Good Feta Cheese
I've tried good feta and I've tried GREAT feta. There is a difference. To choose the best feta cheese, find one that is soaking in a brine (salty water).
The brine helps prolong its shelf-life but most importantly keeps the cheese MOIST. Dry feta is just not as appealing to me.
So try to find a nice chunk soaking in brine. Better yet, if the feta cheese was made in Greece, you know it will be good.
If you love feta cheese and have extra, consider making my shrimp saganaki!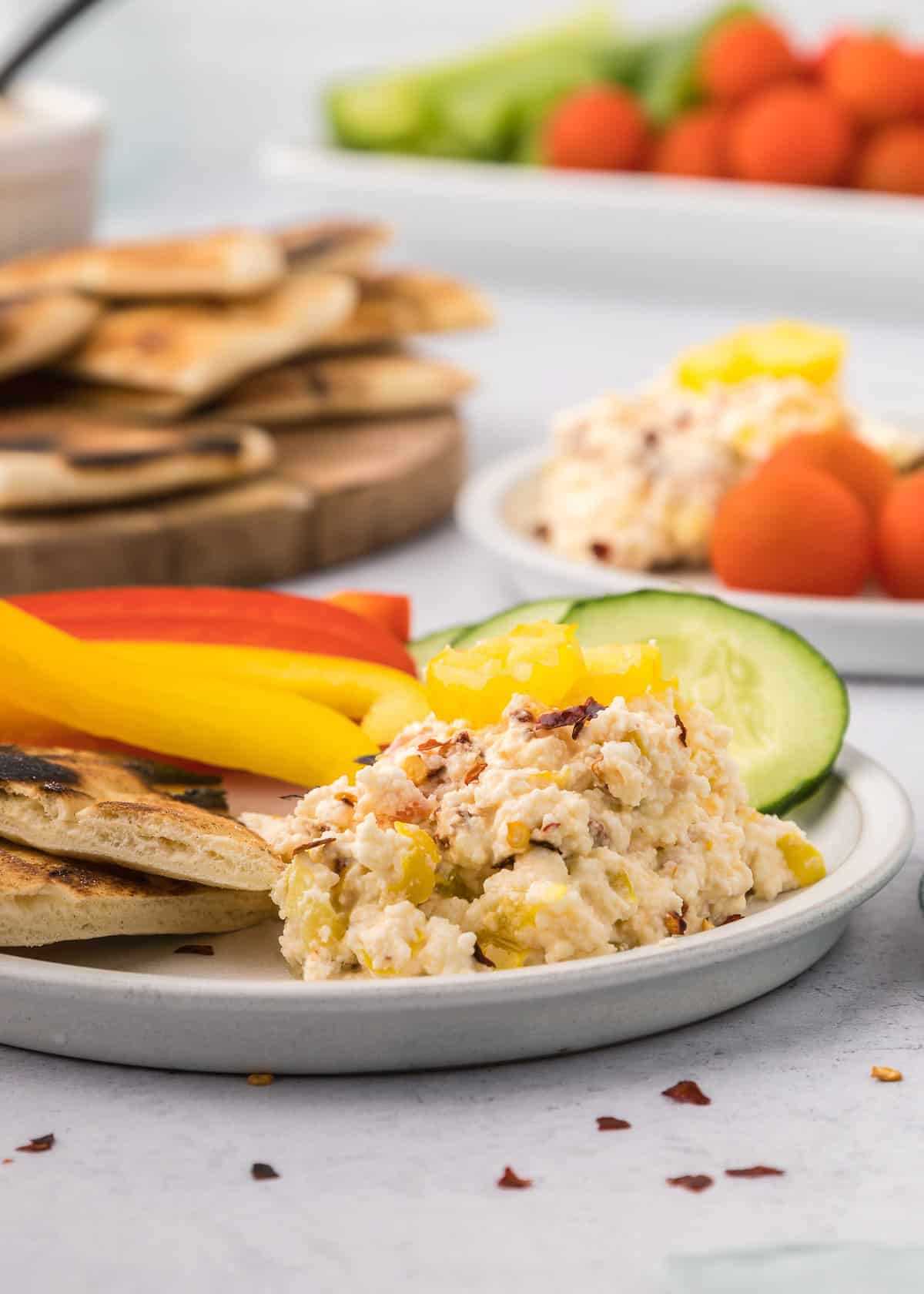 Step 2: Choose Your Pepper
Since this Greek dip is a SPICY cheese dip, you will need to add some hot peppers.
There are many hot pepper options if you don't like the ones I used.
To get some heat, I chose to use hot jarred banana peppers and red pepper flakes. Hot banana peppers are NOT that spicy. So the added red pepper flakes help to kick it up a notch.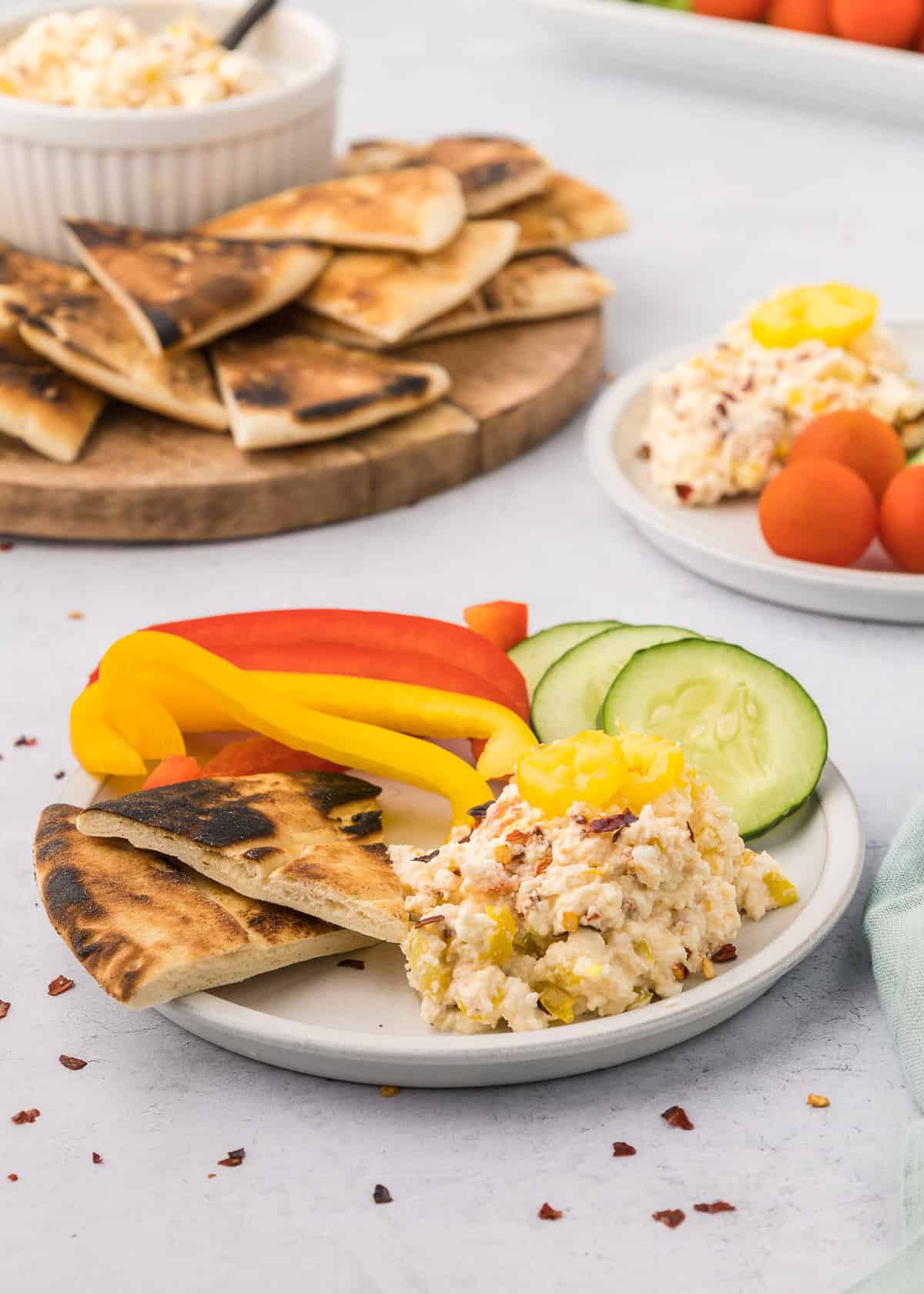 With that said, I personally cannot handle a TON of heat so I chose to make this recipe a 'medium hot' on the spice chart. If you love hot peppers, you can certainly add more of each ingredient OR choose another hotter pepper!
Here are some other hot pepper options for your dip:
Anaheims (mild)
Red peppers (sweet)
Poblanos (mild)
Jalapenos (mild-hot)
Chili peppers (hot)
Serranos (hot)
Cayennes (hot)
Habaneros (VERY hot)
Step 3: Blend, mash or puree!
Once you have your pepper decided, you need to keep the consistency of your feta dip in mind. To make your feta dip 'dip-able' you need to add some liquid. I added the liquid from my jar of hot banana peppers to turn this spread into more of a dip.
However the consistency is completely up to you. You could also add olive oil or wine vinegar to thin it out too if you are not using jarred peppers.
If you are using fresh peppers, a great technique for adding a smoky flavor is to ROAST your peppers . Or you can add jarred roasted red peppers instead. They are not spicy but they are delicious and already come sliced up perfectly.
Then add everything to a bowl and use a fork to mash for a chunkier dip OR a food processor for a smoother consistency.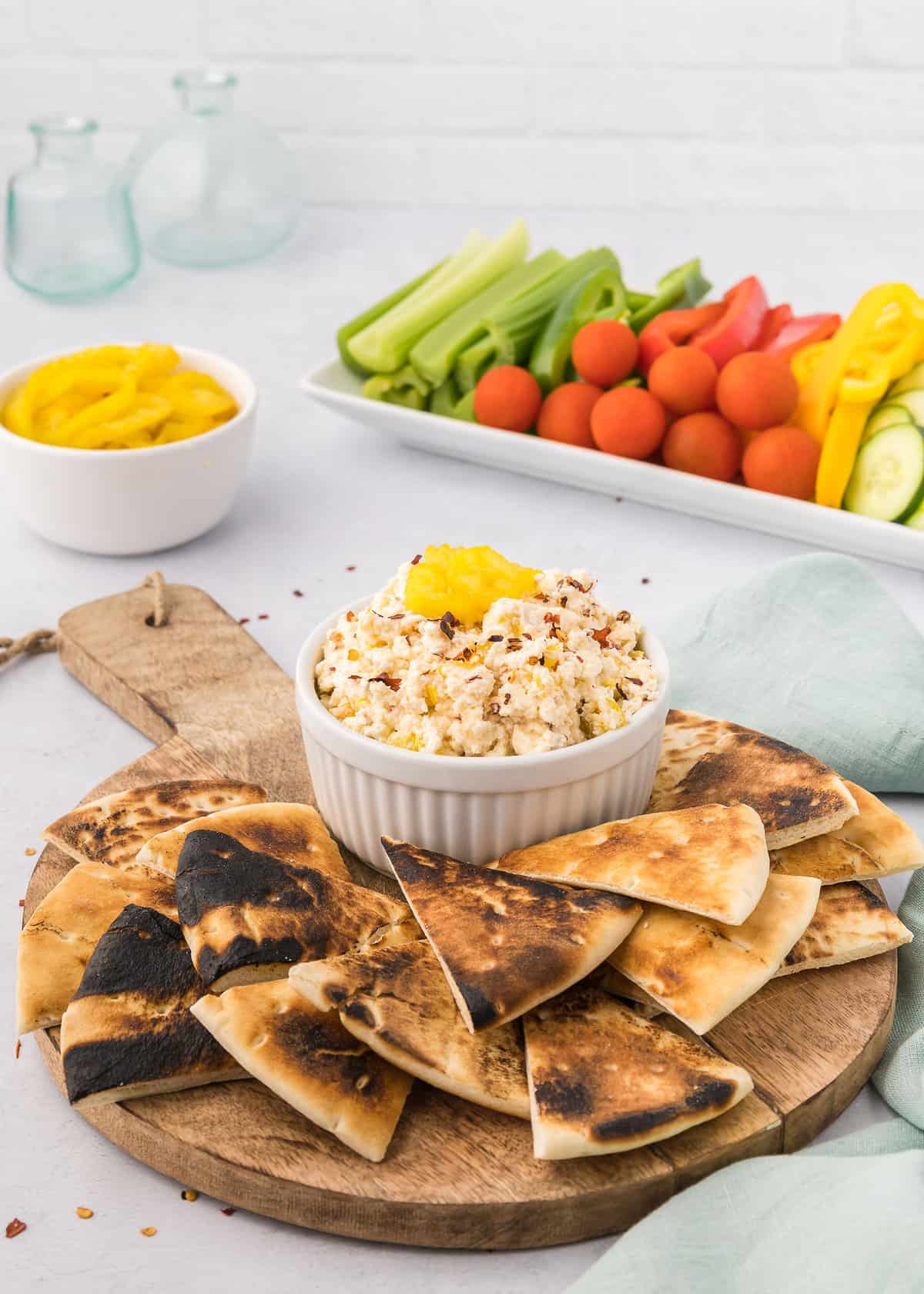 What to Serve With Your Spicy Feta Dip
I love eating feta cheese with BREAD and lots of it! I recommend finding the best pita bread or a fresh baguette you can find. The fresher, the better.
Then serve alongside this spicy feta spread. Don't use 'pita pockets'. These are way too dry and are just NOT ideal for dipping.
*Pita Bread Alternative* Naan bread is an AWESOME alternative to pita bread! If your local grocer sells it, GRAB a bunch! I like to keep a stash in the freezer!
You could also serve your Tirokafteri with some fresh cut veggies instead of bread. Yummy veggies options could be:
Red, yellow and green peppers
Cucumbers sticks or slices
Cherry tomatoes
Celery sticks
Or better yet, serve with my Orzo Feta Salad or my Feta Arugula Onion FlatBread!
How Long Will This Dip Keep?
This dip should stay fresh in a sealed container for up to 4 days. I recommend making it one day ahead so the flavors have time to infuse.
Looking for other Greek-inspired appetizers? Try these!
📖 Recipe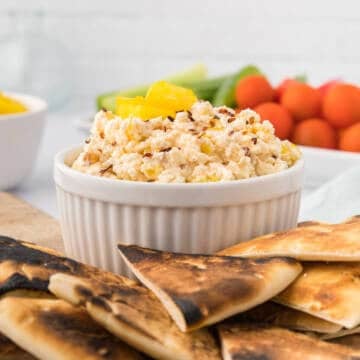 Spicy Feta Cheese Dip
This Spicy Feta Cheese Dip also knows as "Tirokafteri" is a traditional Greek spread made with feta cheese and spicy peppers. It's a delicious last minute 3 ingredient dip you'll want to make over and over again!
Print
Pin
Rate
Ingredients
Pita Bread
8 oz.

Good Feta Cheese, in brine

6 oz.

Jarred

HOT Banana Peppers

(+3 tablespoon reserved pepper juice)

1

Tsp.

Red Pepper Flakes

1

clove

garlic, minced

(*optional)
Instructions
Chop up your banana peppers if not already pre-sliced.

Add in your feta cheese, the pepper juice and red pepper flakes.

Use a fork to break up your feta and mix everything together until it's creamy and paste-like.

Serve chilled with warm pita bread or slices of crusty bread.

Tips for warming your pita:

Toss the WHOLE pita bread round on the grill, in a grill pan, under the broiler OR my favorite way, directly over your burner. You want a slight char on your pita. This will take the flavor to another level so don't skip it! It only takes 5 minutes to do! Then cut into triangles and serve. Naan bread is great too!
Recipe Notes
Store in the fridge until ready to serve. (Can do a few days ahead of time.)
If using garlic, let your dip sit in the fridge for 1-2 hours. This will allow the garlic flavor to build.
You can blend your dip in a food processor too for a creamier consistency.
Nutrition
Serving:
6
people
|
Calories:
111
kcal
|
Carbohydrates:
2.7
g
|
Fat:
8.1
g
|
Saturated Fat:
5.7
g
|
Cholesterol:
34
mg
|
Sodium:
662
mg
|
Potassium:
29
mg
|
Fiber:
0.1
g
|
Sugar:
1.6
g
|
Calcium:
187
mg
|
Iron:
0
mg