If you're a garlic fan, you will LOVE Skordalia! It is a Greek garlic potato dip or spread that is often served on a meze platter or as an appetizer by itself. Made with potatoes, garlic, bread, olive oil, lemon juice (and sometimes almonds), this dip also happens to be dairy free and vegan friendly.
It's served at room temperature or cold with lots and LOTS of freshly grilled pita bread on the side for dipping! Now, whose bringing the ouzo?
If you love Greek appetizers, check out my Homemade Tzatziki Dip and my Greek Roasted Eggplant Dip, BOTH of which are traditionally served alongside of skordalia.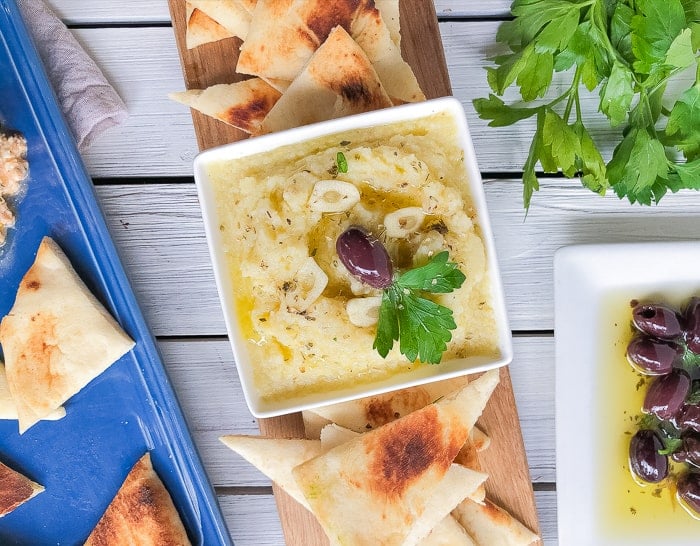 Being Greek, I love a good meze platter! If you don't know what meze is, it is basically a Greek appetizer board with all of the best Greek dips and spreads for snacking.
Skordalia is often served as a starter with other Greek spreads and lots of freshly grilled pita bread or spanakopita however sometimes, it is served as a sauce alongside of freshly grilled fish, vegetables or seafood.
However you decide to eat it, it's delicious and always brings back great memories.
Another common Greek side is Greek French Fries!
❓ What Is Skordalia?
Skordalia, (also spelled skordhalia, skorthalia, or in Greek, σκορδαλιά [skorðaˈʎa]), is also called αλιάδα, aliada.
It is a thick garlicky spread traditionally made in Greece which is comprised of lots of garlic, potatoes, bread, olive oil, nuts and an acid. It is made by pureeing everything either with a food processor or mortar and pestle. The result is a paste-like texture that resembles mashed potatoes or even hummus!
Did you know that the word "skordo" in Greek MEANS garlic?!
So if you're a mashed potato fan, now you can enjoy them as an appetizer! 🙂
With that said, this dip is made without dairy making it vegan and much healthier for you and your guests!
🛒 Ingredients
Garlic- This is the star ingredient here so don't leave it out! I also don't recommend using anything but FRESH garlic.
Potatoes- Potatoes is actually not always used but I really do enjoy the texture and flavor it provides.
Bread- The bread gives this dip a better consitency and helps to keep the dish from resembling too much like mashed potatoes. It's suggested that you use stale or day-old white bread.
Olive Oil- This is the ONLY oil you should use. Do not mess with Greeks and their olive oil. 😂
Lemon Juice- You can use red wine vinegar too if you prefer. It adds acidity and tang that I love.
Onions- Adding onions is not traditional but I enjoy the flavors. I used shallots and chives to add two kinds of onions flavor.
Some versions of skordalia are made with ground up blanched almonds and referred to as an 'almond spread' however I do not like the taste so I left it out of this recipe. If you'd like to try adding some in, go for it!
📝 How To Make Skordalia
Prepare your potatoes first by peeling and rinsing them. Rinsing is important because we want to remove as much starch as possible. Dice them small and add them to a pot of cold water. Bring to a boil and drain potatoes when they are fork tender. Let them cool completely.
While your potatoes are boiling, add all of the other ingredients to a food processor and puree for 30 seconds. Remove and place in a medium to large bowl.
Once the steam is gone and your potatoes are somewhat cooled, add them to the bowl with your pureed mix and mash together using a potato masher or large fork. If you have a potato ricer, this works BEST!
Your dip is ready when the consistency is smooth like mashed potatoes or hummus. *Mix in a little water to thin out the consistency if you need!
Serve cool or chilled with warm, grilled pita bread for dipping.
📃 NOTE: You can print exact quantities with detailed instructions below!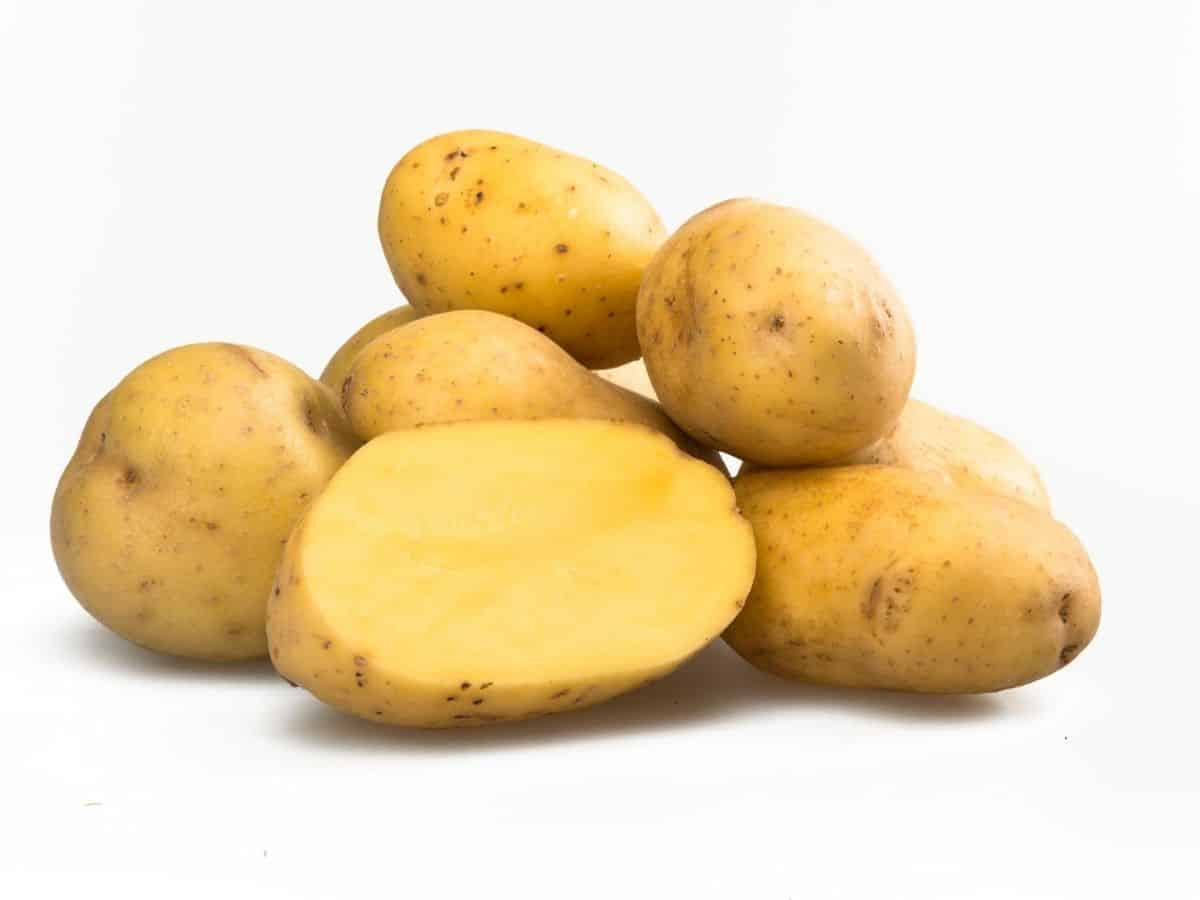 🥔 Potato Tips!
This dip is easy to make however it's ALL about the potatoes! Choosing the right potatoes and cooking them properly is what will prevent a gummy dip.
Potatoes contain different levels of starch. If you don't choose the right potato, you wont get the same results. Russet potatoes or yukon golds are your best choice!
Here are my tips for mashing your potatoes. (This goes for any type of mashed potato dishes you make but especially for skordalia!)
Do not cut your potatoes TOO small when boiling. 2-3" pieces are ideal.
Do not overcook your potatoes! They should not be dissolving in the water. Fork tender is preferred!
Let your potatoes DRY OUT before working with them! Lay them out on a baking sheet to speed up the process!
Do not over mix! Using a food processor or standing mixer is not recommended. A potato ricer, masher is best! Limit the mashing as much as possible.
Never leave the skin on.
✅ Expert Tips
✔ Rinsing your potatoes is key to preventing a gummy spread.
✔ Consistency is key. If you've ever made mashed potatoes, you know how quickly they can dry/thicken up once cooled. If this happens, don't be afraid to add water to thin it out.
✔ Don't be garlic shy. This dip is supposed to require a breath mint afterwards.
✔ Let your skordalia sit overnight to allow the garlic to make friends with the potatoes and bread. It will taste better and the garlic flavor wont be so pungent.
✔ There is no right or wrong amount of bread to potato ratio. Add as much or as little as you like.
🍽 What To Serve With Skordalia
This potato garlic spread is best served with warm pita bread or a loaf of fresh crusty bread. It's important that you get the best bread possible! It makes a huge difference.
You can also serve skordalia alongside of battered fish, grilled seafood like cod or branzino, souvlaki, or roasted vegetables!
Don't forget dessert! Try my Greek Almond Cookies!
Serve On A Meze Platter
A meze platter is the best appetizer or 'tapas' spread in the world (in my opinion.) Here is how I make my Greek meze board!
It is a traditional pre-dinner snack or 'appetizer' spread served in many Greek restaurants especially in Greece.
If you do it right, you wont even need to serve dinner at your next party. You can just serve your guests this as the meal because of how hearty it is.
A Meze platter is a spread of small dishes or appetizers often with many dips, salads or spreads. The most common dips that are served in a meze platter are:
Popular meze spread dips:
Serve these dips and spreads in a few small bowls or on plates surrounded by grilled pita bread and fresh crusty bread. Throw some Greek kalamata olives in the mix in addition to roasted peppers and you have an easy but filling spread that will please vegans to meat-eaters alike.
💬 FAQ's
Can I make skordalia in advance?
Yes! I suggest a few hours to 24 hours in advance to allow the flavors to intensify.
How stale is too stale?
If your bread is rock hard, that's okay! Try soaking your bread in water a bit. Since there is water in the dip, this is okay. I just suggest adding a bit less water later on.
Waht's the BEST way to puree my skordalia?
I suggest using a food processor to make it EASIEST on you however a potato ricer will give you a fluffier spread that isn't as gummy.
Can I use a handheld mixer?
I don't recommend this since the onion and garlic need to be pureed first. If using one, you will need to fully mash (or at least mince) your garlic and onions first. Your bread will also need to be soft to fully incorporate with the potatoes.
Can I freeze this dip?
I do not recommend it since potatoes typically don't freeze as well as other foods but if you try it, leave a comment below to let me know!
Other Greek spreads you will love!
👋 Let's be friends! Join my mailing list to receive entertaining tips and NEW recipes!
📲 Say hi on social!! 👋 Follow me on facebook, instagram, pinterest, youtube or tiktok for more recipes and entertaining tips!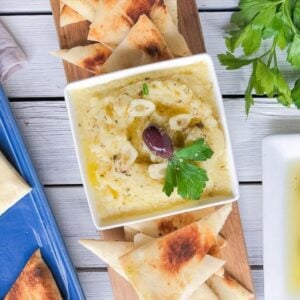 Greek Garlic Potato Dip (Skordalia)
Skordalia is a traditional Greek mashed potato spread that can also be enjoyed as a delicious appetizer! Made with potatoes, garlic and olive oil, this dip is best served room temperature with freshly grilled pita bread on the side!
Print
Pin
Rate
Equipment
Food processor, potato ricer or food mill
Ingredients
2

medium

Russet potatoes

2-4

Large garlic cloves

2

oz.

Bread

((about 2 sandwich slices))

½

Cup

Olive Oil

1

shallot roughly chopped

(*optional)

1

tbsp

freshly chopped chives

2

tablespoon

lemon juice

(*or red wine vinegar)

1

teaspoon

salt

½

cup

water

1

tablespoon

freshly chopped parsley
Instructions
Peel and cut your potatoes into large chunks no smaller than 2" x 2". Add them to a pot of cold water and bring to a boil. Remove and drain potatoes when they are fork tender. (Don't over-boil them!)

While your potatoes are boiling, add all of the other ingredients to a food processor and puree for 30 seconds. Remove and place in a medium to large bowl.

When your potatoes are fork tender (15-20 minutes) drain them and then lay the potatoes flat on a baking sheet to cool off completely. This is important since it will allow any excess water to evaporate preventing gummy potatoes.

Once the steam/water has evaporated and your potatoes are somewhat cooled, add them to the bowl with your pureed mix and mash together using a potato masher or large fork. If you have a potato ricer or food mill, this works BEST!

(Rice the potatoes prior to adding to the pureed mix.) Your dip is ready when the consistency is smooth like mashed potatoes or hummus. *Mix in a little water to thin out the consistency if you need!

Serve cold or room temperature alongside of warm or grilled pita bread!
Recipe Notes
The consistency of your skordalia will thicken as time goes on. To thin it out, add a little water or olive oil.
Add crushed almonds if you want to experiment with a nuttier flavor.
A food processor will result in a gummier spread so if using, do not over blend.
Nutrition
Calories:
166
kcal
|
Carbohydrates:
12.4
g
|
Fat:
12.9
g
|
Saturated Fat:
1.9
g
|
Cholesterol:
0
mg
|
Sodium:
343
mg
|
Potassium:
236
mg
|
Fiber:
1.5
g
|
Sugar:
1
g
|
Iron:
1
mg