Greek cuisine is a treasure trove of delicious, Mediterranean flavors, and one of its hidden gems is Melitzanosalata, a traditional Greek eggplant dip. Bursting with the rich flavors of roasted eggplants, garlic, olive oil, and aromatic herbs, Melitzanosalata is the perfect appetizer or side dish to complement your meal.
Ingredients
For this recipe, you will need the following ingredients:
2 large eggplants
2-3 cloves of garlic, minced
¼ cup extra virgin olive oil
1 tablespoon fresh lemon juice
¼ cup fresh parsley, chopped
Salt and pepper, to taste
A pinch of red pepper flakes (optional, for a bit of heat)
Greek yogurt or tahini (optional, for added creaminess)
Instructions
Roast the Eggplants

Preheat your oven to 400°F (200°C).
Wash the eggplants, pat them dry, and pierce them with a fork.
Place the eggplants directly on the oven rack or on a baking sheet.
Roast for about 45-60 minutes, turning them occasionally until the skin is charred and the flesh is soft and tender.
Remove them from the oven and allow them to cool.

Peel and Drain the Eggplants

Once the eggplants have cooled, slice them in half lengthwise.
Carefully scoop out the soft flesh, discarding the charred skin.
Place the eggplant flesh in a colander or sieve to drain any excess liquid. Let them sit for about 15-20 minutes.

Mash the Eggplants

Transfer the drained eggplant flesh to a large mixing bowl.
Using a fork or a potato masher, gently mash the eggplants until they reach your desired consistency. Some people prefer it smooth, while others like it slightly chunky.

Add the Flavor

Stir in the minced garlic, fresh lemon juice, and extra virgin olive oil. Mix well.
Season your Melitzanosalata with salt and pepper to taste. If you like a little heat, consider adding a pinch of red pepper flakes for some spice.
For a creamier texture, you can add a couple of tablespoons of Greek yogurt or tahini. This is optional, but it adds a lovely creaminess to the dip.

Garnish with Fresh Herbs

Finally, fold in the freshly chopped parsley to infuse your Melitzanosalata with a burst of fresh flavor and vibrant color.

Serve and Enjoy!

Melitzanosalata is best served chilled. Refrigerate it for at least an hour before serving.
When you're ready to enjoy, drizzle a little extra olive oil on top and garnish with additional fresh parsley.
Serve it with warm pita bread, fresh vegetables, or as a delightful accompaniment to grilled meats.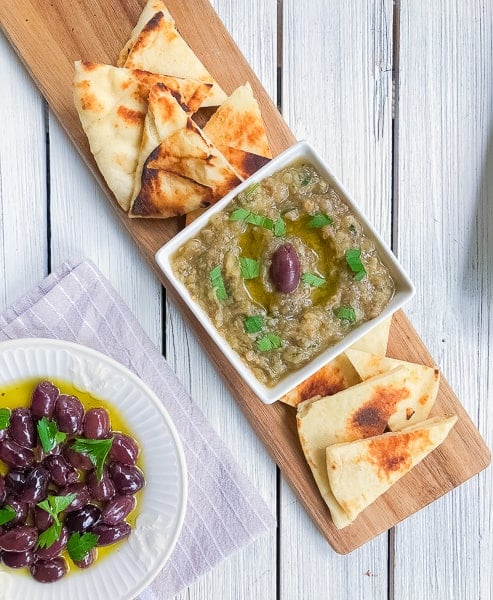 Conclusion
Melitzanosalata is a true taste of Greece, and making it at home is a delightful culinary adventure. With the smoky flavor of roasted eggplants, the zing of fresh lemon, and the richness of olive oil, this traditional Greek dip will become a favorite at your table. Whether you're hosting a gathering or simply craving a healthy and flavorful snack, Melitzanosalata is the perfect choice. Embrace the Mediterranean and savor the incredible flavors of Greece with this wonderful recipe!
Here are some other dips I recommend serving with melizanosalata:
Make sure to check out my Ultimate Greek Meze Platter and my Greek Orzo Pasta Salad!
📖 Recipe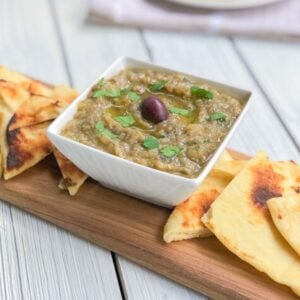 A Taste of Greece: How to Make Melitzanosalata
Melitzanosalata is a Greek Eggplant Dip often served as a mezé platter with pita bread for dipping. It is a super healthy dip that my aunt always makes at our family parties! It is made with roasted eggplant, fresh garlic, and lemon juice! A simple yet delicious appetizer spread that everyone will love!
Print
Pin
Rate
Ingredients
2

Medium

Eggplants

((about 2 ½ lbs))

¼

Cup

Olive Oil

2-3

Small

Garlic Cloves Minced

((or 1-2 large))

2 ½

Tbsp.

Freshly Squeezed Lemon Juice

1

Tbsp.

Chopped Fresh Parsley

*Salt and Pepper to taste
Charred Pita Bread Triangles (for dipping)
Instructions
Preheat your oven to 425° F.

Cut eggplants in half and place them on a baking sheet. Prick the outside of each with a fork a 6-7 times. Drizzle entire eggplant with olive oil and leave them cut-side down on baking sheet. Cover baking sheet with foil and bake for 45 min-1 hour. (You will know they're ready when you can easily pierce them with a fork). You really can't "overcook" your eggplant for this recipe so don't worry about leaving them in too long.

When eggplants are cool enough to handle (about 20 minutes) remove skin and chop up with a knife until you have the consistency you prefer. **If you want your dip to be very smooth, you can simply add all of your ingredients to a food processor and blend together.

If not using a food processor, add your eggplant, parsley, lemon juice and garlic to a large bowl and stir until combined. Season with salt and pepper to your liking! (Eggplant is very bland on its own so don't be afraid to add a good amount of salt!)

For best results, allow flavors to infuse for at least an hour in the fridge before serving. Serve with charred or grilled pita or naan bread on the side!
Recipe Notes
*Add more or less garlic depending how much you like garlic.
*Make ahead of time and freeze for up to 12 weeks!
Nutrition
Serving:
10
people
|
Calories:
62
kcal
|
Carbohydrates:
4.3
g
|
Protein:
0.7
g
|
Fat:
5.2
g
|
Saturated Fat:
0.7
g
|
Cholesterol:
0
mg
|
Sodium:
2
mg
|
Potassium:
164
mg
|
Fiber:
2.4
g
|
Sugar:
2.1
g
|
Vitamin C:
8
mg