Melitzanosalata is a Greek appetizer made from roasting whole eggplants, pureeing it, then adding garlic, olive oil and lemon juice!  It is a simple yet delicious meze that everyone will love!

Serve with my Greek Orzo Pasta Salad and my Spanakopita Triangles!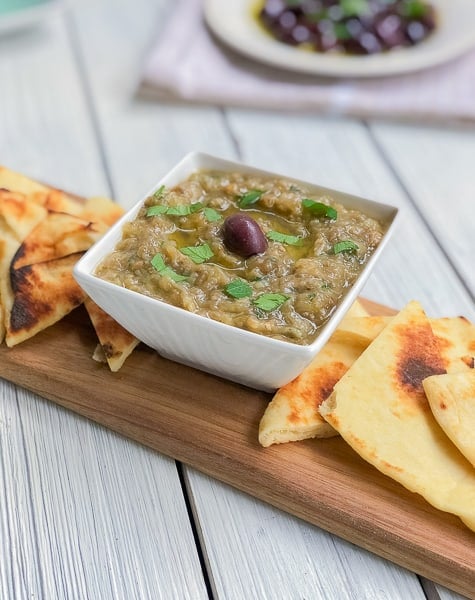 What is Melitzanosalata?
Melitzanosalata is a traditional appetizer served in many tavernas in Greece. It is a tasty spread or as some call it, an "eggplant salad" that is often served cold or at room temperature with many other small plates and lots of pita bread for dipping!
Eggplant in Greek is called "melitzana" and salad in Greek is "salata" so putting both together literally means EGGPLANT SALAD. I like to think of it more as a dip or 'spread' than a salad but who's judging?
This Greek appetizer is great for parties because it's very healthy, easy to make, inexpensive and will please even your vegan friends!
If you love vegan style appetizers, have you tried my fried eggplant sandwich yet? It's SO good!
A Traditional Greek Eggplant Dip
Being Greek, I have had my fair share of Greek salads and spreads. Most often, I'm able to enjoy this authentic roasted eggplant dip at our family parties thanks to my aunt! Her recipe is delicious so I asked her for her secret and she offered me her recipe!
I did tweak the recipe just a bit by adding fresh lemon juice and chopped parsley, although it didn't need much tweaking.
The lemon juice helps keep the eggplant from turning brown AND adds a touch of acidity and brightness which I think it needs. And the parsley adds a pop of color and freshness!
Steps:
It is so simple to prepare! Keep in mind that most people use whole roasted eggplants, However, for this recipe, to save time, I cut my eggplant in half lengthwise and roasted it that way! Same yummy results!
Pierce or poke your eggplants with a fork then roast whole in the oven for about an hour (this is usually done whole). Alternatively, you can grill your eggplants for a smokey flavor.
Allow eggplants to cool and scoop out the flesh.
Squeeze out any excess water or liquids using a colander or strainer.
Chop up pulp with a knife so it is "mashed". If you want more of a 'chunky' eggplant dip, give it a rough chop.
Add minced garlic, lemon juice and parsley and mix. Add any leftover olive oil from the pan for more flavor!
Allow flavors to meld for about an hour.
Serve cold or room temperature with warm grilled pita bread.
Variations/Substitutions
There are a few different things you can add to your eggplant dip to up the "flavor ante"! Here are some popular ingredients:
Grill your eggplant to get a smokey flavor in your dip
Add some spices like smoked paprika, chili powder, cumin or cayenne
Add some red wine vinegar
Add some other fresh herbs like dill or thyme
Add some Worcestershire. (It is my secret ingredient in a lot of dishes!)
Add some liquid smoke. (This stuff allows you to get that smokey flavor without touching a grill.)
Add tomatoes or roasted peppers
Add some feta cheese
Add chopped olives
Add shredded onion
Stirring vs. Pureeing
When the eggplant comes out of the oven, it will be soft and mushy so technically you don't NEED to puree it in a blender or food processor. You can simply mix it together by hand.
However, to get a smoother, less stringy texture, I suggest blending it quickly. Doing so will help to incorporate the ingredients better as well.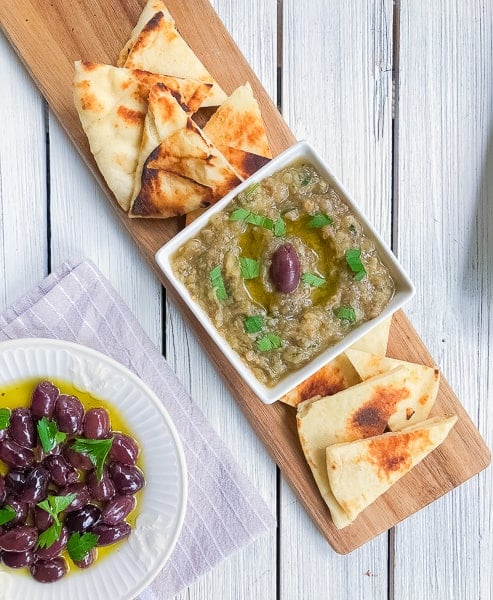 What To Serve With This Dip
The best and most traditional thing to serve with this eggplant dish is PITA BREAD! Because this dip is more of a 'spread', you can serve the dish with a small spoon if you're expecting company.
Almost all the restaurants in Greece, or even in the Mediterranean, serve grilled or charred pita bread OR crusty bread with their dips. The grilled pita bread is my absolute favorite. If you can find a good brand, snag it and freeze it in bulk!!
Storing For Future Gatherings
I suggest making this dip a day ahead to allow the flavors to develop. It will keep in the fridge for 3-4 days sealed.
You can also make a larger batch and freezing it.
It may be a little watery but it will still be yummy. Just make sure you seal the container very well. What I do is place the dip in a plastic container. Add a layer of plastic wrap directly over top of the dip. Then seal it closed with the lid. It will help prevent freezer-burn. You should always defrost dips in your refrigerator overnight.
Common Questions:
Should you peel your eggplants before roasting them?
No! When you roast them long enough, the skin will be very easy to peel off! I don't recommend leaving the skin on otherwise the texture of skin will take away from the smoothness of the dip.
How can I take away the bitterness of the eggplant?
Eggplant has a tendency to be very bitter and can ruin your dish if not cooked/baked properly. I like to use salt to remove any bitterness prior to cooking. Here are some other great tips for preventing bitter eggplant!
Here are some other dips I recommend serving with melizanosalata:
Make sure to check out my Ultimate Greek Meze Platter and my Greek Orzo Pasta Salad!
📖 Recipe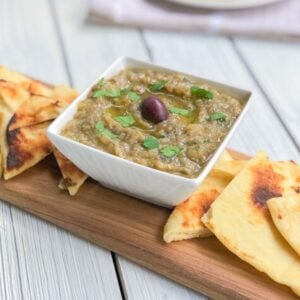 Melitzanosalata (Greek Roasted Eggplant Dip)
Melitzanosalata is a Greek Eggplant Dip often served as a mezé platter with pita bread for dipping. It is a super healthy dip that my aunt always makes at our family parties! It is made with roasted eggplant, fresh garlic, and lemon juice! A simple yet delicious appetizer spread that everyone will love!
Print
Pin
Rate
Ingredients
2

Medium

Eggplants

((about 2 ½ lbs))

¼

Cup

Olive Oil

2-3

Small

Garlic Cloves Minced

((or 1-2 large))

2 ½

Tbsp.

Freshly Squeezed Lemon Juice

1

Tbsp.

Chopped Fresh Parsley

*Salt and Pepper to taste
Charred Pita Bread Triangles (for dipping)
Instructions
Preheat your oven to 425° F.

Cut eggplants in half and place them on a baking sheet. Prick the outside of each with a fork a 6-7 times. Drizzle entire eggplant with olive oil and leave them cut-side down on baking sheet. Cover baking sheet with foil and bake for 45 min-1 hour. (You will know they're ready when you can easily pierce them with a fork). You really can't "overcook" your eggplant for this recipe so don't worry about leaving them in too long.

When eggplants are cool enough to handle (about 20 minutes) remove skin and chop up with a knife until you have the consistency you prefer. **If you want your dip to be very smooth, you can simply add all of your ingredients to a food processor and blend together.

If not using a food processor, add your eggplant, parsley, lemon juice and garlic to a large bowl and stir until combined. Season with salt and pepper to your liking! (Eggplant is very bland on its own so don't be afraid to add a good amount of salt!)

For best results, allow flavors to infuse for at least an hour in the fridge before serving. Serve with charred or grilled pita or naan bread on the side!
Recipe Notes
*Add more or less garlic depending how much you like garlic.
*Make ahead of time and freeze for up to 12 weeks!
Nutrition
Serving:
10
people
|
Calories:
62
kcal
|
Carbohydrates:
4.3
g
|
Protein:
0.7
g
|
Fat:
5.2
g
|
Saturated Fat:
0.7
g
|
Cholesterol:
0
mg
|
Sodium:
2
mg
|
Potassium:
164
mg
|
Fiber:
2.4
g
|
Sugar:
2.1
g
|
Vitamin C:
8
mg